June 17, 2021
Happy Thursday! Smart Brevity™ count: 1,472 words ... 5½ minutes. Edited by Zachary Basu.
1 big thing: Biden unplugs in trip's last hour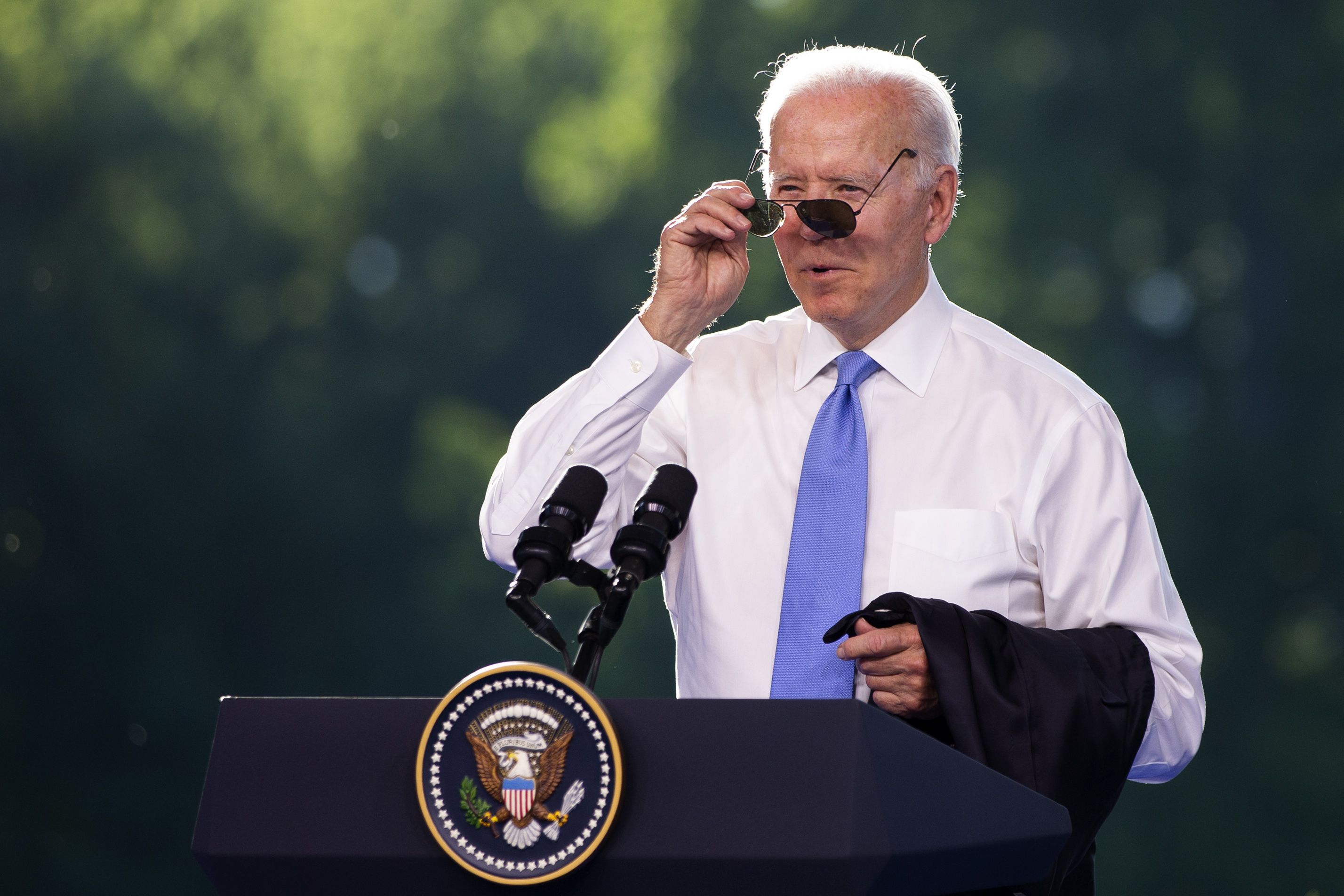 After eight days of talking on the world stage, President Biden got prickly — then blunt, then reflective — in the final minutes before Air Force One lifted off for home.
Why it matters: One wish that aides to generations of presidents have in common is that when their boss walks away from the podium, he'll keep walking. And reporters know that the most revealing comments often come when an interview or press conference is "over": The newsmaker drops the talking points and is more likely to be real.
Biden was walking off the stage at his post-summit press conference in Geneva when CNN's Kaitlan Collins shouted a provocative, but totally fair question after his three hours with Vladimir Putin: "Why are you so confident he'll change his behavior, Mr. President?"
Biden stopped and snapped as he waved his finger: "I'm not confident he'll change his behavior. Where the hell — what do you do all the time? When did I say I was confident? ... [L]et's get it straight. I said: What will change their behavior is if the rest of [the] world reacts to them and it diminishes their standing in the world. I'm not confident of anything; I'm just stating a fact."
After the correspondent persisted about how the meeting could be called constructive when Putin had shown no sign of changing his behavior, Biden retorted: "If you don't understand that, you're in the wrong business."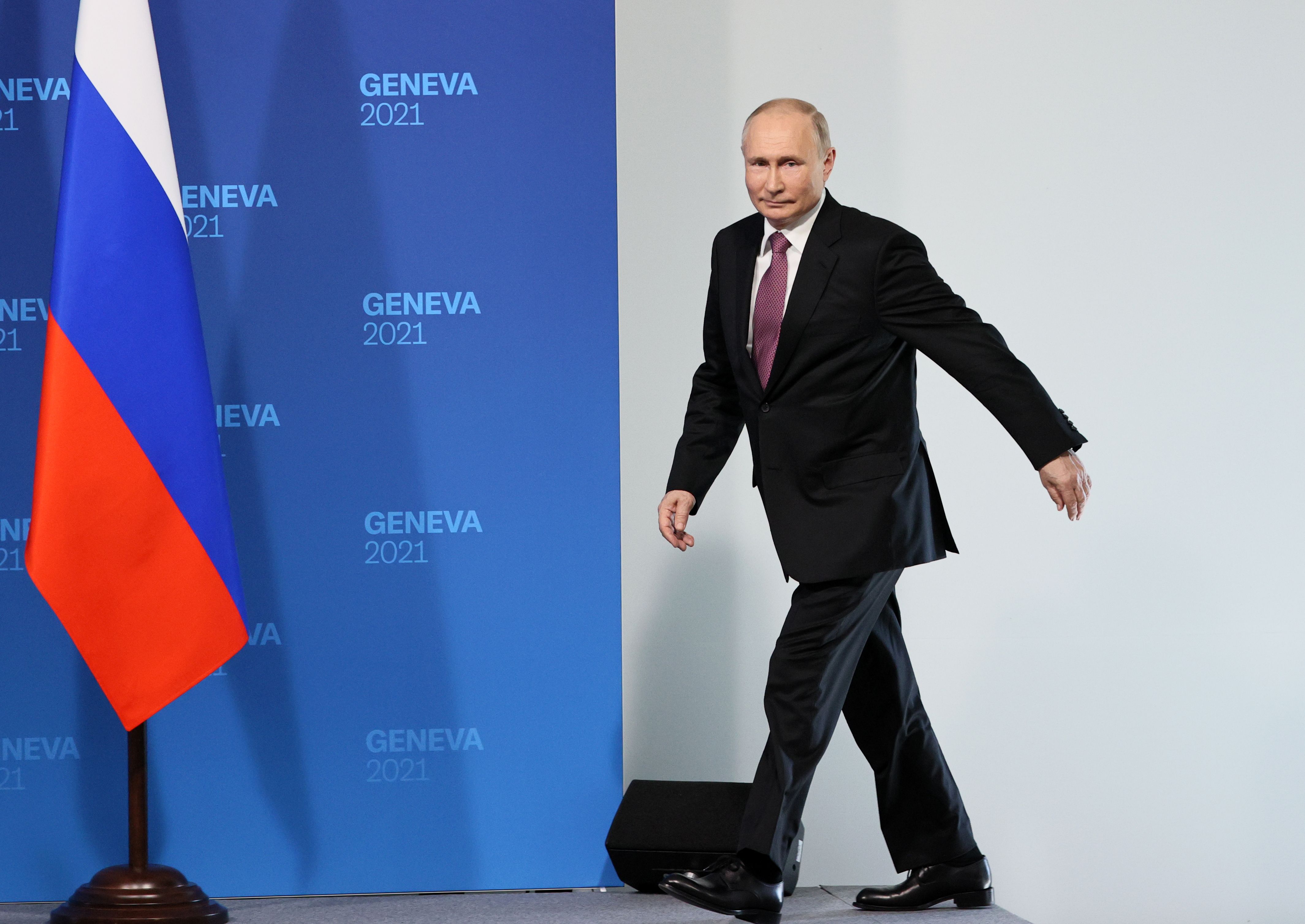 Half an hour later, on the tarmac before boarding Air Force One, Biden came over to the press pool and said: "I owe my last question an apology. ... I shouldn't have been such a wise guy with the last answer I gave."
Asked again about the lack of concrete movement, Biden said: "Look, to be a good reporter, you got to be negative. You got to have a negative view of life — OK? — it seems to me, the way you all — you never ask a positive question."
Of course, sharp questions are designed to do exactly what these had done — elicit what the person is really thinking.
Biden then said he had started "working on arms control agreements back all the way during the Cold War. If we could do one [during] the Cold War, why couldn't we do one now? We'll see."
Then, with an aide telling him he really needed to go, Biden gave a window into how he sees the larger narrative of his presidency after 50 years on the public stage.
Biden said the Capitol riot had reinforced "what I got taught by my political science professors and by the senior members of the Senate that I admired when I got there — that every generation has to reestablish the basis of its fight for democracy. I mean, for real, literally have to do it."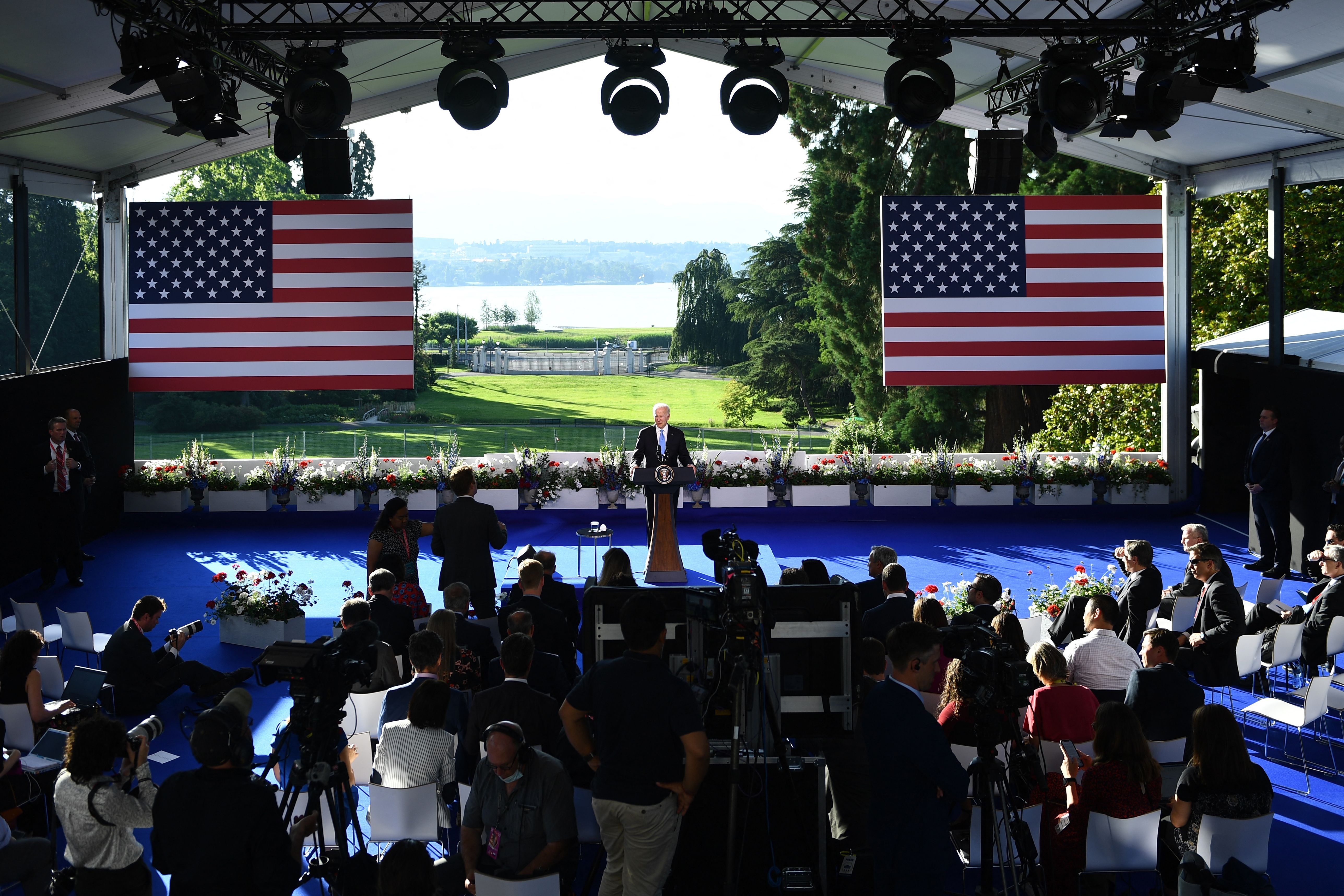 Go deeper: Summit takeaways ... Read Putin's press conference ... Biden's presser ... Biden's tarmac remarks.
2. The robot divide
Automation has been the single biggest factor in America's widening income inequality over the past 40 years, Axios Future author Bryan Walsh writes from a new paper by two prominent economists.
Why it matters: Automation will only grow.
The real wages of less educated workers have declined significantly over the past four decades: The real earnings of men who lack a high-school degree are 15% lower than they were in 1980.
Over the same time, real wages for workers with a postgraduate degree — and to a much lesser extent, those with a bachelor's degree — rose sharply.
MIT's Daron Acemoglu and Boston University's Pascual Restrepo calculate in the paper that 50-70% of changes in U.S. wages since 1980 can be accounted for by wage declines among workers who specialize in routine tasks in industries hit by rapid automation.
What's next: The pandemic accelerated automation, and newer forms of AI will increasingly automate higher-skilled tasks, including some done by lawyers.
3. Mapped: Fast internet skips much of U.S.
The Biden administration today will unveil a new mapping tool that shows huge gaps in use of high-speed internet service across the U.S., Axios' Margaret Harding McGill writes.
Why it matters: The White House is pushing for big spending to widen broadband service, after the pandemic made Americans more dependent than ever on internet connections.
Zoom in: Search the map by any U.S. address.
4. Big Tech courts small creators
Tech giants — including Facebook, Spotify and Twitter — are racing to build tools to compete with smaller upstarts for the attention of individual creators, Axios Media Trends expert Sara Fischer writes.
Why it matters: The attention economy shifted during COVID toward individual creators, who make content for niche groups of fans. Now that brands and consumers are catching on, Big Tech firms want in.
A slew of upstarts gained traction over the past few years — Clubhouse for live audio, Discord for group chats, TikTok for short video, Substack for newsletters and Patreon for tipping.
5. What Manchin wants
Sen. Joe Manchin (D-W.Va.) released a three-page memo yesterday outlining his demands for federal voting legislation, which include ID requirements opposed by most Democrats.
Why it matters: Manchin is the only Senate Democrat who hasn't signed on to the party's sweeping voting rights package.
⚡ Senate Majority Leader Chuck Schumer triggered the process last night to begin voting on election reform — including a potential Manchin amendment — as soon as next week.
6. How the U.S. got its 12th holiday
As hard as it is to get Ds and Rs to agree on anything, they came together to make Juneteenth a federal holiday: The Senate and House passed it back to back in the past two days, and President Biden will sign it.
Why it matters: Juneteenth will be the first new holiday since 1983, when Congress finally approved Martin Luther King Jr.'s birthday, Alayna Treene writes in Axios Sneak Peek.
When Biden signs the bill into law, Juneteenth National Independence Day (June 19) will mark the end of slavery in the U.S.
Establishing MLK Day took almost 20 years.
Juneteenth became a reality in roughly a year. It gained momentum last year after George Floyd's murder.
"It just seems like, given everything that's going on in terms of race relations in the country, it's an important reminder of how far we've come and how far we still have to go," Sen. John Cornyn (R-Texas), a co-sponsor of the Senate bill, told Axios.
7. Math behind unemployment fraud
From March 2020 to June 2021, there were 83.5 million initial claims for unemployment insurance, Axios' Felix Salmon reports.
On top of that, there have been 27.3 million initial claims for Pandemic Unemployment Assistance, according to Century Foundation data.
Add them up, and you get more than 110 million layoffs during the pandemic — out of a total workforce of 15o million people.
Why it matters: The excess number of claims is theoretically possible, since certain Americans are eligible for unemployment even if they're not counted as officially unemployed. But the economic statistics are also consistent with unemployment fraud.
Felix dives deep into unemployment fraud in today's Axios Capital, out at noon. Sign up.
8. 📚 Bill Clinton's new hat
Novelist! The former president debuts at No. 1 on the N.Y. Times hardcover fiction bestseller list for "The President's Daughter," in collaboration with novelist James Patterson:
"Matthew Keating, a past president and former Navy SEAL, goes on his own to find his abducted teenage daughter."
9. Tracking power: New Robin Hood CEO
Robin Hood, billed as New York's largest poverty-fighting organization, today named charter-school leader and former deputy mayor Richard Buery Jr. as CEO, beginning in September.
Born in Brooklyn's East New York, Buery graduated from Stuyvesant High School, attended Harvard at age 16, and got a Yale law degree.
Buery was in Mayor Bill de Blasio's cabinet as deputy mayor for strategic policy initiatives, where he was an architect of Pre-K for All.
The search chair — Dina Powell McCormick, global head of sustainability and inclusive growth at Goldman Sachs, and vice chair of Robin Hood — said Buery will help "enable us to help families regain their footing, get kids back on track, and New Yorkers back to work."
10. Michael Wolff's new Trump book: "Landslide"
Michael Wolff's hotly awaited "Landslide: The Final Days of the Trump Presidency" will be published July 27, publisher Henry Holt announced.
Wolff, who interviewed Trump for the new book, wrote the international bestseller "Fire and Fury: Inside the Trump White House," and the follow-up bestseller, "Siege: Trump Under Fire."
"In 'Landslide,'" the publisher says, "Wolff closes the story of Trump's four years in office, ... based on Wolff's extraordinary access to White House aides and to the former President himself, yielding a wealth of new information and insights about what really happened."
📬 Thanks for reading! Please invite your friends, family, colleagues to sign up here for Axios AM and Axios PM.