https://www.axios.com/newsletters/axios-am-d4bd8d71-e6b6-48cb-9044-f12a0f83cfcc.html?chunk=0#story0
1 big thing: Restoring order (kind of)
As Trump passes the two-week mark in office, there are sporadic signs of some semblance of order. Most of it is forced order: by disgruntled Cabinet officials, antsy GOP leaders, and now a Bush-appointed judge.
This will always be a wild ride, but it looks like SOME safety bars are beginning to come down:
A federal judge in Seattle temporarily blocks Trump's travel restrictions, although the White House said it was seeking an emergency stay of the stay. Per AP: "An internal email circulated among Homeland Security officials Friday night told employees to immediately comply with the judge's ruling."
At yesterday's CEO summit at the White House, Homeland Security Secretary John Kelly calmly and clearly answered questions about the executive order. An exhausted White House official told us: "It's what we should have done from the beginning." (We're told Trump especially fawned over Jack Welch.)
Speaker Ryan is getting a slightly bigger say, helping quietly advise smarter language on trade, and less bombastic remarks on refugees. Our Jonathan Swan points out this morning
Trump himself said this has to go better. The Wall Street Journal says he has clarified (only slightly, we hear) the lanes of power for Priebus, Bannon and Conway.
All of this comes as polls show Trump as the least popular president ever at this point. (Gallup: "About Half of Americans Say Trump Moving Too Fast.")
Sound smart: You have staff, cabinet officials and GOP allies trying to build -- on the fly -- a structure, guardrails and public case for their plans. And they are building all of this around a president too impulsive and too improvisational to lock into a sane, smooth system. So anticipate the chaos-forced order pattern to continue.
Trump's first three tweets this a.m., after joining the First Lady at Mar-a-Lago:
"When a country is no longer able to say who can, and who cannot , come in & out, especially for reasons of safety &.security - big trouble!
"More Interesting that certain Middle-Eastern countries agree with the ban. They know if certain people are allowed in it's death & destruction!"
"The opinion of this so-called judge, which essentially takes law-enforcement away from our country, is ridiculous and will be overturned!"
https://www.axios.com/newsletters/axios-am-d4bd8d71-e6b6-48cb-9044-f12a0f83cfcc.html?chunk=1#story1
2. Tidbit of the day
From a Wall Street Journal front-pager by Carol Lee and Peter Nicholas, "TRUMP PACE HAS HEADS SPINNING": "Earlier this week, Mr. Trump called House Speaker Paul Ryan at 11 p.m. to ask questions about tax legislation."
https://www.axios.com/newsletters/axios-am-d4bd8d71-e6b6-48cb-9044-f12a0f83cfcc.html?chunk=2#story2
3. If you read only 1 thing
https://www.axios.com/newsletters/axios-am-d4bd8d71-e6b6-48cb-9044-f12a0f83cfcc.html?chunk=3#story3
4. I didn't know that
Fake news is rising on the "disempowered" left, at least partly because of wishful thinking, according to The Atlantic's Robinson Meyer:
"Twitter accounts purportedly operated by disgruntled government employees—@AltNatParSer, @RogueNASA, and the extra dubious @RoguePOTUSStaff—have swelled in number to become a shadow bureaucracy."
"I asked [Brooke Binkowski, the managing editor of Snopes] if she had seen a spike in the amount and popularity of fake news aimed at liberals. She immediately replied: 'Of course yes! ... There's a lot of confusion, and people are profiting from the confusion on all sides of the continuum.'"
The Snopes editor, on advice for readers: "If it arouses an emotional response is you—if you see the headline and go, I can't believe this, I'm so angry—then it's probably something you need to check against something else." (hat tip: CNN's Reliable Sources newsletter)
https://www.axios.com/newsletters/axios-am-d4bd8d71-e6b6-48cb-9044-f12a0f83cfcc.html?chunk=4#story4
5. "Chill, America!"
The cover page of Sunday's WashPost Outlook section has two articles worth processing, and you could look at them as a "Chill out!" message for each side.
For the right ... "The politics of globaloney: Pankaj Ghemawat and Steven A. Altman [both of the Center for the Globalization of Education and Management at NYU's Stern School of Business] say the world is far less globalized than protectionists think":
"The United States imported goods and services worth 15 percent of its gross domestic product in 2015. ... Just five nations imported less relative to the size of their economies: Sudan, Argentina, Nigeria, Brazil and Iran."
"[F]irst-generation immigrants make up about 14 percent of the U.S. population. The United States ranks 27th in the world."
"[I]t's worth remembering what happened last time globalization went into reverse. After the United States passed the Smoot-Hawley Tariff Act of 1930, reprisals followed and global trade plunged by two-thirds. The collapse of the first wave of globalization was a major contributor to the Great Depression."
For the left ... "Chill, America. Not every Trump outrage is outrageous. Never-Trump Republican Tom Nichols [a professor at the Naval War College] says the president's critics should modulate their panic":
"Unmodulated shock and outrage ... not only burn precious credibility ... but eventually will exhaust the public and increase the already staggering amount of cynicism paralyzing our national political life."
"[T]he media seems to despise Trump more than any president in modern history, even Richard Nixon. (Reuters recently issued guidance on covering the Trump administration the same way its reporters cover authoritarian regimes around the world)."
"This continual panic is short-circuiting any reasonable debate ... by indulging Trump's fiercest opponents in the belief that something could destroy his presidency before it has a chance to govern."
https://www.axios.com/newsletters/axios-am-d4bd8d71-e6b6-48cb-9044-f12a0f83cfcc.html?chunk=5#story5
6. Obama v. Trump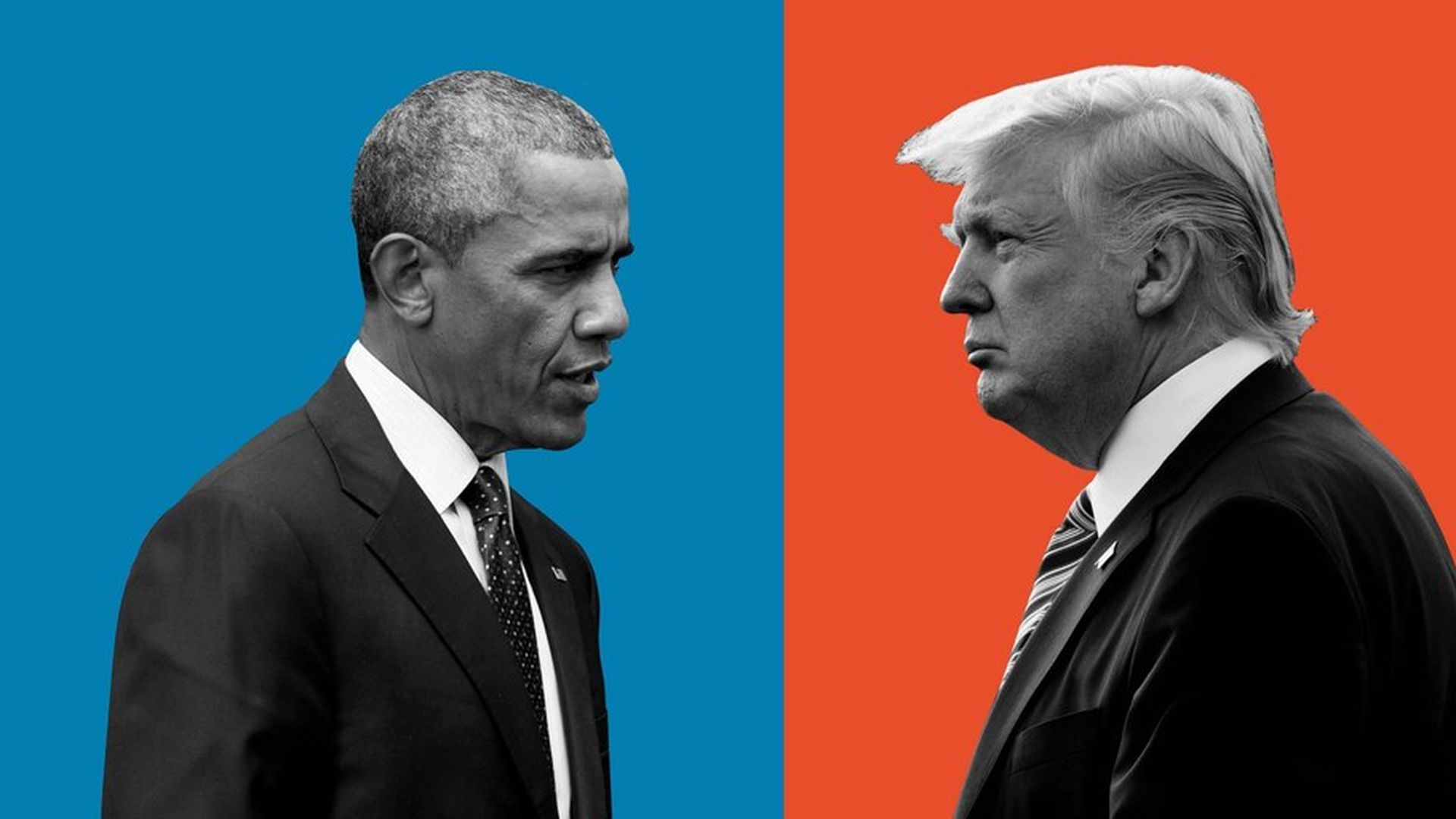 Axios' Stef Wasko has a clever side-by-side on the early days of Obama and Trump presidencies, making the point that the last two weeks have been a giant erasing sound:
Obama: Set a then-record with 9 executive actions in the first 10 days of his presidency, although he ended up with fewer executive orders per year since Grover Cleveland.
Trump: Set a new record with 12 executive actions after just three days.
https://www.axios.com/newsletters/axios-am-d4bd8d71-e6b6-48cb-9044-f12a0f83cfcc.html?chunk=6#story6
7. The Trump Show
Just the headlines are exhausting. If you want to read these, you're on your own:
https://www.axios.com/newsletters/axios-am-d4bd8d71-e6b6-48cb-9044-f12a0f83cfcc.html?chunk=7#story7
8. Who's leaking?
Ezra Klein tweets a link to a piece by his Vox colleague Jennifer Williams, "There's no evidence the botched Yemen raid was Trump's fault": "[I]t's entirely possible that the military officers ... were essentially trying to spread the blame around a bit."
"But there's another possibility, one that could have much broader implications for the way the administration conducts its foreign policy going forward: that some individuals in the military purposely want to paint Trump as at best a bumbling idiot, or at worst a careless and impulsive leader whose rash decisions will get American service members killed."
https://www.axios.com/newsletters/axios-am-d4bd8d71-e6b6-48cb-9044-f12a0f83cfcc.html?chunk=8#story8
9. Tech talker
Signs of backlash after first-day's giddy coverage of Snapchat going public:
Financial Times front-pages, "Snapchat owners inflame investors' fury with 'banana republic-style' IPO": "Investors are furious at Snap's decision to deny them a say in running the company ... [O]ne investment industry leader predicted its IPO could 'open the floodgates' to similar governance arrangements at companies around the world."
Barron's also has a contrarian view, "Snap's Coming IPO Looks Like One to Avoid ... numerous risk factors and an excessive valuation ... The next Facebook—or Twitter?': "Snapchat users' network of contacts usually is smaller than their Facebook 'friends' list, making the service less sticky."
"A younger demographic also is more fickle. It is unclear whether others will gravitate toward a service that is harder to use than Facebook. Advertising accounts for nearly all of Snap's revenues, leaving the company vulnerable if its ads don't resonate with users."
https://www.axios.com/newsletters/axios-am-d4bd8d71-e6b6-48cb-9044-f12a0f83cfcc.html?chunk=9#story9
10. 1 fun thing