Axios AM
July 08, 2021
Happy Thursday! Smart Brevity™ count: 1,477 words ... 5½ minutes. Edited by Zachary Basu.
⚡ Breaking: Japan declared a COVID state of emergency through Aug. 22 — including the entire Olympics, July 23-Aug. 8.
The global COVID death toll passed 4 million — equal to the population of the City of Los Angeles. Go deeper.
1 big thing: The one race to watch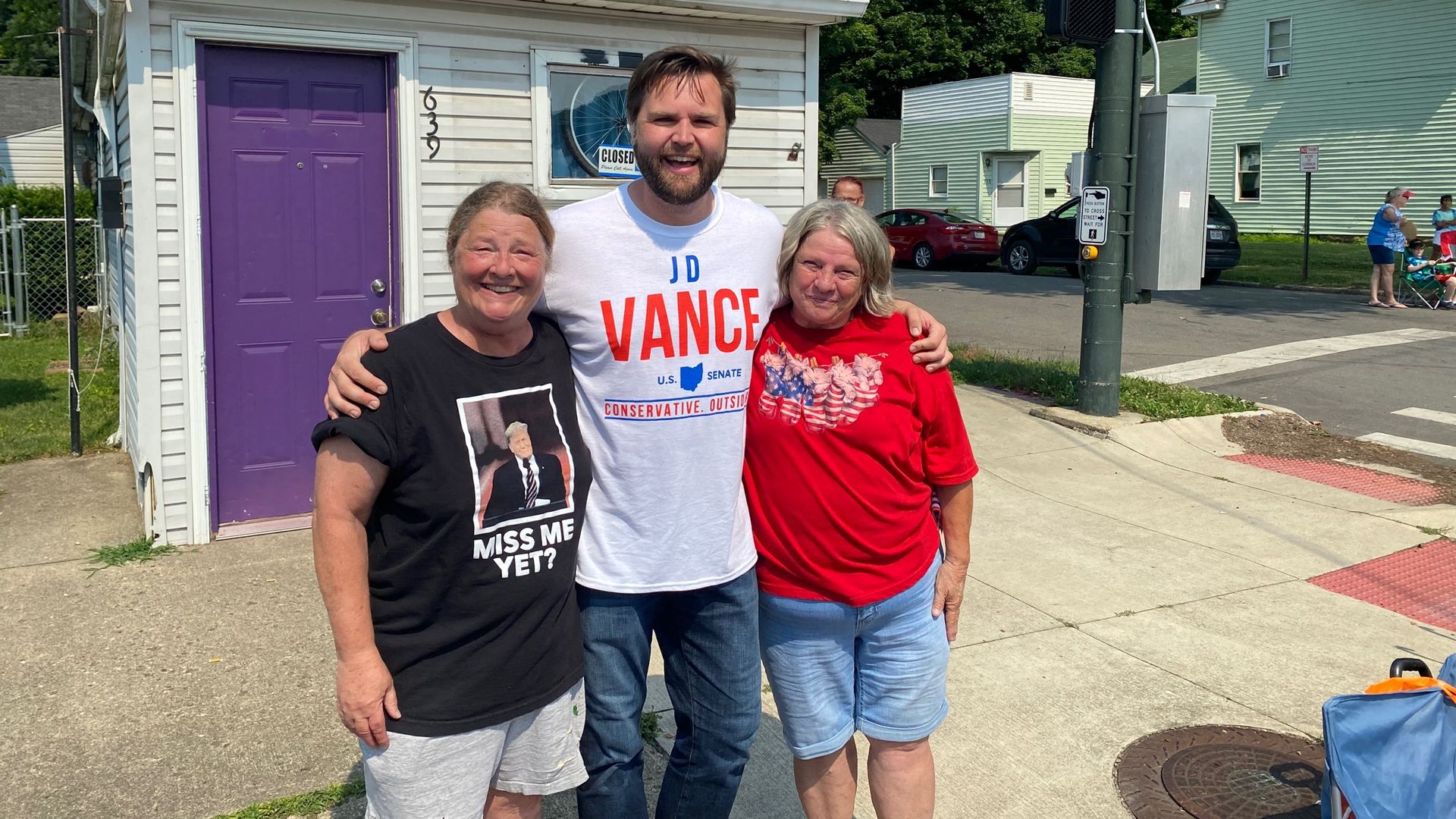 Culture wars, Big Tech and economic populism — including inflation, gas prices, immigration and jobs to China.
For a preview of many of the themes that'll drive American politics in next year's midterms and even beyond, watch J.D. Vance, the "Hillbilly Elegy" author who's running for U.S. Senate in Ohio.
Why he matters: Vance, 36, last week joined a crowded GOP primary field to succeed retiring Sen. Rob Portman. If Vance won the primary (no sure thing), he'd be the favorite to win the seat — and instantly would be talked about as a presidential possibility.
Vance told me in a phone interview from Cincinnati that so-called cancel culture was a big part of conservatives' conversations as he worked Fourth of July parades over the holiday weekend.
"People are terrified that if they speak their minds about what's going on in the country, they're going to lose their job," he said. "'If I say that I voted for Trump on Facebook, somebody's going to try to get me fired."
"You can basically give people the right to sue companies that they're fired from for their political views," he added. "I think that would benefit a lot of Republican voters in Ohio quite a bit."
On Big Tech, Vance said his "least radical option" would be to protect political expression "so you can't censor people based on their political viewpoint," including banning them from platforms.
Vance said antitrust remedies "effectively recognize that, so long as these companies are too powerful, there's no real way to control them."
Vance was against Donald Trump in 2016 but strongly for him in 2020. "[I]f I actually care about these people and the things I say I care about, I need to just suck it up and support him," Vance told TIME's Molly Ball.
The Vance camp points out the warm words the candidate has gotten from Fox News' Tucker Carlson and top MAGA personality Charlie Kirk, founder and president of Turning Point USA.
I asked Vance how campaigning differs from a book tour. "It's different to sell a set of problems than it is to sell a set of solutions," he said. "In a book, you can just talk about the problems. That's much easier."
2. Charted: California parch
Most of the Western U.S. is cooking under intense, historic drought, Ben Geman reports in Axios Generate from U.S. Energy Information Administration data.
100% of California is suffering some degree of drought. 33% of the state is categorized as "exceptional drought," the worst level.
3. Experts say Trump's social-media suits look doomed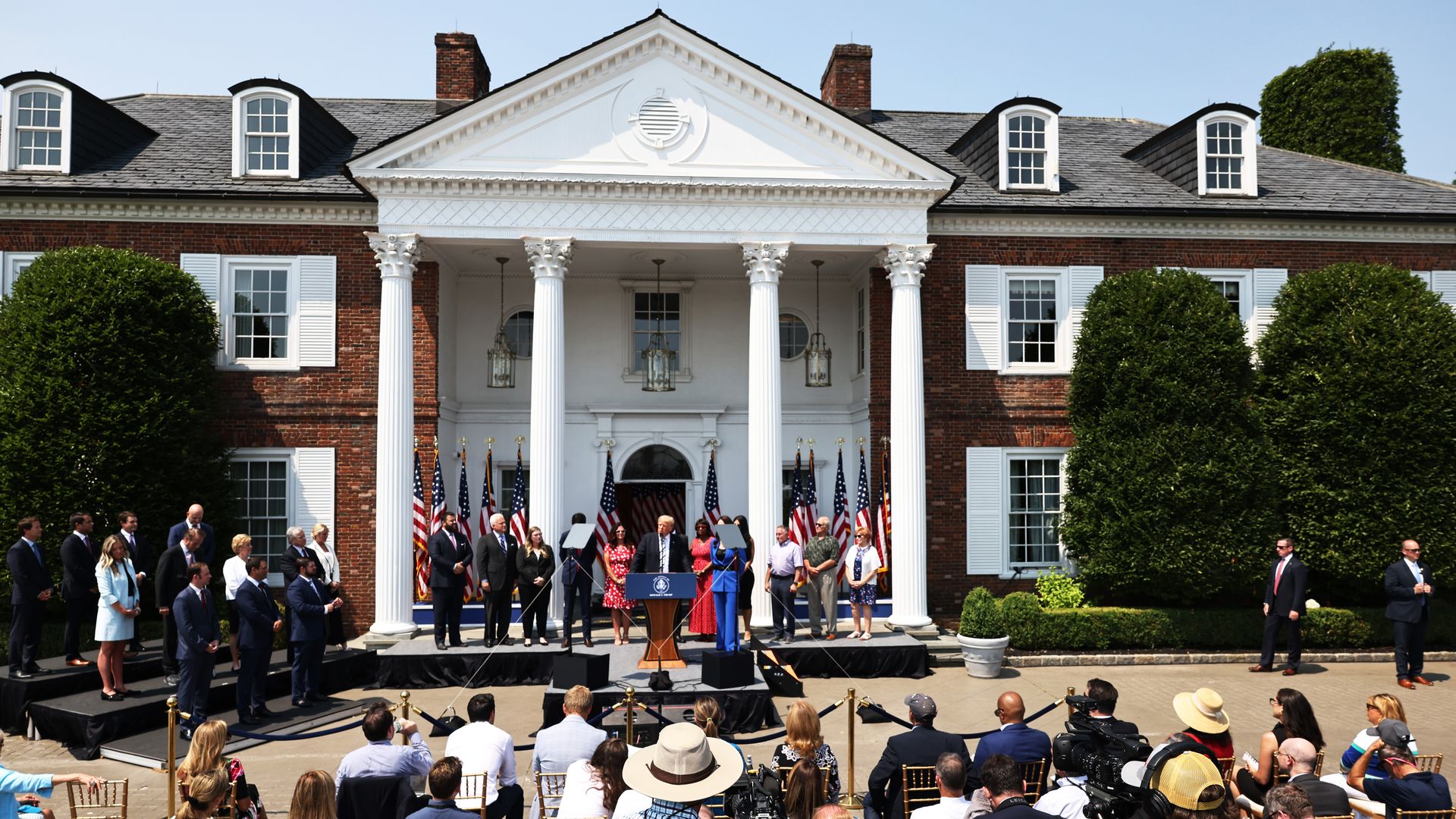 First Amendment scholars say former President Trump's class-action lawsuits — announced yesterday against Facebook, Twitter, Google and their CEOs — are unlikely to go far, Axios' Sara Fischer writes.
That suggests the Trump team's chief aim is to fire up his supporters and fundraise off of anger over what they see as censorship by Big Tech.
The Trump campaign immediately started fundraising appeals.
Trump's joint fundraising committee sent out a text saying: "Pres Trump: I am SUING Facebook & Twitter for UNCONSTITUTIONAL CENSORSHIP," adding "5X-IMPACT on all gifts!"
The central argument made by the Trump cases is that social media platforms are "state actors," and thus should be bound by the First Amendment's free speech protections. First Amendment experts quickly dismissed the claim.
"The First Amendment simply protects citizens from government censorship," Syracuse University associate professor Roy Gutterman said. "Social media platforms exercise great power, but they are not a branch of government."
Between the lines: Trump has filed many lawsuits throughout his career, but he has rarely taken cases all the way to court — and hasn't won many of the cases that he has.
4. Capitol fence coming down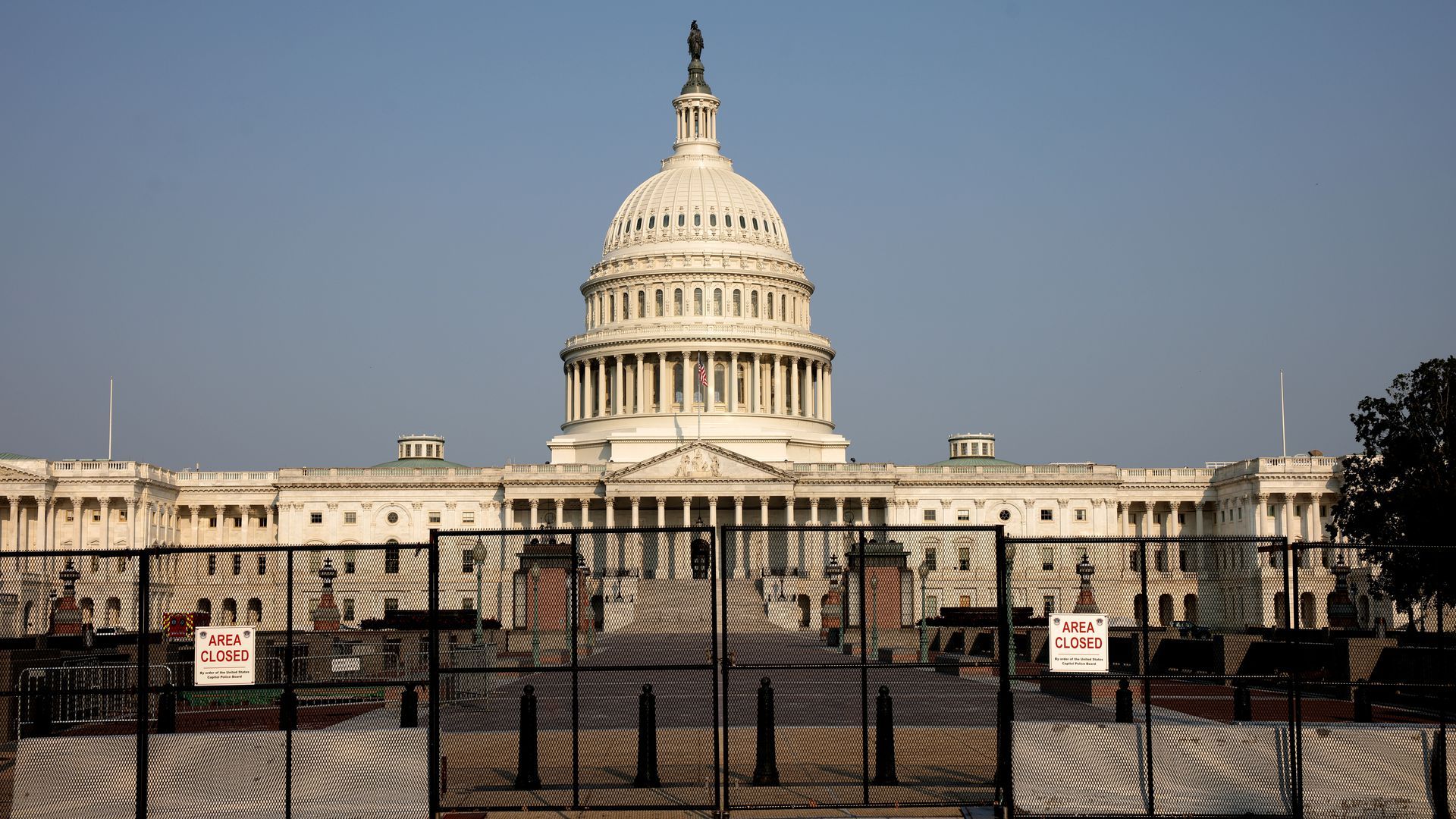 The U.S. Capitol Police Board notified Congress members and staff yesterday that the remaining fence around the Capitol will be removed as early as Friday.
⚡ The latest: USCP announced that it'll open regional field offices in San Francisco and Tampa, with additional regions soon, "to investigate threats to Members of Congress." 
5. Reality sets in at Surfside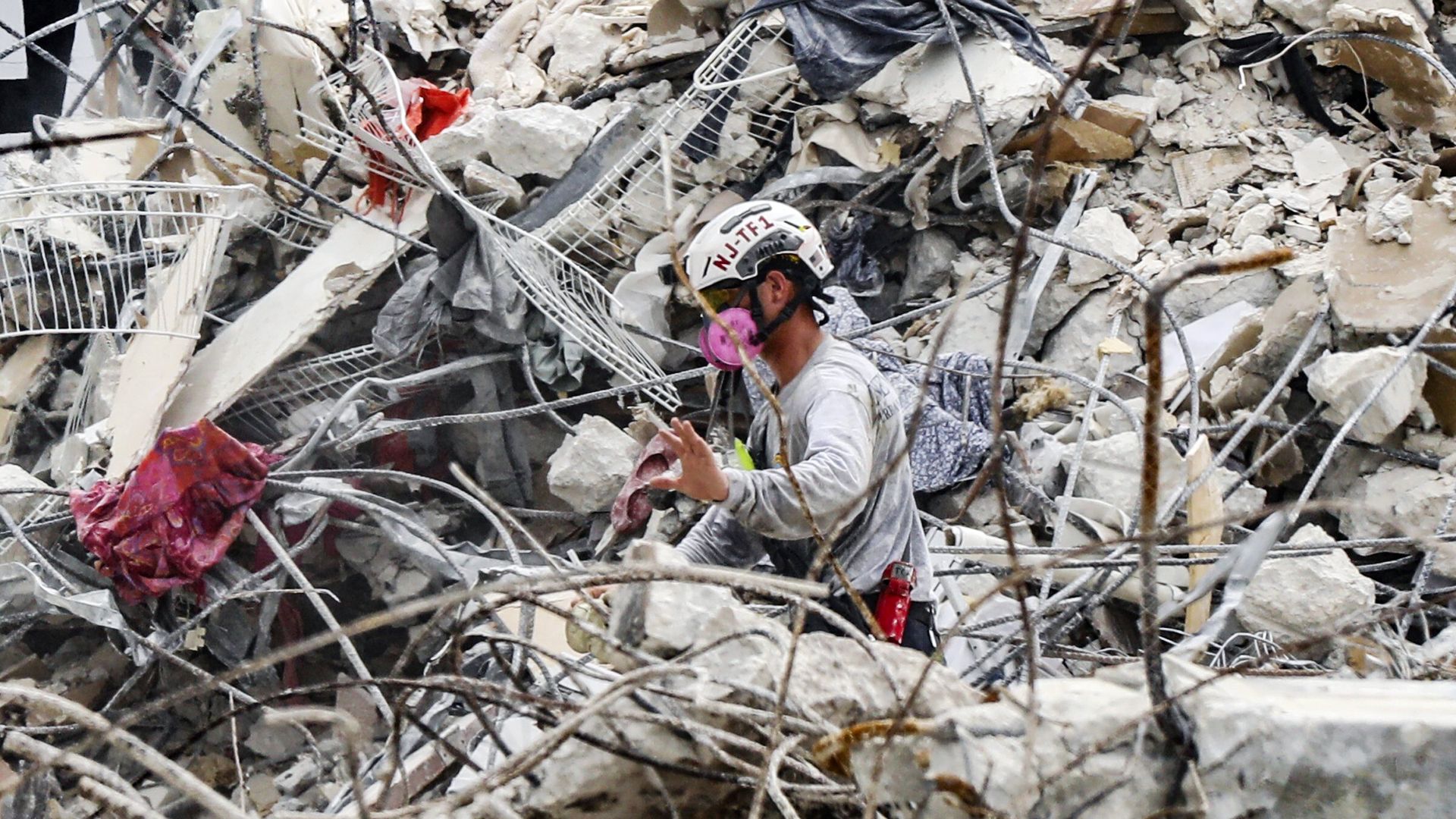 The painstaking search for survivors in the collapsed Surfside condo shifted from a rescue mission to a recovery effort at midnight, with 54 confirmed dead and 86 still unaccounted for, AP reports.
"Just based on the facts, there's zero chance of survival," Assistant Chief Ray Jadallah of Miami-Dade Fire Rescue told families of the missing in a private briefing, per the N.Y. Times (subscription).
What's next: Officials expect to continue working their way through the rubble for several more weeks.
6. Haiti crisis spirals after assassination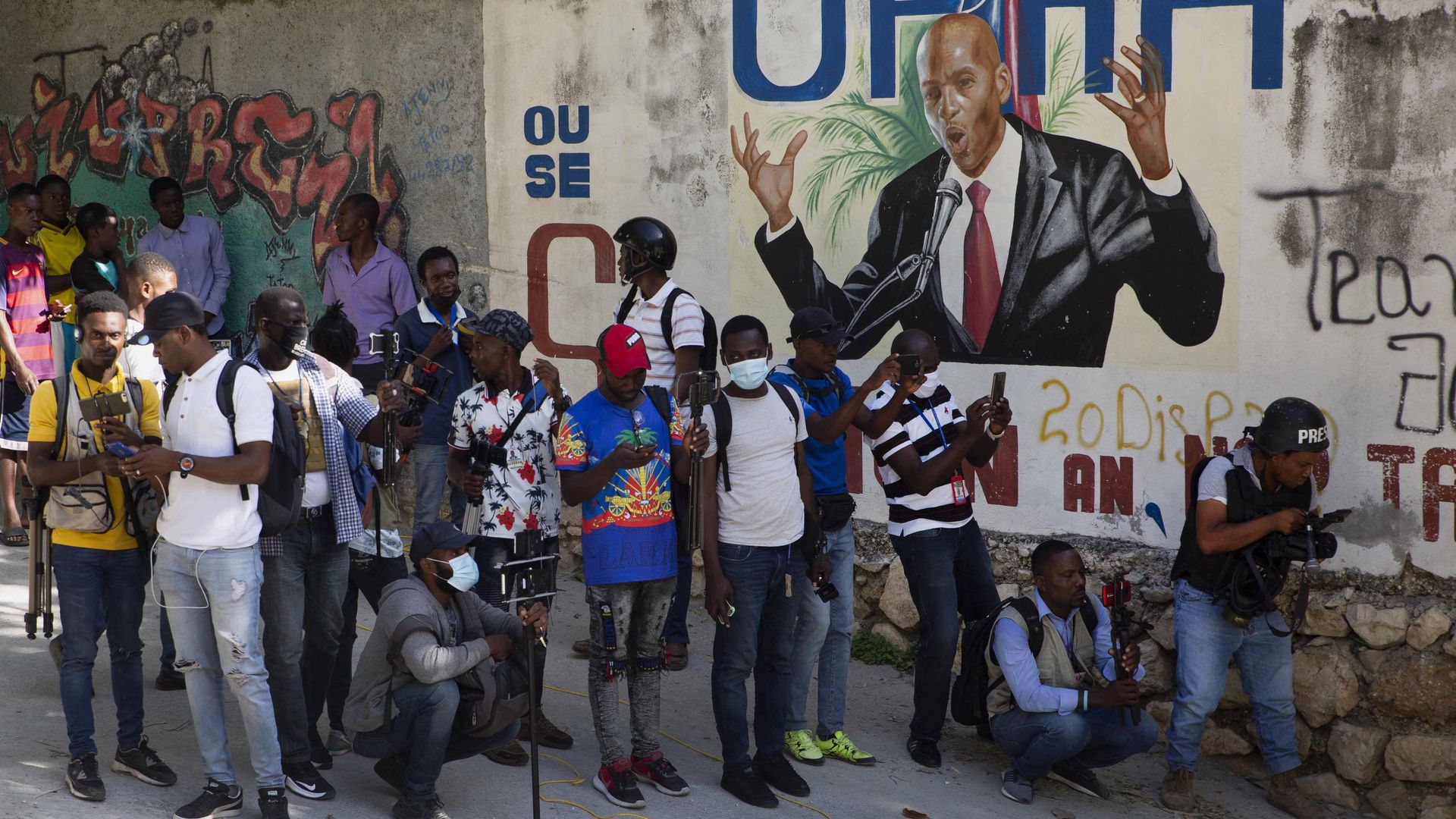 Police in Haiti killed four suspects and arrested two others in the brazen attack on President Jovenel Moïse, whose overnight assassination by unknown gunmen sent shock waves throughout the most impoverished country in the Western Hemisphere.
Prime Minister Claude Joseph assumed leadership of Haiti with the help of police and the military and decreed a two-week state of siege following Moïse's killing, AP reports.
Officials pledged to find all those responsible for the assassination of Moïse — a man with many enemies — but could not yet provide a motive.
The big picture: Haiti had grown increasingly unstable under Moïse, who'd been ruling by decree for more than a year and faced violent protests as critics accused him of trying to amass more power, amid growing inflation and gang violence.
7. New book takes on Sheryl Sandberg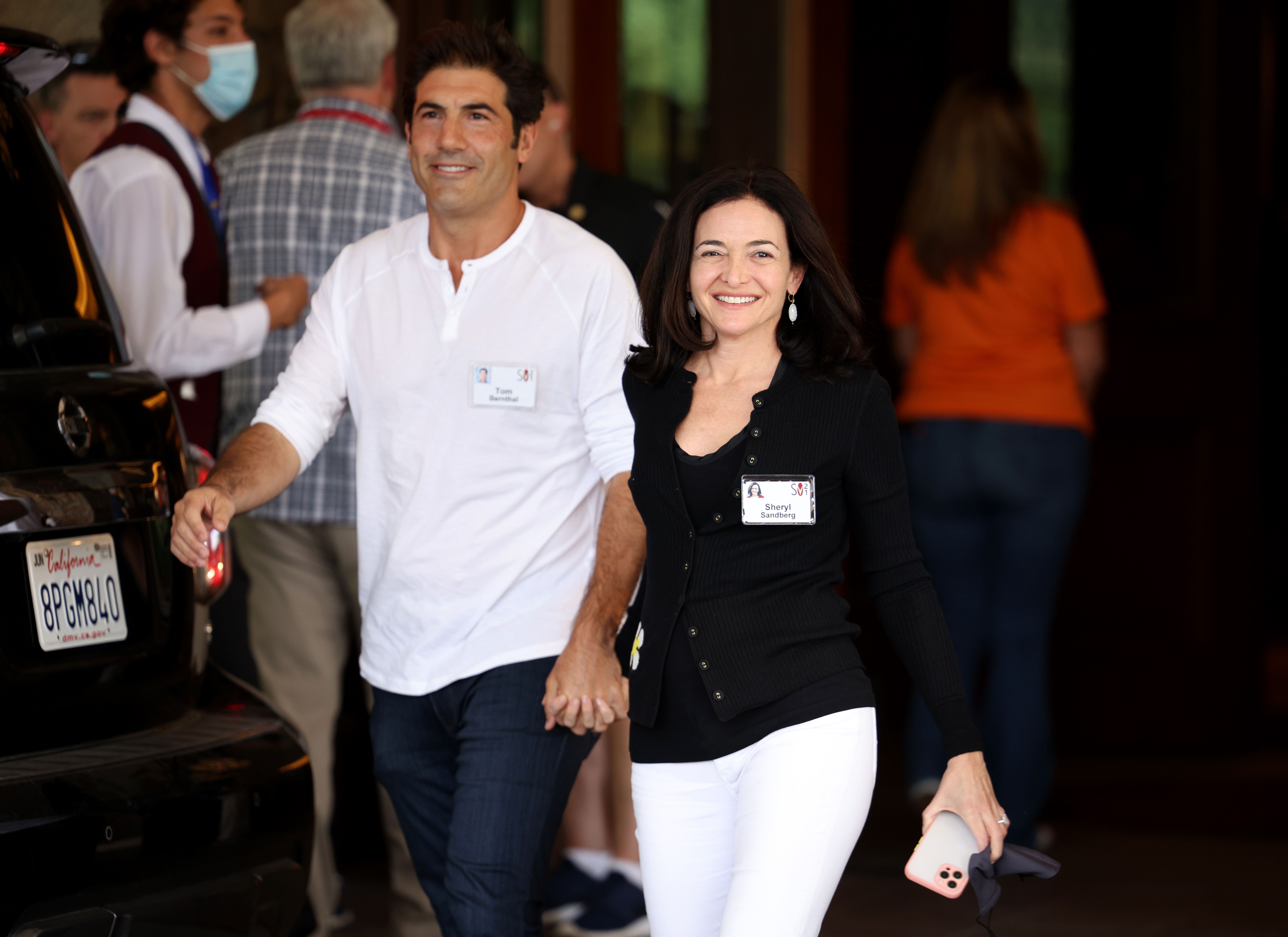 The close relationship between Facebook CEO Mark Zuckerberg and COO Sheryl Sandberg was strained by the Trump era, the N.Y. Times' Sheera Frenkel and Cecilia Kang write in their book, "An Ugly Truth: Inside Facebook's Battle for Domination," out Tuesday.
"She became increasingly isolated," they write in an adaptation posted by The Times today. "Her role as the C.E.O.'s second-in-command was less certain with his elevation of several other executives, and with her diminishing influence in Washington."
"The view from inside the upper echelons of the company was clear: It felt as though Facebook was no longer led by a No. 1 and No. 2, but a No. 1 and many," the book reports, drawing on 400+ interviews.
"It is true that the core of the partnership hasn't formally changed. Mr. Zuckerberg controls the direction of the company and Ms. Sandberg the ad business, which continues to soar unabated."
Facebook spokesperson Dani Lever replied in a statement to Axios: "The fault lines that the authors depict between Mark and Sheryl and the people who work with them do not exist. All of Mark's direct reports work closely with Sheryl and hers with Mark. Sheryl's role at the company has not changed."
"The excerpts are typical of attacks on women leaders — denying their power, dismissing their competence, and marginalizing their roles and relationships."
Keep reading the adaptation (subscription).
8. Tucker, Putin and the NSA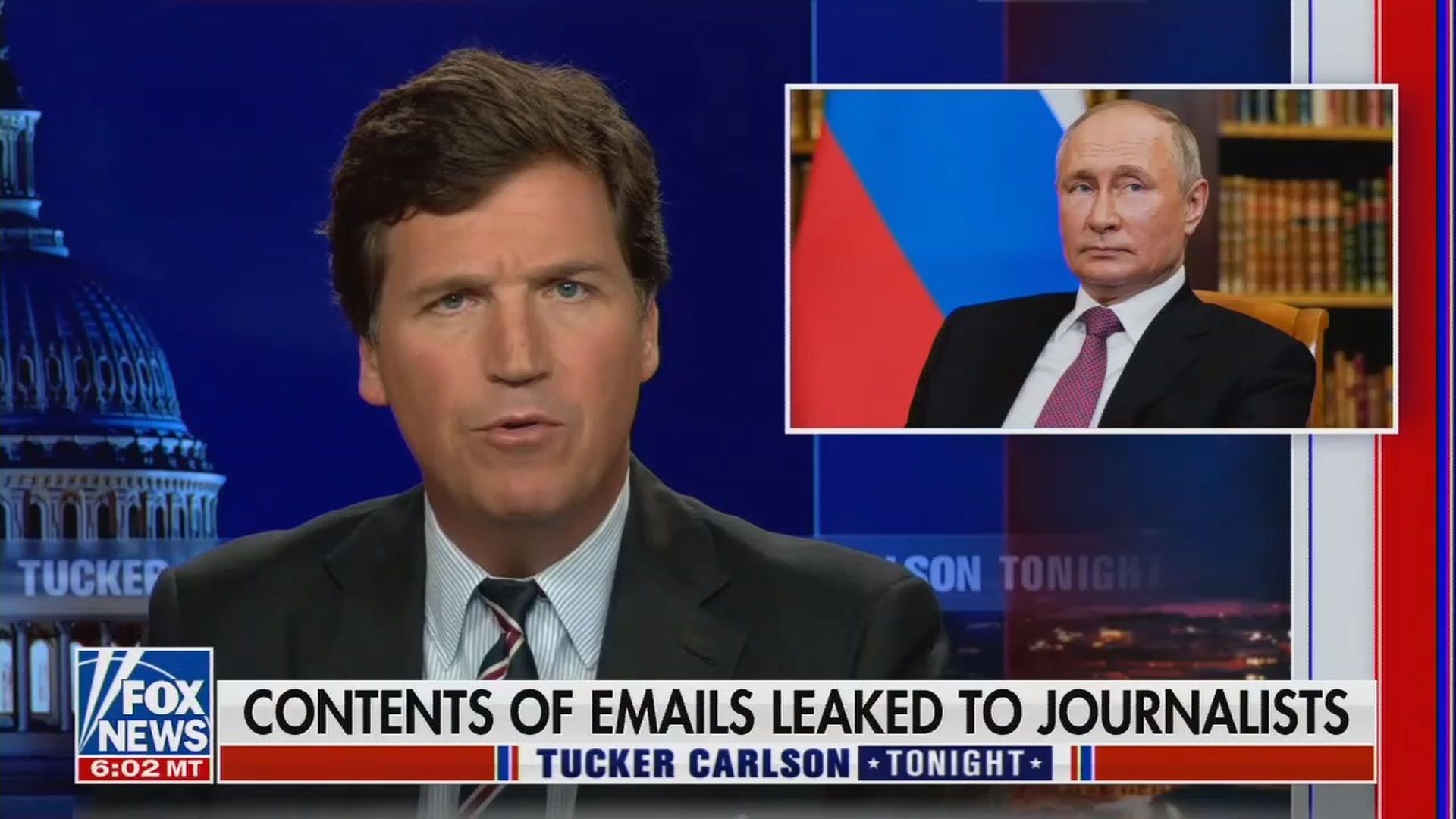 Tucker Carlson was talking to U.S.-based Kremlin intermediaries about setting up an interview with Vladimir Putin shortly before the Fox News host accused the National Security Agency of spying on him, sources familiar with the conversations tell Axios' Jonathan Swan.
Why it matters: Those sources said U.S. government officials learned about Carlson's efforts to secure the Putin interview.
Carlson found out that that the government was aware of his outreach — and that's the basis of his extraordinary accusation, followed by a rare public denial by the NSA that he had been targeted.
Keep reading. ... 🎧 Listen to Swan discuss his reporting on the Axios Today podcast.
9. Conservative group runs MLB ads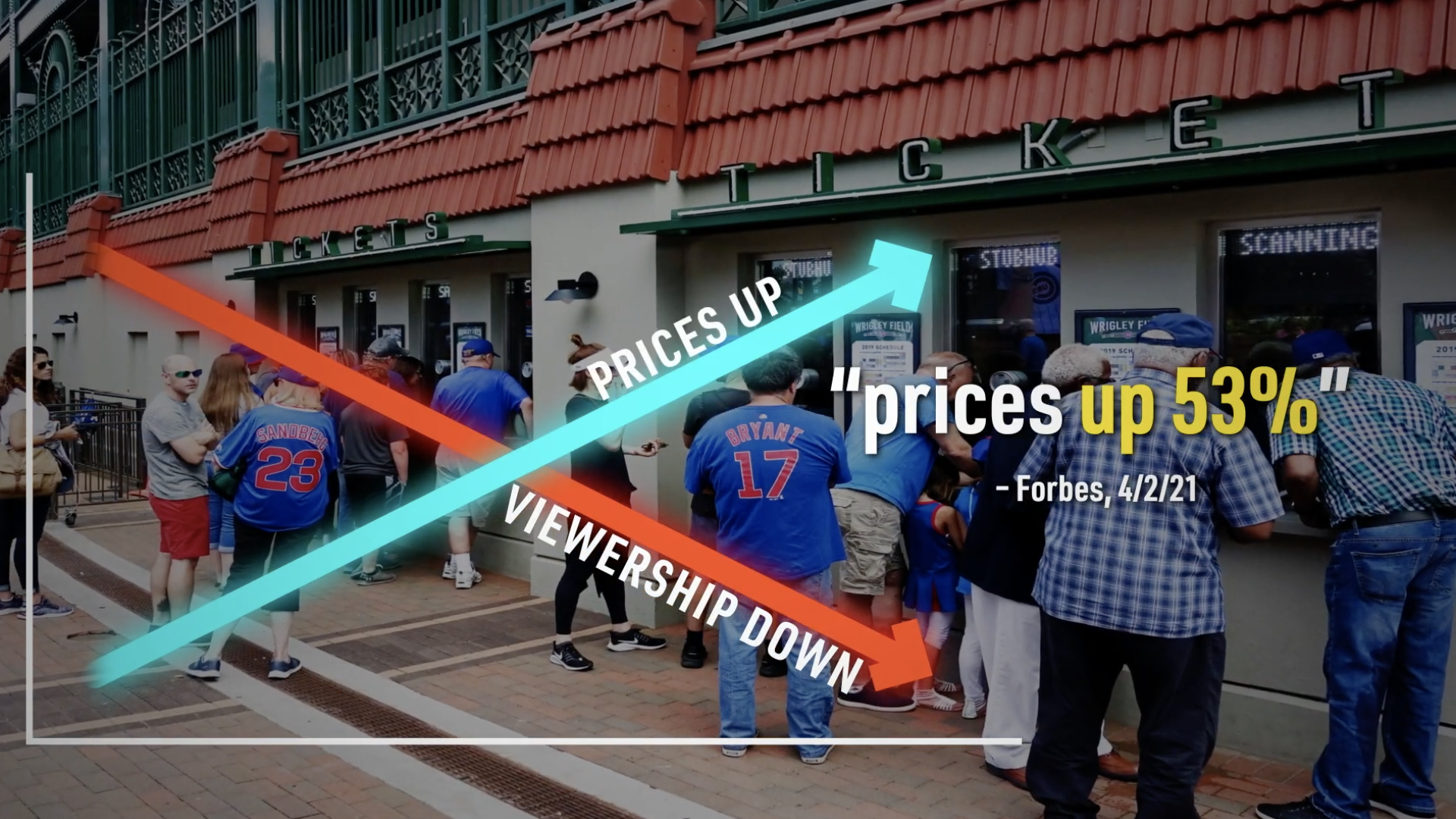 A conservative group, Consumers' Research, accuses Major League Baseball of catering to "woke politicians," in a seven-figure ad campaign ahead of next week's All-Star Game, Axios' Hans Nichols reports.
Why it matters: Conservative groups are increasingly working to "name and shame" organizations for perceived partisan positions — often attempting to influence the C-Suite by buying ads on CNBC.
In April, MLB commissioner Rob Manfred moved the game from Atlanta to Denver because of Georgia's new voting law. "Why is he making baseball political, anyway?" the ad asks.
In May, Consumers' Research launched a similar seven-figure campaign against Coca-Cola, American Airlines and Nike.
10. 1 puck thing: Lightning strikes twice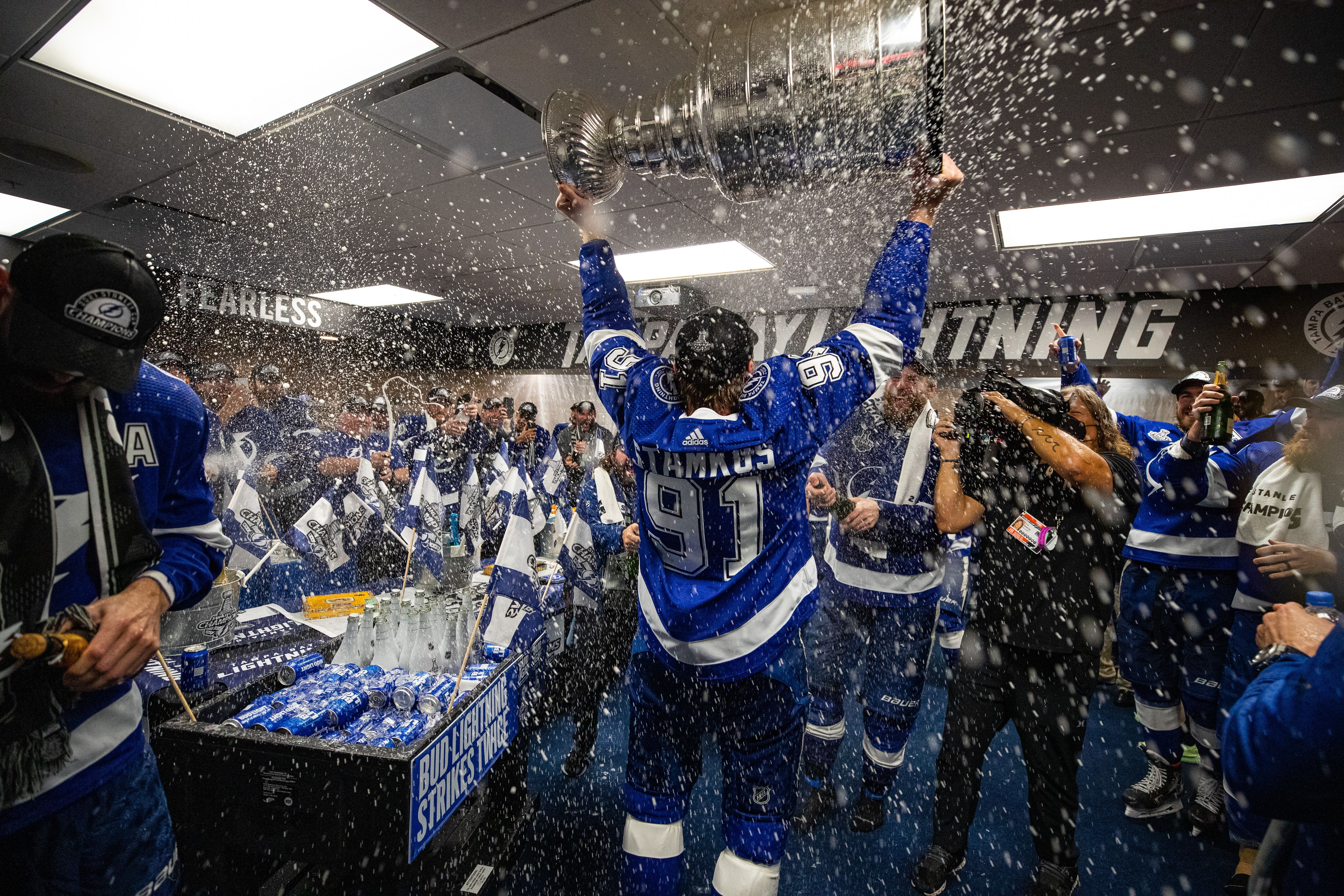 The Tampa Bay Lightning are the first NHL team to win the Stanley Cup at home since 2015, joining the league's elite list of back-to-back champs after beating the Montreal Canadiens 1-0 in Game 5 last night.
The signs on the edge of town that call Tampa the "City of Champions" always felt like a bit of a stretch, Ben Montgomery writes in Axios Tampa Bay.
Now? With the Lightning joining Tampa's Super Bowl LV-winning Bucs in the victory circle? Not so much.
📬 Thanks for sharing your morning with us. Please invite your friends, family, colleagues to sign up here for Axios AM and Axios PM.