Axios AM
December 10, 2021
Happy Friday. Smart Brevity™ count: 1,190 words ... 4½ minutes. Edited by Zachary Basu.
⚡ Breaking: England's High Court today overturned a decision to block the extradition of Julian Assange to the U.S. — a major blow to the WikiLeaks founder in his decade-long fight to avoid U.S. prosecution. Go deeper.
1 big thing — Exclusive: Trump turns on old friend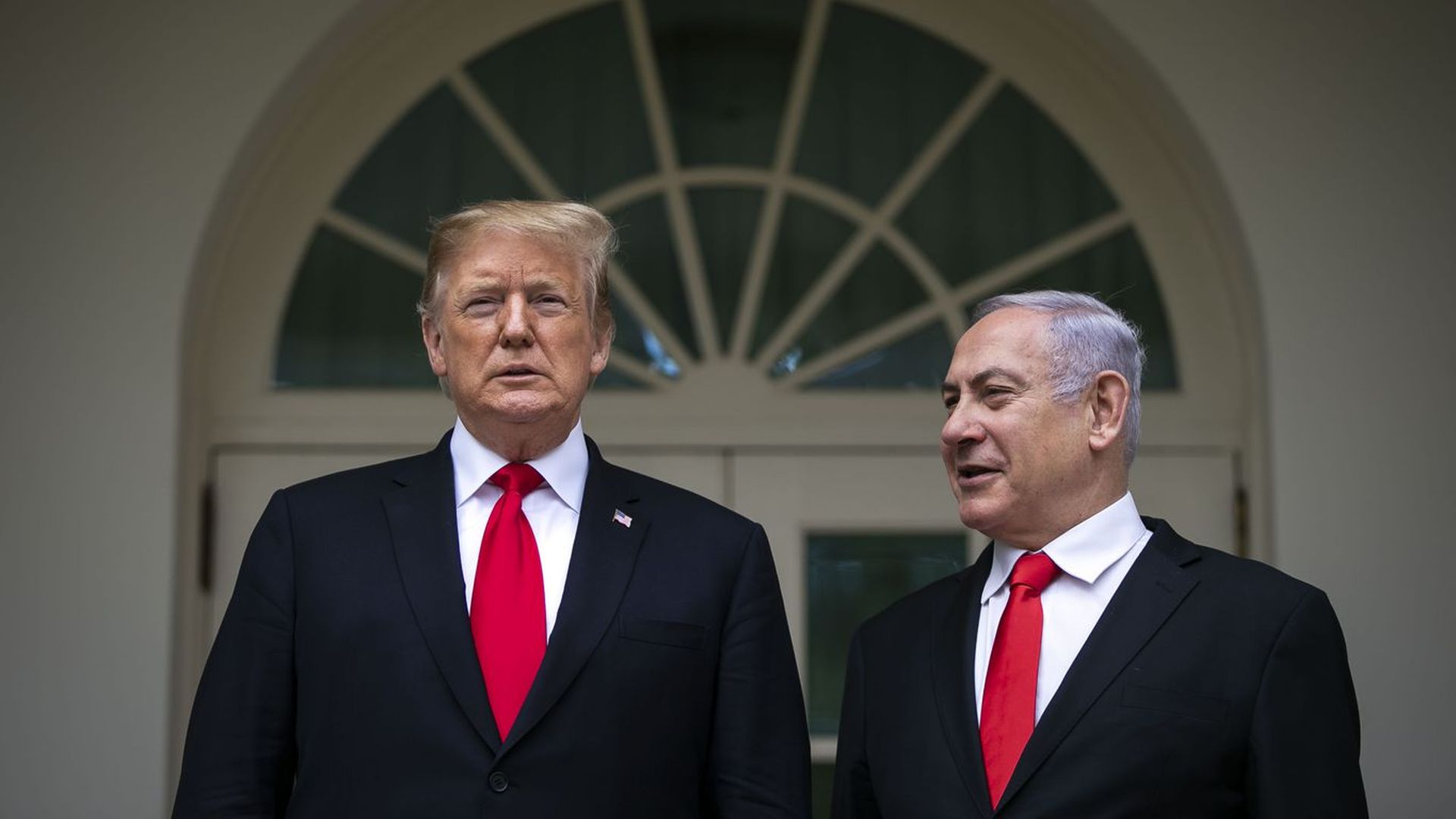 Former President Trump tells Axios from Tel Aviv author Barak Ravid he hasn't spoken to former Israeli Prime Minister Benjamin Netanyahu since the two left office.
"F**k him," Trump said during a 90-minute interview at Mar-a-Lago in April.
Trump repeatedly criticized Netanyahu during two interviews for Ravid's book, "Trump's Peace: The Abraham Accords and the Reshaping of the Middle East," out this morning in Hebrew.
Why it matters: Now opposition leader, Netanyahu is waging a continuous campaign to win back the Prime Minister's Office while on trial for corruption. One of his primary political calling cards is his close relationship with Trump, who remains hugely popular in Israel.
In public, the two were close political allies during the four years they overlapped in office. Behind the scenes, Trump pulled away. The final straw was when Netanyahu congratulated President-elect Biden.
"The first person that congratulated [Biden] was Bibi Netanyahu, the man that I did more for than any other person I dealt with," Trump said. "Bibi could have stayed quiet. He has made a terrible mistake."
Reality check: Netanyahu was far from the first world leader to congratulate Biden. In fact, he waited more than 12 hours after networks called the election.
But Trump claimed he was shocked when Melania shared Netanyahu's video with him: "He was very early — like, earlier than most. I haven't spoken to him since. F**k him."
Trump is fixated on the fact that while the likes of Brazil's Jair Bolsonaro and Russia's Vladimir Putin held off, — "they felt the election was rigged," Trump claimed — Netanyahu acknowledged Biden's win.
"For Bibi Netanyahu, before the ink was even dry, to do a message ... "
Ravid spoke to Trump again in July, this time on the phone, after Netanyahu had been ousted from power after 12 years.
"Well, I like him, but he has been there a long time," Trump said.
Trump repeated his grievances, albeit in a milder tone.
"I can tell you that people were very angry with him when he was the first one to congratulate Biden," he said. "The video was almost like he's begging for love. And I said, 'My, my how things change.' So, you know, I was disappointed. ... As you know, I'm very popular in Israel."
🎧 Ravid's Trump interviews will feature in a new season of Axios' "How It Happened" podcast, dropping Monday. Subscribe.
2. Founders cash out as values soar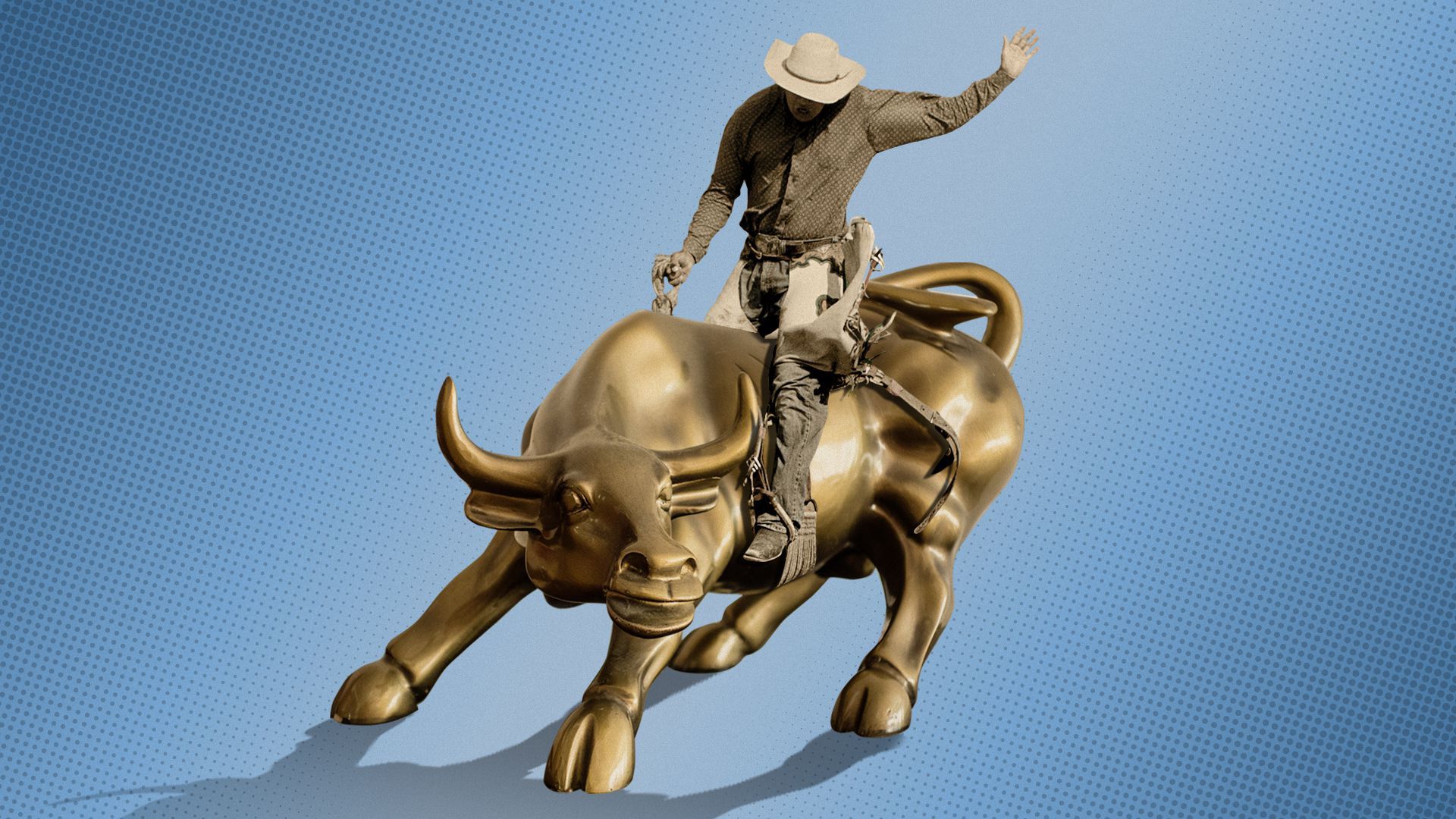 Founders are unloading stock at historic levels — some selling shares in their businesses for the first time in years — as the market soars and tax changes loom, The Wall Street Journal reports (subscription):
"So far this year, 48 top executives have collected more than $200 million each from stock sales, nearly four times the average number of insiders from 2016 through 2020."
High-profile sellers include Elon Musk, Mark Zuckerberg, cosmetics billionaire Ronald Lauder, and Google's Larry Page and Sergey Brin, according to The Journal.
The heaviest selling came as lawmakers hashed out tax increases as part of President Biden's Build Back Better plan: "In November, insiders unloaded a collective $15.59 billion."
3. What Biden is up against
President Biden will deliver closing remarks this afternoon at his tw0-day "Summit for Democracy," where he unveiled plans yesterday to spend up to $424 million around the world to support independent media, anti-corruption work and more.
Why it matters: The administration has scrambled to assuage complaints that the U.S. is in no position to lecture the world on democracy, Axios World editor Dave Lawler reports.
4. 📷 WashPost photo of the year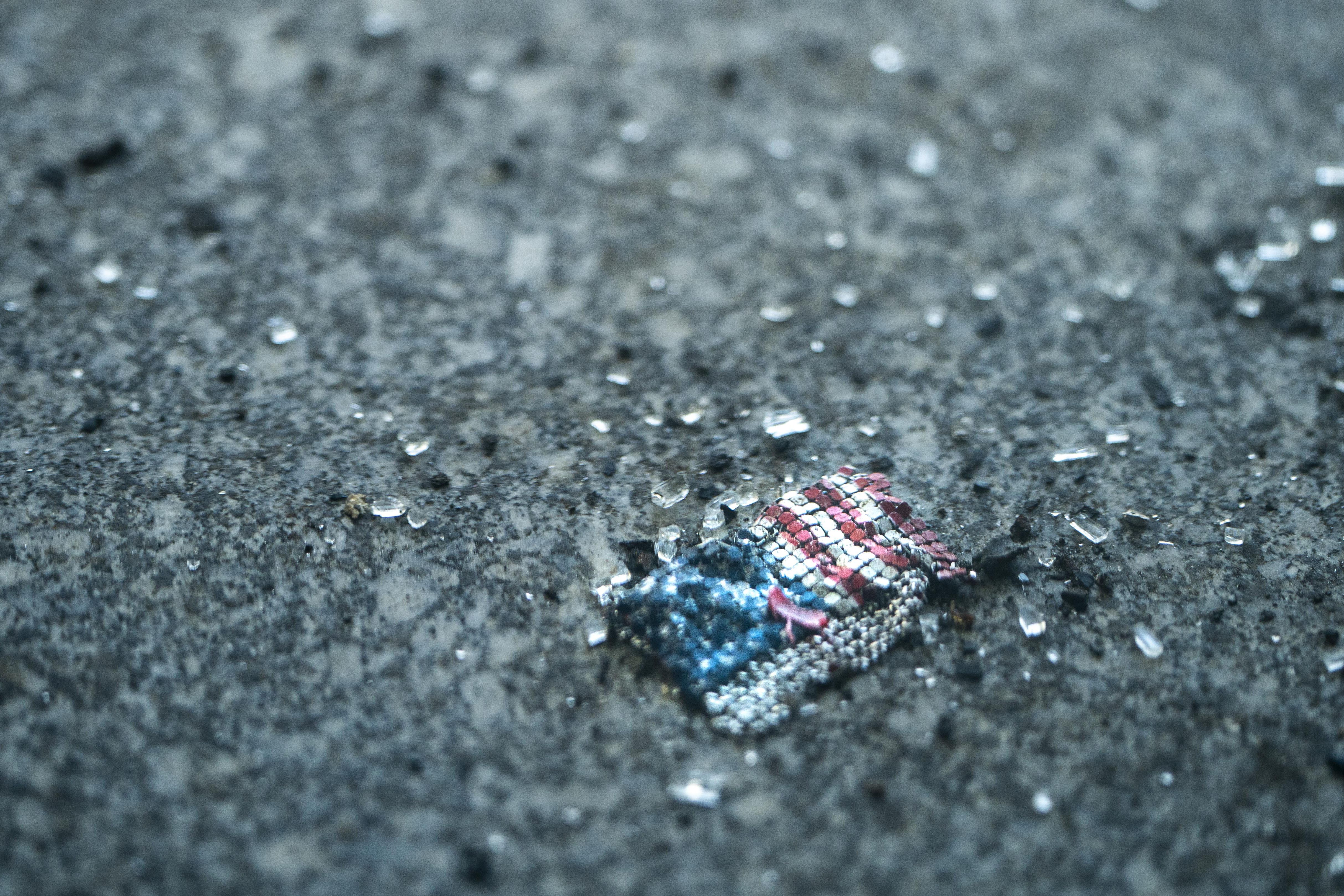 On Jan. 7, the day after the riot, the U.S. Capitol had shattered glass, with pepper-spray dust covering floors and broken furniture. This was the scene on the East Front steps, in front of the entrance to the Rotunda.
Washington Post editors combed through thousands of photos for a special section, "Images of 2021." This was the cover pic.
Go deeper: "The lasting images of 2021."
5. 📊 Data of the day: Inflation hits all incomes

Ahead of today's release of the Consumer Price Index for November, a series of polls this week show rising worry about inflation.
Go deeper ... "CPI: The new jobs number," by Axios' Hans Nichols.
6. Scoop: Austin Tice's mom gets White House meeting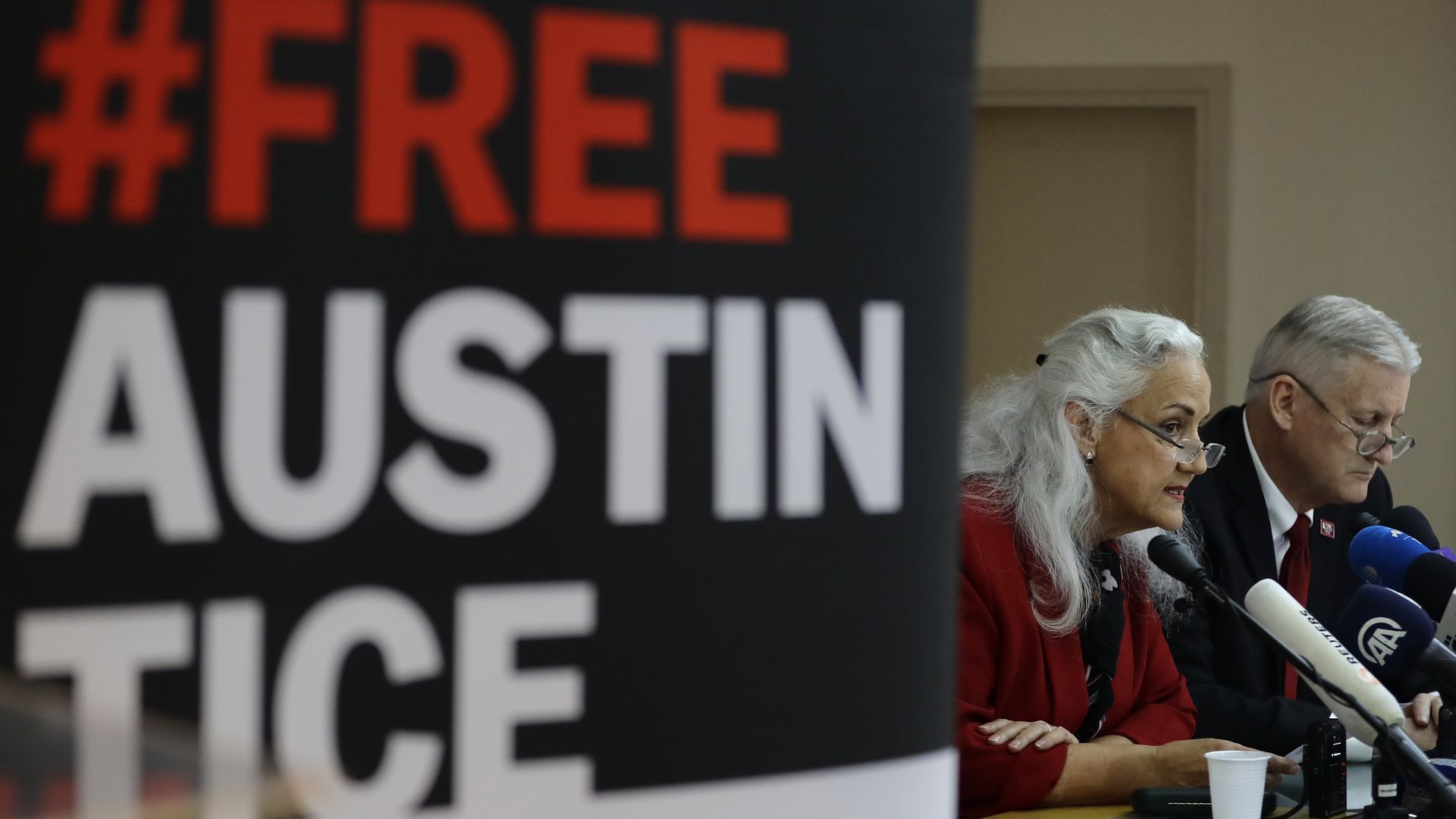 The mother of Austin Tice, an American journalist abducted in Syria in 2012, will meet today with White House national security adviser Jake Sullivan to discuss a proposal she believes could bring her son home, Axios national security reporter Zachary Basu reports.
Why it matters: As the Arab world slowly reintegrates Syrian dictator Bashar al-Assad after a decade-long civil war, Debra Tice believes now is the best opportunity in years to secure her son's release. The U.S. government operates under the assumption he's still alive.
"I'm at the point in this journey where this isn't going to be me showing pictures of my sweet boy," she told Axios in an interview yesterday after appearing at a press freedom event at the National Press Club. "The things we're discussing have to go up the chain."
Debra Tice praised those in the State Department, FBI and Congress who've supported her over the years. But she generally described national security advisers in the Obama, Trump and Biden administrations as obstacles to bringing her son home.
7. Charted: Cool stocks chill out
GameStop and AMC are shedding that unprecedented Reddit day-trader chatter and those eye-popping stock swings — two defining factors for meme stocks, Axios Closer author Courtenay Brown writes.
Why it matters: The hype for the OG meme stocks at the center of the pandemic-era phenomenon has died out.
GameStop's stock dove 10% yesterday after the video game retailer disclosed it had been subpoenaed by the SEC.
There hasn't been a plunge that steep since June — a sign that wild swings (to the downside or upside) have become less common.
Reality check: Both stock prices are off their Reddit-fueled all-time highs, but they remain at nosebleed levels.
The intrigue: There's a sharp contrast in how GameStop and AMC handled the attention.
Adam Aron, the theater chain's CEO, leaned in, even polling Twitter on which cryptocurrency to accept next.
GameStop executives took the opposite approach — no public engagements with retail shareholders. They don't even take questions on earnings calls, after regularly doing so in years past.
8. 🏂 1 for the road: The next shortage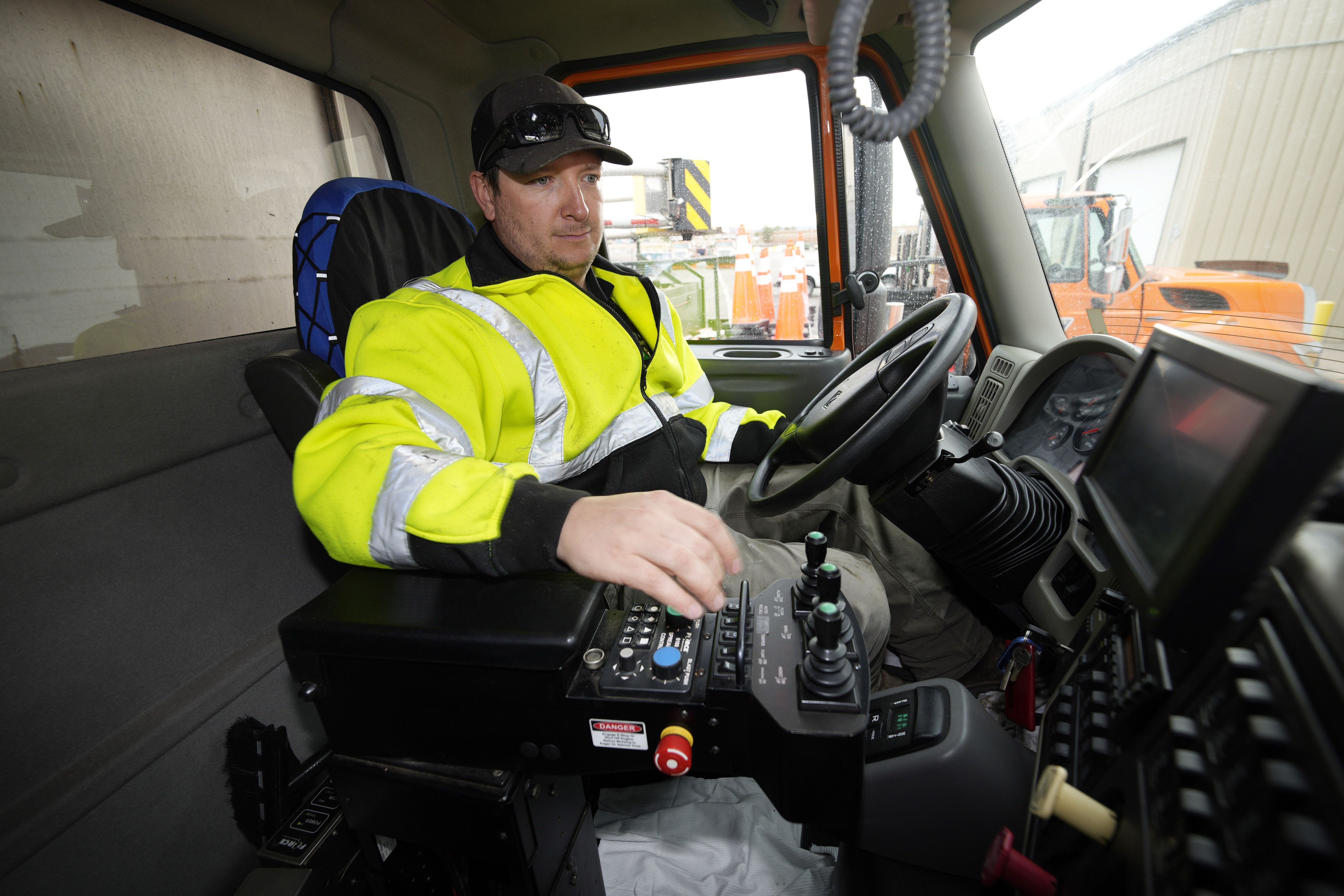 States from Montana to Pennsylvania are having trouble finding snowplow drivers, AP's Amy Beth Hanson reports from Helena.
Why it matters: The list keeps growing. The labor shortage and COVID concerns have left employers scrambling to find enough school bus drivers, waiters, cooks and teachers.
What's happening: The comparatively low-paying plow jobs can require a Commercial Driver's License, and often entail working at odd hours in dangerous conditions.
One of the main competitors for states seeking workers with a CDL are private trucking companies, which have been raising driver pay.
📬 Was this email forwarded to you? Sign up here for your own copy of Axios AM and Axios PM.