January 20, 2022
🎂 Good Thursday morning. At noon, President Biden marks one year in office.
Smart Brevity™ count: 1,176 words ... 4½ minutes. Edited by Zachary Basu.
📱Please join us at 12:30 p.m. ET for the virtual launch of Axios Pro, our subscription coverage of retail, fintech and health tech deals, with media and climate deals coming next.
Dan Primack and Axios Pro reporters will interview CEOs and investment industry leaders. Attendees get a code for $100 off Axios Pro. Register here.
1 big thing: Tax nightmare ahead
This tax season's filing delays and administrative headaches might eclipse those of last year — which was "one of the worst filing seasons" ever, according to an independent advocacy agency within the IRS.
"Checks are getting sent in and not processed," one revenue agent told Axios Markets co-author Emily Peck, asking for anonymity because they were not authorized to speak to reporters.
Why it matters: For taxpayers with complex or paper filings, this means headaches, delayed refunds and mistakes.
Zoom in: COVID pressures pushed the underfunded agency over the edge. "We're running out of steam," the revenue agent said.
The IRS, which relies on some software built in the 1960s, is facing a big backlog of paper filings from last year, including 6.2 million unprocessed 1040s.
🕸️ The IRS doesn't have scanning technology, and relies instead on humans to open the mail and manually enter information.
Last year, the agency received 282 million phone calls and answered just 29 million.
Reality check: The agency successfully issued multiple rounds of COVID stimulus checks, as well as monthly child-care tax credit payments.
The vast majority of taxpayers get refunds promptly.
2. ⚖️ 1/6 committee gets handwritten Trump notes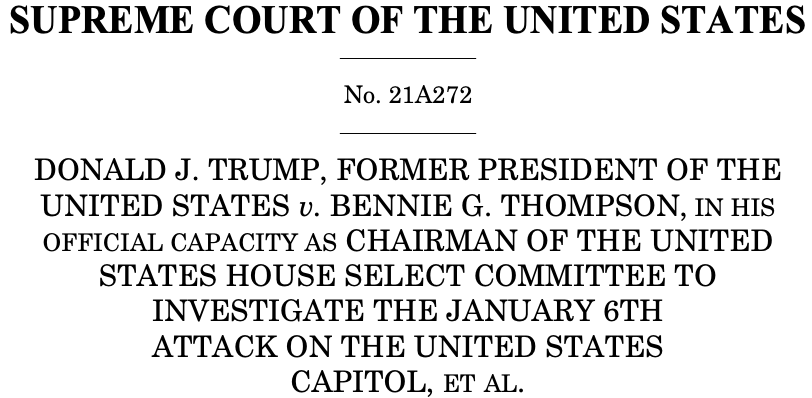 House Jan. 6 committee leaders said last night they have "already begun to receive records that the former President had hoped to keep hidden," after the Supreme Court ruled against Donald Trump's effort to avoid turning over records.
Trump lawyers had argued that releasing the documents would undermine his executive privilege, Axios' Ivana Saric reports.
The records include diaries, visitor logs, speech drafts and handwritten notes about Jan. 6 from the files of former chief of staff Mark Meadows.
Justice Clarence Thomas was alone among the justices in saying he would have granted Trump's request to withhold the documents.
3. Senate's Hail Mary on voting rights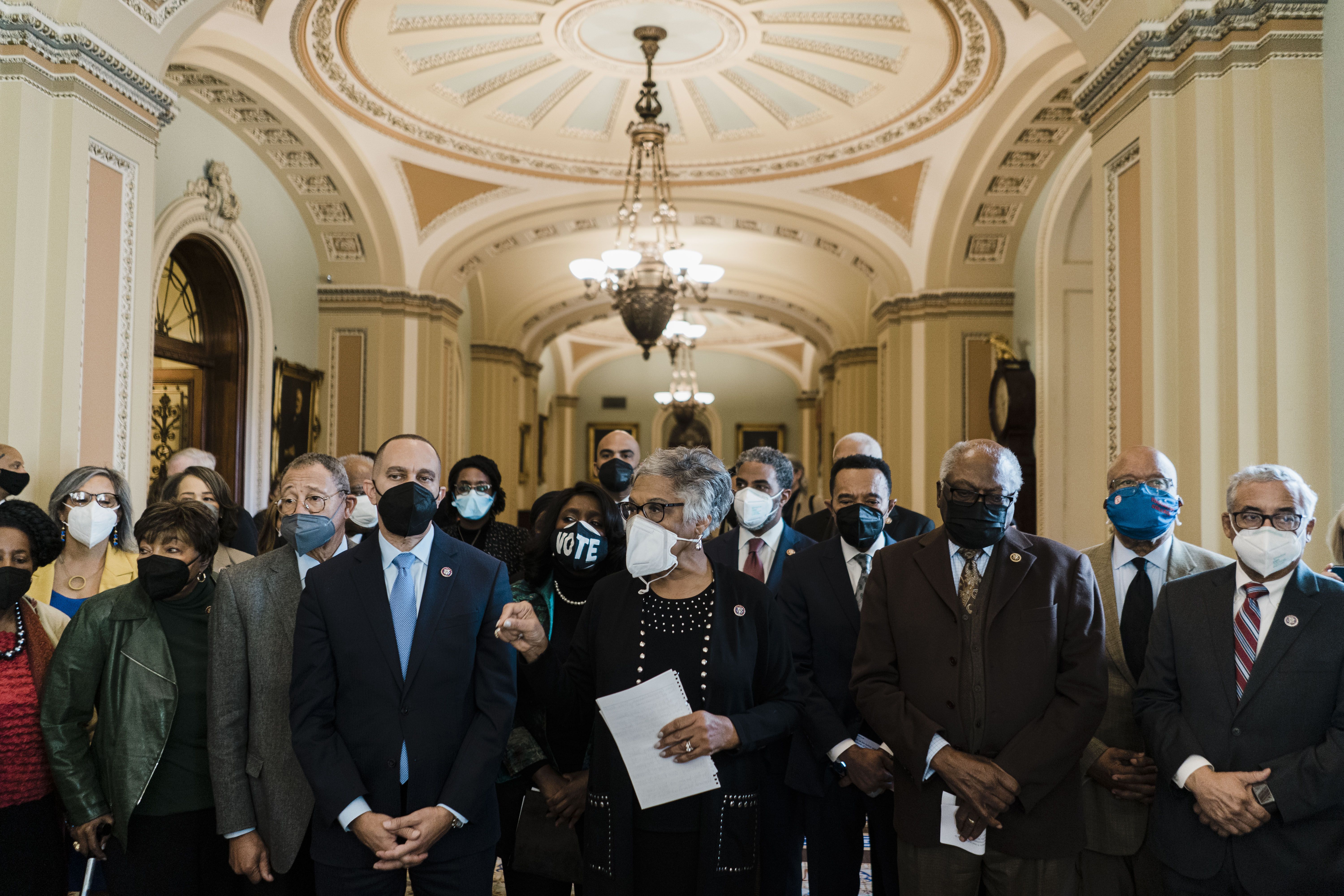 Democrats failed last night to change Senate filibuster rules to pass a broad voting rights bill, Axios' Erin Doherty and Alayna Treene report.
Why it matters: The effort was always doomed. But Senate Majority Leader Chuck Schumer argued for putting senators on the record.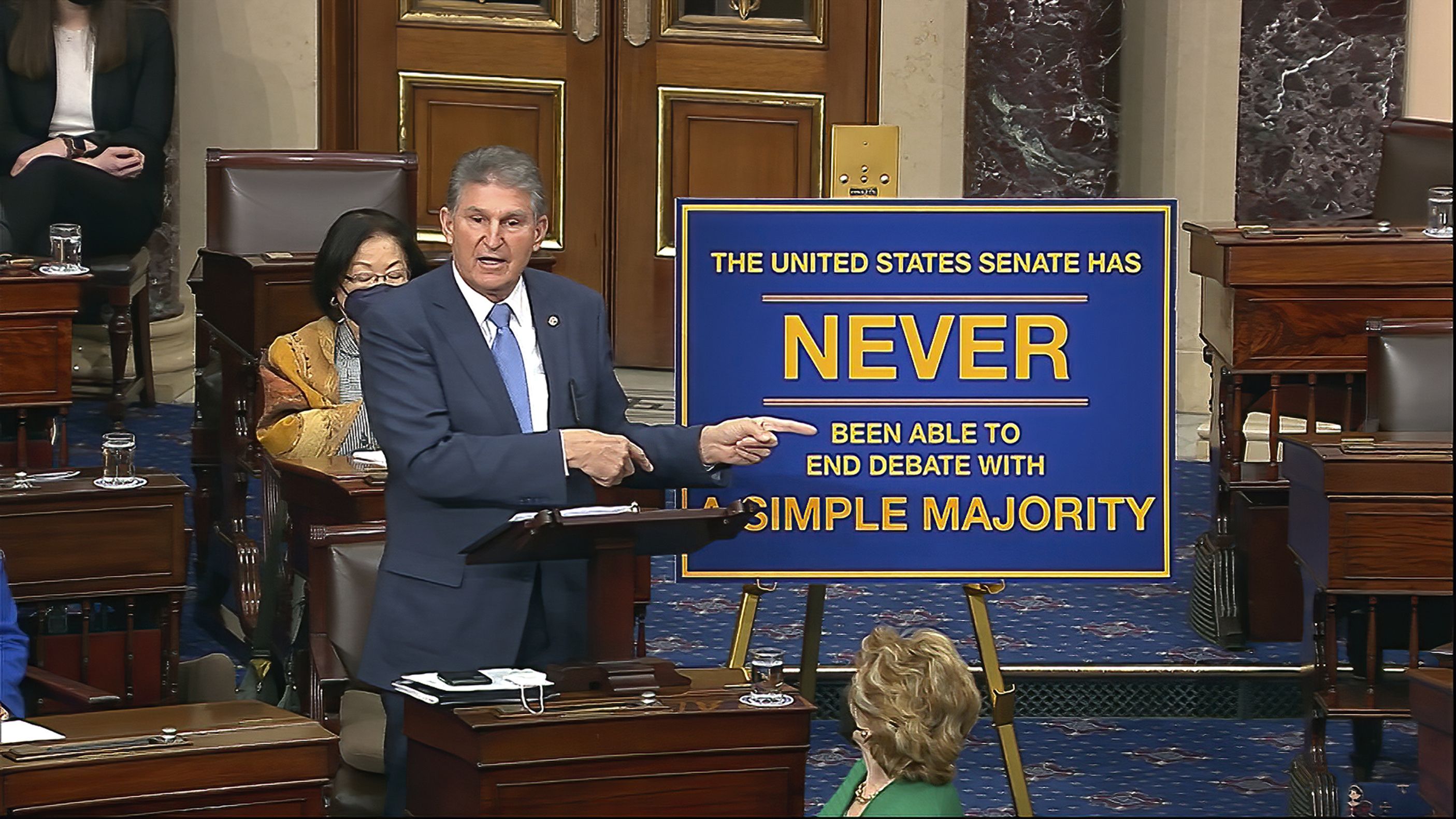 Sen. Joe Manchin (D-W.Va.) — the Democratic holdout who tanked the legislation, along with Sen. Kyrsten Sinema (D-Ariz.) — brought this prop to the Senate floor.
4. Weekly map: Omicron pushes up COVID deaths
America's Omicron wave may be peaking in some areas, but COVID deaths are climbing as cases continue to soar in most of the country, Axios' Sam Baker and Kavya Beheraj report.
Why it matters: Omicron's stranglehold in the U.S. started about a month ago. Its death toll — while almost certain to be smaller than previous waves of the pandemic — is only now starting to take hold. Deaths will likely continue to rise for several weeks.
Zoom in: The Omicron wave is already receding in the places where it first appeared: New cases are slowing down significantly in and around Boston, New York and D.C.
But it hasn't run its course in the rest of the country. While cases are declining on the East Coast, they've continued to climb just about everywhere else.
5. Biden stock market gets Trumped
U.S. stock markets performed worse during the first year of Joe Biden's presidency than during the first year of Donald Trump's presidency, Axios' Dan Primack and Jared Whalen report.
By the numbers: The S&P 500 rose 19.3% between the market close before Biden's inauguration and yesterday's market close, compared to a 24.1% increase for Trump during the equivalent period.
The S&P 500 had done better under most of Biden's first year than under Trump's. But the "lead" flipped in recent weeks due to a market selloff.
Both the Dow Industrials and Nasdaq Composite also grew much slower under Biden than under Trump.
Historical context: U.S. stocks gained more during President Obama's first year than during Trump's, and also for their entire first terms.
It's easier to get larger percentage gains when you begin with smaller numbers. The S&P 500 was at just 850 when Obama's term began, 2,270 for Trump and 3,816 for Biden.
Zoom out: The White House released this Year 1 graphic.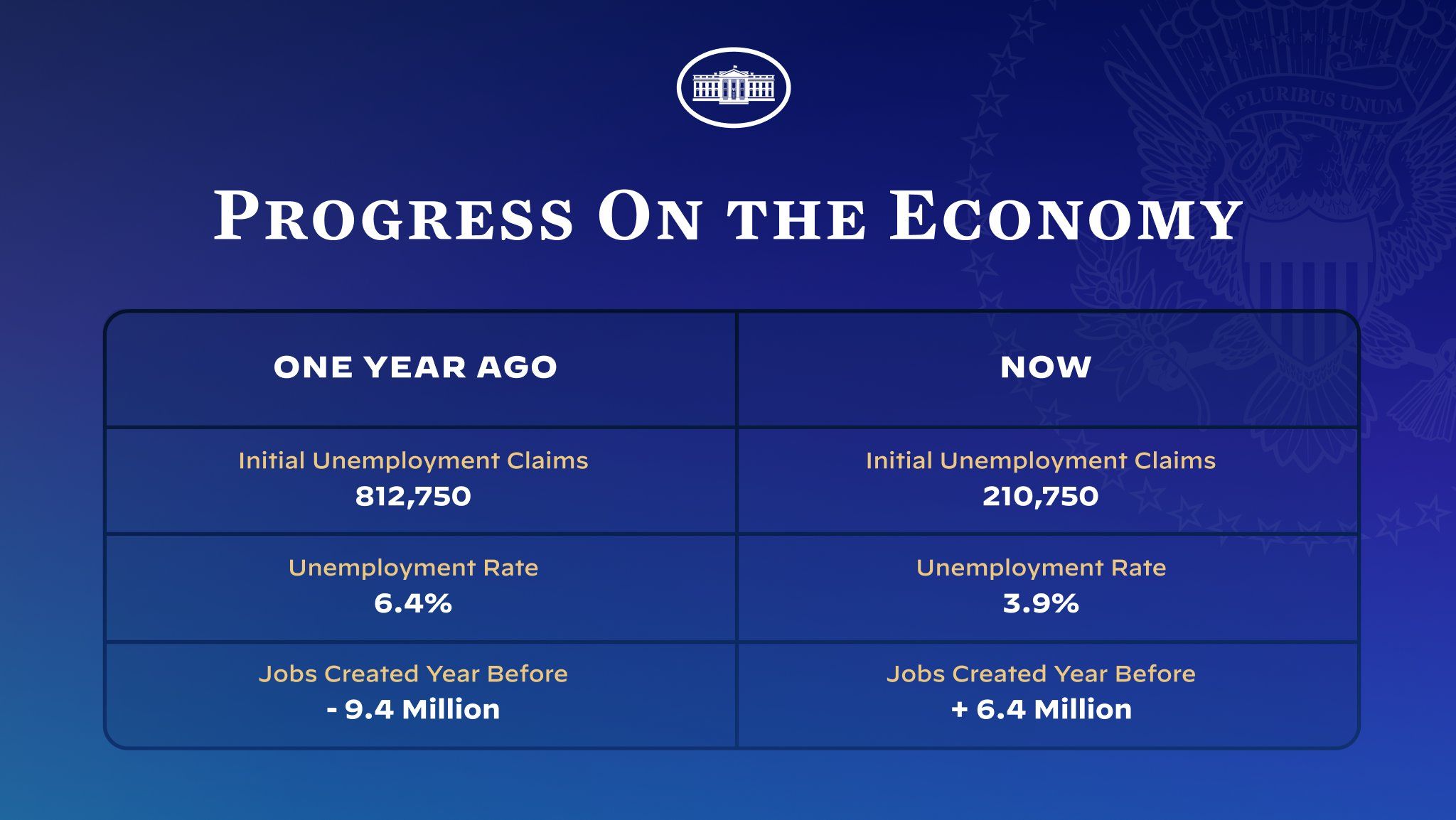 6. First look: Biden inaugural to blanket airwaves today
President Biden's Presidential Inaugural Committee will mark his first anniversary in office by blanketing today's airwaves — from breakfast to evening news to prime time — with a video promoting a recovering, resilient America.
The video is narrated by Tom Hanks, who was part of Biden inaugural festivities, and features cameos by everyday Americans — a UPS driver, a Teamster from Michigan and a bed-and-breakfast owner in Wisconsin.
"I can feel the change," says Sandra Lindsay, a New York nurse who was the first person in the U.S. to get the COVID vaccine.
What's happening: The committee, which was nominated for an Emmy, is spending several million dollars in leftover inaugural funds to air the ad on broadcast and cable TV today.
The PIC then will spend a similar amount over the next week to amplify the video on digital platforms.
7. Charted: Biden's Year 1 turnover
Low first-year turnover among President Biden's senior staff marks a "return to normalcy" and a sign of stability after the Trump years, Axios' Sophia Cai writes from a Brookings Institution report.
The departure of just five of 66 "A-Team" officials (senior executive-office positions that don't require Senate confirmation) puts Biden's departure rate as the third-lowest since Ronald Reagan's presidency — above only the two Bushes.
President Trump lost 23 of a core group of 65 in his first year.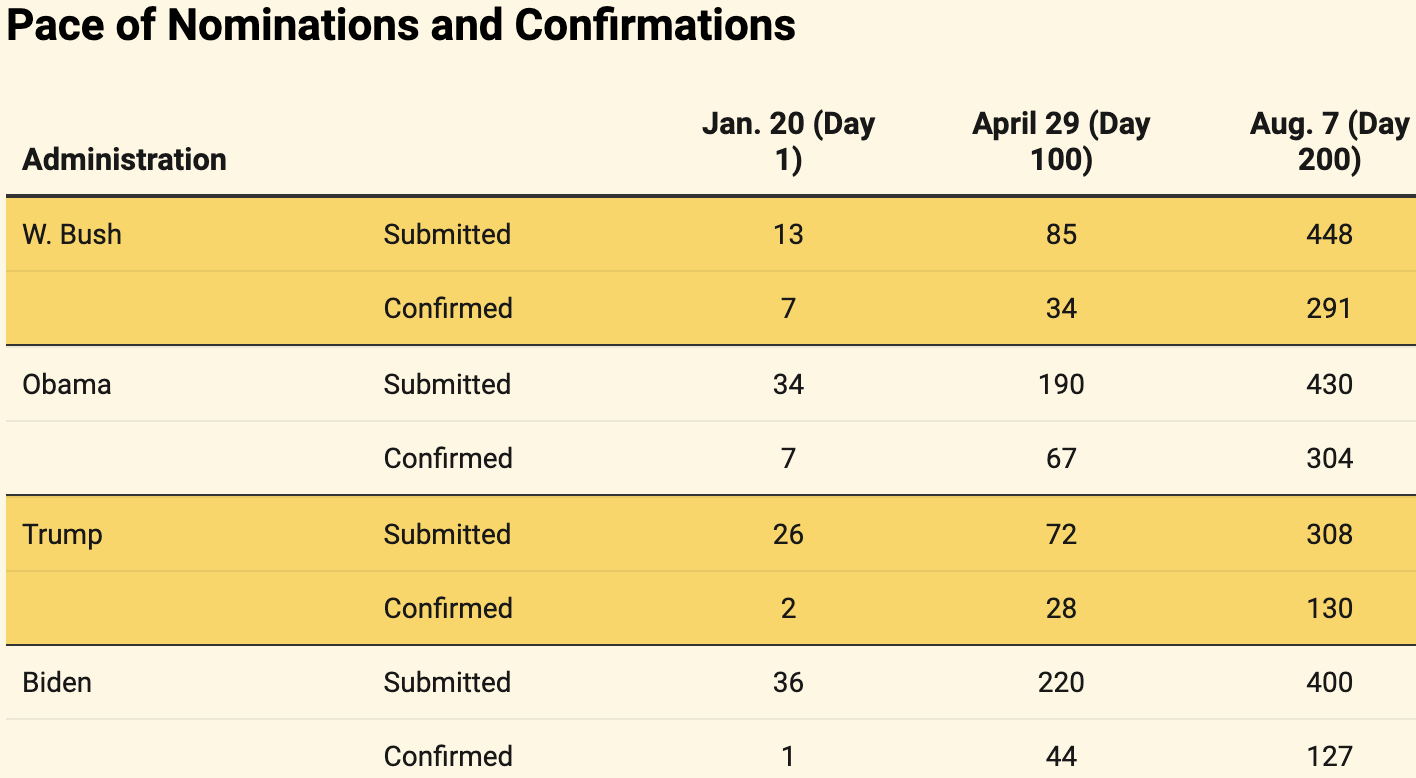 Another new report, by the Partnership for Public Service, found that by the end of 2021, 56% of Biden's key national security positions requiring Senate confirmation had been filled.
Key finding: "[E]vents of 2020–21 revealed longstanding areas of fragility in the presidential transition process."
Read the report, "The 2020-21 Presidential Transition."
8. 🥌 Most NBC Olympics hosts won't be in Beijing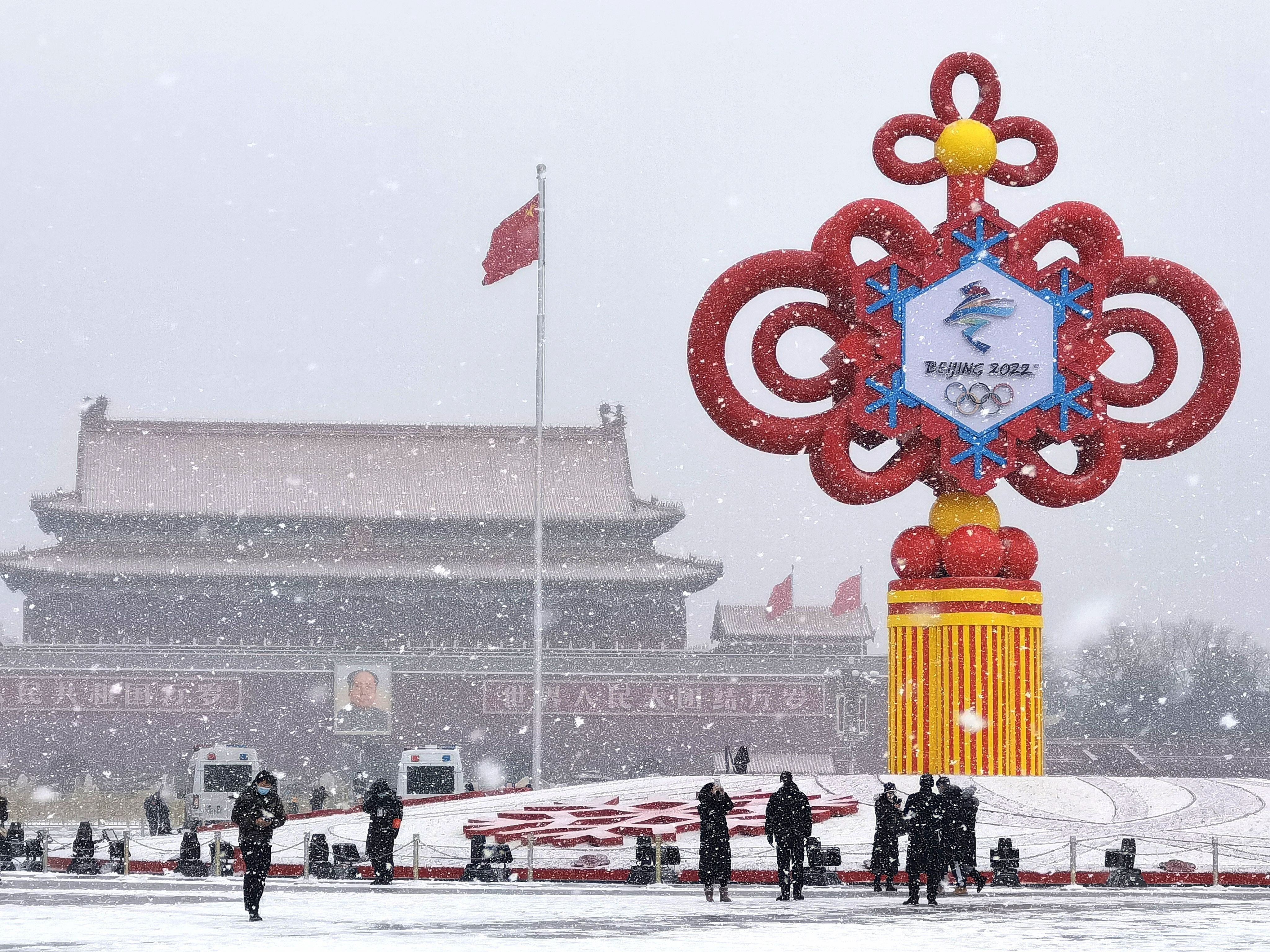 Most of NBC's event announcers for the Beijing Olympics, which open in 15 days, will make their calls from NBC Sports HQ in Stamford, Conn., rather than traveling to Beijing, because of China's strict COVID rules.
"NBC's broadcasting teams for figure skating, Alpine skiing and snowboarding had been expected to be in Beijing, but those plans have been canceled," USA Today's Christine Brennan reports.
NBC took a similar approach in Tokyo, but with on-site broadcasters for the most popular sports, including swimming and gymnastics.
🎙️ Prime-time host Mike Tirico will anchor from Beijing from Feb. 3-10, then fly to L.A. to host the next three days and the Super Bowl.
With Beijing 13 hours ahead of Connecticut, snowboarding analyst Todd Richards told USA Today he'll be on a "vampire schedule."
📬 Was this email forwarded to you? Sign up here for your own personal copy of Axios AM and Axios PM.