Axios AM
April 29, 2018
Good Sunday morning!
Situational awareness ... WashPost lead story, "Hacked messages show Qatar appearing to pay hundreds of millions to free hostages": "In ... April text message and in scores of other private exchanges spanning 1½ years, Qatari officials ... appear to consent to payments totaling at least $275 million to free nine members of the royal family and 16 other Qatari nationals kidnapped during a hunting trip in southern Iraq."
1 big thing: Media hands Trump embarrassing win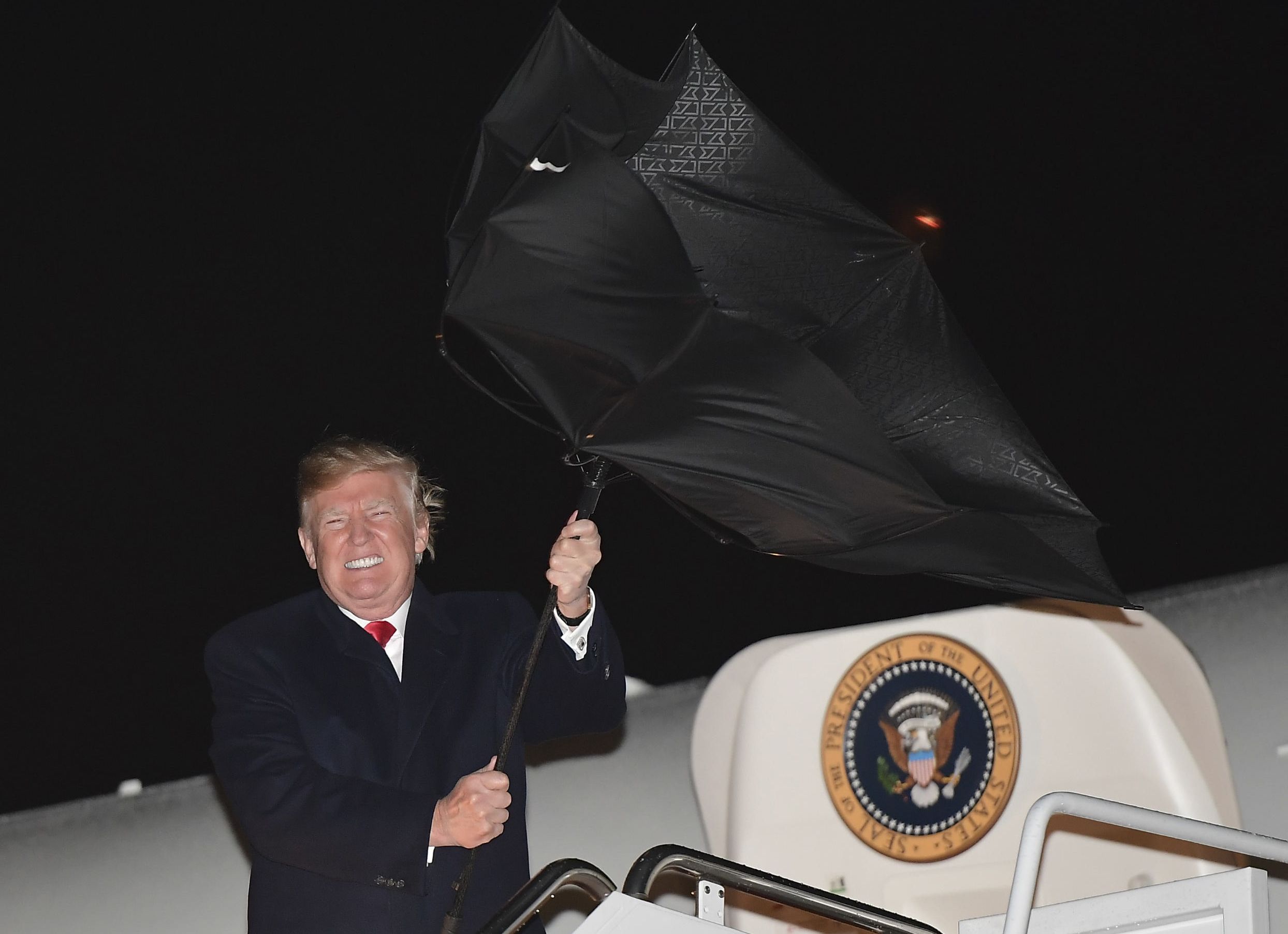 The White House Correspondents' Dinner ended with a barrage of vulgar anti-Trump jokes by comedian Michelle Wolf, who attacked the appearance of White House press secretary Sarah Sanders, who was sitting with her at the head table.
White House officials and reporters in the audience thought Wolf's patter went too far, and thought the attacks on Sanders and Kellyanne Conway were too personal.
Be smart: That creates a new hurdle for the White House Correspondents' Association to lure President Trump, who has snubbed the dinner the last two years.
The reaction:
National Security Adviser John Bolton, to Chris Wallace on "Fox News Sunday": "I was happy not to attend ... reprehensible behavior by someone addressing the gathering."
ABC's Jon Karl, a WHCA board member, said on "Good Morning America": "I think the comedian crossed the line and this went from poking fun to being mean-spirited."
Drudge's banner headline: "SMUT STAND-UP SHOCKS DC!"
Trump tweets: "While Washington, Michigan, was a big success, Washington, D.C., just didn't work. Everyone is talking about the fact that the White House Correspondents Dinner was a very big, boring bust...the so-called comedian really "bombed." [Fox's] @greggutfeld should host next year! @PeteHegseth."
Why it matters: If the dinner can only attract liberal presidents and liberal comedians, the conclusion is inevitable.
Reality check from Jon Favreau, Crooked Media co-founder and "Pod Save America" co-host:
"Comedian ends comedy dinner by saying that Flint still doesn't have clean water, an attempt to point out Washington's continued neglect of people who need help. Washington responds with a rigorous debate about the tone and civility of the comedian's jokes. Perfect."
"I really don't know if I can handle a week of fighting over a comedy speech at a dinner."
How things went off the rails:
The Gridiron Club, which hosts another major dinner for Washington reporters, has a rule for its roasters: "Singe, don't burn."
And one guest told me a good rule of thumb for comedy is not to attack how people look or who they are.
Wolf — an alumnus of "The Daily Show" who has a Netflix talk show coming May 27 — didn't follow either of those, and said after an anatomical joke: "Should've done more research before you got me to do this."
She made several uses of a vulgarity that begins with "p," in an audience filled with Washington officials, top journalists and a few baseball legends (Brooks Robinson, Tony La Russa and Dennis Eckersley).
Among the printable jokes:
"Just a reminder to everyone: I'm here to make jokes. I have no agenda. I'm not trying to get anything accomplished. So everyone who's here from Congress, you should feel right at home."
"I'm 32 years old, which is an odd age: 10 years too young to host this event, and 20 years too old for Roy Moore."
"It's 2018 and I'm a woman, so you cannot shut me up [applause] — unless you have Michael Cohen wire me $130,000. Michael, you can find me on Venmo under my porn-star name: Reince Priebus."
"It is kind of crazy that the Trump campaign was in contact with Russia when the Hillary campaign wasn't even in contact with Michigan."
Wolf was panned by journo-twitter:
CNN's Jeff Zeleny: "It was an embarrassment in the room and surely to the audience at home."
N.Y. Times' Maggie Haberman: "That @PressSec sat and absorbed intense criticism of her physical appearance, her job performance, and so forth, instead of walking out, on national television, was impressive."
N.Y. Times' Peter Baker: "I would vote to leave the comedy acts to comedy shows and stick to journalism at journalism dinners."
Trump held a counter-programming rally in Washington Township, Mich., where he said:
"You may have heard I was invited to another event tonight, the White House Correspondents' Dinner. But i'd much rather be at Washington, Michigan, than in Washington, D.C., right now — that I can tell you." [Cheers]
Something new from the rally ... In addition to "Lock her up" (still a thing at Trump rallies), the crowd chanted "Nobel!" when Trump talked about North Korea.
Correspondents' association president Margaret Talev — standing under a banner that said "CELEBRATING THE FIRST AMENDMENT" — began the evening by saying:
"The journalists we're celebrating tonight help keep our democracy healthy."
"We reject efforts by anyone, especially our elected leaders, to paint journalism as un-American, to undermine trust between reporter and reader, to cast doubt on the relevance of facts and truth in the modern age. An attack on any journalist is an attack on us all."
"This isn't about protecting the business of journalism. It's about protecting the rule of law."
The bottom line: Watch for big debate whether to end the dinner as we know it, and whether some news organizations announce they will no longer attend. 
2. North Korea floats deal before Trump meeting
"North Korea's leader, Kim Jong-un, told President Moon Jae-in of South Korea when they met that he would abandon his nuclear weapons if the United States would agree to formally end the Korean War and promise that it would not invade his country, a South Korean government spokesman said." (N.Y. Times)
Reuters: Kim "plans to invite experts and journalists from the United States and South Korea when the country closes its nuclear test site in May, Seoul officials said."
The South Korean press secretary, Yoon Young-chan, quoted Kim as saying: "The United States, though inherently hostile to North Korea, will get to know once our talk begins that I am not the kind of person who will use nuclear weapons against the South or the United States across the Pacific."
Why it matters ... Axios future editor Steve LeVine, a foreign correspondent who covered the aftermath of the Soviet Union for The Wall Street Journal, said this morning's reporting reminds him of the pivotal year 1985 in the Soviet Union:
"Not comparing Kim to Gorbachev. But noting that there is a substantial difference between going to South Korea and mouthing niceties, and telling your own people."
"It's possibly getting them ready for a momentous shift, should that proceed."
3. SecState talks tough ahead of Trump summit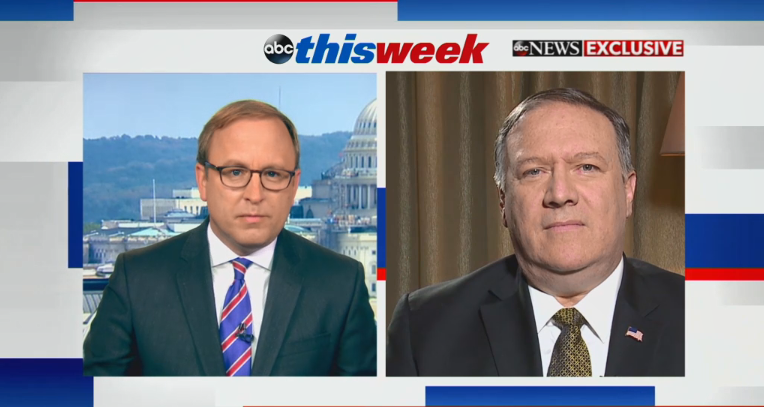 Anchoring ABC's "This Week," Jonathan Karl asked Secretary of State Mike Pompeo (taped yesterday from Saudi Arabia) if he can really trust anything that comes out of a meeting with North Korea's Kim Jong-un. Pompeo said:
"This administration has its eyes wide open. We know the history. We know the risks. We're going to be very different. We're going to negotiate in a different way than has been done before."
"[W]e use the word 'irreversible' with great intention. We're going to require those steps that demonstrate that denuclearization is going to be achieved."
"We're not going to make promises. We're not going to take words. We're going to look for actions and deeds."
"And until such time, the president has made it incredibly clear we will keep the pressure campaign in place until we achieve that. That's different. And so in each case, both countries will have to do more than words."
Bonus: Pic du jour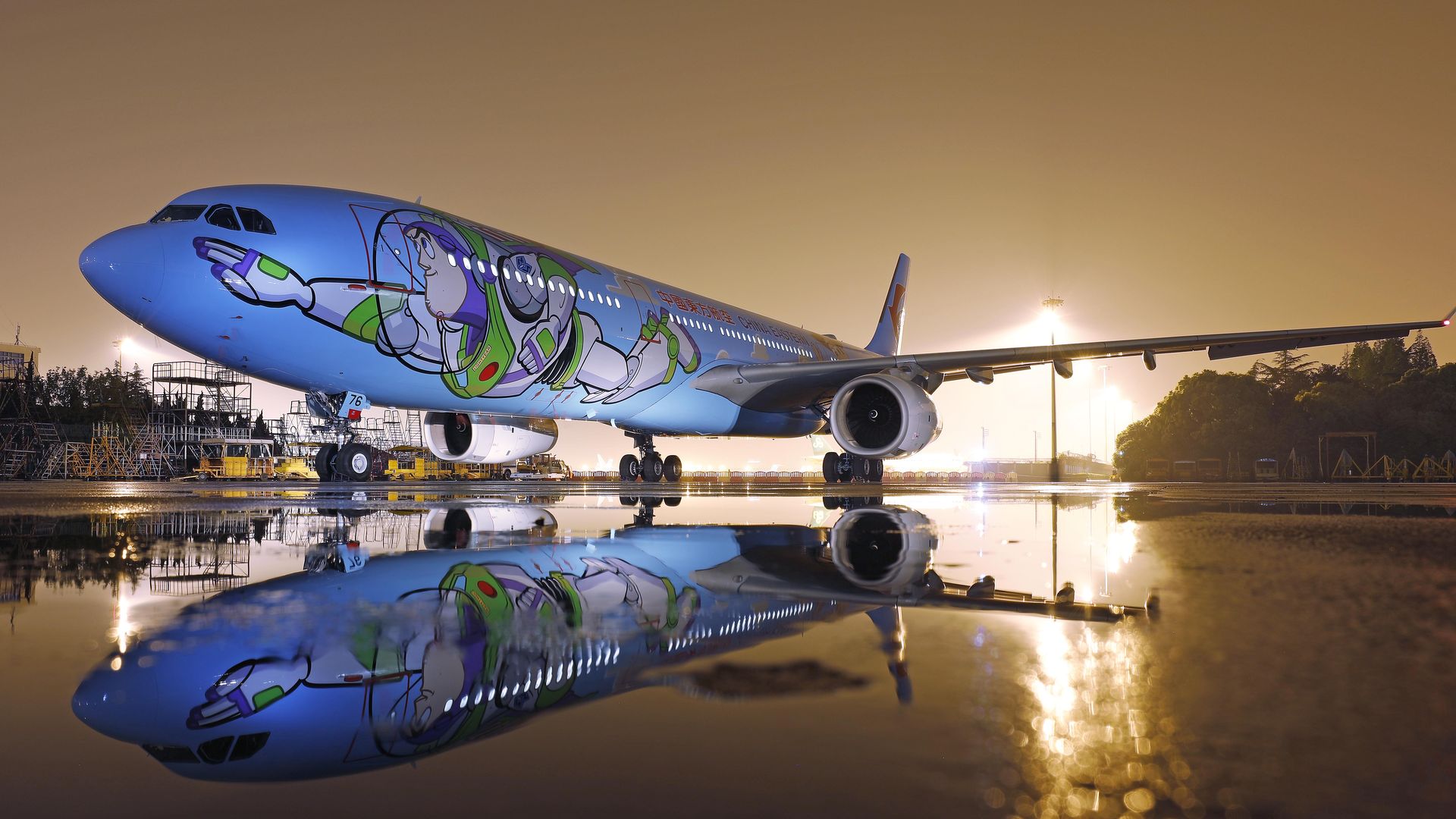 China Eastern Airlines launches a Disney/Pixar "Toy Story"-themed aircraft, with maiden flight from Shanghai to Beijing.
4. Trump's alarmist midterm message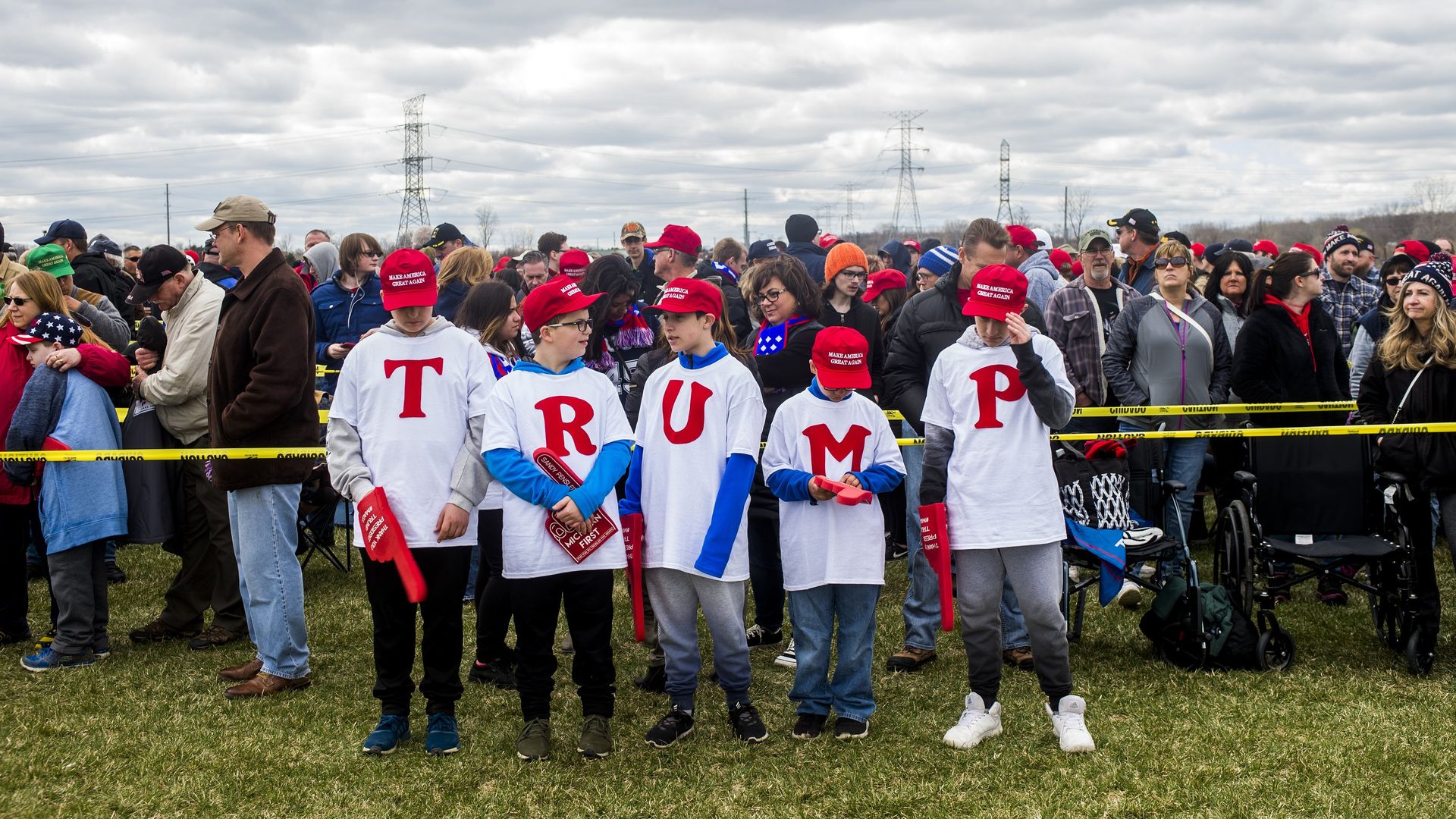 Trump at last night's rally in Michigan:
"A vote for a Democrat in November is a vote for open borders and crime. It is very simple. It is also a vote for much higher taxes. And a vote for — be careful of your Second Amendment. OK, be careful. Be careful of your Second Amendment!"
Threatens government shutdown over wall funding:
"We need the wall ... We come up again on September 28th: If we do not get border security, we will have no choice. We will close down the country because we need border security." [Cheers and applause]
5. ICE arrests of U.S. citizens: "unsettling collateral damage"
"Immigration officers in the United States operate under a cardinal rule: Keep your hands off Americans. But Immigration and Customs Enforcement agents repeatedly target U.S. citizens for deportation by mistake," the L.A. Times' Paige St. John and Joel Rubin report:
Immigration and Customs Enforcement is "making wrongful arrests based on incomplete government records, bad data and lax investigations, according to a Times review of federal lawsuits, internal ICE documents and interviews."
"Since 2012, ICE has released from its custody more than 1,480 people after investigating their citizenship claims, according to agency figures."
"And a Times review of Department of Justice records and interviews with immigration attorneys uncovered hundreds of additional cases in the country's immigration courts in which people were forced to prove they are Americans and sometimes spent months or even years in detention."
Why it matters: "[T]he detentions of U.S. citizens amount to an unsettling type of collateral damage in the government's effort to remove undocumented" immigrants.
6. 1 fit thing: Why you can skip sit-ups
Retired Gen. David Petraeus, in the WashPost "Outlook" sessions 10th annual "Spring Cleaning" issue ("10 Things to Toss"):
"I never associated — or refused to associate — the lower-back and neck pain that I often experienced ... with ... sit-ups. But as research made the toll sit-ups take increasingly clear, I finally ended my denial when I was a three-star commander of the Combined Arms Center at Fort Leavenworth in Kansas."
"There, we replaced sit-ups with the 'eagle ab' (named for the 'Screaming Eagles' of the 101st Airborne), a very tough test of stomach, core and arm muscles that involves hanging fully extended from a pull-up bar with hands facing away, curling your body up to touch your shoelaces to the bar and then returning to a dead-hang position."
"Another challenging option was the 'devil ab' (named for the Devils in Baggy Pants, a brigade of the 82nd Airborne): Lie on your back with your legs extended, your feet several inches off the ground and fingertips touching gently behind your ears. Then bring your knees up while your upper body curls (not as in a crunch, but with the body balanced with knees bent and feet still a few inches off the ground) before returning to the starting position."