Axios AM
December 08, 2021
🐪 Happy Wednesday. Smart Brevity™ count: 1,186 words ... 4½ minutes. Edited by Zachary Basu.
🔬 At 12:30 p.m. ET today, please join Axios' Caitlin Owens for a virtual event exploring pandemic-era innovations and the impact on health care in '22 and beyond. Guests include Rep. Cathy McMorris Rodgers (R-Wash.) and Scripps Research president and CEO Pete Schultz. Register here.
1 big thing: COVID-flu "twindemic"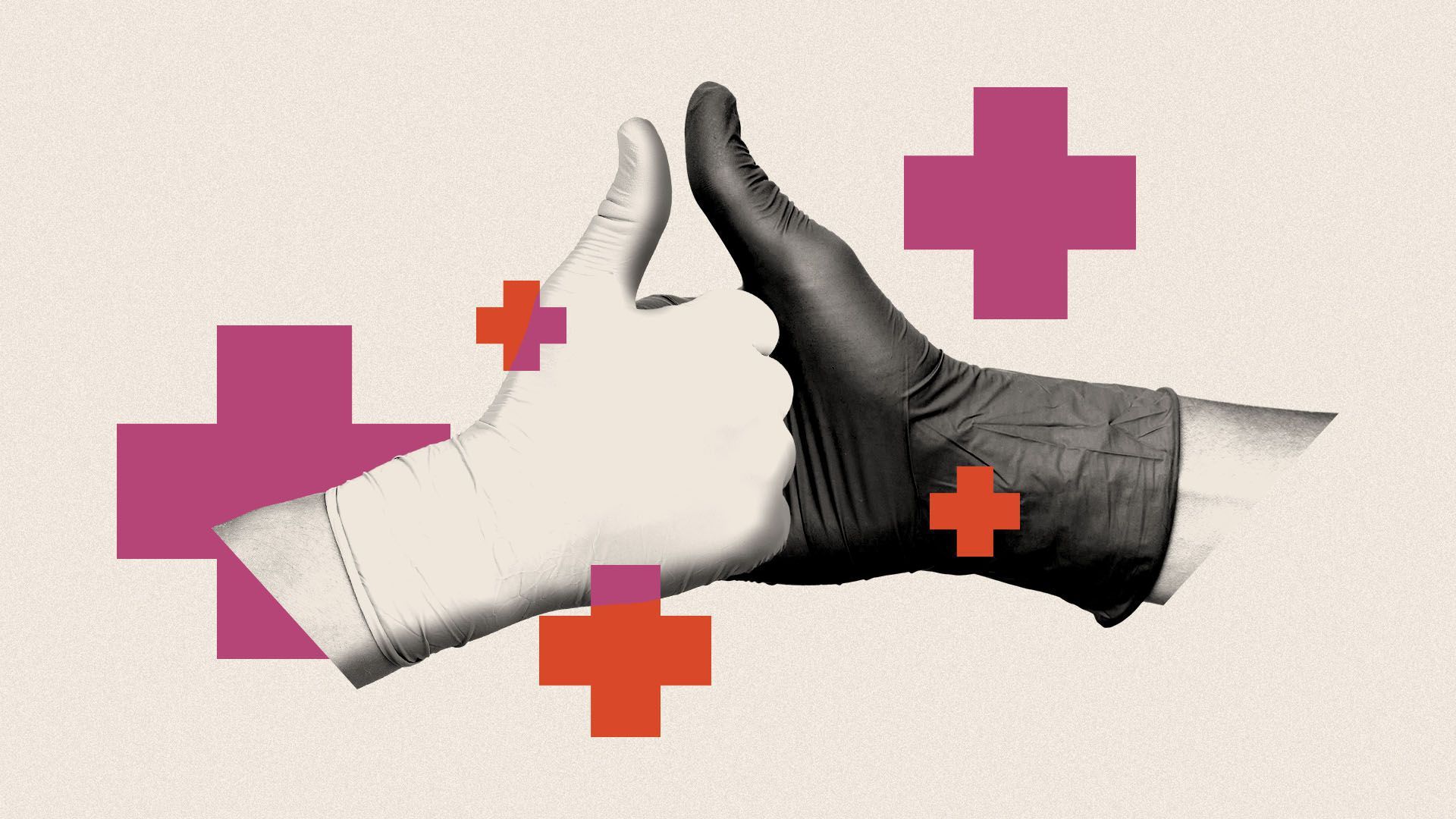 Public health officials are warning that the U.S. may be on the verge of a dangerous double whammy: COVID and flu, spreading simultaneously, Axios health care editor Tina Reed writes.
Why it matters: The Delta variant is still circulating across the U.S., and the Omicron variant isn't far behind. On top of that, experts see potential warning signs of a bad flu season, which could leave millions of Americans vulnerable and strain health care resources.
By the numbers: Just 60% of Americans are fully vaccinated against COVID.
41% of adults have gotten a flu shot, according to the CDC, as have 39% of children — significantly lower than the same point last year.
State of play: The CDC has said flu activity is still low nationwide, but recently issued a warning to providers about the early circulation of a strain of flu known as influenza A (H3N2).
Previous seasons in which that virus was the predominant strain saw more hospitalizations and deaths among people 65 and older.
2. Instagram head on Hill for first time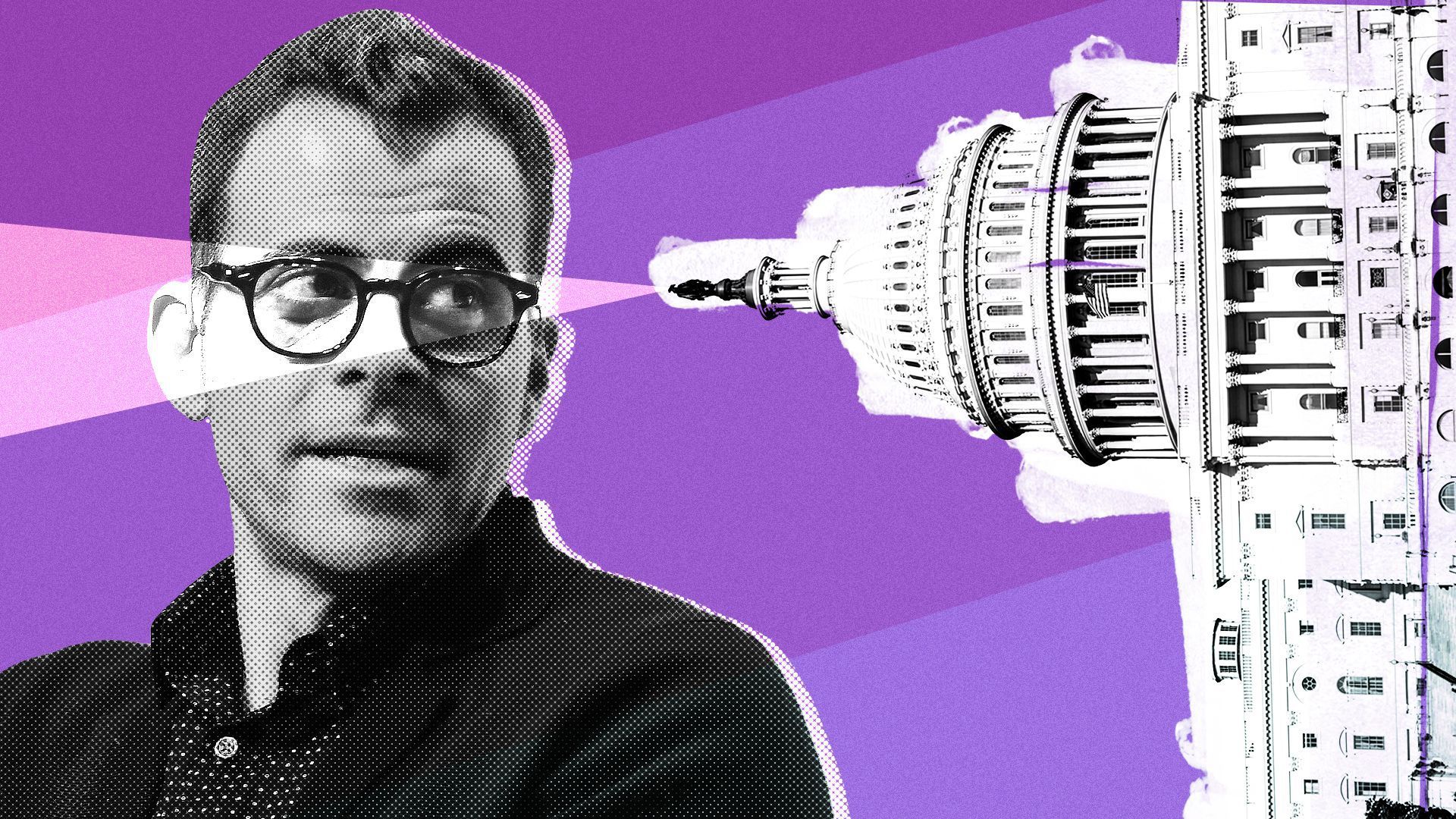 Testifying before Congress for the first time, Instagram head Adam Mosseri will be grilled about protections for youngsters online — one of the areas lawmakers are most interested in regulating.
Why it matters: Republicans and Democrats have found common ground in grilling tech companies on how their products harm children, Axios' Margaret Harding McGill writes.
Mosseri's appearance before the Senate Commerce consumer protection subcommittee comes three months after The Wall Street Journal revealed Instagram research about effects on the mental health of teen girls.
Ahead of the hearing, Mosseri announced changes to better protect young users — including a "Take a Break" feature to alert a user who's been scrolling more than a preset amount of time.
Another feature will nudge teens toward different topics if they've been dwelling on one.
The company announced a March launch for tools parents can use to see — and limit— how much time their kids spend on Instagram.
🔮 What we're watching: We expect Mosseri to emphasize Instagram's commitment to sharing data with researchers + the company's support for regulations on verifying the age of users.
3. Advocates fear Roe ripple effect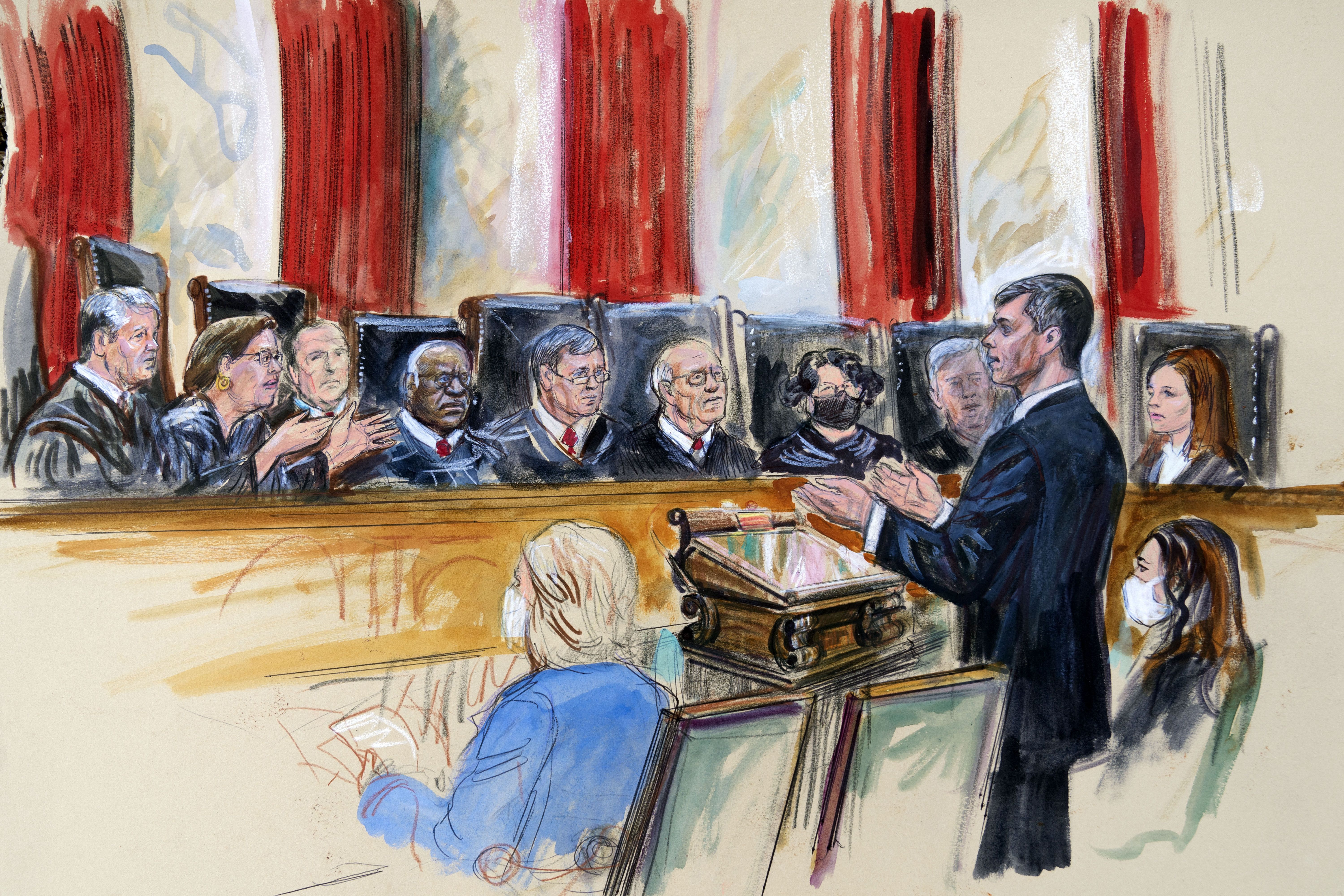 If the Supreme Court weakens Roe v. Wade, some advocates fear a ripple effect that could undermine other precedent-setting cases, including civil rights and LGBTQ protections, AP's Lindsay Whitehurst writes.
Landmark LGBTQ precedents "stand on the foundation of cases protecting reproductive justice ... [Planned Parenthood vs.] Casey and Roe vs. Wade," said Camilla Taylor, litigation director at Lambda Legal.
Catch up quick: The Supreme Court's conservative majority signaled in arguments last week they would allow states to ban abortion much earlier in pregnancy and may even overturn the nationwide right that has existed for nearly 50 years. A decision is expected next summer.
The other side: Anti-abortion advocates and some legal scholars argue that the Roe decision was unique, both in its legal reasoning and effects, and so overturning it wouldn't affect other landmark cases.
4. 🇩🇪 After 16 years, Merkel passes torch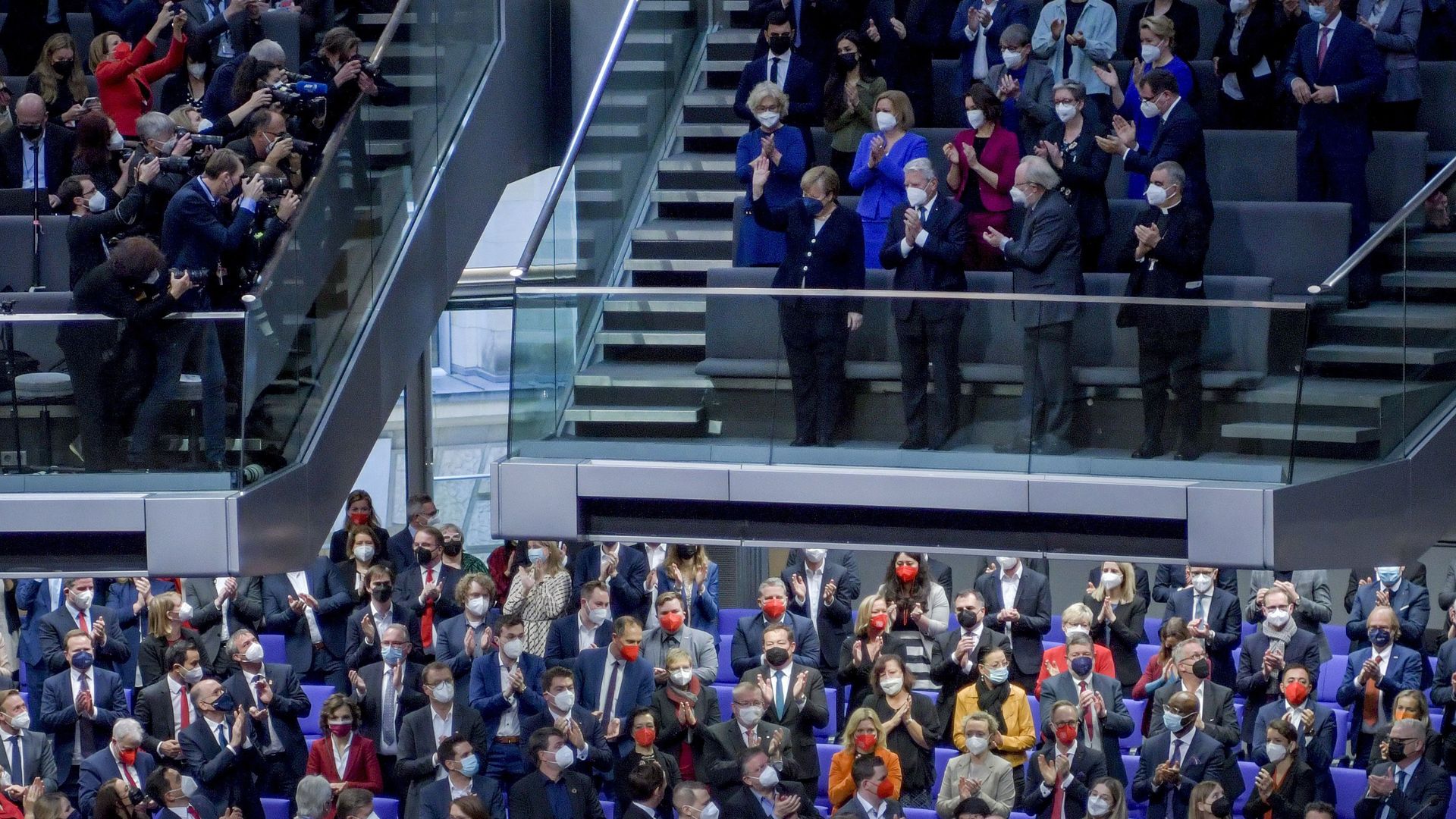 Social Democrat Olaf Scholz, 63, was sworn in as chancellor of Germany today, succeeding conservative Angela Merkel after 16 years and launching a new era of German and European politics.
He'll lead what's being called a "traffic light" coalition — after the parties' colors of red, green and yellow.
Why it matters: Climate change, more progressive social and economic policies, and a stronger EU are central planks of the Social Democratic platform, Axios' Zachary Basu writes.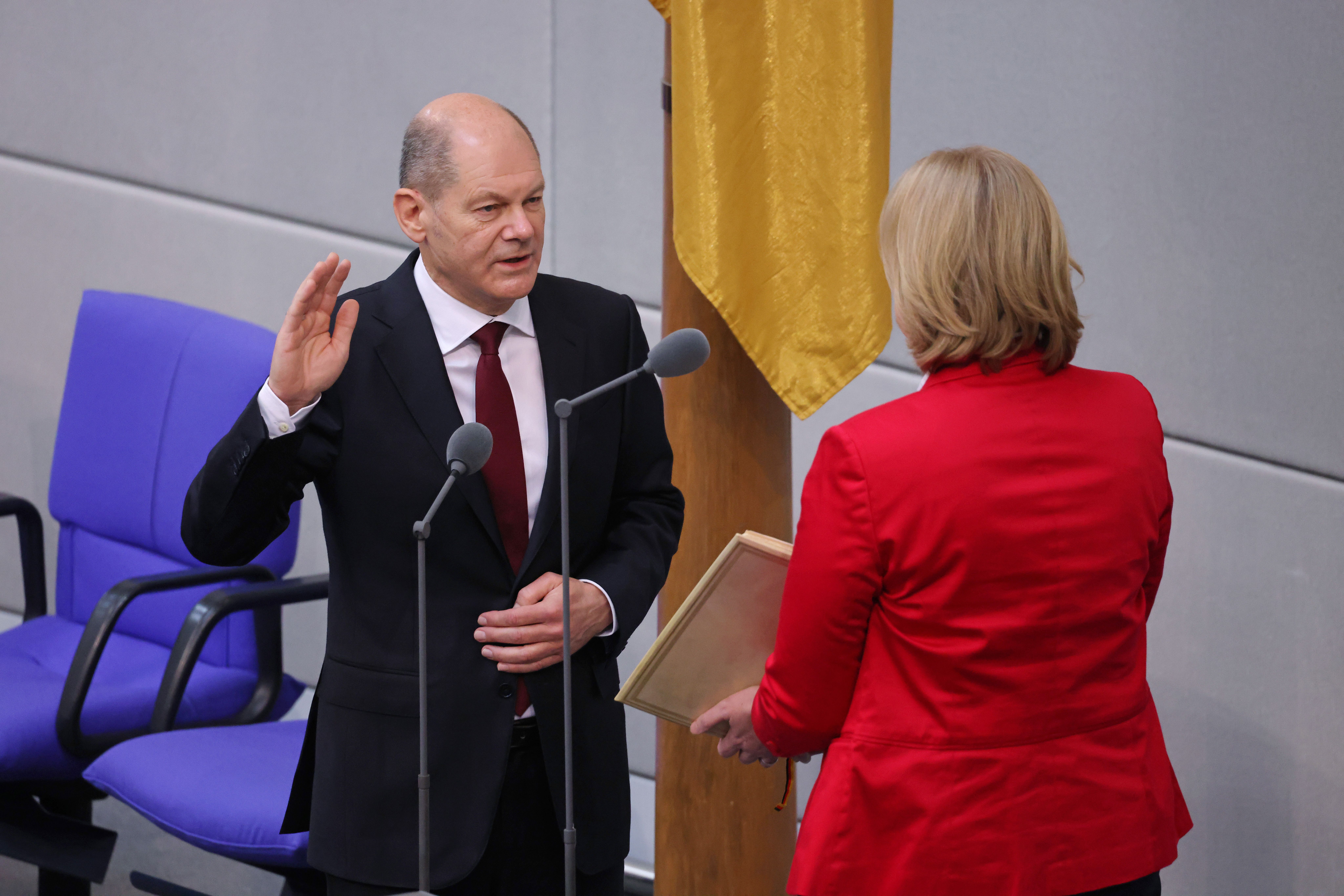 Scholz positioned himself as Merkel's natural successor and a safe pair of hands to steer Germany through challenges that include a more confrontational Russia and China, Reuters reports.
After serving as mayor of the northern port city of Hamburg from 2011-2018, Scholz returned to Berlin as Merkel's finance minister.
🥊 In the last of more than 660 podcasts Merkel recorded in office, she made a farewell plea to Germans to get vaccinated.
Go deeper: Why Merkel mattered, by Axios World author Dave Lawler.
5. Senate shortcut: Debt ceiling set for lift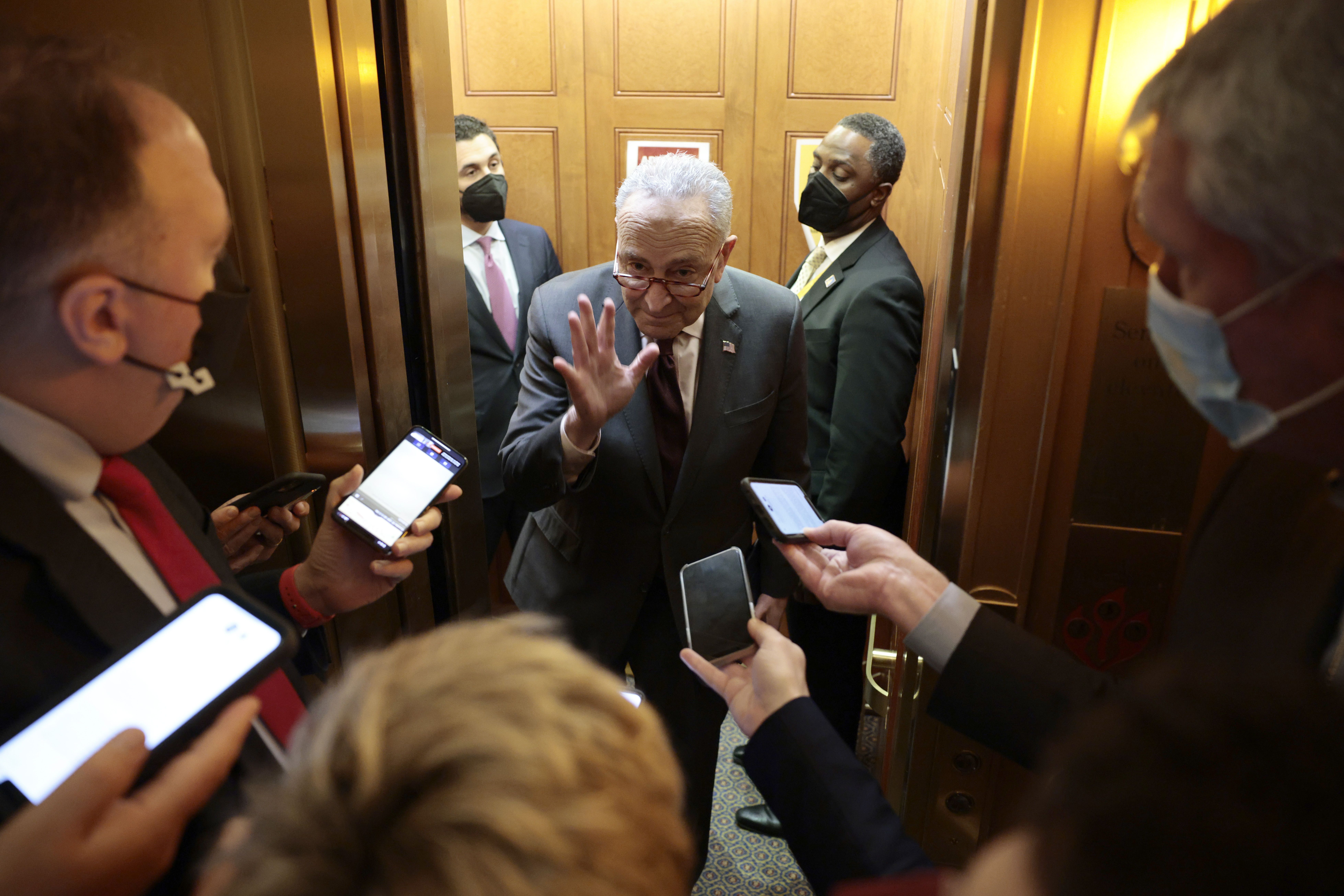 Congress found a shortcut to pass its annual defense funding bill and raise the debt limit, Axios' Alayna Treene writes.
Why it matters: These two huge pieces of legislation cleared the House last night and are now expected to pass the Senate with ease.
It's a huge victory for congressional leaders, given most in the Capitol expected the process to be brutal and messy.
6. 2022 threat level: Cyber insecurity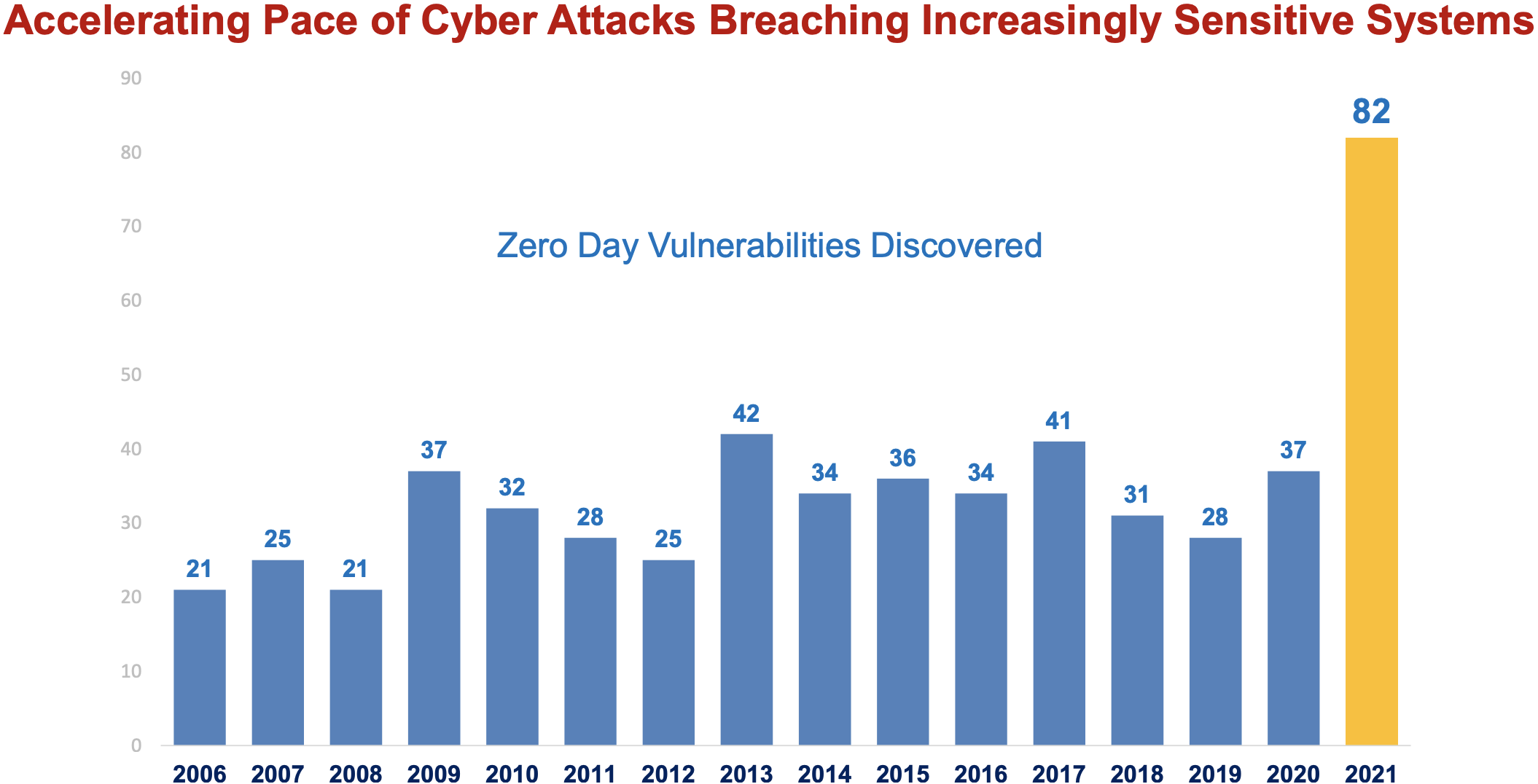 Bruce Mehlman of Mehlman Castagnetti is out with an illuminating "Top 2022 Risks" deck, which includes "cyber insecurity."
The sobering data above comes from the Zero Day Tracking Project, which defines a zero-day vulnerability as an undisclosed software flaw "when there is no solution provided from [the] software vendor and the vulnerability is being actively exploited by malicious actors."
7. 📈 Charted: New heights for old cars
The unbelievable rise in used-cars prices — the poster child for supply chain disruption — is finally slowing after a year-over-year increase of 44%, Axios business editor Kate Marino writes.
Wholesale used-car prices (what dealers pay) rose 3.9% in November, following a 9.2% surge in October.
What's happening: "Wholesale prices appear to have peaked the week before Thanksgiving as weekly prices have declined slightly in each of the last 2 weeks," wrote Jonathan Smoke, chief economist at Cox Automotive, which publishes the Manheim Used Vehicle Value Index.
Reality check: Retail price trends lag wholesale — and for now, retail prices continue to increase, Smoke said.
8. 🎒 1 for the road: Smart school buses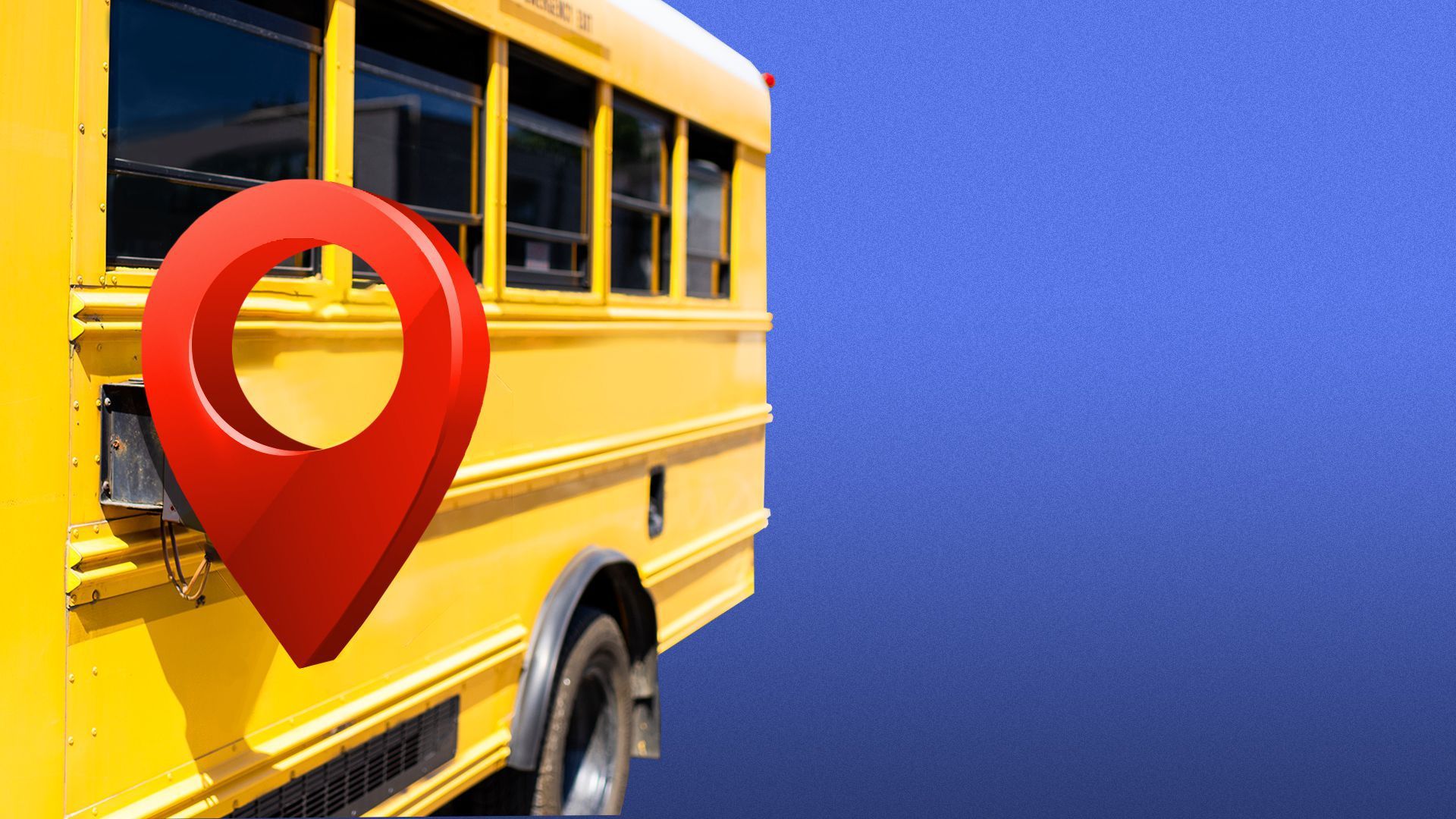 New York City, the nation's largest school district, is building an Uber-like GPS system that lets parents track their child's school bus ride in real time, Axios' Jennifer A. Kingson writes.
NYC, with 1 million pupils, has contracted with Via Transportation to start phasing in student tracking next fall.
Why it matters: For parents, teachers and school administrators, the ability to follow each student's daily commute adds a layer of safety and peace of mind — and helps everyone adjust plans when there are traffic jams or other snarls.
Similar systems are already deployed in San Francisco (3,500 students) and Oakland (1,500 students) through a Bay Area company called Zūm.
Each kid gets a QR code (on a printout or a phone) that's scanned when they get on and off their school bus.
Schools and bus operators have consoles that track buses and students.
Between the lines: These systems reduce the likelihood of a sleeping child being left on a bus, or of children boarding the wrong bus or getting off at the wrong stop.
But "big brother" concerns about children's privacy have been raised, and labor unions have complained about extra responsibilities for their members.
Both Via and Zūm say school districts can save money by using their software and algorithms to map more efficient bus routes.
📬 Was this email forwarded to you? Sign up here for your own copy of Axios AM and Axios PM.