November 04, 2022
Hello, Friday. Smart Brevity™ count: 1,491 words ... 5½ minutes. Edited by Noah Bressner.
⚡ Situational awareness: Speaker Pelosi announced her husband, Paul, has been released from Zuckerberg San Francisco General Hospital: "Paul remains under doctors' care as he continues to progress on a long recovery process and convalescence. He is now home surrounded by his family."
1 big thing — Exclusive emails: Inside Trump's botched Georgia fight
Late on the night of Jan. 6, 2021, as the world reeled from the shocking images of a pro-Trump mob ransacking the U.S. Capitol, conservative activist and Trump legal adviser Cleta Mitchell focused her attention elsewhere — on a crumbling voter fraud lawsuit in Georgia that could open the door to criminal exposure.
Axios' Jonathan Swan and Zachary Basu obtained dozens of previously undisclosed emails from the time period covering Dec. 30, 2020, to Jan. 8, 2021.
Why it matters: The emails shed new light on the internal machinations, pressures and disagreements at the heart of the unprecedented legal battle to keep a defeated president in power.
🖼️ The big picture: The central question of what then-President Trump and his lawyers knew when he signed sworn court documents attesting to false evidence of voter fraud in Georgia is now under scrutiny by the Justice Department, Atlanta prosecutors and the House Jan. 6 committee.
Two lawyers advising Trump were revealed over the past several weeks to have raised concerns about the president signing the verification, which carried the penalty of perjury. The new emails show a third, Bruce Marks, also expressed concern but was overruled.
The emails also reveal new granularity about the role of Mitchell, who since then has collaborated with the Republican Party to build an activist base of national "election monitors" — many of whom will be out in force in Tuesday's midterms.
🔎 Zoom in: The legal discussions on the night of Jan. 6 about Georgia involved Trump himself and consideration of how to minimize exposure from the botched lawsuit and attestation.
"I spoke with POTUS and he said do the best we can," Mitchell wrote in an email time-stamped 9:36 p.m. ET, to Trump campaign lawyers Justin Clark and Matthew Morgan.
The nation's capital was under citywide curfew. The House and Senate had just resumed debating objections to Joe Biden's Electoral College victory.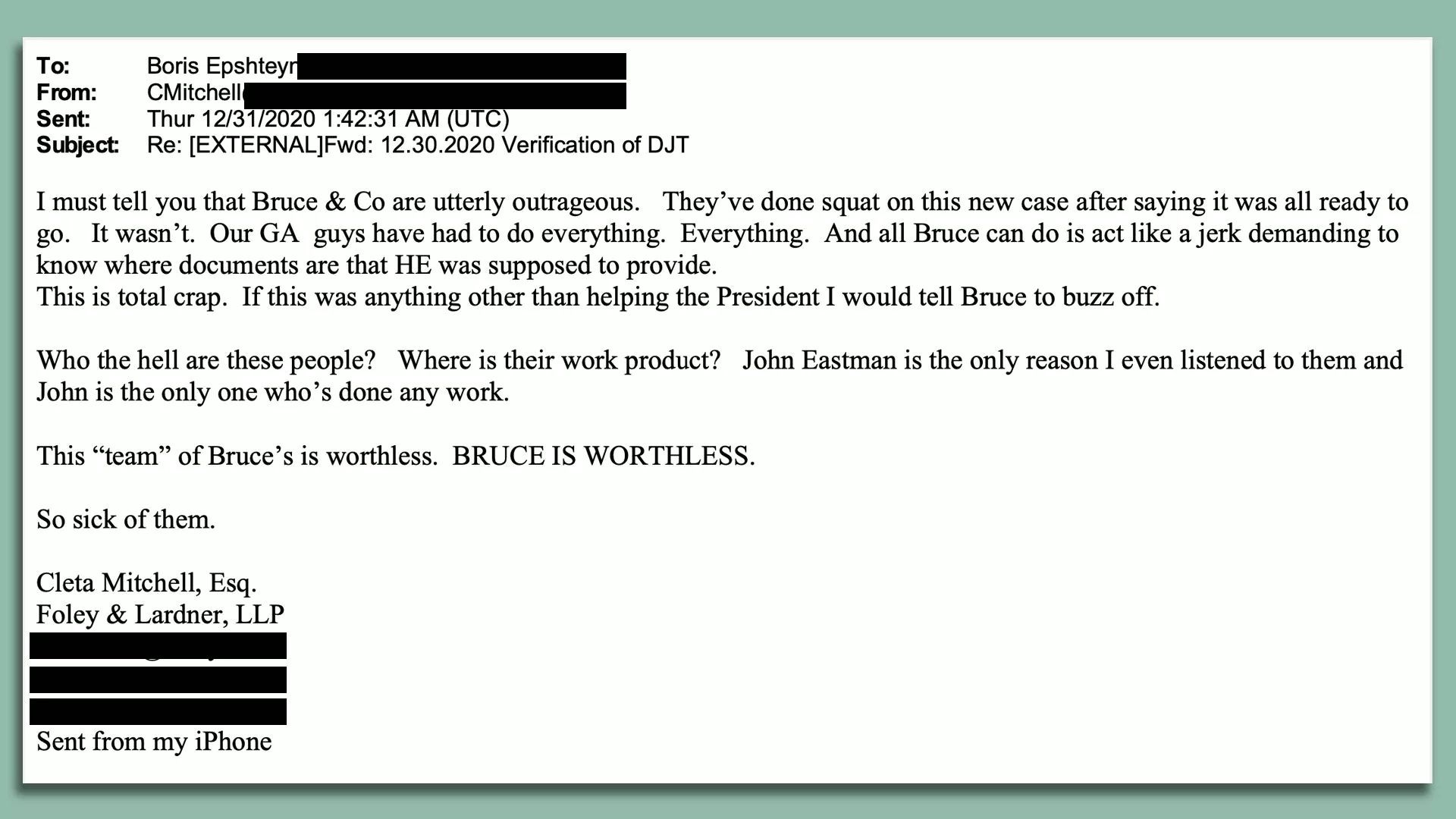 🔮 What's next: Mitchell has over the past 18 months redoubled her efforts and established herself as a central player in the nationwide network of Trump-allied lawyers and activists who are laying the groundwork to monitor and contest future elections.
Mitchell's project, called the Election Integrity Network, is run out of the Conservative Partnership Institute, an influential D.C.-based think tank stocked with former senior Trump administration officials.
In a sign of how important Mitchell's efforts are to Trump, the former president, who is loath to share his PAC's money, authorized a $1 million donation to CPI. This was by far the Trump committee's largest donation to political allies in the second half of 2021.
Mitchell told Axios in a statement: "Any assertion that we are seeking to overturn future elections is a complete fabrication. There's not a word in any of our materials saying this is about 'overturning elections.' We aren't saying that. We aren't doing that."
🍿 Read the full story: Frustrations among the warring factions of outside lawyers clinging to Trump and the dream of a second term bubbled to the surface in the dying hours of 2020.
Keep reading: see 2 more emails. Axios' Emma Hurt contributed reporting.
2. Massive wintertime layoff surge
Layoff and hiring freezes are cascading across tech, after a record boom lulled many employers and employees into a false sense of security.
Why it matters: In statement after statement, companies warn they're preparing for dire times.
🐦 Twitter today is taking the extreme step of locking its offices and suspending employees' badge access, as new CEO Elon Musk begins mass layoffs expected to cut deep into the platform's 7,500 employees.
In an ominous email to staff, Twitter said cuts will begin at noon ET: "In an effort to place Twitter on a healthy path, we will go through the difficult process of reducing our global workforce on Friday."
Internal plans earlier this week had Musk looking to cut 3,700 Twitter staff, or about half the workforce, Reuters reports.
The email said employees not laid off will find out via their work email. Staff who are losing their jobs will be notified with next steps to personal email addresses.
🧠 What's happening: During the past decade, tech workers got used to high salaries, plush benefits and tons of opportunity. Workers in other industries were paying a heavy price for the pandemic. But tech continued to prosper, Axios' Scott Rosenberg says from the Bay Area.
So it's still a little hard for most people in Silicon Valley, and the wider tech industry, to get their heads around just how tough times could be getting for them.
Tons of layoffs and freezes are being announced or leaked as companies race to prepare for bleak months ahead:
Amazon announced a "pause on new incremental hires in our corporate workforce," citing the "unusual macro-economic environment." (Read the memo.)
Lyft said it will lay off about 680 employees, or 13% of staff, and blamed inflation and the slowing economy. Co-founders Logan Green and John Zimmer told staff of "the tough reality."
Stripe CEO Patrick Collison said the payments company will lay off 14% of its workforce, returning to February's headcount of 7,000: "We were much too optimistic about the internet economy's near-term growth ... and underestimated ... a broader slowdown." (Read the memo.)
Apple has paused hiring for many jobs outside R&D. (Bloomberg)
CNN Worldwide employees are expecting layoffs after chairman and CEO Chris Licht warned in a memo last week of "unsettling" changes in light of "widespread concern over the global economic outlook."
3. 😐 Worker productivity plunges
Worker productivity plunged in the first half of this year at the sharpest rate ever recorded in data going back to 1947, The Washington Post writes from Bureau of Labor Statistics figures.
Why it matters: The drop "raises new questions about the shift to hybrid schedules and remote work," The Post adds.
Executives, under pressure to boost employee performance as firms seek a post-pandemic normal, "are not seeing what they want, and they're starting to get anxious," corporate adviser Kathy Kacher told The Post.
4. 🗳️ Oprah's November surprise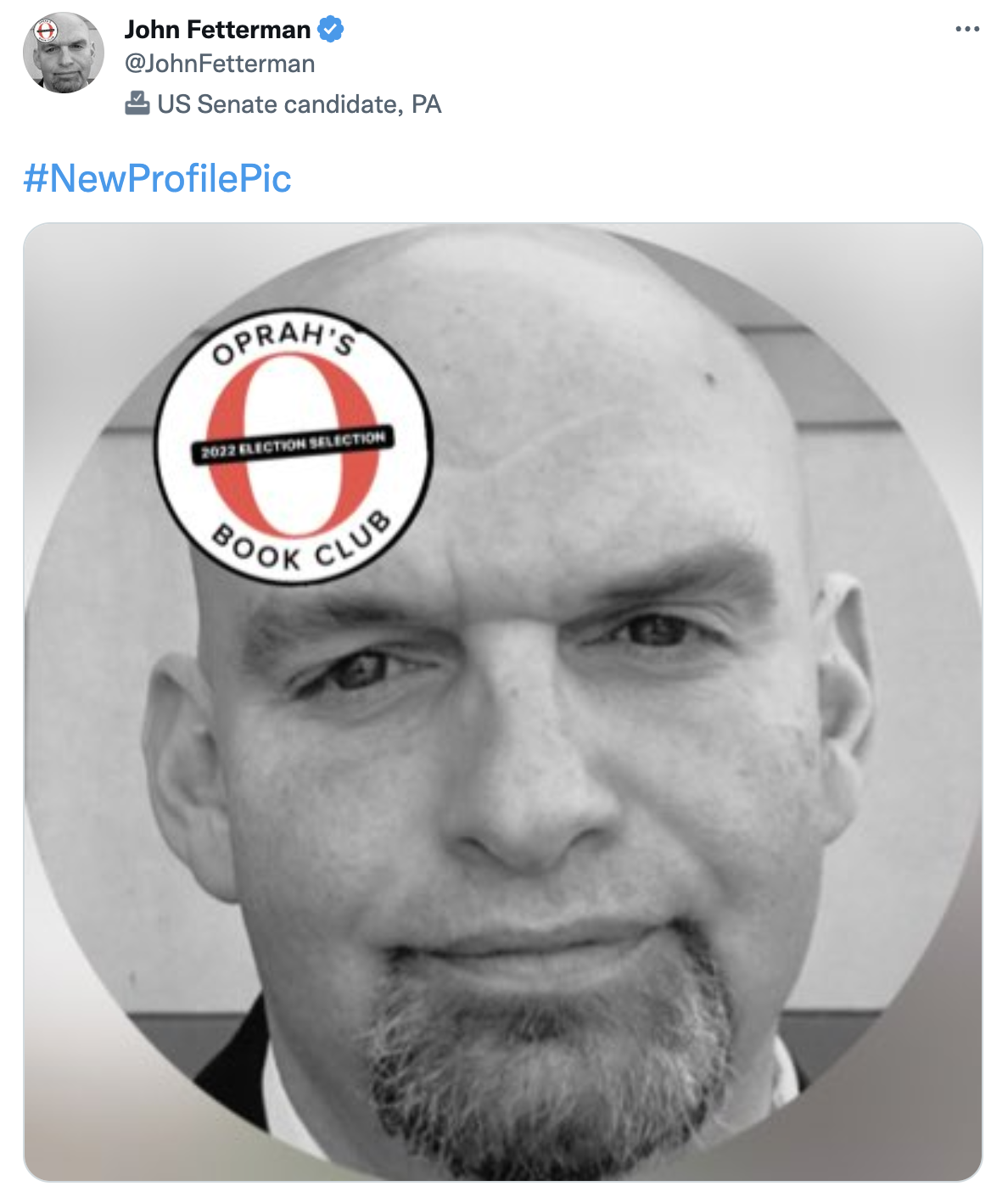 Oprah Winfrey, who made Dr. Oz famous, instead is supporting Democrat John Fetterman in Pennsylvania's epic U.S. Senate race, Axios'
"If we do not show up to vote ... the people who will be in power will begin making decisions for us," Oprah said on a "Virtual Voting Conversation" she hosted.
"Decisions about how we care for our bodies, how we care for our kids, what books your children can read, who gets protected by the police and who gets targeted."
5. 🤯 Get those "societal collapse" hedges ready
The world is "on the path to hyperinflation," which could lead to "global societal collapse and civil or international strife," Elliott Investment Management, one of the world's biggest and most influential hedge funds, writes in a letter reported by the Financial Times (subscription).
"Investors should not assume they have 'seen everything'" just because they experienced the '70s bear market and oil shock, the 1987 crash, the dotcom bust or the 2008 financial crisis, the letter adds.
Financial extremes, as the era of cheap money closes, make "possible a set of outcomes that would be at or beyond the boundaries of the entire post-WWII period," writes Florida-based Elliott, founded by Paul Singer.
6. FBI warning: Threat to N.J. synagogues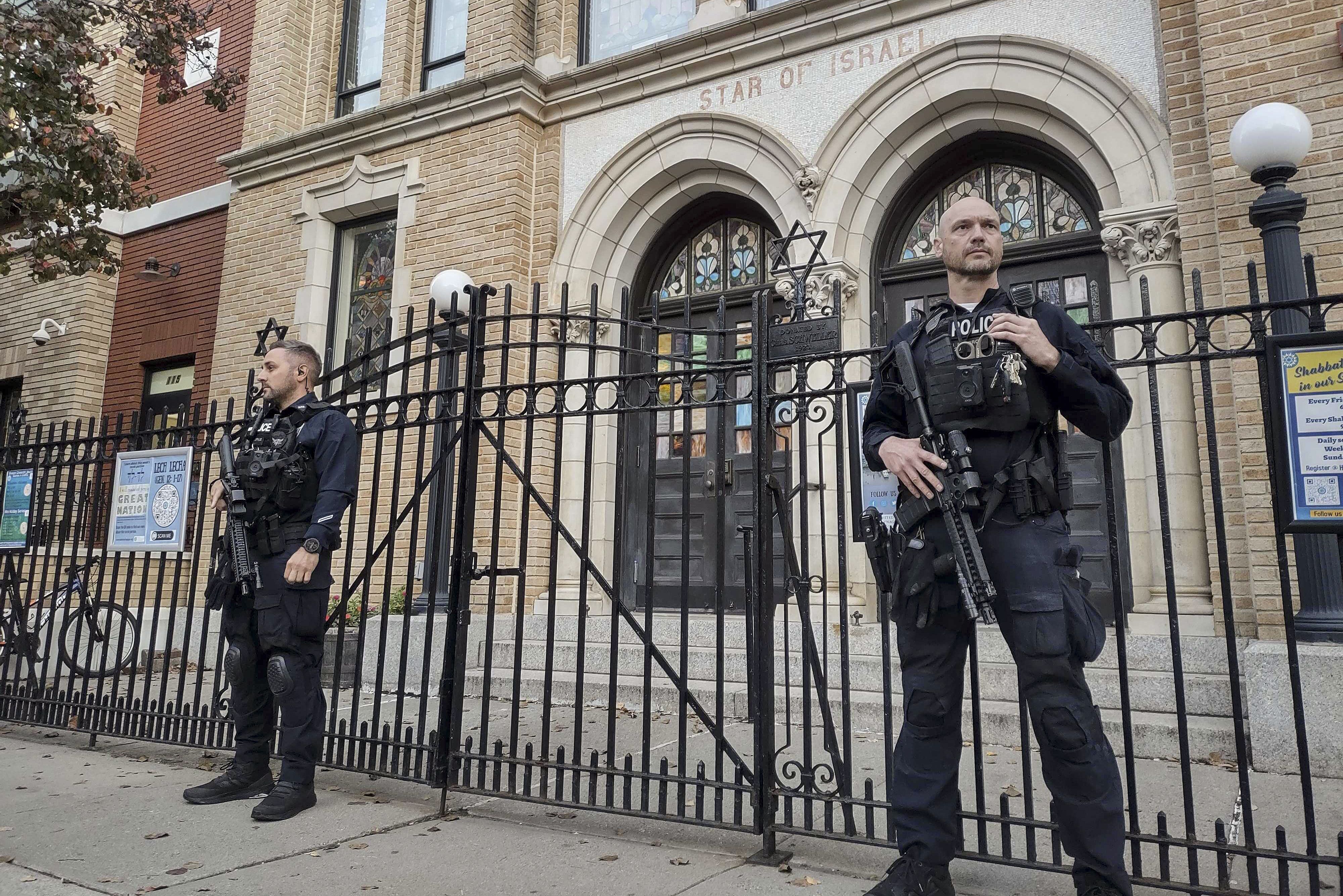 FBI Newark tweeted that it "has received credible information of a broad threat to synagogues" in New Jersey:
The alert was posted after an online threat directed broadly at synagogues in the Garden State — no specific location was threatened, a law enforcement official told AP.
Some municipalities sent extra officers to guard houses of worship.
7. 📊 Stunning poll: 44% see "secret cabal"
Joel Benenson of Benenson Strategy Group, the renowned pollster for President Obama's 2008 and 2012 campaigns, gave Axios AM readers a first look at the results of a question he'd never asked before:
"We wanted to test QAnon's language that the world is controlled by a secret cabal. Given that the U.S. is the world's strongest democracy, we wanted to see how far the appeal of language like that might reach."
44% of registered voters said they believe it.
The figure is especially arresting because of this result in the same poll:
59% of voters agree that the U.S. is a strong democracy.
The breakdown: 66% of Democrats ... 55% of Republicans ... 54% of independents.
8. 📷 1,000 words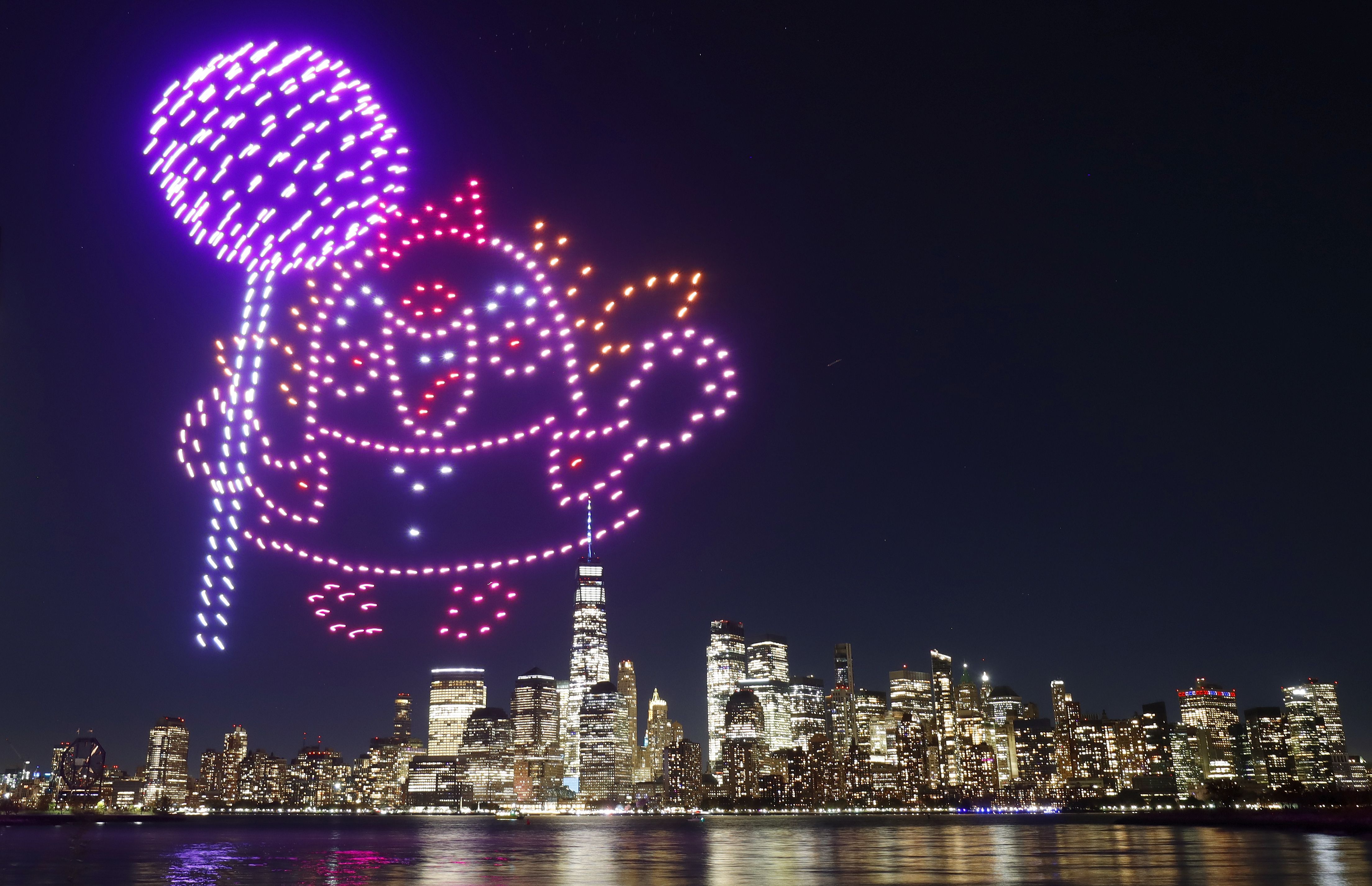 New Yorkers got a sweet treat last night: 500 drones formed a lollipop kid over the skyline of lower Manhattan and One World Trade Center, in an ad for the 10th anniversary of the Candy Crush Saga video game.
📬 Thanks for starting November with us. Please invite your friends to sign up to get their daily essentials — Axios AM, PM and Finish Line.