May 06, 2022
Happy Friday. Smart Brevity™ count: 1,492 words ... 5½ mins. Edited by Zachary Basu.
1 big thing: Post-Roe prepping
Abortion clinics are already preparing to shift people and resources away from red states, in anticipation of the Supreme Court overturning Roe v. Wade, Axios' Oriana Gonzalez and Torey Van Oot report.
Many abortion providers "are planning to move or travel to places where they will be able to continue to care for patients," Alhambra Frarey, an OB-GYN in Pennsylvania and a fellow with Physicians for Reproductive Health, said in a statement.
That means there's likely going to be a "saturation" of abortion providers in urban areas, particularly in blue states, said Iman Alsaden, medical director of Planned Parenthood of Great Plains, which covers Kansas, Arkansas, Missouri and Oklahoma.
"We have been preparing preemptively for this decision for a long time," said Sarah Traxler, the chief medical officer of Planned Parenthood North Central States, which covers Iowa, Minnesota, Nebraska, North Dakota and South Dakota. She is an abortion provider in St. Paul.
Traxler is working to "make sure that we have space available for patients coming from all over."
Her organization is also preparing to assist with travel and childcare.
How it works: 13 states have passed "trigger" laws that would immediately outlaw abortion if and when Roe v. Wade is overturned.
Providers who try to keep operating in those states could face criminal penalties. And more states will likely pass additional restrictions once the court rules.
2. Data trail for abortion enforcers
Troves of data that tech companies have spent decades accumulating could put them in the middle of prosecutions if the Supreme Court eliminates federal guarantees of abortion rights, Axios' Ina Fried writes in her weekly "Signal Boost" column.
Why it matters: If the leaked draft becomes law, court orders could arrive at tech firms seeking info about people searching for emergency contraception, or seen near a suspected abortion clinic.
The big picture: Mass data collection and the potential for greater state surveillance has been a growing, if largely abstract concern. But the seemingly imminent end to guaranteed legal access to abortion spotlights a specific risk such data can pose right now.
Tech companies generally say they will protect user data, but also comply with data demands required by local laws.
What we're hearing: Tech companies are loath to talk on the record about how they might handle legal requests in post-Roe v. Wade abortion cases. But lawyers and other executives are having these discussions.
How it works:
Bulk vs. individual: Law enforcement requests could seek data for a specific person ... or all people who were near a particular clinic ... or all out-of-state residents near a particular clinic.
Lawful order vs. buying data: There are no rules requiring law enforcement to obtain a court order for data they can purchase, and there's a lot of very personal information being sold by data brokers.
Medical data: In addition to non-medical information such as location, shopping and search data, medical records themselves could be targeted. And those records are far more digitized than before Roe.
👀 What we're watching: It's not just people who have abortions who may find themselves the subject of investigations.
Anyone who is pregnant and has a miscarriage might find prosecutors seeking their internet search or other data to determine whether a provider delivered illegal services.
As states have sought to criminalize gender-affirming health care, data requests could be used against parents researching health options for their kids.
🧠 What you can do: Experts say it may be time to rethink period-tracking apps and to rely more on incognito mode in browsers, turning off location tracking and understanding your options for data deletion.
The Digital Defense Fund has a detailed set of recommendations here.
3. Tech shrink
Amid a brutal market sell-off, tech companies that focus on streaming, e-commerce and social media are facing especially steep declines, Axios' Sara Fischer and Scott Rosenberg write.
Why it matters: Internet firms that benefited from pandemic habit changes are now being forced to trim their outlooks and spending.
Tech firms have started to announce layoffs, hiring freezes and spending cuts.
Cameo, the hit app that connects celebrities to fans virtually, laid off 87 people Wednesday — about 25% of its workforce.
Meta, parent to Facebook, is implementing a broad hiring freeze, per memos seen by Insider.
Netflix last week laid off some staff from Tudum, its fan-centric editorial website launched in December.
Between the lines: Long-established tech companies in sectors like IT, hardware, chips and business services have had the market's latest volatility built into their stock expectations for some time.
For those companies — including Microsoft, IBM and Apple — this market downturn so far looks more like cyclical retrenching than existential crisis.
But companies in streaming — Netflix, Roku and Spotify — are facing particularly steep declines as consumers pivot to more in-person events and travel.
E-commerce companies — including Shopify and Amazon — are struggling as retail stores begin to see more foot traffic.
Startups face an even harsher reality.
Young companies across e-commerce, delivery and financial services are slashing costs and jobs in a bid to save cash, Axios' Dan Primack reports.
4. 📷 1,000 words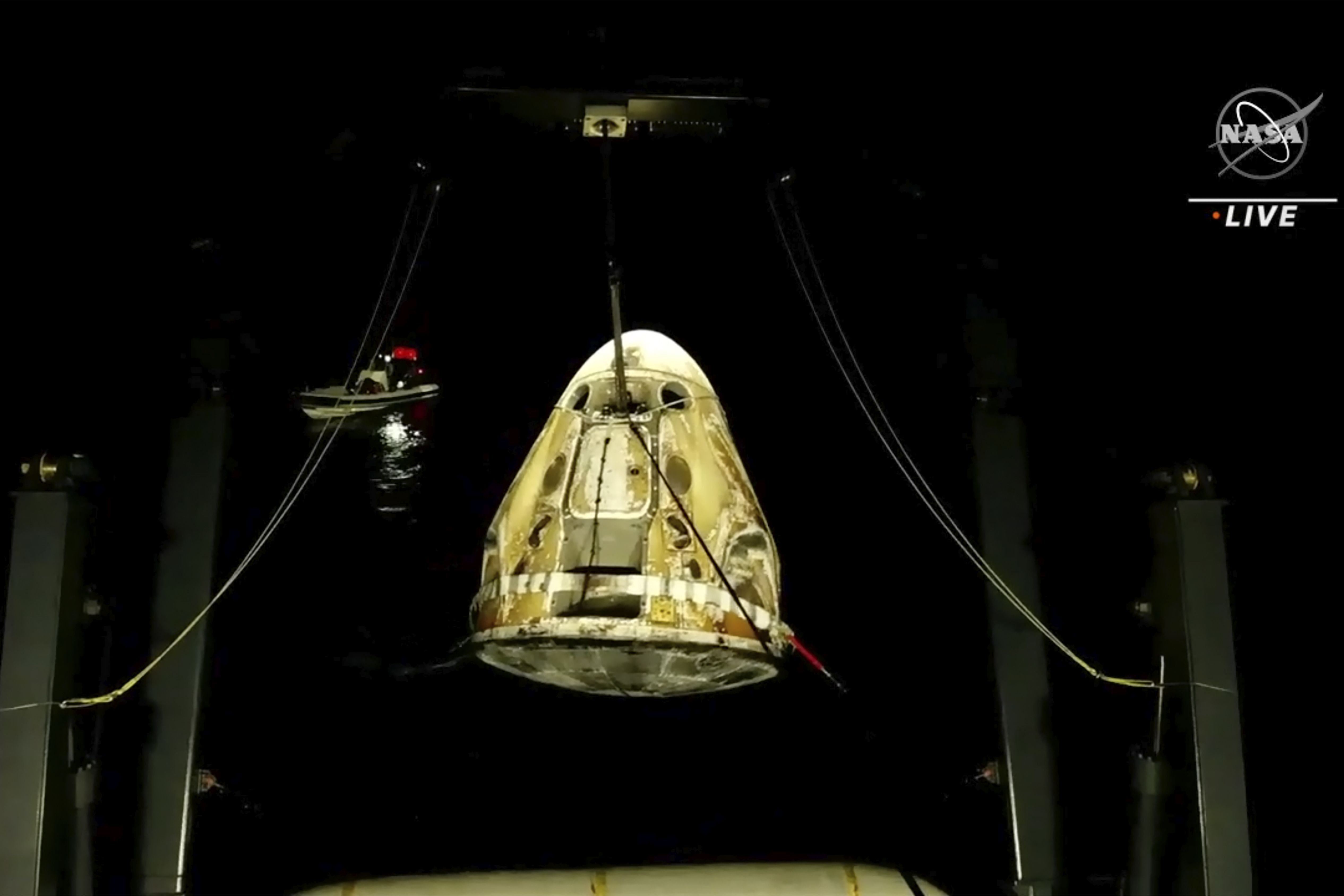 A SpaceX Dragon capsule is lifted from the Gulf of Mexico near Tampa early today, returning four astronauts who had undocked from the International Space Station less than 24 hours earlier.
Why it matters: The splashdown capped the busiest month yet for Elon Musk's space taxi service, AP reports.
5. 🇺🇦 U.S. intel helped sink Russia's battleship
The U.S. shared intelligence with Ukraine that helped its forces target and sink the Moskva — the crown jewel of Russia's Black Sea fleet — in a missile strike last month, NBC News first reported.
Why it matters: U.S. officials are now taking credit for providing Ukraine with real-time, decisive battlefield intelligence — a sea change that shows the Biden administration is easing limitations on how far the U.S. will go to help defeat Russia.
Go deeper: EU official warns against "inappropriate communication" on intel-sharing with Ukraine
6. Culture of quitting is here to stay
Job turnover is 20% higher in our new remote and hybrid working world — and it's going to stay that way, Axios' Erica Pandey writes from new research from tech research firm Gartner.
Why it matters: Companies should brace for a lasting culture of quitting.
Some 37 million people will leave their jobs in the U.S. this year, Gartner projects. That's a 20% jump from pre-pandemic levels.
A company that was seeing a fifth of its workforce turn over annually before the pandemic, for example, can now expect to lose almost a quarter of its employees each year.
What's happening: Flexible work means the cost of leaving a job is far lower.
Workers have options. The companies eager to hire you aren't just the ones within commuting distance anymore. Remote work means there are many more places to land if you quit.
Work friendships are weaker.
What's next: Companies will have to bring in more recruiters to handle the long-term load of open roles.
And they'll have to build some redundancy into teams so products and clients don't suffer from concentrated turnover spikes.
💡 What employers can do: Plenty of companies were remote or mostly remote before the pandemic and have managed to stabilize quit rates.
Human resources leaders at those places tell us that clarity around company purpose and mission to drive a strong culture is as vital as competitive pay and perks.
Corporate retreats are now a must to build those work friendships that make people think twice about quitting.
7. ✈️ Boeing moves HQ
Boeing will move its global headquarters from Chicago to the aerospace and defense firm's campus in Arlington, Va., just outside Washington.
Boeing President and CEO Dave Calhoun said: "The region makes strategic sense for our global headquarters given its proximity to our customers and stakeholders, and its access to world-class engineering and technical talent."
8. 🏎️ Formula 1 roars into Miami
The Miami Grand Prix debuts Sunday as the first of two Formula 1 races in the U.S. this season (along with Austin in October), and the first ever in Miami, Jeff Tracy writes in Axios Sports.
Why it matters: The race comes at the perfect time in the sport's domestic evolution from curiosity to obsession. If the weekend goes as planned, the U.S. could be on its way to becoming an F1 superpower.
👀 More than 300,000 people will flock to Miami for weekend festivities, with the average ticket selling for $2,179.
Spending is expected to surpass even Miami's 2020 Super Bowl.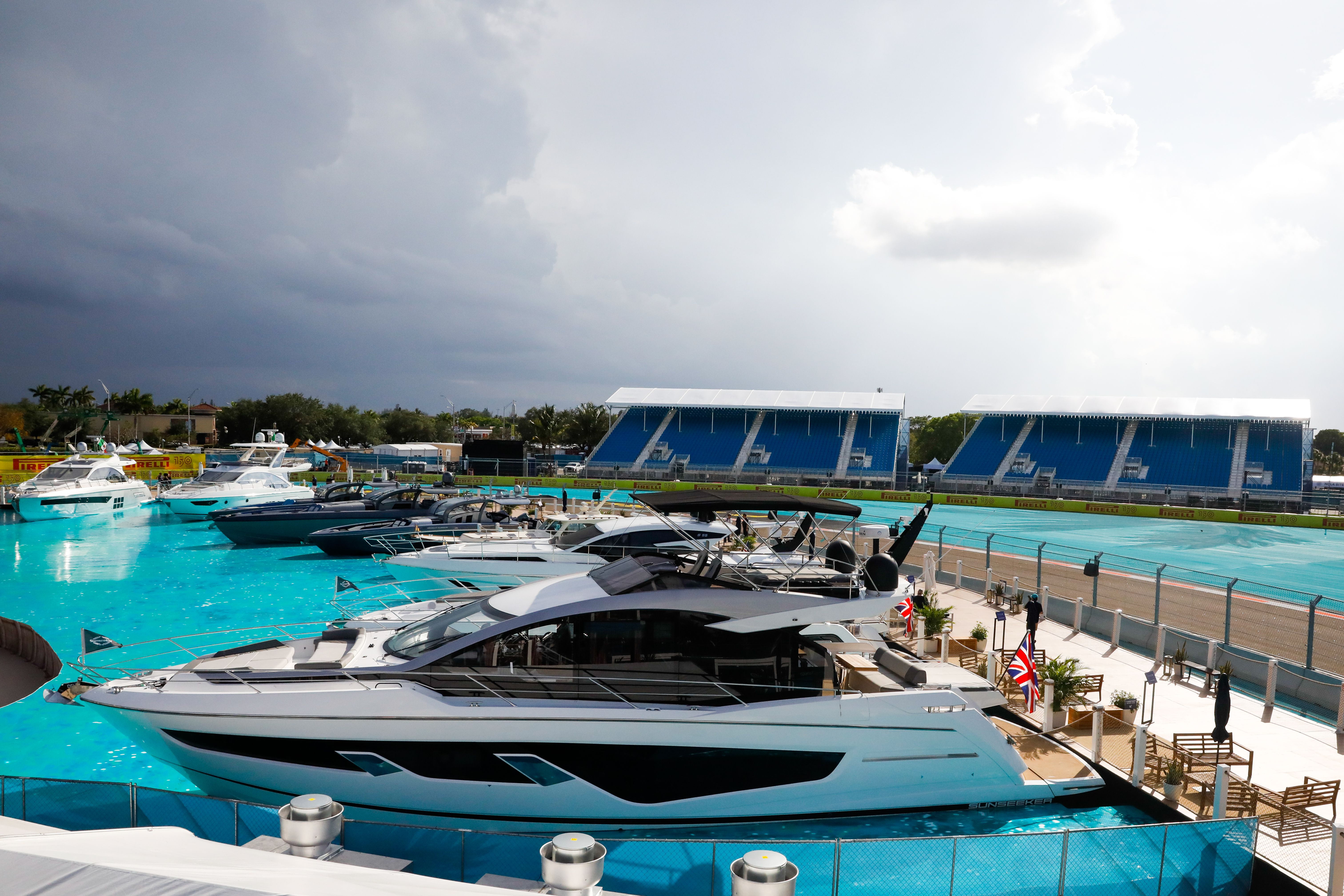 "This is going to be the biggest week in Miami history," said Jeff Zalaznick, whose restaurant Carbone sold out its $3,000-per-head dinner in South Beach. "We've never seen demand like this."
📬 Invite your friends to sign up here to get their daily essentials — Axios AM, PM and Finish Line.