Axios AM
October 01, 2021
🎃 Happy Friday, and welcome to October. Smart Brevity™ count: 1,105 words ... 4½ minutes. Edited by Zachary Basu.
🎬 Next on "Axios on HBO" (Sunday at 6 p.m. ET/PT on all HBO platforms): Afghanistan's first female ambassador, Adela Raz, tells Jonathan Swan — in her first TV interview since the fall of Kabul — that she "didn't want to be the last." See a clip.
1 big thing: Cracking the Sinema code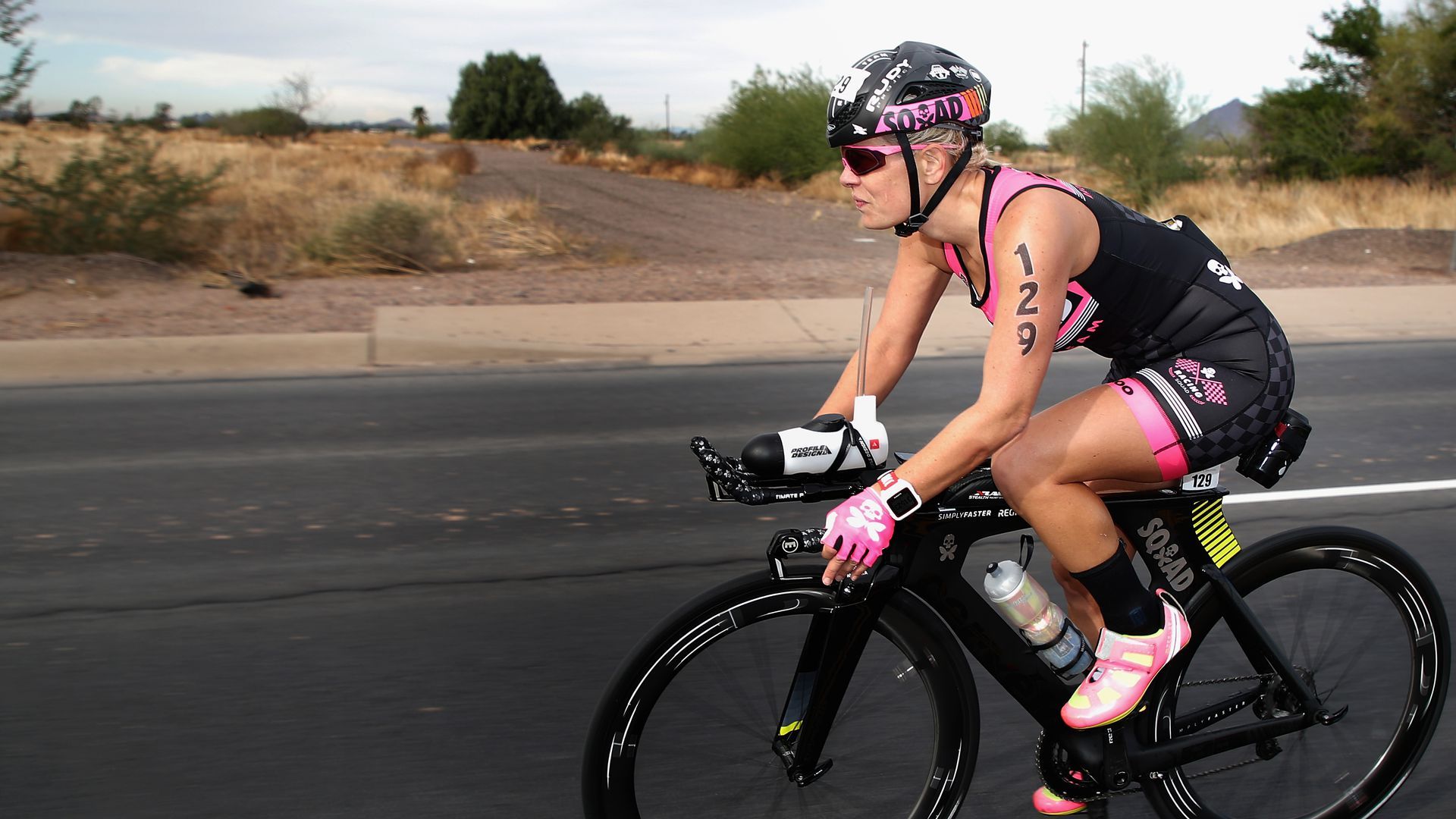 Sen. Kyrsten Sinema's allies have free advice for anyone trying to bully the wine-drinking triathlete into supporting President Biden's $3.5 trillion budget bill: She's prepared to walk away, Axios' Hans Nichols reports.
Why it matters: The Arizona Democrat — unlike fellow holdout Sen. Joe Manchin (D-W.Va.) — rarely telegraphs her precise intentions, leaving political adversaries guessing about her ultimate goals.
Sinema (sounds like "cinema") has suggested her top priority is passing the $1.2 trillion bipartisan infrastructure deal she helped broker this spring over late-night, wine-fueled negotiations.
Beyond that, you're piecing together clues.
Biden and his top aides met her four times in one day this week without totally cracking the code.
Between the lines: Progressives could be forgiven for presuming that Sinema, 45 — the first openly bisexual member of Congress, with trademark sleeveless dresses, wry wigs and acrylic glasses — would share their woke politics.
They've been befuddled, and increasingly enraged, when she behaves more like the late Republican Sen. John McCain, the original Arizona maverick.
Sinema is something of a fiscal conservative, leading progressives to whisper about a primary challenge in 2024.
She's known to rise between 4 and 5 a.m. to train for her next race. She was forced to take up aqua jogging after breaking her foot this summer in the "Light at the End of the Tunnel Marathon."
Zoom out: Manchin is focused on spending, setting his limit at $1.5 trillion. Sinema has signaled she's more concerned with the tax side.
She's reluctant to support Biden's proposed increases in the corporate and capital-gains tax rates.
The catch: A trained social worker who relied on Pell grants in college, Sinema believes in the power of government to help lift people from poverty.
Climate change is a priority — putting her on a potential collision course with Manchin.
What we're watching: While Sinema mostly avoids the Sunday talk shows and hallway interviews, she engaged with congressional leaders and the White House all summer, updating secret spreadsheets she keeps on the true cost of programs.
The bottom line: Manchin is looking for a way to get to "yes" on a spending bill, as long as he can stomach the price tag.
Sinema has always been slightly more skeptical — and has indicated she's comfortable voting no.
2. "You know white smoke and the Pope?"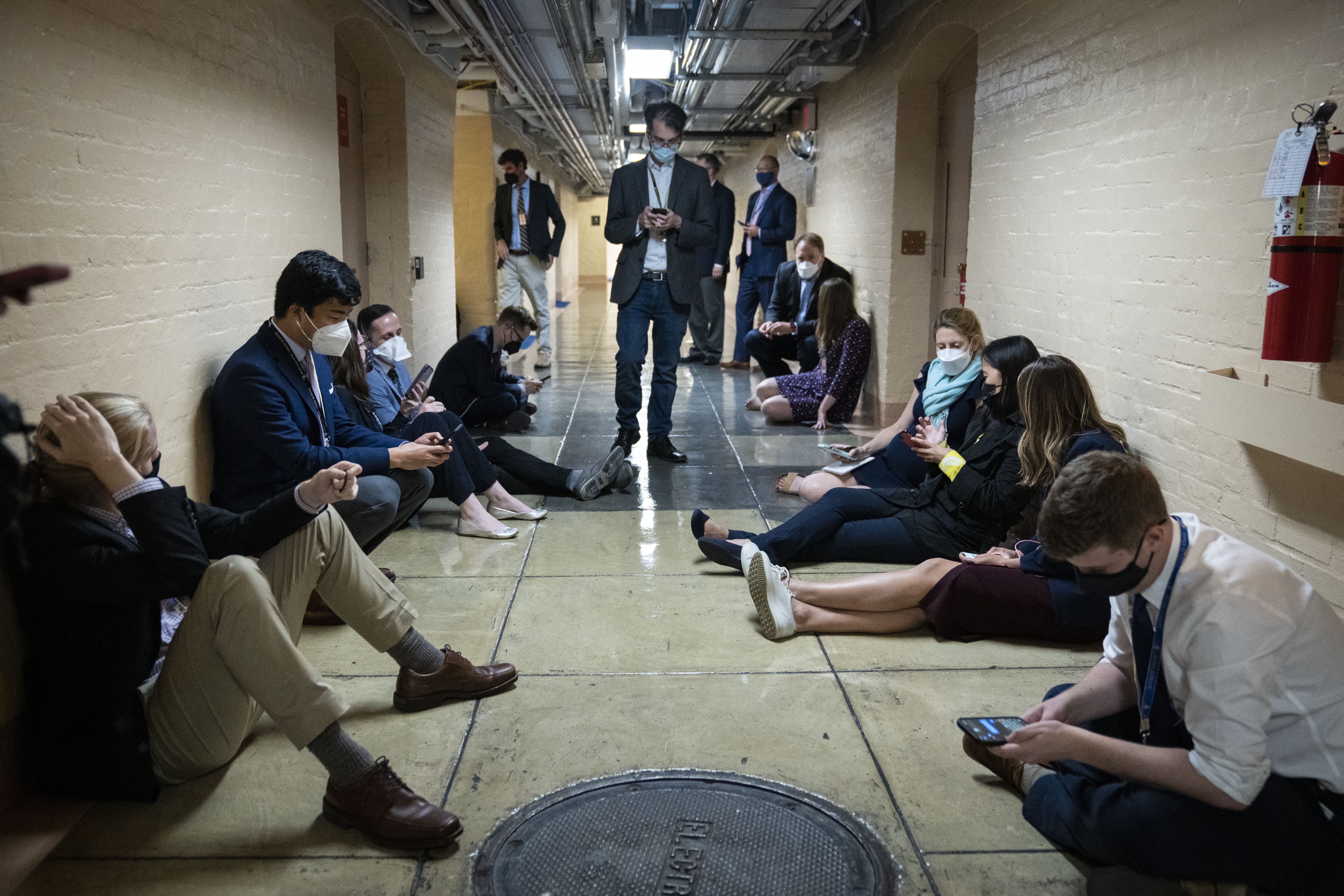 At 10:45 p.m., Speaker Pelosi delayed a vote on a $1.2 trillion roads-and-bridges bill as congressional leaders and aides to President Biden brokered disputes among Democrats that could vastly curtail his agenda.
Sen. Bernie Sanders (I-Vt.), who stayed into the night to help with negotiations, told reporters: "It is an absurd way to do business — to be negotiating a multitrillion-dollar bill a few minutes before a major vote, with virtually nobody knowing what's going on."
White House aides holding talks in Capitol hideaways into the night included Susan Rice and Brian Deese.
Rep. Josh Gottheimer (D-N.J.), a leading House moderate, met with Pelosi around 11 p.m., Axios' Alayna Treene and Sarah Mucha report.
Earlier, he had said: "Vote is happening today. We're moving forward."
Rep. Ann Kuster (D-N.H.), a member of the New Democrat Coalition, told Axios: "You know that thing with the white smoke and the Pope? It's like, that's what people are waiting for."
3. These two quotes explain the impasse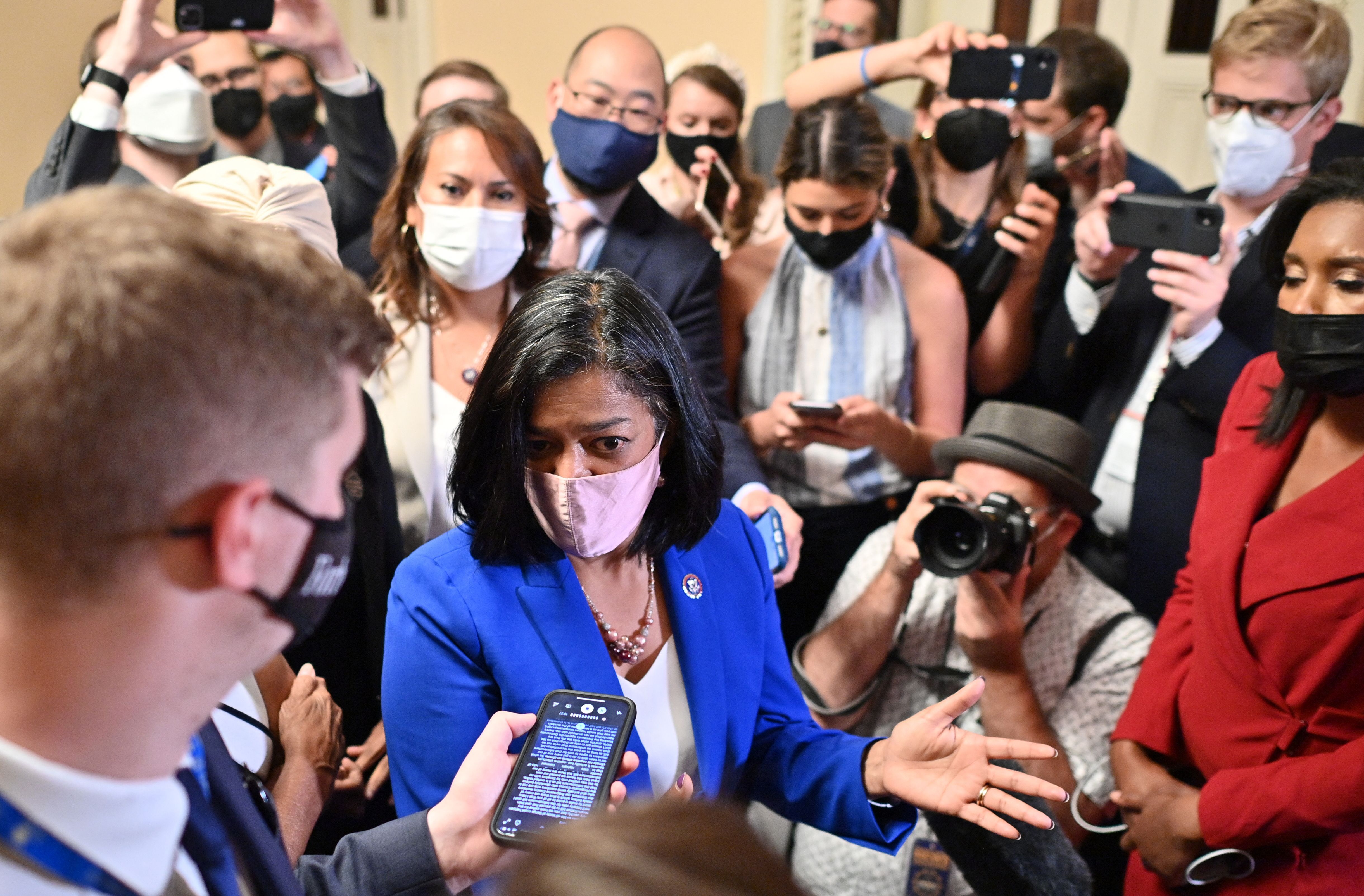 House Democrats are playing a game of chicken: Progressives are insisting on voting first on President Biden's big social-spending package, before passing the more popular roads-and-bridges part of his agenda.
They know they lose their leverage once "hard infrastructure" passes.
Listen to two key progressives, and you'll see the holdup:
Rep. Pramila Jayapal (D-Wash.), chair of the House Progressive Caucus, told MSNBC's Lawrence O'Donnell on Tuesday night: "We are now in the 'verify' stage. This isn't about trust. This is about verify."
"And the only way to verify is to pass the reconciliation bill first ... and then we will happily come back and vote for the infrastructure bill."
Rep. Cori Bush (D-Mo.), a member of AOC's "Squad," said on CNN yesterday after Sen. Joe Manchin declared publicly that he favors a $1.5 trillion tab on the big bill — less than half of the proposed $3.5 trillion:
"The compromise was the $3.5 trillion ... It is unconscionable that he can stand puffed up and ... say: 'I'll toss you some crumbs right now, and then hopefully you can say you ate.'"
4. New in cities: Drone bases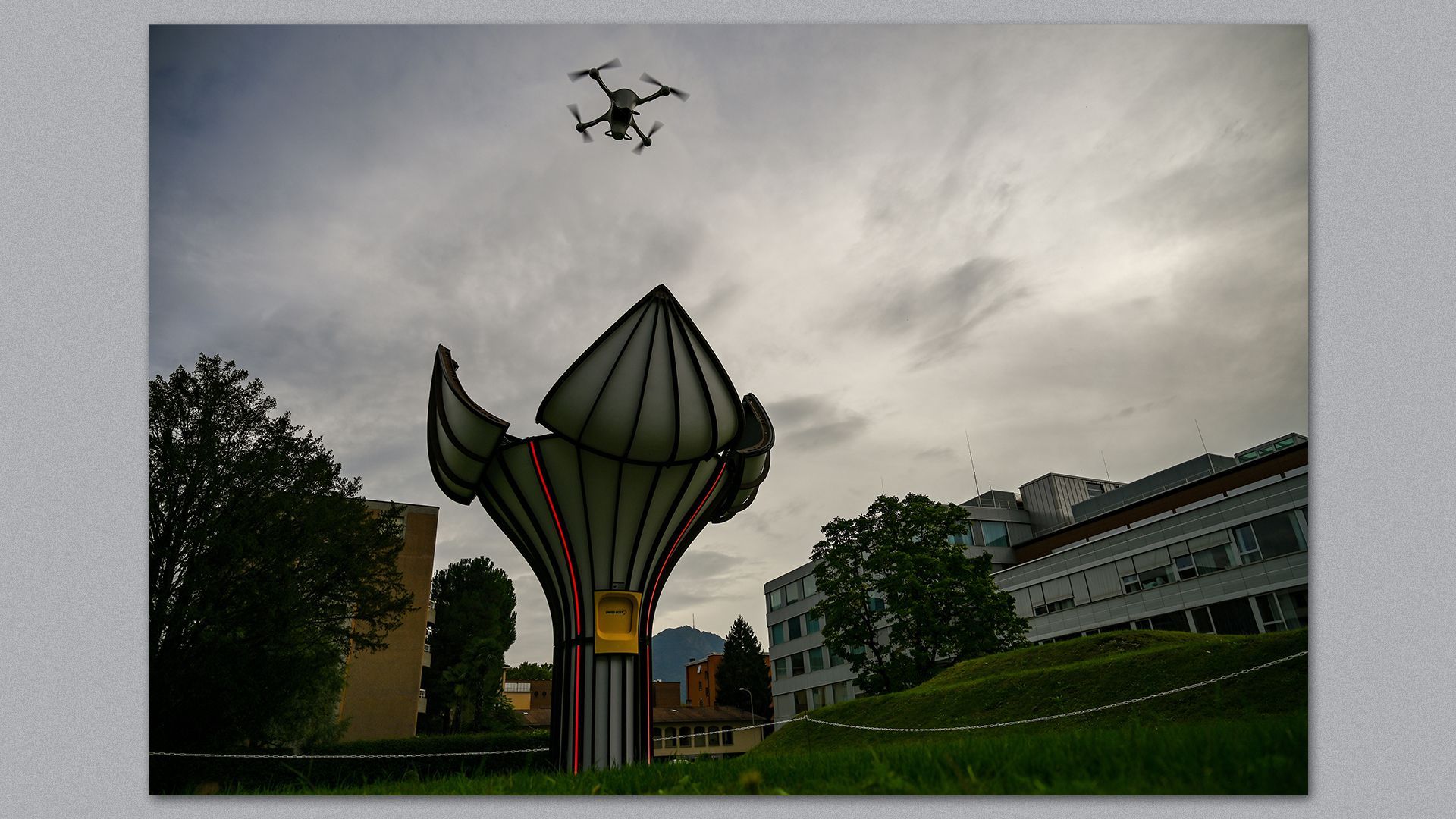 City landscapes could soon be dotted with automated drone landing pads like one that debuted yesterday in Switzerland, Joann Muller reports in Axios What's Next.
Why it matters: Urban drone operations would radically change on-demand and last-mile deliveries by making transporting packages faster, cheaper and more sustainable. The futuristic pods would enable automated package deliveries with minimal human involvement.
Matternet — based in Mountain View, Calif. — deployed its first fully automated, 10-foot-tall, tulip-shaped drone station at a hospital in Lugano, Switzerland.
How it works: A hospital worker loads a patient's blood sample into a box with a QR code on the side.
The employee walks outside to the drone station, scans a badge, and a tray emerges from an automated door. The employee puts the blood sample on the tray.
Inside, a robot scans the box and loads it onto the drone — along with a fresh battery, if needed.
Landing at the lab, another station opens its petals. The aircraft descends into the flower.
A lab worker then scans a barcode to retrieve the samples.
5. Trending: Never come back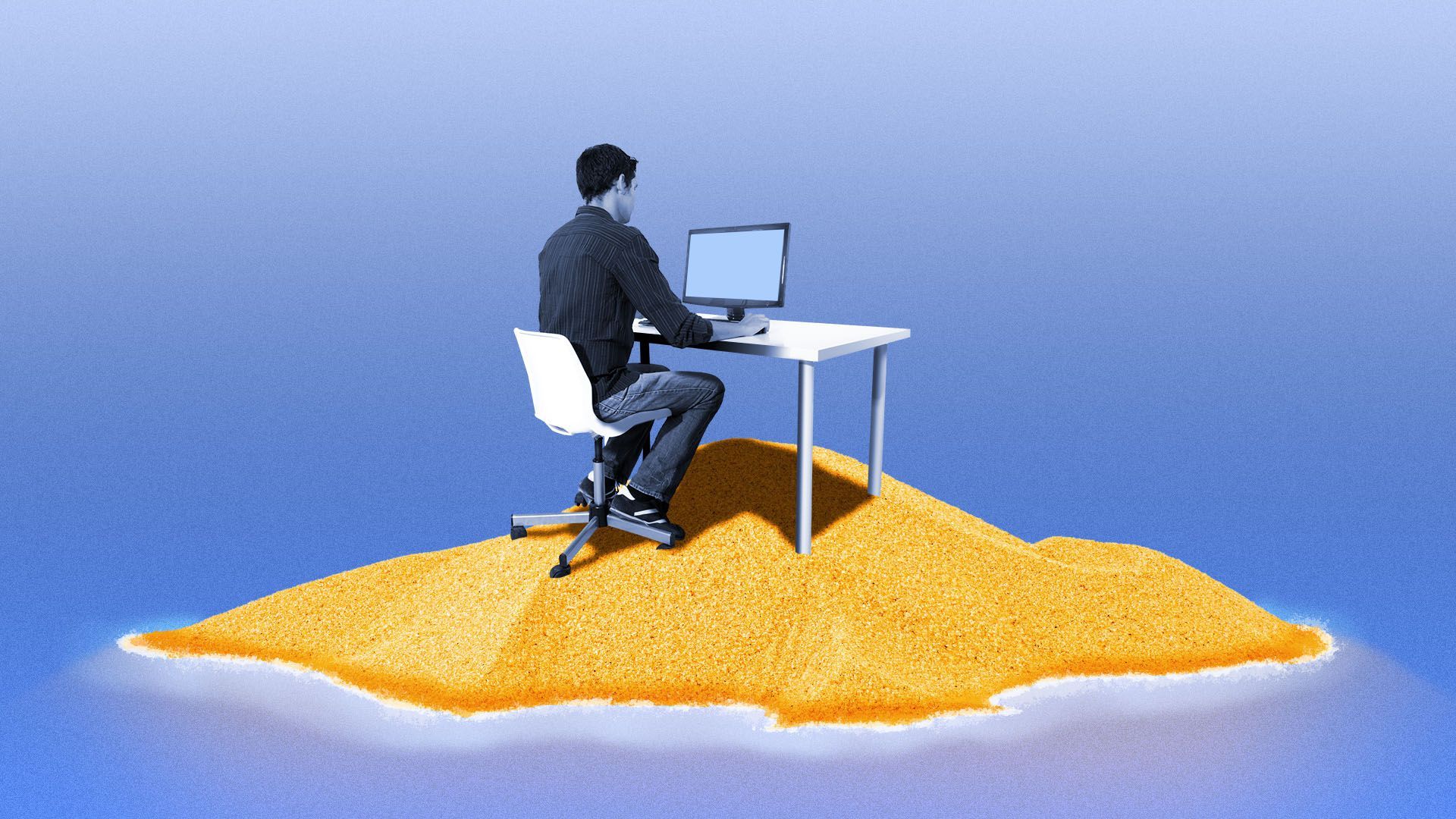 Accounting and consulting giant PwC will allow all 40,000 of its U.S. client services employees to work virtually — and live anywhere they want in perpetuity, Reuters scoops.
Why it matters: The policy of permanent remote work "is a departure from the accounting industry's rigid attitudes, known for encouraging people to put in late nights at the office."
6. Parting shots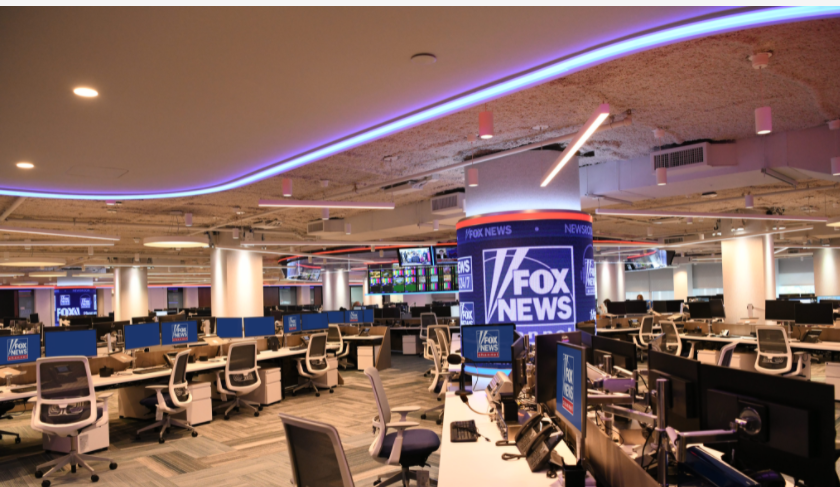 Fox News yesterday unveiled a renovated Washington bureau — including new newsroom, updated studios and radio studio dedicated to the late Tony Snow — ahead of the network's 25th anniversary next Thursday.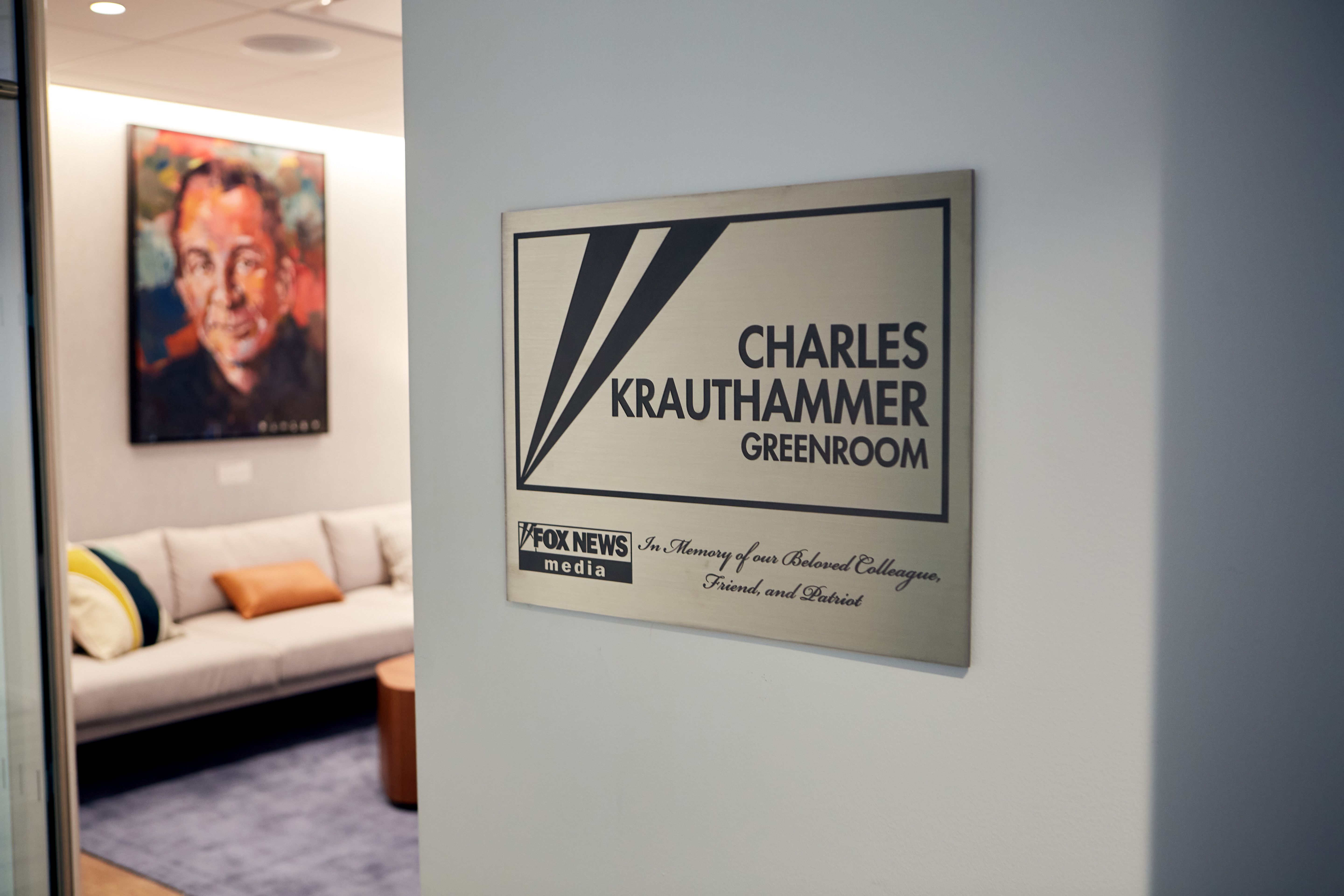 The ribbon was cut by Fox Corp. chairman and CEO Lachlan Murdoch, Fox News Media CEO Suzanne Scott and Fox News Media president and executive editor Jay Wallace.
📬 Was this email forwarded to you? Sign up here for your own personal copy of Axios AM and Axios PM.