Hap-py historic Friday!
Situational awareness: British papers say President Trump may avoid London during a 24-hour U.K. visit in July (Friday the 13th, the stories note) because of fears of mass protests. The Daily Mail cover blares: "TRUMP FACES LONDON BAN." The Daily Telegraph reports: "Trump is set to meet the Queen [at Balmoral or Windsor]. ... He is ... expected to [meet Prime Minister Theresa] May at Chequers, her countryside residence."
https://www.axios.com/newsletters/axios-am-cef199dc-5af3-458b-b0b8-3e89529df39a.html?chunk=0#story0
1 big thing ... Living history: Korean leaders will formally end war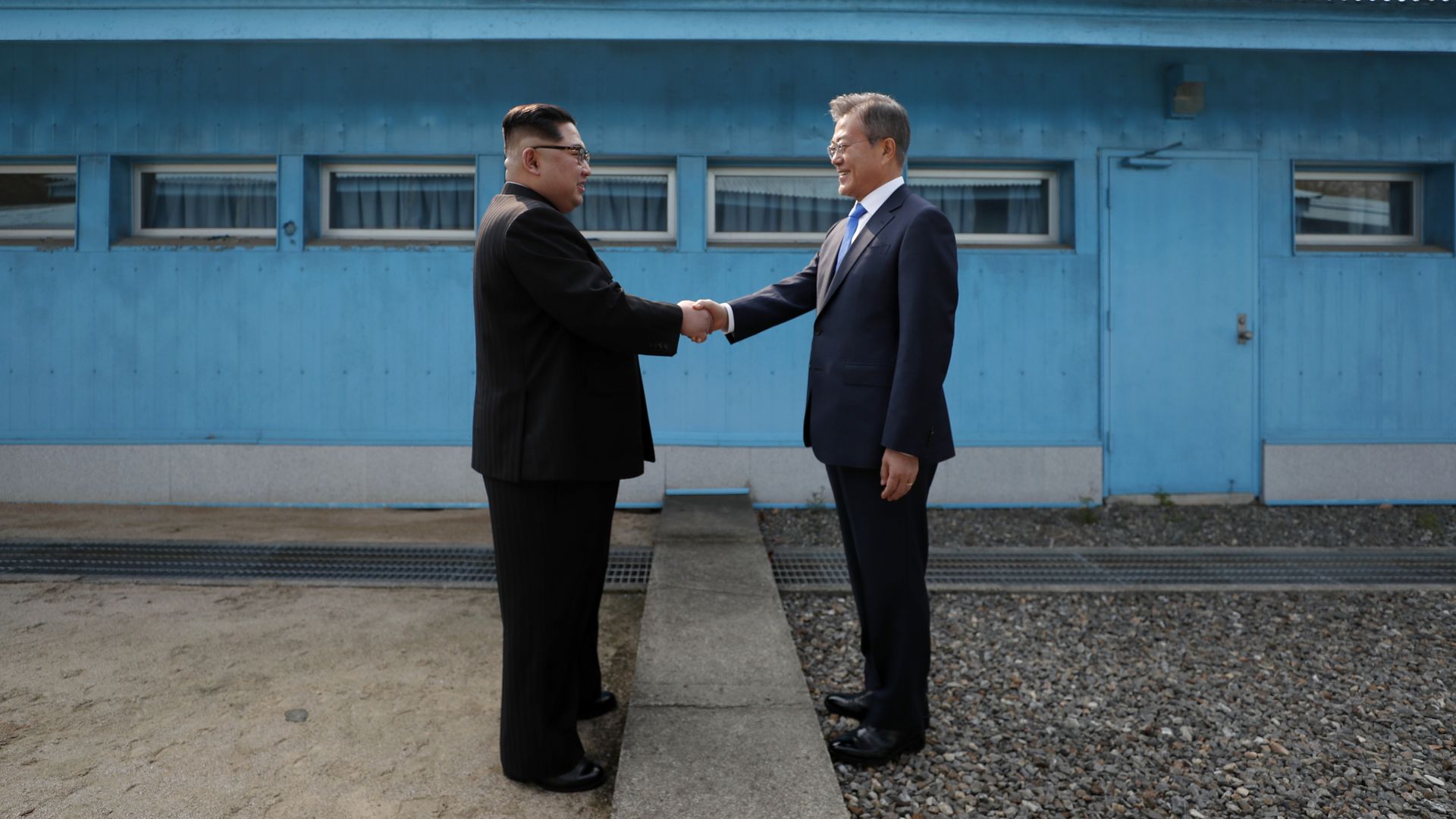 Flash ... Formal end to Korean War will be declared later this year, 65 years after hostilities ceased, North and South Korea leaders agree. (CNN)
"Smiling and holding hands, North Korean leader Kim Jong Un and South Korean President Moon Jae-in met at the heavily fortified demilitarized zone between the countries on Friday, pledging to pursue peace after decades of conflict," Reuters reports:
"Kim became the first North Korean leader since the 1950-53 Korean War to set foot in South Korea after shaking hands with his counterpart over a concrete curb marking the border at the truce village of Panmunjom."
"The leaders ... signed a declaration ... agreeing to work for the 'complete denuclearization of the Korean peninsula.'"
"North and South Korea have agreed to stop all hostile acts over "land, sea and air" that can cause military tensions and clashes, after a summit between their leaders at a border truce village." (AP)
Watching live: "South Koreans watched Friday as history unfolded and Kim Jong-un, the North Korean leader they normally only see in heavily edited footage, walked across the border and had his every word broadcast live and unfiltered on airwaves across the country." (AP)
The big picture, from N.Y. Times: "After a year in which tensions between the two countries reached an acrimonious pitch not seen in decades, the two leaders were careful to publicly signal a new era of rapprochement."
Quick take ... Eurasia Group's Ian Bremmer — author of "Us vs. Them: The Failure of Globalism," out this week — with his trademark punctuation:
"trump snapped the ball ... and the koreans are running with it."
"this is the first major positive geopolitical development all year. it's hard to see the united states credibily threatening military preemption when peace is breaking out across the peninsula. which is precisely the point."
"there's a 'be careful what you wish for' element to any breakthrough for the americans. after all, if an agreement ultimately means no need for the united states ... the peninsula tilts away from security and towards economics."
"that's a welcome development for both sides, no question. it's also one future dominated by the chinese."
Why it matters ... CFR President Richard Haass, author of "A World in Disarray," gives Axios AM readers his quick take on the summit:
"I don't know how to say 'charm offensive' in Korean, but that is what we are seeing. What matters, though, in the context of N-S relations is what the North is prepared to do to reduce the conventional military threat it poses to the South."
"What matters in the context of [U.S. relations with South Korea] is whether the South hangs tough and does not offer up economic incentives that 1) reward the North for promises rather than actions and 2) ignore U.S. concerns, above all the nuclear and ballistic missile programs."
"Still, we are a long ways from not all that long ago, when conflict seemed all too possible and imminent."
"What we do not know is what is motivating Kim Jung-un and whether his seeming reasonableness is real (the result of sanctions, Chinese pressure, internal problems) or a ploy motivated by a desire to divide Washington from Seoul, get out from under sanctions, and/or buy time, given — among other things — the deterioration of its nuclear testing site."
P.S. "Summit of giants: Modi goes to China," by Axios' Erica Pandey: "Chinese President Xi Jinping and Indian Prime Minister Narendra Modi will have one big goal for their summit in Wuhan today: dial down the tensions in a relationship that's full of them."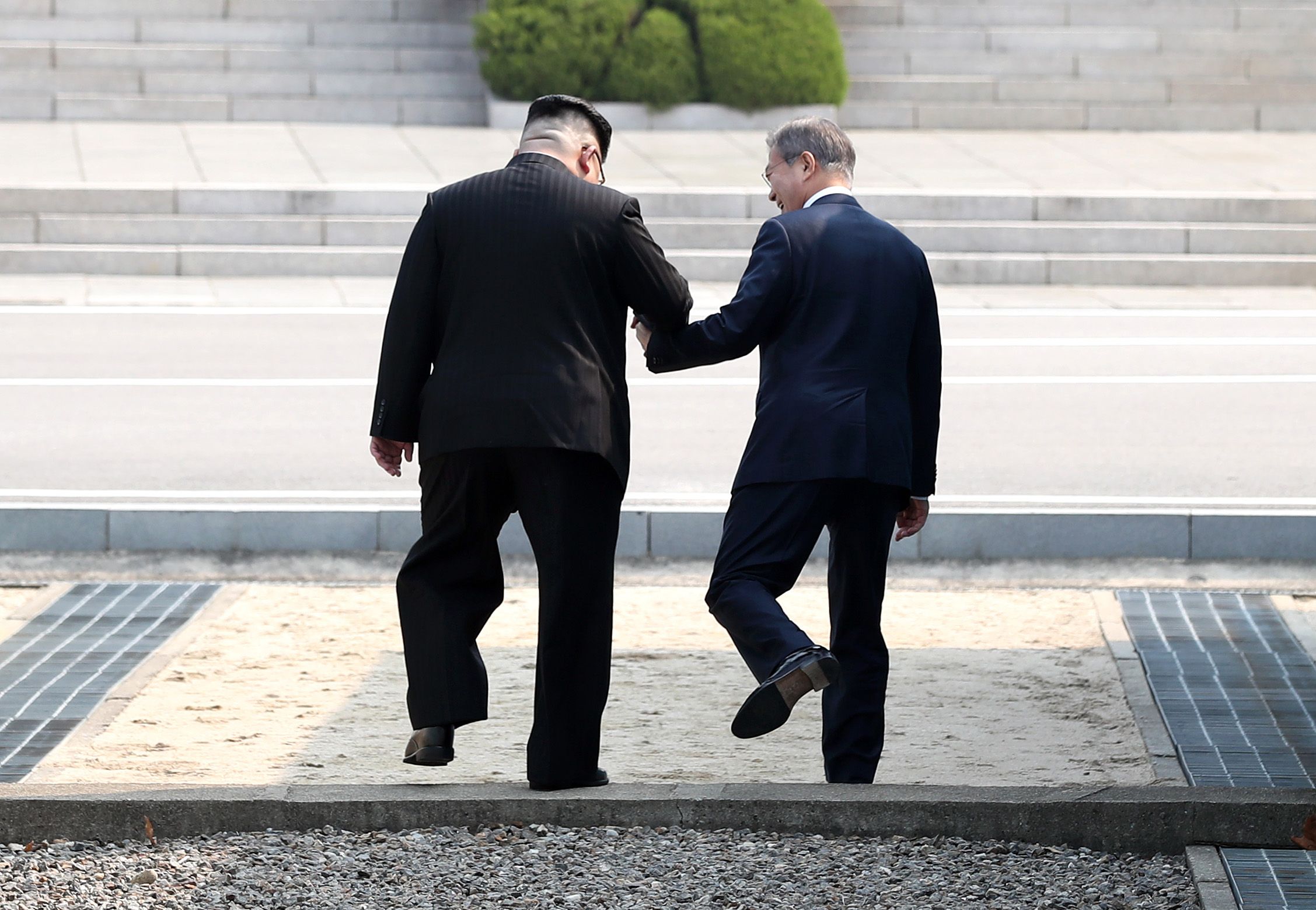 North Korea's Kim Jong-un takes hand of South Korea's Moon Jae-in (R) to cross military demarcation line to the north side. (Korea Summit Press Pool/Getty Images)
https://www.axios.com/newsletters/axios-am-cef199dc-5af3-458b-b0b8-3e89529df39a.html?chunk=1#story1
2. Behind the curtain: How Trump won a tough vote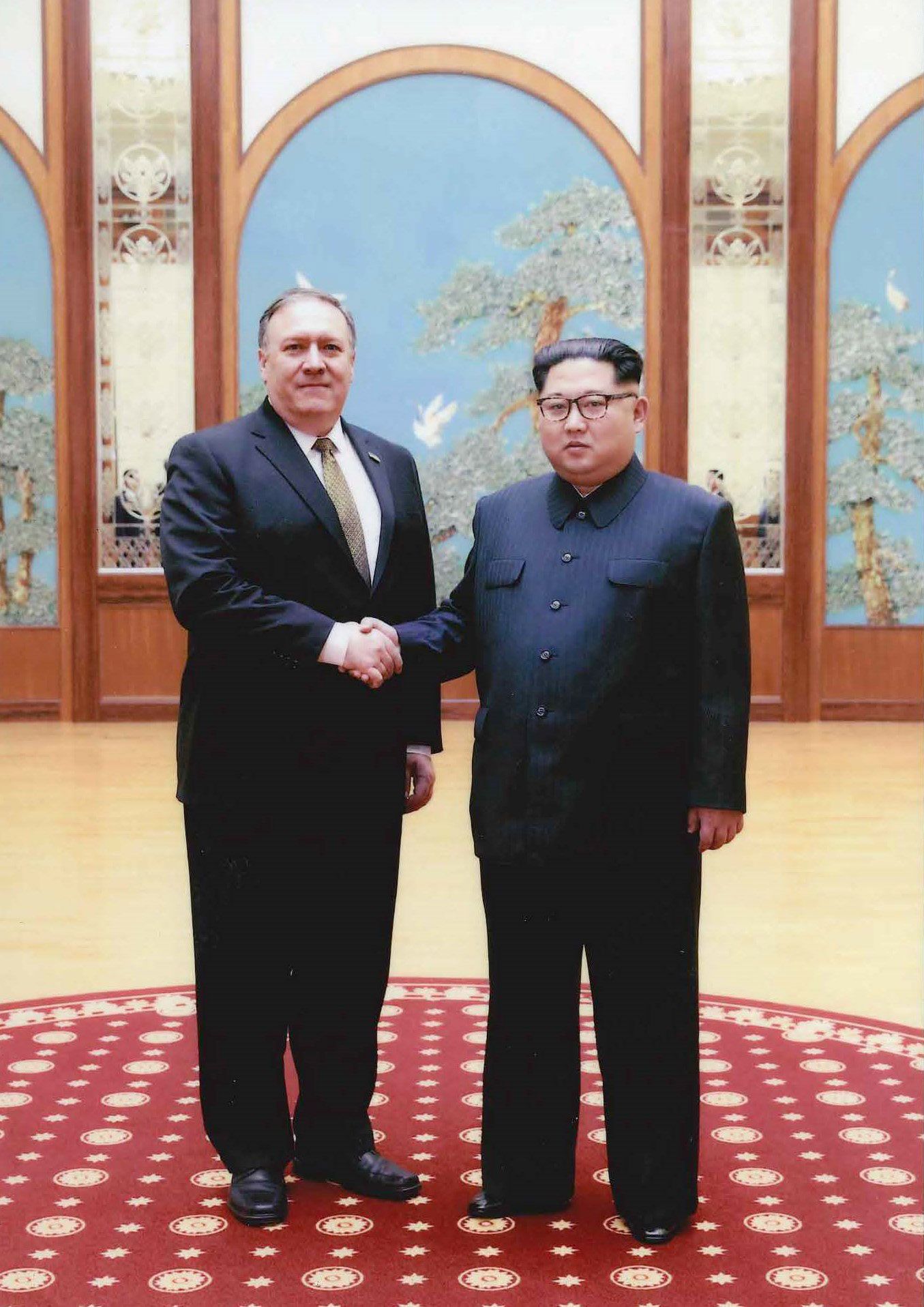 Then-CIA director Mike Pompeo shakes hands with Kim Jong-un in Pyongyang. (White House via Getty Images)
When CIA Director Mike Pompeo won Senate confirmation as Secretary of State yesterday by 57-to-42, with seven votes to spare (and with seven votes from Democrats, five of them up for reelection), the much-needed victory for President Trump was the product of a campaign-style blitz involving as many as 30 aides.
Top operatives take Axios AM readers behind the curtain:
During Pompeo's visits with senators, he acknowledged the department had atrophied under Secretary of State Rex Tillerson, and said he'll move to fill top positions and restore the department's relevance at home and abroad.
As CIA director, Pompeo has unique visibility into clandestine operations around the world, and so was able to play to senators' expertise/curiosity by having detailed conversations about hot spots that interest them.
During Pompeo's confirmation hearing, a war room at the State Department — acting on President Trump's insistence during his campaign that many people absorb cable news on mute — phoned contacts at CNN and MSNBC to dispute the wording of the chyron headlines summarizing the action.
To put pressure on red-state Democrats, the comms team notified home-state reporters so cameras could be outside a Senate office when Pompeo made a courtesy call. But to avoid making other Democrats feel jammed, those meetings were allowed to happen under the radar.
A team mirroring the Trump Tower campaign operation in 2016 worked to kill unfavorable stories, including fishing in old House campaign expenses, and inaccurate opposition research about Pompeo stake in a company.
Trump tweets at key moments helped showcase the vote as a big deal.
Outside backers, working with the RNC, ran digital and TV ads in support of confirmation.
Pompeo is in Brussels this morning at a NATO summit: He headed to Andrews Air Force Base yesterday as soon as he was sworn in by Justice Sam Alito, a fellow Italian-American.
P.S. N.Y. Times A1, "For Many, Life on Team Trump Ends in a Crash," by Peter Baker and Maggie Haberman: "A ride on President Trump's bullet train can be thrilling, but it is often a brutal journey that leaves some bloodied by the side of the tracks."
"In only 15 months in office, Mr. Trump has burned through a record number of advisers and associates who have found themselves in legal, professional or personal trouble, or even all three."
Why it matters: "Half of the top aides who came to the White House with Mr. Trump in 2017 are gone, many under painful circumstances."
https://www.axios.com/newsletters/axios-am-cef199dc-5af3-458b-b0b8-3e89529df39a.html?chunk=2#story2
3. Bill Cosby, 80, faces up to 30 years in prison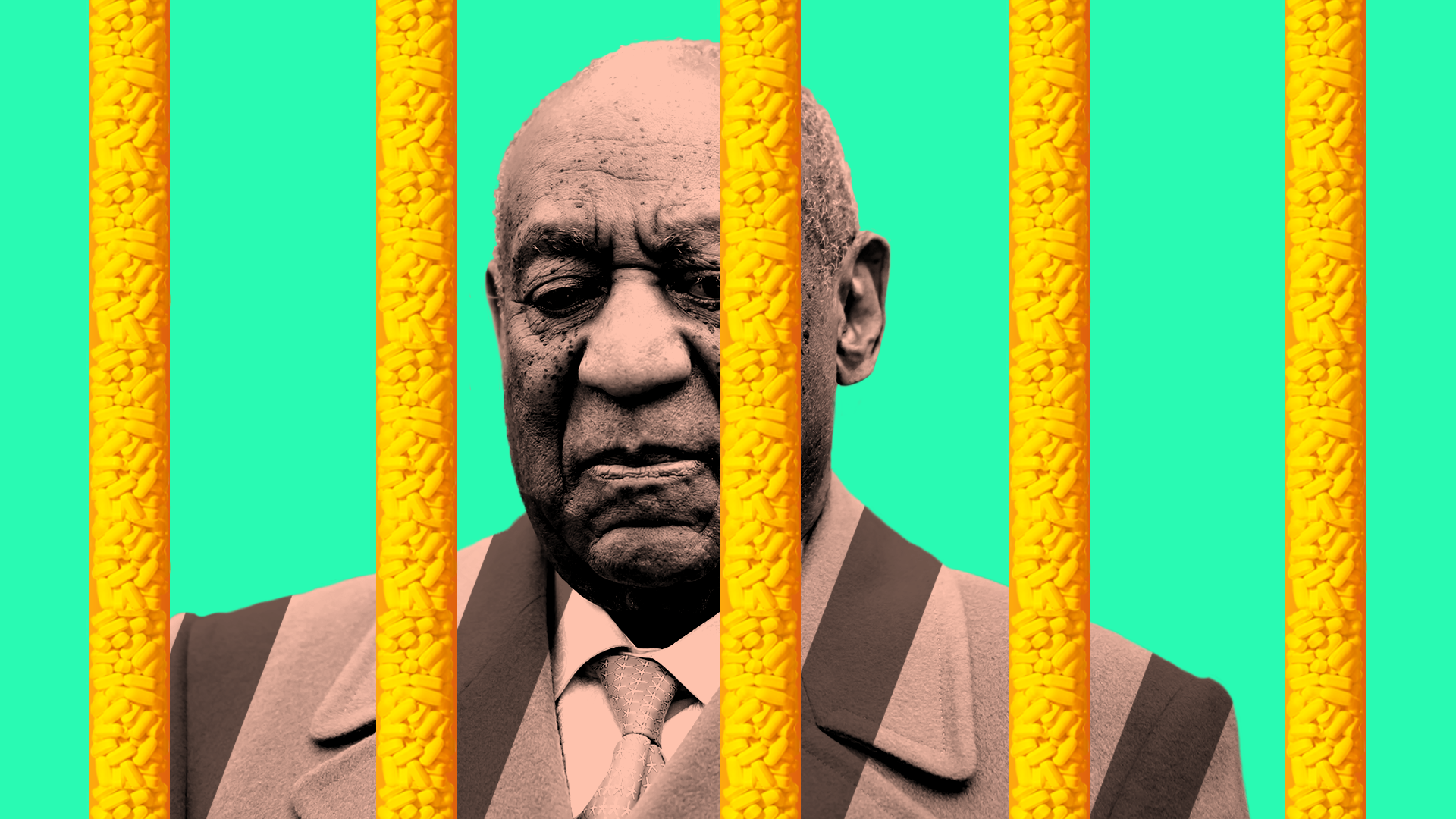 A jury in Montgomery County, in the Philly suburbs, "found Bill Cosby guilty of drugging and assaulting Andrea Constand, a verdict that delivered the first celebrity conviction of the #MeToo era," the Philadelphia Inquirer reports:
"[A]s Montgomery County District Attorney Kevin R. Steele asked Judge Steven T. O'Neill to immediately imprison him, the 80-year-old entertainer, who had remained silent throughout the trial, finally lashed out, calling Steele an 'asshole' and later saying, 'I'm sick of him.'"
Why it matters: Cosby's "career was minted by his performance as the sweater-wearing family man, Dr. Cliff Huxtable, on his '80s sitcom The Cosby Show. Steele said that character helped cement Cosby's image as 'a public moralist' but the verdict exposed his private life as a serial sexual predator."
What's next ... "#MeToo leaders: Cosby's conviction will bolster the movement."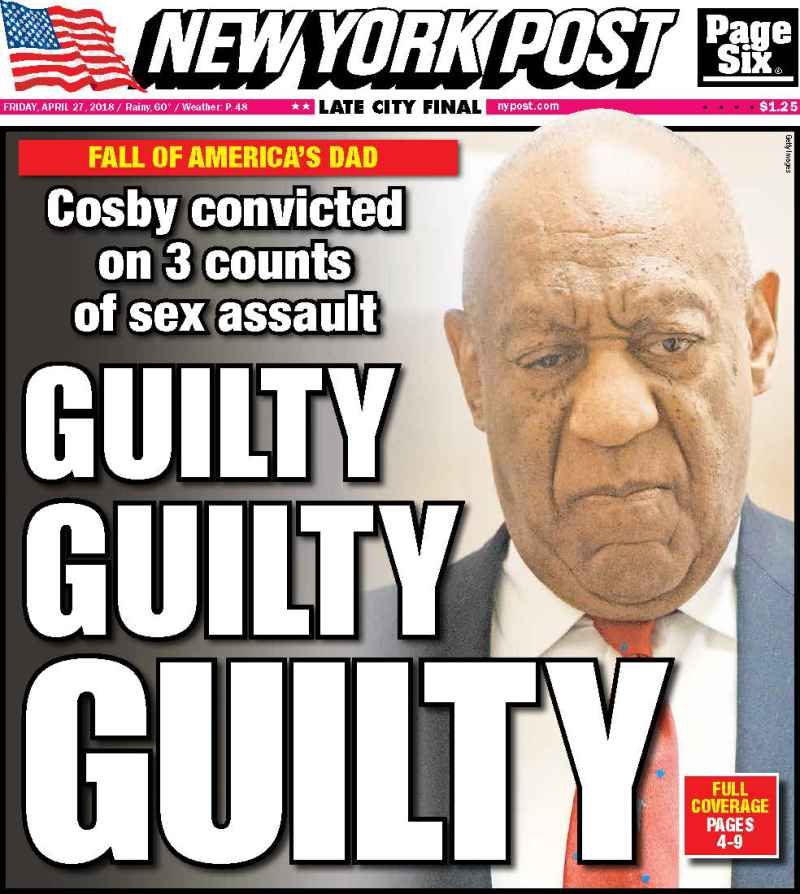 Courtesy N.Y. Post
https://www.axios.com/newsletters/axios-am-cef199dc-5af3-458b-b0b8-3e89529df39a.html?chunk=3#story3
Bonus: Tweet du jour

https://www.axios.com/newsletters/axios-am-cef199dc-5af3-458b-b0b8-3e89529df39a.html?chunk=4#story4
4. NBC faces skepticism on harassment reforms; Brokaw accused
"NBC acted quickly to dismiss Matt Lauer, but it is facing a wave of internal and outside skepticism that it can reform a workplace in which powerful men such as Lauer were known to pursue sexual relationships with more junior women," the WashPost's Sarah Ellison reports on A1:
"In interviews, 35 current and former NBC staffers said that while some of these relationships were consensual, some were not. Twelve women interviewed said they were sexually harassed but did not report it."
"Lauer is not the only prominent anchor at NBC who allegedly sought inappropriate relationships with younger women. Linda Vester, a former NBC correspondent, told The Post that legendary anchor Tom Brokaw made unwanted advances toward her on two occasions in the 1990s, including a forcible attempt to kiss her. Vester was in her 20s and did not file a complaint."
"Brokaw denied anything untoward happened with Vester. 'I met with Linda Vester on two occasions, both at her request, 23 years ago, because she wanted advice with respect to her career at NBC,' he said in a statement issued by NBC. 'The meetings were brief, cordial and appropriate, and despite Linda's allegations, I made no romantic overtures towards her, at that time or any other.'"
Another woman, who spoke on the condition of anonymity, also told The Post that Brokaw acted inappropriately toward her in the '90s, when she was a young production assistant and he was an anchor. He said no such incident happened.
https://www.axios.com/newsletters/axios-am-cef199dc-5af3-458b-b0b8-3e89529df39a.html?chunk=5#story5
5. Pics du jour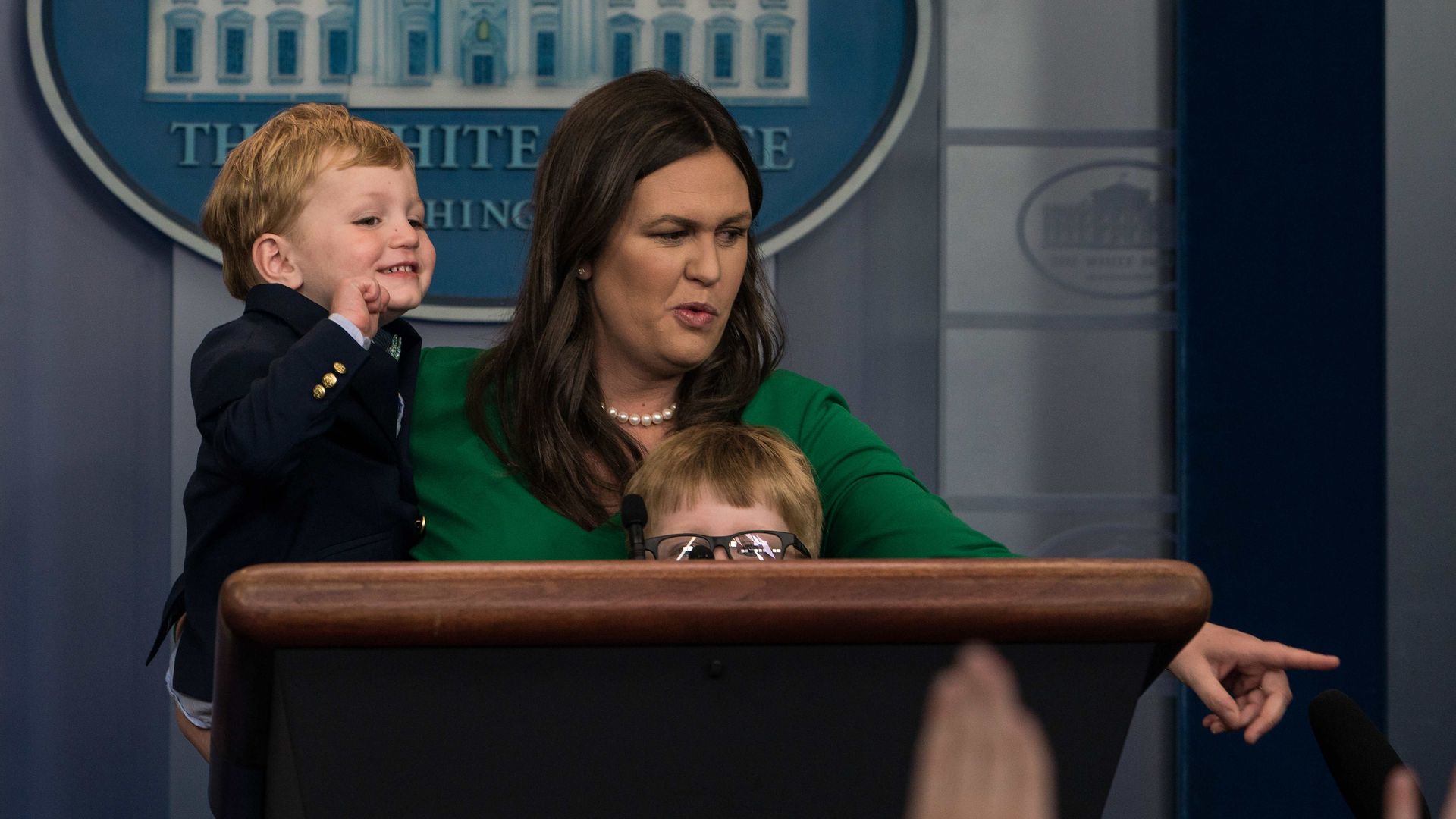 Sarah Sanders takes a question with two of her three children at a briefing for children of press and staff during Take Our Daughters and Sons to Work Day.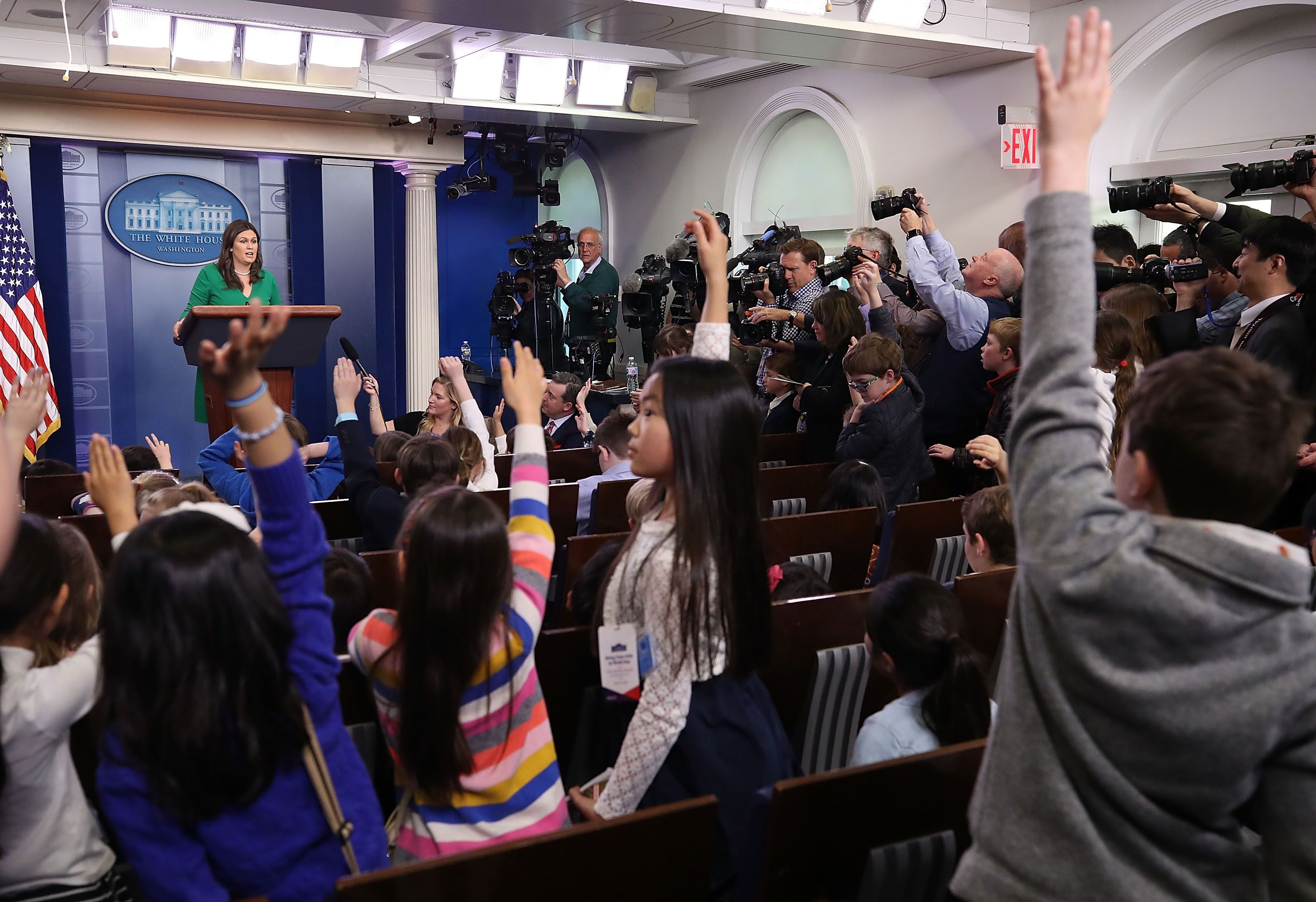 Mark Wilson/Getty Images
https://www.axios.com/newsletters/axios-am-cef199dc-5af3-458b-b0b8-3e89529df39a.html?chunk=6#story6
6. Other tech giants try to isolate Facebook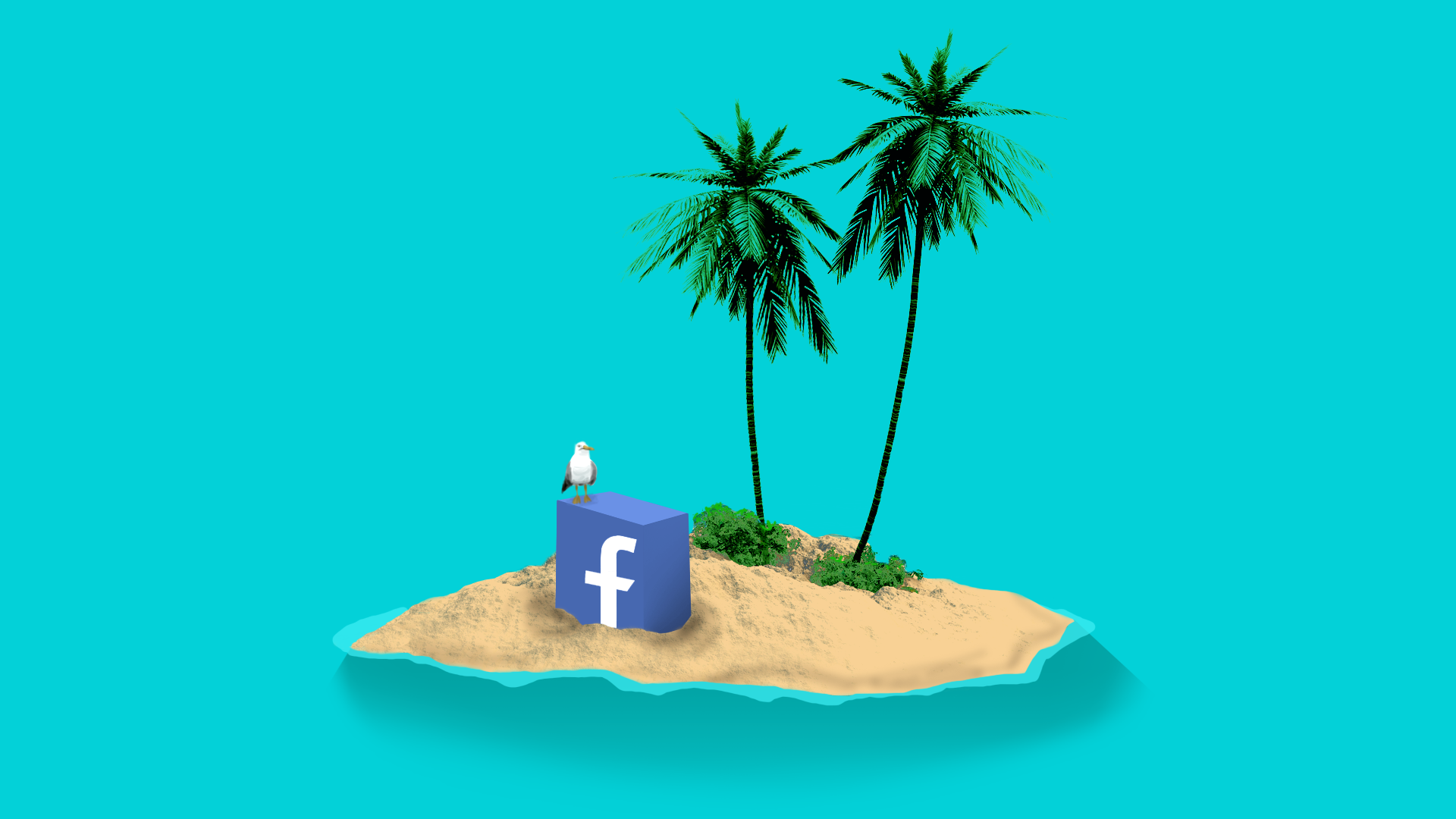 Facebook was used to being the cool kid. But now it's eating lunch alone: Companies are trying to figure out how to be as un-Facebook-like as possible, Axios managing editor Kim Hart reports.
What's happening: Several tech companies, including Apple, IBM and Salesforce, have publicly differentiated themselves from Facebook.
Now that lawmakers are getting more interested in regulating tech, other companies are considering launching their own campaigns to stay as far away as possible from Facebook's privacy drama, D.C. tech lobbyists tell Axios.
https://www.axios.com/newsletters/axios-am-cef199dc-5af3-458b-b0b8-3e89529df39a.html?chunk=7#story7
7. Data du jour
Very telling about the national political mood: A Pew Research Center poll finds both sides think they're losing: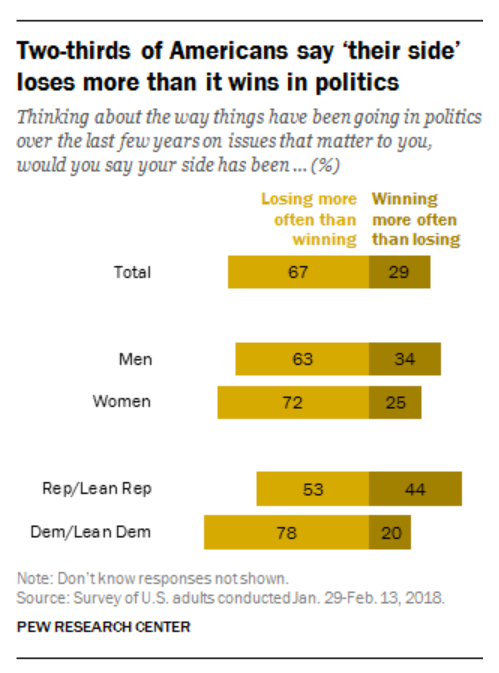 https://www.axios.com/newsletters/axios-am-cef199dc-5af3-458b-b0b8-3e89529df39a.html?chunk=8#story8
8. Police used consumer genealogical websites to find serial killer
"The break that authorities said led them to the [Sacramento] man accused of being the Golden State Killer came when they linked DNA evidence from the slayings to genetic information contained on a consumer genealogical website," the L.A. Times reports:
"Private companies that provide ancestry searches from DNA samples submitted by paying participants usually also guarantee privacy for their users. However, customers are alerted to potential matches and can use the service to connect with possible relatives."
https://www.axios.com/newsletters/axios-am-cef199dc-5af3-458b-b0b8-3e89529df39a.html?chunk=9#story9
9. Netflix documentary explores RFK's legacy 50 years later
"Bobby Kennedy's life and transformation into a liberal hero is coming to Netflix in a new four-part documentary series available" today, per AP:
"Through archival footage and interviews with friends and staffers, 'Bobby Kennedy for President' takes an in-depth look at what drove him to seek public office, the events that shaped him and his legacy decades after his assassination."
"The series opens with a broadcaster's prediction that 'no American in this century has ever been so likely to be president as Robert Francis Kennedy.' It takes viewers through Kennedy's combative time as attorney general, and his depression after his brother's death, entry into the 1968 presidential race and assassination 83 days later."
https://www.axios.com/newsletters/axios-am-cef199dc-5af3-458b-b0b8-3e89529df39a.html?chunk=10#story10
10. 1 photo thing
"What the Mona Lisa Tells Us About Art in the Instagram Era," by N.Y. Times' Scott Reyburn in Paris:
"Most of the roughly 150 people crowded around the painting at the Louvre were taking photographs of the piece, or of themselves in front of it."
Why it matters: "In the presence of the 'Mona Lisa,' digital photography, more than looking at the actual artwork, has become the primary experience."