Good Saturday morning. Breaking: President Trump, walking alone to Marine One, said he's not worried about what Michael Flynn could tell Bob Mueller because "what has been shown is no collusion, no collusion."
Situational awareness: Alabama's Senate race is neck-and-neck ahead of the Dec. 12 election, according to a poll by the Washington Post and George Mason's Schar School: Democrat Doug Jones 50%, Republican Roy Moore 47%, as voter concern about moral conduct hurts Moore in the red state.
https://www.axios.com/newsletters/axios-am-ceac2d9b-bdc3-489b-bb87-0759fbe3a0aa.html?chunk=0#story0
1 big thing: Reality check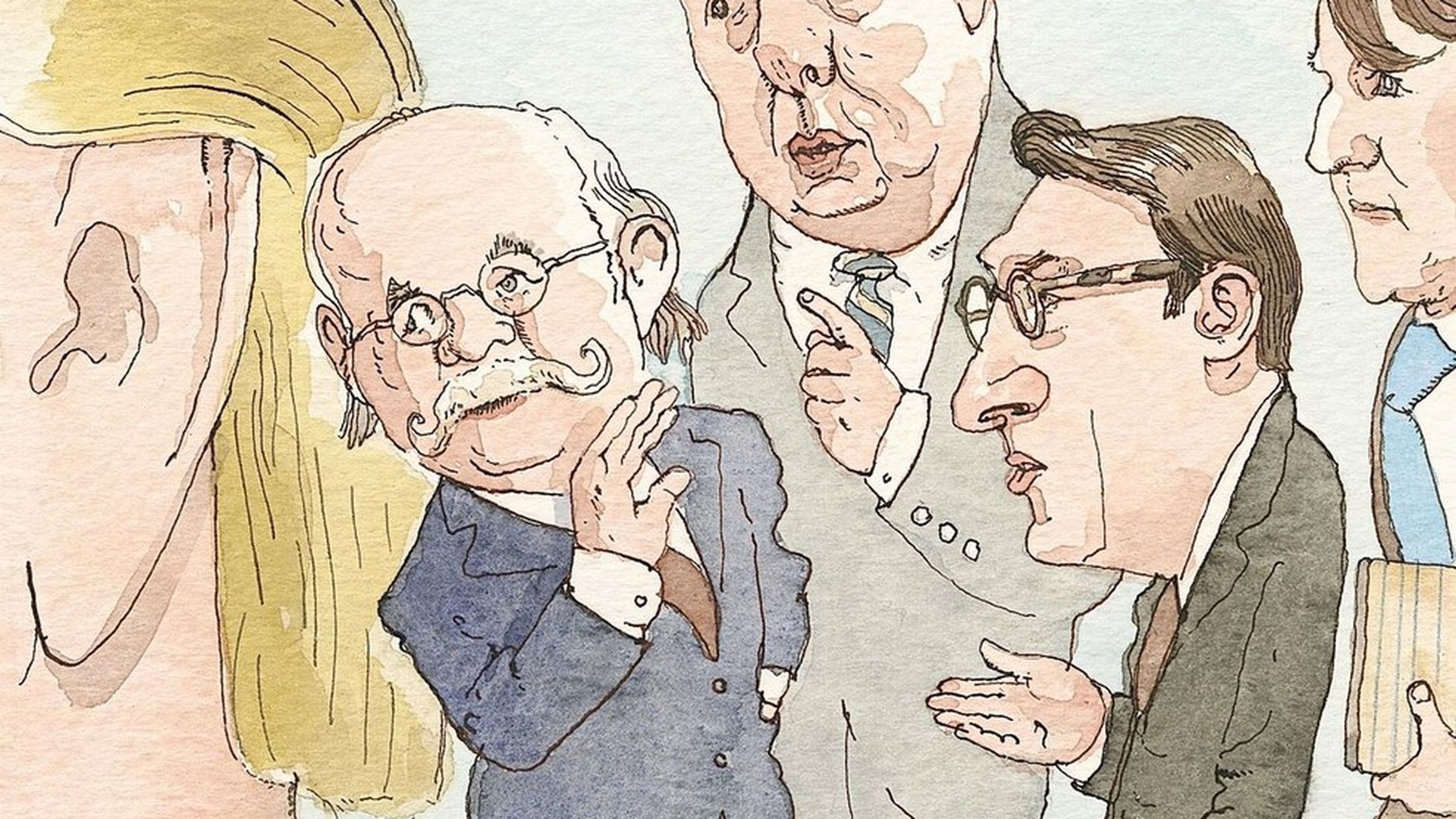 Michael Flynn's guilty plea and agreement to cooperate with Bob Mueller's investigation was without doubt terrible news for President Trump and his inner circle: Flynn knows more than anyone about their dealings with Russia.
But, but, but ... This doesn't necessarily mean Trump is in personal legal jeopardy, much less on the road to impeachment.
The atmosphere of hysteria is dangerous. We saw this yesterday when ABC News reported that Flynn planned to testify that he was directed by then-candidate Trump to make contact with the Russians. That sure didn't sound true. Hours later, ABC significantly softened its report, saying one source says Trump asked Flynn to contact the Russians during the transition to fighting ISIS. Huge difference.
Jeffrey Toobin, writing about Trump's lawyers ("The Russia Portfolio") in the forthcoming issue of The New Yorker, offers a gut check on how hard it will be to go after Trump, even with Flynn's help:
"In several conversations with me, [Trump lawyer Jay] Sekulow emphasized that collusion between the Trump campaign and Russia, even if it did take place, wouldn't be illegal."
Sekulow: "For something to be a crime, there has to be a statute that you claim is being violated ... There is not a statute that refers to criminal collusion. There is no crime of collusion."
Toobin points to two ways Mueller could move, both difficult:
The Trump campaign received unlawful in-kind political contributions in the form of damaging info on Hillary Clinton.
The Trump campaign aided and abetted the hacking of the Clinton-related e-emails.
Toobin: "Nonetheless, based on the available evidence, both of these theories of criminal liability ... look like long shots for Mueller. Prosecutors tend to be cautious about pursuing criminal cases based on novel legal theories."
This is why several White House officials worry most about a possible cover-up. Obstruction of justice is easier to prove. Remember: There's a reason Steve Bannon said the firing of James Comey will go down as the dumbest political decision in America history.
Toobin: "In sum, on the basis of the publicly available evidence, the case against Trump for obstruction of justice is more than plausible. Most perilously for the President, Flynn may know what Trump has to hide."
Go deeper: Jeffrey Toobin, "Ty Cobb, John Dowd, and Jay Sekulow are setting out to prove that there is no such crime as collusion."
https://www.axios.com/newsletters/axios-am-ceac2d9b-bdc3-489b-bb87-0759fbe3a0aa.html?chunk=1#story1
2. Trump's worst day and best night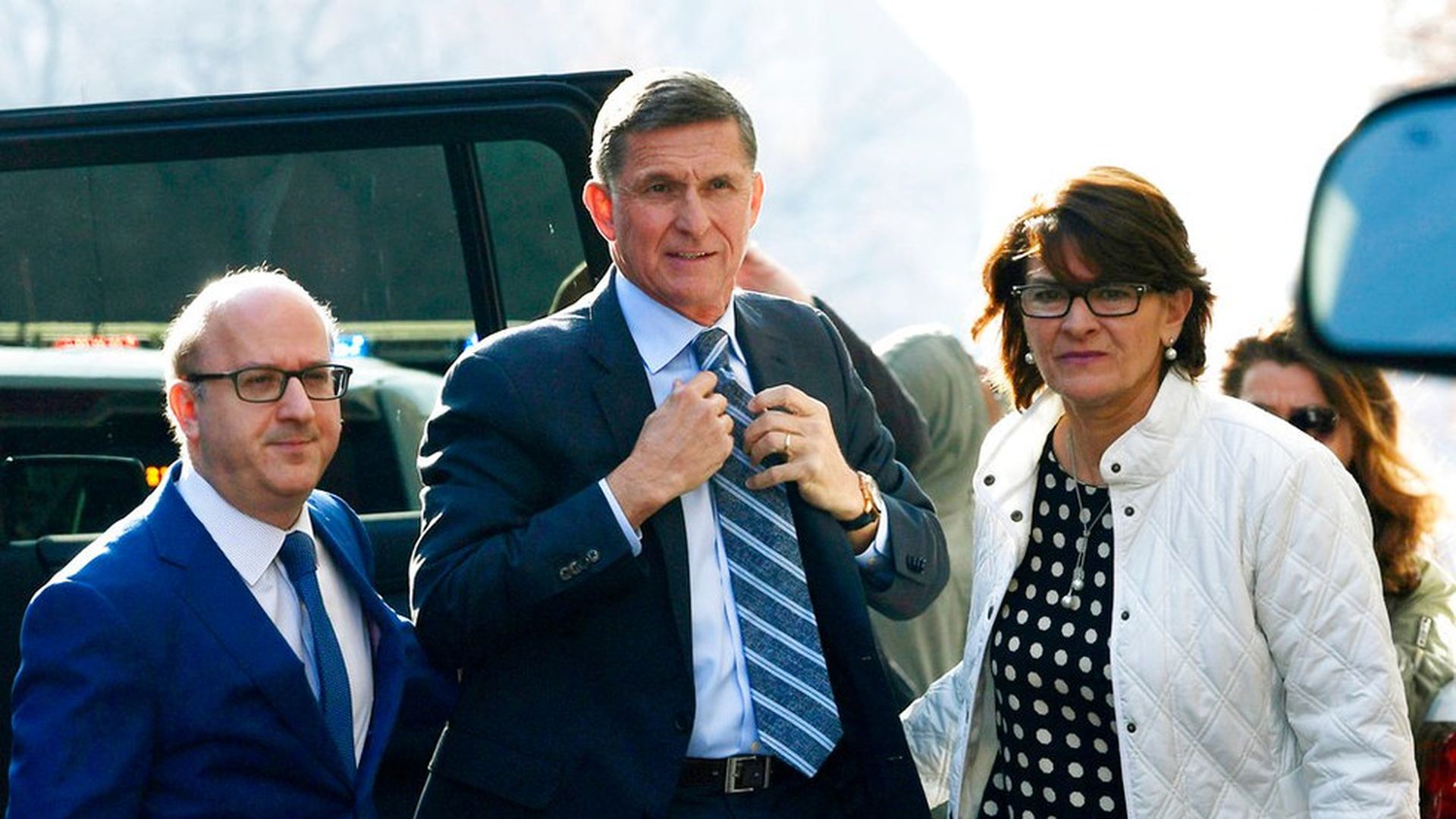 The APNewsAlert came at 1:51 a.m.: "Senate narrowly OKs near-$1.5 trillion tax bill, pushing President Trump and GOP close to year's biggest legislative win."
Being there: "Presiding over the Senate, Vice President Pence announced the 51-49 vote to applause from Republicans."
"Sen. Bob Corker (R-Tenn.) was the only lawmaker to cross party lines, joining the Democrats in opposition."
"The measure focuses its tax reductions on businesses and higher-earning individuals, gives more modest breaks to others and offers the boldest rewrite of the nation's tax system since 1986."
And yet, this huge accomplishment — even many Republicans long doubted that the Senate would finish its version this year — will be a footnote in news coverage and the national consciousness, blotted out by the massive new legal threat to the White House.
Be smart: The White House talking point has been that special counsel Bob Mueller is running a narrow probe that'll be done by Thanksgiving, or for sure by the end of the year. With many choices for offenses that former Trump national security adviser Michael Flynn could have pleaded to, Mueller picked the bullseye: Russia.
Inside the West Wing ... Conversations by Jonathan Swan and me show there's anxiety and fear among Trump confidants:
Flynn is clearly desperate, legally, personally and financially. He has been broken by Mueller. And he was at Trump's side during both the campaign and the first three weeks in the White House.
No one knows what the decorated Army general will unload. And despite Flynn's credibility problems, Mueller clearly believes he has something substantial to offer, possibly going to the heart of the White House.
N.Y. Times Quote of the Day ... Michael Flynn statement: "I recognize that the actions I acknowledged in court today were wrong, and, through my faith in God, I am working to set things right."
https://www.axios.com/newsletters/axios-am-ceac2d9b-bdc3-489b-bb87-0759fbe3a0aa.html?chunk=2#story2
3. Mueller's "significant new leverage"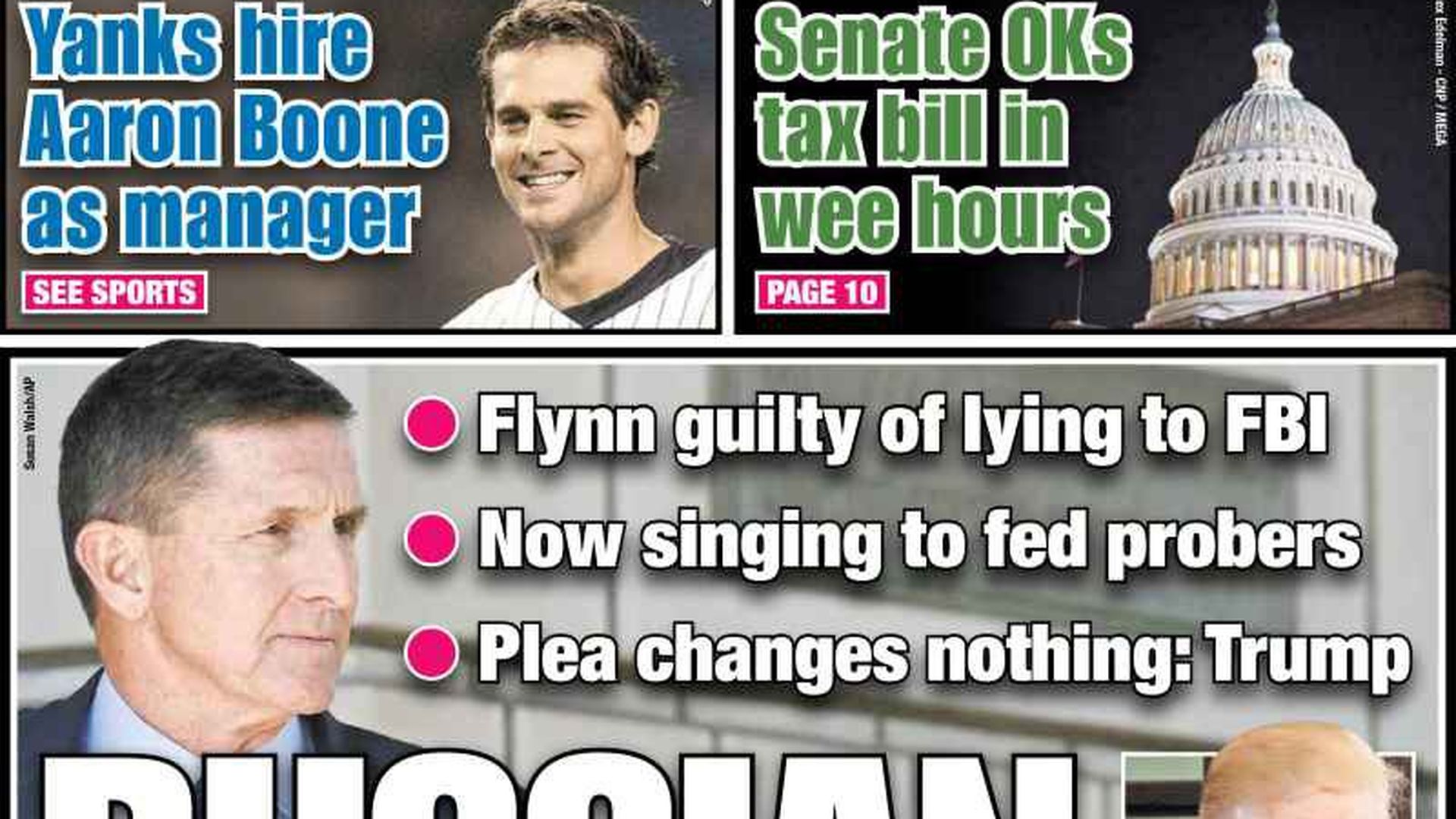 "Former National Security Adviser Michael Flynn's guilty plea has given Special Counsel Robert Mueller significant new leverage that may help him pursue more serious charges against others close to Donald Trump, perhaps leading up to the president himself," Bloomberg reports:
"Flynn is now cooperating with Mueller, and as part of his plea deal he provided information related to Trump's son-in-law Jared Kushner, ... a sign that Mueller's probe is closing in on the president's inner circle."Why it matters: "Legal experts said Mueller may seek to use Flynn's testimony to build a broader case of conspiracy or obstruction of justice.""Flynn told Mueller that he communicated with Russia's ambassador to the U.S. during the presidential transition last December about American foreign policy with the knowledge and direction of senior Trump associates, according to a court document.""Flynn said that a 'very senior member' of the presidential transition team asked Flynn on Dec. 22 to contact Russian officials to help delay or defeat the U.N. resolution on Israel. The very senior member was Kushner, according to the people familiar with the events.""Another person familiar with the push against the U.N. resolution said it was a collaborative effort.""Flynn also said he reported back on Dec. 29 to a 'senior official' in the transition team at ... Mar-a-Lago ... on his conversations with" the Russian ambassador."That official, according to the people familiar with the matter, is K.T. McFarland [now ambassador to Singapore], who was brought into the transition team and later the White House by Flynn." Be smart: What does Trump tell his base? I got you this great tax gift, while Democrats can't move beyond fake Russia.
https://www.axios.com/newsletters/axios-am-ceac2d9b-bdc3-489b-bb87-0759fbe3a0aa.html?chunk=3#story3
Bonus: Tweet du jour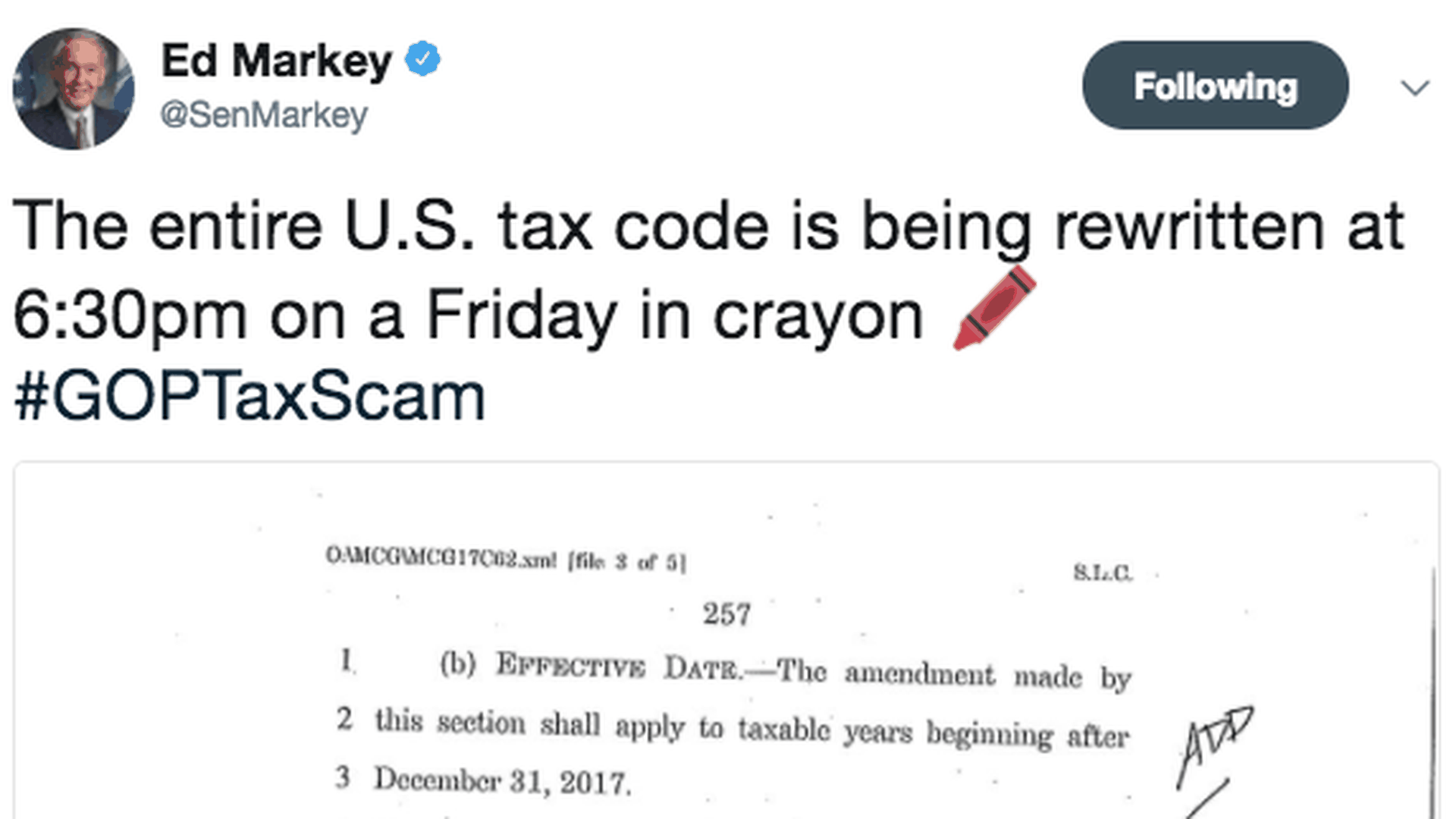 Several Democratic senators tweeted images like this last evening as the vote approached.
Axios editor-in-chief Nick Johnston points out that last-minute changes have been made like this as long as anyone can remember, regardless of the party in charge. Constituents just couldn't see it in real time.
See a gallery of the tweets, by Axios' Shannon Vavra.
https://www.axios.com/newsletters/axios-am-ceac2d9b-bdc3-489b-bb87-0759fbe3a0aa.html?chunk=4#story4
4. The next tax fight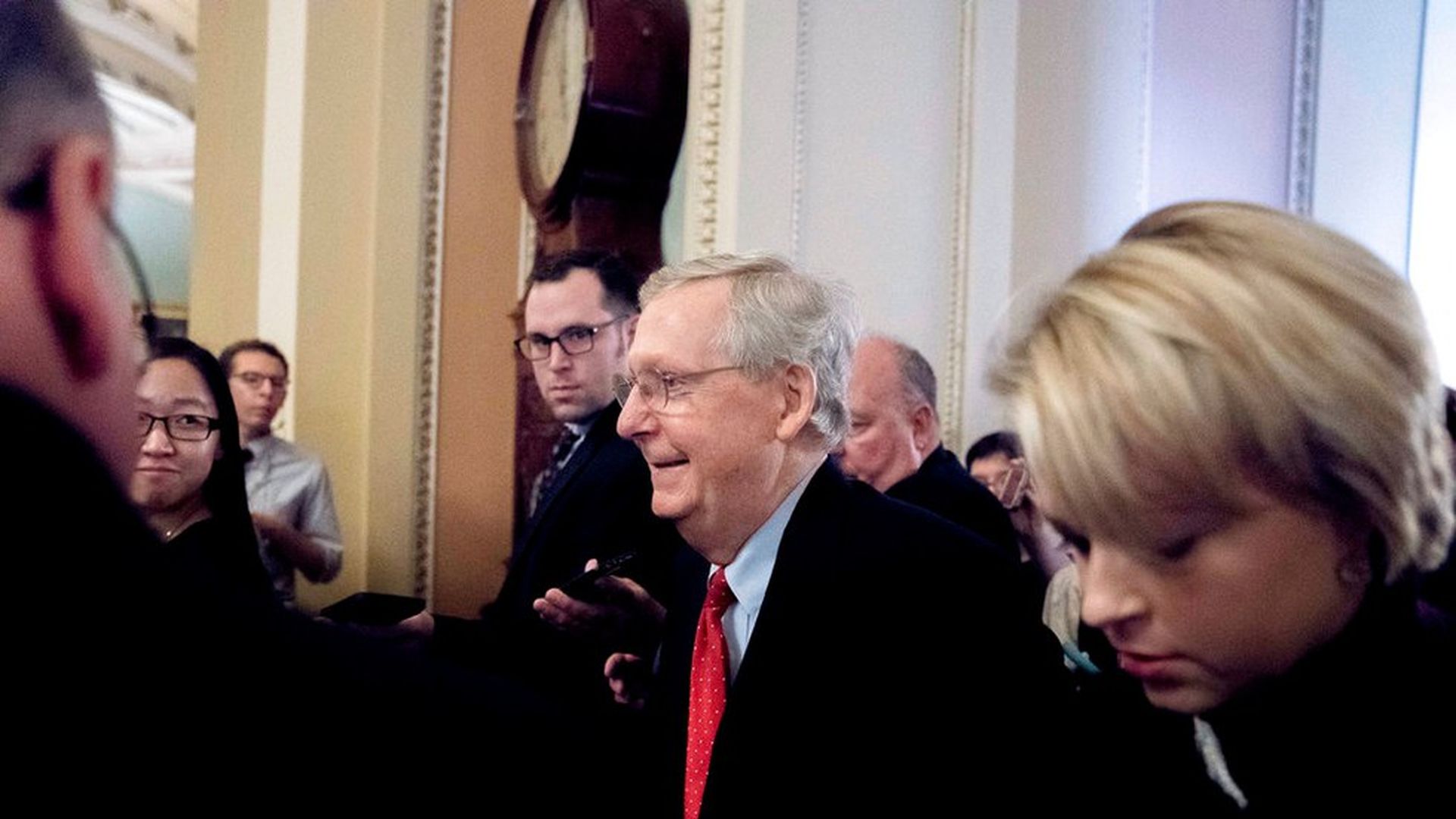 The Senate tax bill differs in big ways from the House version. So the conference committee, which House aides unanimously insist is happening, will have real problems to solve — in a hurry.
Be smart: A final tax bill, on Trump's desk, isn't a done deal. But once lawmakers have put themselves on the record voting for the bill once, they're going to feel a lot of pressure to get to "yes" again.
What has to be worked out, per Axios' Caitlin Owens:
The alternative minimum tax: At the last minute, the Senate bill kept the AMT on corporations. It also raised the exemption for the individual AMT, instead of repealing each. The House bill completely repeals both.
The SALT (state and local tax) deduction: Both the House and the Senate limit the deduction for property taxes to $10,000. But some House members are likely to want more.
The pass-through rate: The Senate bill allows pass-through corporations (small businesses that file taxes on their owner's return) to deduct 23% of business income, while the House created a 25% rate for business income (and a 9% rate for lower-income individuals).
ACA individual mandate: The Senate repeals it. The House doesn't, although it has signaled that it'll be kept in the bill in conference.
Estate tax: The House doubles the size of the estate tax exemption, then repeals the tax after 2024. The Senate doubles the exemption until the tax sunsets beginning in 2026.
Individual rates: The House has 4 rates and keeps the current top rate of 39.6%. The Senate has 7 rates and a top rate of 38.5%. There are also differences in the child tax credit value and the standard deduction, and everything on the individual side in the Senate sunsets beginning in 2026.
Mortgage interest deduction: The House lowers the cap to $500,000, while the Senate keeps it at $1 million.
Be smart: Just a few issues!
https://www.axios.com/newsletters/axios-am-ceac2d9b-bdc3-489b-bb87-0759fbe3a0aa.html?chunk=5#story5
5. ABC News blows a big one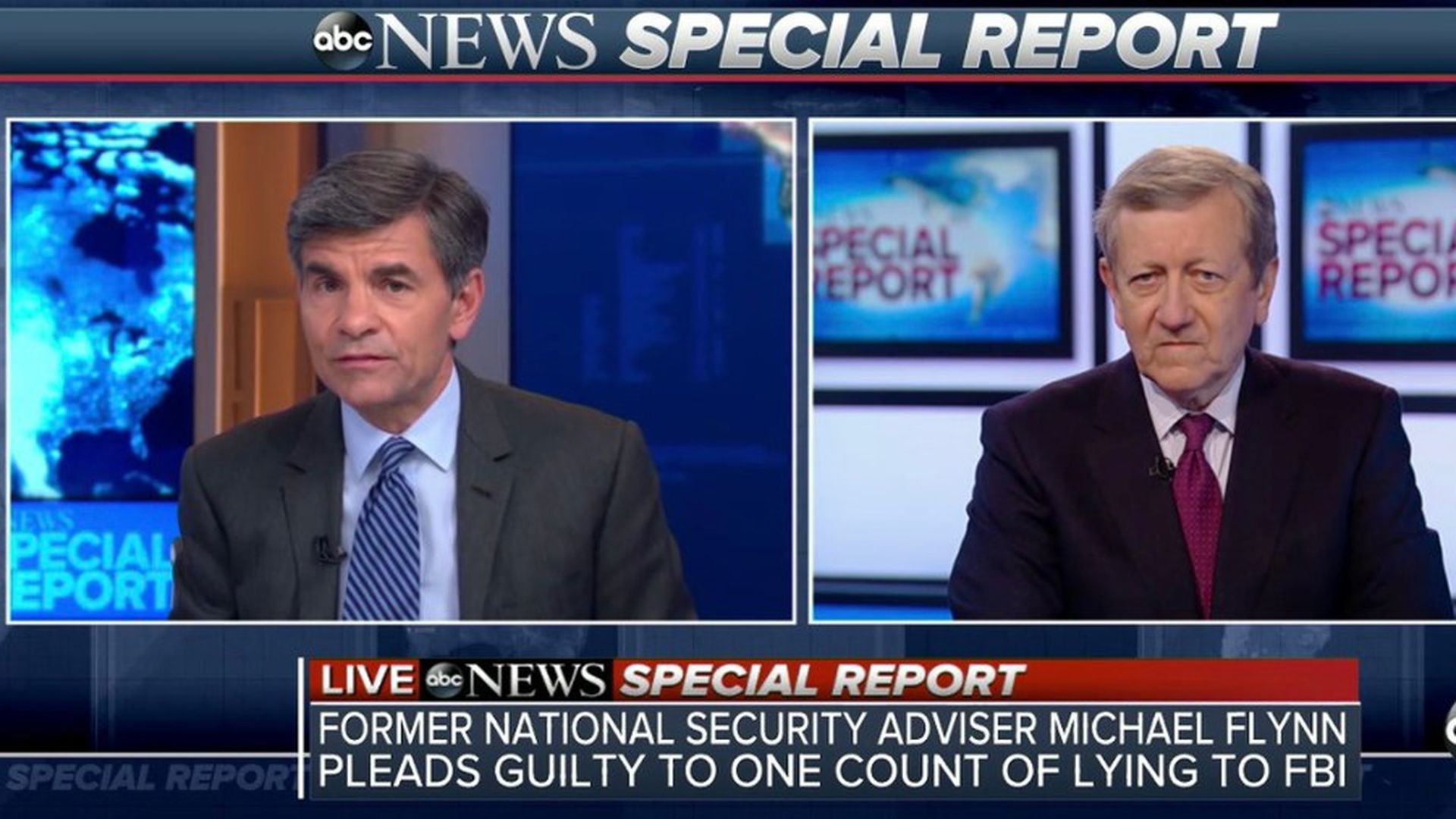 ABC News last night walked back a bombshell that, according to CNBC's Bob Pisani, caused the stock market's temporary 350-point plunge:
Shot ... ABC News chief investigative correspondent Brian Ross, to George Stephanopoulos, during a special report: Flynn, "we are told by a confidant, ... is prepared to testify that President Trump — as a candidate, Donald Trump — ordered him and directed him to make contact with the Russians, which contradicts all that Donald Trump has said at this point."
Chaser ... "Correction: During a live Special Report, ABC News reported that a confidant of Lt. Gen. Michael Flynn said Flynn was prepared to testify that then-candidate Donald Trump instructed him to contact Russian officials during the campaign. That source later clarified that during the campaign, Trump assigned Flynn and a small circle of other senior advisers to find ways to repair relations with Russia and other hot spots. It was shortly after the election, that President-elect Trump directed Flynn to contact Russian officials on topics that included working jointly against ISIS."
Why it matters: If candidate Trump ordered contact with the Russians, that could point to collusion. Once he was elected, such contact would be more explainable. (Pro tip: Just don't lie about it.)
https://www.axios.com/newsletters/axios-am-ceac2d9b-bdc3-489b-bb87-0759fbe3a0aa.html?chunk=6#story6
6. "Digital gold rush"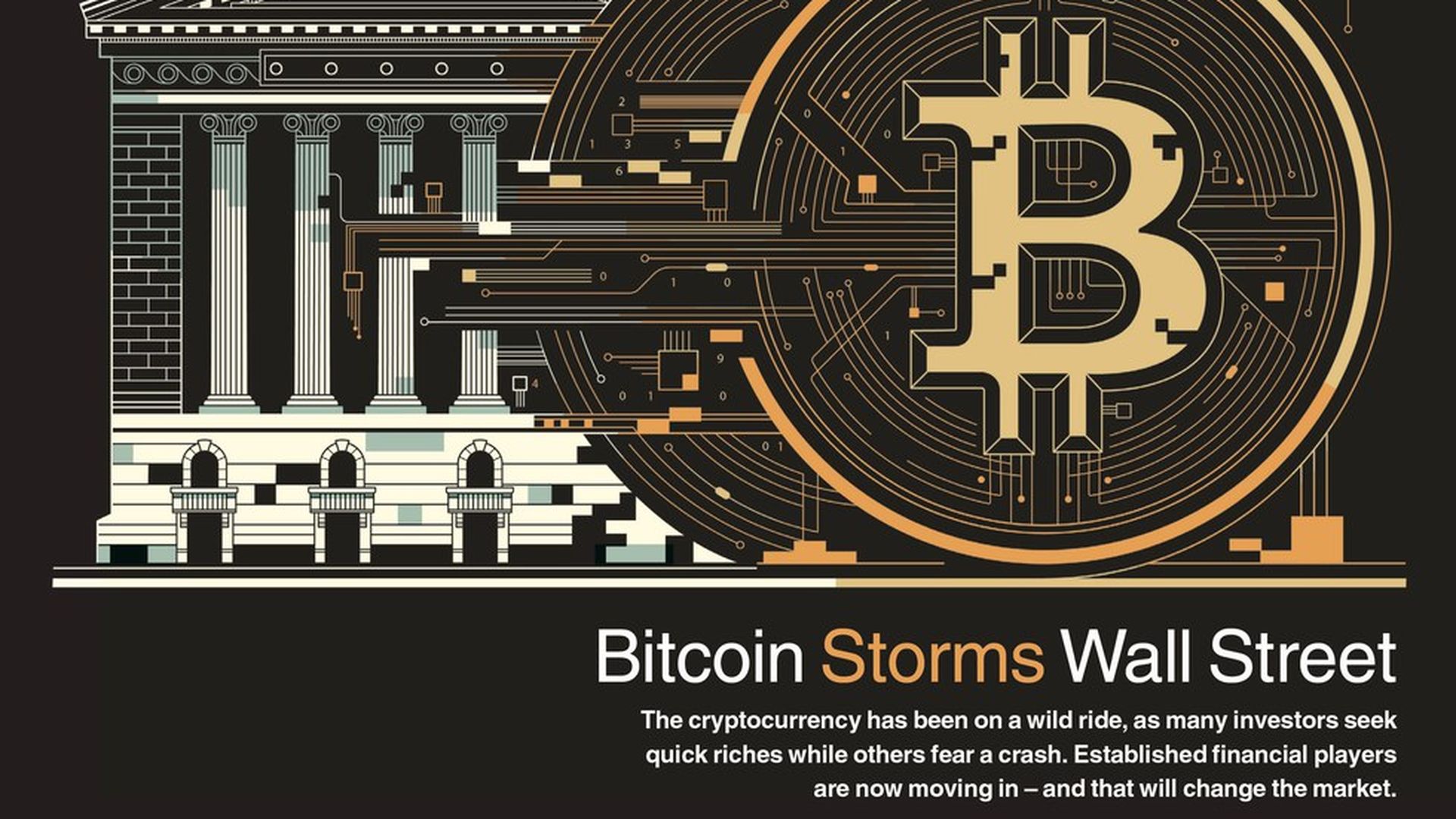 "Even as investors celebrate a banner year for stocks, the [Bitcoin] party next door is so wild there's no longer any way of ignoring it" ... Barron's cover story by Avi Salzman:
"The crypto-rocket shot past $11,000 [this] week just hours after eclipsing $10,000, which itself was mere days after pushing past $9,000. It then slid sharply before surging yet again."
"Now Wall Street is about to join in the fun. On Friday, the Commodity Futures Trading Commission green-lighted plans by the CME and the Chicago Board Options Exchange to introduce Bitcoin futures ... Nasdaq is planning to offer its own futures next year, while Cantor Fitzgerald will introduce a Bitcoin options product."
Why it matters: "[G]etting listed on some of the largest exchanges in the country is a tectonic shift for Bitcoin, which has been associated with drug dealing and called a 'fraud' by the chief executive of the nation's largest bank."
But, but, but ... "Because the futures are cash-settled — traders will receive dollars on the settlement date instead of Bitcoin — the Street technically won't be getting its hands dirty by buying the stuff directly."
"[T]here is a flip side ... extreme volatility, operational risk, security challenges."
https://www.axios.com/newsletters/axios-am-ceac2d9b-bdc3-489b-bb87-0759fbe3a0aa.html?chunk=7#story7
7. Artists of color become faces of the Grammys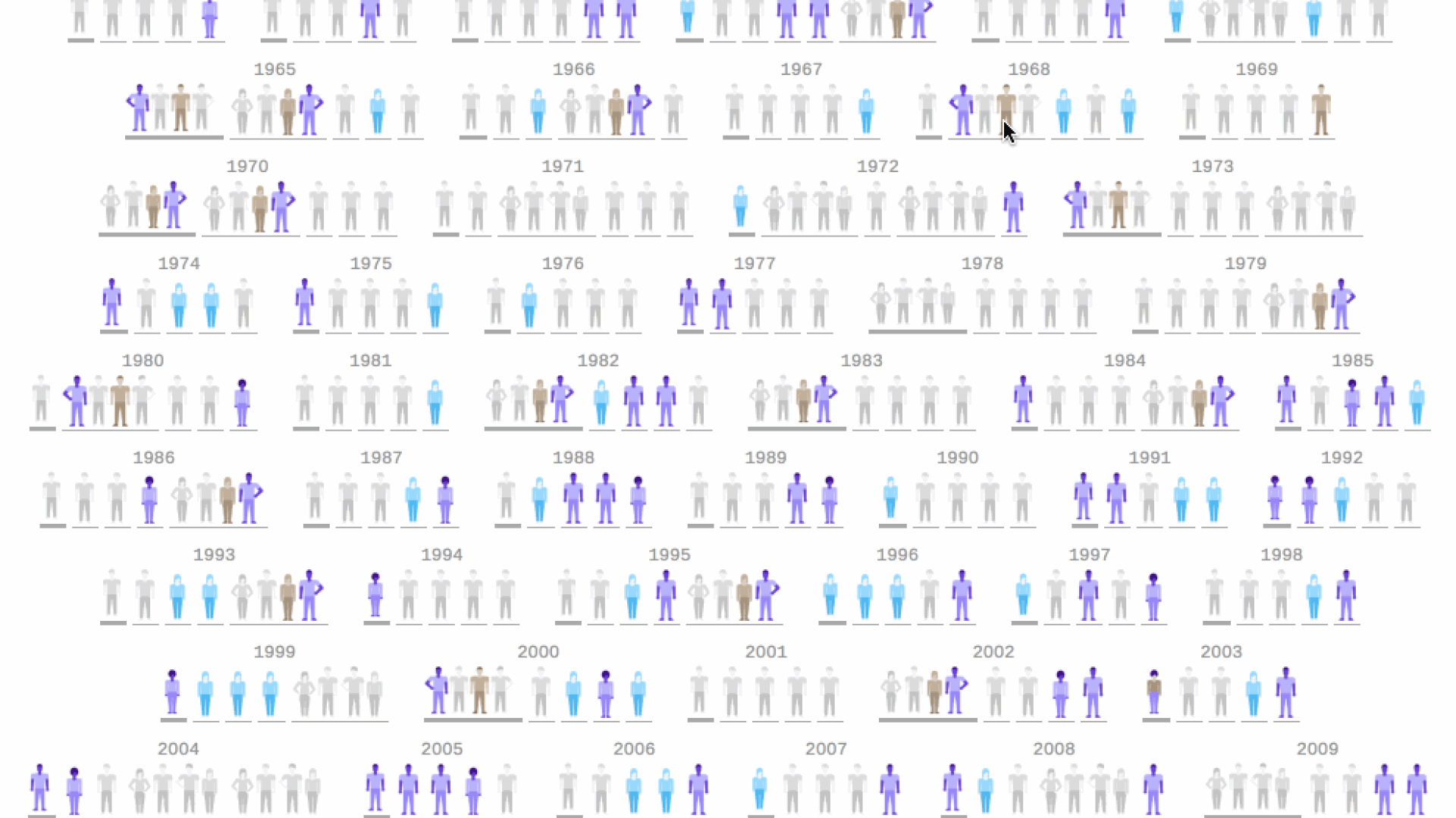 For the first time in the history of the Grammys, no white male artist is nominated in any capacity for the most prestigious award, Album of the Year.
Here's a look at how white men have dominated the award category since the inception of the Grammys, from Axios' Chris Canipe, Lazaro Gamio and Erica Pandey.
Share the graphic. Click on each person to see the name.
https://www.axios.com/newsletters/axios-am-ceac2d9b-bdc3-489b-bb87-0759fbe3a0aa.html?chunk=8#story8
8. Pope says "Rohingya" in emotional encounter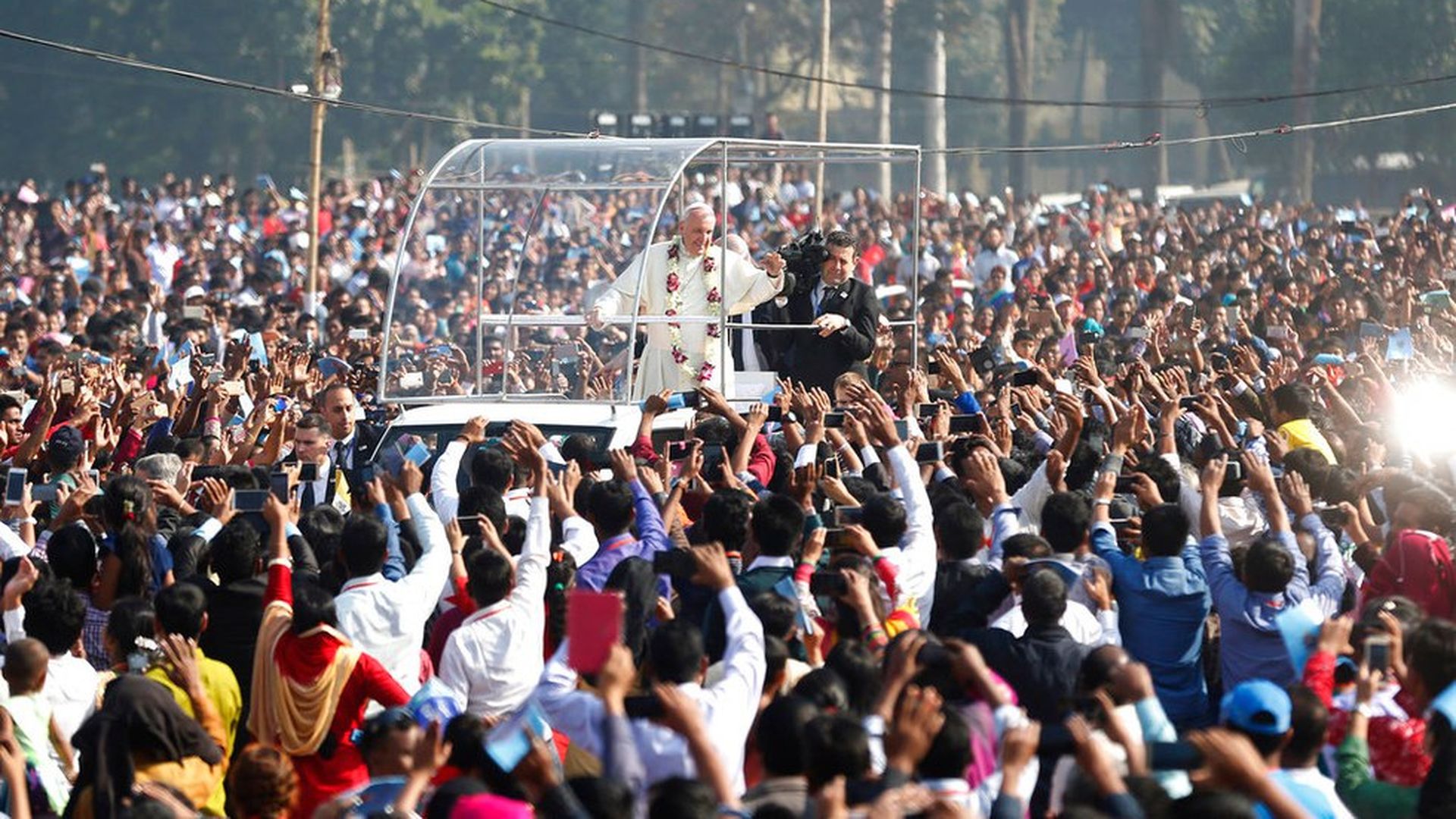 "[I]n Myanmar, where the military has launched ... a campaign of ethnic cleansing against the Rohingya Muslim minority, Francis opted [initially] for diplomatic expediency. He not only avoided the contested term 'Rohingya' in his public remarks, he ignored Asia's worst refugee crisis in decades entirely and didn't call out his hosts for launching it," AP's Nicole Winfield reports from Dhaka, Bangladesh:
"Human rights groups complained. Rohingya complained. Journalists and pundits asked if Francis' legacy as a fearless crusader for the world's most marginal ... wasn't now in question."
"By Friday, Francis' heart won out. In an emotional encounter with 16 Rohingya refugees, ... [his voice trembled] after he greeted the men, women and children who had been forced to flee their homes in Myanmar for wretched camps in Bangladesh."
"Francis begged them for forgiveness for what they had endured and the 'indifference of the world' to their plight."
His Holiness: "The presence of God today also is called 'Rohingya.'"
https://www.axios.com/newsletters/axios-am-ceac2d9b-bdc3-489b-bb87-0759fbe3a0aa.html?chunk=9#story9
9. Lauer backstory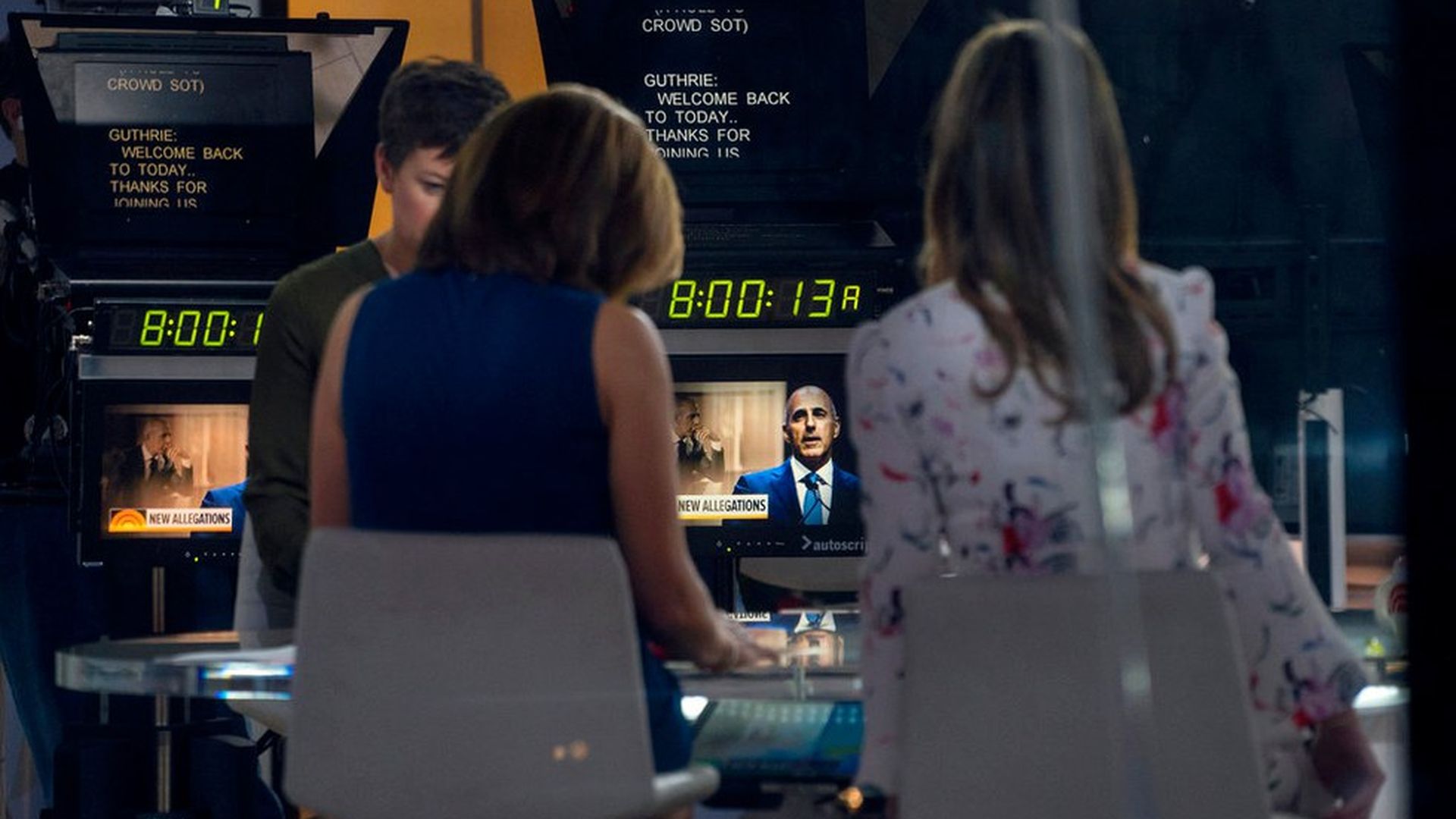 "Matt Lauer will not get his $30 million payout from NBC News, network bosses have ruled, even though his lawyers argue he still has over a year left on his contract," the N.Y. Post's Emily Smith and Carlos Greer report:
NBC News President Noah Oppenheim said at a meeting with "Nightly News" staff "that Lauer would not be paid a penny more because he was terminated 'for cause.'"
Oppenheim said "Lauer had continued to lie about his sexual impropriety up until the very moment he realized he was caught red handed."
https://www.axios.com/newsletters/axios-am-ceac2d9b-bdc3-489b-bb87-0759fbe3a0aa.html?chunk=10#story10
10. One fun thing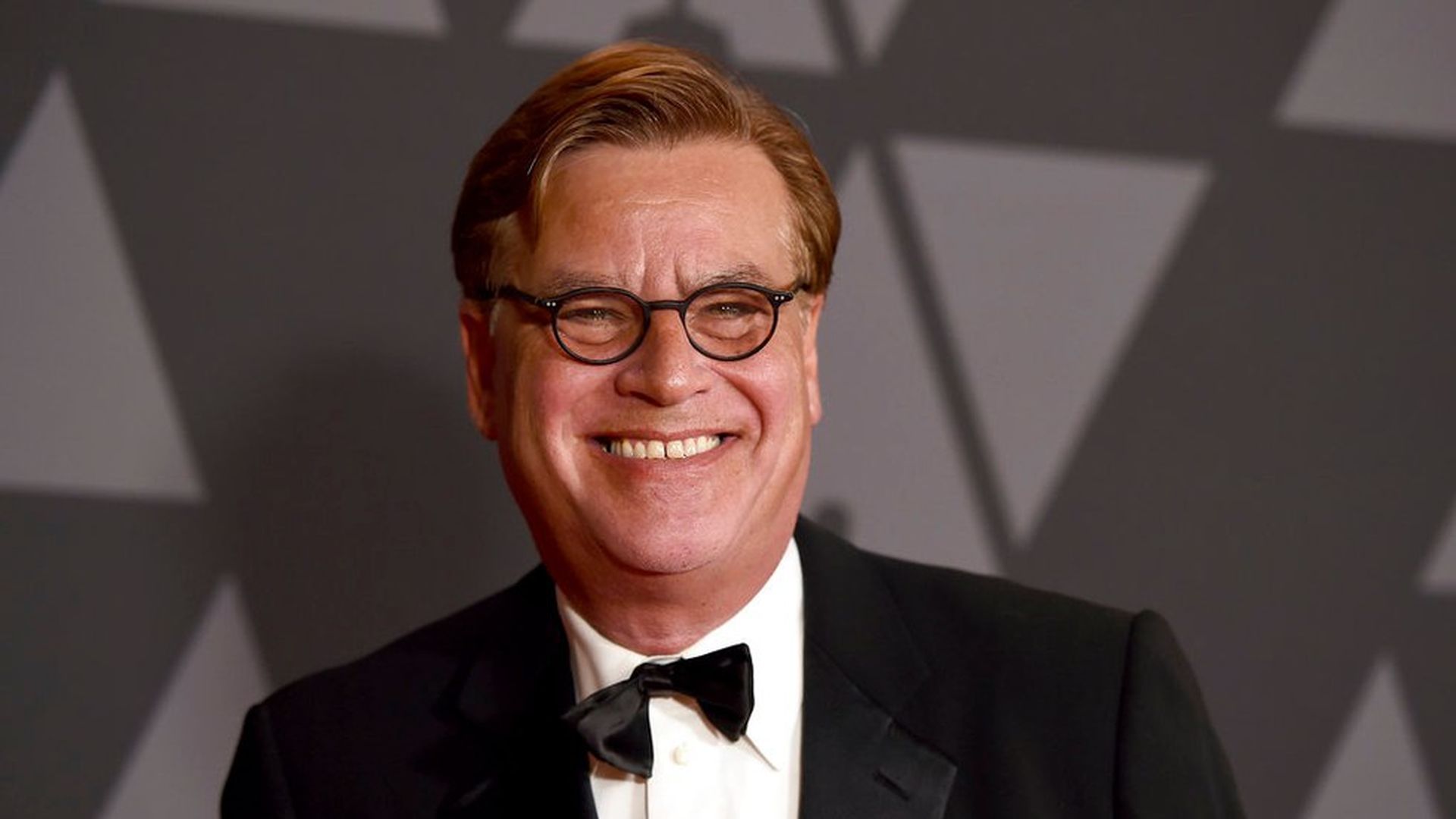 Aaron Sorkin, in an interview with Hollywood Reporter's Lacey Rose , imagines what a "West Wing" revival might look like:
There's ... a standing offer from [NBC] to reboot The West Wing, which Sorkin considers on occasion. When asked if he'd introduce a Trump-like figure in his fictional White House, he winces, arguing that the current president holds no appeal for him, fictional or otherwise. ...
Sorkin's preferred scenario, he tells me, would involve "Sterling K. Brown as the president, and there's some kind of jam, an emergency, a very delicate situation involving the threat of war or something, and [President] Bartlet [played by Martin Sheen], long since retired, is consulted in the way that Bill Clinton used to consult with Nixon."
How he brings Allison Janney's C.J. Cregg or Bradley Whitford's Josh Lyman into the new scenario is where Sorkin gets stuck. So, for the time being, fans will have to settle for reruns.