February 03, 2019
🚨 Axios Sneak Peek, the weekly blockbuster from Jonathan Swan, will have a massive talker later today. Sign up here to get the goods.
1 big thing: Winner-take-all race to rule tech
For the past century, the U.S. or its allies have held the upper hand in technology, whether it was the code cracking that helped win World War II, the atomic and space races, or the processing power that ushered in the digital age.
During the Cold War, the Soviet Union competed on rockets and weapons systems, but didn't challenge American supremacy in consumer tech.
Now, that has changed. And America is paying too little attention.
The U.S. is now in a winner-take-all race with China for dominance in 5G, artificial intelligence and quantum computing.
And the race is even broader than that, Axios chief financial correspondent Felix Salmon points out:
U.S tech dominance was much broader than just information technology. But the U.S. has lost dominance of manufacturing technology, and did so decades ago, ceding it first to Germany, then to Japan, then to China.
In other areas like agriculture and weaponry, the U.S. is still strong. But a large part of "One Belt, One Road" is a Chinese attempt to corner mega-scale infrastructure technology, where the U.S. is pretty far behind these days.
Dr. Graham Allison — a specialist in national security at Harvard, where he has taught for five decades — tells me: "The story beneath the story is the Great Rivalry between a meteorically rising China and a ruling U.S."
"After an American century, Americans have become accustomed to our place at the top of every pecking order," Allison says.
"The very idea that a Chinese company could displace the U.S. as No. 1 in any significant arena [China's Huawei in 5G], and most of all in a next-generation technology, is for most Americans an assault on who we are."
But that's exactly the danger. The lead story of last Sunday's New York Times ("U.S. Scrambles to Outrun China in New Arms Race") trumpets the contest over 5G cellular networks, which exponentially accelerate online speed and ubiquity.
"[T]he potential of 5G has created a zero-sum calculus in the Trump White House — a conviction that there must be a single winner in this arms race, and the loser must be banished," The Times' David E. Sanger, Julian E. Barnes, Raymond Zhong and Marc Santora write.
Be smart, from Axios chief tech correspondent Ina Fried: Often forgotten is how much China and the U.S. still need one another.
The U.S. relies on China for nearly all the manufacture of electronics, including phones and PCs designed here.
Meanwhile, China is still dependent on the U.S. for chips, although it has a plan to reduce or eliminate its reliance in the coming years.
2. "Shoe polish" governor's support craters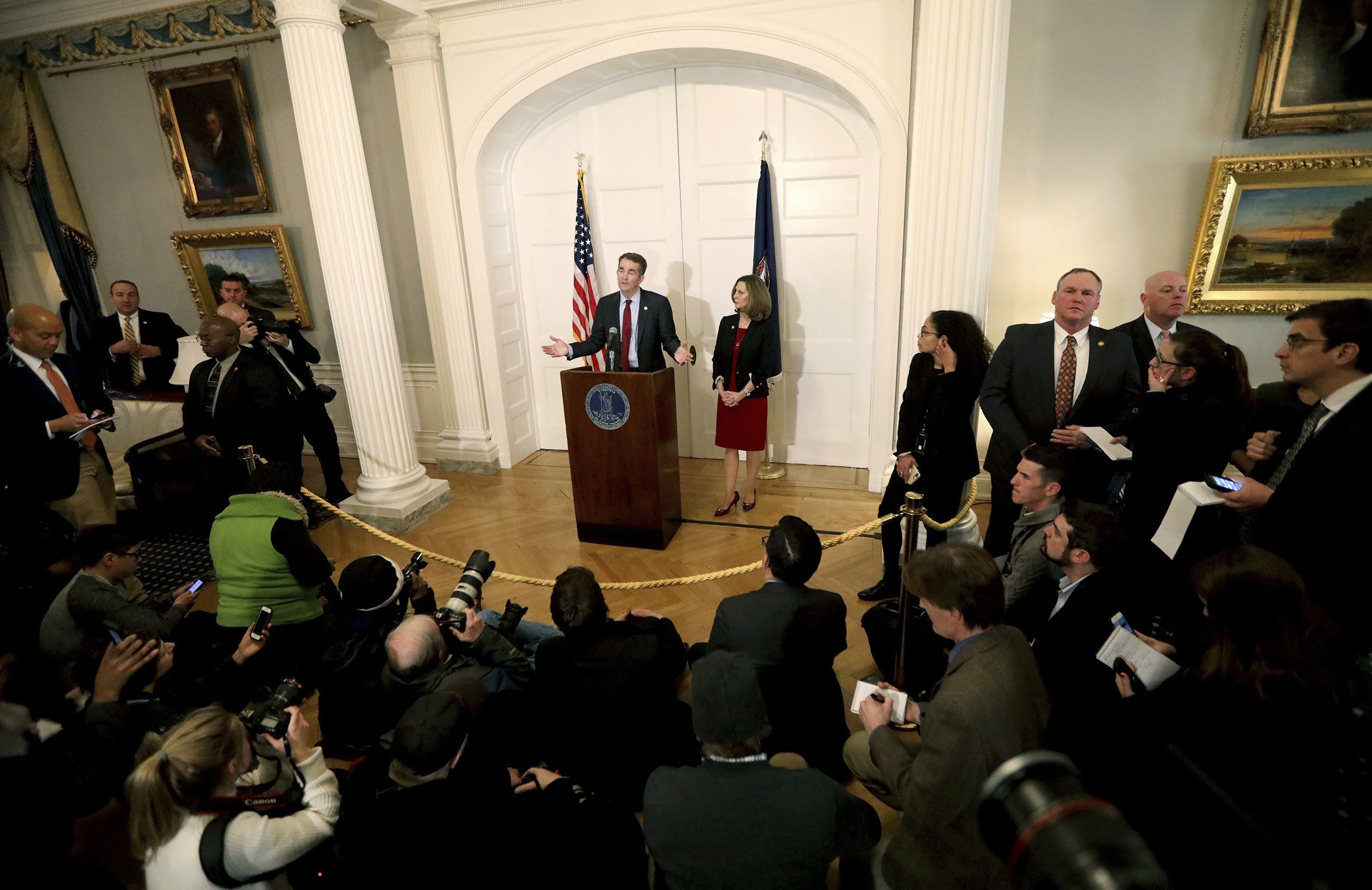 Abandoned by every top official in the commonwealth, Virginia Gov. Ralph Northam (D) said at a bizarre, 42-minute press conference in the Executive Mansion in Richmond yesterday that he will "continue to collect information to definitively prove, in addition to my word, that I'm not in the picture."
He didn't convince a single Democratic leader — local, state or national — that he had just been forgetful the day before: He had taken responsibility for the picture on his medical-school yearbook page, which showed a man in blackface and a person with a Ku Klux Klan cone and robe, both holding beers.
After the press conference, former Virginia Gov. L. Douglas Wilder, 88, the nation's first elected black governor, tweeted that Northam had to resign.
It was the coup de grâce. There is no greater voice of moral authority in Virginia.
From the presser: "That same year [1984], I did participate in a dance contest in San Antonio in which I darkened my face as part of a Michael Jackson costume."
"I had the shoes, I had a glove and I used just a little bit o' shoe polish to put under my — or on my cheeks. And the reason I used a very little bit is because, I don't know if anybody's ever tried that, but you cannot get shoe polish off."
"I had always liked Michael Jackson. I actually won the contest, because I had learned how to do the moonwalk."
He was age 25, BTW.
On why he didn't realize, as a grown adult, that blackface is offensive: "I'm not a person of color. And people of color experience different things — it affects them different ways."
Best quote, from WashPost ... State Sen. Louise Lucas (D-Portsmouth): "He just told me he didn't think it's him. And I said, 'Ralph, this is a day late and a dollar short. It's too late.'"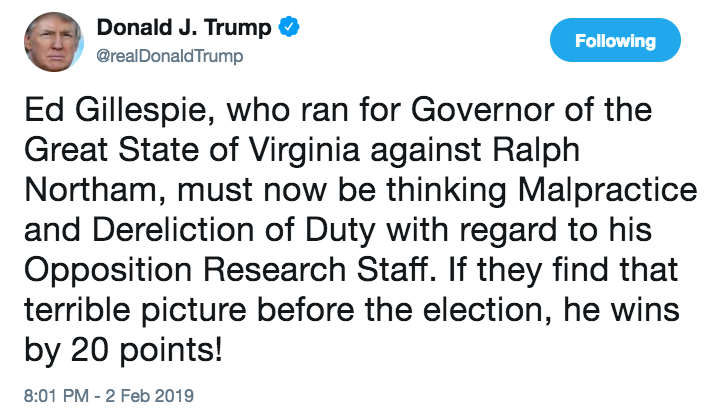 3. Why this story leaked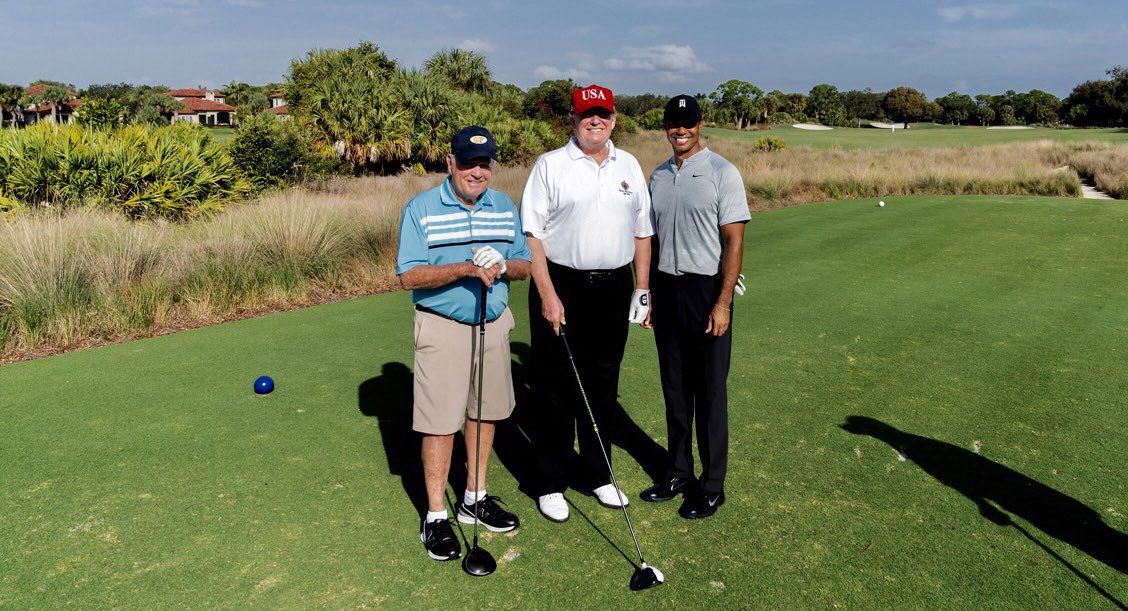 In early 2016, with Donald Trump lending tens of millions of dollars to his presidential campaign, he sought a loan from Deutsche Bank, one of the few banks still willing to lend him money — and got turned down, the N.Y. Times' David Enrich, Jesse Drucker and Ben Protess scoop.
Among the concerns of senior officials at the bank "was that if Mr. Trump won the election and then defaulted, Deutsche Bank would have to choose between not collecting on the debt or seizing the assets of the president of the United States."
Why it matters: "The failed loan request ... shows that he was actively engaged in running his business in the midst of the presidential campaign, and it is likely to attract scrutiny from Democrats on two House committees that

are investigating

his two-decade relationship with Deutsche Bank."
Be smart: We're going to start to see more and more leaks — especially of the follow-the-money sort — from the 17 known investigations of Trump and Russia.
Investigators and prosecutors will be sharing material that they may not be able to use in their cases, but that could be very useful to Democrats for congressional probes and even impeachment efforts.
Bonus: Pic du jour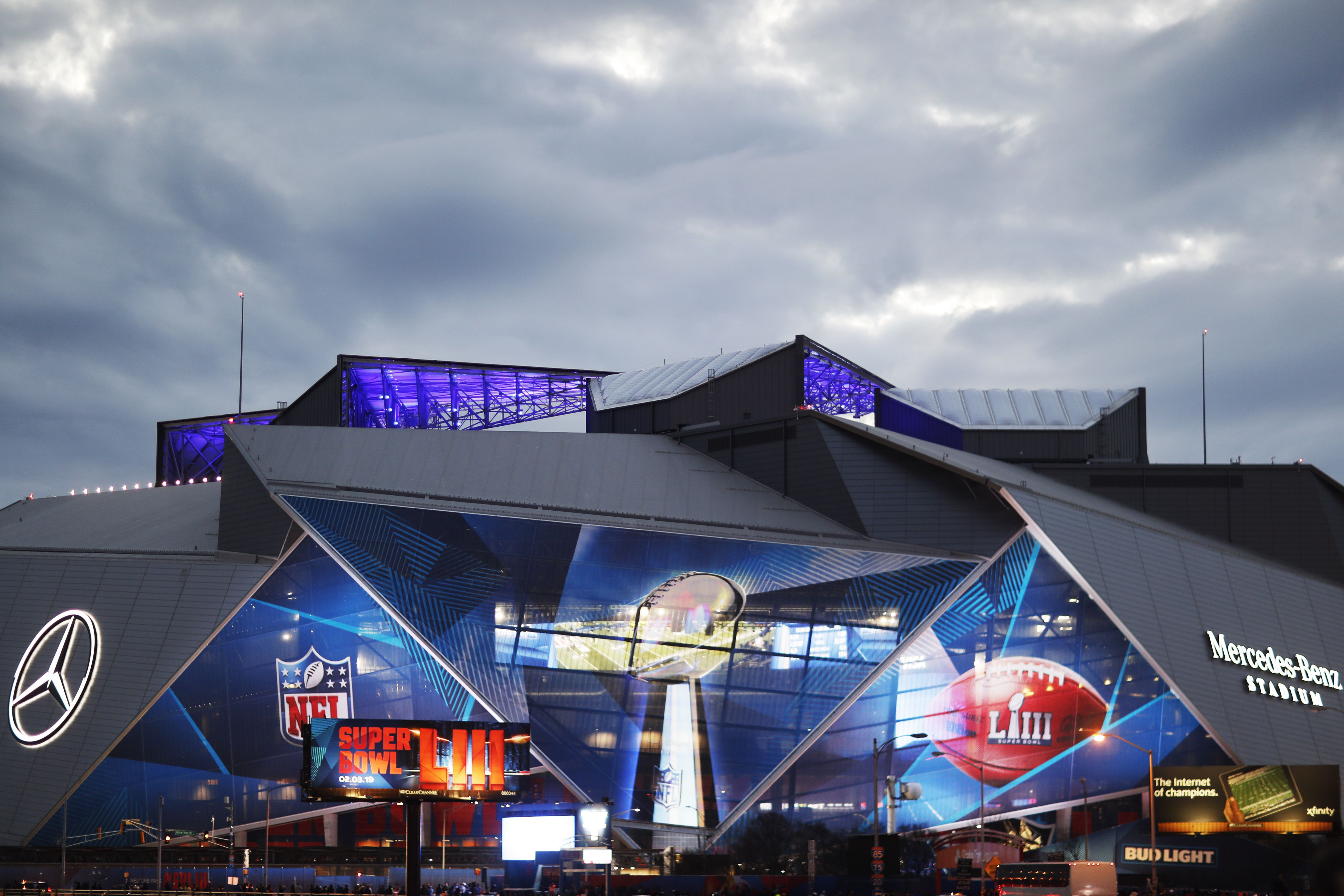 Super Bowl 53 kicks off at 6:30 p.m. at Mercedes-Benz Stadium in Atlanta as a "battle of ages ... clash of generations"
If the L.A. Rams win, 33-year-old head coach Sean McVay becomes the youngest to win a Super Bowl.
"If the Patriots lift the Vince Lombardi Trophy, 66-year-old Bill Belichick becomes the oldest." (Reuters)
At 41, Tom Brady already is the oldest quarterback to start a Super Bowl.
Rams QB Jared Goff, 24, is the fourth youngest.
4. Our first vegan president?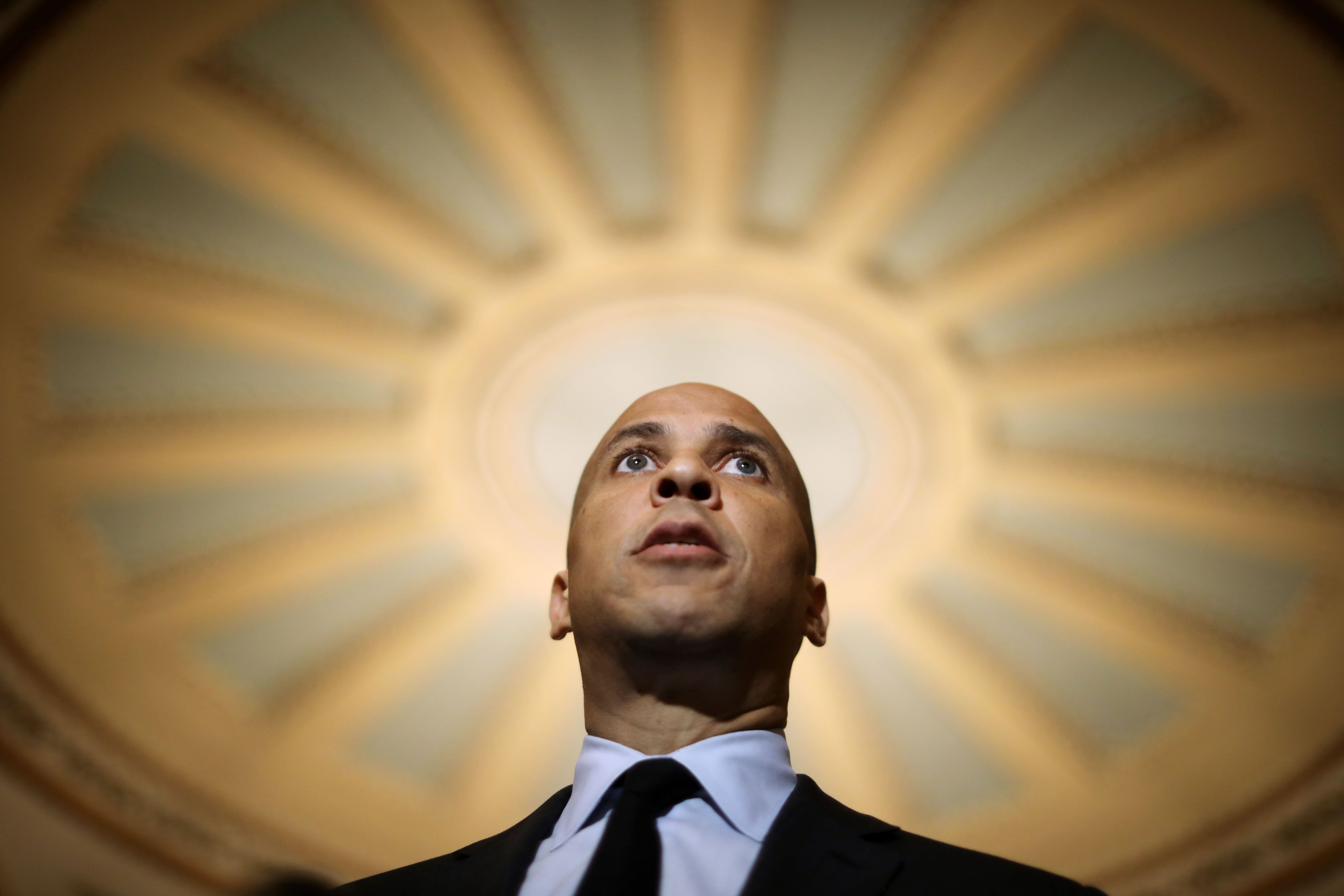 Sen. Cory Booker (D-N.J.), 49, would be the country's first self-described vegan president, the L.A. Times' Nardine Saad writes:
"I find myself more and more rejoicing in the delicious simplicity of a whole food, plant based diet," Booker wrote on Facebook last May, sharing a picture of a roasted-cauliflower lunch.
On "The View" on Friday, Meghan McCain asked Booker: "What does a vegan eat at the Iowa State Fair?" Booker responded: "I won't eat the pork chop on a stick, but there will be a lot of fried stuff."
"Booker is a self-described 'junk-food vegan,'" per the L.A. Times:
"He fasts intermittently and focuses on eating unprocessed food with simple ingredients, which have helped him lose weight and increase his energy."
"He also loves a good Impossible burger."
5. Overlooked no more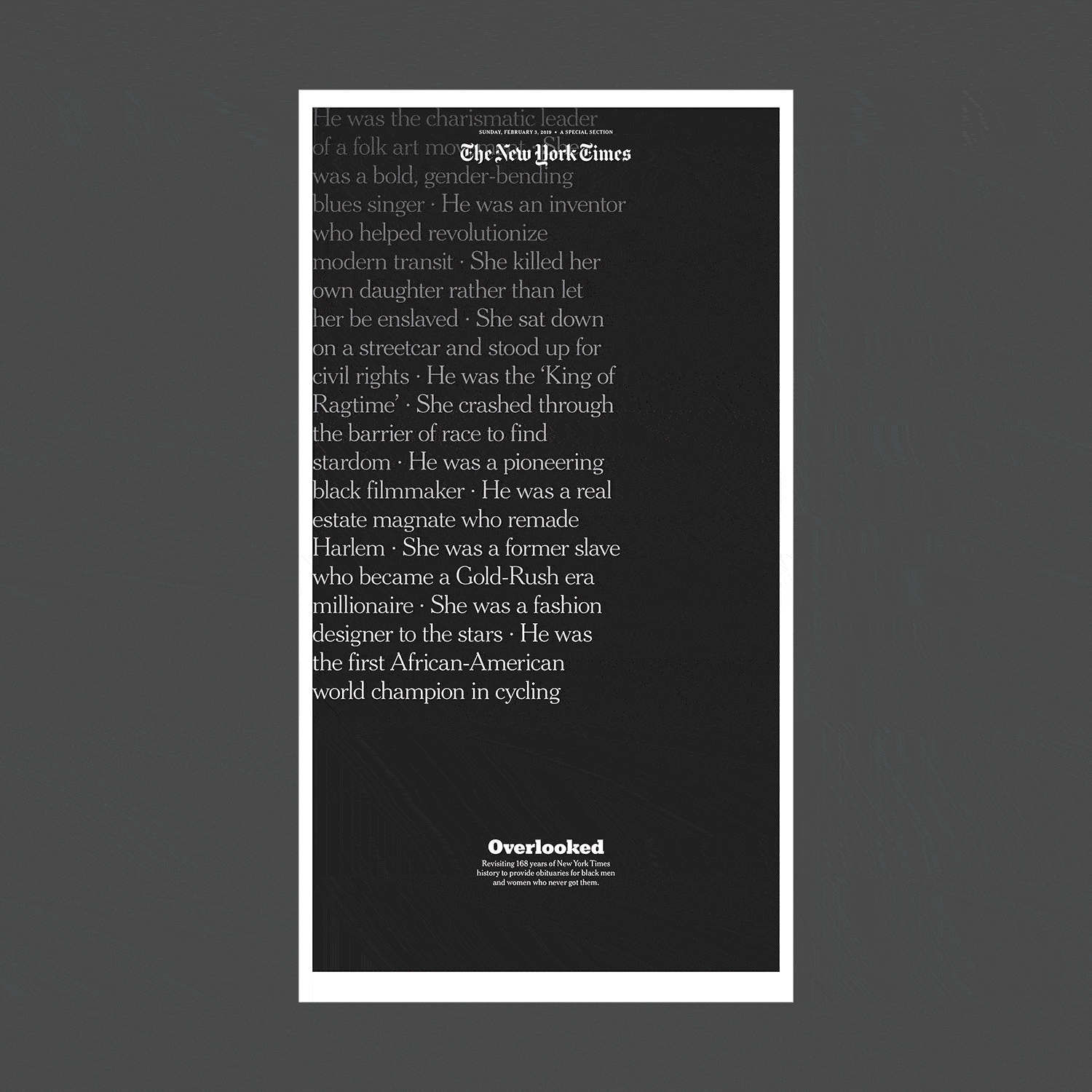 To mark the start of Black History Month, today's New York Times includes a 16-page special section "which tells the stories of a dozen extraordinary black men and women who were left out of The Times's obituary pages when they died."
This is part of the "Overlooked" series, which began last year with remarkable women who hadn't received proper obituaries.
See today's entries, including Elizabeth Jennings, who "sat down on a streetcar and stood up for civil rights" ... Scott Joplin, the "King of Ragtime" ... Granville T. Woods, an inventor who helpful revolutionize modern transit.
6. 1 door thing
"The doorbells have eyes: The privacy battle brewing over home security cameras ... Police want to register — and even subsidize — private security cameras," WashPost tech columnist Geoffrey Fowler reports:
"Ring video doorbells, Nest Hello and other connected security cameras are the fastest-growing home improvement gadgets since garage-door openers."
"These cameras, often built into buzzers, alert your phone when someone is at your door and save footage online."
"You've got a legal right to film in public places, including your entryway."
"There's little agreement whether private cameras slash crime rates, yet police are setting up voluntary registries for private cameras in dozens of communities."
Cities including D.C. "have begun paying up to $500 for cameras on private property. Detroit is going further: Its mayor wants to mandate security cameras at businesses open late, with a live feed going straight to police."
"Ring's owner Amazon.com filed an eerily specific patent to put its controversial Rekognition facial-identification software into doorbells. The purpose: to automatically flag 'suspicious' people."