Good Sunday morning. Situational awareness: "The Department of Homeland Security and [FBI] warned in a report distributed by email late on Friday that the nuclear, energy, aviation, water and critical manufacturing industries have been targeted [by sophisticated hackers] along with government entities in attacks dating back to at least May," Reuters reports. The agencies warned that hackers had succeeded in compromising some targeted networks."
https://www.axios.com/newsletters/axios-am-cdfc8906-a92a-4419-8759-ec63cae2f372.html?chunk=0#story0
1 big thing: "Dreamers" may have to wait
Some of the biggest names in corporate America this week will launch an expensive lobbying campaign for fast action to protect "Dreamers," undocumented immigrants who came here as children.
But I checked around on Capitol Hill and found that both the House and the Senate plan to stick to tax reform for now.
What's new: The Coalition for the American Dream, rolling out midweek with an ad in the Wall Street Journal, includes a much broader swath of corporations than ever came together for comprehensive immigration reform: Microsoft, IBM, Facebook, Google, Apple, Cisco, Intel, Uber, Lyft, Airbnb, Spotify, Under Armour, Chobani, Marriott, Hilton, Ikea, Best Buy and more.
Why it matters: These corporations — along with trade associations and advocacy groups, including FWD.us — plan to focus completely on Republican lawmakers, with this message: "Our mission is to seek the passage of the bipartisan Dream Act or similar legislation that gives Dreamers the permanent solution they deserve in the calendar year 2017."
Although Speaker Paul Ryan has told "Dreamers" they can "rest easy," leadership aides poured cold water on the speedy timeline envisioned by the corporations:
A House aide: "[A]nything that is perceived as complicating tax reform is not going to go over well."
A second House aide: "[T]here is bandwidth but ... the will for an immigration deal hinges — as always — on border security. If Dems can wrap their heads around that sooner than later, the more real it becomes."
A Senate aide: "Would be an enormous lift before the end of the year — unless Dems were to agree to a real border security package."
Be smart: This outlook is fresh evidence that even when a lot of powerful people agree something should be done in Washington, that doesn't mean it will be.
Despite the companies' desire for action this year, the DACA protections don't expire till March 5. And when Congress has time, it generally will take it.
https://www.axios.com/newsletters/axios-am-cdfc8906-a92a-4419-8759-ec63cae2f372.html?chunk=1#story1
2. Ex-presidents get the band together
"The five living former presidents ... appeared together for the first time since 2013 at a concert to raise money for victims of devastating hurricanes in Texas, Florida, Louisiana, Puerto Rico and the U.S. Virgin Islands," AP's Will Weissert reports:
"Democrats Barack Obama, Bill Clinton and Jimmy Carter and Republicans George H.W. and George W. Bush gathered in College Station, Texas, home of Texas A&M University, to try to unite the country after the storms."
"Texas A&M is home to the presidential library of the elder Bush. At 93, he has a form of Parkinson's disease and appeared in a wheelchair at the event. His wife, Barbara, and George W. Bush's wife, Laura, were in the audience."
"Lady Gaga made a surprise appearance."
"The appeal backed by the ex-presidents has raised $31 million since it began on Sept. 7, said Jim McGrath, spokesman for George H.W. Bush."
President Trump "offered a video greeting that avoided his past criticism of the former presidents and called them 'some of America's finest public servants.'"
"Four of the five former presidents — Obama, George W. Bush, Carter and Clinton — made brief remarks that did not mention Trump. The elder Bush did not speak but smiled and waved to the crowd."
https://www.axios.com/newsletters/axios-am-cdfc8906-a92a-4419-8759-ec63cae2f372.html?chunk=2#story2
3. O'Reilly settled claim, then got new Fox deal
"Last January, six months after Fox News ousted [Roger Ailes], ... Bill O'Reilly, struck a $32 million agreement with a longtime network analyst [Lis Wiehl] to settle new sexual harassment allegations," the N.Y. Times' Emily Steel and Michael Schmidt scoop:
The next month, 21st Century Fox "granted him a four-year extension that paid $25 million a year.
"[T]he network's parent company ... acknowledges that it was aware of the woman's complaints about Mr. O'Reilly. They included allegations of repeated harassment, a nonconsensual sexual relationship and the sending of ... sexually explicit material to her."
"It was at least the sixth agreement — and by far the largest — made by either Mr. O'Reilly or the company to settle harassment allegations against him."
"Publicly known harassment settlements involving Mr. O'Reilly have totaled about $45 million."
"In an interview, ... O'Reilly, at times combative and defiant, said there was no merit to any of the allegations against him": "I never mistreated anyone ... It's politically and financially motivated ... This is crap, and you know it."
Be smart: Post-Weinstein, the company is going to face a lot more questions about who knew what when — and how O'Reilly was allowed to remain in the workplace after so many expensive settlements.
https://www.axios.com/newsletters/axios-am-cdfc8906-a92a-4419-8759-ec63cae2f372.html?chunk=3#story3
Bonus 1: Mount Rushmore, 2017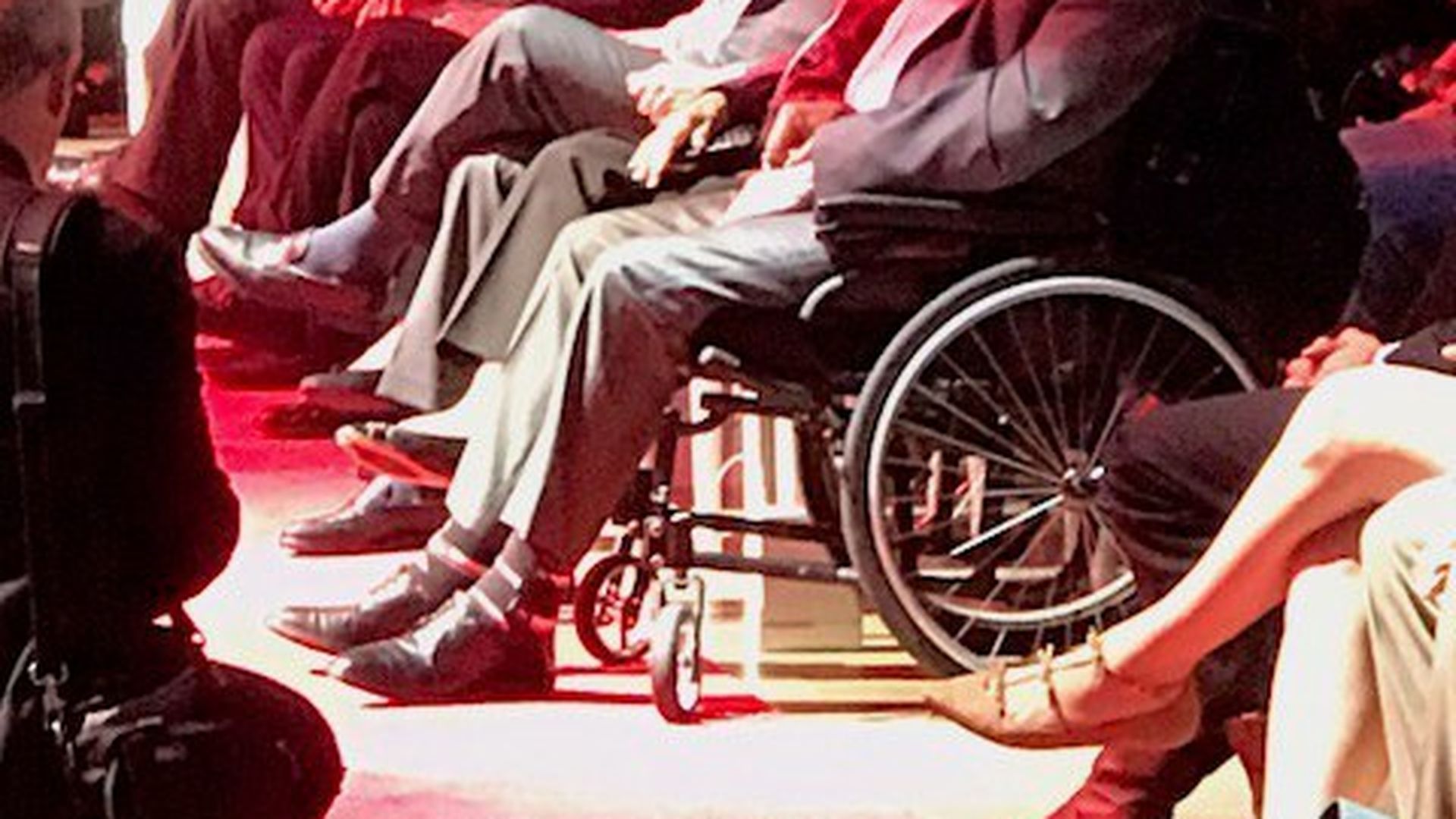 Notice Dick Cheney and James Addison Baker, just beyond the presidents.
https://www.axios.com/newsletters/axios-am-cdfc8906-a92a-4419-8759-ec63cae2f372.html?chunk=4#story4
Bonus 2: Backstage lineup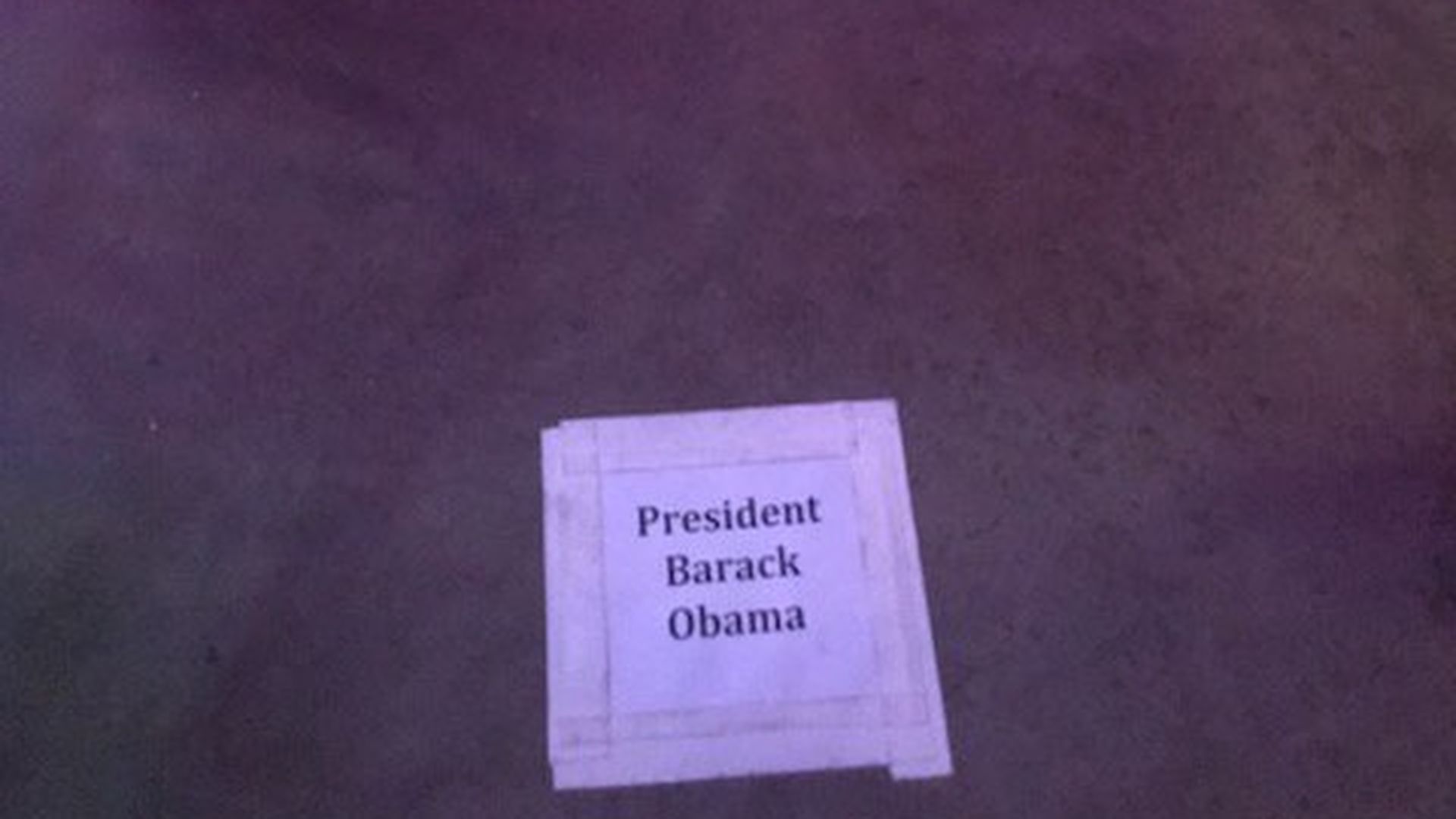 Jimmy Carter's last mission? Maureen Dowd visits #39 in Plains, Ga.:
"The 93-year-old would like to pull another rabbit out of a hat — just not a killer rabbit — and enter into a productive partnership with Donald Trump over North Korea. ... One of the basic premises of the Carter Center is that you should talk to dictators."
"I would go, yes," Carter told Maureen.
In 1994, "Carter flew into Pyongyang on his own over the objections of President Bill Clinton and struck a deal with Kim Il-sung, the grandfather of the current leader, ... and the man the grandson models himself on — right down to his hairstyle. North Korea secretly cheated on the deal by pursuing another path to a bomb just four years later."
Carter on Kim Jong-un: "I think he's now got advanced nuclear weaponry that can destroy the Korean Peninsula and Japan, and some of our outlying territories in the Pacific, maybe even our mainland."
Carter said he has talked to Lt. Gen. H. R. McMaster, Trump's national security adviser, who is a good friend, including at Zbigniew Brzezinski's funeral when McMaster asked to sit next to Carter, but has so far gotten a negative response": "I told him that I was available if they ever need me."
Fun fact: "I asked if he had Obama's email address. 'No,' he said flatly."
https://www.axios.com/newsletters/axios-am-cdfc8906-a92a-4419-8759-ec63cae2f372.html?chunk=5#story5
4. Sound familiar?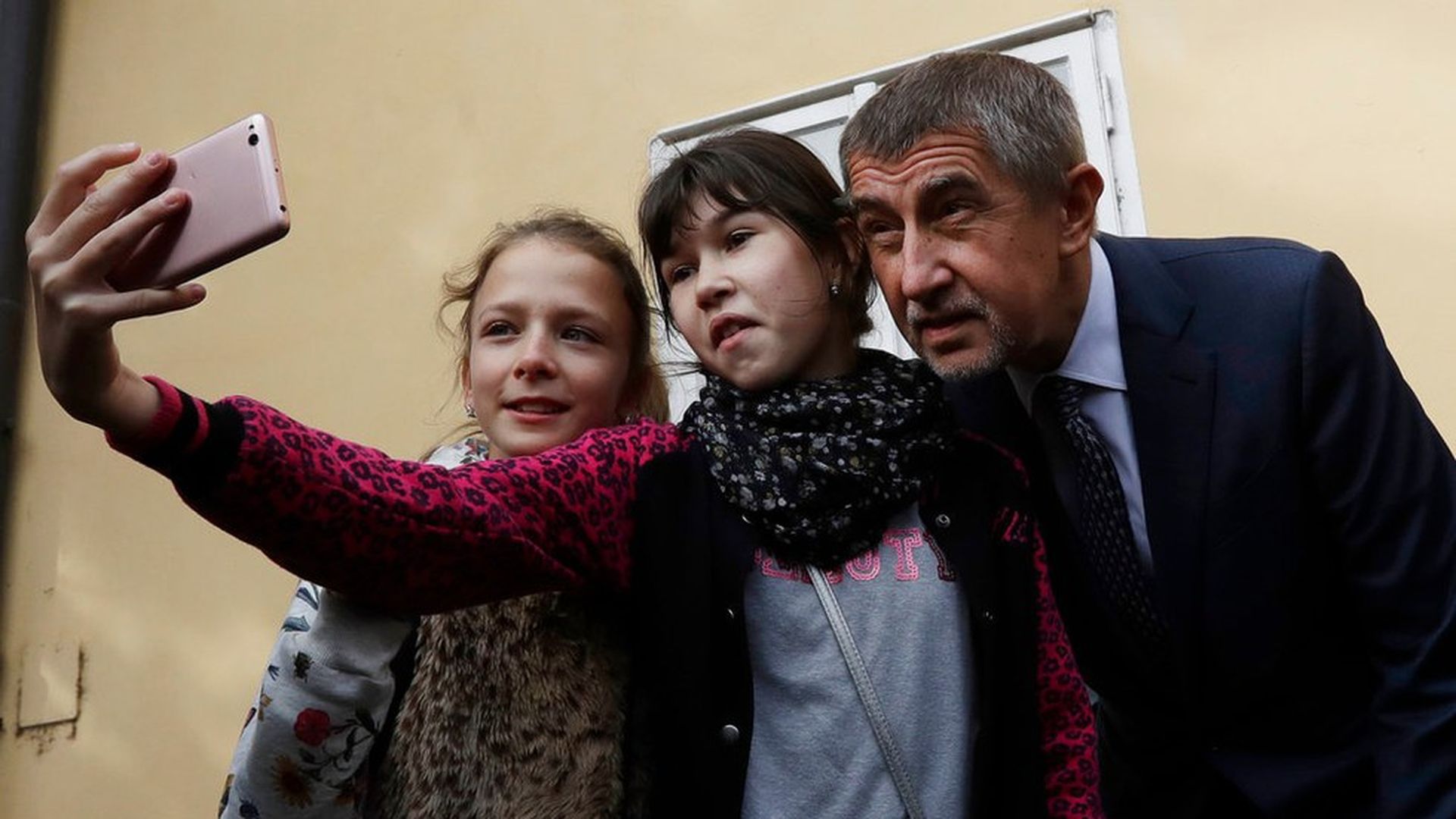 "The Czech Republic stood on the brink of a populist new era ... after voters heavily backed a billionaire businessman ... while overwhelmingly rejecting establishment parties," The Guardian reports:
"Amid public disdain towards 'politics as usual,' the ANO [means 'Yes' in Czech, and stands for Action for Dissatisfied Citizens party] led by Andrej Babis, the country's second-richest man, [will be] the biggest party in parliament and in prime position to form a coalition government."
"Slovakian-born Babis, 63, has been accused of seeking to undermine democracy by plotting to weaken parliament and buying up large swaths of the media to silence criticism. Babis campaigned on an anti-immigration platform — capitalising on popular opposition to EU migrant quotas."
P.S. "Catalonia's leaders said ... they would not accept direct rule imposed on the region by the Spanish government."
Why it matters: This heightens "a political crisis that has rattled the economy and raised fears of prolonged unrest." (Reuters)
Go deeper ... "The independence movements around the world," by Axios' Shane Savitsky and Shannon Vavra.
https://www.axios.com/newsletters/axios-am-cdfc8906-a92a-4419-8759-ec63cae2f372.html?chunk=6#story6
5. Tracking power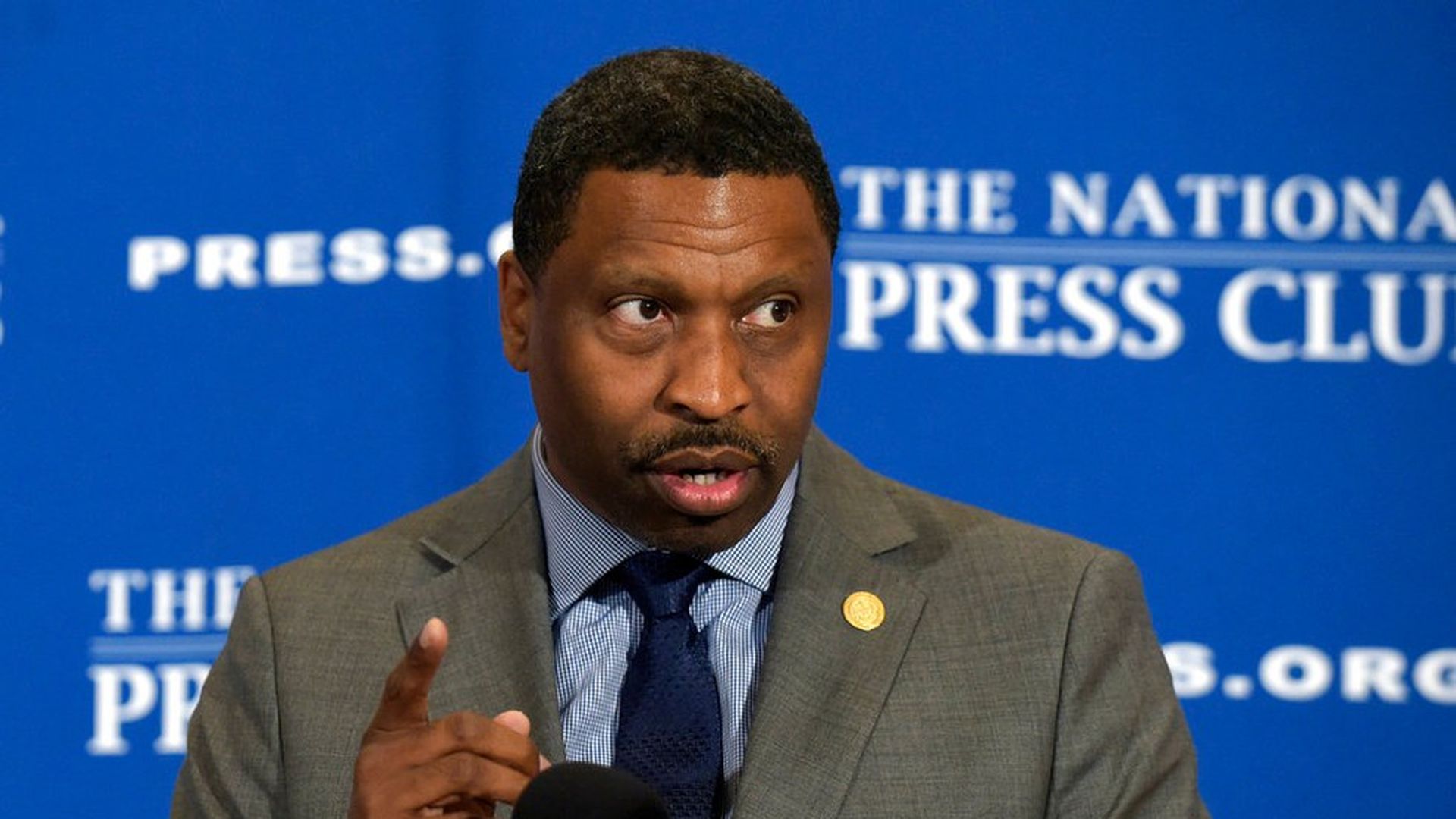 The NAACP announced its new president and CEO, and its intention to alter its tax status to a non-profit category that permits more aggressive political lobbying, NPR reports:
Derrick Johnson, 49, has been interim president and CEO since July. Previously, he was state president of the NAACP's Mississippi State Conference.
During a phone call with reporters, Johnson said the NAACP's national office would soon transition from 501(c)3 to 501(c)4.
Why it matters: "The change will lift significant restrictions on the NAACP's ability to engage in political lobbying."
Priorities: "promoting candidates and issues in local and Congressional elections ahead of next year's midterms. [Johnson] added that the change would also allow the NAACP to speak to the needs to African-Americans across the country in an increasingly political climate."
https://www.axios.com/newsletters/axios-am-cdfc8906-a92a-4419-8759-ec63cae2f372.html?chunk=7#story7
6. The conversation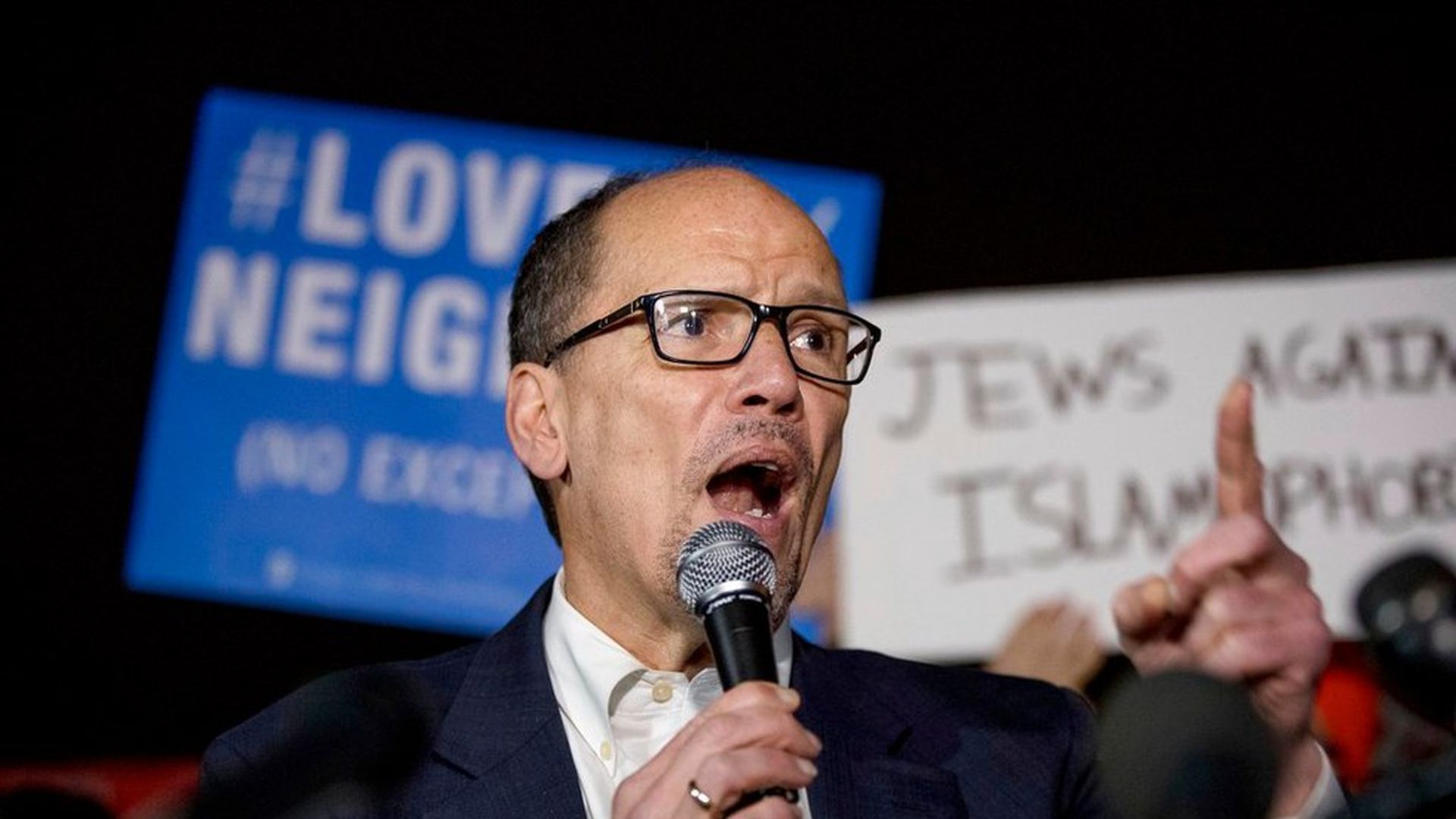 The wilderness ... "Trying to quell accusations that he is ousting activists from the party's left flank," DNC Chair Tom Perez said Trump is "the most dangerous president in American history" and an "existential threat" to the nation, AP's Bill Barrow reports from Vegas:
The salvo by Perez, speaking to the first DNC meeting since his election in February, "comes amid a rift over his appointments to little-known but influential party committees and the 75 at-large members of the national party committee."
"Perez and his aides [say they're trying] to make the DNC younger and more diverse, but the moves also mean demotions for several prominent Democrats who backed Bernie Sanders over Hillary Clinton in the 2016 presidential primaries and then supported Minnesota Rep. Keith Ellison over Perez."
Peggy Noonan column in Wall Street Journal, "Trump May Be Following Palin's Trajectory": "[T]here is no hard constituency in America for political incompetence, and that is what he continues to demonstrate."
https://www.axios.com/newsletters/axios-am-cdfc8906-a92a-4419-8759-ec63cae2f372.html?chunk=8#story8
7. Inside the JFK files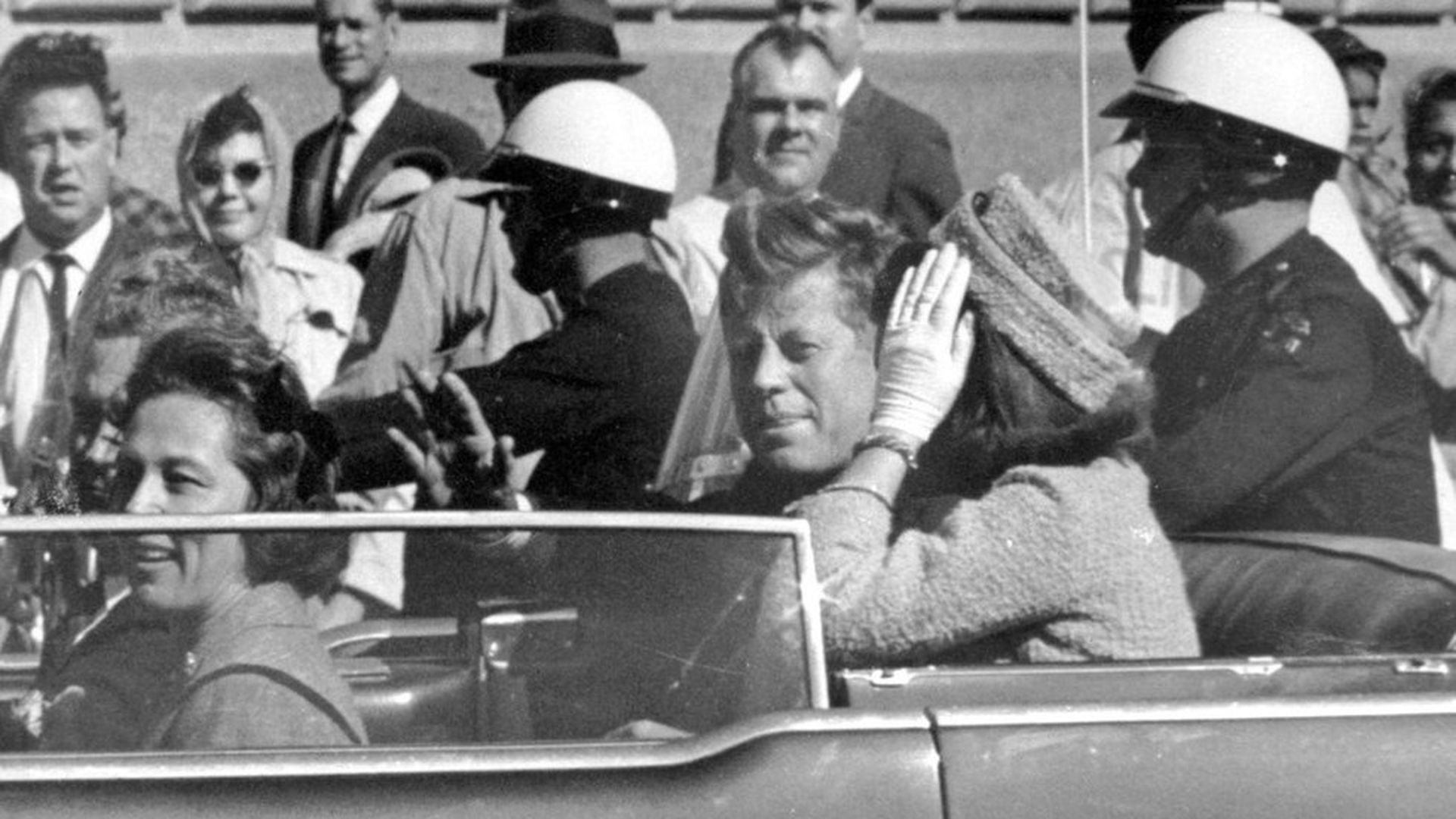 President Trump tweeted his plan to allow the release of National Archives files on the JFK assassination after chatting by phone Thursday with his on-again, off-again outside adviser, Roger Stone, who wrote "The Man Who Killed Kennedy: The Case Against LBJ."
To get a sense of what he had told Trump, I asked Stone what he expects to learn from the trove. Stone thinks the main takeaway will be that Lee Harvey Oswald's ties to the CIA and FBI were "longer and more extensive" than has been proven.
I then asked if the documents could cause chaos: "No. ... Everyone is involved is dead ... [T]he American people like transparency."
https://www.axios.com/newsletters/axios-am-cdfc8906-a92a-4419-8759-ec63cae2f372.html?chunk=9#story9
8. Trump to pay some aides' legal bills
President Trump will spend at least $430,000 of his own money to defray legal costs of campaign associates and White House staff due to the Russia investigations, Axios' Jonathan Swan scooped:
The Republican National Committee has paid $430,000 to lawyers representing the president and his eldest son, Don Jr.
A White House official says Trump won't reimburse the RNC. But he has pledged to spend the same amount, from personal funds, "to defray the costs of legal fees for his associates, including former and current White House aides."
$430,000 is a relatively small amount, given the ballooning legal fees of Trump's associates.
The arrangement raises a number of questions, none of which the White House official answered: Who decides which of the president's associates get the money and when they get it? Will the RNC keep paying bills for the first family? Why isn't the president reimbursing the RNC?
A source close to Michael Flynn says the former national security adviser won't accept contributions to his legal defense fund from Trump or the Trump campaign. Nor will Flynn accept funds from the RNC.
https://www.axios.com/newsletters/axios-am-cdfc8906-a92a-4419-8759-ec63cae2f372.html?chunk=10#story10
9. The future of Wall Street
Bloomberg has a job-by-job look at Wall Street functions that could be wiped out by automation — machine learning, natural-language processing, robotic-process automation and predictive analytics:
Why it matters: "The tools will relieve staff of routine tasks and offer an edge to those who stay. But one day, machines may not need much help."
For example: "Firms are trying to build economists. They're toying with natural-language processing to sift central bank commentary for clues on future monetary policy. They're also experimenting with algorithms that scour far-flung data, like oil-tanker shipments from the Middle East or satellite images of Chinese industrial sites, to forecast growth."
https://www.axios.com/newsletters/axios-am-cdfc8906-a92a-4419-8759-ec63cae2f372.html?chunk=11#story11
10. 1 fun thing: Get smart fast on World Series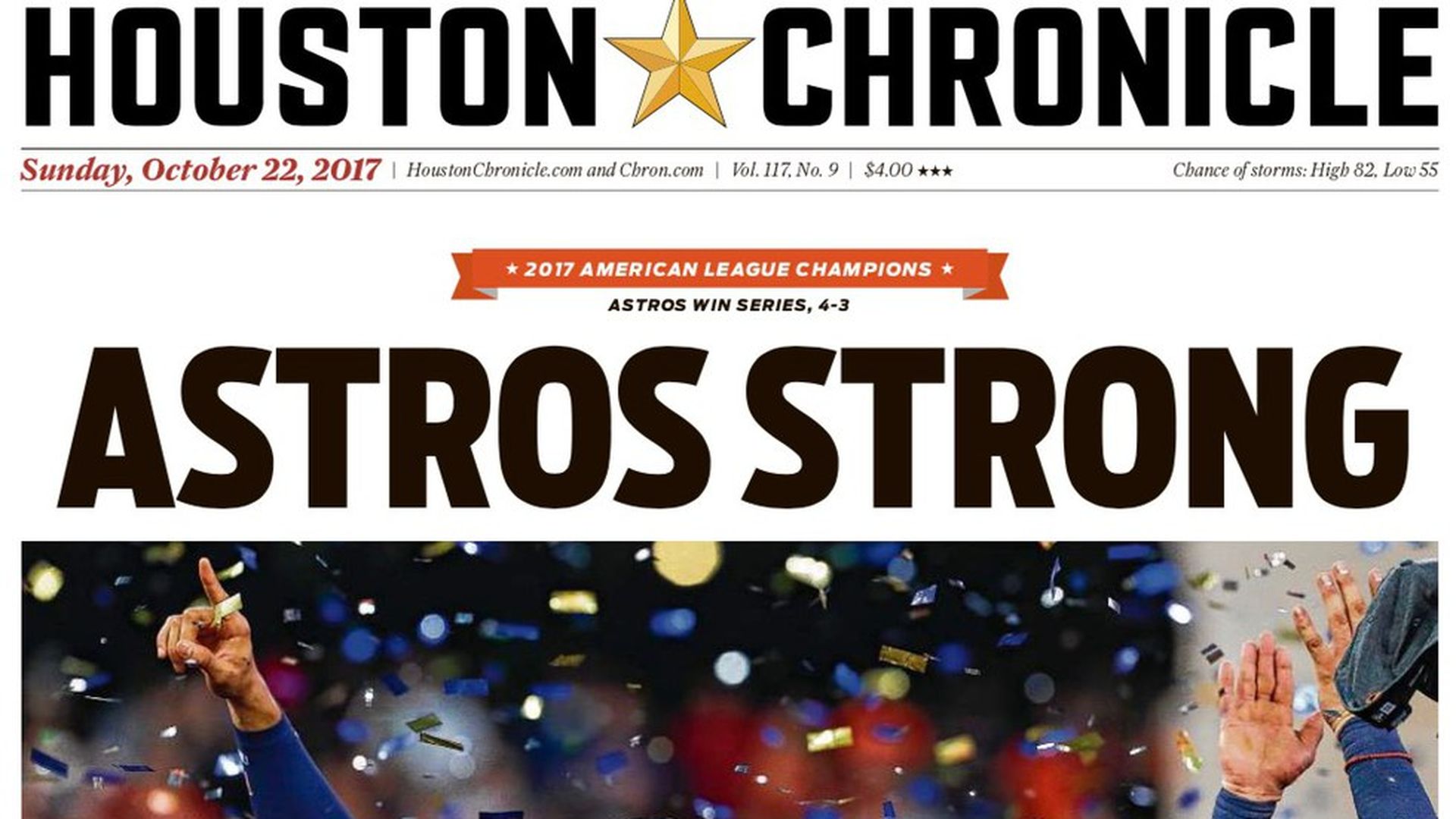 World Series lookahead ... Jose Altuve and Houston Astros vs. Clayton Kershaw and L.A. Dodgers — AP Baseball Writer Ben Walker:
"[T]he Houston Astros, fresh off a Game 7 victory over the Yankees, taking on the Los Angeles Dodgers, well rested after a postseason romp."
"It's supposed to be almost 100 degrees at Dodger Stadium for the opener Tuesday night, maybe the hottest temperature ever at a World Series game."
"A pair of 100-win teams for the first time in nearly a half-century — ... not since Baltimore (108) and Cincinnati (102) in 1970."
"These teams last met in 2015, when the Astros swept a three-game series at home. Overall, the Dodgers are 388-323 vs. the Astros."
"The Dodgers haven't been in the World Series since 1988 ... the year Kershaw was born ... Kirk Gibson's bat, Orel Hershiser's arm and Tommy Lasorda's moves outdid Oakland for the crown."
The Astros are "playing for a whole region, with the Houston Strong patches on their uniforms representing an area hit hard by Hurricane Harvey."
"Texas teams have won the Super Bowl and championships in the NBA, NHL, college football and men's and women's basketball, but never in baseball."
"The Astros, the major leagues' highest-scoring team this year, have never ... won a World Series game."
The Astros' only turn in the Series was 2005, when a club that included Jeff Bagwell, Craig Biggio, Roger Clemens and Andy Pettitte got swept by the White Sox."
"Houston debuted as the Colt .45s as a National League expansion team in 1962 and eventually moved to the AL in 2013."