https://www.axios.com/newsletters/axios-am-cc896dde-7f17-41ee-b2b9-adf4a95c4554.html?chunk=0#story0
1 big thing: How the shutdown will end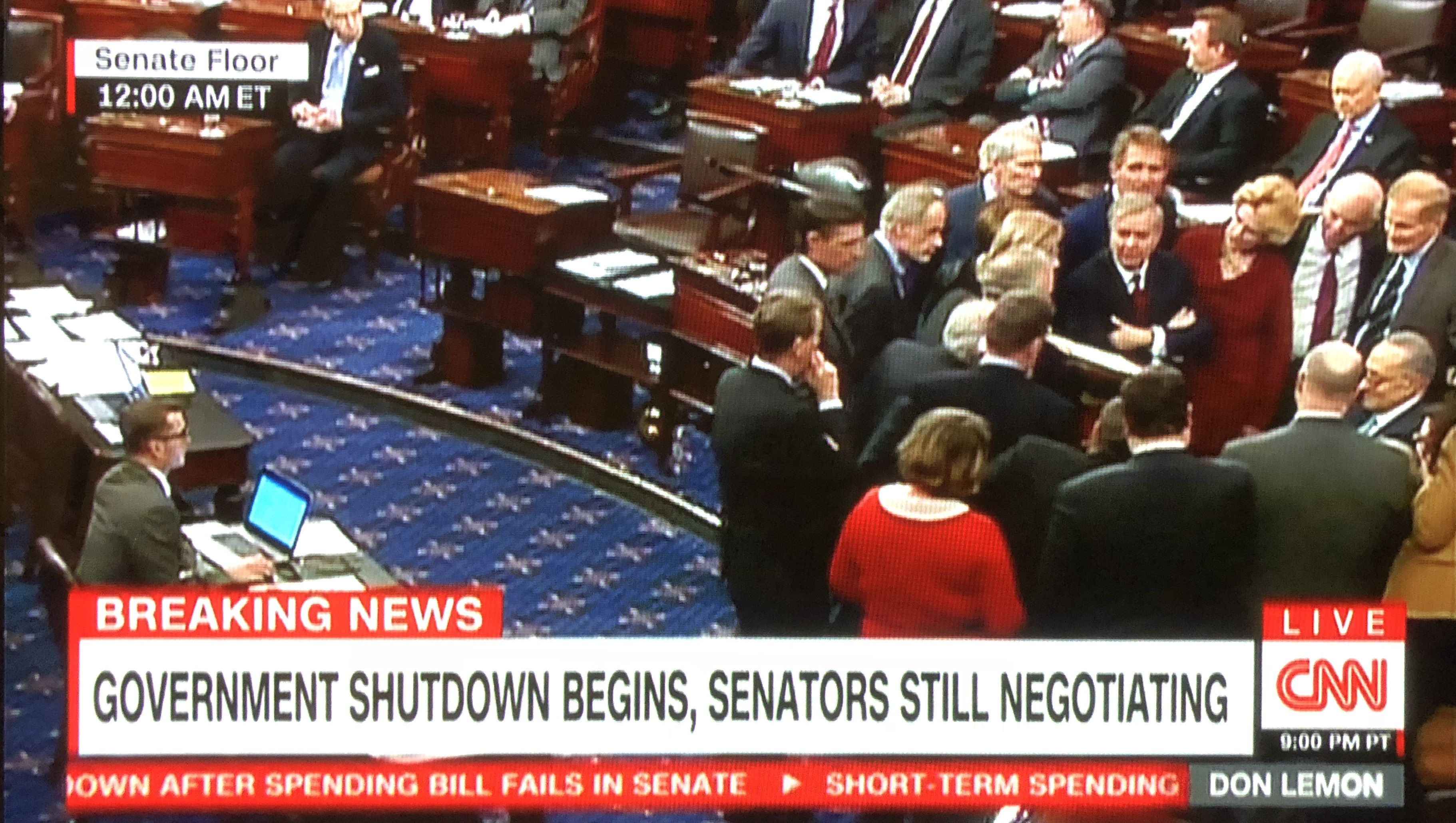 Colleagues huddled around Sen. Lindsey Graham (R-S.C.) on the Senate floor at the second the government shut down. (CNN screenshot)
Season 1 of the Donald Trump presidency had a cliffhanger ending: The government shuts down on Day 365! Now the "Art of the Deal" author begins Season 2 with taunting cable clocks clicking off the seconds since the shutdown.
What's happening behind the scenes:
A senior Republican aide tells me: "The shutdown hardens positions. Folks don't want to negotiate a deal right now."
What's next, from a top Republican lobbyist: "We are likely to have 2 more days of posturing and base-focused messaging before the positioning and negotiating phase opens a path to reopening. An optimist might hope for resolution by Tuesday. Both sides are winning with their respective bases, but even base voters will tire."
Axios' Jonathan Swan adds: "Dems have shown their base that they're willing to fight to mat for the Dreamers. Then when the inevitable deal is struck — and Trump gives amnesty to the Dreamers in exchange for modest wall funding — Dems will claim victory and [their] base will love it."
Swan says both bases are satisfied for now. But re the GOP: "Can Trump spin amnesty for some modest wall funding? That's gonna be tough."
N.Y. Times' Jonathan Martin tweets: "Why were most Dems willing to engage in brinksmanship? Because they know the midterms will revolve around Trump."
Senate Democratic Leader Chuck Schumer on the floor yesterday: "Negotiating with President Trump is like negotiating with Jell-O. ... [T]he President can't make a deal and Congressional Republicans won't."
Be smart: Most Americans greet shutdowns with a shrug, fully expecting a dysfunctional political system to do dysfunctional things. It's a shame they're right.
P.S. N.Y. Times gem, re a Mar-a-Lago fundraising gala for the first anniversary, with Trump stuck in Washington:
"Irritated to have missed his big event in Florida, Mr. Trump spent much of his day watching old TV clips of him berating President Barack Obama for a lack of leadership during the 2013 government shutdown, a White House aide said, seeming content to sit back and watch the show."
How it's playing ... N.Y. Times 2-column lead, "Blame and Bickering Muddy Parties' Efforts To Resolve Shutdown" ... WashPost 6-column lead, "Sides cast bitter blame over shutdown impasse."
https://www.axios.com/newsletters/axios-am-cc896dde-7f17-41ee-b2b9-adf4a95c4554.html?chunk=1#story1
2. "Unending political struggle for its own sake"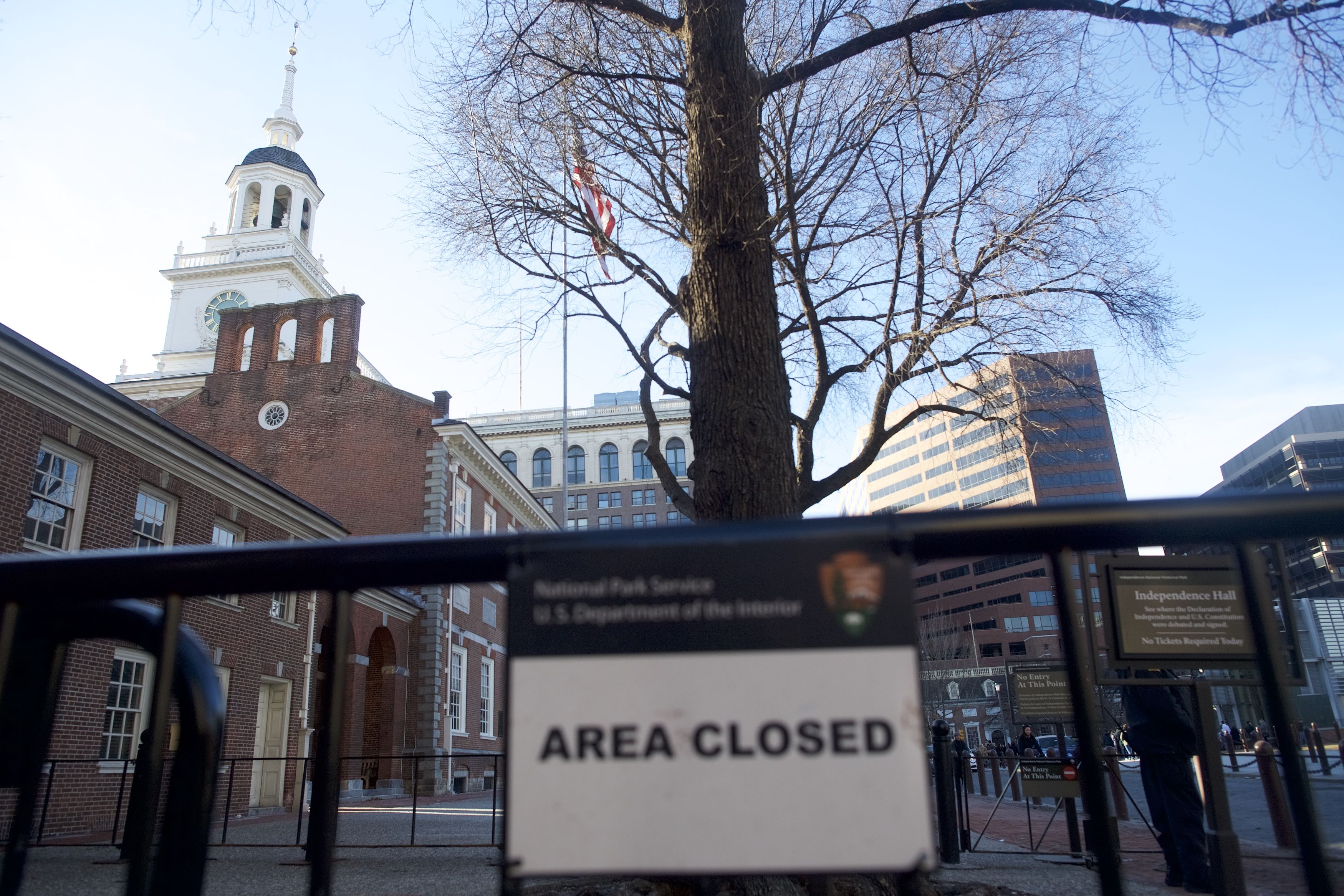 Independence Hall in Philadelphia was shuttered yesterday. The National Parks Conservation Association estimated 34% of park units would close. (Mark Makela/Getty Images)
If you read only 1 thing ... A senior GOP House aide sent this email to Axios' Jonathan Swan yesterday with the subject line, "Our future":
"The largest country in the world, with global responsibilities, shutting down the government over a squabble ... 100% for short-term political gain."
"The post-World War II world we have been living in for 7 decades was largely created — and certainly sustained and defended — by American power. ... Since 2001, we've experienced almost nothing but reverses overseas, much of it truly major and permanent. And our relative power — the power to compel and protect — is shrinking as other countries rise."
"And domestically, our decision-making system has become locked in a destructive, inward-turned focus. The emphasis on an unending political struggle for its own sake."
"Our enemies didn't do this to us. Virtually all of it is a product of our own decisions."
"It isn't sustainable. We're well into a period of increasing internal chaos and decline overseas. We've gotten used to it but I'll just say it for the sheer disbelief of it — the government of the United States just shut down."
"In your discussions with the great and the good around town, do you see any recognition of this inevitable scenario? I don't. Do you know anyone with responsibility for making decisions for the country with any concrete, realistic plan to do anything about it? I don't."
"They're focused on battling one another, drilling holes in the boat, as we head for the falls. A child can see it coming. Do people really believe all of this is self-sustaining, that it won't just cave in? I don't."
https://www.axios.com/newsletters/axios-am-cc896dde-7f17-41ee-b2b9-adf4a95c4554.html?chunk=2#story2
3. "Beijing ... targeted Kushner as a key asset"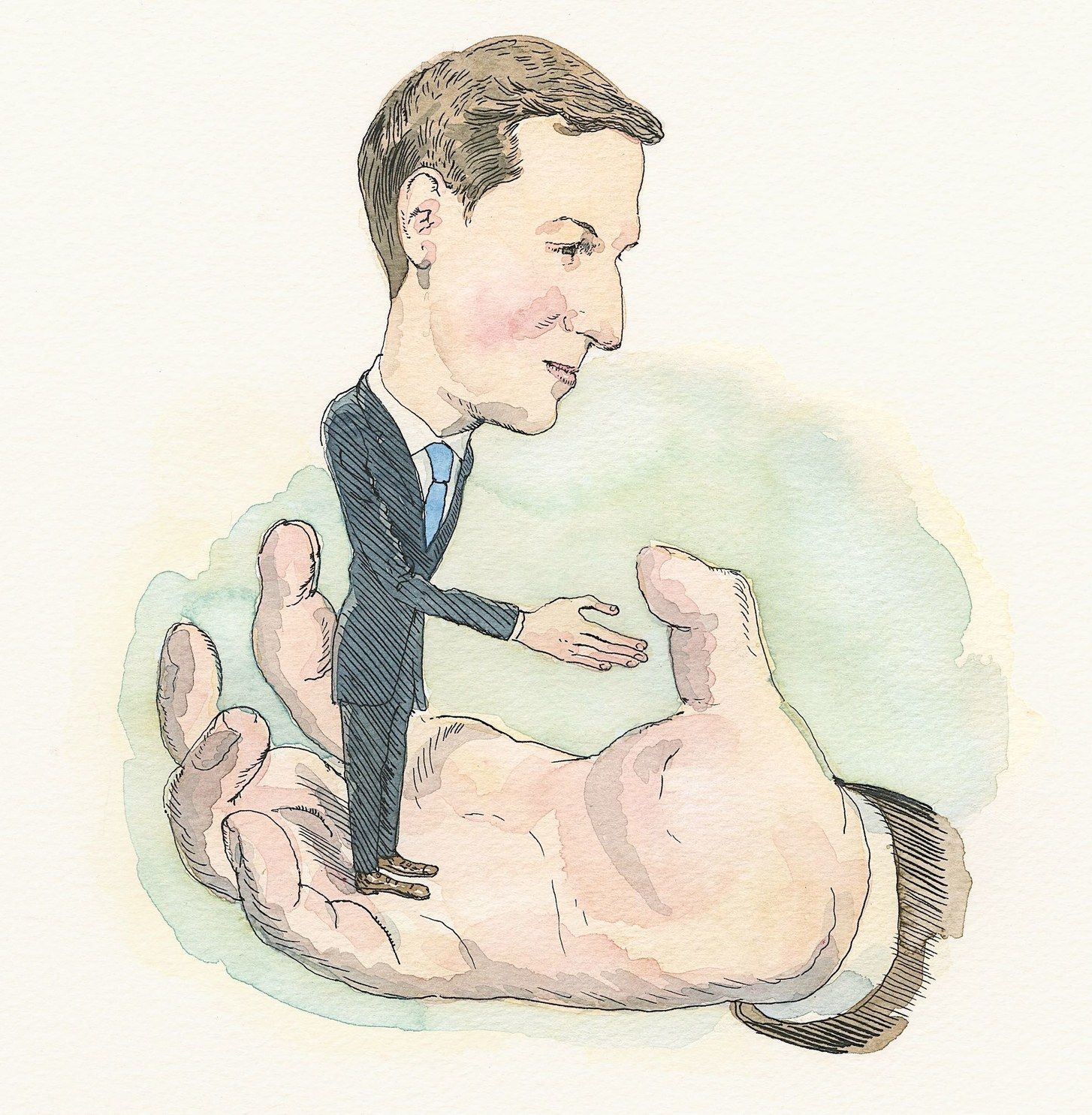 Barry Blitt / The New Yorker
"Jared Kushner Is China's Trump Card: How the President's son-in-law, despite his inexperience in diplomacy, became Beijing's primary point of interest," by Adam Entous and Evan Osnos in the forthcoming issue of The New Yorker:
"In early 2017, shortly after Jared Kushner moved into his new office in the West Wing of the White House, ... [a] visitor who came more than once was Cui Tiankai, the Chinese Ambassador to the United States."
"When, during previous Administrations, Cui had visited the White House, his hosts received him with a retinue of China specialists and note-takers. Kushner, President Trump's thirty-seven-year-old son-in-law and one of his senior advisers, preferred smaller gatherings."
"Cui's frequent encounters with Kushner made some people in the U.S. government uncomfortable. On at least one occasion, they met alone, which counterintelligence officials considered risky."
"Among national-security specialists, Kushner's difficulty obtaining a permanent security clearance has become a subject of fascination."
"He was ... added to a list of recipients of the President's Daily Brief ... By the end of the Obama Administration, seven White House officials were authorized to receive the same version of the P.D.B. that appeared on the President's iPad. The Trump Administration expanded the number to as many as fourteen people."
Why it matters: "Americans are accustomed to reports of Russia's efforts to influence American politics, but, in the intelligence community, China's influence operations are a source of equal concern."
https://www.axios.com/newsletters/axios-am-cc896dde-7f17-41ee-b2b9-adf4a95c4554.html?chunk=3#story3
Bonus: Pic du jour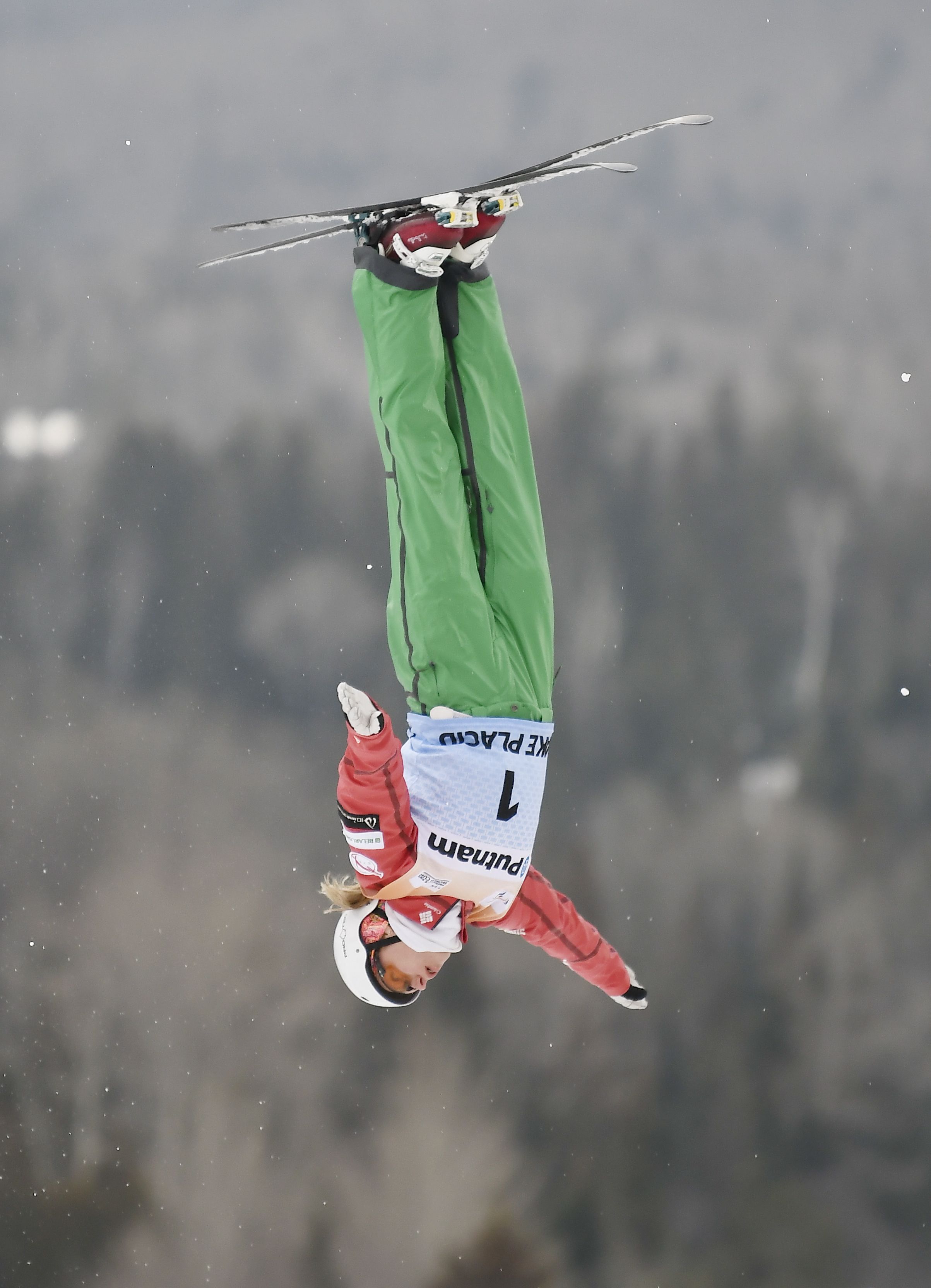 AP's Hans Pennink
Hanna Huskova of Belarus, competes yesterday in the women's World Cup freestyle skiing aerials in Lake Placid, N.Y.
https://www.axios.com/newsletters/axios-am-cc896dde-7f17-41ee-b2b9-adf4a95c4554.html?chunk=4#story4
4. Global female empowerment marches enter Day 2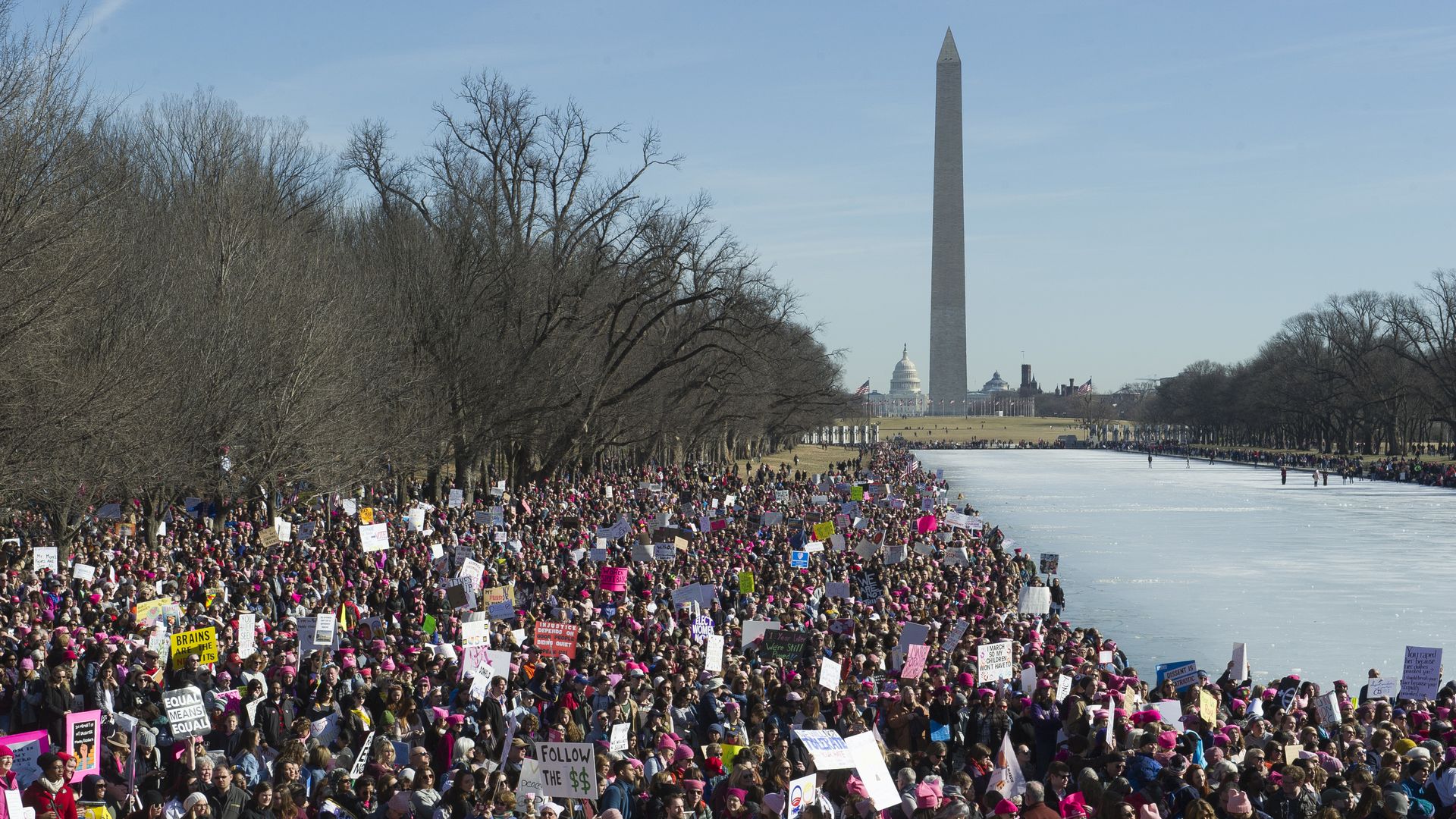 "Women's Marches nationwide set sights on ballot box while praising #MeToo" — L.A. Times:
"In a boisterous coast-to-coast outpouring, hundreds of thousands of marchers in dozens of cities staged a reprise of last year's massive Women's March, seeking to not only deliver a powerful rebuke to the policies of President Trump, but also mount a crucial mobilization for this year's midterm election."
Actress Natalie Portman told marchers in downtown Los Angeles: "Because of you, the revolution is rolling!"
Why it matters: "In addition to the roll call of major American cities where marches took place — including New York, Washington, Los Angeles, Dallas, Philadelphia, Chicago, San Francisco, Atlanta — protesters also raised their voices in suburbs and small towns, reflecting the aim of coalescing a broad-based movement on the anniversary of Trump's inauguration."
"Like last year's protests, these overspilled U.S. borders, with dozens of overseas gatherings."
https://www.axios.com/newsletters/axios-am-cc896dde-7f17-41ee-b2b9-adf4a95c4554.html?chunk=5#story5
5. Him, too: booted from Ethics Committee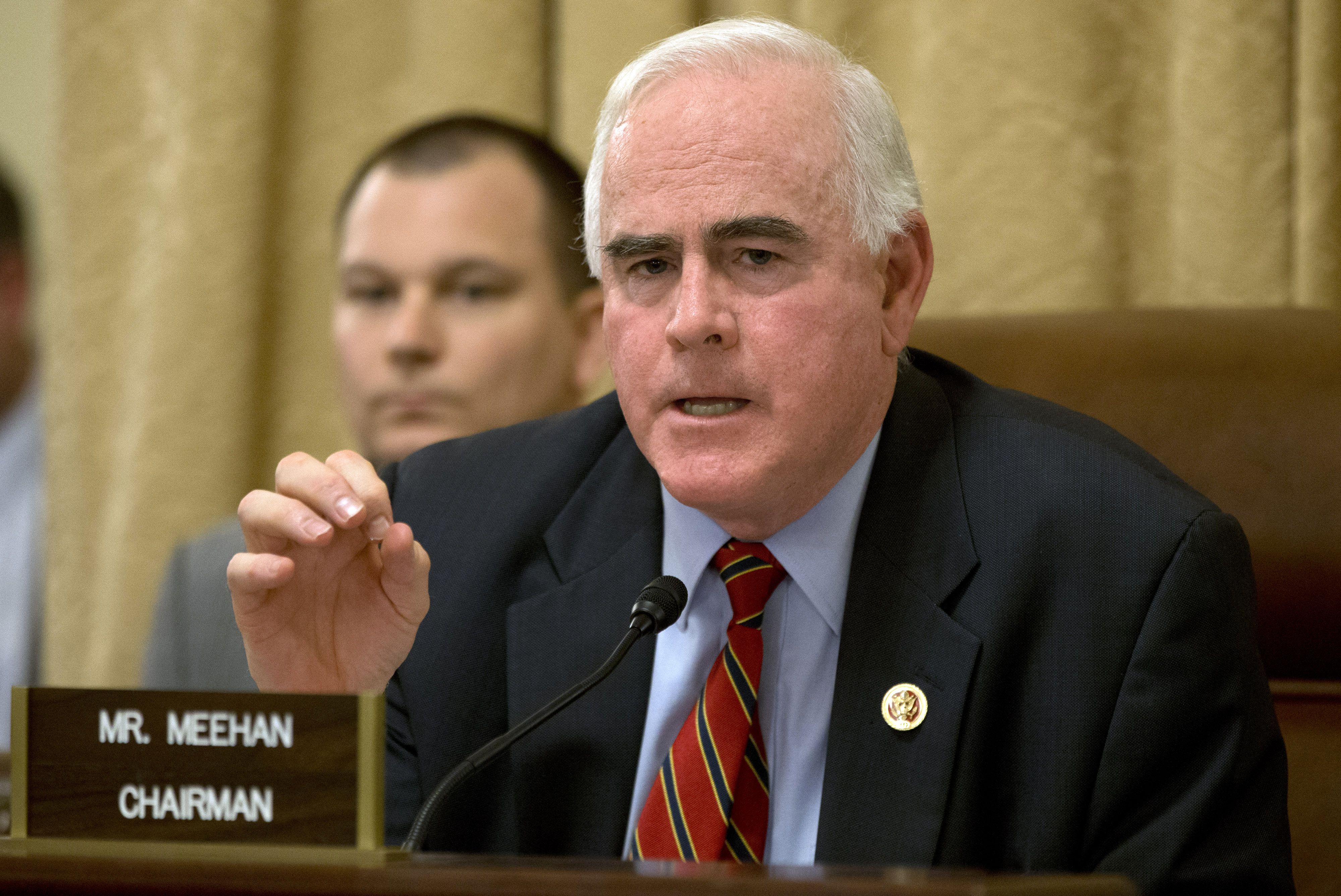 AP's Jacquelyn Martin
"Representative Patrick Meehan, a Pennsylvania Republican who has taken a leading role in fighting sexual harassment in Congress, used thousands of dollars in taxpayer money to settle his own misconduct complaint after a former aide accused him last year of making unwanted romantic overtures to her," the N.Y. Times' Katie Rogers and Ken Vogel scoop:
"A married father of three, Mr. Meehan, 62, had long expressed interest in the personal life of the aide, who was decades younger and had regarded the congressman as a father figure."
"But after the woman became involved in a serious relationship with someone outside the office last year, Mr. Meehan professed his romantic desires for her — first in person, and then in a handwritten letter — and he grew hostile when she did not reciprocate, ... people familiar with her time in the office said."
"After this article was published online, AshLee Strong, a spokeswoman for the House speaker, Paul D. Ryan, said that Mr. Meehan was being removed immediately from the House Ethics Committee, ... and that the panel would investigate the allegations against him. In addition, Mr. Ryan told Mr. Meehan that he should repay the taxpayer funds."
Meehan denies: Full statement.
https://www.axios.com/newsletters/axios-am-cc896dde-7f17-41ee-b2b9-adf4a95c4554.html?chunk=6#story6
6. Payback: "Failing" N.Y. Times ridicules Trump
A few days after the New York Times turned over its editorial page to pro-Trump readers, the paper's opinion writers torch him from just about every angle imaginable:
Thumb through the paper's Sunday Review section to see the takes — which combine to present a view of a dumb, racist, Hillary-obsessed, globally clueless, historically awful liar of a president. 
https://www.axios.com/newsletters/axios-am-cc896dde-7f17-41ee-b2b9-adf4a95c4554.html?chunk=7#story7
7. Poll du jour
https://www.axios.com/newsletters/axios-am-cc896dde-7f17-41ee-b2b9-adf4a95c4554.html?chunk=8#story8
8. Axios World: Taliban siege of luxury hotel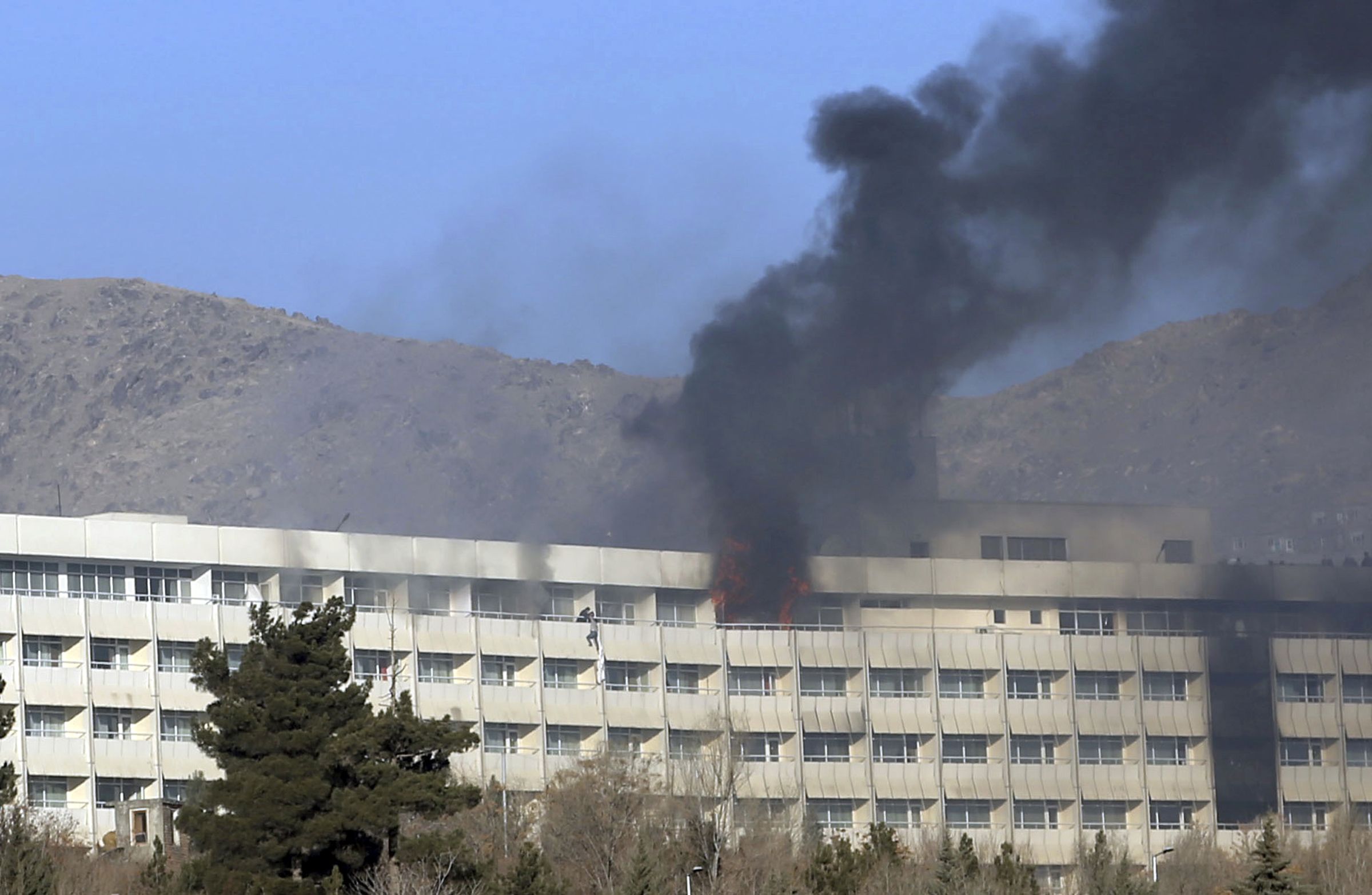 Frantic try to escape from a fifth-floor balcony of the Intercontinental Hotel in Kabul. (AP's Rahmat Gul)
A Taliban siege of a luxury Afghan hotel ends after 13 hours with at least 18 dead, including 14 foreigners, per AP and BBC:
"Some 160 people were rescued after Afghan troops fought gunmen through the night to regain control" of the Intercontinental Hotel in Kabul, the Afghan capital.
"Two attackers were killed by Special Forces on the 6th floor of the hotel."
"The Intercontinental is a state-owned hotel, not linked to the global hotel chain of the same name." But "[t]he heavily-guarded luxury hotel is popular among foreigners and Afghan officials."
11 of the 14 foreigners killed were employees of KamAir, a private Afghan airline. Also among the dead was an Afghan telecommunications official from the western Farah province who was attending a conference.
Check out the new Axios World stream here, and follow us on @AxiosWorld.
https://www.axios.com/newsletters/axios-am-cc896dde-7f17-41ee-b2b9-adf4a95c4554.html?chunk=9#story9
9. From the White House to 30 Rock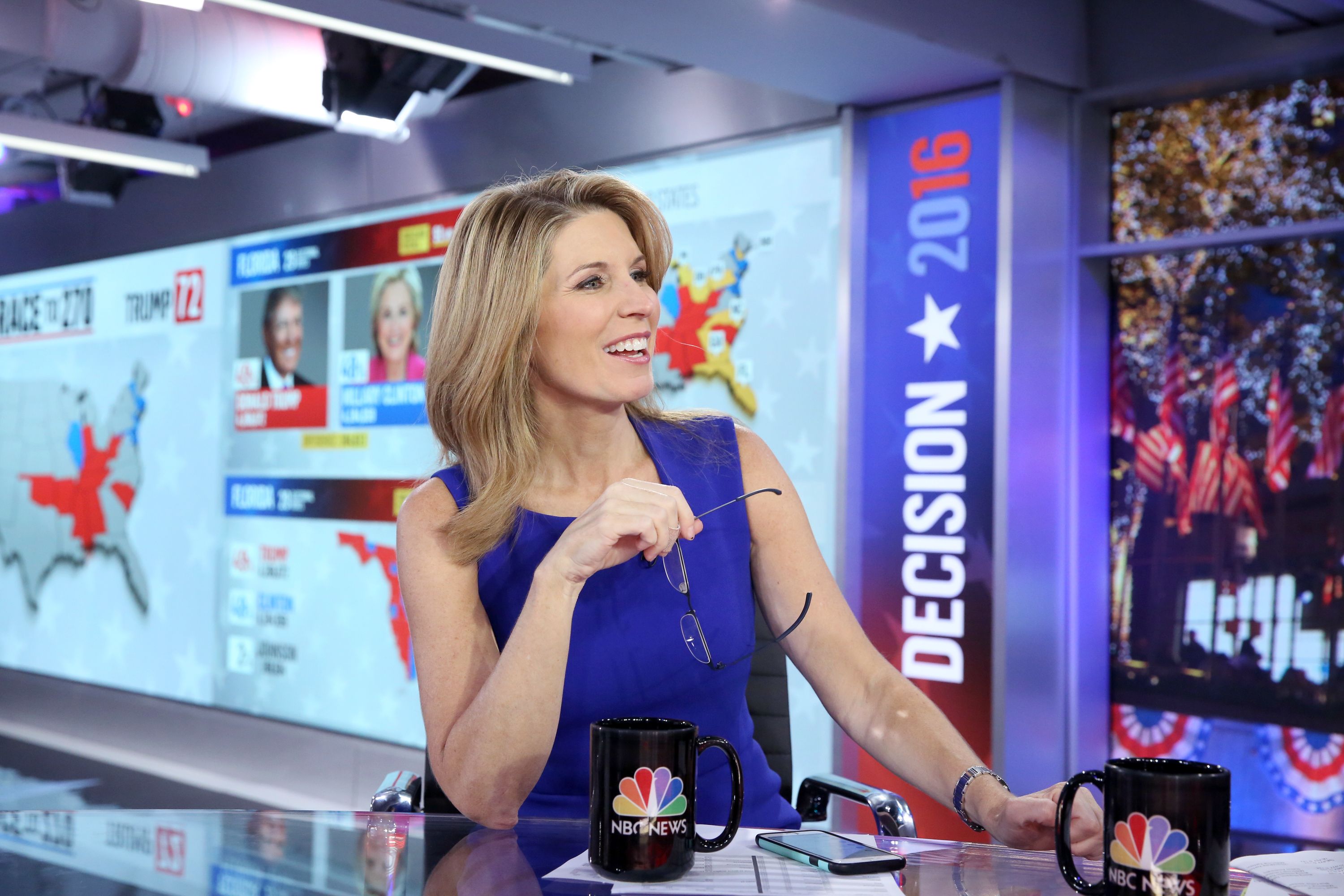 NBC News
How Nicolle Wallace, a former aide to George W. Bush and campaign strategist for John McCain's 2008 presidential (and novelist!) became an MSNBC star — N.Y. Times' Sridhar Pappu, on the Sunday Business front:
"Wallace ... now anchors a prime spot on MSNBC's afternoon lineup ['Deadline: White House' at 4 p.m.], acting as a lead-in for Chuck Todd's '

MTP Daily

,' and going up against Jake Tapper on CNN and Neil Cavuto on Fox News."
"Wallace [was] the first former White House aide since George Stephanopoulos (ABC's '

This Week with George Stephanopoulos'

), to be named solo anchor of a network news program. Dana Perino, a former press secretary for George W. Bush, has now followed both with 'The Daily Briefing,' which airs daily at 2 p.m. on Fox News."
"[B]eginning with its debut on May 9 until the end of 2017, 'Deadline: White House' averaged 1.1 million viewers. During the same time frame, 'The Lead With Jake Tapper' averaged a little more than 1 million, while 'Your World With Neil Cavuto' led with almost 1.6 million."
https://www.axios.com/newsletters/axios-am-cc896dde-7f17-41ee-b2b9-adf4a95c4554.html?chunk=10#story10
10. My 6 big things: Susan Rice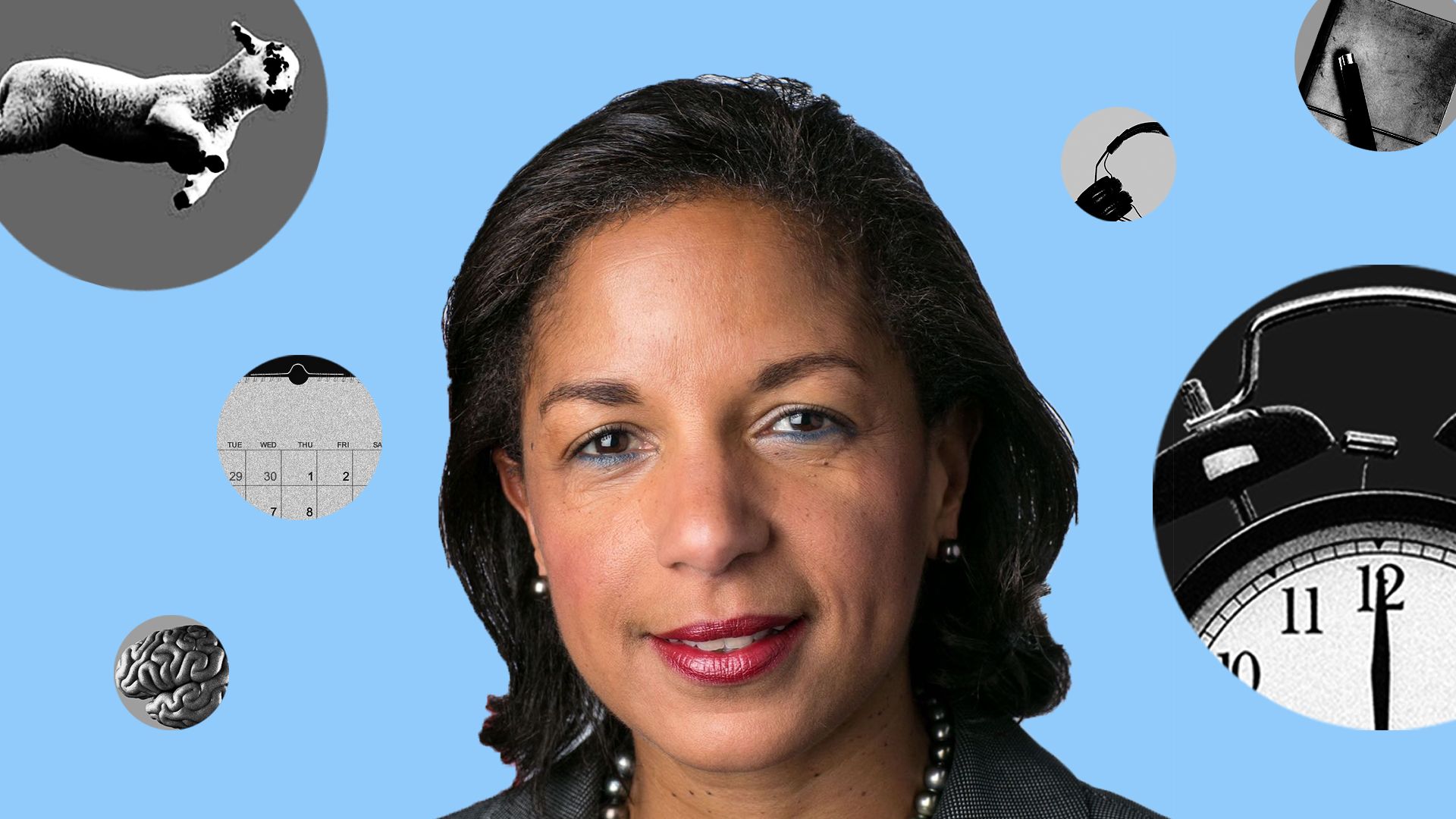 Susan Rice (@Ambassador Rice) — former U.S. ambassador to the United Nations, and national security adviser under President Obama from 2013 to 2017 — is now an American University School of International Service senior research fellow, a senior fellow at Harvard Kennedy School's Belfer Center for Science and International Affairs, and a New York Times contributing opinion writer.
See her answers for the Axios AM feature, "My 6 big things."
On her bucket list: Hosting "Saturday Night Live."