Good Saturday morning. Situational awareness: The high peaks of New Hampshire's White Mountains had a forecast of 40° below zero overnight. The wind chill could make the air feel as cold as 100 below zero, per N.Y. Times.
https://www.axios.com/newsletters/axios-am-cb852d74-0e12-45cc-bfd0-360822f5f817.html?chunk=0#story0
1 big thing: Trump's state of mind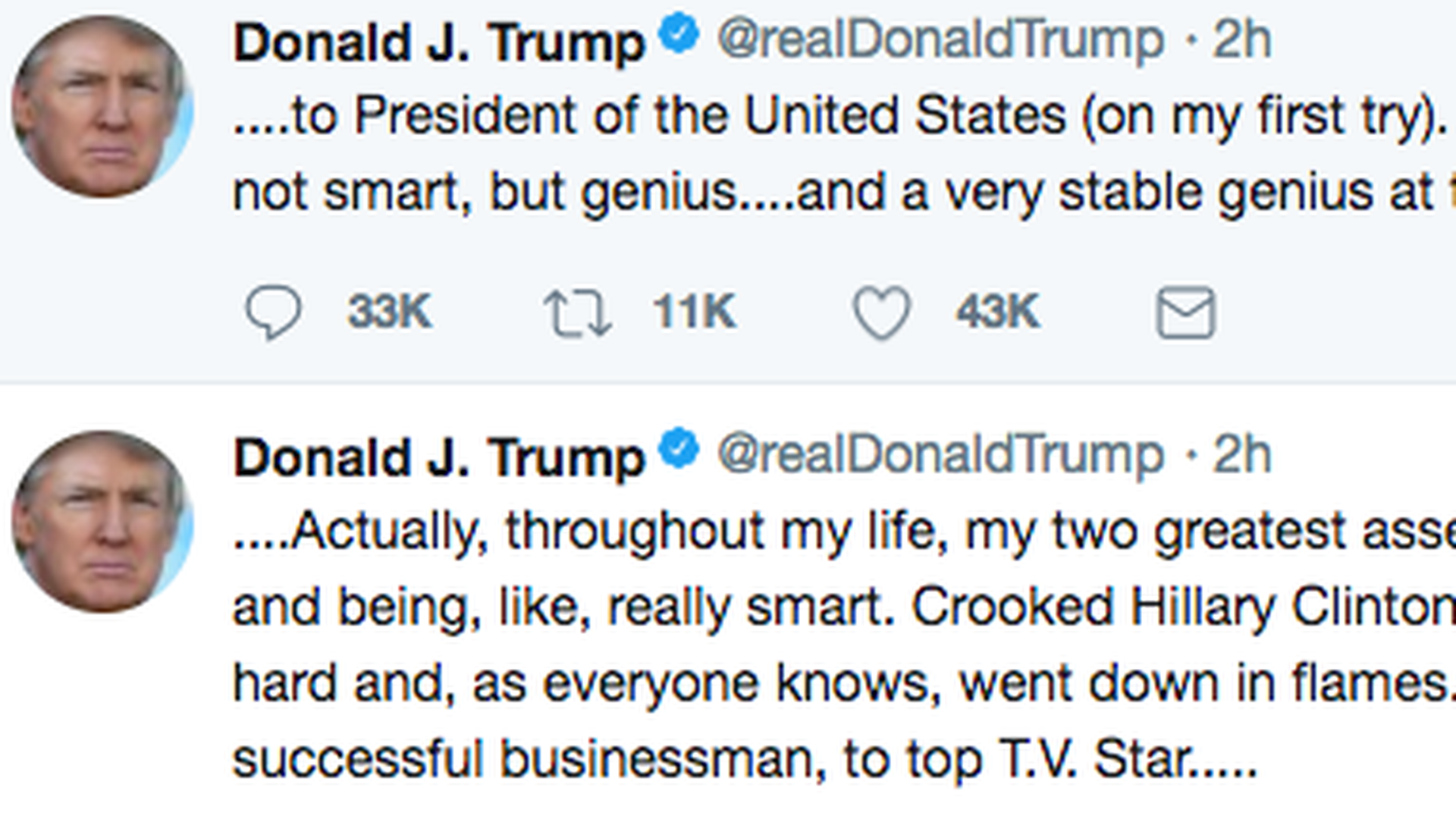 Pause for a moment, and really let this sink in. The President of the United States this morning declared he's not mentally unstable, and in fact is a genius:
"Actually, throughout my life, my two greatest assets have been mental stability and being, like, really smart. ... I think that would qualify as not smart, but genius....and a very stable genius at that!"
Nothing like this has ever been uttered in public by a sitting president in the existence of our nation. Nothing. And it puts us in uncharted waters:
Leaders and citizens of other nations are openly debating Trump's sanity.
Democrats, who already called in a psychiatrist to brief them on his mental health, will surely escalate the inquiry.
About two dozen House Dems have backed a bill to remove Trump from office if he is deemed mentally unfit by a commission of physicians and psychiatrists.
Republicans on the Hill privately express concerns about the president's stability; though none have so far been willing to air their concerns publicly.
Most urgent of all, the internal madness Trump stirs makes it more likely top staff leave and less likely good replacements come in to help run the government. This, more than anything, worries the inner circle.
The media — at first delicately, and now less so — is increasingly exploring the president's neurology. As I type this, the banner on CNN is: "Mental Health Issue: IS IT WRONG TO QUESTION TRUMP'S MENTAL FITNESS FOR OFFICE?
Yesterday, Jim and I shared with you the parts of Michael Wolff's book that ring true based in our conservations with many of the same sources. We want to take a crack at painting a composite of what those sources say on this topic in private:
The mental stability topics they talk about are more around narcissism, impulse control, and a lack of empathy — all traits well known to voters before the election. He has very few close and authentic relationships with people outside of Ivanka and Hope Hicks, who sources say he views as another daughter.
What some officials say troubles them is that at best, they have seen no improvement in office. And at worst, there has been a slight worsening.
Trump definitely repeats stories a lot — some friends say more than he did in the past — and might only let aides say two or three words before cutting them off. Again, these are not new characteristics.
Some aides say that if colleagues aggressively push back, sometimes using curse words and a raised voice, he listens and seems to invite more if it. But they remain struck by how quickly he gets roiled and consumed by the smallest of slights or pushbacks outside of meetings.
But, but, but: Trump has more presidential moments of lucidity and normality than Wolff's book suggests.
Officials point to how he handled Syrian airstrikes and his triumph with the tax bill. But these same officials also concede that gets way overshadowed by the not-normal dimension of most days.
Sources tell Axios' Jonathan Swan that in the moments of most acute crisis and when the media is totally piling on him — e.g., after he fired Comey — he is weirdly calm, given the pressure and the stakes.
Trump has told people close to him that if you want to do great things in life, you're going to have people taking shots at you. Remember this is a man who has spent his entire adult life in some form of litigation.
Why it matters: It's not just the Trump haters who fear he will one day drop real bombs, not just Twitter bombs, to prove himself.
Several friends and aides have told us in private they worry about an impulsive or dangerous move against North Korea — or others, too — especially as Trump's bubble tightens and strong-minded internal critics leave the White House.
https://www.axios.com/newsletters/axios-am-cb852d74-0e12-45cc-bfd0-360822f5f817.html?chunk=1#story1
2. #MeToo sets off a wave of start-ups
"Entrepreneurs see big opportunity: Helping workers and companies navigate the nightmare of sex harassment allegations" — cover story of tomorrow's WashPost Business section.
Why it matters: "The startups, many of which have female founders or co-founders, want to disrupt a costly and persistent problem."
But, but, but: "[S]uch start-ups are entering a market where companies have long been hesitant to spend big to prevent bad behavior. Many large companies already give employees access to third-party phone lines to anonymously report harassment."
"[T]he new tools could also create dilemmas for human-resources managers who may not have the wherewithal to act on the information they receive."
https://www.axios.com/newsletters/axios-am-cb852d74-0e12-45cc-bfd0-360822f5f817.html?chunk=2#story2
3. FBI revives Clinton Foundation probe
"The FBI has been investigating the Clinton Foundation for months, reviving a probe that was dialed back during the 2016 campaign amid tensions between Justice Department prosecutors and FBI agents about the politically charged case," the WashPost writes in its lead story:
"The inquiry resumed about a year ago. Agents are now trying to determine if any donations made to the foundation were linked to official acts when Hillary Clinton was secretary of state from 2009 to 2013."
https://www.axios.com/newsletters/axios-am-cb852d74-0e12-45cc-bfd0-360822f5f817.html?chunk=3#story3
4. Pic du jour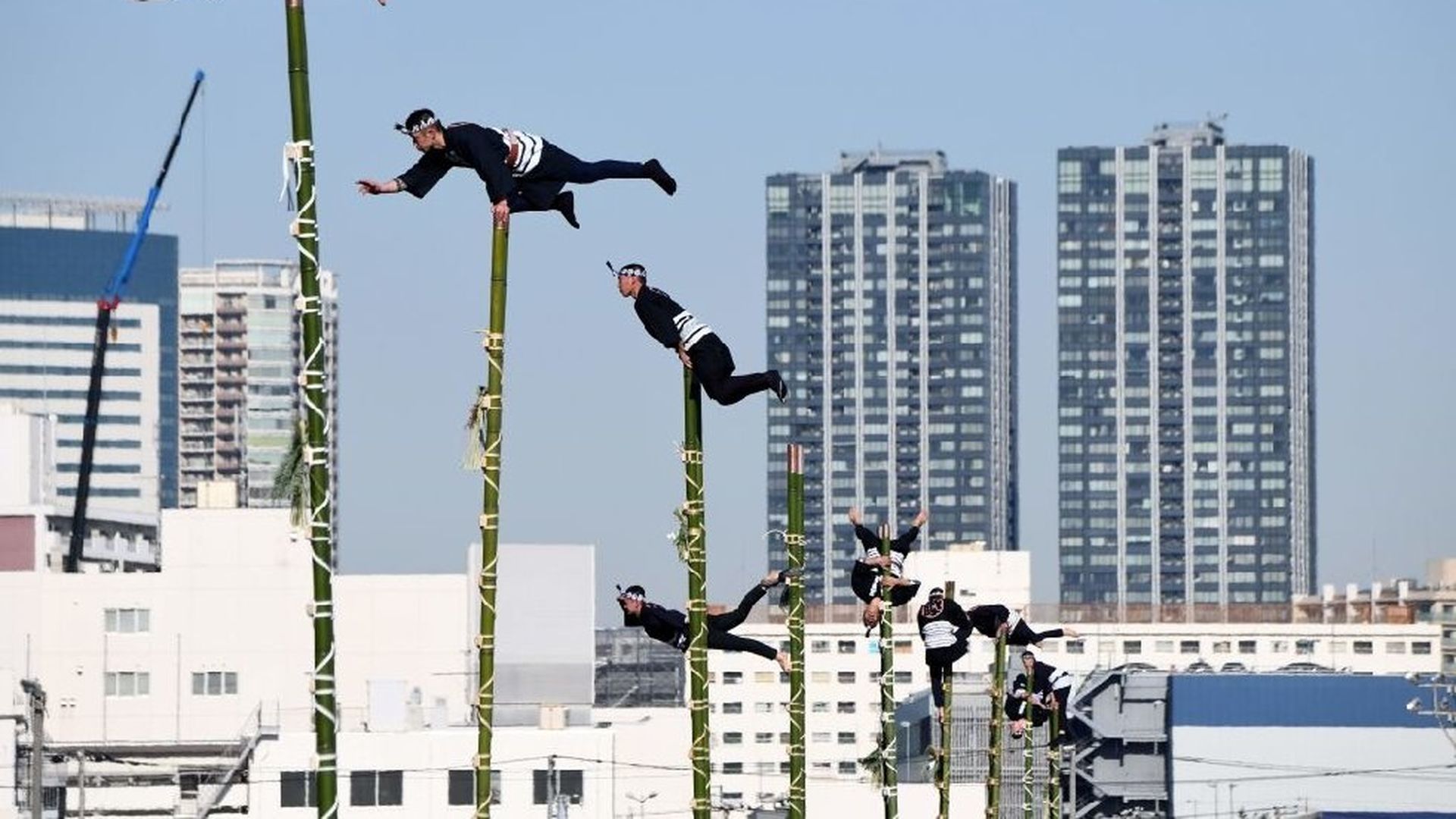 In Tokyo, members of the Edo Firemanship Preservation Association balance atop bamboo ladders during today's New Year fire review of the Tokyo Fire Department.
https://www.axios.com/newsletters/axios-am-cb852d74-0e12-45cc-bfd0-360822f5f817.html?chunk=4#story4
5. Bite of the day
N.Y. Times Quote of the Day ... Declan J. O'Scanlon Jr., a Republican assemblyman from Monmouth County, on New Jersey's distinction as the last state in the nation where drivers are not allowed to pump their own gasoline:"The only thing you could argue is that New Jerseyans are more flammable than people in the other 49 states. Because we eat so much oily pizza, funnel cake and fries, maybe you could make that argument. Otherwise, it's simply ridiculous."
https://www.axios.com/newsletters/axios-am-cb852d74-0e12-45cc-bfd0-360822f5f817.html?chunk=5#story5
6. Black unemployment hits record low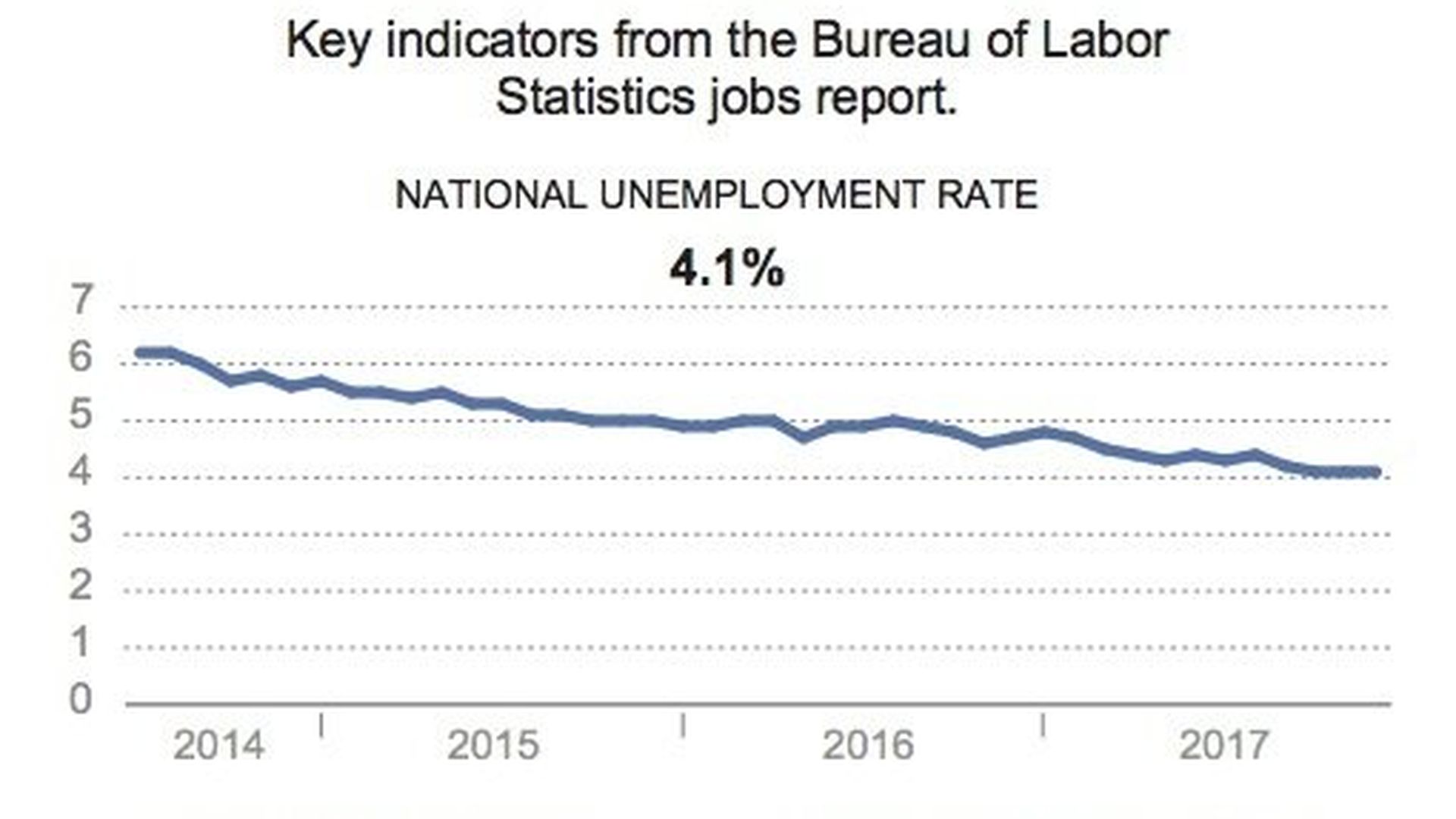 "The unemployment rate for African-Americans fell to 6.8 percent in December, the lowest level since the government began tracking such data in 1972," AP's Chris Rugaber reports:
"The reasons range from a greater number of black Americans with college degrees to a growing need for employers in a tight job market to widen the pool of people they hire from."
"Still, the rate for black workers remains well above those for whites and some other groups, something experts attribute in large part to decades of discrimination and disadvantages."
Be smart: "Robust job creation has lowered unemployment for all Americans. ... But there are also less-happy reasons for the lower unemployment rates: Fewer Americans are either working or looking for work."
https://www.axios.com/newsletters/axios-am-cb852d74-0e12-45cc-bfd0-360822f5f817.html?chunk=6#story6
7. Mueller digs deeper into Tower talk
Mueller "has recalled for questioning at least one participant in a controversial meeting with a Kremlin-connected Russian lawyer at Trump Tower in June 2016, and is looking into President Trump's misleading claim that the discussion focused on adoption, rather than an offer to provide damaging information about Hillary Clinton," per the L.A. Times' David Cloud.
"The Times is not identifying the individual Mueller has asked to return for further questioning as part of an agreement to keep the identity confidential."
Dossier author ... "Senator Charles E. Grassley of Iowa, the chairman of the Judiciary Committee, and Senator Lindsey Graham of South Carolina, a senior committee member, told the Justice Department that they had reason to believe that a former British spy, Christopher Steele, lied to federal authorities about his contacts with reporters regarding information in a dossier, and they urged the department to investigate," per the N.Y. Times lead story.
https://www.axios.com/newsletters/axios-am-cb852d74-0e12-45cc-bfd0-360822f5f817.html?chunk=7#story7
8. Shocker: U.S. will pay for wall expansion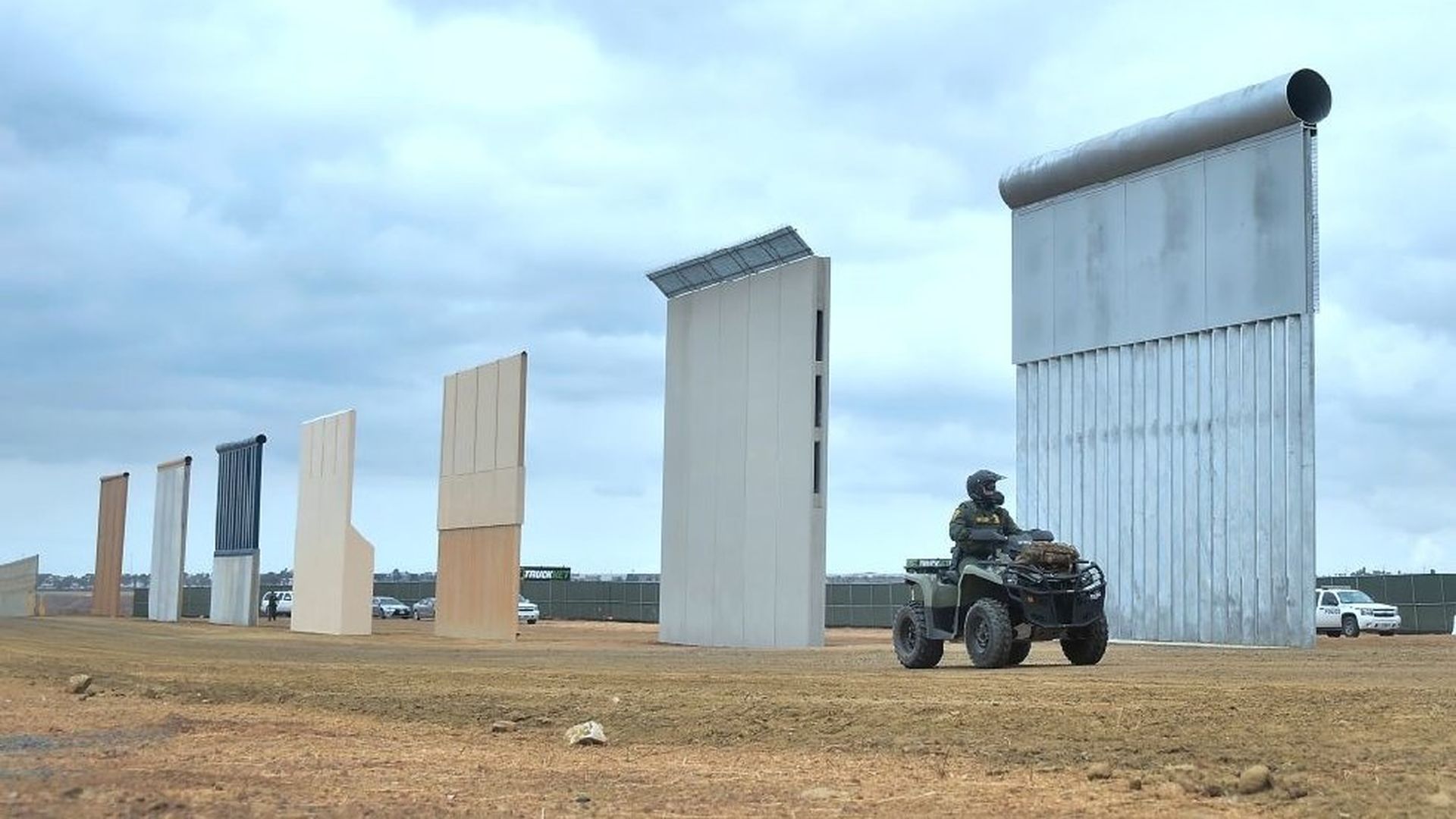 "The Trump administration is asking Congress for nearly $18 billion to construct more than 700 miles of new and replacement barriers along the Southwest border, its most detailed description yet of the president's vision of a wall separating the U.S. from Mexico," per Wall Street Journal's Laura Meckler (subscription):
"The request would be a major expansion from the 654 miles of barrier now, bringing the total to nearly 1,000 miles—about half of the entire Southwest border."
https://www.axios.com/newsletters/axios-am-cb852d74-0e12-45cc-bfd0-360822f5f817.html?chunk=8#story8
9. Beneath the skull lies the next frontier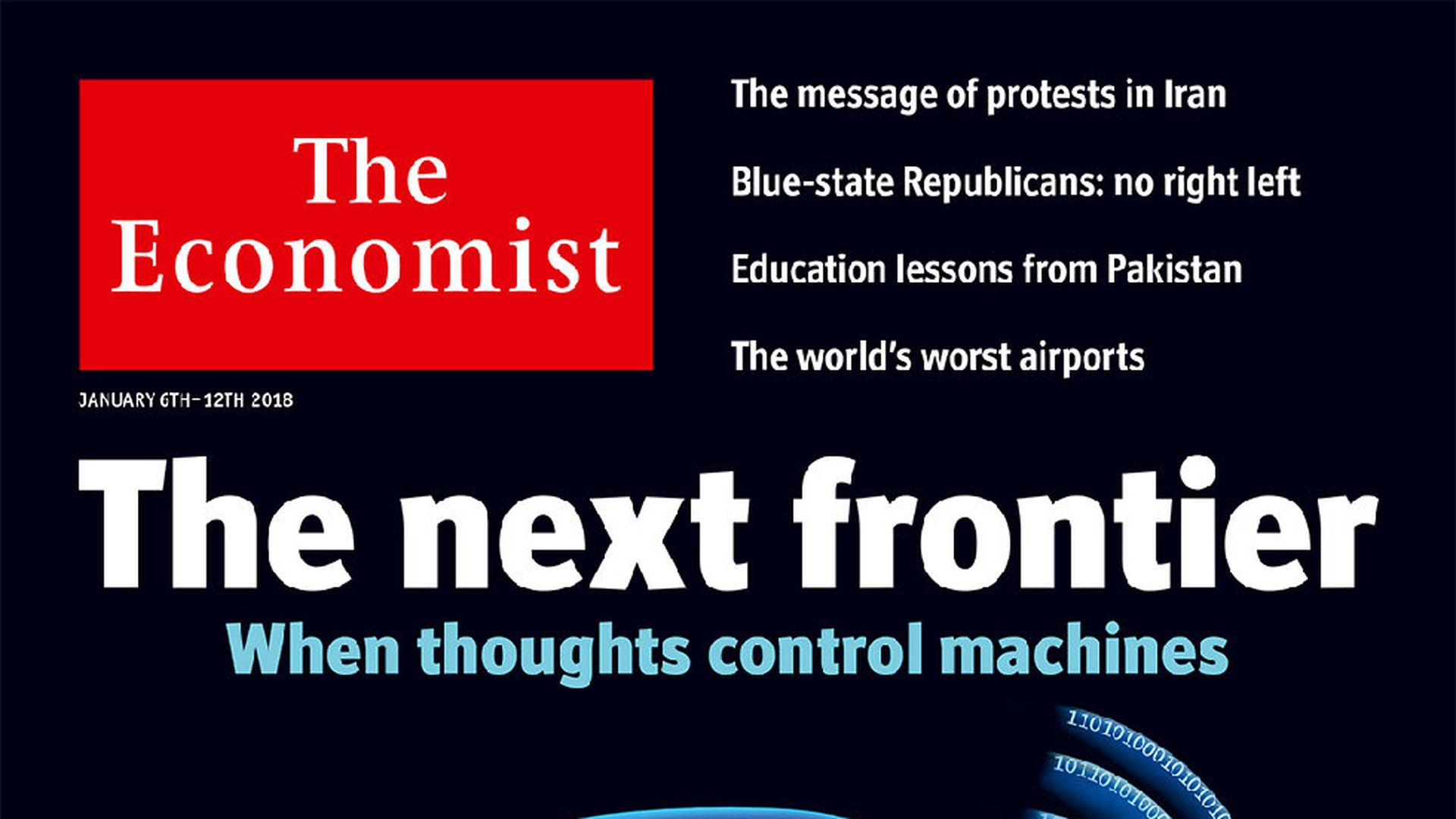 "Neurotechnology: The next frontier ... Using thought to control machines Brain-computer interfaces may change what it means to be human" — Economist cover leader (editorial):
Why it matters: "[A]s uses move to the augmentation of abilities, whether for military purposes or among consumers, a host of concerns will arise. Privacy is an obvious one: the refuge of an inner voice may disappear. Security is another: if a brain can be reached on the internet, it can also be hacked."
"Inequality is a third: access to superhuman cognitive abilities could be beyond all except a self-perpetuating elite. Ethicists are already starting to grapple with questions of identity and agency that arise when a machine is in the neural loop."
https://www.axios.com/newsletters/axios-am-cb852d74-0e12-45cc-bfd0-360822f5f817.html?chunk=9#story9
10. 1 Gore thing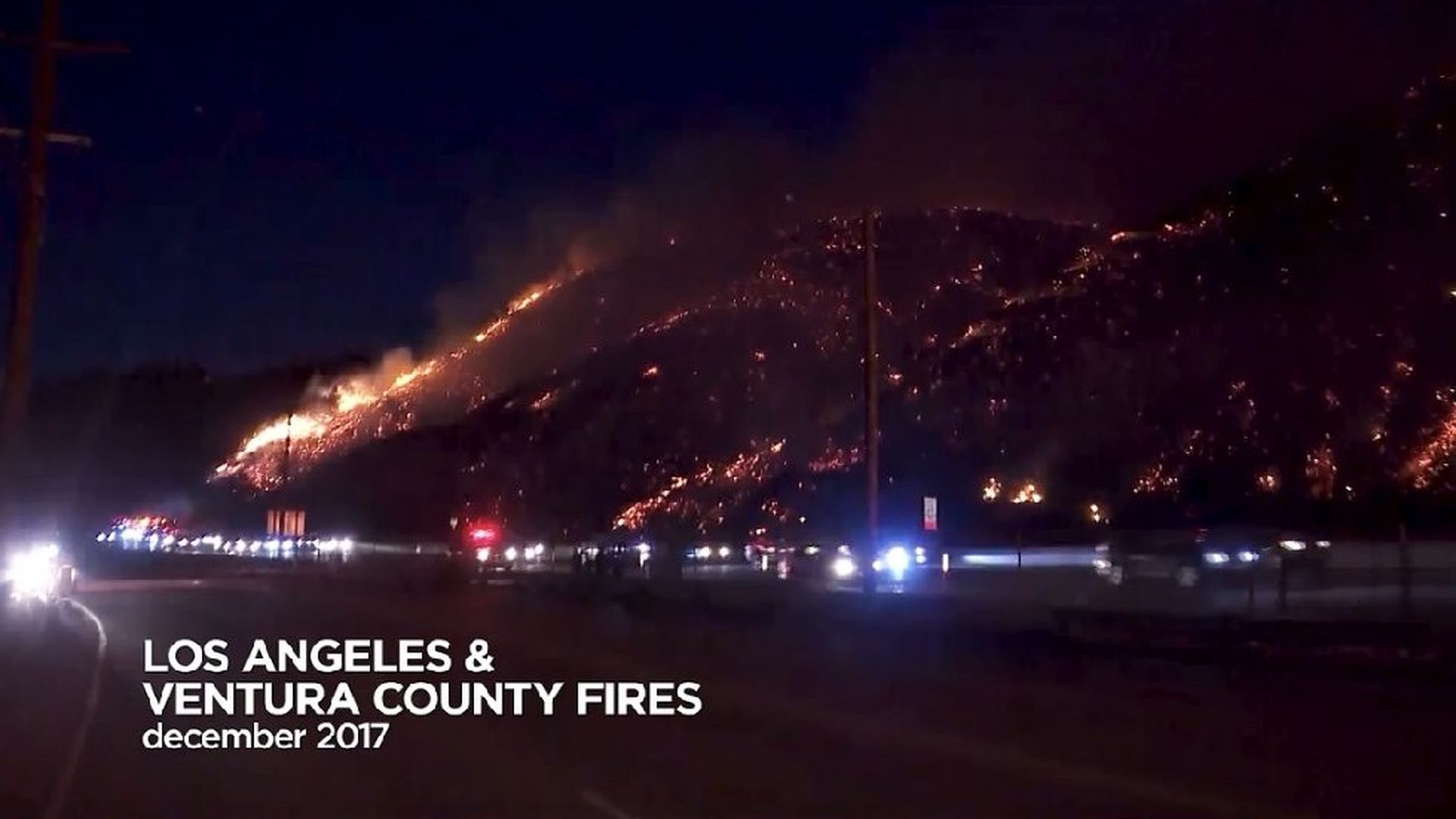 "[J]ust as Oscar nomination voting got underway, Paramount Pictures unveiled a new spot ... promoting its Oscar-shortlisted documentary feature An Inconvenient Sequel, in which former vice president Al Gore continues his crusade to inform the public about climate change," per the Hollywood Reporter:
"The studio hopes that the film .... will follow in the footsteps of 2006's An Inconvenient Truth, which won the best documentary feature and best original song Oscars 11 years ago. And they appear to have calculated — probably wisely — that the strongest argument for the film is the urgency of its message."
"The new spot features footage of 'catastrophic climate-related events' that have happened since the release of An Inconvenient Sequel back on July 28 — hurricanes, tornadoes, floods and, closest to home for L.A.-based Academy members, fires."
That's "all paired with the Oscar-eligible original song that plays over the doc's end credits, 'Truth to Power,' which was ... performed by One Republic."
What's next: "Gore, who many — particularly in Hollywood — believe was the duly-elected 43rd president of the United States, has been hitting the awards campaign trail hard this fall. ... This week he is hitting the road again."