September 03, 2021
🏖️ Happy Friday, and happy getaway day!
Smart Brevity™ count: 1,194 words ... 4½ minutes. Edited by Zachary Basu, who's becoming a national-security reporter after an epic run as newsdesk virtuoso.
🇯🇵 Breaking: Japanese Prime Minister Yoshihide Suga, whose support dwindled during an unpopular COVID response, will step down. The succession race is wide open. (Reuters)
1 big thing: Biden wants abortion fight
President Biden is eager for a fight over abortion — an issue he sees as politically advantageous after the conservative Supreme Court left in place the near-ban in Texas, senior officials tell Axios.
Why it matters: The Supreme Court appears to be barreling toward giving red states significantly more power to restrict women's access to abortions.
State of play: The White House sees abortion as a potent issue ahead of next year's midterms, with Biden under huge pressure on Afghanistan, inflation, crime and the border, Axios' Sam Baker, Jonathan Swan and Alayna Treene report.
The Texas law, SB8, allows strangers to sue doctors, nurses, or even Uber drivers — anyone who performs or facilitates an abortion.
"I want to see the GOP defend the idea that your nosy neighbor can sue your aunt for driving you to the hospital," a senior White House aide told Axios.
Biden announced "a whole-of-government effort to respond to this decision," including his new Gender Policy Council, the White House counsel's office, HHS and the Justice Department.
Story continues below.
2. Part 2: All three branches of government engage on abortion
The White House wants to elevate the Texas abortion case even though aides know a high-profile fight over abortion rights will also energize Republicans.
That's because Democrats say the sheer sweep of Texas' law, and the highly unusual way it's written, make it a juicy political target.
Democrats think the issue will especially help them with suburban voters, who hold the key to the House majority.
"This is a massive political gift to Democrats," a senior House Democratic aide said.
Reality check: On the actual issue of abortion, Dems are losing.
They're unlikely to stop this trajectory, no matter how well they do in midterms.
What's next: A more straightforward abortion case — a Mississippi case that's a likely vehicle for the conservative court to chip away at Roe — is teed up for the term that begins next month.
The other side: "I would be careful if I were them," said an influential conservative legal figure, referring to Democrats.
"The Texas law makes the Mississippi law look very reasonable," the conservative said. "The more play the Texas law gets, the easier it is to uphold Mississippi. Because the Mississippi law is no longer the end of the world."
🚨 Breaking: Florida Gov. Ron DeSantis said he might support a law that bans abortion after a fetal heartbeat can be detected, much like the Texas law. The details.
3. Our COVID funk
The pandemic isn't over, but Americans are over the pandemic:
COVID fatigue is showing up in declining willingness to cooperate with public health guidance, Axios health care editor Tina Reed writes.
The share of Americans who feel hopeful has plummeted to 34%, from 48% in March, according to the Axios-Ipsos Coronavirus Index.
But the number of Americans saying they feel motivated, energized, inspired or resilient has risen at least as much — suggesting we're resolving to do what it takes for the long haul.
4. Snapshot: End-of-summer news deluge
"The news gods just do this to us sometimes — they give us too much to handle," Rachel Maddow said on MSNBC.
"I think they enjoy it. Too much to handle, too much to follow, too much to absorb — certainly too much to report on in any sort of orderly fashion."
5. America's climate collision
President Biden, who visits Louisiana today, connected the dots on America's simultaneous climate calamities:
"The past few days of Hurricane Ida and the wildfires in the West and the unprecedented flash floods in New York and New Jersey is yet another reminder that ... the climate ... crisis [is] here."
The big picture: "Disasters cascading across the country this summer have exposed a harsh reality," The New York Times reports (subscription).
"The United States is not ready for the extreme weather that is now becoming frequent as a result of a warming planet."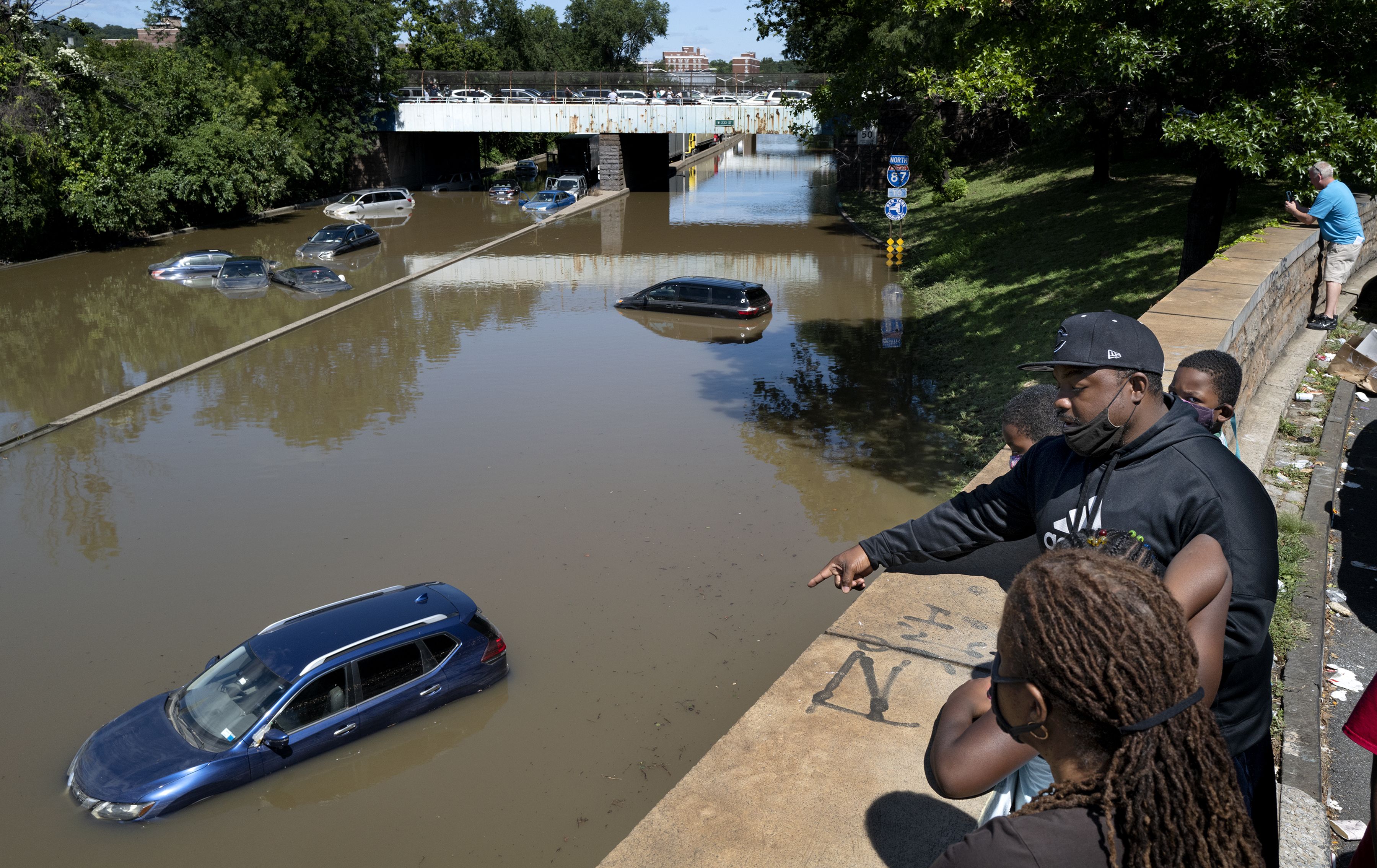 The latest: At least 46 people were killed from Maryland to Connecticut when Ida's remnants hit the Northeast on Wednesday night and Thursday morning — 40 of them in their homes and cars.
Of the 13 people killed in New York City, 11 were in basements, per The Times.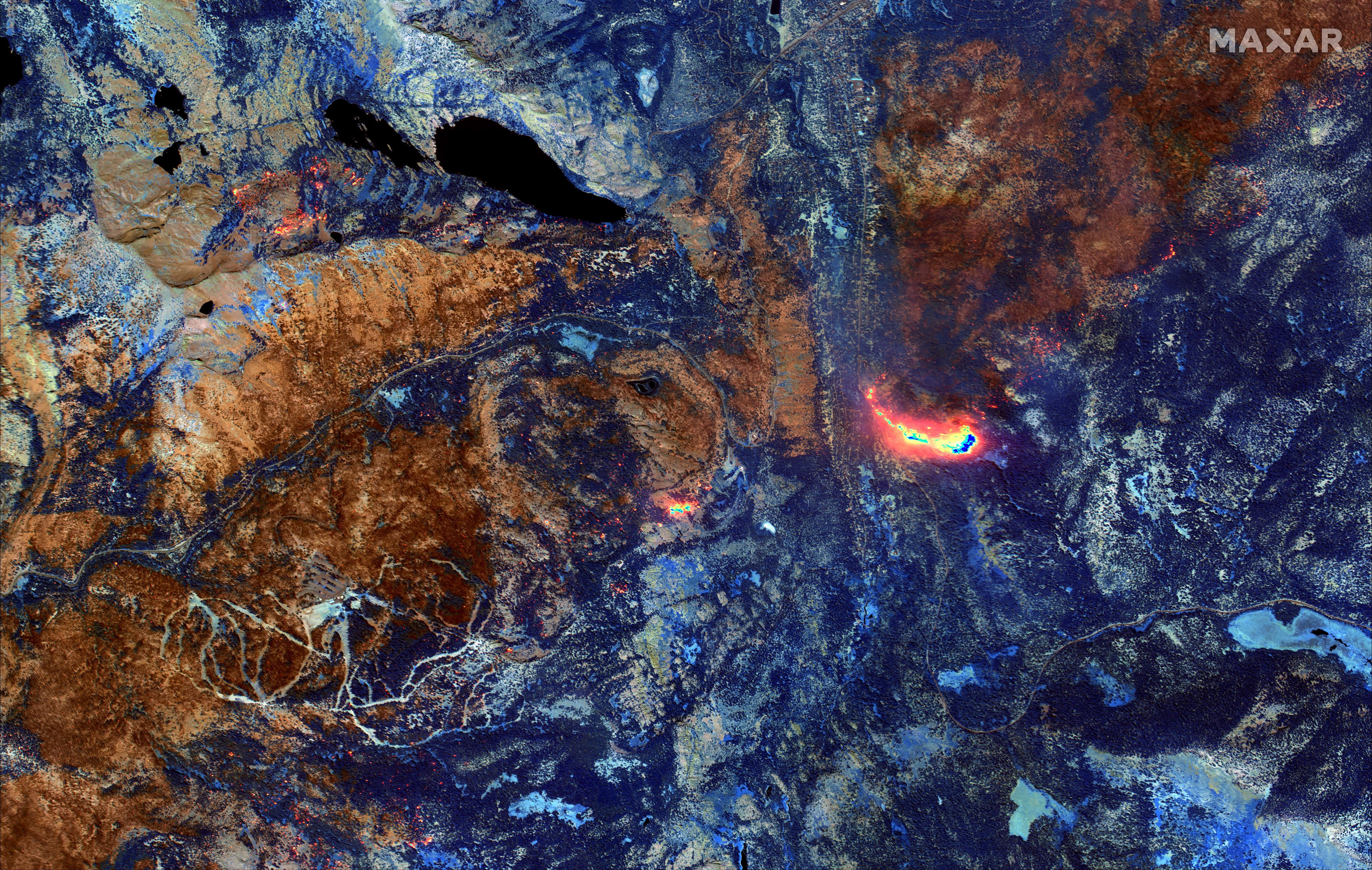 Shortwave infrared satellite view of fire line near Sierra at Tahoe ski resort yesterday.
6. Sneak peek: Fall tech launches
The centerpieces of fall's new-hardware season are new iPhones, Windows 11 PCs and other devices from Facebook, Amazon and Google, Axios' Ina Fried writes from San Francisco in her column, "Signal Boost."
But to see where tech is moving next, pay attention to the market's edges — niche products and surprise debuts that represent experiments and long bets.
👓 Here's what we're watching:
Apple is expected to launch the next iPhone at an event some time this month, though this is unlikely to be a year in which the smartphone gets a major overhaul.
Microsoft is launching Windows 11 on Oct. 5 — the biggest change in years for the venerable operating system.
Facebook has promised new hardware this fall, including smart glasses it developed in partnership with EssilorLuxottica, maker of Ray-Ban.
Amazon always has a slew of new hardware in the fall, and often drops in experimental hardware launches with the mainstream fare.
Google has promised a Pixel 6 launch that will be the first to use the company's internally designed Tensor processor.
7. Cover reveal: Jamie Raskin's twin crises
Rep. Jamie Raskin (D-Md.), a constitutional law professor who was House manager for President Trump's second impeachment trial, will be out with a memoir Jan. 4 — two days before the anniversary of the Capitol riot.
Raskin says he wrote "Unthinkable" as a way "to make sense of two traumatic events in my life, the shattering loss of our son Tommy to depression on the last day of 2020 and, one week later, the bloody ... insurrection at the U.S. Capitol."
"This book is a labor of love written to capture the dazzling life of a brilliant young man in crisis, who we lost forever, and the struggle to defend a beautiful nation in crisis, a democracy that we still have the chance to save," Raskin says in a statement from Harper, the publisher.
8. 🎤 Comebacks: First album in 40 years
Swedish supergroup ABBA is releasing its first new music in four decades, along with a concert performance that will see the "Dancing Queen" quartet go entirely digital, AP reports.
The forthcoming album — "Voyage," dropping Nov. 5 — is a follow-up to 1981's "The Visitors." A virtual version of the band will begin a series of concerts in London on May 27.
"We took a break in the spring of 1982 and now we've decided it's time to end it," ABBA said in a statement.
📬 Invite your friends, family and colleagues to sign up here for Axios AM and Axios PM.