Good Tuesday morning from L.A. ... Axios thanks the students at the UCLA Daily Bruin and USC's Annenberg School for Communication and Journalism for inspiring conversations yesterday about politics, tech, media, life and the future of journalism.
https://www.axios.com/newsletters/axios-am-caba3272-c99e-4b68-94c0-ace713652504.html?chunk=0#story0
1 big thing: Contagion? Stock rout goes global
President Trump — who made what many White House veterans considered the rookie mistake of repeatedly boasting about the peppy stock market — now owns the largest-ever single-day point plunge for the Dow Jones Industrial Average (and worst percentage drop — 4.1% — for the S&P in more than six years).
WashPost: With yesterday's loss of 1,175 points, or 4.6% (to 24,345), "Trump has presided over the biggest stock market drop in U.S. history, when measured by points in the Dow."
"The free fall began in earnest Jan. 30 and snowballed Friday and [yesterday], for a combined loss of almost 2,100 points, or 8 percent of the Dow's value."
White House Press Secretary Sarah Sanders: "The President's focus is on our long-term economic fundamentals, which remain exceptionally strong."
Happening now ... "World stock markets nosedived for a fourth day running [today], having seen $4 trillion wiped off from what just eight days ago had been record high values." (Reuters)
Signs global rout will go on, per N.Y. Times: "The market sell-off in the United States ricocheted across the world [today] as investors from Tokyo to Hong Kong and London to Frankfurt voted with their feet and futures markets indicated the American stock market could be in for another tough day."
"The selling was broad, hitting companies of all sizes across industries."
"Market analysts digesting the numbers from Asia said they did not expect the selling to let up anytime soon."
What you need to know ... "The sharp sell-off ... lacked a specific trigger," per Bloomberg:
As with a plane crash, "experts are pointing to a confluence of factors, from concerns over the path of Federal Reserve interest-rate increases to a rapid unwinding of trades predicated on continued low volatility in markets."
If you read only 1 thing ... "US economy fundamentally strong despite stock market plunge," per AP:
"[T]he job market is strong. So is housing. Consumer confidence is solid, and manufacturing is rebounding. Households and businesses are spending freely. Personal debt has lightened since the financial crisis a decade ago. And major economies around the world are growing in tandem."
Be smart ... Axios Business Editor Dan Primack (who noted that he hadn't heard the word "contagion" in a while) emails me: "No one knows anything. Sure, there were contributing factors, like interest rates and the debt limit, and algorithmic trading bits being tripped and falling over each other like dominos."
But, but, but: "No one really knows why markets have big days in either direction, save for when there is a major external event (terrorist attack, etc.). It's a powerless feeling, bad for cable news punditry."
N.Y. Times Quote of the Day ... Jay Carney — White House press secretary to President Obama, and now an Amazon SVP — tweets the risks for presidents who tie their political fortunes to markets:
"If you claim the rise, you own the fall."
https://www.axios.com/newsletters/axios-am-caba3272-c99e-4b68-94c0-ace713652504.html?chunk=1#story1
2. Trump lawyers advise against Mueller interview
"Lawyers for President Trump have advised him against sitting down for a wide-ranging interview with the special counsel, Robert S. Mueller, ... raising the specter of a monthslong court battle," per the N.Y. Times' Michael Schmidt and Maggie Haberman:
"His lawyers are concerned that the president, who has a history of making false statements and contradicting himself, could be charged with lying to investigators."
Why it matters: "Refusing to sit for an interview opens the possibility that Mr. Mueller will subpoena the president to testify before a grand jury, setting up a court fight that would drastically escalate the investigation and could be decided by the Supreme Court."
"Rejecting an interview with Mr. Mueller also carries political consequences ... casting a shadow over Republicans as November's midterm elections approach or beyond into the president's re-election campaign."
https://www.axios.com/newsletters/axios-am-caba3272-c99e-4b68-94c0-ace713652504.html?chunk=2#story2
3. Media deals in limbo
Major media deals are on ice after the Justice Department unexpectedly sued to block AT&T's merger with Time Warner, Axios' Sara Fischer writes in today's issue of her weekly Media Trends newsletter:
Why it matters: Before the DOJ lawsuit, the deals landscape within the Trump administration was vibrant. The unexpected litigation is slowing that momentum at a time when media companies are looking to consolidate to survive.
Deal volumes during Trump's first year as President were up 29% from the last year of the Obama presidency.
The renewed confidence among dealmakers has come to a screeching halt now that DOJ wants to block a merger that most thought would go through.
https://www.axios.com/newsletters/axios-am-caba3272-c99e-4b68-94c0-ace713652504.html?chunk=3#story3
Bonus: Pic du jour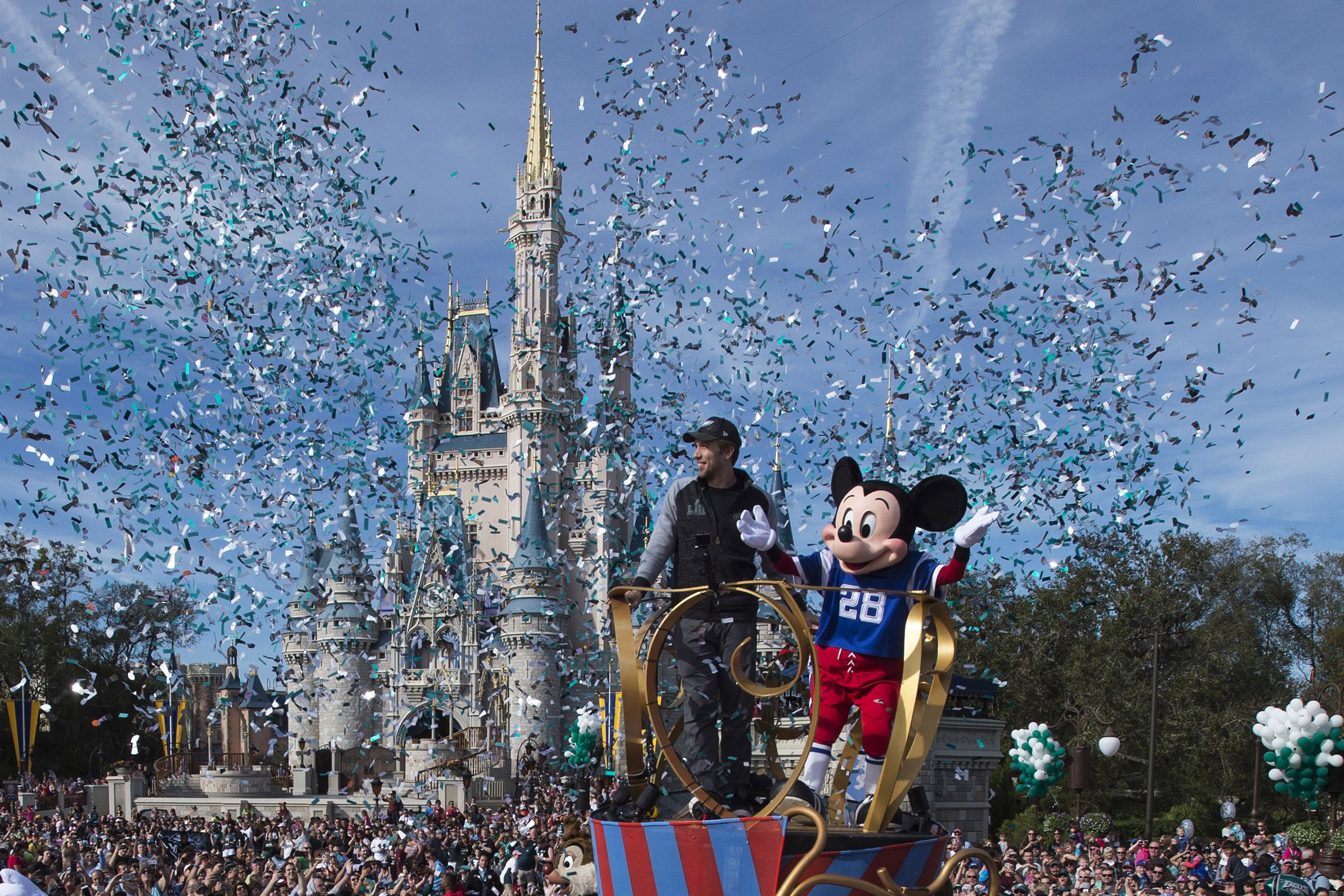 Matt Stroshane / Disney Resorts via Getty Images
He actually went ... Philadelphia Eagles' Nick Foles, Super Bowl champion QB, celebrates in a Main Street parade at Walt Disney World in Lake Buena Vista, Fla.
P. S. 103.4 million people watched the Super Bowl on NBC, a 7% drop from last year, and the smallest Super Bowl audience since 2009, per AP:
"Last year's Patriots-Falcons game reached 111.3 million viewers."
"The Super Bowl record — and record for any television event in the U.S. — was the 114.4 million who watched the Patriots against the Seahawks in 2015."
"Some perspective: despite the decrease, Sunday's game ranked as the 10th most-watched television event in U.S. history."
On Animal Planet, the annual "Puppy Bowl" of cute animals, opposite NBC pregame, reached 3.05 million, the biggest audience in the show's 14 years.
https://www.axios.com/newsletters/axios-am-caba3272-c99e-4b68-94c0-ace713652504.html?chunk=4#story4
4. Understanding the immigration impasse
"Two Americas: Republican districts have far fewer immigrants," by Axios' Caitlin Owens and Chris Canipe:
House seats held by Republicans generally have significantly lower foreign-born populations than those held by Democrats, an indication of why the two parties are so far apart on immigration — especially in the lower chamber.
Go deeper; share the graphic.
https://www.axios.com/newsletters/axios-am-caba3272-c99e-4b68-94c0-ace713652504.html?chunk=5#story5
5. The conversation: State of the GOP
Trump's eager publication of the memo was expected. Yet his action crossed a line: from criticism of the FBI to executive action designed to undermine an ongoing investigation. Trump seems to be testing the waters for direct action against the FBI by testing the limits of what his Republican followers will stomach. So far, there are no limits.
https://www.axios.com/newsletters/axios-am-caba3272-c99e-4b68-94c0-ace713652504.html?chunk=6#story6
6. Memo fallout: Intel agencies may hold back
Top intelligence and law enforcement officials warn that the release of a memo alleging FBI surveillance abuse could cause spy agencies to start sharing less with Congress, weakening oversight, AP's Deb Riechmann writes:
Robert Litt, former general counsel for the director of national intelligence: "The precedent that's been set here is very dangerous ... You can only imagine if the Democrats get control of the House in the mid-year election; they will now be able to say look, 'We've established a precedent here. You've released classified information, and we're going to start doing it as well.'"
The next memo: "Democrats have prepared their own memo in response to the one Nunes released last week. The intelligence committee [yesterday] authorized its release and sent it to the president, who will decide whether it should be declassified."
https://www.axios.com/newsletters/axios-am-caba3272-c99e-4b68-94c0-ace713652504.html?chunk=7#story7
7. Future is now: Testing commercial drones
"Drones could soon be ferrying blood and other medical supplies to hospitals and clinics in North Carolina if the N.C. Department of Transportation's bid to be part of a federal test program is approved," the Raleigh News & Observer reports:
The North Carolina department "is leading a team of private companies that proposes to set up a network of distribution centers that would use unmanned aircraft systems (UAS) to make medical deliveries in North Carolina."
"The drone delivery companies, including Matternet and Zipline, operate overseas but not in the U.S."
"The North Carolina proposal is one of about 210 applications to the [FAA] Drone Integration Pilot Program, a three-year effort launched by the Trump administration last fall to test [commercial] drones."
https://www.axios.com/newsletters/axios-am-caba3272-c99e-4b68-94c0-ace713652504.html?chunk=8#story8
8. Warning: This may make you feel old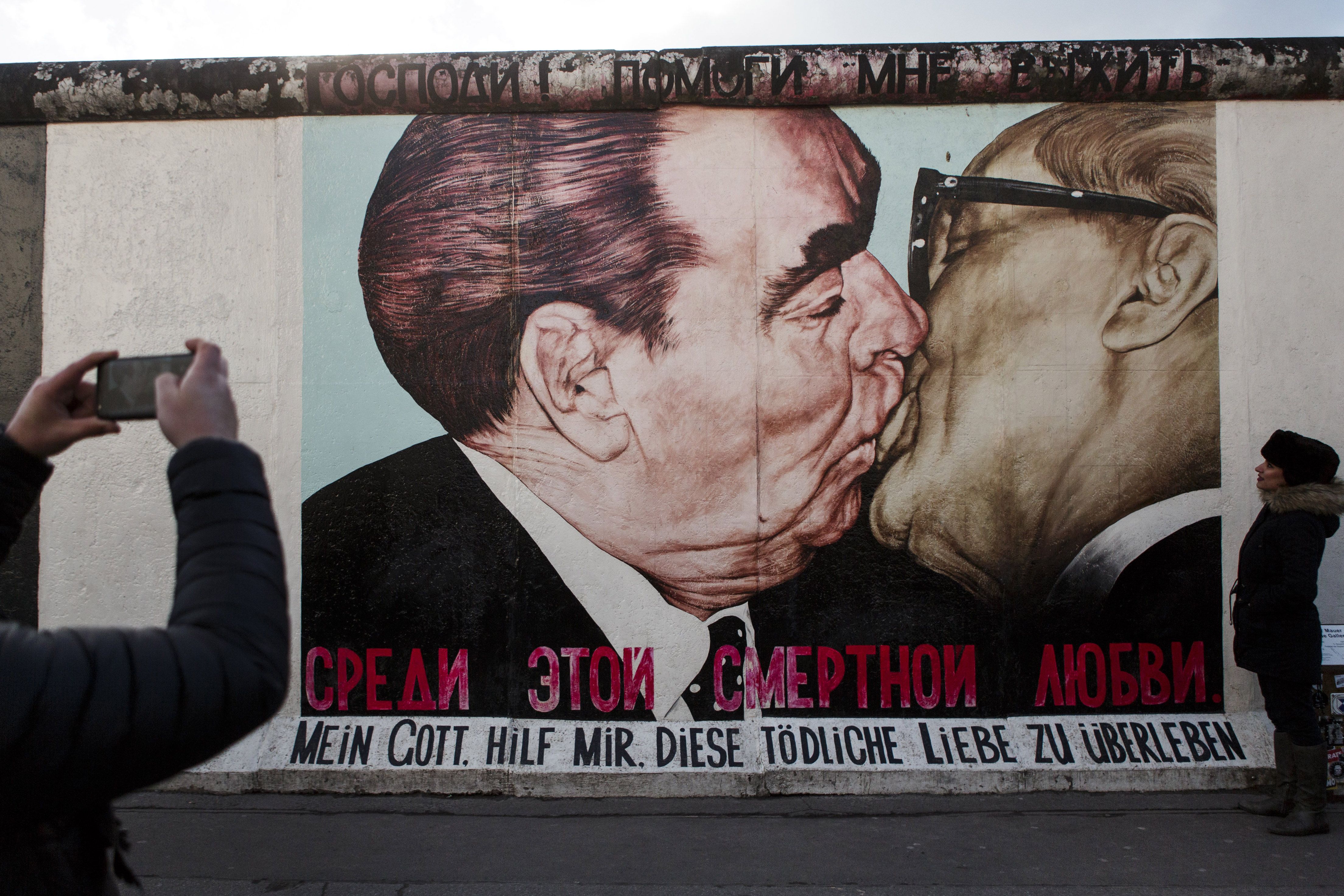 Carsten Koall / Getty Images
The Berlin Wall has now been down for longer than it stood during the Cold War.
Yesterday marked 10,316 days since the Berlin Wall officially fell, the same number of days that it stood between 1961 and 1989.
Here, visitors stand in front of a surviving remnant, with a mural depicting former Soviet leader Leonid Brezhnev kissing former East German leader Erich Honecker.
https://www.axios.com/newsletters/axios-am-caba3272-c99e-4b68-94c0-ace713652504.html?chunk=9#story9
9. Hillary to stay in fray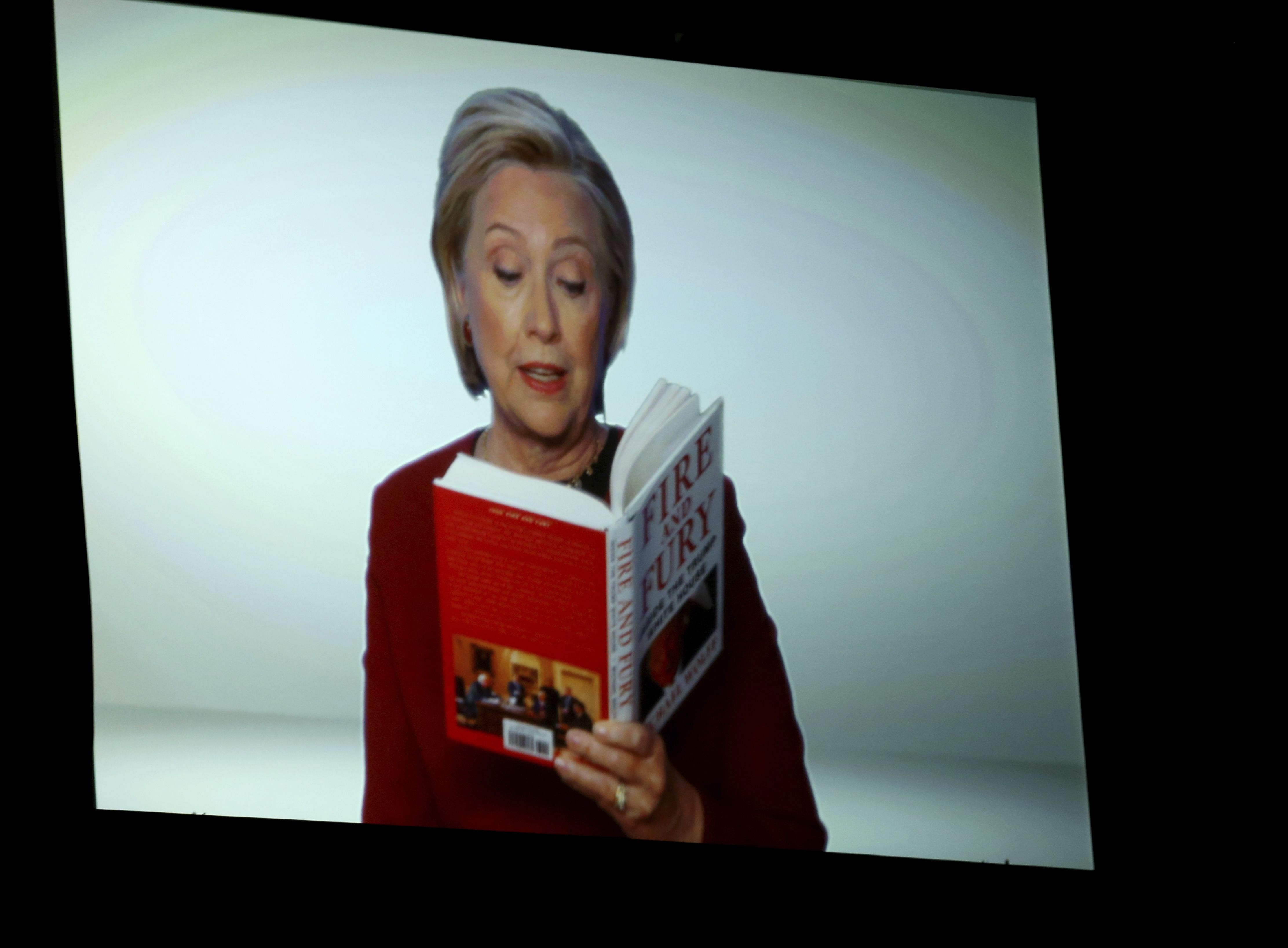 Hillary Clinton appears on-screen at the Grammy Awards at Madison Square Garden on Jan. 28, reading from Michael Wolff's "Fire and Fury." (Matt Sayles / Invision / AP)
Hillary Clinton told students at the Georgetown Institute for Women, Peace and Security, yesterday that she plans to "remain on the front lines of democracy," WashPost "Reliable Source" columnist Emily Heil reports:
Clinton: "It is hard to continue to speak out and stand up against what you think of as obvious wrongs ... But do not grow weary. Don't get discouraged."
"It's easy to be overwhelmed with everything going on in the world today ... I get overwhelmed at least a dozen times a day."
https://www.axios.com/newsletters/axios-am-caba3272-c99e-4b68-94c0-ace713652504.html?chunk=10#story10
10. 1 food thing
Delivery apps may put your favorite restaurant out of business, per The New Yorker's Elizabeth Dunn, writing in the "Annals of Gastronomy":
"In 2016, delivery transactions made up about seven per cent of total U.S. restaurant sales. In a research report published last June, analysts at Morgan Stanley predicted that that number could eventually reach forty per cent of all restaurant sales, and an even higher percentage in urban areas and among casual restaurants."
"Companies like GrubHub maintain that the revenue they bring restaurants is 'incremental' ... exposing potential new customers who might convert to lucrative in-restaurant patrons."
Why it matters: "[A]s consumers use services like Uber Eats and Seamless for a greater share of their meals, delivery orders are beginning to replace some restaurants' core business instead of complementing it."
What's next: At Sweetgreen, 40% of orders are "placed for pickup through a proprietary app, and the company is about to pilot a delivery service."