Good Wednesday morning.
Situational awareness: "California is set to become the first state to require solar panels on all newly built single-family houses," effective in 2020. (L.A. Times)
https://www.axios.com/newsletters/axios-am-c6b512e3-de38-44ae-8f6f-4ed24ecd74b2.html?chunk=0#story0
1 big thing ... "Going big": Inside Trump's Iran gamble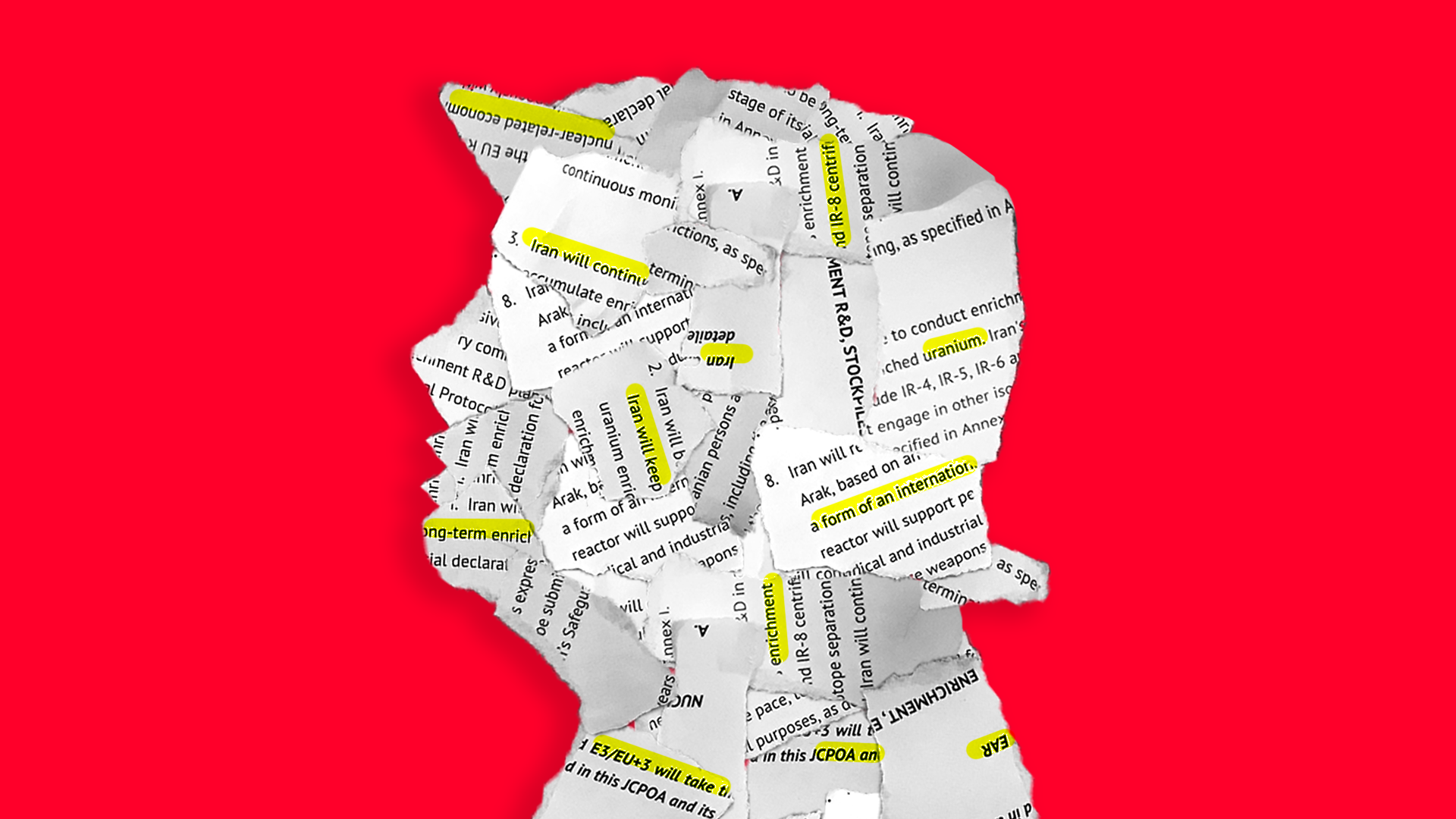 World leaders and experts warn of dominoes of destabilization in the Middle East. But a source who was with President Trump yesterday said he was in high spirits about his high-stakes decision to withdraw from the Iran deal.
It's history, his way. The banner headline of today's N.Y. Times: "TRUMP ABANDONS IRAN PACT HE LONG SCORNED ... Move Creates Divide With Allies and Complicates North Korea Talks."
Despite the momentous potential consequences, Jonathan Swan says Trump's decision to pull out was one of the most predictable of his presidency:
Those who thought Trump might stay in the Iran deal were delusional. This was a repeat of the Paris climate deal, where moderates in the administration thought there was a way Trump might "see the light" and stay in the global agreement. Like with Paris, Trump's view on the Iran deal never changed.
He has contempt for the people who negotiated it and to endorse it in any way was never conceivable.
He has surrounded himself with officials like national security adviser John Bolton and Secretary of State Mike Pompeo who reinforce his instincts rather than oppose them, as their predecessors H.R. McMaster and Rex Tillerson did.
It used to drive Trump nuts when Tillerson would continually argue to stay in the deal. "He felt like Rex was always making excuses to stay in," an administration source said.
A White House official told Swan that Trump "likes it when 'experts' are on CNN freaking out":
"He's going big, with what he believes, and confident in it all."
"POTUS ran against experts — the 'eggheads' — and believes that rebalancing our policies on trade, defense spending, security, etc., simply makes sense."
"The status quo itself is what the expert class got us, and isn't working."
"It's slow-walking a bomb in Tehran/Pyongyang, and steady decline vs. a cheating China."
Ben Rhodes — a former Obama official deeply involved in the Iran deal who's now co-chair of National Security Action, a Democratic response to Trump — said during a visit to Axios yesterday that the announcement reflects "strategic incoherence" and a "bizarre" effort "to precipitate a crisis":
"It just makes no sense, other than some political impulse that's clearly about Obama."
"He's thinking about domestic political announcements, not: What does this mean in Iraq or Syria or Yemen? These chickens will come home to roost."
"He hasn't thought about what it means to own Iran and a potential crisis."
Go deeper, with Axios Expert Voices: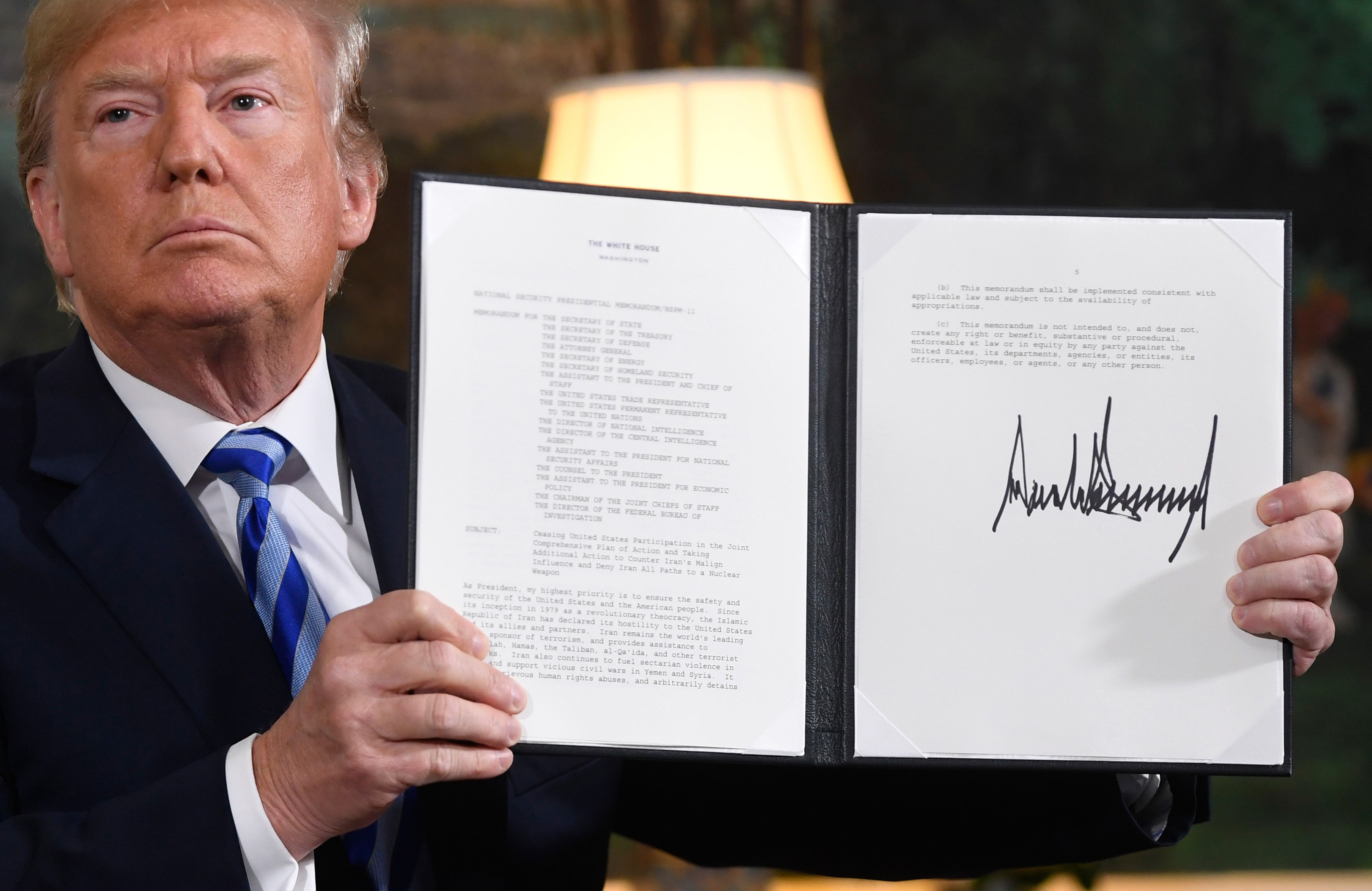 Trump reinstates sanctions. (Saul Loeb/AFP/Getty Images)
https://www.axios.com/newsletters/axios-am-c6b512e3-de38-44ae-8f6f-4ed24ecd74b2.html?chunk=1#story1
2. Setting a high bar for North Korea summit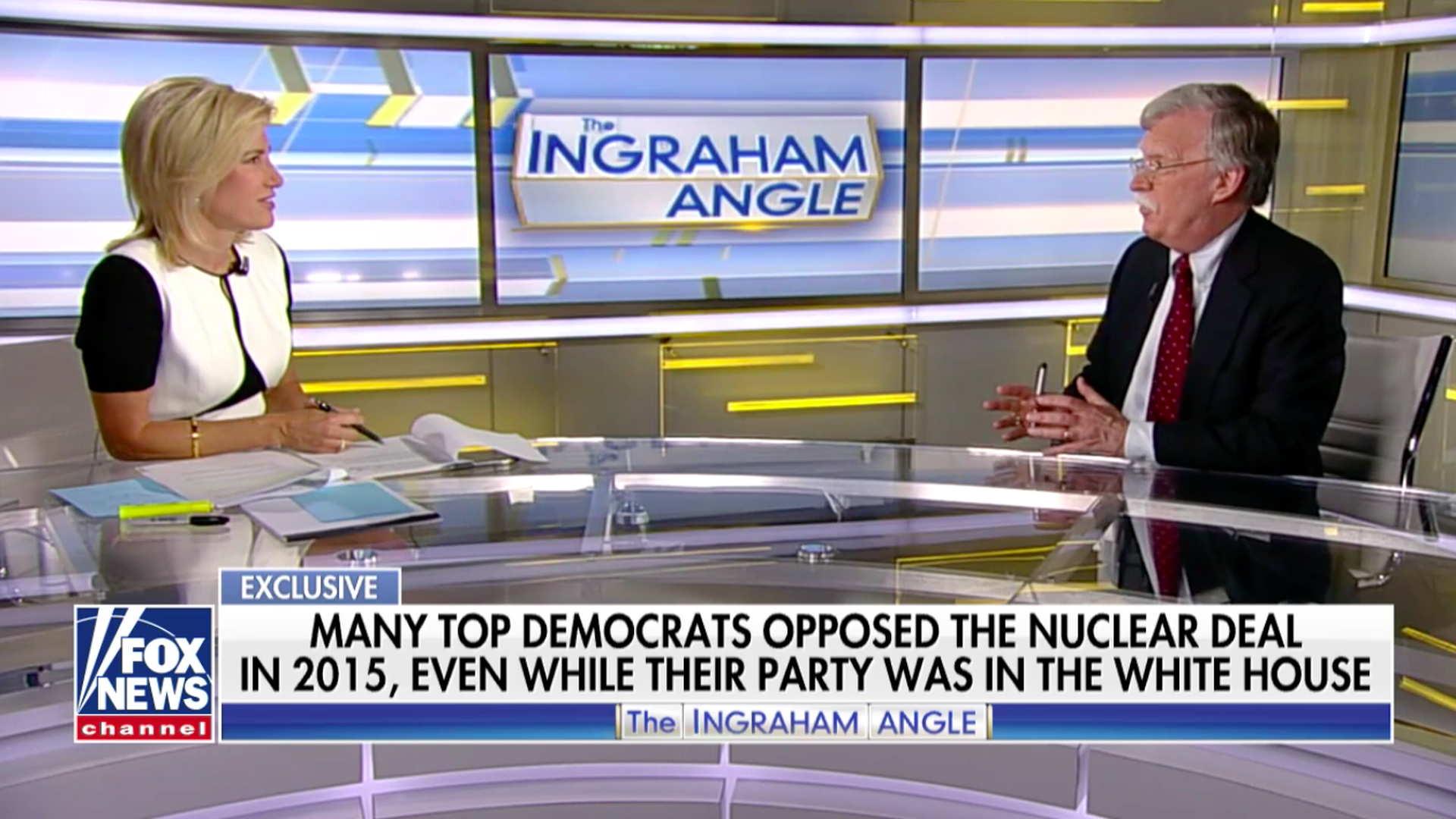 National security adviser John Bolton, to Laura Ingraham on Fox:
"[T]his sends North Korea [the] signal that we're not in these discussions with Kim Jong-un just to have a deal. We are in them to denuclearize North Korea."
https://www.axios.com/newsletters/axios-am-c6b512e3-de38-44ae-8f6f-4ed24ecd74b2.html?chunk=2#story2
3. Trumping Trump: "More bombshells coming"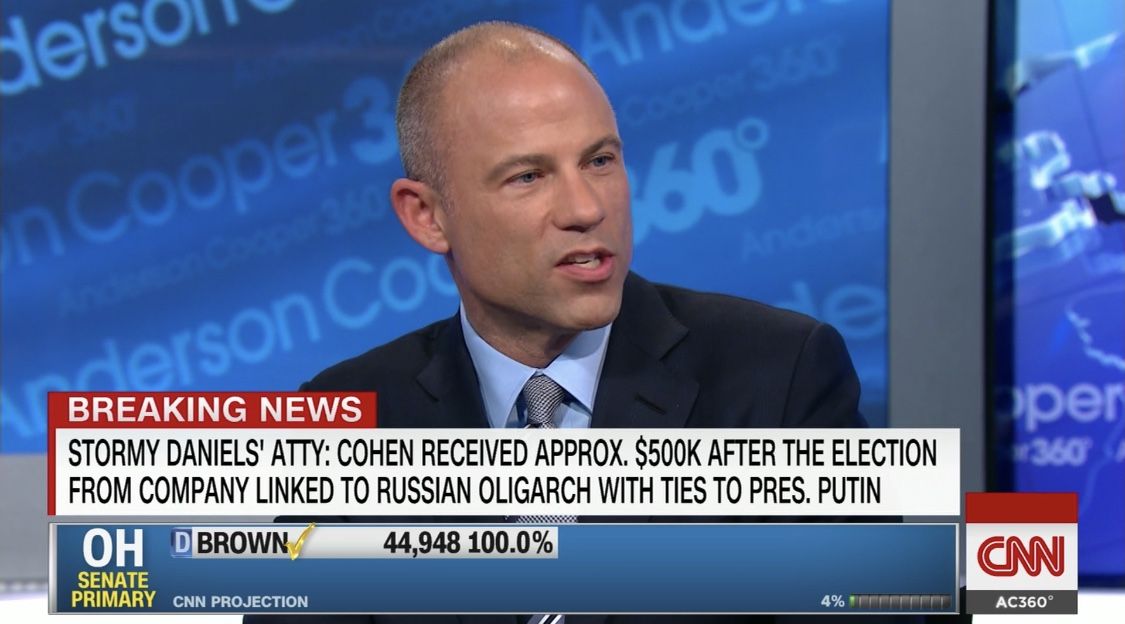 Screenshot from CNN
He's making news on Twitter, building his social-media followers, teasing his announcements with reality-show theater, and is ubiquitous on cable TV.
Using Trumpian tactics, Michael Avenatti, Stormy Daniels' lawyer, managed to push Iran and a big day of midterm primaries into prime time's background, with stunning charges in a "Project Sunlight" report he posted for reporters to feast on:
The Atlantic pointed out that Avenatti is "attempting to connect the dots between the Russia probe and the Michael Cohen investigation ... merging the two biggest scandals of Donald Trump's presidency in a single tweet — and setting off a frenzy."
The revelations:
N.Y. Times: "AT&T and an Oligarch ... A shell company that [Trump lawyer] Michael D. Cohen used to pay hush money to a pornographic film actress received payments totaling more than $1 million from an American company linked to a Russian oligarch and several corporations with business before the Trump administration. ... References to the transactions first appeared in a document posted to Twitter ... by Michael Avenatti."
WashPost: "[C]onfirmation came after Michael Avenatti ... circulated on Twitter a document purporting to show a detailed accounting of wire transfers."
Wall Street Journal: "AT&T Inc. said it made payments to Mr. Cohen's company in 2017 for 'insights' into the administration at a time when the telecommunications giant needed government approval for an $85 billion takeover of Time Warner ... The payments were revealed in a memo released through Twitter by Michael Avenatti."
The art of the tease ... During a marathon appearance as election returns scrolled below him, Avenatti told CNN's Anderson Cooper:
"We certainly have next steps planned out."
'"I hope the president goes on 'Fox & Friends' tomorrow, and then I hope that Rudy Giuliani makes the rounds on Fox."
"There are more bombshells coming. There's more evidence. There's more information."
"[B]ecause we're so out front on this, people send us information. People want to help our cause."
If you missed that, you could catch Avenatti on MSNBC's "The Last Word with Lawrence O'Donnell."
Afterward, Avenatti tweeted to his 345,000 followers: "We are not changing. Especially because the strategy is working perfectly. Period."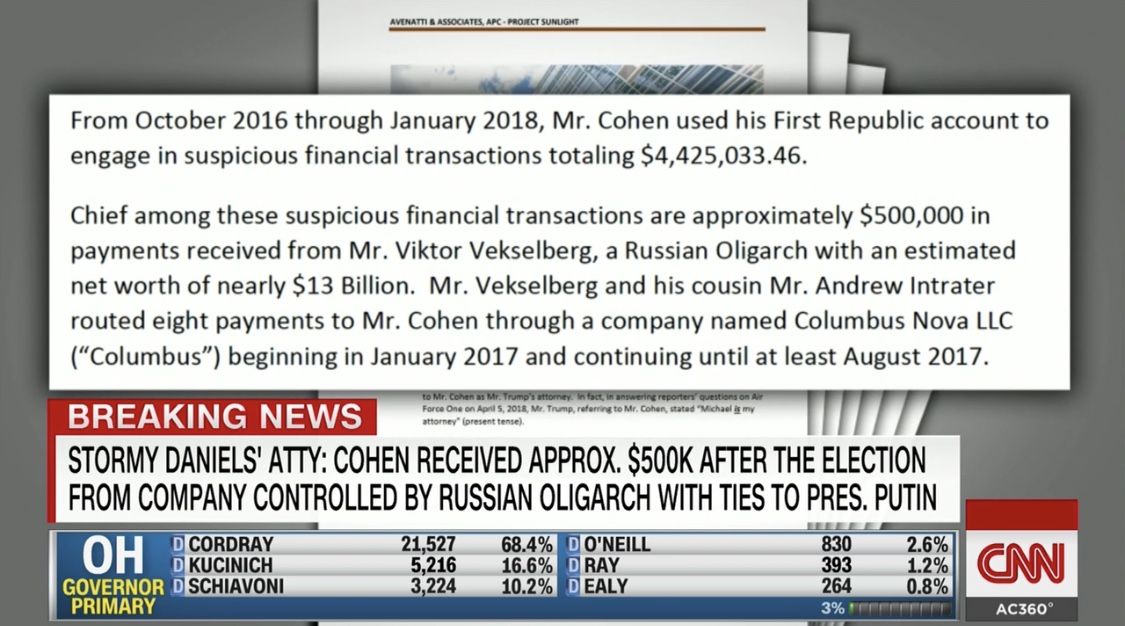 Screenshot from CNN
https://www.axios.com/newsletters/axios-am-c6b512e3-de38-44ae-8f6f-4ed24ecd74b2.html?chunk=3#story3
4. Record number of women graduation speakers
"For the first time in at least two decades, the majority of the nation's top colleges are featuring women as their spring commencement speakers," AP's Collin Binkley reports:
"Yale is bringing Hillary Clinton. MIT will host Sheryl Sandberg. Vanderbilt landed Amal Clooney, while Dartmouth chose Mindy Kaling."
"[W]omen account for nearly 60 percent of the speakers at the 25 schools that have the largest endowments and traditionally carry the clout to draw big names to the lectern.
"By contrast, women made up just a quarter of the speakers at those schools over the previous 19 years."
"Companies that are hired to find speakers say they've seen a surge in requests for women [amid] the #MeToo movement."
"Demand has grown so quickly that some say they're struggling to keep up."
Why it matters: Duh!
What we're watching ... In "The Revolt," at 10 tonight on National Geographic, Katie Couric goes inside the #metoo moment as part of her "America Inside Out" series, and discovers how gender inequality, unconscious bias and sexual harassment are linked. (See clips).
https://www.axios.com/newsletters/axios-am-c6b512e3-de38-44ae-8f6f-4ed24ecd74b2.html?chunk=4#story4
5. Wave watch: Dems getting more votes for their money
One big warning for Republicans in the midterm elections: Democrats got more votes for their money in every competitive special election since President Trump took office, Axios' Alexi McCammond reports:
Why it matters: Republicans still won most of the races, but Democrats narrowed the partisan gap in each race by an average of 16 points compared to each district's GOP leanings.
The takeaway: In most of the races, Democrats got more votes for their money even in elections they didn't win.
Be smart: Republicans should be worried about Democrats' performance, but Democrats need to start winning more of these elections if they want the House back.
https://www.axios.com/newsletters/axios-am-c6b512e3-de38-44ae-8f6f-4ed24ecd74b2.html?chunk=5#story5
6. GOP avoids worst fear on big primary night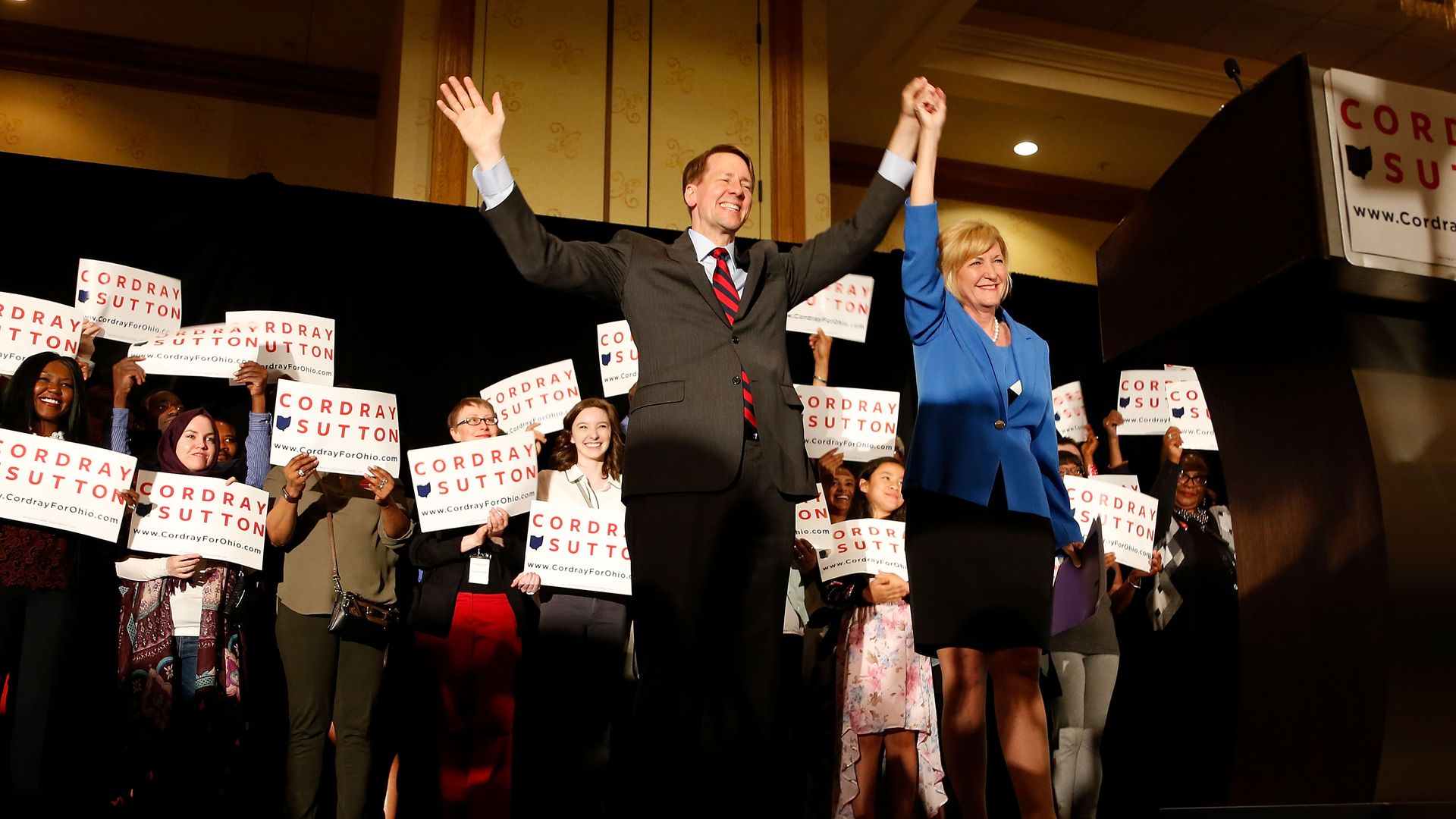 Three key results from the biggest night so far in midterm primaries:
In West Virginia, "former lobbyist and congressional aide Patrick Morrisey [a Republican who'll face Sen. Joe Manchin] fended off ... former coal baron Don Blankenship by echoing Blankenship's anti-Washington message. One Morrisey ad featured a mountain crushing the U.S. Capitol." (WashPost)
In Ohio, the governor's race will be between Democrat Richard Cordray, Obama's director of the Consumer Financial Protection Bureau, and Republican Attorney General Mike DeWine. (Columbus Dispatch)
In Indiana, "Greg Pence, ... the older brother of Vice President Mike Pence and the owner of two antique malls, clinched the Republican nomination to the 6th Congressional District, a seat once held by his brother." (Indianapolis Star)
https://www.axios.com/newsletters/axios-am-c6b512e3-de38-44ae-8f6f-4ed24ecd74b2.html?chunk=6#story6
7. Driving the day
From the prepared testimony of CIA Acting Director Gina Haspel, whose confirmation hearing for CIA director begins at 9:30 a.m.:
"I can offer you my personal commitment, clearly and without reservation, that under my leadership, CIA will not restart ... a detention and interrogation program."
The White House tells Axios that two former members of the Senate Intelligence Committee will co-introduce Haspel at the hearing:
The former senators are Evan Bayh, Democrat of Indiana, and Saxby Chambliss, Republican from Georgia and former vice chairman of the panel.
A letter of support for Haspel was signed by 36 former CIA chiefs, intelligence community leaders and lawmakers.
https://www.axios.com/newsletters/axios-am-c6b512e3-de38-44ae-8f6f-4ed24ecd74b2.html?chunk=7#story7
8. Astonishing stat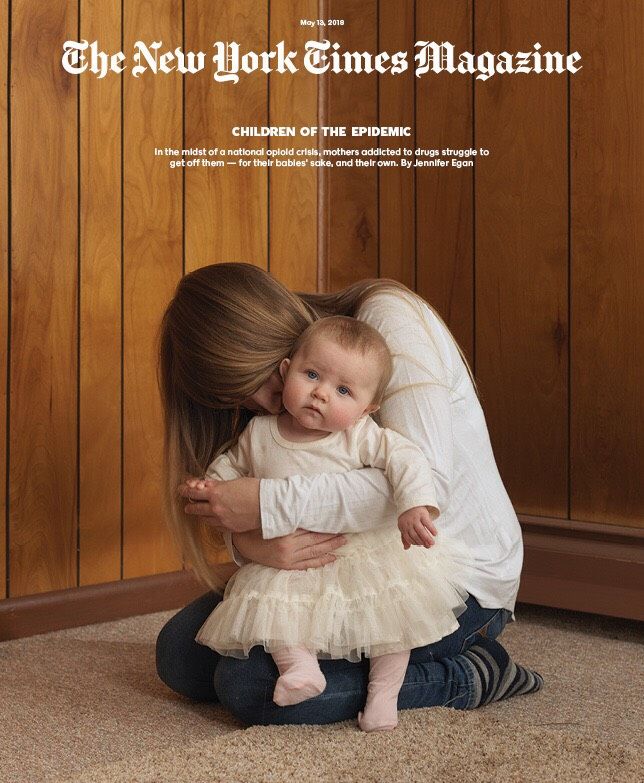 Courtesy N.Y. Times
N.Y. Times Magazine cover story ... "Children of the Opioid Epidemic: In the midst of a national crisis, mothers addicted to drugs struggle to get off them — for their babies' sake, and their own," by Jennifer Egan:
"[A]ccording to the largest recent study, nearly 90 percent of pregnancies among women who abuse opioid medications are ... unintended."
https://www.axios.com/newsletters/axios-am-c6b512e3-de38-44ae-8f6f-4ed24ecd74b2.html?chunk=8#story8
9. First look: WeWork unveils first Economic Impact Report
L.A. Mayor Eric Garcetti today will join WeWork founder and CEO Adam Neumann for the unveiling of a report showing economic ripple effects that the workspace company has on small businesses, neighborhoods and cities.
The reports cover New York, Chicago and L.A. Among the conclusions:
70% to 80% of members did not work in the neighborhood prior to joining WeWork.
In L.A., 28% of WeWork members rely on sustainable transportation, compared to 11% of workers citywide. 
In Chicago, over 80% of members rely on sustainable transportation, compared to 38% citywide.
In eight years, WeWork has built a global community of 250,000 members across 200 locations in over 70 cities around the world.
The reports follow yesterday's announcement of Bjarke Ingles as the company's first Chief Architect.
https://www.axios.com/newsletters/axios-am-c6b512e3-de38-44ae-8f6f-4ed24ecd74b2.html?chunk=9#story9
10. 1 fun thing
Bill Gates as film buff ... In a recent conversation with STAT reporters and editors, Gates spoke animatedly about movies about bioterrorism and pandemics:
On Steven Soderbergh's "Contagion'': "Actually very good.'' (He questioned the "happy ending.'')
On Ron Howard's "Inferno'': "Makes me laugh the most'' for its "badass guys'' from the World Health Organization.
On the TV series "24,'' starring Kiefer Sutherland, he enthused that there was "a whole season'' devoted to bioterrorism.