☕️ Good Monday morning.
If you're in Chicago ... Please join me at 10:30 this morning for a conversation with Mayor Rahm Emanuel. (I'm having breakfast with Dan Sullivan, a friend since the days of traveling Virginia in a minivan with a cell-phone entrepreneur named Mark Warner.) RSVP here.
https://www.axios.com/newsletters/axios-am-c5606afb-5730-45de-a9dc-cdb67376c5a2.html?chunk=0#story0
1 big thing: Macron's master class in soothing Trump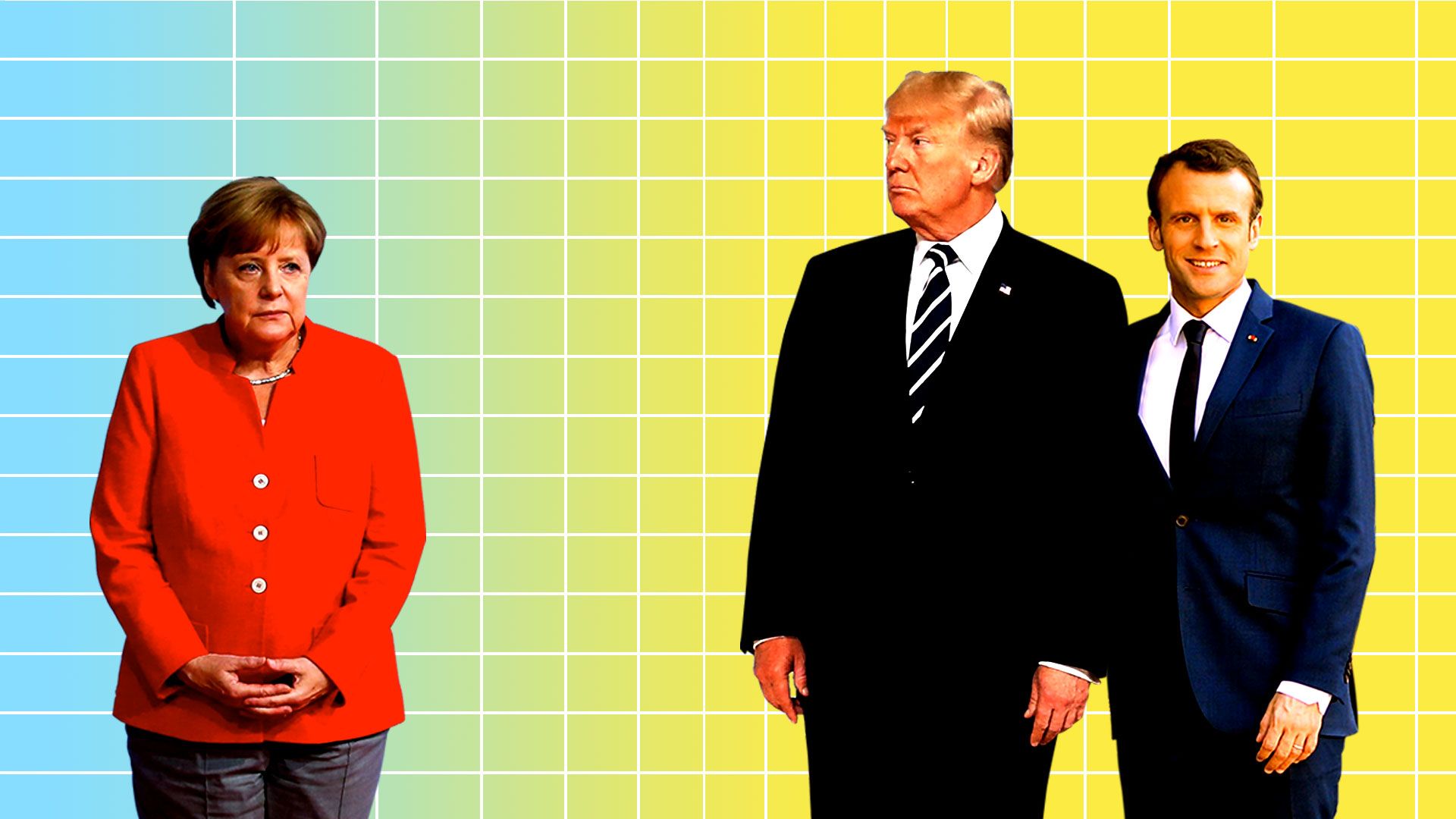 As French President Emmanuel Macron today begins his State Visit with President Trump, a source who has watched the two men in action tells Axios' Jonathan Swan that Macron, a former investment banker, treats Trump like a "prized client" — with a combination of flattery, attentiveness and wariness.
Macron "has run a master-class on the care and feeding of POTUS," the source says.
Trump this week is Continental Man, hosting a private dinner with Macron at Mount Vernon tonight; a press conference with the French leader tomorrow, followed by the first State Dinner of the 15-month-old administration; and then on Friday, a White House meeting with German Chancellor Angela Merkel.
Why this matters: Trump's relationships with these two leaders — genuinely warm and close with Macron, somewhat distant and occasionally tense with Merkel — illuminate Trump's theory of foreign relations:
According to more than half a dozen sources who've been in the room with Trump for his interactions with foreign leaders, the president views international relations as chemistry between individuals.
As Jonathan demonstrated yesterday in another scoop-packed edition of Sneak Peek, his Sunday evening newsletter (sign up here): Trump's foreign policy depends almost entirely on his personal rapport with world leaders.
Trump's interactions with foreign leaders — often improvised, often hot and cold — disregard diplomatic conventions and briefing materials. Instead, he freelances, kibitzing with foreign leaders like he does with old real estate pals.
Here's the cream of Jonathan's take-you-there reporting about Trump's interactions with Macron and Merkel:
🇫🇷 Soon after President Trump announced last June that the U.S. was withdrawing from the Paris climate accord, he began telling foreign leaders he wanted to re-negotiate America's re-entry into the deal:
In one phone call with Macron, shortly after Trump's dramatic Rose Garden announcement ("I was elected to represent the citizens of Pittsburgh, not Paris"), Trump told Macron that "maybe we'll get back in," two sources said.
Macron replied, in one source's recollection: "No, no, no. It doesn't work like that."
A source briefed on the conversation said Macron meant the deal wasn't constructed that way — for the U.S. to unilaterally leave the global deal, then negotiate its way back in on better terms.
The withdrawal process was more complicated than that. Trump replied, again in that source's recollection: "OK, I guess we'll never get back in."
Macron, befuddled by this unusual interaction with such an important ally, ended up leaving the door open and telling Trump they could keep talking.
The Trump-Macron relationship has since blossomed.
A former White House official pointed out: "Macron ran on everything diametrically opposed to 'Trumpism.' He has replaced Merkel as the voice of the 'globalist' — and has the strongest relationship of any world leader — as shown by the honor of the first State Dinner."
🇩🇪 Germany's Angela Merkel is, by disposition and culture, not as warm as Macron:
"It comes off not as harshness or coldness ... but just more distance in personal meetings and over the phone," said a source familiar with their interactions. 
The source added that there's less personal antipathy between Trump and Merkel than is sometimes reported.
But Trump finds the Germans frustrating: He thinks they're ripping off America on trade and blames them for many of NATO's problems, saying they're a rich country but not spending close to enough on defense to meet NATO commitments.
Added to all that, he has no chemistry with Merkel. When she visited last year, Trump thought she would respond well to his joke about how she and he had something in common with Obama surveilling them.
Trump "thought it was funny ... She was stone-faced, stone cold. It irked him. Trump said privately to staff afterwards: 'She didn't even respond! She could've at least smiled! That was the best line of the day!'" the source recalled.
At lunch with Merkel last year when she visited Washington, Trump took her to task over the gusher of German car imports, when not enough American cars were selling in Germany.
According to a source at the lunch, Trump told her: "You guys are flooding our streets with German cars. I can't go anywhere without seeing one. They're flying up and down the streets here ... Do you have Fords and Chevrolets flying up and down streets in Germany too?"
Merkel said something to the effect of: "We take great pride in German manufacturing." Trump replied: "We do, too."
https://www.axios.com/newsletters/axios-am-c5606afb-5730-45de-a9dc-cdb67376c5a2.html?chunk=1#story1
2. Real America I: Public servants struggle
"For generations of Americans, working for a state or local government — as a teacher, firefighter, bus driver or nurse — provided a comfortable nook in the middle class," the N.Y. Times' Patricia Cohen and Robert Gebeloff write in the paper's lead story:
"In recent years, ... the ranks of state and local employees have languished even as the populations they serve have grown. They now account for the

smallest share of the American civilian work force

since 1967."
Why it matters: "No less than automobile assembly lines and steel plants, the public sector ensured that even workers without a college education could afford a home, a minivan, movie nights and a family vacation."
"The 19.5 million workers who remain are finding themselves financially downgraded."
"Teachers who have been protesting low wages and sparse resources in

Oklahoma

,

West Virginia

and Kentucky — and those in Arizona who say they

plan to walk out

on Thursday — are just one thread in that larger skein."
N.Y. Times Quote of the Day ... Eldon Johnson, 40, a state employee who cares for children with cerebral palsy and autism in Norman, Okla., eight hours a day, then works overnight at a better-paying private mental health center:
"There's no way I could make it without a second job, unless I lived in a box, and maybe had a moped."
https://www.axios.com/newsletters/axios-am-c5606afb-5730-45de-a9dc-cdb67376c5a2.html?chunk=2#story2
3. Real America II: Waffle House hero
James Shaw Jr., 29, cried at least four times yesterday after he wrestled an AR-15 rifle from a shooter (still at large) who had killed four at a Nashville Waffle House, The Tennessean's Jason Gonzales reports:
Shaw is credited with saving numerous lives after the suspect, clothed in only a green jacket, opened fire at 3:25 a.m.
Shaw "rushed the gunman, grabbed the gun's barrel, pulled it away and threw it over the Waffle House counter. He suffered a gunshot wound and burns from grabbing the gun's barrel."
In the ambulance, one of the paramedics asked Shaw if he has kids: "I thought I could have possibly never seen my daughter again ... It feels selfish ... I was just trying to get myself out. I saw the opportunity and pretty much took it."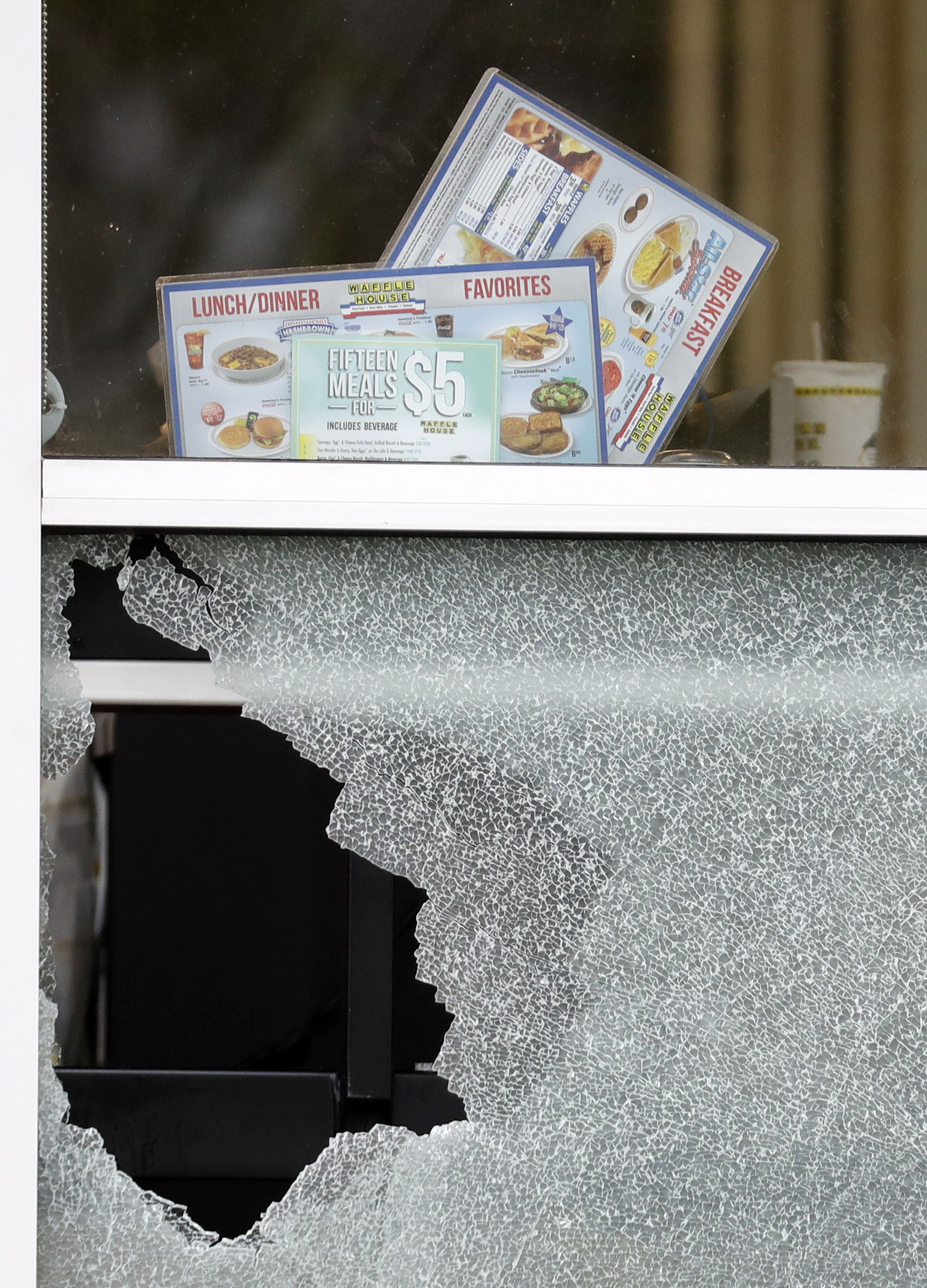 AP's Mark Humphrey
https://www.axios.com/newsletters/axios-am-c5606afb-5730-45de-a9dc-cdb67376c5a2.html?chunk=3#story3
4. Thousands of girls become Cub Scouts
More than 170 Cub Scout packs nationwide are participating in an early adopter program as the Boy Scouts of America begins welcoming girls into the organization in new ways, AP's Holly Ramer reports:
"The soft launch followed the Boy Scouts' announcement in October that it would begin admitting girls into the Cub Scouts starting later this year and would establish a new program next year for older girls based on the Boy Scout curriculum."
"About two-thirds of councils [metro-area units] nationwide signed up, bringing roughly 3,000 girls into the Cub Scouts."
"Under the new plan, Cub Scout dens — the smallest unit [several dens make up a pack] — will be single-gender, either all boys or all girls. The larger Cub Scout packs will have the option to remain single-gender or not."
https://www.axios.com/newsletters/axios-am-c5606afb-5730-45de-a9dc-cdb67376c5a2.html?chunk=4#story4
5. "McMaster and Commander"
The New Yorker's Patrick Radden Keefe explores the tumultuous White House tenure of former national security adviser H.R. McMaster — through interviews with friends, colleagues, and current and former National Security Council staffers — and reports on what lies ahead with John Bolton at the helm:
"The morning after he was fired, McMaster called an all-hands meeting ... McMaster exuded optimism, not bitterness, praising his colleagues and exhorting them to do everything they could to empower his successor, John Bolton — an unrepentant hawk who is expected to adopt a more Kissingerian approach to the position."
"McMaster will retire from the Army on June 1st. He will teach, give lectures, sit on corporate boards, and make money."
"And perhaps he will write another book — one that interrogates his own calibration of the balance between duty and honor in the service of a President who didn't want to be challenged."
https://www.axios.com/newsletters/axios-am-c5606afb-5730-45de-a9dc-cdb67376c5a2.html?chunk=5#story5
6. Reading between the lines ...
.... of Kim Jong-un's nuclear announcement, with Eurasia Group founder Ian Bremmer, whose new book, "Us vs. Them: The Failure of Globalism," is out tomorrow.
With his trademark (non)-punctuation, Bremmer writes Axios future editor Steve LeVine:
"kim wants to look solicitous right before the s korea and us summits. important for him that they go well — and it's implausible that he's actually going to denuclearize."
"saying he doesn't need more tests is essentially extending the suspension he already promised ... and even that is less than it seems (when n korea launches satellites in the future; they'll certainly say those aren't tests)."
The bottom line: "there's a good chance the trump meeting goes well. and trump announces 'success.' what exactly that means is another question entirely."
https://www.axios.com/newsletters/axios-am-c5606afb-5730-45de-a9dc-cdb67376c5a2.html?chunk=6#story6
7. Hillary Clinton's olive branch to the press
Acknowledging her own hard times with the media, Hillary Clinton last night defended press freedom abroad and at home, praising Pulitzer Prize winners and even saying nice things about The Washington Post.
Clinton quoted Voltaire: "I disapprove of what you say, but I will defend to the death your right to say it."
Delivering the Arthur Miller Freedom to Write lecture at the PEN America World Voices Festival in New York, Clinton said:
"[W]e have a president who seems to have rejected the role of a free press in our democracy. Although obsessed with his own press coverage, he evaluates it based not on whether it provides knowledge or understanding, but solely on whether the daily coverage helps him and hurts his opponents."
"We now know that Russian agents used Facebook, Twitter, Google, YouTube, even Pinterest (I still am trying to figure that one out) ... to place targeted attack ads and negative stories."
"So it can't only be journalists who stand up and speak out.  We can all do more. We can all subscribe to newspapers. ... We can support libraries and schools that teach media literacy to young people, and empower them to be thoughtful readers and consumers of news."
https://www.axios.com/newsletters/axios-am-c5606afb-5730-45de-a9dc-cdb67376c5a2.html?chunk=7#story7
8. Trump solution in search of a problem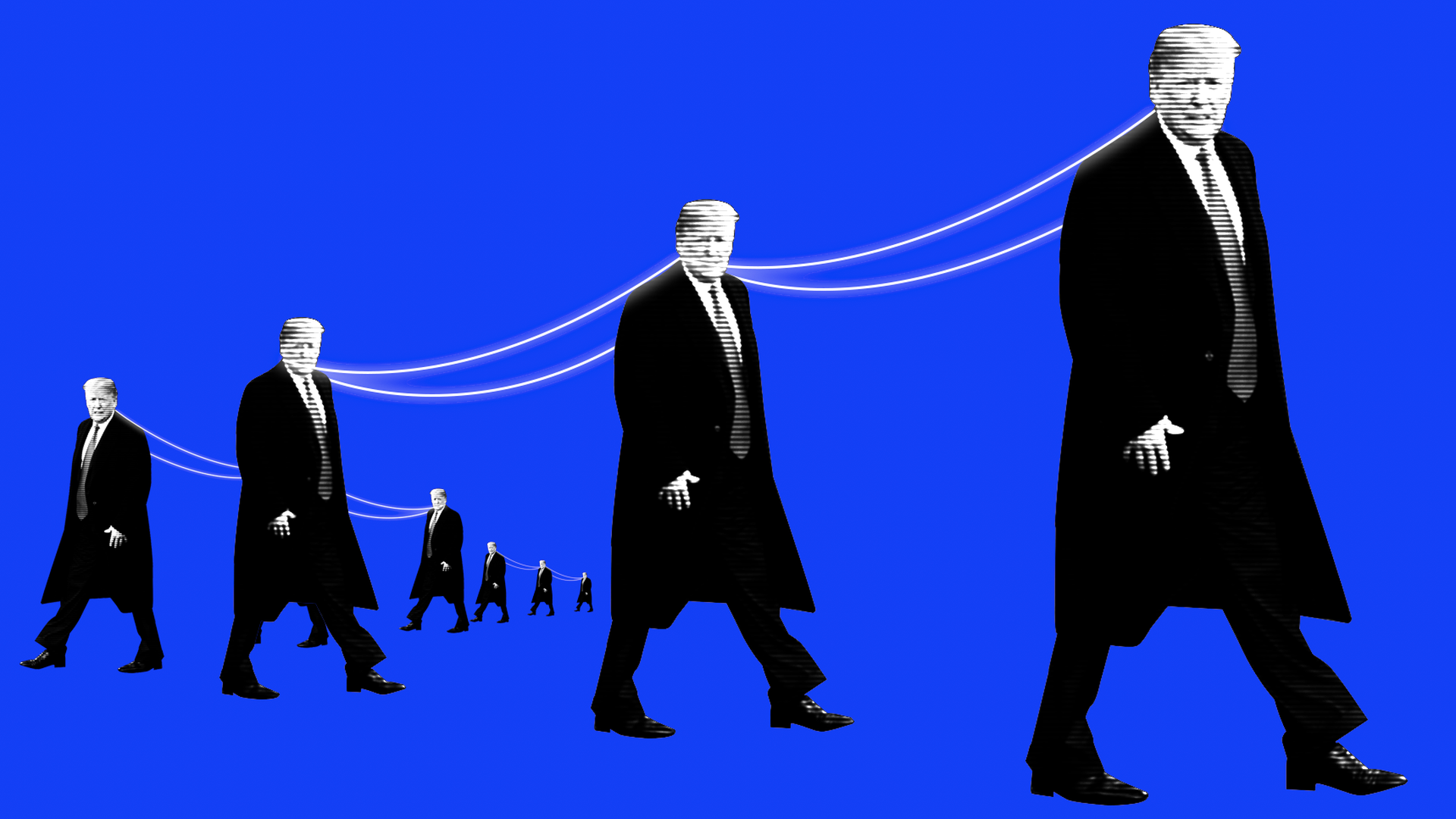 Conceptual scoop from Axios' Amy Harder in her weekly energy column, "Harder Line": President Trump is directing his administration to prop up financially struggling coal and nuclear power plants to ensure the electricity grid is resilient and reliable, but government data and most objective experts say there is no such problem.
Why it matters: Trump's laser focus on coal and nuclear power — and companies seizing on that — distracts the debate from more substantive issues.
Behind the curtain: Trump repeatedly asks his advisers how to revive the economically struggling coal and nuclear industries.
https://www.axios.com/newsletters/axios-am-c5606afb-5730-45de-a9dc-cdb67376c5a2.html?chunk=8#story8
9. China company plans one of biggest IPOs ever
"Tencent Music Entertainment Group, China's largest music-streaming company, is preparing what would be one of the biggest technology IPOs ever following the successful debut of its European counterpart, Spotify Technology SA," The Wall Street Journal's Maureen Farrell and Julie Steinberg report on A1 (subscription):
"The initial public offering, potentially coming in the second half of 2018, would be one of the largest deals of the year and is expected to raise billions."
"Tencent Music is expected to list in the U.S., but it is unlikely to make a final venue decision for several months."
Why it matters: "Tencent Music's move toward going public is the latest sign that the IPO market is gaining steam."
"Tencent Music's offering could value the business in excess of $25 billion ... Should investors give it that valuation in its IPO pricing, it would be the fourth-biggest U.S.-listed tech IPO on record."
https://www.axios.com/newsletters/axios-am-c5606afb-5730-45de-a9dc-cdb67376c5a2.html?chunk=9#story9
10. 1 muggle thing: "edge-of-the-seat participation"
Last night was Broadway opening night for "Harry Potter and the Cursed Child" (Parts 1 and 2) ... Hollywood Reporter rave by David Rooney:
The production achieves "the near impossible ... a persuasive case that this story we all know from novels and/or movies only now has found its nonpareil medium."
"The two plays have a combined running time of almost five-and-a-half suspenseful hours."
"[W]hen you get a load of the illusions pulled off right before your eyes — mostly with old-fashioned sleight-of-hand and crafty lighting; only occasionally with more elaborate techno-trickery — it's not hyperbole to call the show sheer magic."
"Some of the genuine awe factor of movies has been lost in the digital age; CGI now makes anything possible. But witnessing elevated stagecraft applied to a time-traveling fantasy story of this nature conjures a sense of wonder and excitement that evokes vintage Saturday-matinee serials."