Good Saturday morning from Cathie and Nels' bonus room in Oregon. Passover began at sundown. Tomorrow is Easter (and April Fool's Day). Men's Final Four games are tonight in San Antonio.
Situational awareness: In private, Trump has mused about Syria pullout for weeks; top advisers have been fretting about overly hasty withdrawal. (AP) ... "Some senior Trump administration officials are pressing for more aggressive action toward Russia, hoping to persuade a reluctant President Trump to change his approach." (N.Y. Times)
https://www.axios.com/newsletters/axios-am-c4e9141d-ac01-4754-8c75-3cb24fc82977.html?chunk=0#story0
1 big thing: Vivid revelations in police shootings ignite fury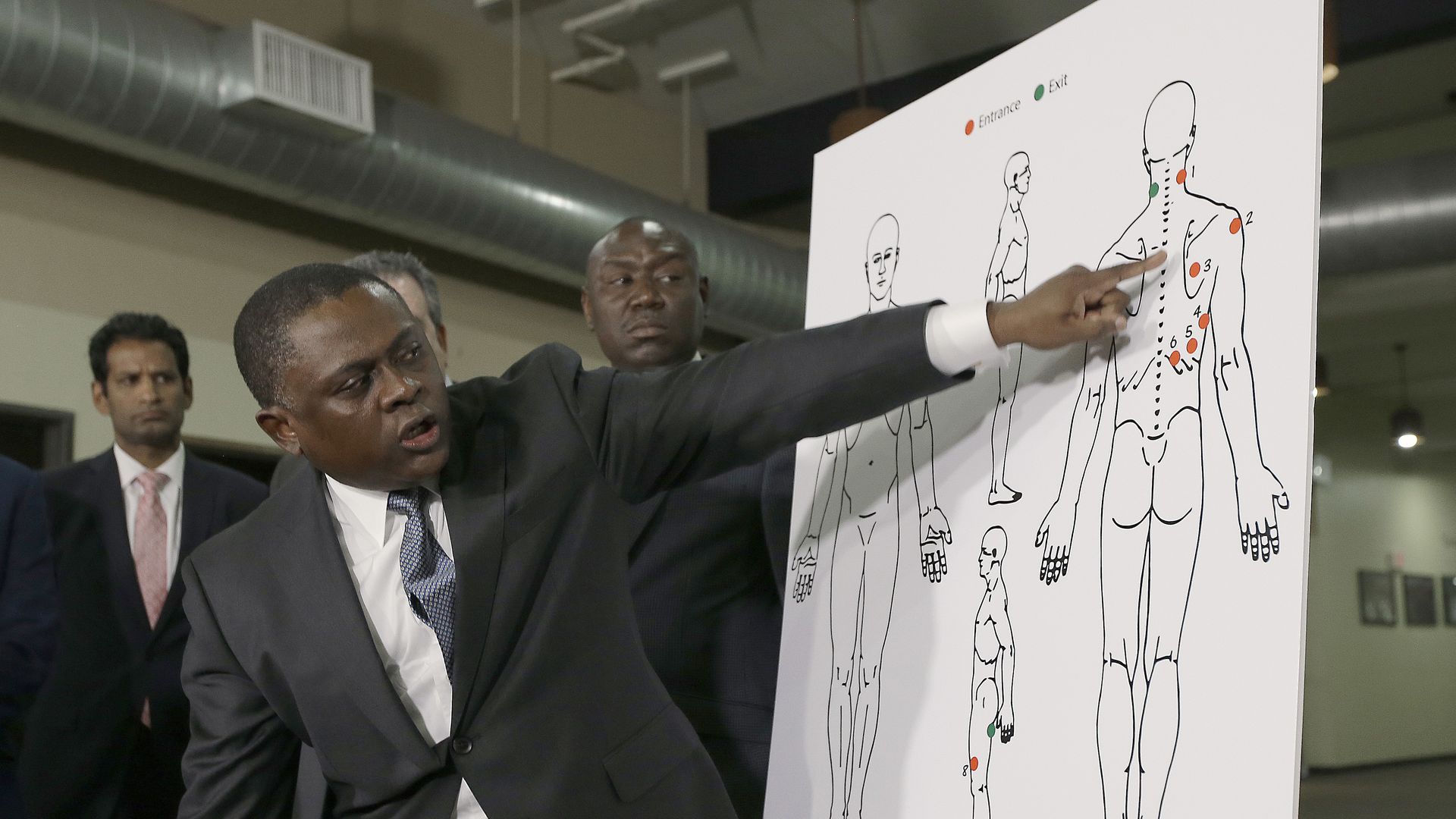 Vivid, egregious new facts about two police-shooting cases in capital cities are reigniting community fury in Sacramento, Calif., and Baton Rouge, La.
In each case, officer bodycam footage revealed details of the shootings that in past eras would have gone unknown.
In Sacramento, Stephon Clark, an unarmed black man in his grandmother's backyard, "was shot six times in the back and eight times total, ... according to a private autopsy released ... by his family's legal team." (Sacramento Bee)
"The shooting has prompted a series of protests, ... as activists that include members of Black Lives Matter Sacramento have shut down roadways and blocked people from entering Sacramento Kings [basketball] games." (San Francisco Chronicle)
In Baton Rouge, the officer who fatally shot Alton Sterling, who was selling homemade CDs two summers ago outside a convenience store, was fired after officer bodycam video showed the officer twice calling Sterling "Stupid motherf---er" as he lay motionless and bleeding. (New Orleans Times-Picayune)
Baton Rouge Police Chief Murphy Paul called the video "shocking to the conscience."
Louisiana Attorney General Jeff Landry had announced Tuesday that the officers would not face state criminal charges.
Why it matters: Joanna C. Schwartz, a vice dean at UCLA School of Law who has written scholarly papers about police misconduct, tells me:
"[T]hese killings have been going on for a long time, and there is ... a rise and fall in public attention to these tragedies. Approximately three people have been killed by police every day this year."
"There are 18,000 law enforcement agencies across the country, and there is virtually no regulation or oversight of police violence."
"Change has to happen department by department."
"Massive public attention is key. These issues were in the spotlight of several years, then have fallen by the wayside. This week may matter because bringing and sustaining public attention is a key ingredient for change."
In Sacramento, "Clark, 22, was killed March 18 after Sacramento police received reports of a car burglar," per the Bee:
"Two officers followed Clark into the backyard of his grandparents' home, where they ordered him to show his hands. One officer is heard saying 'gun' before the officers fired 20 shots at Clark, according to body camera video."
"Clark was later found to be carrying only a cellphone."
N.Y. Times video from helicopter and bodycam footage
In Baton Rouge, officer bodycam video showed this exchange between 37-year-old Alton Sterling and the officer, Blane Salamoni, per the Times-Picayune:
Sterling: "What I did, sir?"
Salamoni: "Don't f---ing move or I'll f---ing shoot your ass, b----. Put your f---ing hands on the car. ... Put your hands on the car, or I'm going to shoot you in the f---ing head, you understand me? Don't you f---ing move, I'm going to shoot you in your f---ing head, you hear me? (Screaming) Don't you f---ing move."
An officer shouts: "He's going for the gun."
"Three shots are fired, and an officer yells again for Sterling to get on the ground. Three more shots are fired, after which Salamoni shouts an expletive."
YouTube video (Warning: Graphic content)
https://www.axios.com/newsletters/axios-am-c4e9141d-ac01-4754-8c75-3cb24fc82977.html?chunk=1#story1
2. Big tech loses one-quarter trillion dollars
Breaking ... Trump escalates anti-Amazon tweeting this a.m.: "The Failing N.Y. Times reports that 'the size of the company's lobbying staff has ballooned,' and that ... .does not include the Fake Washington Post, which is used as a 'lobbyist' and should so REGISTER." Details, with our fact check.
Big Tech has lost $278 billion in stock-market value since the Facebook data-harvesting revelations two weekends ago, per the Financial Times (subscription):
Facebook: $75 billion ... Amazon: $61 billion ... Apple: $54 billion ... Alphabet, parent of Google: $62 billion ... Microsoft $26 billion.
"Investors have been nervous for months that the growing political backlash against Big Tech would lead to a new wave of regulations or taxes, though they did not have anything specific to attach their fears to. Now they do," the Financial Times reports:
"Rising political anger, a worry that the Big Tech boom will soon have run its course and the sense that an economic turning point may have been reached in the US have combined this week to threaten one of the underpinnings of the stock market boom."
But, but, but: "Big Tech's loyal army of fans among Wall Street analysts remained bullish. ... For Facebook, 44 of 48 analysts recommend buying the stock, according to Bloomberg data. Forty-eight of the 51 analysts covering Amazon rate it a buy."
Behind the curtain ... A tech company's chief Washington lobbyist says that in group discussions with tech execs, "everyone says, 'We have to stick together.' But then everyone goes out there and says, 'It's Facebook's problem, not ours.'"
https://www.axios.com/newsletters/axios-am-c4e9141d-ac01-4754-8c75-3cb24fc82977.html?chunk=2#story2
3. Trump gives carmakers more than they wanted
N.Y. Times Quote of the Day ... Robert Bienenfeld, an assistant vice president at American Honda Motor, on an EPA proposal expected to loosen emission and fuel economy regulations well beyond what the automakers had sought:
"We didn't ask for that. The position we outlined was sensible."
https://www.axios.com/newsletters/axios-am-c4e9141d-ac01-4754-8c75-3cb24fc82977.html?chunk=3#story3
Bonus: Tweet du jour
https://www.axios.com/newsletters/axios-am-c4e9141d-ac01-4754-8c75-3cb24fc82977.html?chunk=4#story4
4. Palestinian territory's worst flare-up in years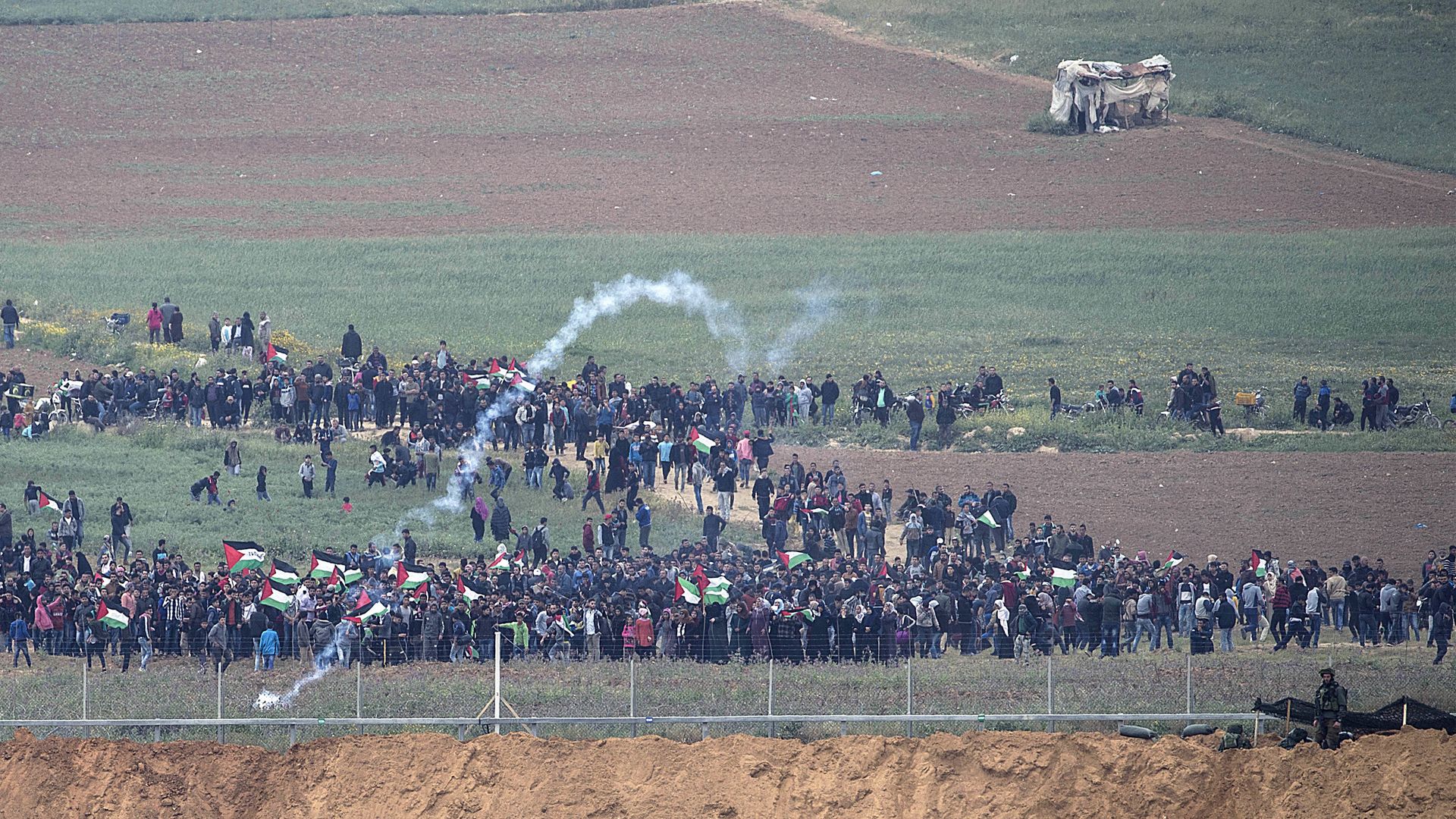 "At least 16 Palestinians were killed and hundreds injured on Friday by Israeli security forces confronting one of the largest Palestinian demonstrations along the Israel-Gaza border in recent years, Gaza medical officials said," per Reuters:
"Tens of thousands of Palestinians, pressing for a right of return for refugees to what is now Israel, gathered along the fenced ... 40-mile ... frontier where tents were erected for a planned six-week protest."
"[H]undreds of Palestinian youths ignored calls from the organizers and the Israeli military to stay away from the frontier, where Israeli soldiers across the border kept watch from dirt mound embankments."
"One of the dead was aged 16 and at least 400 people were wounded by live gunfire."
Why it matters, from N.Y. Times: "With the [Palestinian] territory's economy collapsing, fears of an explosive backlash have mounted."
https://www.axios.com/newsletters/axios-am-c4e9141d-ac01-4754-8c75-3cb24fc82977.html?chunk=5#story5
5. Stat du jour: LeBron beats Jordan in double-digit games
More than Michael ... The Cleveland Cavaliers' LeBron James broke Michael Jordan's NBA record by scoring at least 10 points in his 867th straight regular-season game, AP's Tom Withers writes from Cleveland:
"James entered [last night's] game against New Orleans sharing the mark with Jordan, one of his boyhood heroes."
"But with one of his patented two-handed dunks midway through the first quarter, James moved ahead of Jordan, whose streak stretched from 1986 to 2001."
"After breaking Jordan's mark, James was handed the ball and he received a standing ovation from the sellout Quicken Loans Arena crowd."
"At 33, he's playing as well as ever and next month he'll head into the playoffs attempting to reach his eighth straight NBA Finals."
The takeaway: Stay healthy, be consistent.
https://www.axios.com/newsletters/axios-am-c4e9141d-ac01-4754-8c75-3cb24fc82977.html?chunk=6#story6
6. 1 Passover thing
"Goodbye Gefilte Fish! Hello Pizza! Passover Rebels Break With Tradition ... Tired of Seder staples, some cooks skip brisket for unorthodox dishes made from holiday-friendly ingredients. Passing over that 'soggy ball of matzo'" — Wall Street Journal A-hed by Sarah Needleman (subscription):
"There are some 55,000 kosher-for-Passover items on store shelves in the U.S. this year, up from 39,000 five years ago."
"The first two nights of Passover center around a hearty Seder feast with signature dishes of varying shades of brown that hew to the culinary restrictions. In the U.S., many hosts spend weeks preparing brisket, matzo ball soup and gefilte fish with horseradish — all kosher, meaning the contents were made in accordance with Jewish law and the holiday's specific rules."
"In recent years, though, Seder chefs have started an exodus from tradition. Thanks to supermarkets' growing array of Passover-friendly offerings, cooks are filling the dinner table with nontraditional foods such as lasagna 'noodles,' gnocchi and salad croutons, all modified with holiday-friendly ingredients such as potato starch and matzo meal."
"Some observers think it takes a lot of chutzpah to incorporate everyday eats into the regular Seder dinner."