https://www.axios.com/newsletters/axios-am-c3d7c186-ec4c-45fb-ad81-2ba79c72458c.html?chunk=0#story0
1 big thing: Counterprogramming "The Trump Show"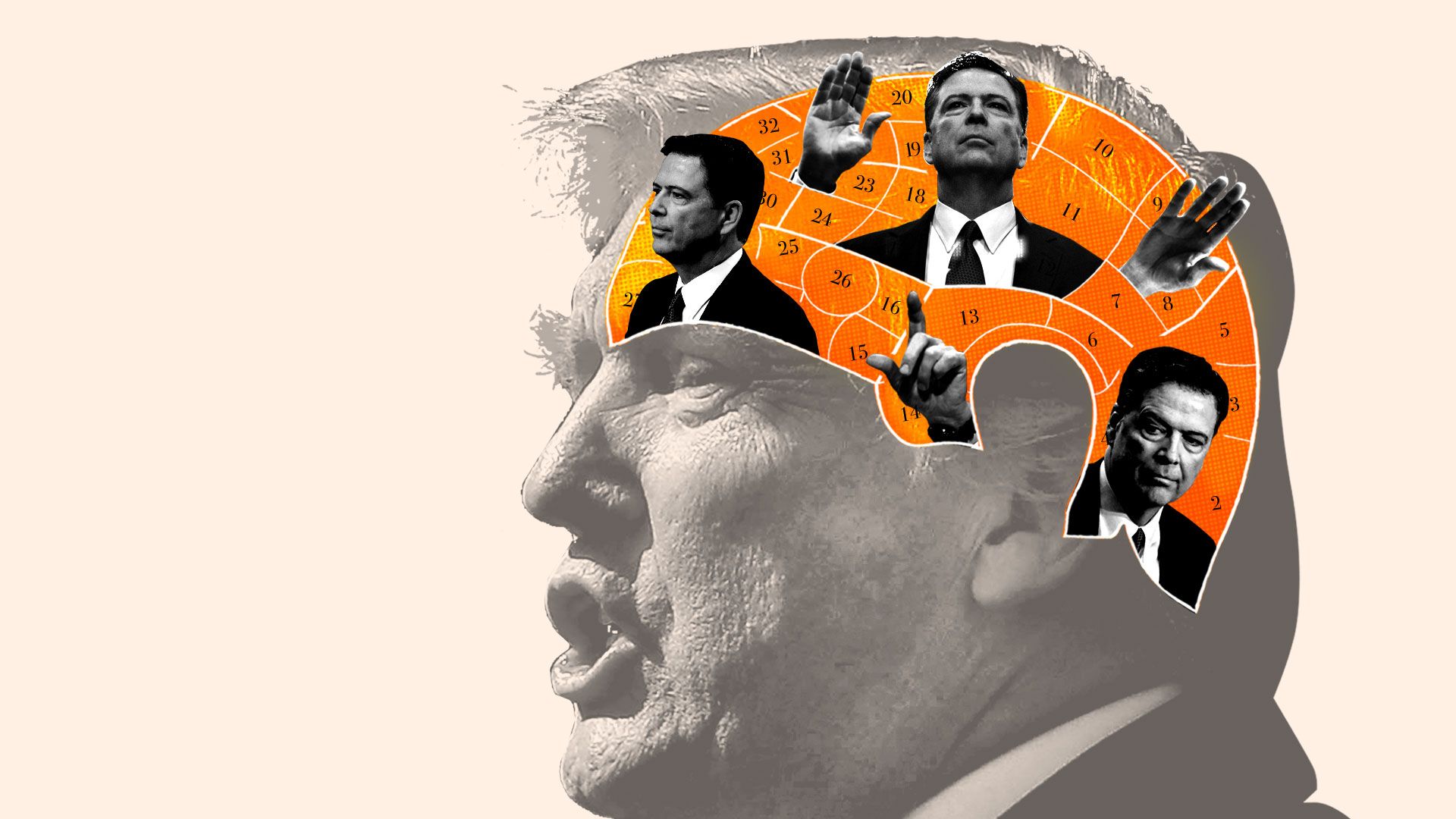 In his hour-long, prime-time interview with ABC's George Stephanopoulos, fired FBI Director James Comey called President Trump a "person who sees moral equivalence in Charlottesville, who talks about and treats women like they're pieces of meat, who lies constantly."
Comey used almost identical wording in an interview in today's USA Today, calling Trump "someone who is able to see moral equivalence in Charlottesville or to speak and treat women like they're pieces of meat and to lie constantly."
"The Trump Show," which has produced two seasons' worth of epic cliffhangers and plot twists, is getting a competitor: "The Comey Show," which is scheduled to run for at least five weeks, and will needle and gall President Trump amid global, legal and political crises.
In arguing to both outlets that Trump is "morally unfit to be president," Comey made it clear that, like a skilled political candidate, he'll be repeating a specific message with fervor and discipline on a coast-to-coast book tour that includes a saturation schedule of interviews and audience events.
Adding to the campaign feel, Comey told ABC that Americans need to vote Trump out: "I think impeaching and removing Donald Trump from office would let the American people off the hook ... People in this country need to stand up and go to the voting booth and vote their values."
On Trump's fitness for office: "I don't buy this stuff about him being mentally incompetent or early stages of dementia. He strikes me as a person of above average intelligence who's tracking conversations and knows what's going on."
Trump tweeted five times about Comey yesterday, before the broadcast: "Slimeball! ... I hardly even knew this guy. ... (he is not smart!), will go down as the WORST FBI Director in history, by far!"
Be smart ... In texts, emails and calls, here's what we're hearing about "The Comey Show":
A veteran of Bush 43's White House: "Comey is far more morally credible than the others who've tried and failed to ... have impact."
One of D.C.'s top GOP operatives: "Comey matters a lot for 2 reasons: 1) right now is the last best chance to get a legislative agenda moving in a GOP-controlled Congress, and instead Trump & RNC is 100% focused on fighting a former aide who is irrelevant; and 2) Trump & the RNC focusing 100% on Comey will help Comey's publisher sell a million+ books (just like they helped [Michael Wolff's] Fire/Fury). That really matters because it raises the price that publishers will pay for other Trump tell-alls."
A White House official: "[H]is comments show an implicit political bias during a time when he's one of the most important figures in the Mueller and Congressional investigations. How can anyone take him seriously as a non-partisan figure from here on out?"
But keep your eye on the ball — the twin investigations in Washington and New York that are delving into Trump and his businesses:
Matt Miller, former Obama Justice Department official and MSNBC contributor, notes that special counsel Robert Mueller "doesn't have anything like Comey's flair for the dramatic ... And he will make his decisions just on the facts. ... [W]hat Comey laid out in his testimony to the [Senate] Intelligence Committee will be more important for Mueller's decision-making than what is in his book and what he says in his interviews."
And Jonathan Swan reminds us: "The main game for Trump — and the reason his agitation levels went through the roof the last two weeks — is what happened to Michael Cohen. Trump allies are exponentially more worried about the [New York feds'] probe and the prospect of investigators poring over Trump's business dealings than they are anything Comey is saying."
Go deeper ... What Comey said.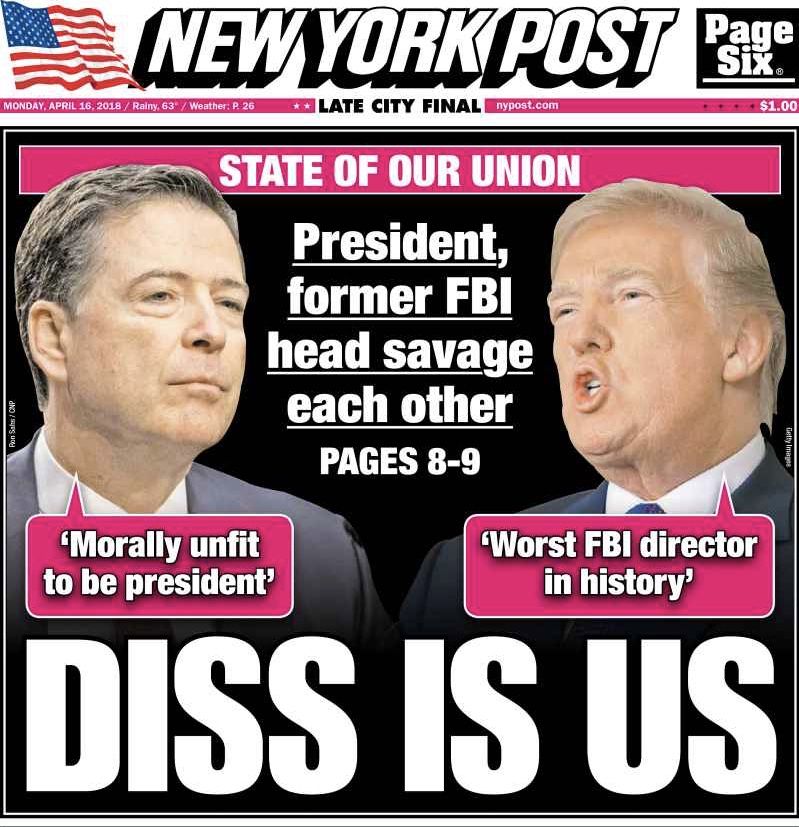 Courtesy N.Y. Post
https://www.axios.com/newsletters/axios-am-c3d7c186-ec4c-45fb-ad81-2ba79c72458c.html?chunk=1#story1
2. Facebook's next big headache: Europe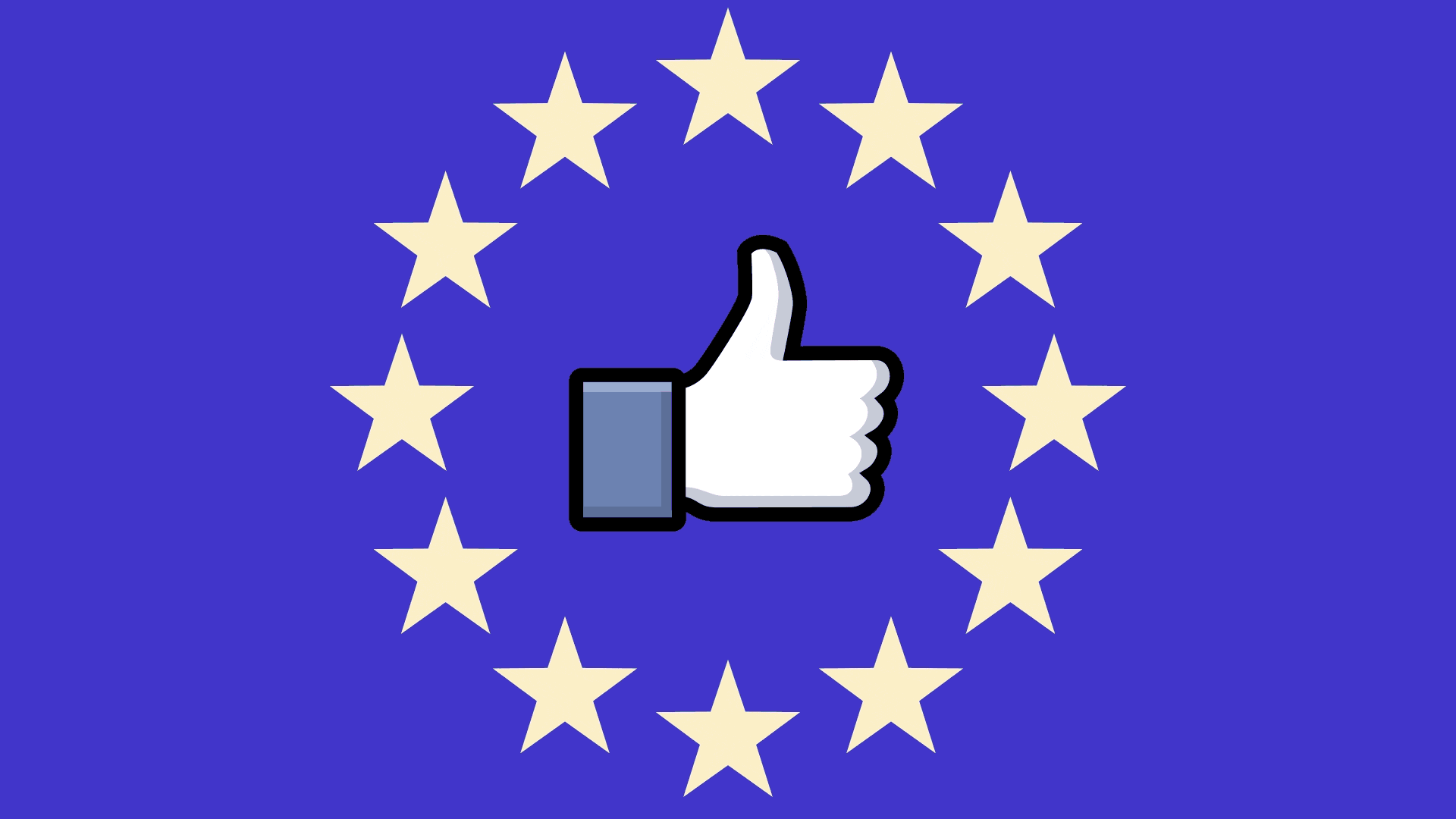 Now that Facebook survived its congressional onslaught, it's focusing its attention towards a much more powerful threat: the EU, Axios' Sara Fischer and David McCabe report:
Why it matters: The risk to Facebook's business coming out of last week's Mark Zuckerberg hearings is minimal. The threat to its business in the EU, where aggressive regulation has already passed, is massive.
European Parliament member Guy Verhofstadt tweeted: "Facebook has more active users in Europe than in the US. We expect Mark Zuckerberg to come to the European Parliament."
Go deeper on the threats, including privacy, antitrust and taxation.
https://www.axios.com/newsletters/axios-am-c3d7c186-ec4c-45fb-ad81-2ba79c72458c.html?chunk=2#story2
3. "Never Trump" still matters to President Trump
It took five hours. After Jonathan Swan's "Sneak Peek" newsletter reported last evening that President Trump was furious about Vice President Pence hiring a former Never Trumper, the aide quit before he'd even started.
Some White House officials were taken by surprise when the WashPost's Josh Rogin reported Thursday: "After months of searching, Vice President Pence has chosen a new national security adviser. Jon Lerner, deputy to U.S. Ambassador to the United Nations Nikki Haley ... Lerner will also keep his job working for Haley, dividing his time between the two principals."
Swan then reported: "The President believed Lerner was a card-carrying member of the 'Never Trump' movement because Lerner crafted brutal attack ads for Club for Growth's multimillion-dollar anti-Trump blitz during the Republican primaries."
Trump told White House chief of staff John Kelly to get rid of Lerner. Pence, who was filling in for Trump at the Summit of the Americas in Peru, called the president in the Oval Office and talked him around.
But Trump remained hopping mad about it. The issue probably wasn't going away, and the White House concluded it wasn't worth the continued heartburn and negative attention.
While Comey was on the air last night, the vice president's office issued a statement: "Tonight Jon informed the Vice President that he was withdrawing from coming on board as national security advisor."
https://www.axios.com/newsletters/axios-am-c3d7c186-ec4c-45fb-ad81-2ba79c72458c.html?chunk=3#story3
4. "There were curse words ... a lot of curse words"
"In battle over Russia policy, Trump's aides are winning" ... The WashPost reports on "a tension at the core of the Trump administration's increasingly hard-nosed stance on Russia":
Trump, a "reluctant hawk," "instinctually opposes many of the punitive measures pushed by his Cabinet that have crippled his ability to forge a close relationship with Russian President Vladi­mir Putin."
The reporters — Greg Jaffe, John Hudson and Phil Rucker — uncork this illustration:
"Trump seemed distracted in March as his aides briefed him ... on the administration's plan to expel 60 Russian diplomats and suspected spies. ... The United States, they explained, would be ousting roughly the same number of Russians as its European allies."
Trump instructed: "We'll match their numbers ... We're not taking the lead. We're matching."
"The next day, ... Trump erupted ... France and Germany were each expelling only four Russian officials."
"His briefers tried to reassure him that the sum total of European expulsions was roughly the same as the U.S. ... 'I don't care about the total!' [an] administration official recalled Trump screaming."
"Growing angrier, Trump insisted that his aides had misled him."
https://www.axios.com/newsletters/axios-am-c3d7c186-ec4c-45fb-ad81-2ba79c72458c.html?chunk=4#story4
5. N.Y. Times runs full-page editorial
With somber, black-and-white illustrations, The N.Y. Times is speaking to (and for) history with a full-page editorial, "The President Is Not Above the Law":
"

News reports

point to a growing possibility that President Trump may act to cripple or shut down an investigation by the nation's top law-enforcement agencies into his campaign and administration."
"Lawmakers need to be preparing now for that possibility because if and when it comes to pass, they will suddenly find themselves on the edge of an abyss, with the Constitution in their hands."
"Make no mistake: If Mr. Trump takes such drastic action, he will be striking at the foundation of the American government, attempting to set a precedent that a president, alone among American citizens, is above the law. What can seem now like a political sideshow will instantly become a constitutional crisis, and history will come calling."
"Of course, this president has been known to huff and puff, to bluff and bluster, and he may be doing no more than that now."
https://www.axios.com/newsletters/axios-am-c3d7c186-ec4c-45fb-ad81-2ba79c72458c.html?chunk=5#story5
6. Barbara Bush begins to say good-bye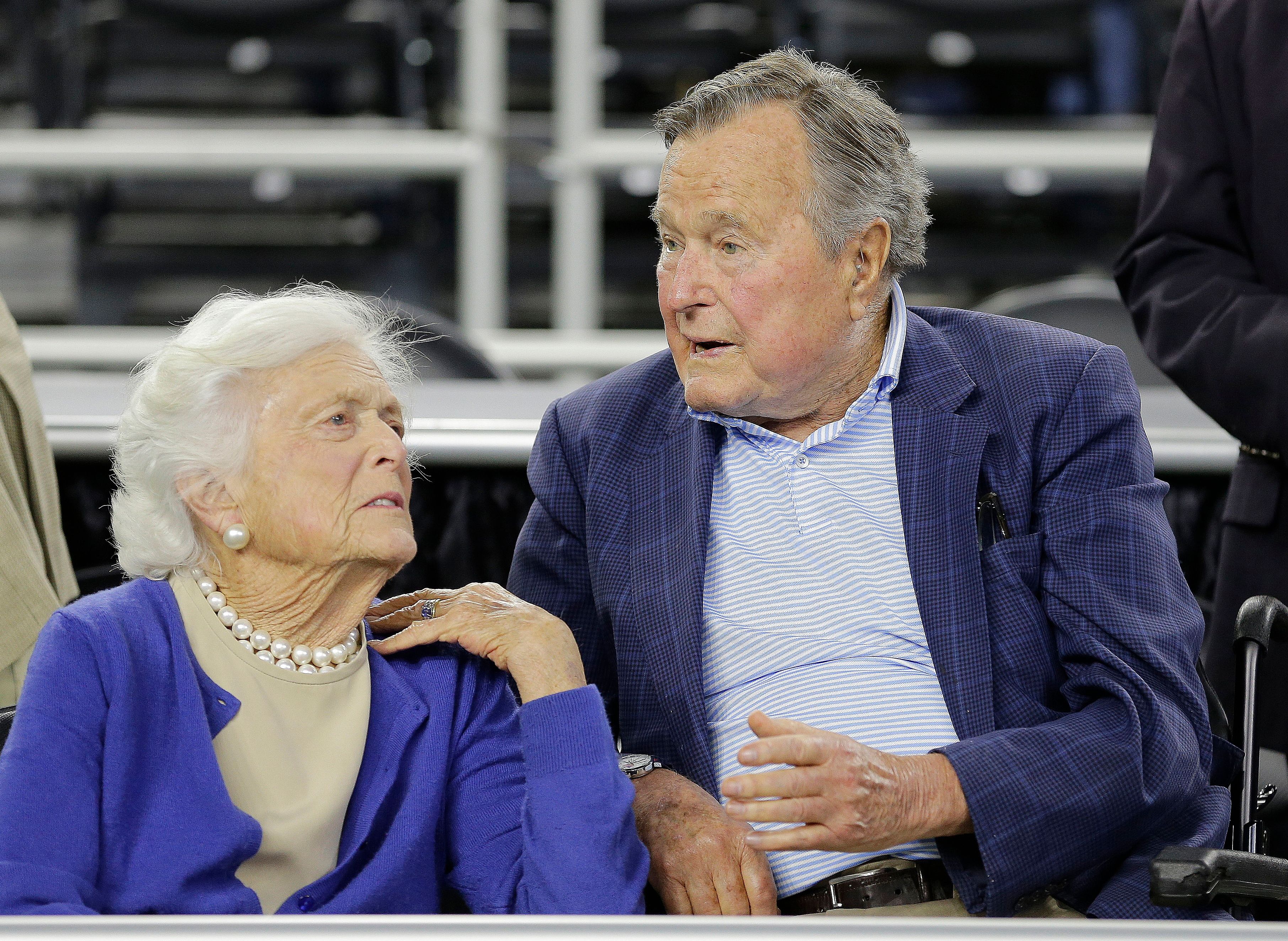 The Bushes at a college basketball game in Houston in 2015 (AP's David J. Phillip)
Statement by the Office of George H.W. Bush:
"HOUSTON — Following a recent series of hospitalizations, and after consulting her family and doctors, Mrs. Bush, now age 92, has decided not to seek additional medical treatment and will instead focus on comfort care."
"It will not surprise those who know her that Barbara Bush has been a rock in the face of her failing health, worrying not for herself — thanks to her abiding faith — but for others."
"She is surrounded by a family she adores, and appreciates the many kind messages and especially the prayers she is receiving."
https://www.axios.com/newsletters/axios-am-c3d7c186-ec4c-45fb-ad81-2ba79c72458c.html?chunk=6#story6
7. Silicon Valley forecast: IPO wave
"Investors, bankers and analysts [expect] a wave of initial public offerings to bring some of the most highly valued and recognizable start-ups to the public market over the next 18 to 24 months," the N.Y Times' Jack Nicas reports from S.F.:
Why it matters: That means "billions of dollars in returns to their executives and investors."
"The potential bonanza would follow years of waiting as a few dozen companies amassed valuations without precedent in the private market."
"[I]nvestors, who back tiny start-ups with the hope that they will someday go public or be sold for nine- or 10-figure sums, have enjoyed enormous paper gains in recent years. But few have cashed in, because their fast-rising companies, like Uber and Airbnb, have remained private."
https://www.axios.com/newsletters/axios-am-c3d7c186-ec4c-45fb-ad81-2ba79c72458c.html?chunk=7#story7
8. Why Trump should redo Obama's fuel standards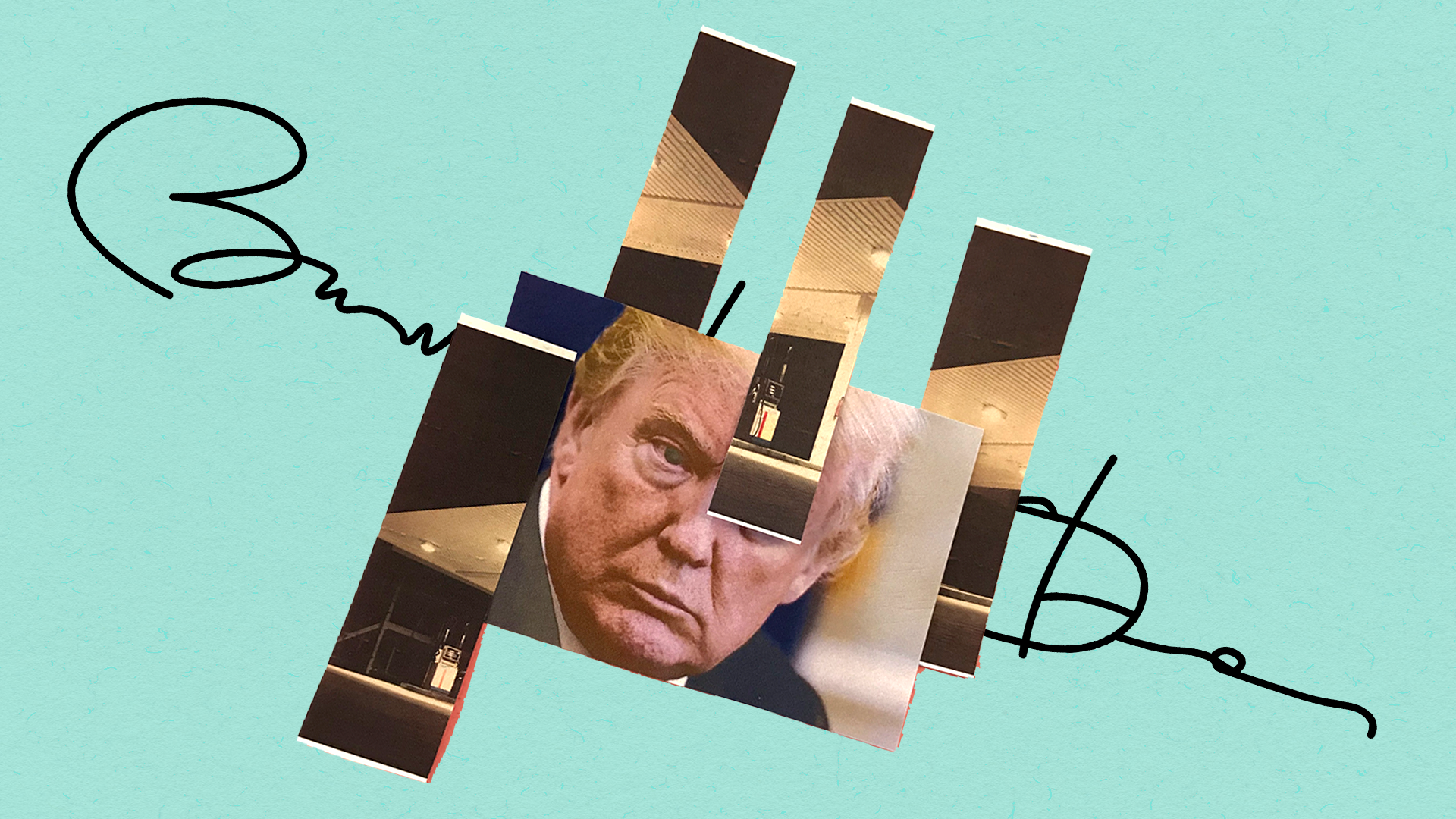 Illustration: Rebecca Zisser/Axios
Of all the environmental regulations President Trump is rolling back, the ones that make the most sense to rewrite — but not repeal — are the fuel-efficiency standards former President Obama issued in 2012, Axios' Amy Harder writes in her weekly "Harder Line" energy column:
Automakers are asking for more flexibility, but not to wholly repeal the standard.
The catch: It's not clear that the Trump administration is actually willing to find a middle ground.
What's next: We don't yet know whether Trump will use a scalpel or an ax, though precedent suggests it'll be the latter.
A senior EPA official told me the agency, along with the Transportation Department, will issue multiple options in coming months, from a near full-scale repeal to a minor rollback.

https://www.axios.com/newsletters/axios-am-c3d7c186-ec4c-45fb-ad81-2ba79c72458c.html?chunk=8#story8
9. Jailed Chinese pastor's U.S. family seeks mercy
"The American family [Charlotte, N.C.] of a prominent Chinese Christian pastor is asking for leniency after he was sentenced to prison for missionary work as the atheist ruling Communist Party exerts greater control of believers," AP's Yanan Wang reports from Beijing:
For years, the Rev. John Sanqiang Cao "would cross the river on a narrow bamboo raft from a tree-shrouded bank in southern China into neighboring Myanmar, carrying ... notebooks, pencils and Bibles."
On March 5, 2017, "Cao and a teacher were on a raft returning ... when they saw Chinese security agents waiting for them on the shore."
The 58-year-old Christian leader "quickly threw his cellphone into the water, protecting the identities of more than 50 Chinese teachers he had recruited."
"But Cao himself could not escape. He was sentenced last month to seven years in prison for 'organizing others to illegally cross the border' — a crime more commonly applied to human traffickers."
"His American sons ... have not been allowed contact with him."
Why it matters: "Analysts say the government increasingly views Christianity's rise in China as a threat to its rule, and may be using prominent figures such as Cao as an example to intimidate nascent movements."
https://www.axios.com/newsletters/axios-am-c3d7c186-ec4c-45fb-ad81-2ba79c72458c.html?chunk=9#story9
10. 1 plane thing: Outwitting airline fees
Frugal fliers are wearing up to five layers of clothes to reduce baggage and avoid airline fees, the Wall Street Journal's Rob Copeland writes:
"Hide snacks wherever they will fit, including under a wristwatch. ... Each layer of clothing provides a spot to stow an umbrella, food or flip flops."
Jason Francisco ... figured out that on airlines that charge for cold water, flight attendants often pour hot water from the onboard tea kettle at no cost. To help feed his family of six, Mr. Francisco ... brings aboard budget flights several packets of instant miso soup, bowls of dry ramen noodles and reusable dinnerware ... 'Even the flight attendant gave me a high-five.'"
"Before boarding a flight last year ... Mark Gustafson, 32, stopped by See's Candies at the airport for a $25 box of chocolates. Then he made a beeline for the head flight attendant in economy ... After takeoff, the flight attendant slipped Mr. Gustafson a free steak dinner from first class. She returned several times for what amounted to all-you-can-drink red wine service."