Good Saturday morning ...
https://www.axios.com/newsletters/axios-am-c2aeb1ab-1f41-4082-9a6f-dafc5d66ff65.html?chunk=0#story0
1 big thing: Booming beginning to '18
Optimism, markets, jobs rise .... A sentence to savor in a Washington Post front-pager on what full employment looks like: "A decade after the worst economic downturn since the Great Depression, the United States suddenly finds itself at a place where almost everyone who wants a job can find one."
Why it matters: "The unemployment rate in December was 4.1 percent, leaving employers struggling to attract and retain good workers and raising the prospect of higher wages as the United States approaches congressional elections in November."
Key quote, from Art Mazor, a principal at Deloitte Consulting: "Employees today have lots of options in all corners of industry, whether you're in fast food or retail or investment banking."
It depends where you live, and what your skills are. But a huge slice of America is enjoying the combination of bullish expectations based on the tax cut, and a stock market that keep pushing further into record territory:
This is big: I hadn't seen this before ... The tax cut may lower utility rates:
"Public utility regulators from Oklahoma to Massachusetts are considering lowering the rates that homeowners and businesses pay for electricity and natural gas after a federal tax overhaul signed by President Donald Trump reduced the corporate income tax rate by 14 percent," per AP.
Other bullish headlines this morning:
But, but, but: "Wells to close 900 branches despite $3.4bn tax boost." (Financial Times)
Be smart: Vast swaths of America aren't enjoying this bounty. (Some Sam's Club employees showed up for work this week and found their stores locked — among the 63 locations, or 10% of stores, that owner Walmart is closing.) That will keep incubating the discontent that burst out of Trump Country in November 2016.
P.S. Warning sign to D.C. economy in this week's announcement that Discovery Communications will move its HQ from Silver Spring, Md., to New York, per the lead story of tomorrow's WashPost Business section:
"The headquarters move ... cripples hopes that the Washington region can develop as a national hub for broadcast and digital entertainment media."
Maryland's "failed effort to retain several hundred back-office jobs ... highlighted the challenges posed by the area's high prices."
"[T]he state lost out to New York for the high-end, creative jobs ... and to Tennessee for the low-end positions."
https://www.axios.com/newsletters/axios-am-c2aeb1ab-1f41-4082-9a6f-dafc5d66ff65.html?chunk=1#story1
2. State of our union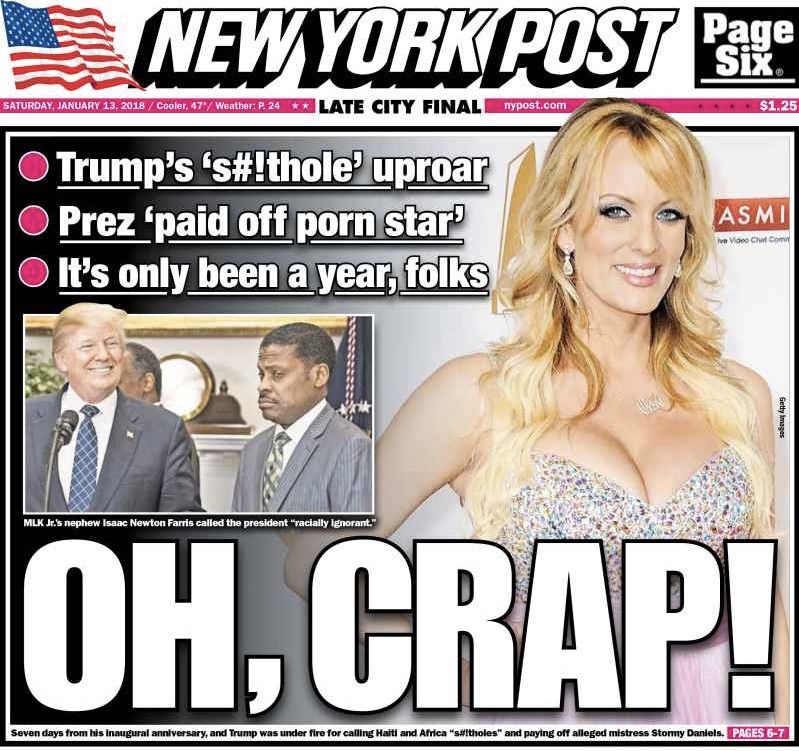 Courtesy N.Y. Post
Four of the top six headlines on the N.Y. Times mobile site this morning: 
Shot: The five-column (out of six) lead of the print WashPost: "Global outrage over Trump comments persists."
Chaser ... Financial Times front page: "Trump unapologetic in face of storm over alleges 'vile and racist' comments." (Subscription)
https://www.axios.com/newsletters/axios-am-c2aeb1ab-1f41-4082-9a6f-dafc5d66ff65.html?chunk=2#story2
3. Facebook's News Feed reset
Digesting Facebook's move to emphasize meaningful connections over time spent ("less public content like posts from businesses, brands, and media"):
Axios CEO Jim VandeHei, quoted by Wall Street Journal's Ben Mullin: "People should chill out: Facebook is a public company that controls its own decisions and destiny ... Publishers should do the same damn thing." (Subscription)
N.Y. Times "State of the Art" columnist Farhad Manjoo: If Mark Zuckerberg "really does want to make the time we spend on Facebook count as 'time well spent,' I suspect Facebook will have to change much more radically than it is now letting on."

"It can't just become a slightly healthier cookie company; it may have to get out of the sugar business altogether. And what, then, happens to all those billions in future profits?"

Recode's Peter Kafka: "Wall Street thinks this is not good news: Facebook ... closed down 4.5 percent to $179.37," in part because Zuckerberg was candid that the change could mean less time spent (and thus ads consumed) in the short term.

"Context: If you bought Facebook shares a week ago, that drop looks pretty scary. ... If you bought them a year ago? No problem. You're still up more than 40 percent."
https://www.axios.com/newsletters/axios-am-c2aeb1ab-1f41-4082-9a6f-dafc5d66ff65.html?chunk=3#story3
4. Pic du jour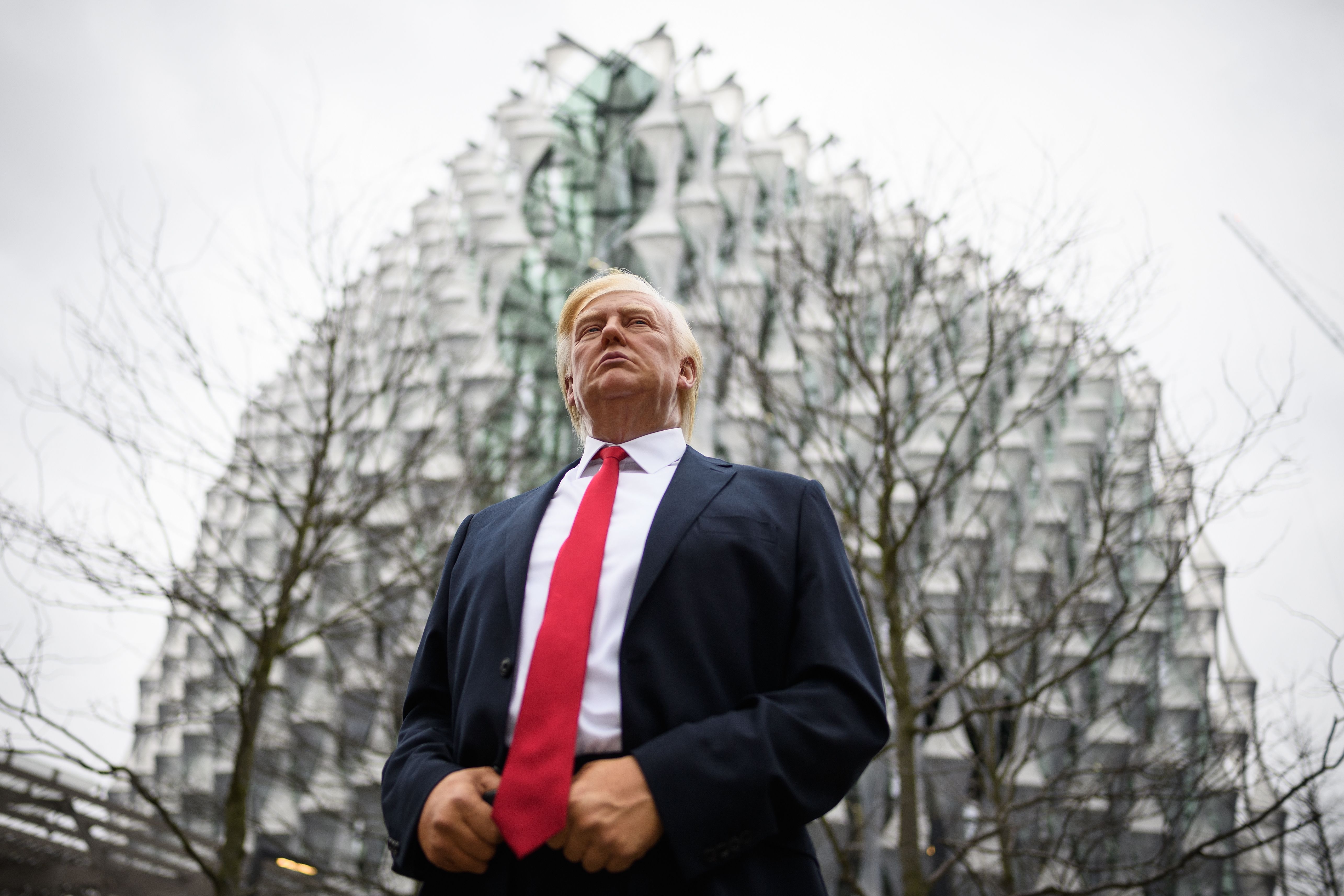 Leon Neal/Getty Images
Madame Tussauds put a wax figure of President Trump outside the new U.S. Embassy in Nine Elms in London yesterday, after he said he wouldn't cut the ribbon because he doesn't like the location of the billion-dollar building.
WashPost, top of column 1: "Londoners gleeful as Trump calls off Feb. visit: He cites 'bad' embassy deal; others suspect fear of protests."
https://www.axios.com/newsletters/axios-am-c2aeb1ab-1f41-4082-9a6f-dafc5d66ff65.html?chunk=4#story4
5. Trump "excellent health"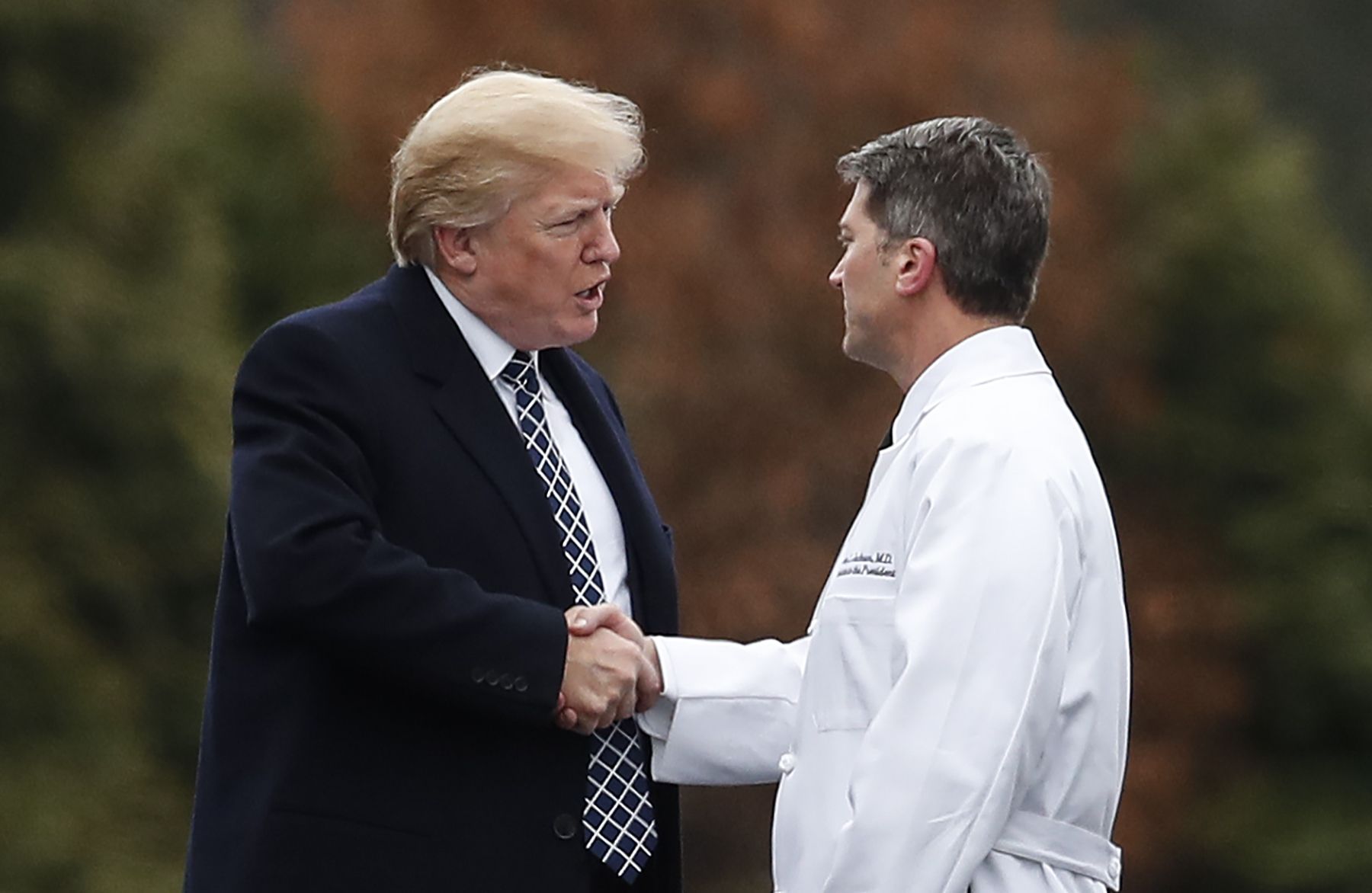 Trump shakes hands with White House physician Dr. Ronny Jackson as he leaves Walter Reed National Military Medical Center in Bethesda, Md. (AP's Carolyn Kaster)
Statement by Dr. Ronny Jackson, White House physician:
"The President's physical exam today at Walter Reed National Military Medical Center went exceptionally well. The President is in excellent health and I look forward to briefing some of the details on Tuesday."
https://www.axios.com/newsletters/axios-am-c2aeb1ab-1f41-4082-9a6f-dafc5d66ff65.html?chunk=5#story5
6. Ultimatum on Iran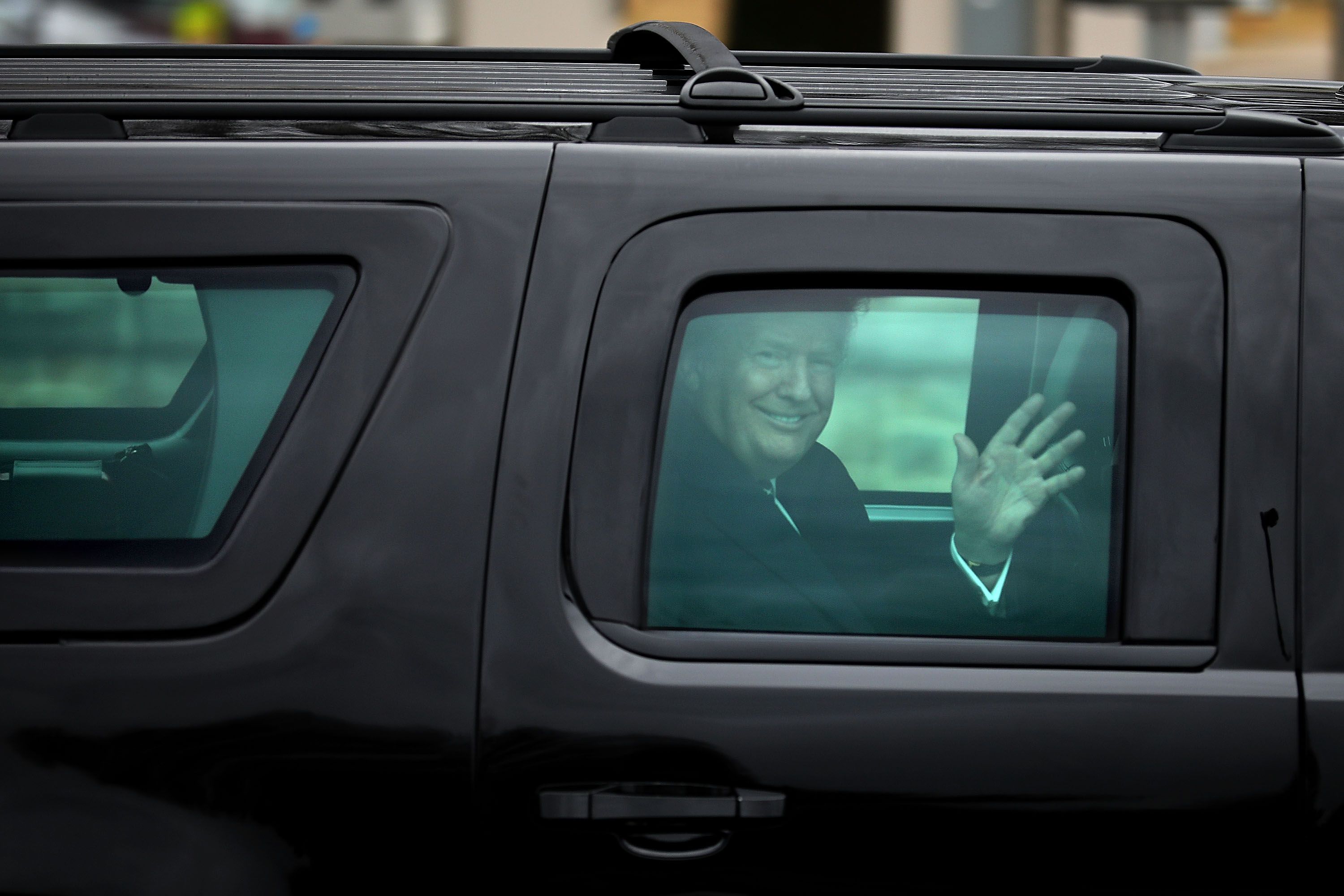 Trump waves to journalists as he leaves Walter Reed. (Chip Somodevilla/Getty Images)
"Iran said [today] it would retaliate against new sanctions imposed by the United States after President Donald Trump set an ultimatum to fix 'disastrous flaws' in a deal curbing Tehran's nuclear program," per Reuters.
What happened: "Russia — one of the parties to the Iran pact alongside the United States, China, France, Britain, Germany and the European Union — called Trump's comments 'extremely negative.'"
Why it matters: "The ultimatum puts pressure on Europeans, key backers of the 2015 nuclear deal, to satisfy Trump, who wants the pact strengthened with a separate agreement within 120 days."
https://www.axios.com/newsletters/axios-am-c2aeb1ab-1f41-4082-9a6f-dafc5d66ff65.html?chunk=6#story6
7. Stat du jour
Nearly $300,000 in taxpayer funds has been spent to settle 13 claims against members of Congress or their offices since 2003 that include sexual harassment or sex discrimination, according to statistics released by a House Committee on Administration. No names were provided. (AP)
https://www.axios.com/newsletters/axios-am-c2aeb1ab-1f41-4082-9a6f-dafc5d66ff65.html?chunk=7#story7
8. Katie Couric: "not the Matt we knew"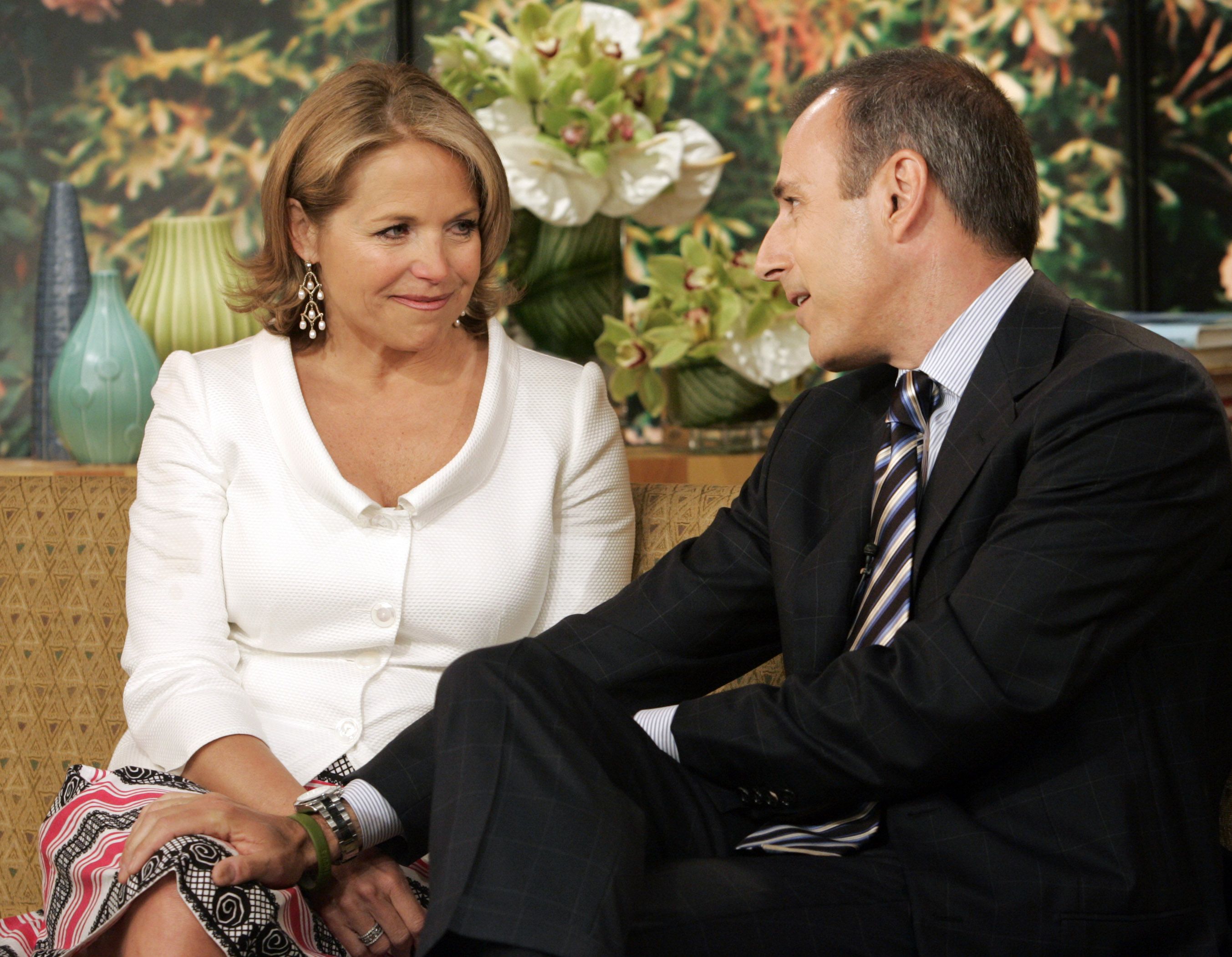 Matt Lauer says farewell to Katie Couric in 2006 as she leaves as "Today" co-host to anchor "CBS Evening News." (AP's Richard Drew)
Katie Couric, 61, in a PEOPLE exclusive, is breaks her silence about the firing of Matt Lauer, her co-host on "Today" for 15 years:
"The whole thing has been very painful for me ... The accounts I've read and heard have been disturbing, distressing and disorienting and it's completely unacceptable that any woman at the Today show experienced this kind of treatment."
"I had no idea this was going on during my tenure or after I left ... I think I speak for many of my former colleagues when I say this was not the Matt we knew. Matt was a kind and generous colleague who treated me with respect."
"In fact, a joke I once made on late-night television was just that [when she said on Watch What Happens Live with Andy Cohen in 2012 that Lauer 'pinches me on the ass a lot'], because it was completely contrary to our brother-sister relationship."
"It's still very upsetting. I really admire the way Savannah [Guthrie] and Hoda [Kotb] and the entire Today show staff have handled a very difficult situation."
What's next: Couric said that one of the episodes of her upcoming six-part documentary Nat Geo series — Gender Revolution: A Journey with Katie Couric— will focus on harassment women have experienced in their workplaces, "in Hollywood, Silicon Valley and beyond."
https://www.axios.com/newsletters/axios-am-c2aeb1ab-1f41-4082-9a6f-dafc5d66ff65.html?chunk=8#story8
9. How the Olympics became a political pawn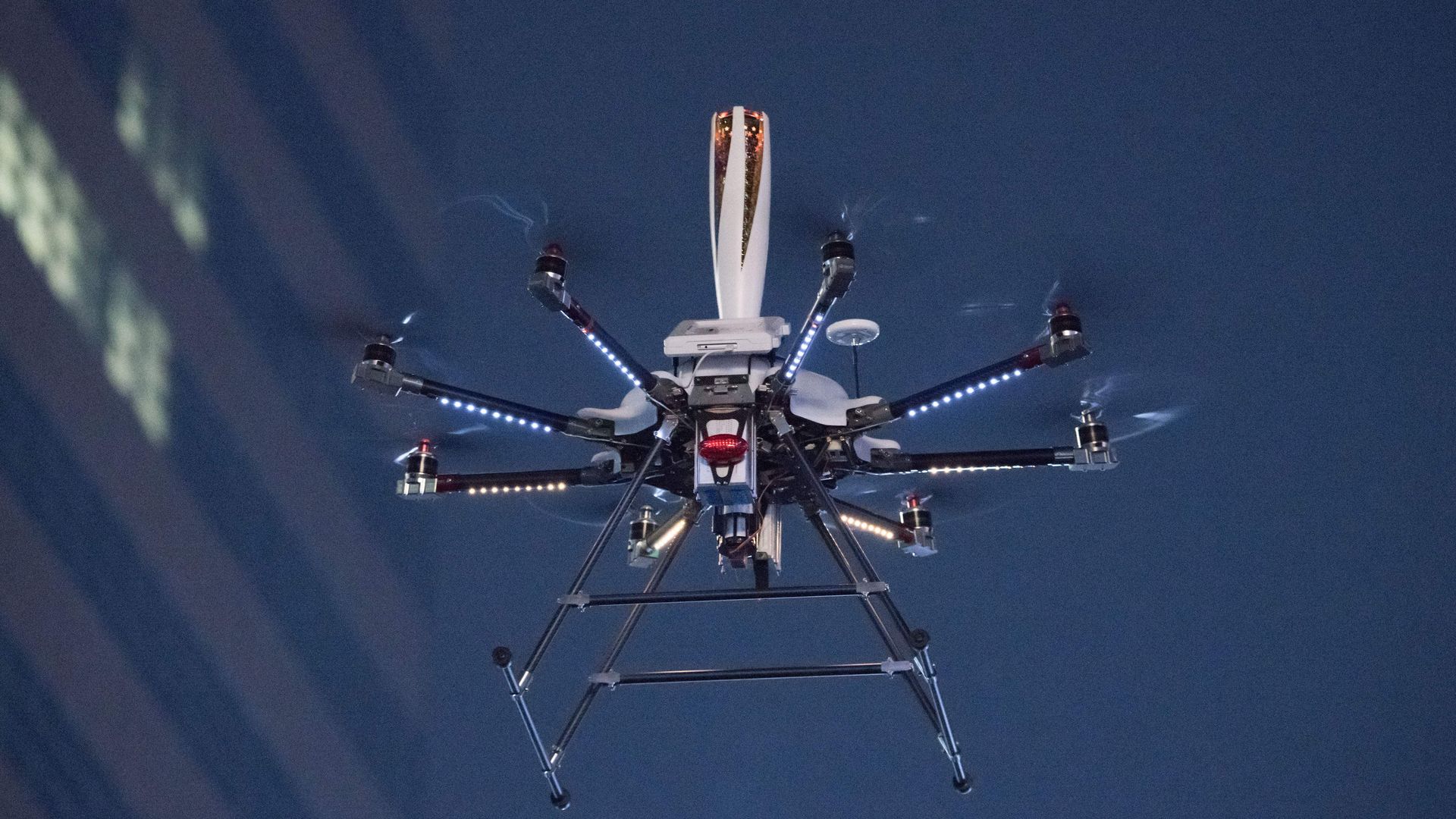 The Pyeongchang Winter Games in South Korea start Feb. 9 (27 days from now) and runs through Feb. 25:
The backdrop, from Axios' Alayna Treene: Russia has been banned from the Pyeongchang games for its state-backed doping campaign uncovered during the 2014 Sochi Winter games.
North Korea has been invited to participate, despite the escalating nuclear threat posed by leader Kim Jong-un.
https://www.axios.com/newsletters/axios-am-c2aeb1ab-1f41-4082-9a6f-dafc5d66ff65.html?chunk=9#story9
10. 1 fun thing: Spring movies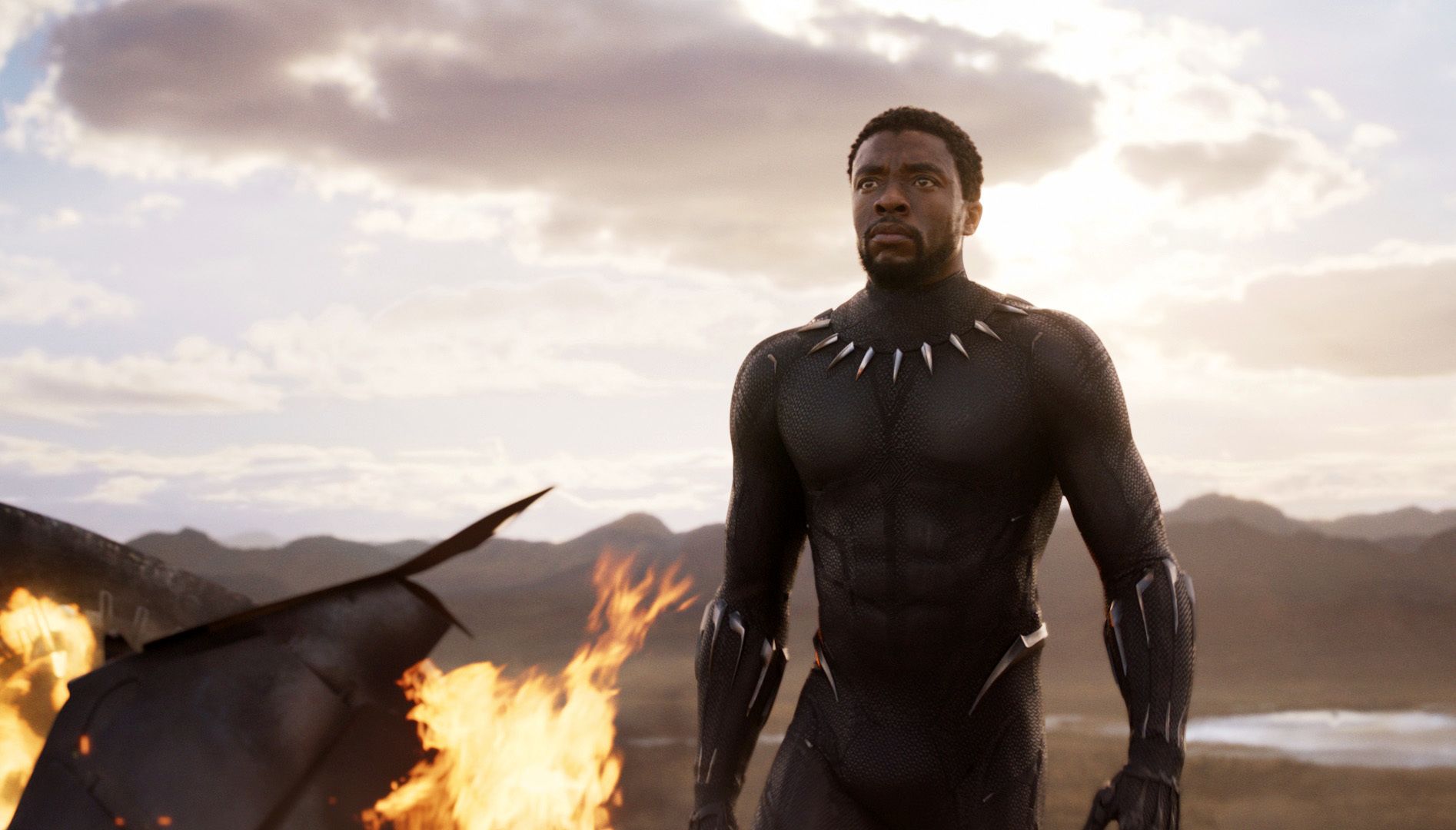 Chadwick Boseman in "Black Panther," in theaters Feb. 16. (Marvel Studios/Disney via AP)
"Hollywood places big bets on spring as the new launching point for blockbuster titles," by L.A. Times' Josh Rottenberg:
"For more than 40 years, Steven Spielberg's movies have followed a simple, binary release strategy. Without exception, his films have either opened in the summer — a moviegoing season he all but invented with the 1975 smash 'Jaws' — or toward the end of the year as awards buzz is heating up."
"Yet when executives at Warner Bros. sat down with the director to discuss the release plan for his latest film, the big-budget sci-fi-action epic 'Ready Player One,' they had something different in mind. Set in a near-future dystopia in which people live much of their lives in a virtual-reality realm called the OASIS, Spielberg's adaptation of Ernest Cline's bestselling novel has all the bells and whistles of a big, fun summer movie."
It'll be out March 30.
"T[]he period running roughly from Valentine's Day through the end of April has become an increasingly vital window for the studios to release some of their biggest films."
"The next few months will see a slew of high-profile would-be blockbusters hit the multiplexes, including the climax of the erotic trilogy 'Fifty Shades Freed' (Feb. 9), the Marvel film 'Black Panther' (Feb. 16), director Ava DuVernay's fantasy epic 'A Wrinkle in Time' (March 9), a reboot of the 'Tomb Raider' franchise (March 16), 'Ready Player One' (March 30) and the Dwayne Johnson sci-fi-action film 'Rampage' (April 20)."