https://www.axios.com/newsletters/axios-am-c26e75d2-d746-4404-bef2-3b094ad9289e.html?chunk=0#story0
1 big thing: The cost of Comey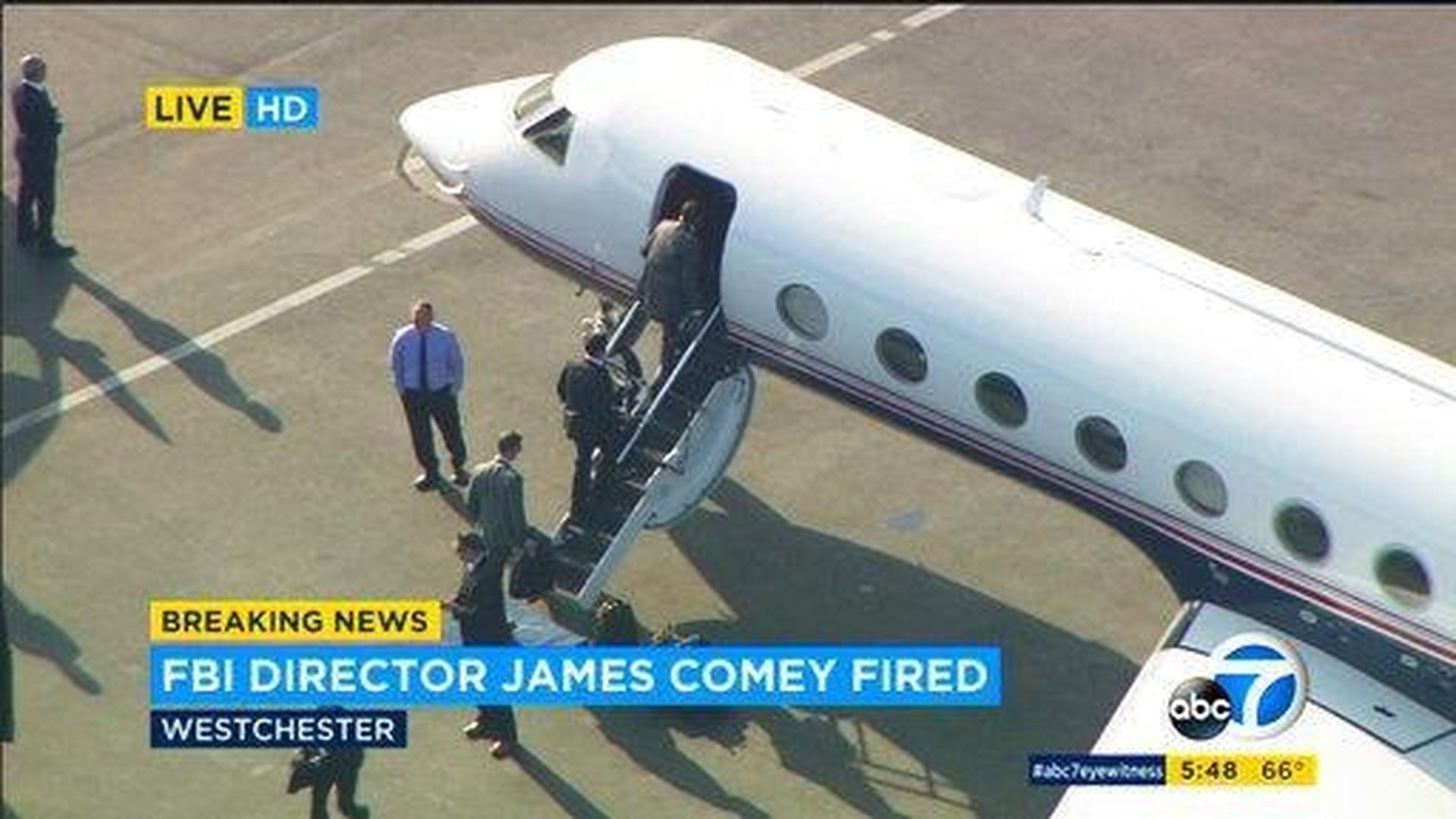 In a swirl of sobering questions about the Constitution and the rule of law, many Republicans are asking simply: Why now? Why?!
Republicans around town, and even some White House officials, tell me they're baffled by President Trump's decision to fire FBI Director James Comey in the middle of his Russia investigation — and with the explanation that it's because of his handling of Hillary's email, which Trump had praised him for in the past.
"They just barely got the tiniest bit of momentum going after the House health care bill, and now it's like the engine has fallen out of the car," said an outside adviser to the West Wing. "The Russia thing will now go on forever. And the rationale in the letter was preposterous. This was a tremendous miscalculation."
Even some White House officials believe that the likely result will be a special counsel, which Democrats are now pushing nearly in unison. AP reports that Senate Democratic Leader Chuck Schumer said last night that he told Trump in a phone conversation "[Y]ou are making a big mistake."
The firing increases scrutiny of the feds' Russia probe, and will make Democrats even more aggressive with their investigation.
Comey, who's 6 foot 8, literally and psychically towered over so many national dramas of the past decade, and is accused by Democrats of tipping the presidential election.
Adding to GOP bewilderment, the announcement came 10 days before Trump leaves on his first foreign trip, to centers of three great religions — Saudi Arabia, Israel and Rome. Trump has said he hopes the trip will begin to "construct a new foundation of cooperation and support with our Muslim allies."
"That's the kind of thing that changes history and the trajectory of a presidency — a permanent legacy," the adviser said. "The timing of this is all bad for Trump."
Matt Miller, a former Justice Department spokesman under President Obama, said everyone he talked to at Main Justice last night was in shock. Miller said it was clear internally that the White House didn't trust Comey, and couldn't control him.
"This makes no sense in the short term," Miller said. "But if the long-term threat is the survival of the administration itself, then you take the short-term risk."
P.S. Trump on Comey, at a campaign rally on Oct. 31, after the FBI director sent a letter to Congress saying he was reopening the Clinton email probe: "It took a lot of guts. I really disagreed with him. I was not his fan. But I'll tell you what he did, he brought back his reputation. He brought it back. He's got to hang tough because there's ... a lot of people want him to do the wrong thing. What he did was the right thing."
https://www.axios.com/newsletters/axios-am-c26e75d2-d746-4404-bef2-3b094ad9289e.html?chunk=1#story1
2. 10 questions ...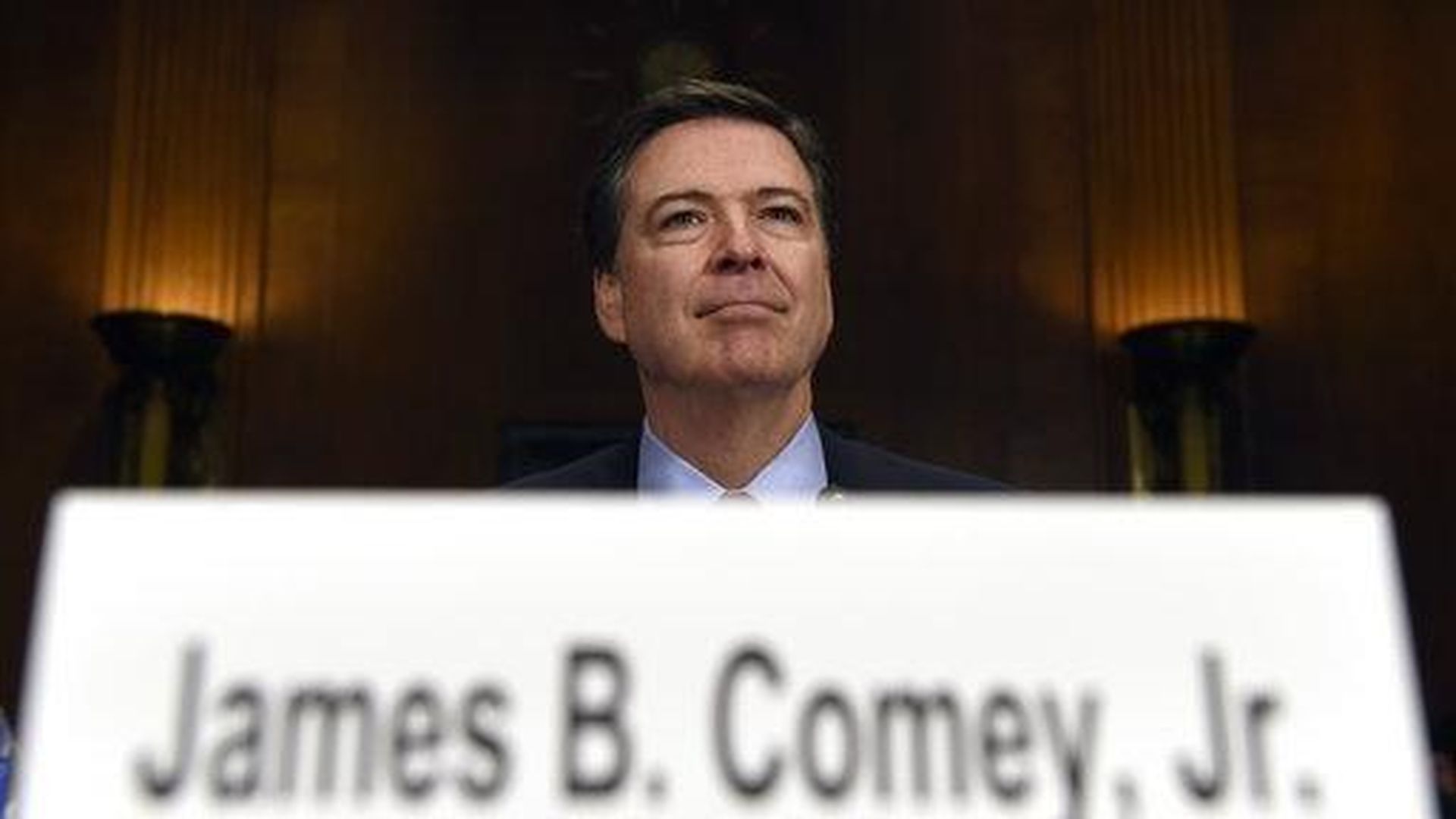 ... we'd like answered:
What the hell is going on?
Why the rush to get rid of Comey?
What does Comey know that we don't?
Who did Trump consult?
Who was against it? (NYT: "Reince Priebus, the White House chief of staff, argued against it, delaying — but not overruling — the decision.")
Did Comey really tell Trump three times that he's not under investigation?
How much of this has to do with Hillary, and how much with Russia?
What does Jared think?
Why didn't Trump — or anyone — tell Comey personally?
Will Comey do a book? Will he tell all?
David Ignatius column in WashPost, "The Russia mystery deepens even further":
The Comey putsch heightens the mystery at the center of the Flynn case: Why Trump didn't react sooner to warnings about Flynn's involvement with Russia. Why didn't Trump listen to President Barack Obama's caution against hiring him? Why did Trump wait 18 days before removing his national security adviser after urgent advice that Flynn could be "blackmailed"?
https://www.axios.com/newsletters/axios-am-c26e75d2-d746-4404-bef2-3b094ad9289e.html?chunk=2#story2
3. Scoops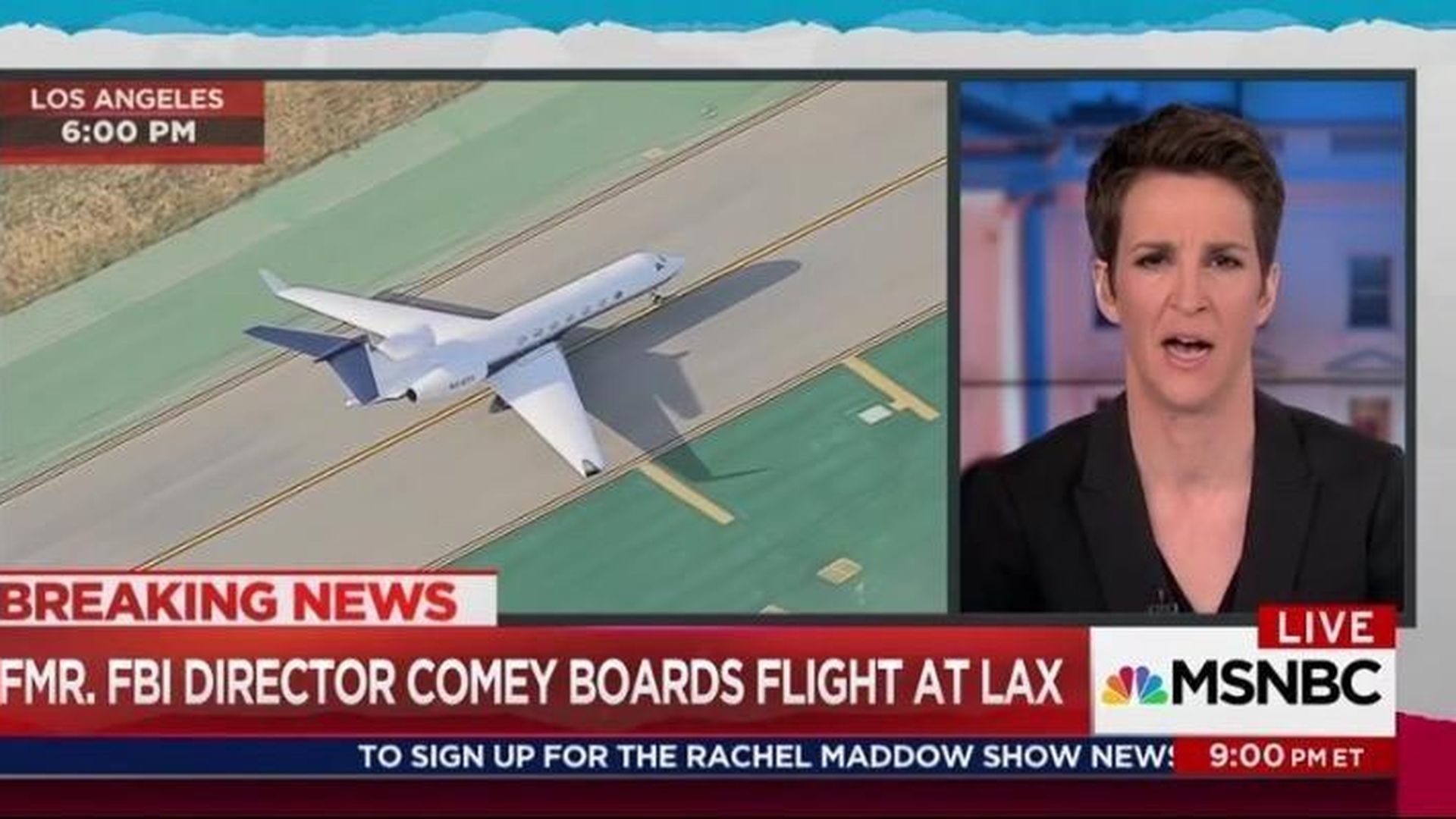 The timing ... N.Y. Times' Michael Schmidt tweets: "WH and DOJ had been working on firing Comey since at least last week. Sessions had been working to come up with reasons."
The intrigue ... NYT's Maggie Haberman tweets: "The White House fired Comey with no replacement set, with no clear messaging and no legal experts or surrogates lined up."
How Comey found out ... NYT's Michael Schmidt (who broke the Hillary personal-email story back in March 2015): "Comey was addressing a group of F.B.I. employees in Los Angeles when a television in the background flashed the news that he had been fired."
"Comey laughed, saying he thought it was a fairly funny prank. Then his staff started scurrying around in the background and told Mr. Comey that he should step into a nearby office."
"Comey stopped addressing the group. He proceeded to shake hands with the employees he had been speaking to. Then he stepped into a side office, where he confirmed that he had been fired."
"At that point, he had not heard from the White House. Shortly thereafter, a letter from Mr. Trump was delivered to the F.B.I.'s headquarters, just seven blocks from the White House."
WashPost: "White House aide Keith Schiller, who has long served Trump as a bodyguard, visited FBI headquarters to hand-deliver Trump's dismissal letter to Comey's office, although the director wasn't there to receive it."
The backdrop ... WashPost's Devlin Barrett, Adam Entous and Phil Rucker: "Several current and former officials said the relationship between the White House and the FBI had been strained for months, in part because administration officials were pressuring Comey to more aggressively pursue leak investigations over disclosures that embarrassed the White House and raised questions about ties with Russia."
"That pressure was described as conversational challenges to FBI leadership."
"Although the FBI is investigating disclosures of classified information, the bureau has resisted calls to prioritize leak investigations over the Russia matter, or probe matters that did not involve leaks of classified or otherwise sensitive information."
"Federal prosecutors have issued grand jury subpoenas to associates of former National Security Advisor Michael Flynn seeking business records," per CNN's Evan Perez, Shimon Prokupecz and Pamela Brown:
"CNN learned of the subpoenas hours before President Donald Trump fired FBI director James Comey."
"The subpoenas represent the first sign of a significant escalation of activity in the FBI's broader investigation begun last July into possible ties between Trump campaign associates and Russia."
https://www.axios.com/newsletters/axios-am-c26e75d2-d746-4404-bef2-3b094ad9289e.html?chunk=3#story3
4. The narrative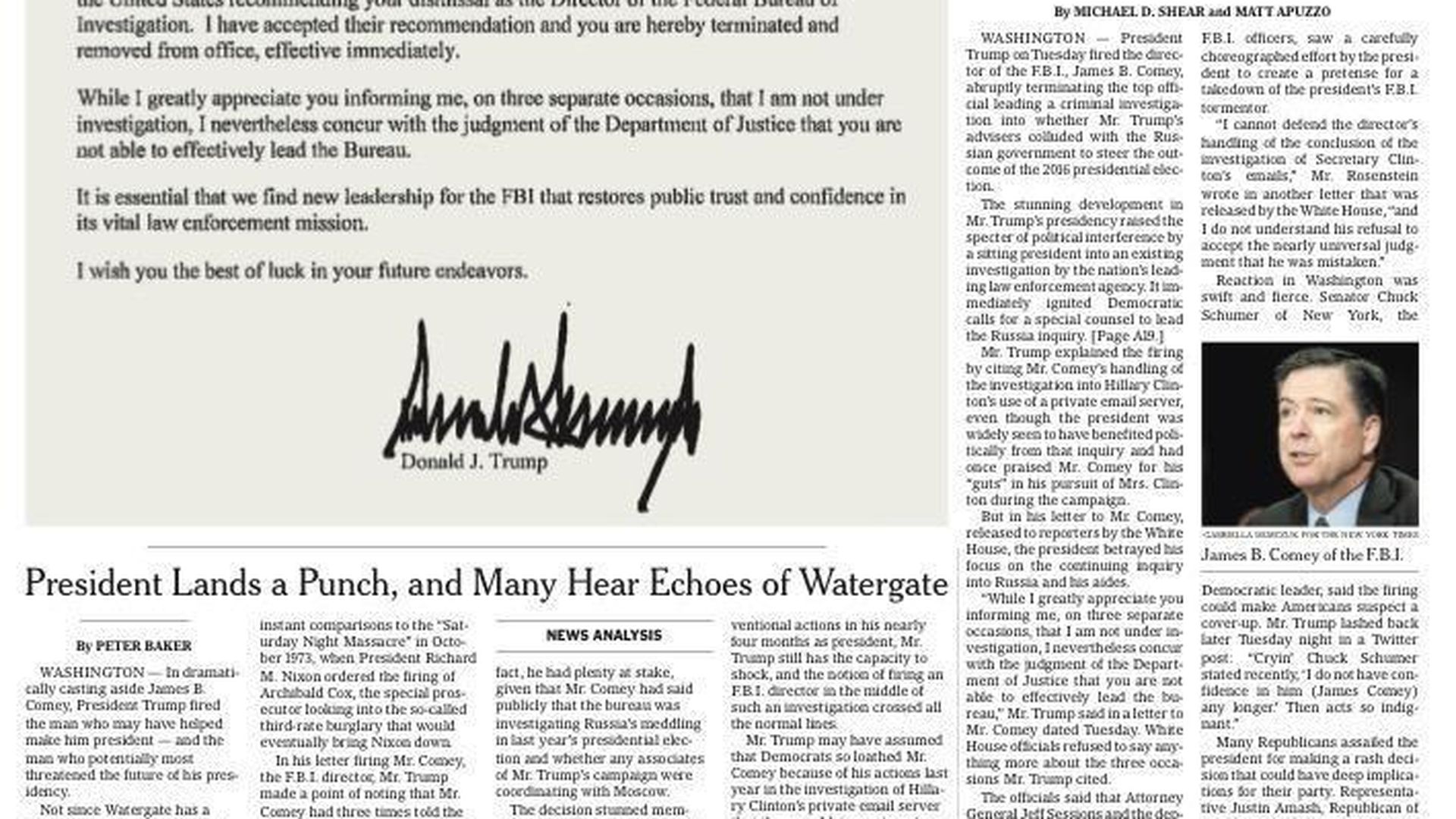 https://www.axios.com/newsletters/axios-am-c26e75d2-d746-4404-bef2-3b094ad9289e.html?chunk=4#story4
5. Be smart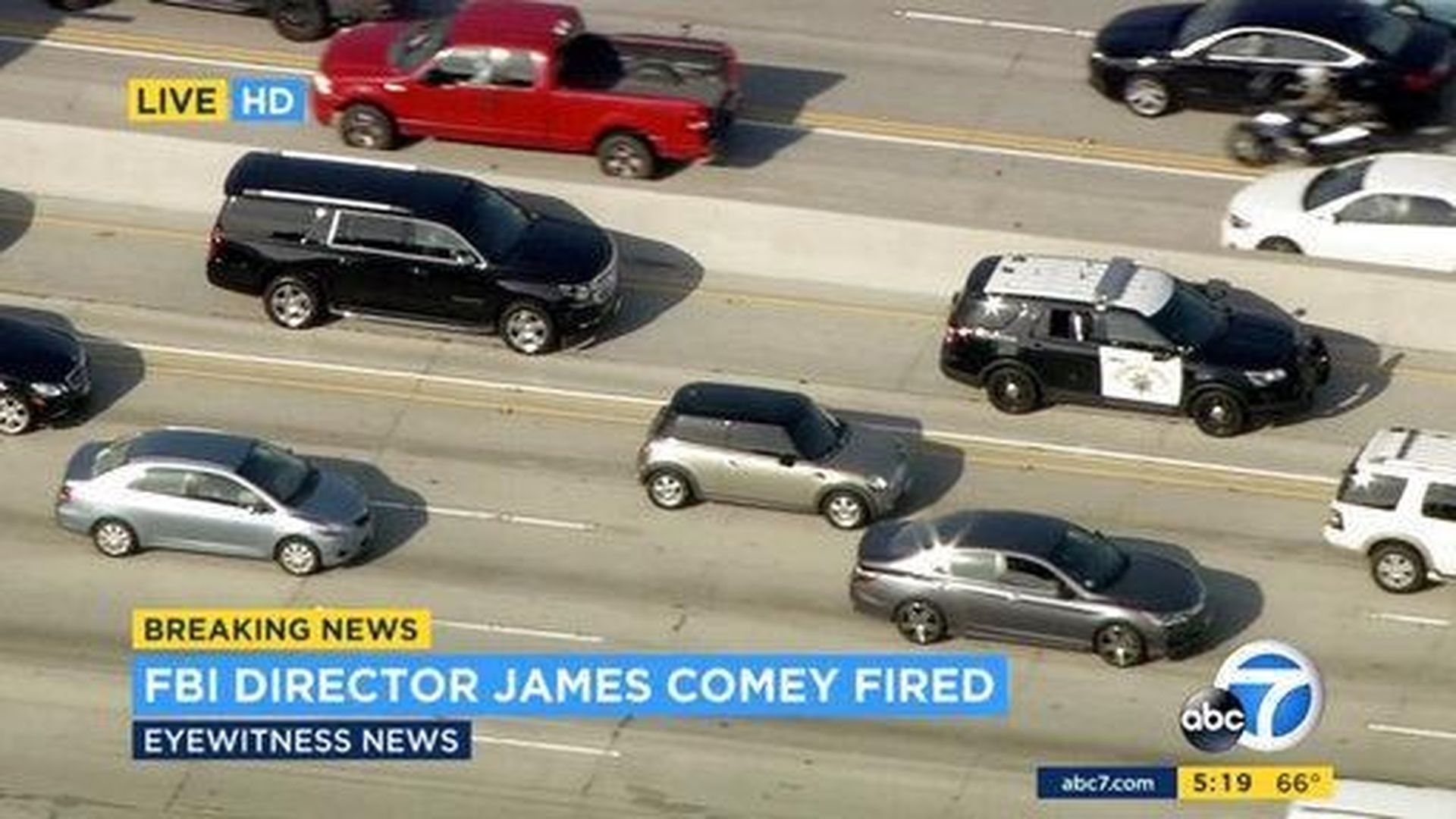 Newly intriguing ... 48 hours before the firing, Axios' Jonathan Swan scooped that Trump had warned top staff to stop dumping on Flynn.
"3 people fired by Trump were all investigating Trumpworld," by Axios' Shannon Vavra:
Among the most prominent officials Trump has fired since taking office are Sally Yates, Preet Bharara, and James Comey.
What they have in common: They all were investigating Trump, and there's a Russia thread for each.
Former acting Attorney General Sally Yates, fired Jan. 30 for refusing to enforce travel ban: Was collecting intelligence on the Russian ambassador to the U.S. and his contacts with Trump associates.
Former U.S. Attorney Preet Bharara, fired March 11 along with other U.S. attorneys: Was overseeing an investigation into stock trades by HHS Secretary Tom Price. Also investigating corrupt Russian businessmen and officials.
James Comey, fired May 9: Was investigating Trump's Russia ties, which he revealed March 20.
https://www.axios.com/newsletters/axios-am-c26e75d2-d746-4404-bef2-3b094ad9289e.html?chunk=5#story5
6. Hot takes
https://www.axios.com/newsletters/axios-am-c26e75d2-d746-4404-bef2-3b094ad9289e.html?chunk=6#story6
7. What the White House is saying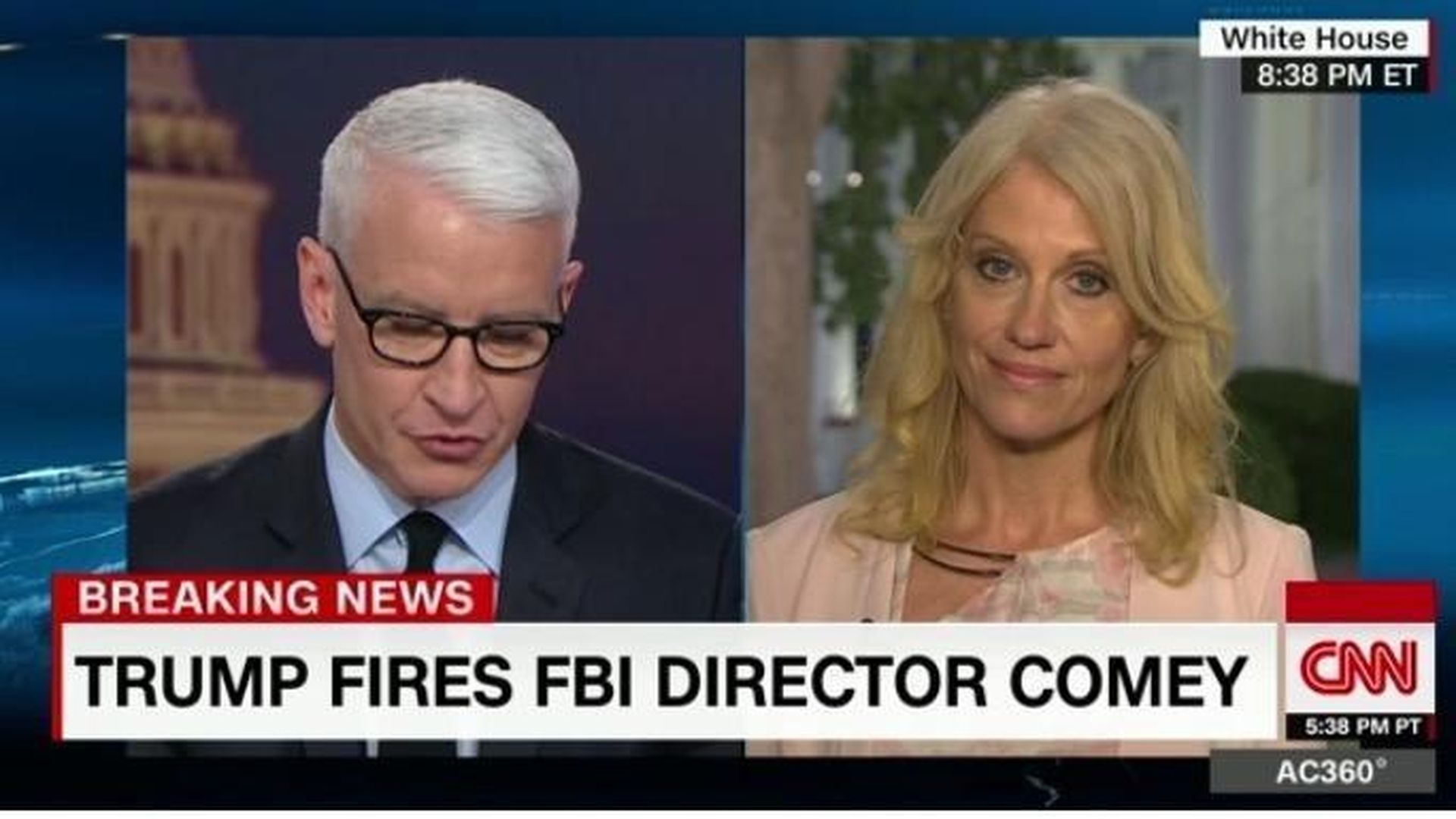 Sarah Huckabee Sanders, to Tucker Carlon the Russia investigation: "My gosh, Tucker. When are they gonna let that go? … Frankly, it's kind of getting absurd. There's nothing there."
Sean Spicer: "The goal today was to act on the recommendation … to restore confidence in the FBI."
Kellyanne Conway to CNN's Anderson Cooper: "It's not a cover-up."
https://www.axios.com/newsletters/axios-am-c26e75d2-d746-4404-bef2-3b094ad9289e.html?chunk=7#story7
8. Senate Dems meet at 9:30 today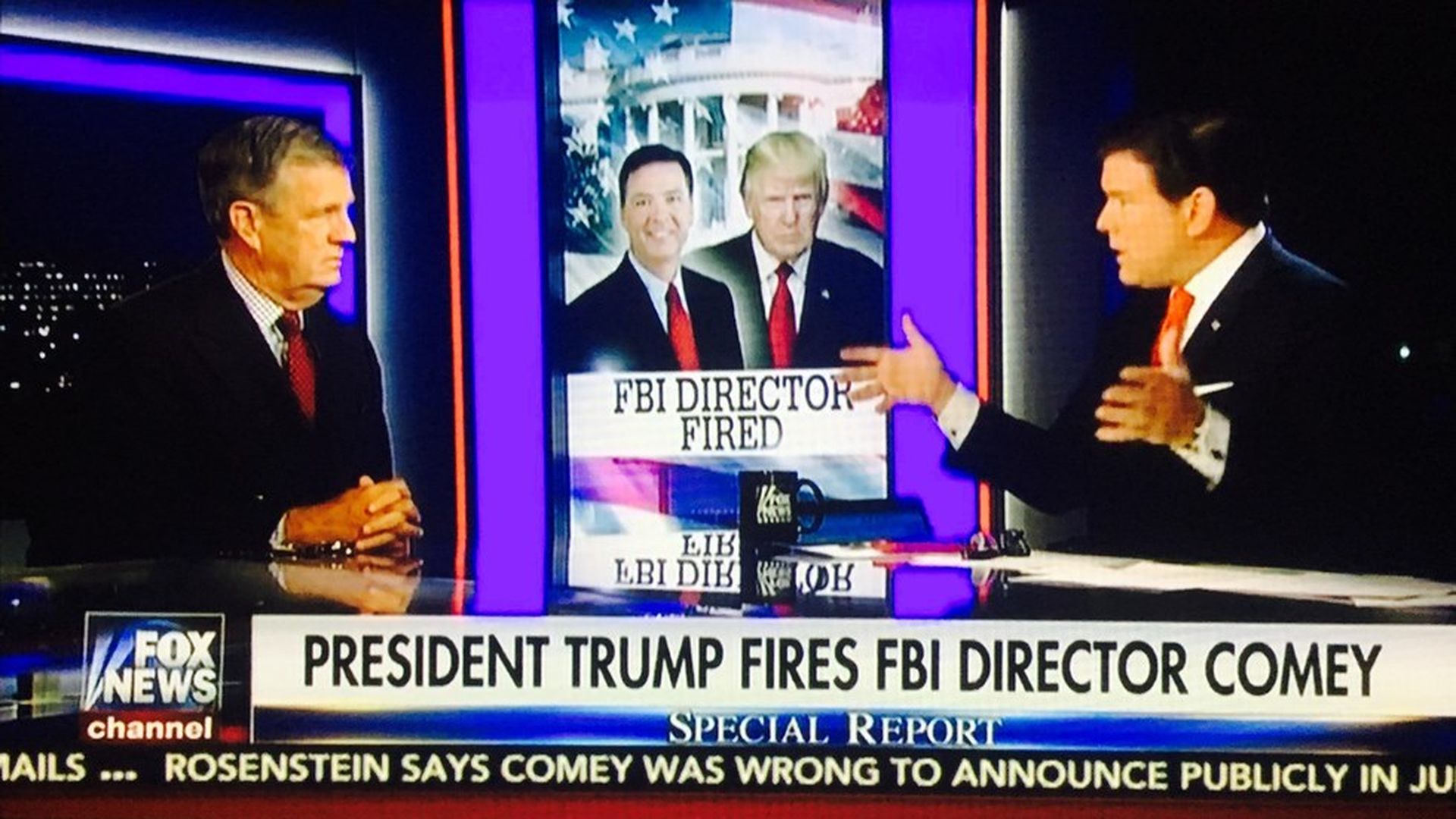 "In an attempt to pressure Republicans to join calls for an independent prosecutor, Senate Democrats have been asked by Minority Leader Charles E. Schumer (D-N.Y.) to be in the Senate chamber at 9:30 a.m. [today] when the legislative day begins." (WashPost)
https://www.axios.com/newsletters/axios-am-c26e75d2-d746-4404-bef2-3b094ad9289e.html?chunk=8#story8
9. The talk of tech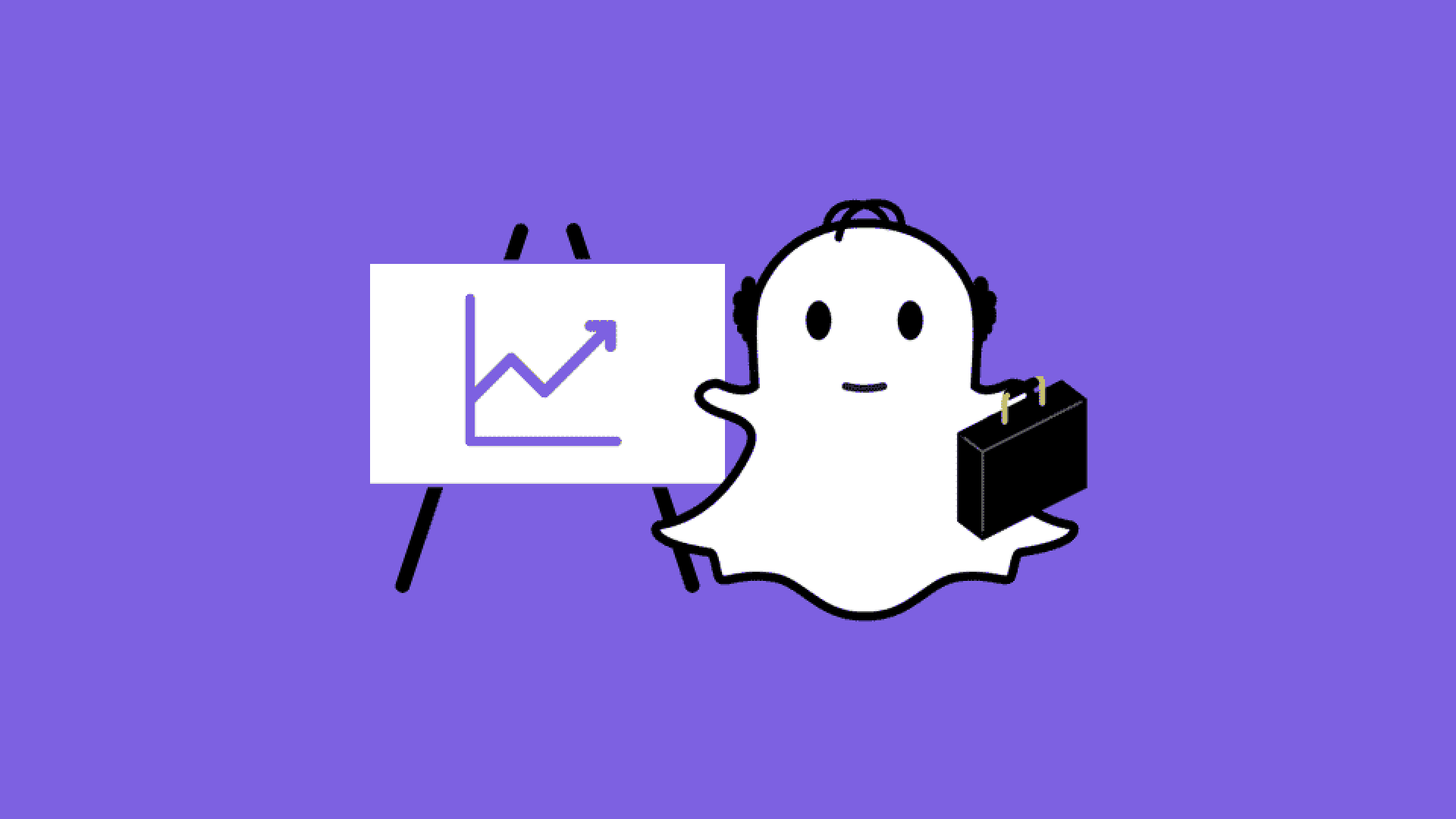 What to expect from Snap's first earnings report, out at market close today, per Axios' Kia Kokalitcheva and Sara Fischer:: Snap "commanded a massive valuation at IPO despite being unprofitable and having far fewer users than Facebook, so it will have to show improved financials and continued growth. It also must fight growing perceptions that Instagram's cloning of its most popular features is a serious threat."
P.S. "Exclusive: Gore presses Trump on climate pact," by Axios' Ben Geman: "Former Vice President Al Gore personally urged President Trump not to abandon the Paris climate accord in a phone conversation on Tuesday morning."
https://www.axios.com/newsletters/axios-am-c26e75d2-d746-4404-bef2-3b094ad9289e.html?chunk=9#story9
10. 1 money thing
The Bloomberg Pay Index, a ranking of the best-compensated U.S. executives for 2016, by Anders Melin:
Marc Lore, CEO, U.S. e-commerce, Wal-Mart Stores, $237 million
Tim Cook, CEO, Apple, $150 million
John Weinberg, executive chairman, Evercore Partners, $124 million
Sundar Pichai, CEO, GoogleAlphabet, $107 million
Elon Musk, CEO, Tesla, $99,744,920
Ginni Rometty, CEO, IBM, $97 million
Mitch Garber, CEO, Caesars Acquisition, $91 million
Philippe Dauman, former CEO, Viacom, $88 million
Leslie Moonves, CEO, CBS, $84 million
Mario Gabelli, CEO, Gamco Investors, $76 million