April 13, 2022
☕ Happy Wednesday. Today's Smart Brevity™ count: 1,494 words ... 5½ mins. Edited by Zachary Basu.
1 big thing: Phantom recession
Recession fears are denting consumer confidence, and could play a major role in the results of this year's midterm elections.
But, spoiler alert: We're not in a recession — and economic downturns are notoriously difficult to forecast, Axios chief financial correspondent Felix Salmon writes.
Why it matters: The U.S. is struggling with inflation not seen for 40 years — since the early 1980s. For Americans struggling with soaring prices, that can feel like a recession.
But inflation and recession are very different things. At the moment, we're still seeing strong growth — even after accounting for inflation. Still, the economy's momentum has slowed, and headwinds are rising.
⏰ Zoom out: Recessions are officially timed by the Business Cycle Dating Committee of the National Bureau of Economic Research. Most are brief: The 2020 recession, the deepest in recent memory, technically lasted just two months.
What's happening: Prices are increasing at an annual pace of 8.5%, according to inflation data released yesterday. That's high, but it's still slower than the rate at which the economy is growing.
In the fourth quarter of 2021, GDP grew by an astonishing $800 billion, a torrid 14.5% annual pace. A lot of that was due to prices going up. But even when you strip out the effects of inflation, the growth rate remained extremely high at 6.9%.
In 2022, Wall Street expects the economy to grow by a healthy 3.3%, according to FactSet — after subtracting inflation.
🧠 The telltale chart: During a recession, it's hard to find work, layoffs rise, and spending falls. None of that is happening right now.
Even the most pessimistic forecasters don't foresee a recession happening until the end of 2023 — after a series of rate hikes by the Federal Reserve that have yet to happen.
👀 What we're watching: For the unofficial signs that we might be in a recession, look first to employers. If job openings dry up, and layoffs become more common, that'll be a sign the economy is turning south.
2. 🛰️ Satellites yield stunning real-time war intel Above: Two probable Russian military resupply and maintenance bases have been established in southern Ukraine and in Crimea, and are likely being used to help reinforce and resupply operations in and near Mariupol, Maxar satellite images show.
Russian ground forces continue moving into eastern Ukraine, where the stage is being set for a massive offensive in the Donbas region, Maxar says in a note to reporters:
These deployments include dozens of armored vehicles, troops with tents and support equipment, and were positioned in fields and farms near Russian towns, about five miles east of the Ukraine border.
Several convoys rumbling through eastern Ukraine together contain 200+ vehicles.
Signs of ongoing artillery shelling continue to be seen in and around Mariupol. Smoke and fire was seen coming from a number of buildings as well as an iron and steel factory — where some of the last Ukrainian forces in the city are believed to be bunkered down.
3. 🇺🇦 Biden sees "genocide" of Ukrainians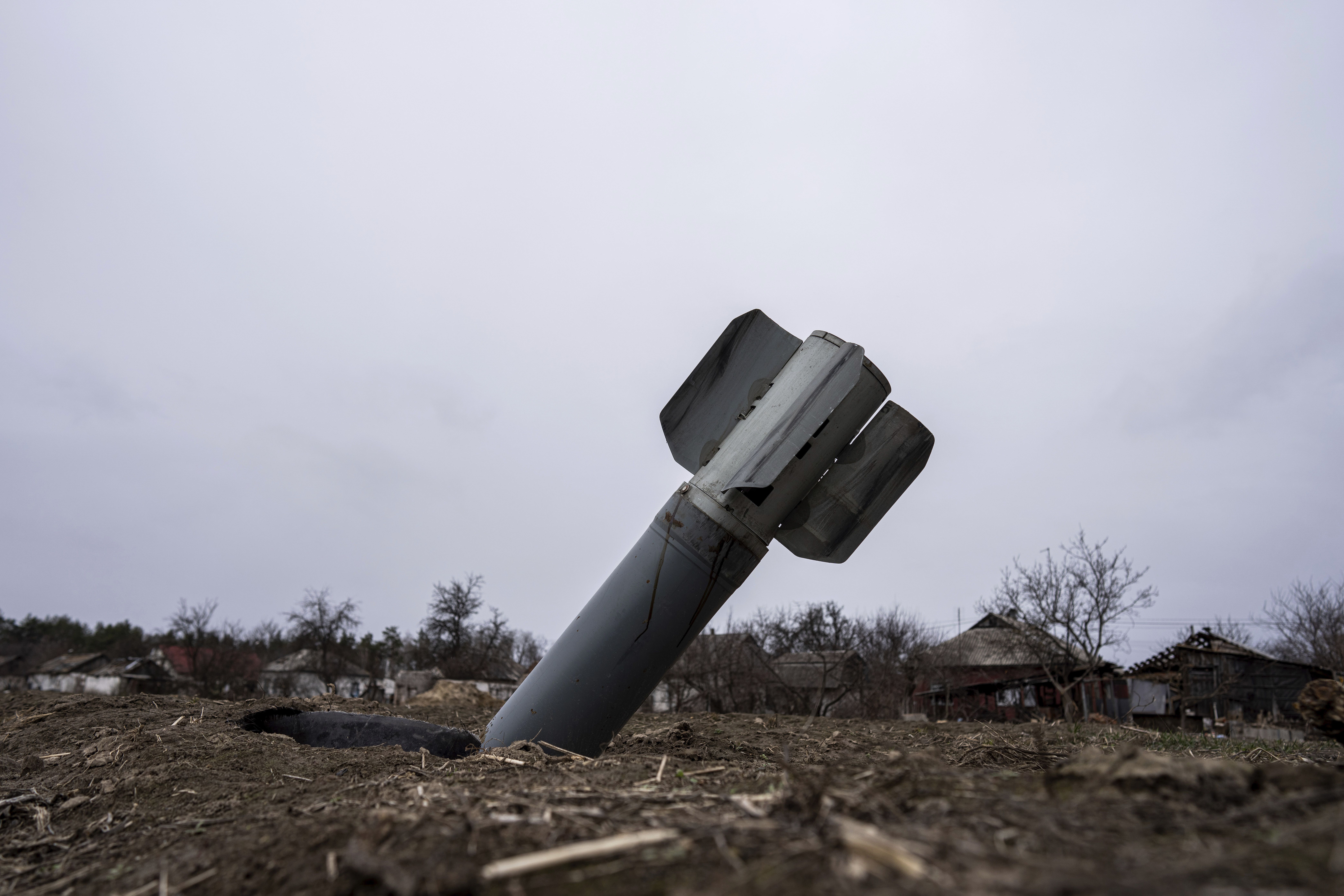 For the first time, President Biden used the term "genocide" to refer to Russian attacks in Ukraine. While talking about gas prices, he said at an ethanol plant in Menlo, Iowa:
Your family budget, your ability to fill up your tank — none of it should hinge on whether a dictator declares war and commits genocide a half a world away.
Asked about the term before Air Force One left Des Moines, Biden said:
"Yes, I called it genocide. It has become clearer and clearer that Putin is just trying to wipe out the idea of even ... being able to be Ukrainian."
"[T]he evidence is mounting," he continued. "It's different than it was last week. "[M]ore evidence is coming out of the — literally, the horrible things that the Russians have done in Ukraine."
"[W]e're going to only learn more and more about the devastation. And we'll let the lawyers decide, internationally, whether or not it qualifies, but it sure seems that way to me."
4. First look: Climate shapes Gen Z life choices
Eight out of 10 teenagers expect climate change and other environmental forces to affect where they live and whether they have children, Ben Geman writes from a new survey shared first with Axios.
The survey by 4-H and Harris Poll (1,500 respondents) found just 45% of teenagers (ages 13-19) believe political and global leaders are taking meaningful action to protect the environment.
But they have hope: 77% feel they have a responsibility for protecting the future of the planet — and feel empowered to act.
Between the lines: 4-H, known for its rural roots, now bills itself as a youth development organization — with programs for farms, cities and suburbs.
🥾 Pollsters found a connection between stress and time outdoors:
Among youth who spend only 1-5 hours outside per week, just 31% rated their happiness level in the 8-10 range on a 10-point scale. 42% put their stress level that high.
But among youth who spend 11 or more hours outside weekly, the results flip: 51% are in the 8-10 happiness range and stress drops.
5. Anxiety spikes in NYC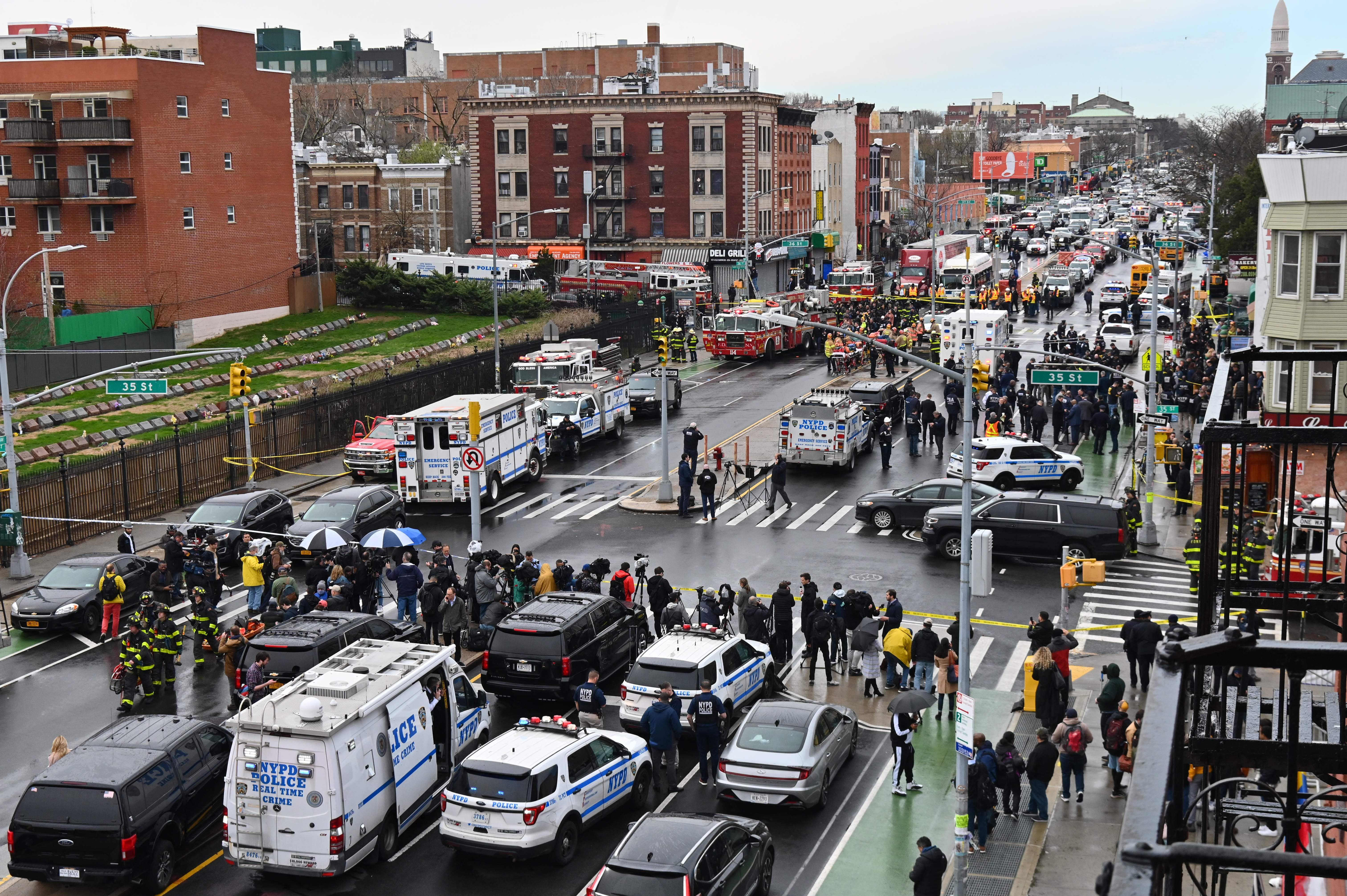 As the year began, New Yorkers shuddered at a subway crime out of urban nightmares — the death of a woman shoved onto the tracks by a disturbed stranger. The new mayor vowed to "make sure New Yorkers feel safe in our subway system," AP's Bobby Caina Calvan writes.
But morning commuters yesterday faced an attack that evoked many riders' deepest fears. A rush-hour train car filled with smoke as it pulled into a Brooklyn station. Shots rang out — at least 33 of them — wounding at least 10 people.
Frightened riders fled. So did the gunman, who remains at large.
All the victims are expected to survive.

The search is focused on a 62-year-old man who, police say, rented a van possibly connected to the melee. Authorities found social-media videos in which he decried the U.S. as a racist place awash in violence, and railed against Mayor Eric Adams.
6. First look: Dave McCormick's haul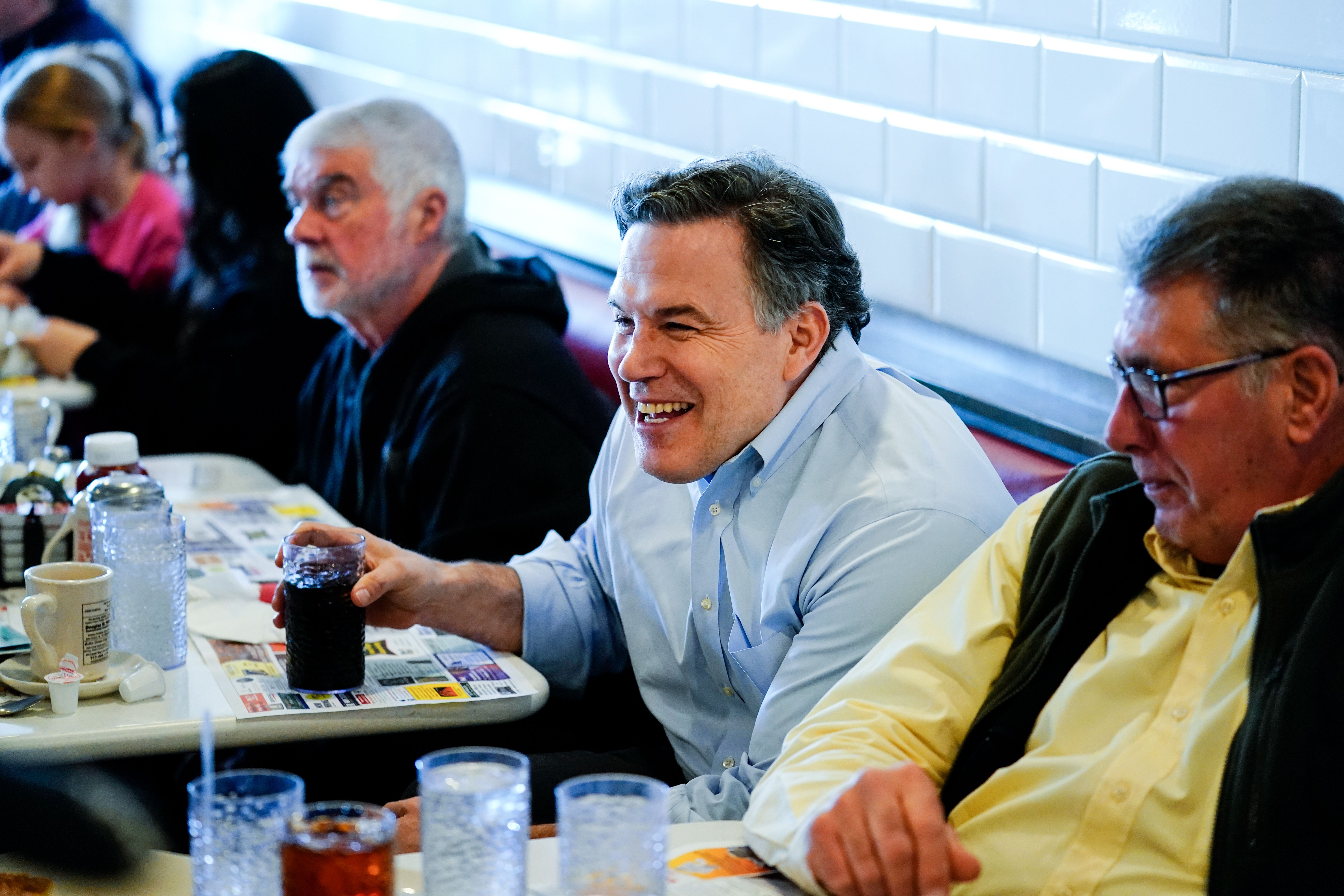 Republican Dave McCormick's U.S. Senate campaign in Pennsylvania raised more than $4.3 million in the first three months of the year, his campaign tells Axios' Lachlan Markay.
Why it matters: The haul leaves McCormick well-funded ahead of the May 17 primary. An epic TV-ad war will begin next week, a month out from the primary. McCormick's chief rival, celebrity doctor Mehmet Oz, scored former President Trump's endorsement last weekend.
McCormick's campaign will also report money he put in himself, a source close to the campaign said.
McCormick's campaign says about $1 million of its Q1 haul came from Pennsylvania donors, with donations from all 67 counties.
On the day Oz entered the race, he loaned his campaign $5.2 million.
His campaign declined to provide Q1 data ahead of a Friday deadline.
Among Democrats, Lt. Gov. John Fetterman raised $3 million in Q1 of this year — and more than $15 million since February 2021.
Rep. Conor Lamb raised $4 million in the final five months of 2021.
7. 🏈 Dan Snyder's tipping point
The Washington Commanders may have purposefully withheld ticket revenue meant to be shared with the rest of the league — while failing to refund up to $5 million in security deposits to fans, the House Oversight Committee says in a letter to the FTC.
Why it matters: This could be the tipping point that ultimately leads to owner Dan Snyder's ouster — something his many detractors have wanted for years, Axios' Noah Garfinkel and Jeff Tracy write.
How it works: NFL teams must give 40% of their net home ticket sales to the league, which it then distributes to the other 31 teams.
Jason Friedman, the Commanders' former VP of sales and customer service, testified that the team had "two sets of books" — one which was given to the NFL that "underreported certain ticket revenue," and another which had accurate revenues, per the letter.
A Washington Commanders spokesperson told Axios the team "categorically denies any suggestion of financial impropriety of any kind at any time. ... We adhere to strict internal processes that are consistent with industry and accounting standards."
8. The formidable Viola Davis
Actress Viola Davis, 56 — out April 26 with a memoir, "Finding Me" — tells Jazmine Hughes for The New York Times Magazine that there's so much vanity in Hollywood, people are afraid to take the non-pretty roles:
It's more important for me to see the mess and the imperfection along with the beauty and all of that, for me to feel validated ... If it's not there, then I feel, once again, the same way I felt when I was keeping secrets as a kid. But the only reason to keep secrets is because of shame. I don't want to do that anymore.
Keep reading (subscription).
📬 Invite your friends to sign up here to get their daily essentials — Axios AM, PM and Finish Line.