August 16, 2021
Good Monday morning. Smart Brevity™ count: 1,189 words ... 4½ minutes. Edited by Zachary Basu.
1 big thing: System failure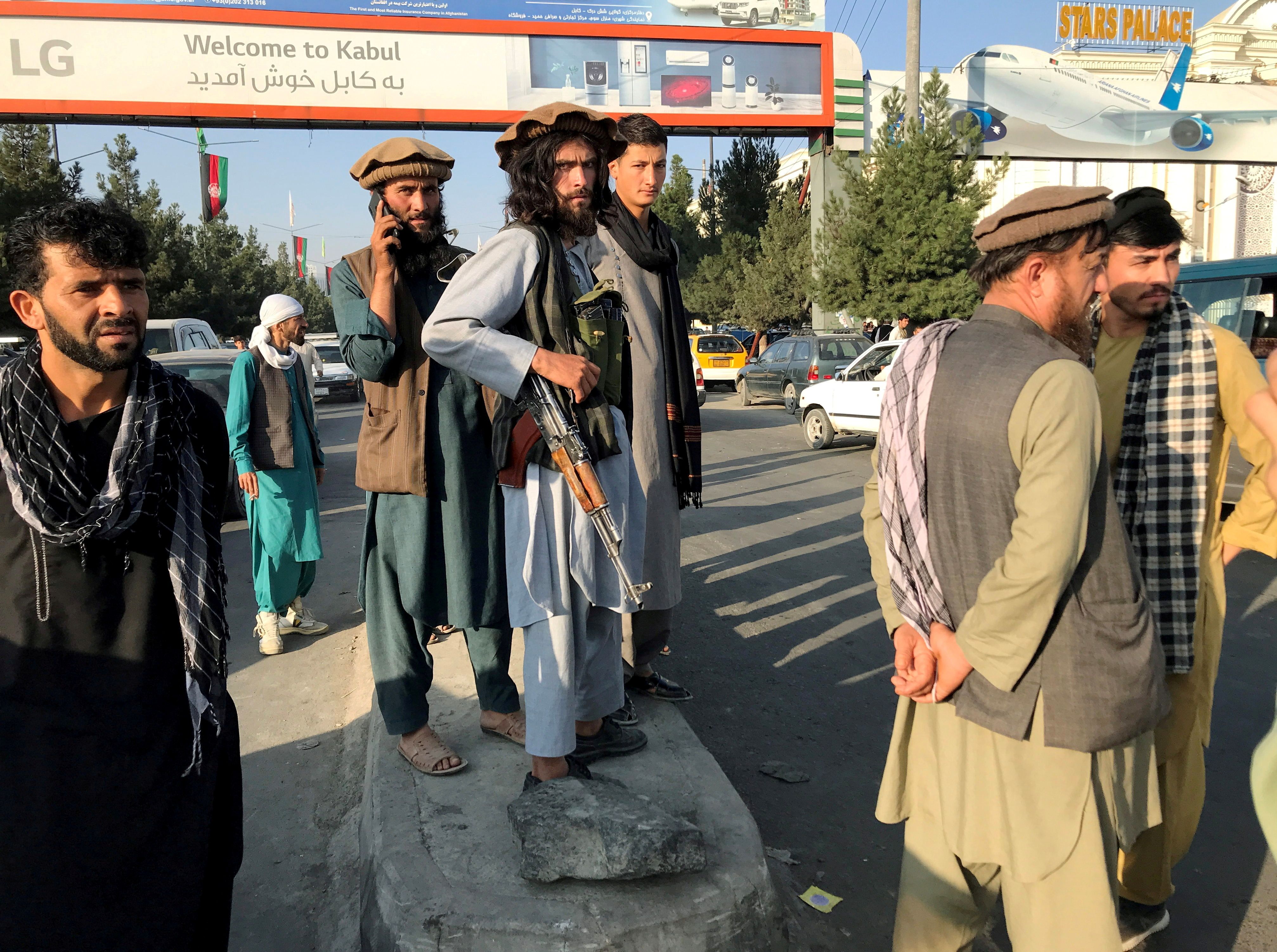 The Taliban's lightning seizure of Afghanistan's capital yesterday exposed stunning failures of American intelligence, imagination and execution that will be studied as long as people study history.
The United States was literally run out of town after 20 years, $1 trillion and 2,448 service members' lives lost.
Mohammad Naeem, the spokesman for the Taliban's political office, told Al Jazeera today: "Thanks to God, the war is over in the country."
Why it matters: A friend who spent more than a decade as a U.S. official in Afghanistan and Iraq texted me that the collapse "shows we missed something fundamental — something systemic in our intel, military and diplomatic service over the decades — deeper than a single (horrible) decision."
As the BBC's Jon Sopel put it: "America's attempt to export liberal democracy to Afghanistan is well and truly over. America's effort to build a civil society in Kabul and beyond — also in tatters."
The big picture: The Taliban triumph "sparked global alarm, reviving doubts about the credibility of U.S. foreign policy promises and drawing harsh criticisms even from some of the United States' closest allies," The Washington Post's Liz Sly reported from London.
"[C]oncerns grew that the unfolding chaos could create a haven for terrorists, unleash a major humanitarian disaster and trigger a new refugee exodus."
🚁 President Biden got, as The New York Times' David E. Sanger notes in a front-page story, the "Images of Defeat He Wanted to Avoid."
Secretary of State Tony Blinken, rejecting comparisons to America's helicopter airlift out of the Vietnamese capital in 1975, said on ABC: "This is manifestly not Saigon." And on CNN: "Remember, this is not Saigon."
But Kimberley Motley, an international human-rights attorney who has worked on Afghanistan issues for 13 years and was desperately trying to help Afghans get out of the country, told The Wall Street Journal: "This is like Saigon on steroids."
The latest: Taliban declare victory ... Live updates ... NYT front page.
2. Left behind
An urgent issue for America is the rescue and relocation of the thousands of Afghans — tens of thousands, when accounting for their immediate family members — who helped U.S. troops at their peril.
NBC's Richard Engel, talking with panicked Afghans who served the U.S. military as cooks, cleaners, guards: "Afghans swarmed around me thinking that, as an American, perhaps I could help. They showed me documents proving their employment history ... I.D. cards, pictures of their phones, other I.D.s, recommendation letters, employment contracts. And they're hoping that all this paperwork will be enough to get them a visa immediately so they can get out of this country."
One woman said: "Please do something. Take my son."
Sen. Tom Cotton (R-Ark.), who served a combat tour in Afghanistan as an Army infantry officer, tells me: "I heard from an Arkansan behind Taliban checkpoints" who was desperate for guidance on what to do.
Cotton's office posted "Contact Information for Americans Stranded in Afghanistan."
"My office can't fly planes or open gates, but we can at least give people information," Cotton told me. "We've received a lot of calls and plan to maintain an overnight duty roster."
3. How it happened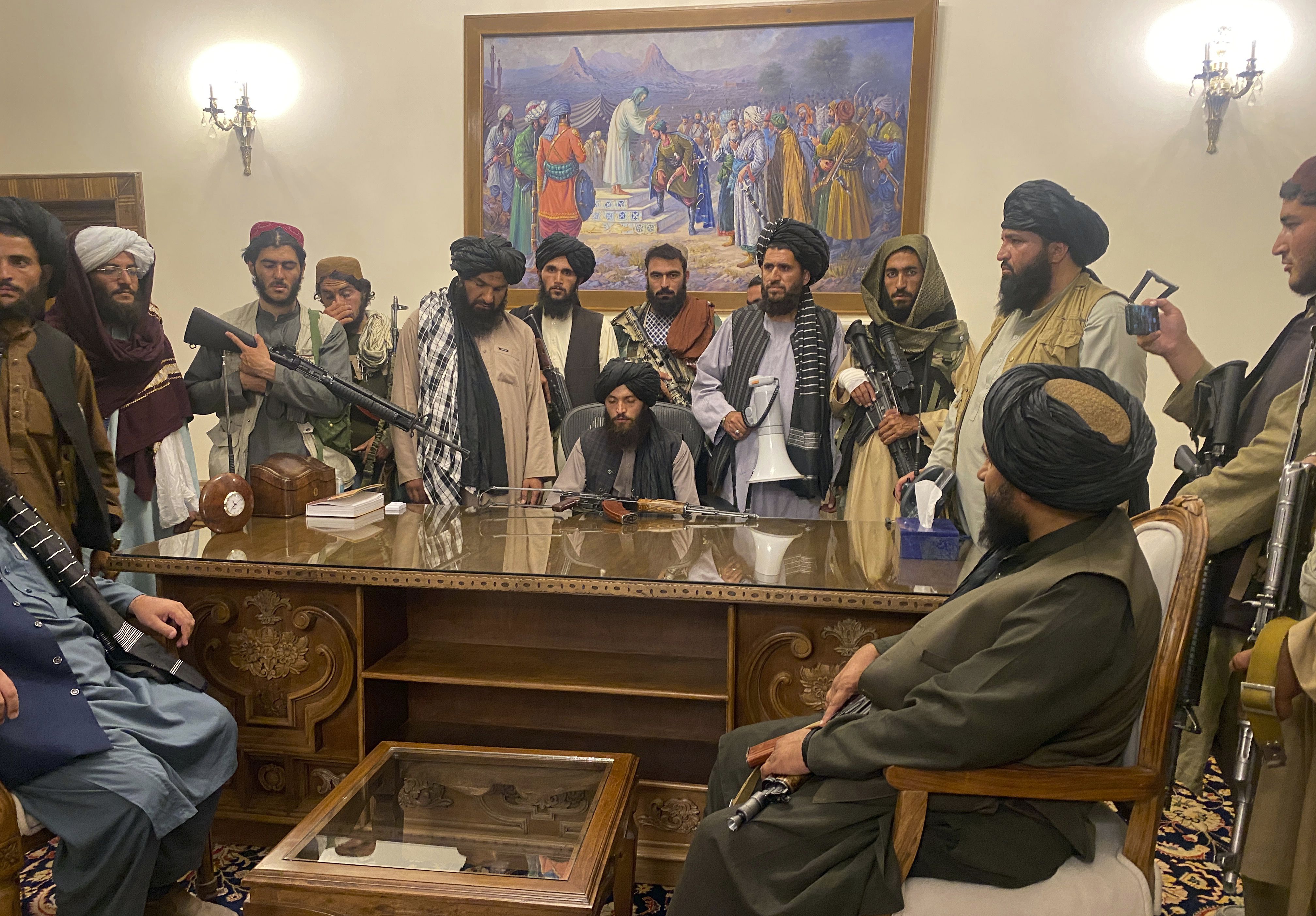 Here's how the day unfolded in AP bulletins:
1:56 a.m. ET: Helicopters land near U.S. embassy in Kabul as diplomatic vehicles leave compound amid Taliban advance.
3:07 a.m.: Officials say Taliban now hold all of Afghanistan's border crossings, leaving Kabul airport as only route out.
3:40 a.m.: Afghan officials say Taliban militants have entered outskirts of Kabul.
4:04 a.m.: Taliban say in a statement they don't plan to take Kabul "by force," as sporadic gunfire echoes in Afghan capital.
6:09 a.m.: Troops surrender Bagram Air Base, the Grand Central of America's 20 years in Afghanistan, to the Taliban.
9:54 a.m.: Afghan officials say President Ashraf Ghani has left his country.
11:54 a.m.: Acting U.S. ambassador is evacuated by military from the embassy to Kabul airport.
12:15 p.m.: U.S. embassy tells Americans to shelter in place, says airport reportedly taking fire.
1:54 p.m.: U.S. military officials say Kabul airport closed to commercial flights as military evacuations continue.
2:43 p.m.: Al Jazeera airs live footage of Taliban fighters in Afghan presidential palace.
📱 Behind the scenes: The White House held separate bipartisan, unclassified briefing calls for the House and Senate, with Secretary of State Tony Blinken (after he did three Sunday shows), Defense Secretary Lloyd Austin and Chairman of the Joint Chiefs of Staff Mark Milley.
Sources tell Jonathan Swan it was surreal: Senators were getting briefed by administration officials — while looking at their phones and seeing real-time chaos unfolding in Kabul.
4. Time capsule
5. Mental health = next big workplace issue
Employees' mental health is quickly becoming a top concern for companies as they try to hold on to workers through the pandemic, Axios' Erica Pandey reports.
Why it matters: The firms that embrace mental health are poised to win the war for talent.
Employers can help by providing resources like mental health days and online therapy sessions.
Middle managers also play a key role, with check-ins and by fostering an environment in which workers feel comfortable discussing personal problems.
6. Haiti toll rises to 1,300
Haiti's hospitals were swamped by 5,700 injured residents after Saturday's devastating earthquake killed at least 1,297 people, Reuters reports from Port-au-Prince.
The 7.2 magnitude quake destroyed thousands of homes and buildings in a Caribbean nation which is still clawing its way back from a major temblor 11 years ago, and is reeling from the assassination of its president last month.
In the northwestern city of Jeremie, doctors treated patients on stretchers underneath trees and on mattresses by the side of the road after hospitals ran out of space.
Access to the worst-hit areas was complicated by a deterioration in law and order that left access to key roads in the hands of gangs.
Go deeper: Why Haiti is so prone to quakes.
7. 🍎 USDA to boost food stamp benefits 25%
Announcement 9 a.m. today ... The Biden administration has approved a permanent increase in food stamp assistance for needy families — the largest single increase in the program's history, AP reports.
Starting in October, average benefits for food stamps — formally SNAP (Supplemental Nutrition Assistance Program) — will rise more than 25% above pre-pandemic levels.
The average monthly per-person benefits will rise from $121 to $157.
The increased assistance will be available indefinitely to all 42 million SNAP beneficiaries.
8. 1 screen thing: DeSantis' Fox blitz
From the 2020 election through February, Fox News asked Florida Gov. Ron DeSantis to appear on its airwaves nearly once a day, the Tampa Bay Times' Steve Contorno reports.
Why it matters: 1,250 pages of state emails "lay bare how DeSantis has wielded the country's largest conservative megaphone."
In the first six months of this year, DeSantis had scheduled more meetings with Sean Hannity than with his lieutenant governor and the state's top public health official, the Tampa paper found.
Fox News told Axios: "FOX News works to secure interviews daily with headliners across the political spectrum which is a basic journalism practice at all news organizations."
📬 Please invite friends, family, colleagues to sign up here for Axios AM and Axios PM