Axios AM
January 19, 2018
Good Friday morning — thank you for the birthday wishes for Axios, which turned 1 yesterday. To keep up with our newest stream, please follow @AxiosWorld on Twitter.
Situational awareness: An NBC News/ Wall Street Journal poll out this morning finds President Trump ending his first year with 39% approval, "the lowest mark in the poll's history for any modern president ending his first year."
1 big thing: China wants to reshape global order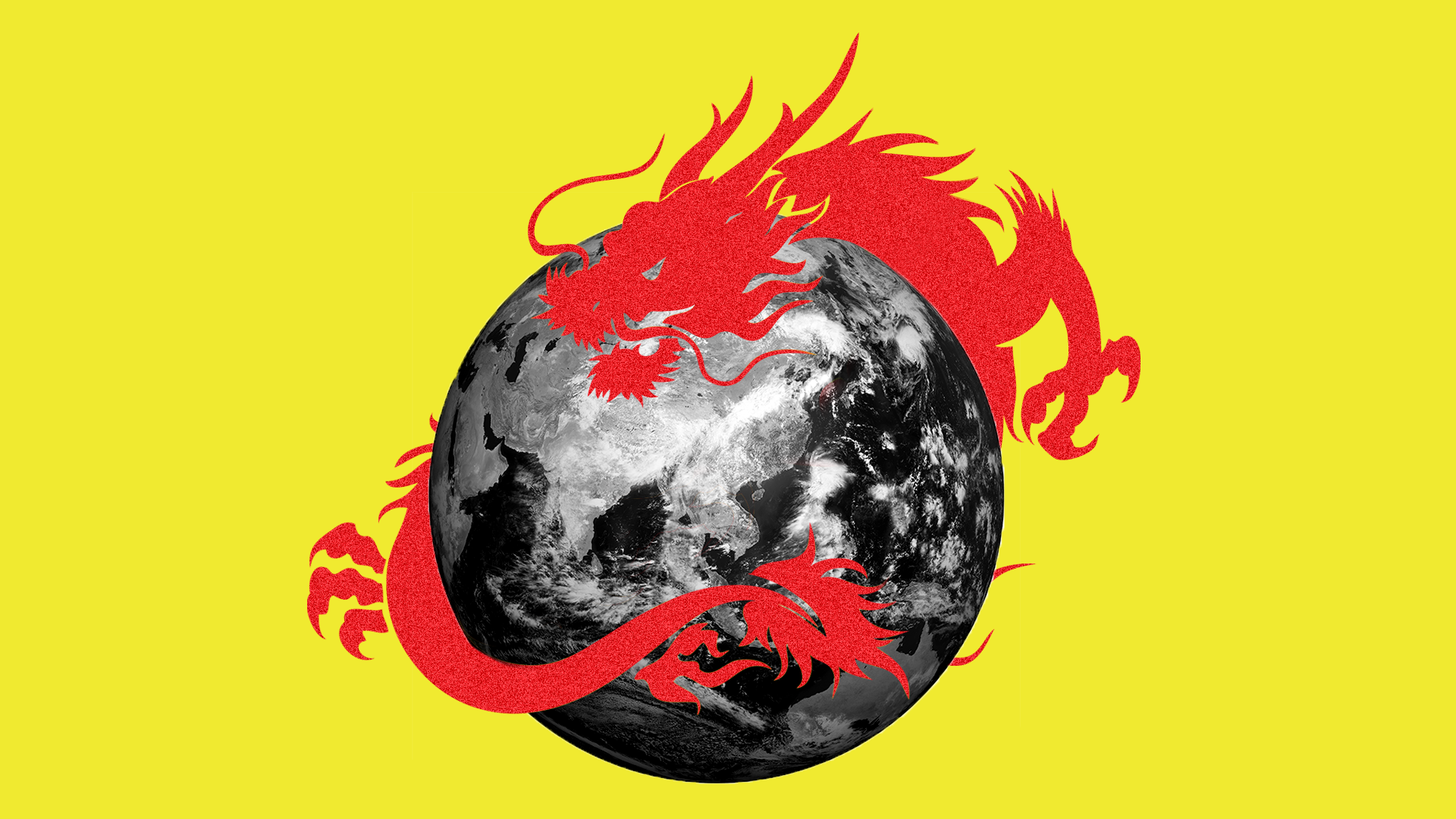 President Xi Jinping is selling his country on his plan to reshape the global order, in ways that legitimize the Chinese political system and create more strategic advantages for the China, Sincocism's Bill Bishop writes for Axios:
An article this week — 紧紧抓住大有可为的历史机遇期 or "Tightly grasping the very promising period of historical opportunity" and signed by the pseudonym "Xuanyan 宣言," which means manifesto — called for the nation to grasp this historic opportunity, per state-run media.
The article points to world problems: a "democratic deficit," "governance deficit," "development trap," wealth gap, terrorism and climate change."
How it's playing: Under the headline "Make China Great Again," the South China Morning Post (Hong Kong) quoted the manifesto calling out "drawbacks" of the the capitalist economic system: "[A] new international order is taking shape."
Why it matters: Xi and the Communist Party's Marxist theoreticians believe in "historical determinism," a phrase that appears repeatedly in the manifesto, and see America's retreat as a moment to increase China's influence in the world.
P.S. Wall Street Journal front page, "Six Chinese Ships Covertly Aided North Korea. The U.S. Was Watching":
"Intelligence gathered by American officials provides what they say is detailed evidence of sanctions violations." (Subscription)
2. Congress racing toward likely shutdown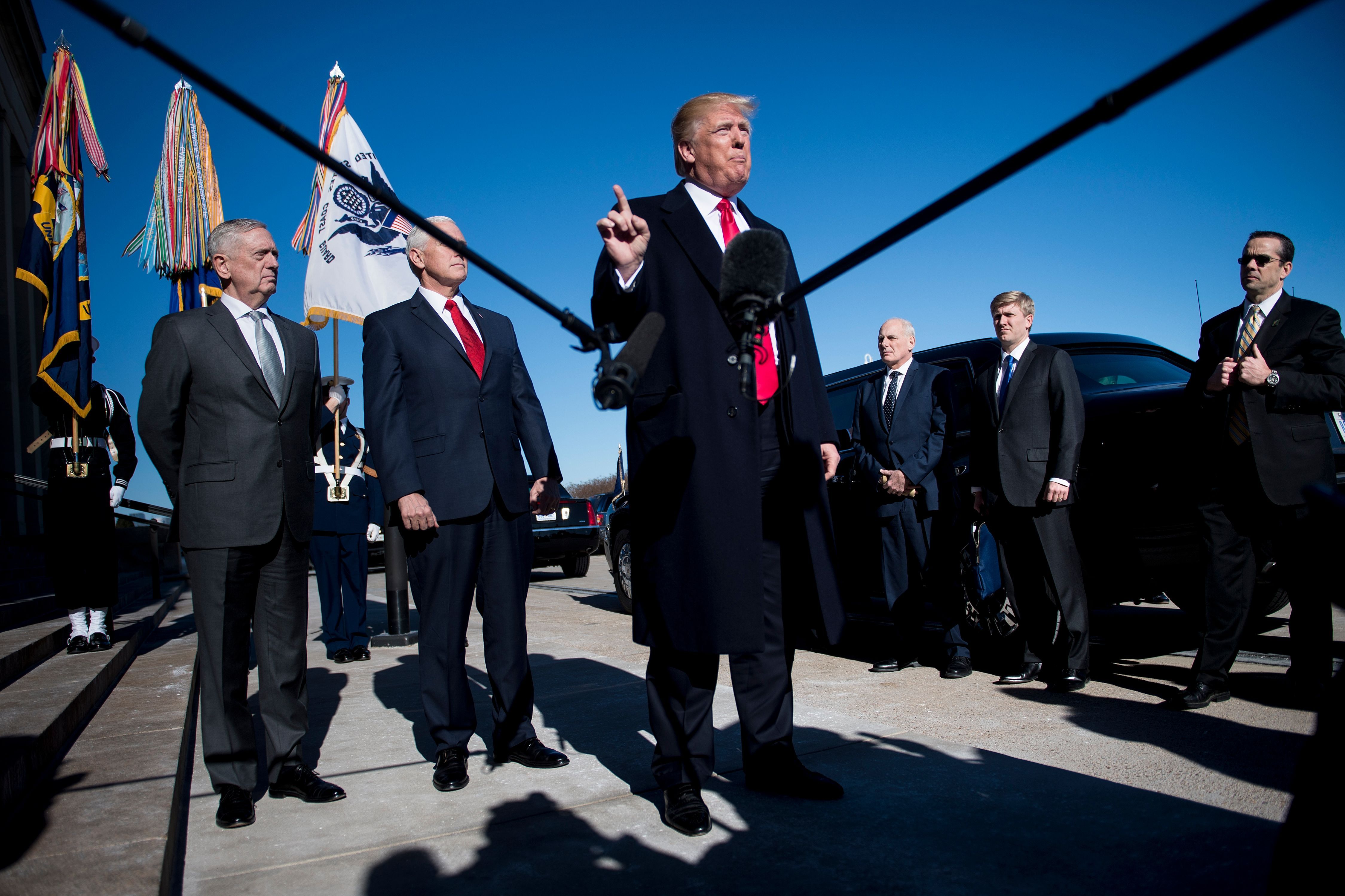 "[A] federal shutdown [at midnight tonight] moved closer to a certainty after Senate Democrats rallied against [a] GOP proposal [passed by the House], announcing they would not [vote for] a bill that did not reflect their priorities on immigration ... and other issues," the WashPost writes in its lead story:
By last evening, "nine Senate Democrats who had voted for a prior spending measure in December said they would not support the latest proposed four-week extension, joining 30 other Democrats and at least two Senate Republicans — and leaving the bill short of the 60 votes needed to advance."
"Republican leaders — long on the defensive against claims that they were failing to govern — appeared emboldened as they sought to cast the Democrats as the obstacle to a compromise to keep critical government functions operating."
Why it matters: "[A] government shutdown causing employee furloughs has never occurred under unified party control of Congress and the White House."
Be smart: Top Democrats tell me they believe a shutdown will ultimately be low cost for them, and high cost for the party that controls the White House, the House and the Senate.
So there's a furious battle to brand the shutdown: To argue which party is at fault.
Our forecast: Republicans will feel the immediate pain. So a shutdown will be brief — over shortly after the weekend.
3. They marched. Now they're running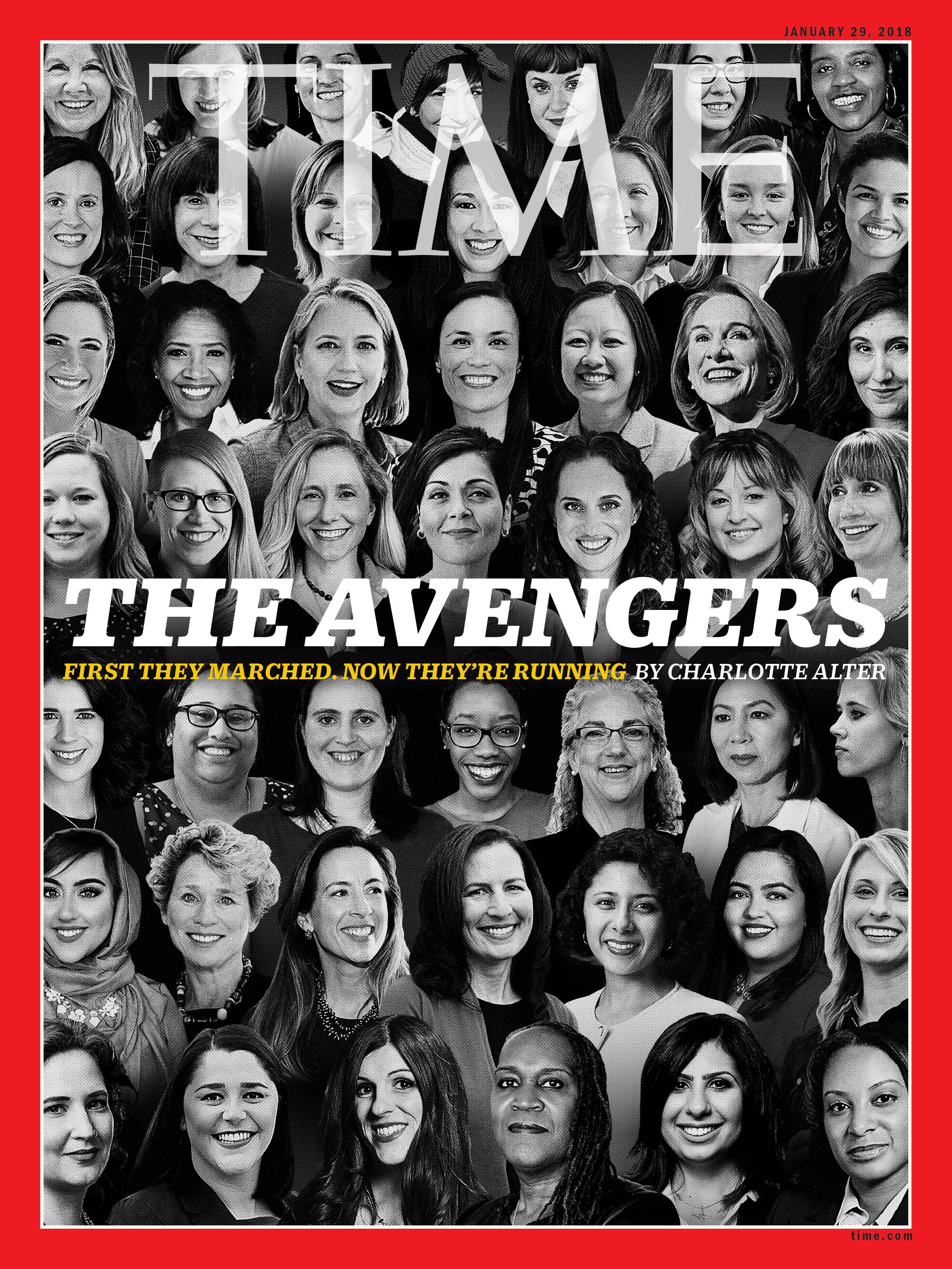 "Call it payback, call it a revolution, call it the Pink Wave, inspired by marchers in their magenta hats, and the activism that followed. There is an unprecedented surge of first-time female candidates, overwhelmingly Democratic, running for offices big and small, from the U.S. Senate and state legislatures to local school boards":
"At least 79 women are exploring runs for governor in 2018, potentially doubling a record for female candidates set in 1994."
"The number of Democratic women likely challenging incumbents in the U.S. House of Representatives is up nearly 350% from 41 women in 2016."
"Roughly 900 women contacted Emily's List, which recruits and trains pro-choice Democratic women, about running for office from 2015 to 2016; since President Trump's election, more than 26,000 women have reached out about launching a campaign."
"It's not just candidates. Experienced female political operatives are striking out on their own, creating new organizations independent from the party apparatus to raise money, marshal volunteers and assist candidates with everything from fundraising to figuring out how to balance child care with campaigns."
Why it matters: "[P]rogressive women described undergoing a metamorphosis. In 2016, they were ordinary voters. In 2017, they became activists, spurred by the bitter defeat of the first major female presidential candidate at the hands of a self-described pussy grabber. Now, in 2018, these doctors and mothers and teachers and executives are jumping into the arena and bringing new energy to a Democratic Party sorely in need of fresh faces."
Democratic pollster Celinda Lake: "Women candidates help energize women voters. And in close races, you win with women voters."
4. Pic du jour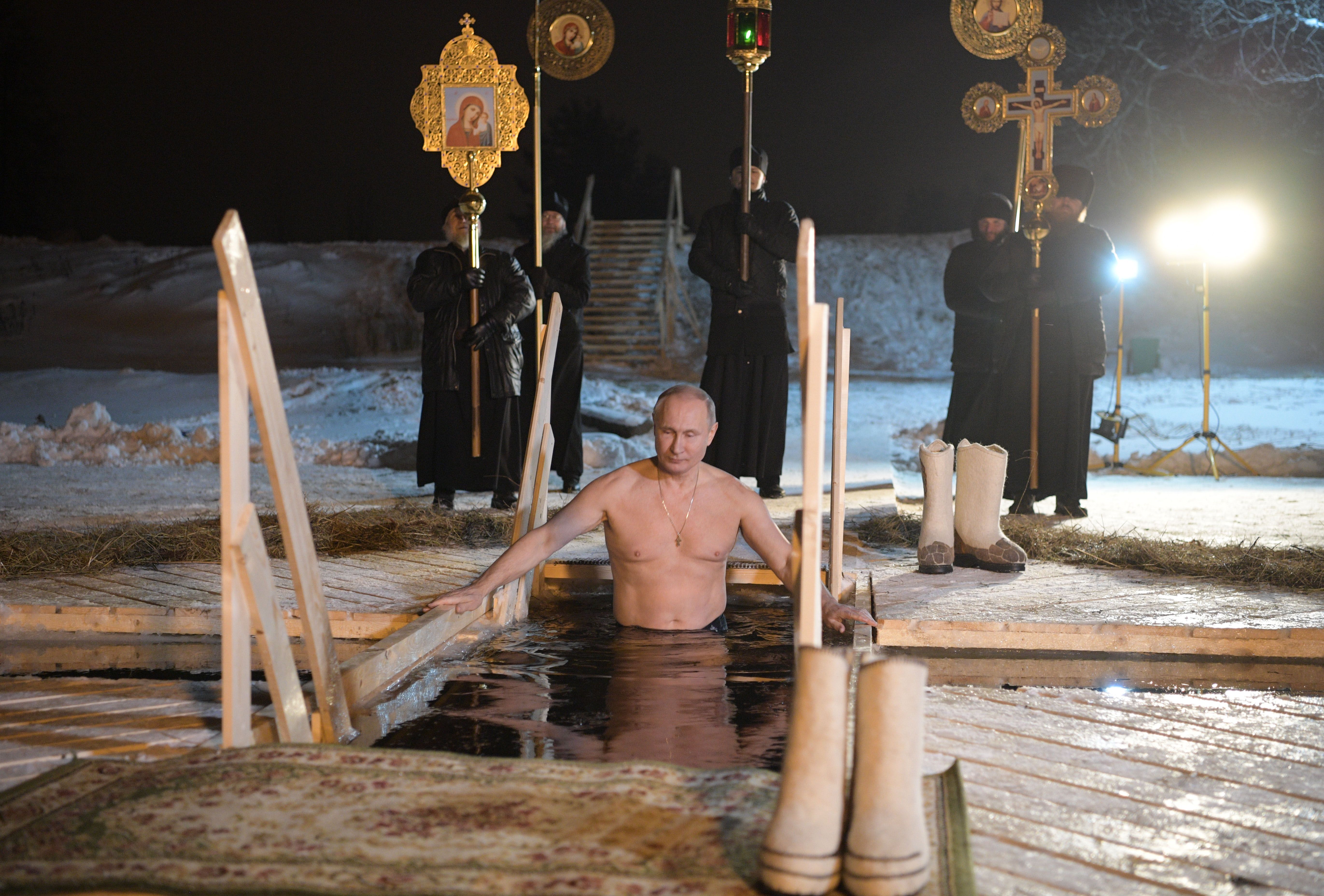 Russian President Vladimir Putin plunges into the icy waters of Lake Seliger at a male monastery 5½ hours northwest of Moscow, during the Orthodox celebration of Epiphany.
5. Leaked doc: Administration on immigration deal
Shortly after the infamous "shithole" meeting — where President Trump blew apart a bipartisan DACA deal pushed by Lindsey Graham and Dick Durbin — administration officials did their own internal analysis of the proposal.
Axios' Jonathan Swan has obtained an internal memo, "Flake-Graham-Durbin Proposal Would Cripple Border Security and Expand Chain Migration," that circulated within the White House that showed this administration's scathing assessment of the Graham-Durbin proposal.
A source familiar with the document's preparation tells him it was compiled originally by staff at Justice and Homeland Security. 
Here's the administration's internal assessment, per the leaked document:
Fails to Secure the Border: "provides less than 10 percent of the necessary funds to construct the border wall."
Increases Illegal Immigration and Guarantees Future Amnesties: "provides immigration benefits to certain illegal aliens who came to the United States as juveniles."
The Proposal Not Only Grants Citizenship To Up to 3 Million "DREAMers," But Also Grants Legal Status to Their Parents: "grants a path to citizenship to an illegal population that is nearly five times larger than the population of DACA recipients."
Increases Chain Migration: "keeps chain migration in place while increasing the number of individuals eligible to bring in their foreign relatives through chain migration."
Fails To End the Visa Lottery.
Why this matters: It shows how far the White House is from ever agreeing to the Graham-Durbin legislation. Several moderate Senate Republicans and Democrats have embraced this legislation. But GOP leadership considered it dead on arrival, and immigration hawks like Tom Cotton and Stephen Miller hate it.
6. List du jour
Apple is the world's most admired company, as ranked by Fortune, for the 11th year in a row.
The editors write: "Everyone looks up to Apple. With a market value that recently sat around $900 billion, the iPhone maker is the world's most valuable company. And for the 11th year in a row, it also ranks No. 1 on FORTUNE's annual list of corporate reputation — followed at No. 2, for a second straight year, by fellow tech giant Amazon."
"In less auspicious news, GE plunged from No. 7 to No. 30, as its stock plummeted 45% in 2017. But on the positive side, Adidas and Lockheed Martin made their debuts among the 50 All-Stars."
7. The rivalry remedy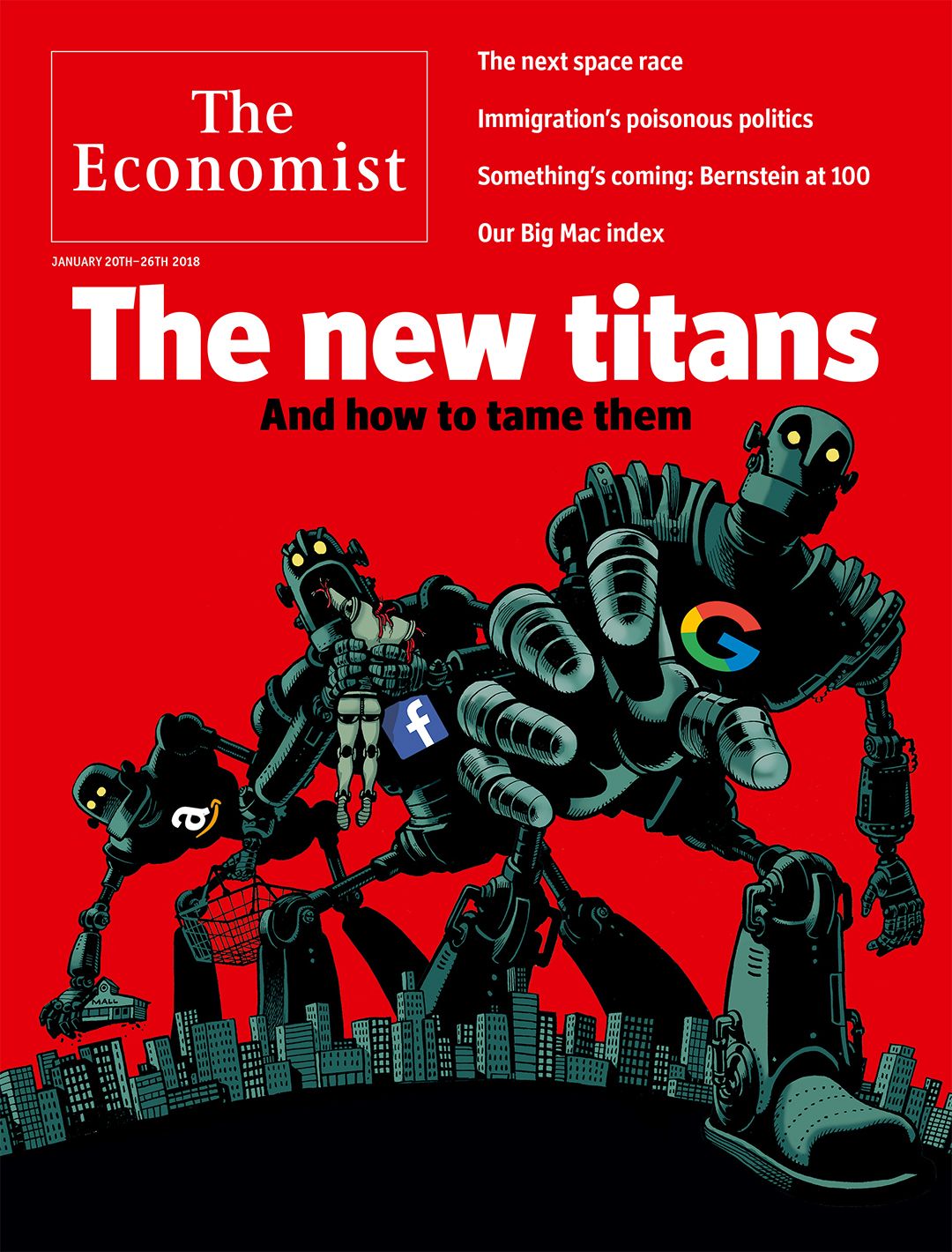 "Competition in the digital age: How to tame the tech titans" — Economist cover editorial (leader):
"Much of [the] techlash is misguided. The presumption that big businesses must necessarily be wicked is plain wrong. Apple is to be admired as the world's most valuable listed company for the simple reason that it makes things people want to buy, even while facing fierce competition. Many online services would be worse if their providers were smaller. Evidence for the link between smartphones and unhappiness is weak. Fake news is not only an online phenomenon."
"But big tech platforms, particularly Facebook, Google and Amazon, do indeed raise a worry about fair competition. That is partly because they often benefit from legal exemptions. Unlike publishers, Facebook and Google are rarely held responsible for what users do on them; and for years most American buyers on Amazon did not pay sales tax. Nor do the titans simply compete in a market. Increasingly, they are the market itself, providing the infrastructure (or 'platforms') for much of the digital economy. Many of their services appear to be free, but users 'pay' for them by giving away their data."
The Economist's prescription:
"[M]ake better use of existing competition law."
"Just as America drew up sophisticated rules about intellectual property in the 19th century, so it needs a new set of laws to govern the ownership and exchange of data, with the aim of giving solid rights to individuals."
Be smart: "Powerful though they already are, their huge stockmarket valuations suggest that investors are counting on them to double or even triple in size in the next decade."
8. Listening to Trump Country

The N.Y. Times turned over its entire editorial page to Trump voters yesterday:
"The Times editorial board has been sharply critical of the Trump presidency, on grounds of policy and personal conduct. Not all readers have been persuaded. In the spirit of open debate, and in hopes of helping readers who agree with us better understand the views of those who don't, we wanted to let Mr. Trump's supporters make their best case for him as the first year of his presidency approaches its close."
"We have also published some letters from readers who voted for Mr. Trump but are now disillusioned, and from those reacting to these letters and our decision to provide Trump voters this platform."
9. Tracking power: Big NFL job open
"Joe Lockhart, the former White House press secretary who has been the NFL's [executive vice president of communications and public affairs] and primary spokesman for the past two years, is leaving the league," the WashPost's Mark Maske writes:
"Lockhart told members of his staff he is stepping aside after the Super Bowl to spend more time with his family, do political commentary and perhaps teach."
A replacement search has begun.
"Colleagues said Lockhart was not being forced out, but his exit comes after a turbulent 2017 season in which the NFL was involved in a public feud with President Trump ... NFL Commissioner Roger Goodell and the league office also came under attack by Dallas Cowboys owner Jerry Jones."
Be smart: Friends tell me Lockhart came in to shake things up during a time when the outside world was as much a part of the conversation in the pro football world as what happened on the field.
Lockhart is an active and engaged spokesman, and started a conference call with NFL beat writers that often drives conversation in the sport, with 35-40 reporters calling in and often live-tweeting. The call gets the NFL point of view out to dozens of TV and social media pundits.
Fun fact: The NFL press corps is bigger than the White House's, with thousands of reporters/bloggers/pundits/former players covering the league and the 32 clubs.
Joe and his wife, Giovanna Gray Lockhart, will stay in New York. Their two kids love their schools.
10. 1 wine thing
A tale on Jon Karl's birthday ... "Assistant to Goldman Sachs Executive Stole and Sold His Rare Wines, U.S. Says," per N.Y. Times' Matthew Haag:
"After a day in the high-flying world of high finance, David M. Solomon ... is known to arrive at steakhouses with a rare vintage from his cellar. For years, Mr. Solomon, a co-president at Goldman Sachs, tasked his personal assistant with helping manage a world-class collection of wine."
"But his assistant, Nicolas De-Meyer [age 40], was doing much more than simply stocking his boss's wine cellar in the Hamptons, federal authorities said."
"De-Meyer stole some of the most coveted French vintages — worth more than $1.2 million — in Mr. Solomon's collection and sold them, according to an indictment unsealed on Wednesday in United States District Court for the Southern District of New York."
"De-Meyer received shipments of wine at his boss's Manhattan apartment and was then expected to deliver them to the wine cellar at Mr. Solomon's home in East Hampton on Long Island."
"But hundreds of bottles never made it to that cellar, the authorities said. Mr. De-Meyer stole them and, using an alias of Mark Miller, sold them to a wine dealer from North Carolina who would pick them up at the apartment."