Axios AM
January 19, 2022
Happy Wednesday! Smart Brevity™ count: 1,143 words ... 4½ minutes. Edited by Zachary Basu.
🚀 Launching today: Axios goes Pro ... A hyper-wired team of journalists at Axios Pro, our new subscription service, dives deep into deals and dealmakers in retail, health tech and fintech — with media and climate coming soon.
1 big thing: New Omicron forecast
The Omicron wave is likely beginning to recede in the U.S., experts tell Axios health care editor Tina Reed.
Why it matters: Omicron is still wreaking havoc in parts of the country. But infectious disease experts are optimistic that relief is around the corner.
In South Africa and in the U.K., which experienced their Omicron waves before the U.S., cases spiked dramatically and then fell almost as quickly.
That appears to be happening now in parts of the U.S. that got hit with the variant early, including Boston, New York and Washington, D.C.
"The trajectory was incredibly steep and rising to, of course, a new height in infections," Chris Beyrer, an epidemiologist at the Johns Hopkins Bloomberg School of Public Health, told Axios. "That does appear now, in aggregate, to be starting to decline."
Reality check: While cases are beginning to fall in the East Coast cities that were among the first to see the variant take hold, Omicron likely hasn't peaked yet in other parts of the U.S.
Surgeon General Vivek Murthy warned Sunday on CNN's "State of the Union": "We shouldn't expect a national peak in the next coming days. The next few weeks will be tough."
What's next: Even though Omicron seems to cause milder illness than prior variants, it has still strained hospitals' resources, and the virus has continued to kill more than 1,000 people per day, on average.
"Unfortunately, the 'loss of life peak' is still ahead of us," Beyrer said. "We're probably going to see that in the next week, or two."
2. Biden to distribute millions of masks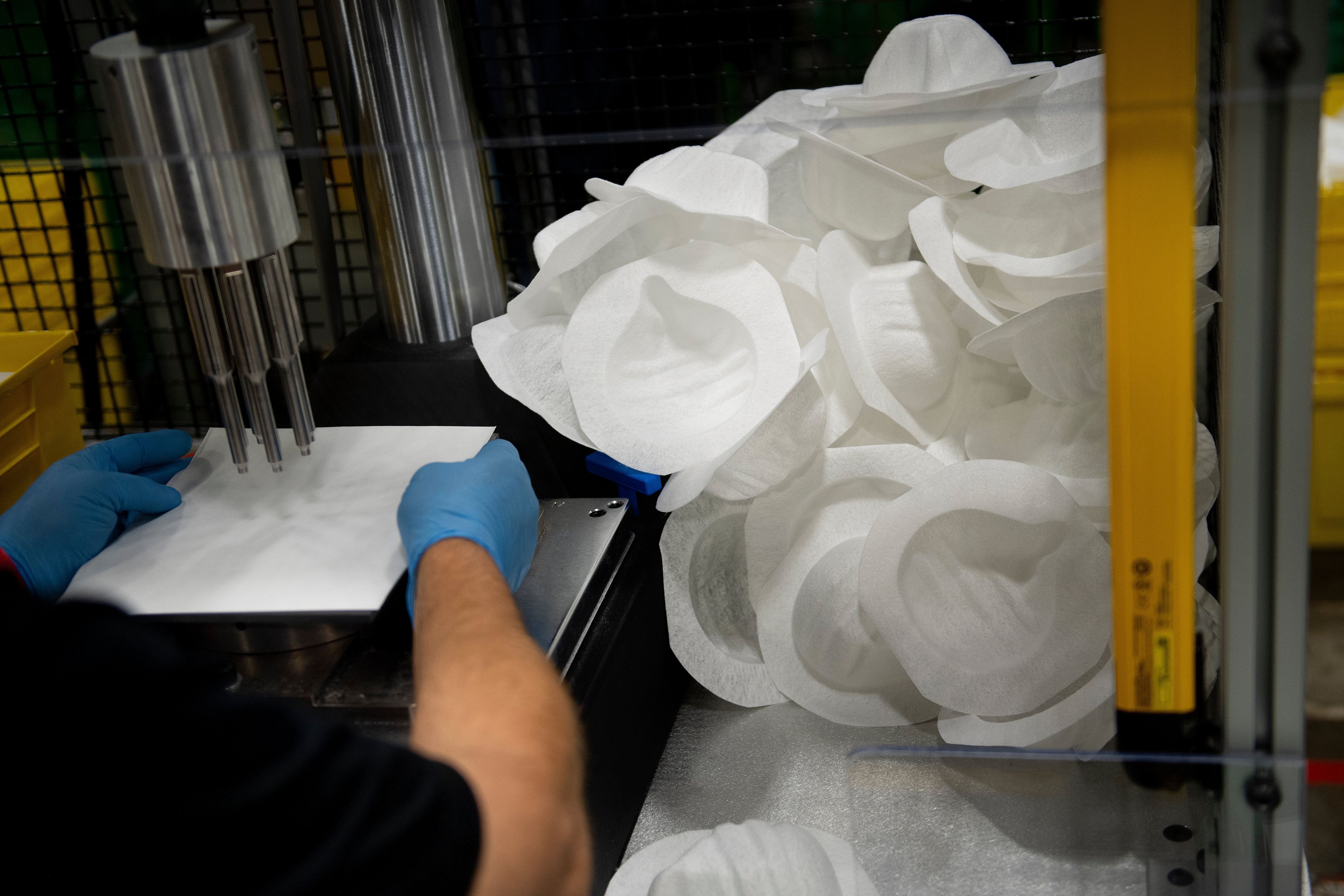 The Biden administration will announce today that 400 million non-surgical N95 masks will be made available for free at thousands of "convenient locations" across the U.S., Axios' Yacob Reyes reports.
Why it matters: This is the largest deployment of personal protective equipment in U.S. history, a White House official told reporters.
How it works: The administration will begin shipping the masks this week, and they're slated to be available at pharmacies next week.
3. Airbnb CEO to live at work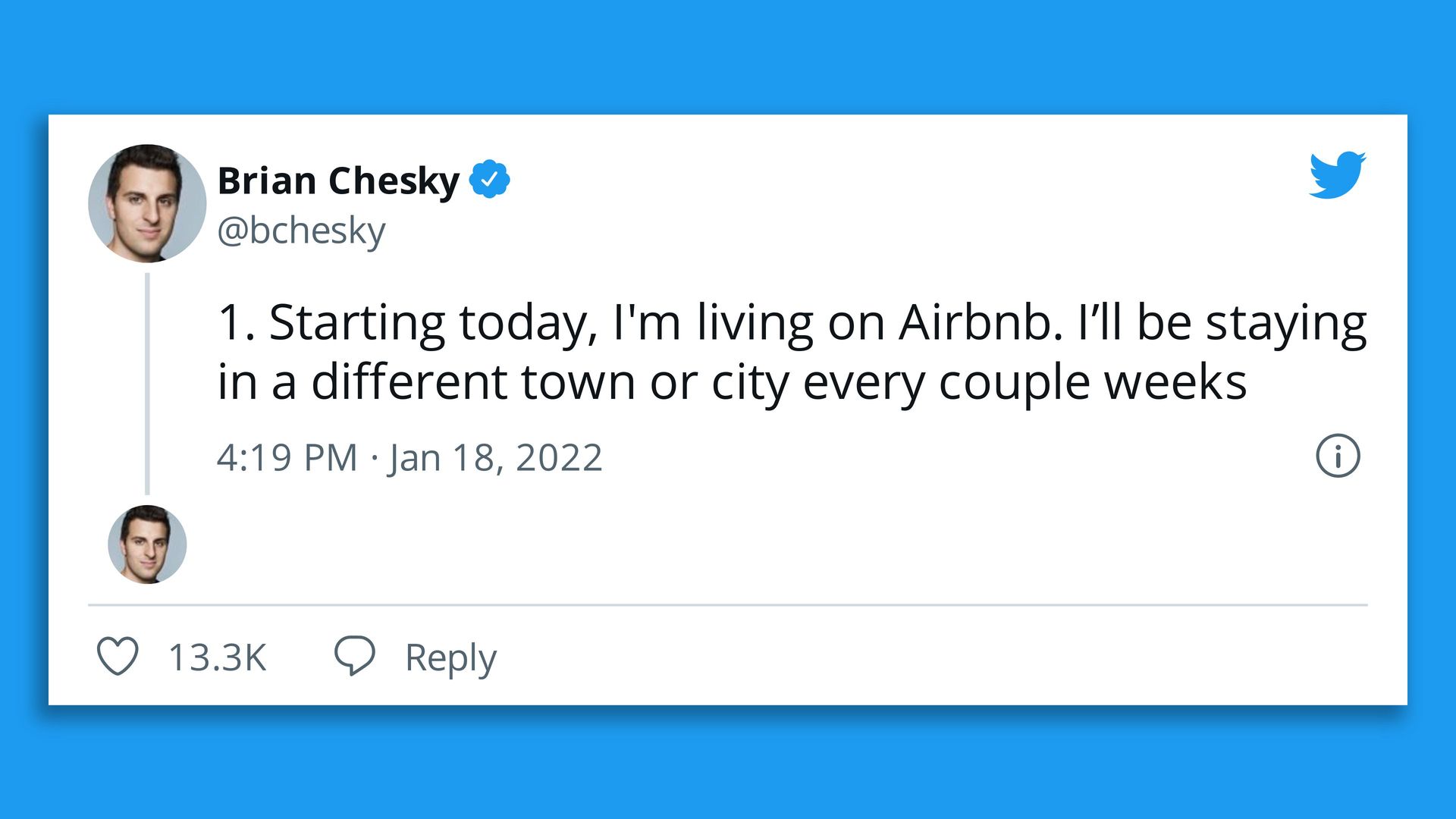 Airbnb CEO Brian Chesky tweeted that he's going to be "living on Airbnb," starting in Atlanta this week.
"I'll be coming back to San Francisco often, but for now my home will be an Airbnb somewhere," wrote Chesky, who rode the pandemic's shutdown phase at his San Francisco home.
Between the lines: Chesky is using his "digital nomad" status to embody one of the big ways Airbnb has thrived during the COVID era, after a scare when travel first came to a halt.
"In the past year, 100,000 Airbnb guests booked stays of 3 months or longer," Chesky said. "In 2022, I think the biggest trend in travel will be people spreading out to thousands of towns and cities, staying for weeks, months, or even entire seasons at a time."
4. Hottest job markets
The nation's hottest job market is the City of Boise, Idaho, with 94.8% job growth compared to its pre-pandemic baseline in February of 2020, Axios' Erica Pandey writes from a dataset by the jobs site Indeed.
Boise, a burgeoning tech hub, has seen steady job growth — and outpaced other U.S. cities — for the last decade or so, AnnElizabeth Konkel, an economist at Indeed, tells Axios.
💡 Axios insight: Almost every city in the top 10 for job growth has a lower cost of living than the national average, Konkel notes.
The exceptions are the Austin and Phoenix metro areas, which are right around the average.
Most of the top 10 are also cities in warm climates.
The metro area that's lagging the most in job growth is Honolulu. That's due in large part to the hit that Hawaii's tourism industry has taken.
5. 💭 A question for Biden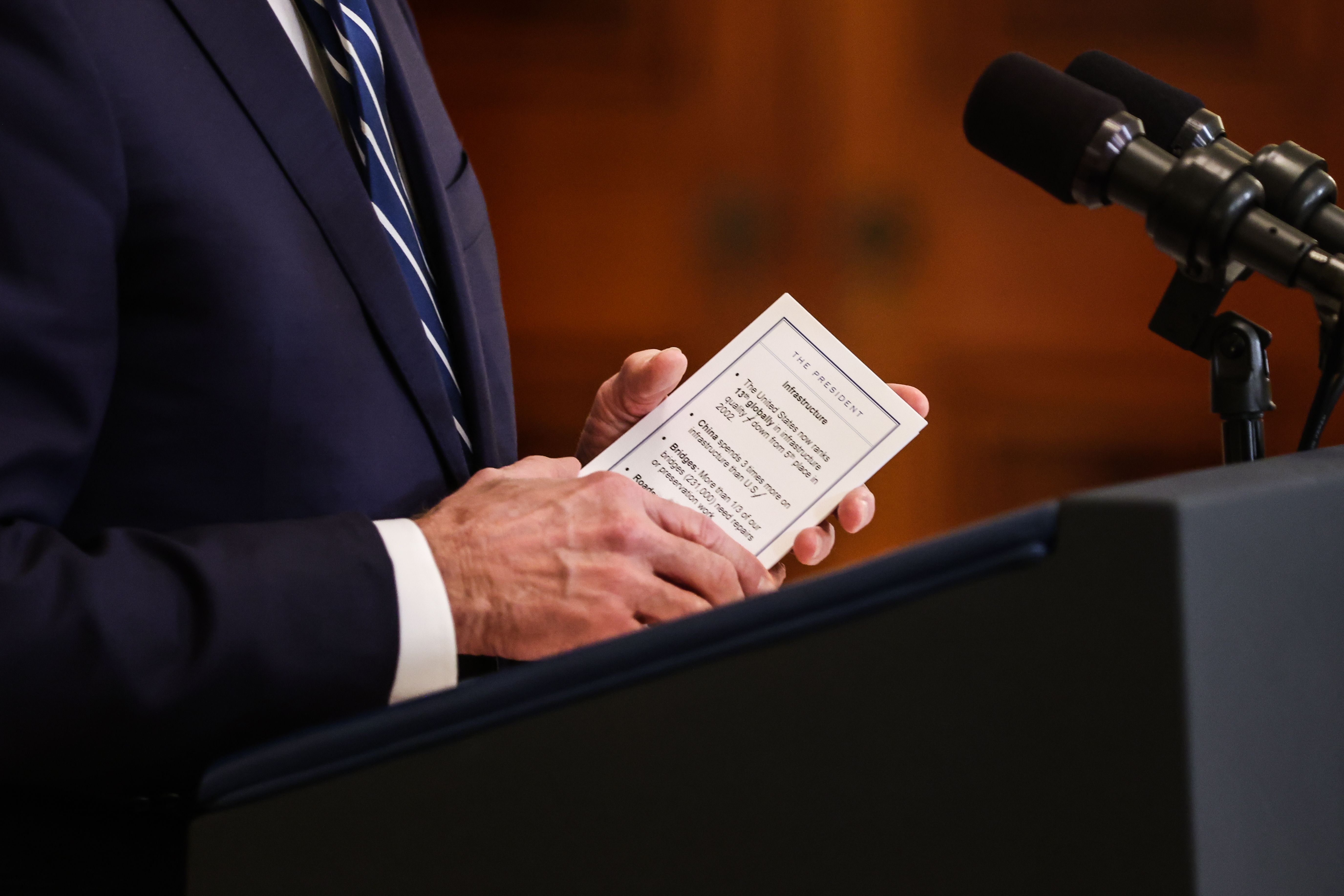 At 4 p.m. ET, President Biden holds an East Room news conference. An Axios AM reader suggests this Q:
An NBA owner was criticized this week for saying "nobody cares about what's happening to the Uyghurs" in China. How do you get Americans to care about this, and what message does it send to be celebrating China at the Olympics next month while a genocide is taking place?
6. 🏡 Covering America: Studio sparks startups in Arkansas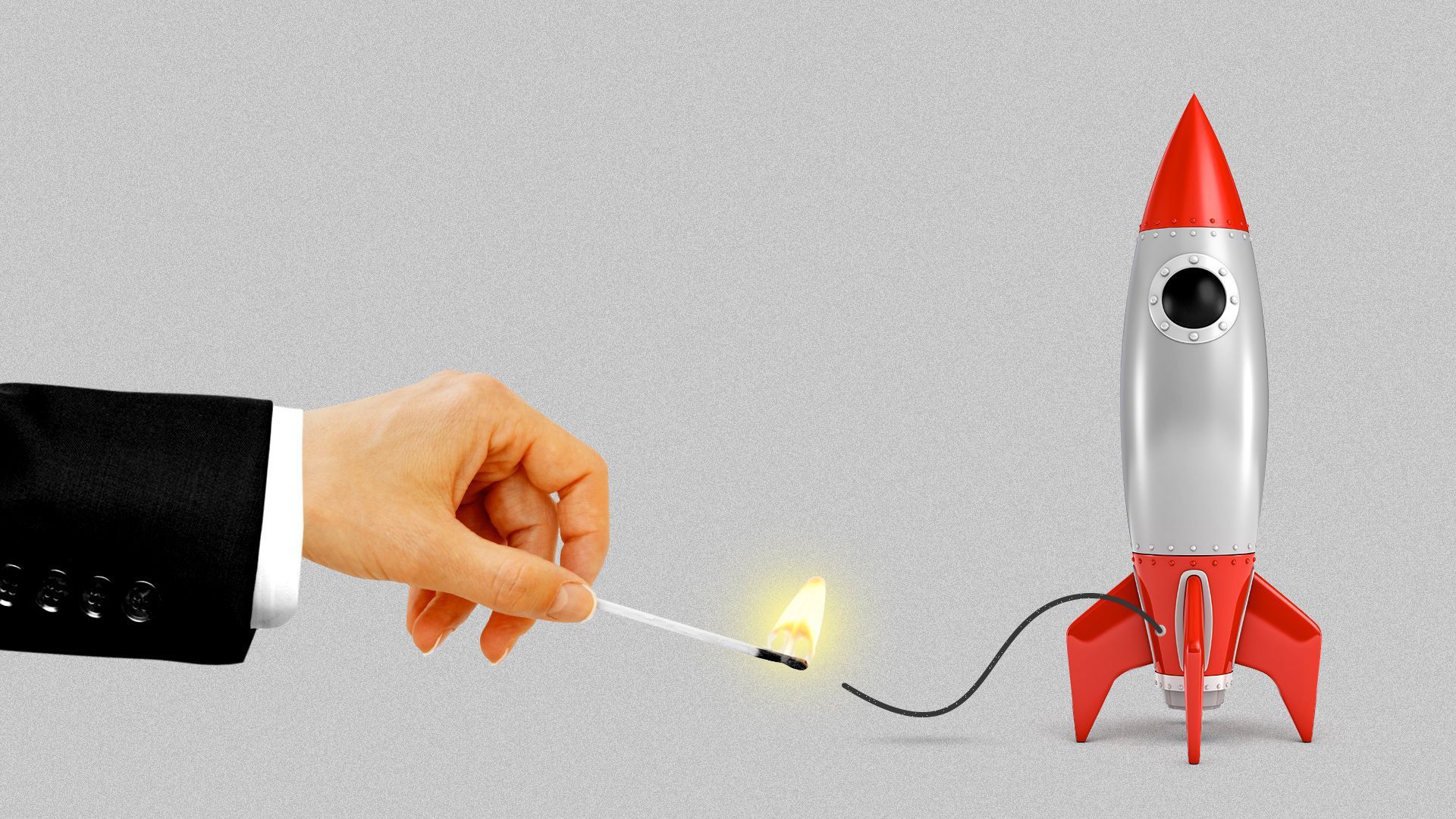 Axios AM brings you coverage from on-the-ground Axios Local journalists:
Cartwheel — a startup studio based in Bentonville, Ark. — tries to generate the idea for a product idea, then hire a pilot to navigate the launch, writes Worth Sparkman of Axios Northwest Arkansas.
Cartwheel CEO Joshua Stanley says: "We're seeking to pull the known '90% failure rate of startups' up to the pre-formation phase to produce new companies that have the highest probability of success."
The studio will focus on software used by frontline workers, including waitstaff, manufacturing workers or retail employees.
Why it matters: As Northwest Arkansas broadens beyond depending on a few huge companies, startup accelerators like Cartwheel can help build a regional entrepreneurial mindset and attract out-of-market talent.
How it works: A startup studio identifies a commercial need. Then it vets the concept, tests its potential and develops the skeleton of a company.
Studios can provide back-office support (accounting, legal, recruiting), and hire a CEO to bring the product to the marketplace.
Cartwheel is partnering with Winrock International, an economic-development nonprofit, on a yearlong effort to sprout two to three tech companies in the region.
The Walton Family Foundation provided $1.2 million for the project.
7. "Pork pie plot" threatens Boris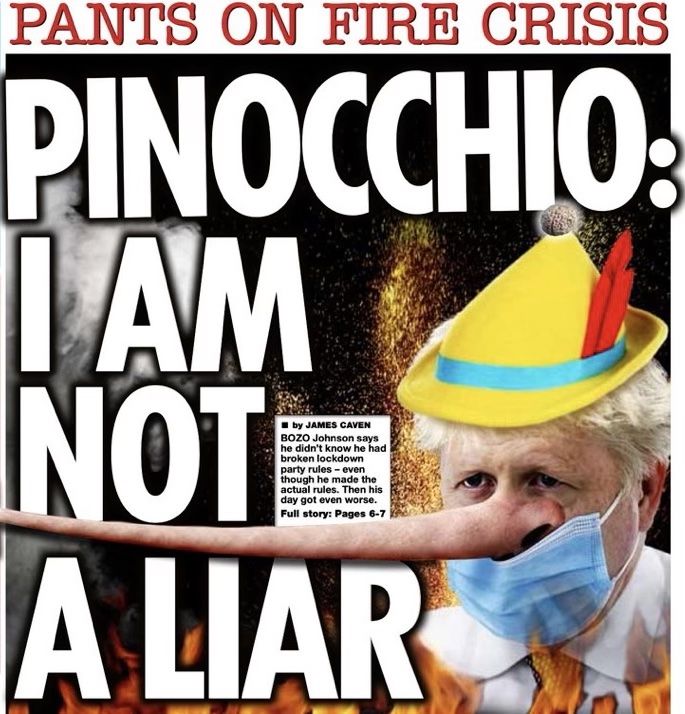 Prime Minister Boris Johnson is under growing pressure to resign today amid a revolt by his own lawmakers who are angry over a series of boozy parties at Downing Street while the U.K. was in COVID lockdown.
A brewing coup revealed last night is being called the "pork pie plot" because one alleged rebel lawmaker is from Melton, home of the Melton Mowbray pork pie, Reuters reports.
Pork pie is London slang for a lie.
8. 📚 Parting shot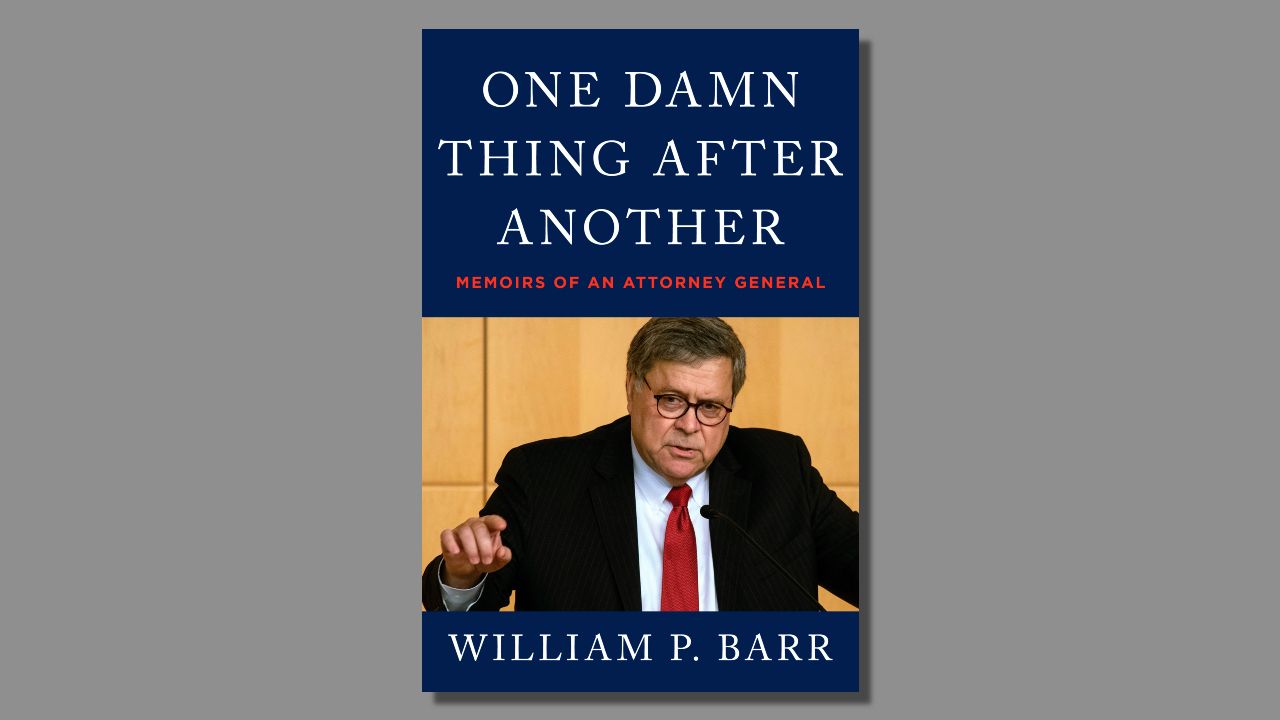 This title for a memoir out March 8 captures the post-presidency mood of Bill Barr, former President Trump's attorney general.
The publisher says Barr, also attorney general under President George H.W. Bush, "takes readers behind the scenes during seminal moments of the Bush administration in the 1990s, from the LA riots to Pan Am 103 and Iran Contra. With the Trump administration, Barr faced an unrelenting barrage of issues, such as Russiagate, the opioid epidemic, Chinese espionage, big tech, the COVID outbreak, civil unrest, the first impeachment, and the 2020 election fallout."
📬 Was this email forwarded to you? Sign up here for your own personal copy of Axios AM and Axios PM.