Axios AM
October 20, 2020
🗳️ Election Day is two weeks from today! Today's Smart Brevity™ count: 1,199 words ... 4½ minutes.
🎤 The Commission on Presidential Debates said it will mute the microphones of President Trump and Joe Biden to allow each candidate two minutes of uninterrupted time per segment during Thursday's debate, at Belmont University in Nashville. Details.
1 big thing: Cities brace for Election Day chaos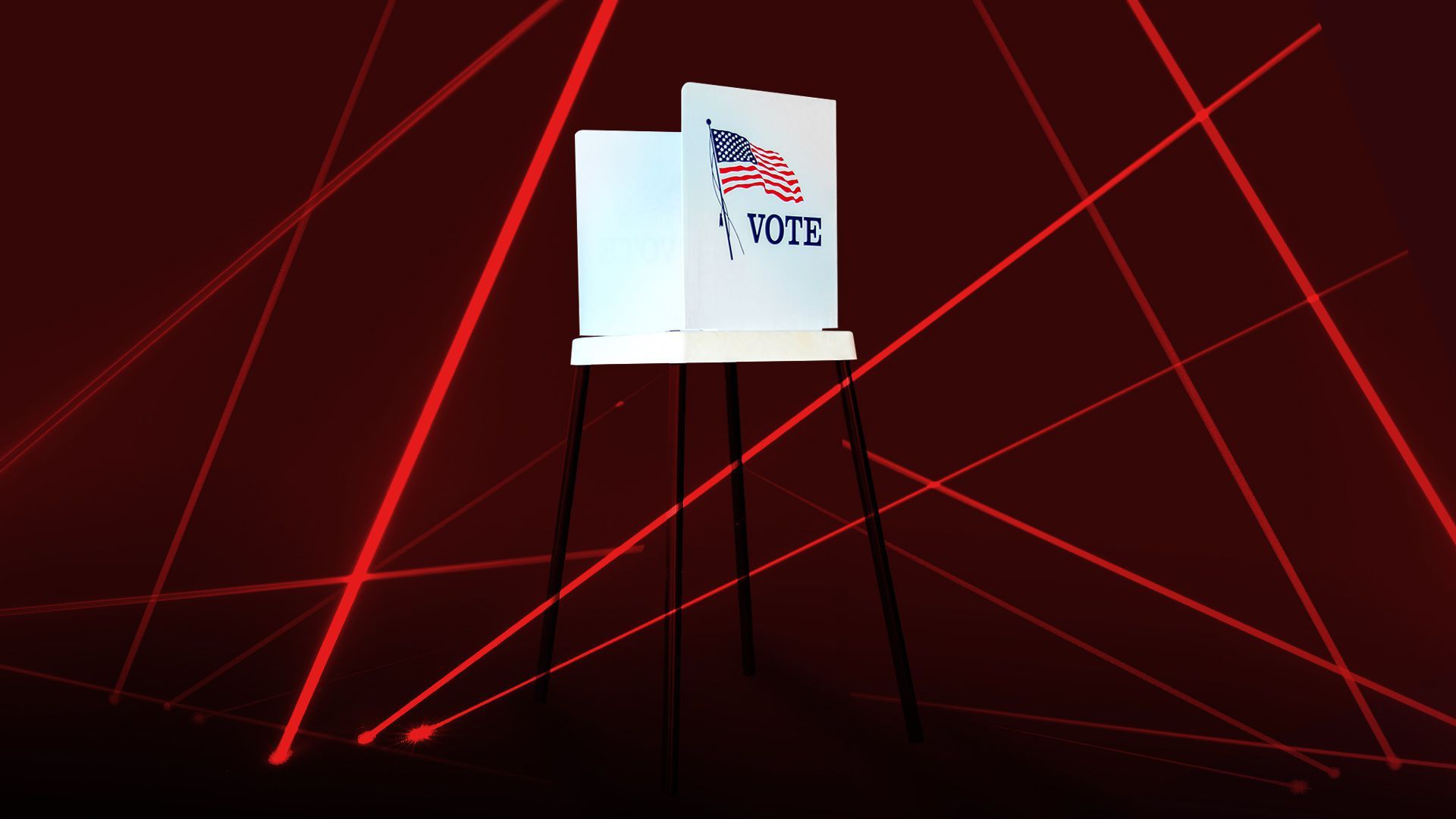 Worst-case scenarios for Election Day: Illegal militias show up fully armed at polling places. People are intimidated from voting. Extremist groups launch violent protests that last for days.
Mayors are playing down the threats — projecting a "we've got this" tone — but some law enforcement officials and people who monitor extremists are telling them to be prepared for anything, Axios' Jennifer A. Kingson writes.
Cities and states are taking unusual measures ahead of Nov. 3, with the backdrop of the pandemic, the polarizing presidential race and civil unrest in the wake of George Floyd's killing. The word "de-escalation" is being used a lot.
In Albuquerque, Bernalillo County District Attorney Raúl Torrez tells Axios he plans to staff "a war room of senior level prosecutors" who will be available on Election Day to help police officers handle specific disruptions.
Police forces across the nation are being drilled on local rules and laws: They're not allowed inside polls unless they're actually voting.
The U.S. Conference of Mayors warned in a statement:
There is significant concern that we may see voter intimidation efforts and protests, some possibly violent, in the days leading up to November 3, on that day, and on the days following.
2. Big school districts start to reopen
There's a new trend across the country toward more in-person school, the WashPost reports on today's front page:
"Of the 50 biggest school districts, 24 have resumed in-person classes for large groups of students, and 11 others plan to in the coming weeks."
Why it matters: "It's a major shift from the start of the year, when almost every big school system began fully online," The Post notes.
Many of the reopened schools are in Florida and Texas, "where Republican governors are requiring in-person classes, but schools are also open in New York City [and] Greenville, S.C. ... Returns are planned in Charlotte, Baltimore and Denver."
"Just 11 of the largest 50 school districts are still fully remote, with no immediate plans to change that."
Go deeper: Schools haven't become COVID hotspots, by Axios' Marisa Fernandez.
3. New space war: Environmental crisis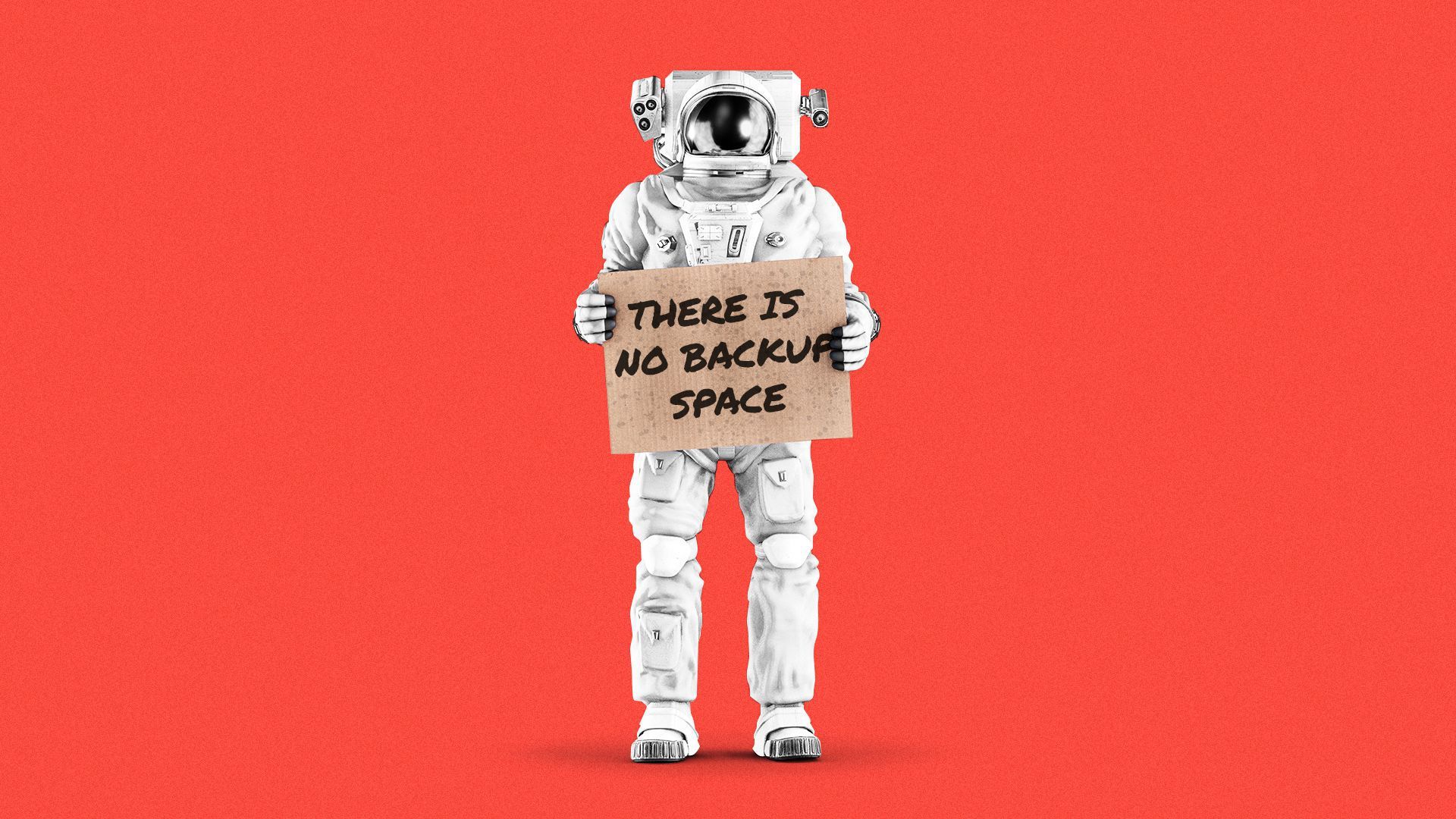 There's a new, once-unthinkable frontier in the battle over environmental regulation: outer space, Axios Space author Miriam Kramer writes.
Why it matters: Space junk clutters orbits and poses an urgent threat to weather, security, communications and other satellites. Long term, you can't live or work in space if trash is literally slamming into you.
Moriba Jah of the University of Texas at Austin said the space industry has a lot to learn from the environmental movement, including borrowing the language of sustainability to bring the problem down to Earth.
"Whatever narratives we have for maritime, land and air, these environmental protection narratives need to have, 'and space,'" Jah said.
🛸 Sign up for Miriam Kramer's newsletter, Axios Space.
4. Axios-Ipsos poll: Now, even Republicans think rallies are risky
Large shares of women, seniors and independents now say they're less likely to trust President Trump for accurate information about COVID-19 since he caught it himself, Axios' Margaret Talev writes from the Axios/Ipsos Coronavirus Index.
"It's very hard for him to control the debate about COVID in any way because people have such little trust in what he says," said pollster Chris Jackson, senior vice president for Ipsos Public Affairs.
Week 28 of our national survey finds that eight in 10 Americans fear local cases will rise and force new lockdowns and business closures.
Three-fourths of respondents say attending campaign rallies is risky.
That's true for majorities of Republicans (54%) as well as independents (79%) and especially Democrats (93%) — and it suggests that Joe Biden's decision to scrap large events to protect the public and himself could be politically wise.
5. Unlike previous waves, this surge is all over
The percentage of coronavirus tests coming back positive is rising across the country, Axios' Caitlin Owens and Naema Ahmed write.
Why it matters: High positivity rates indicate a worsening outbreak. Together with the rise in cases and hospitalizations across the country, the U.S. is in bad shape.
The big picture: The virus is spreading throughout the U.S. It's not concentrated in any one region, as it was during the previous waves.
It's unlikely to spread only among young, healthy people. The American Health Care Association and the National Center for Assisted Living released a report highlighting the link between community spread and nursing home cases, with a recent uptick in both.
🌎 Argentina became the fifth country to pass 1 million coronavirus cases — the smallest nation by far to reach that milestone, per Reuters.
The South American nation follows the U.S., India, Brazil and Russia.
Across Latin America, three other nations are expected to reach the 1-million-case milestone in coming weeks — Colombia, Mexico and Peru, AP reports.
6. Fortune updates "Most Powerful Women"
For this year's list of the "Most Powerful Women in Business," Fortune added to the criteria the magazine has used since 1998:
"Now, to account for this moment of crisis and uncertainty, as well as positive change, the list also considers how the executives wield their power, and whether they are using their influence to shape their companies and the wider world for the better."

7. New poll doubts Trump on economy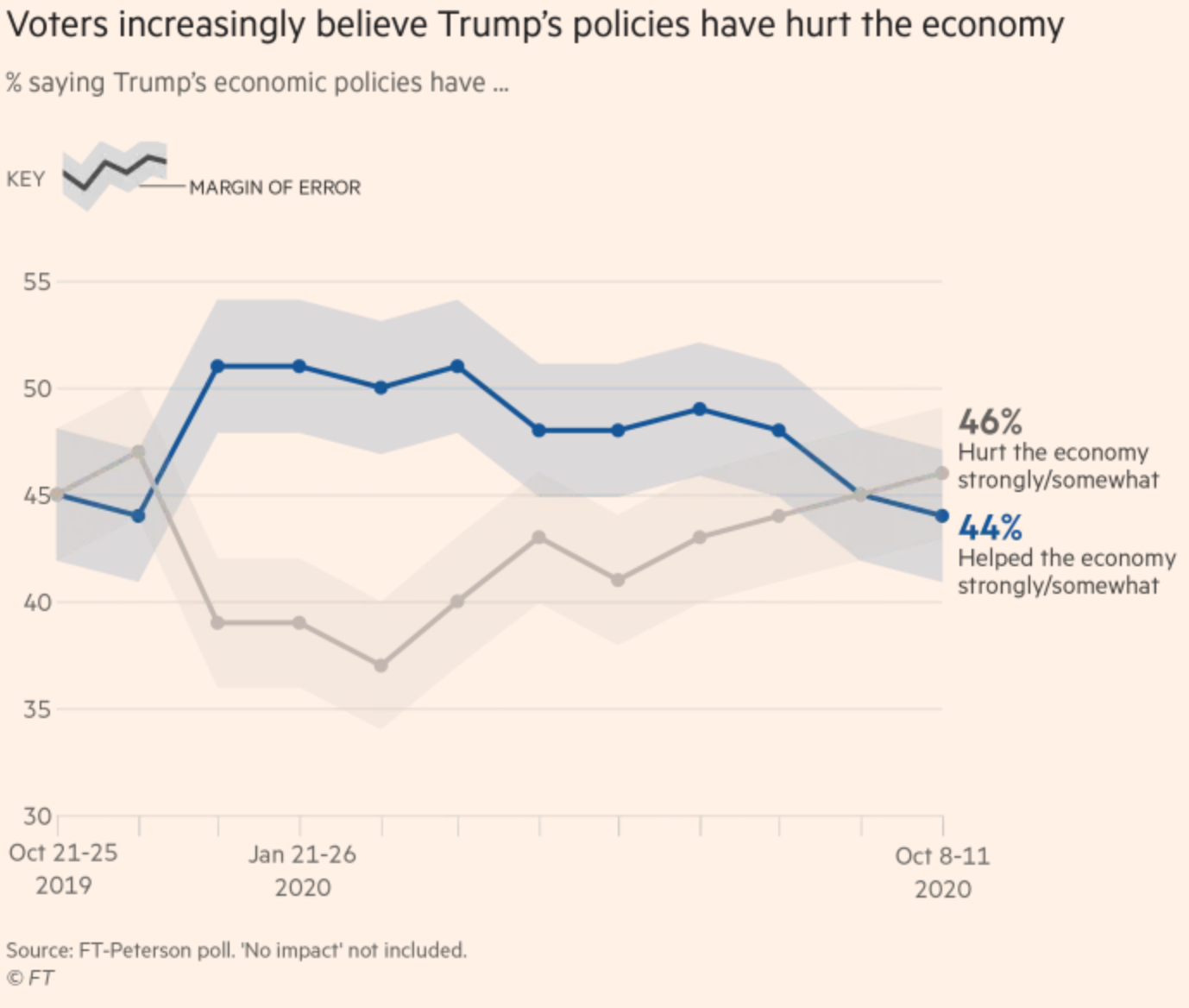 A poll by the Financial Times and the Peter G. Peterson Foundation found 46% of 1,000 likely voters believe President Trump's policies have hurt the economy, a flip from past polling, the Financial Times reports (subscription).
Why it matters: Amid a pandemic and national turmoil, strength on the economy was Trump's rock. This poll shows even that is crumbling.
🗞️ Trump's day yesterday: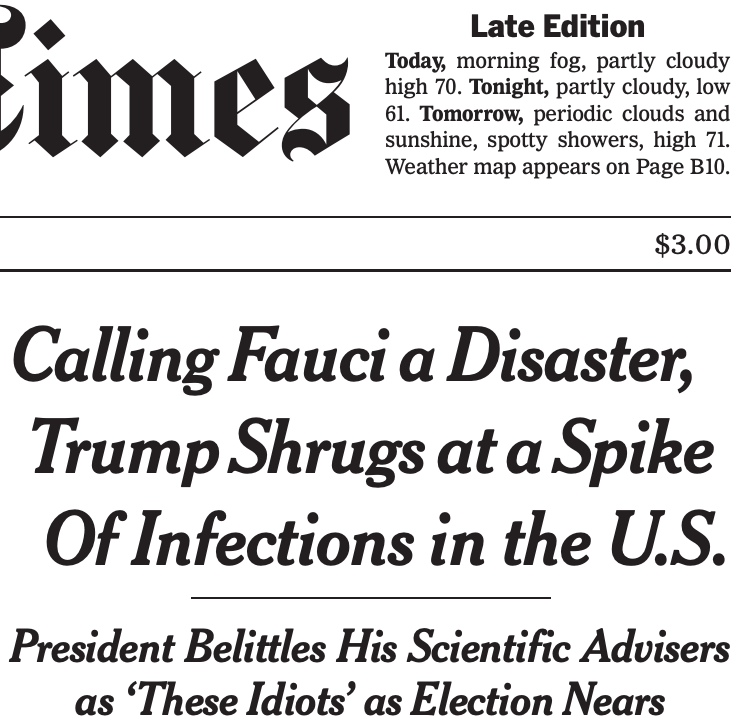 ⚡ Breaking: USA Today gave Joe Biden its first-ever presidential endorsement today, reports Axios' Sara Fischer.
8. Farmers stick with Trump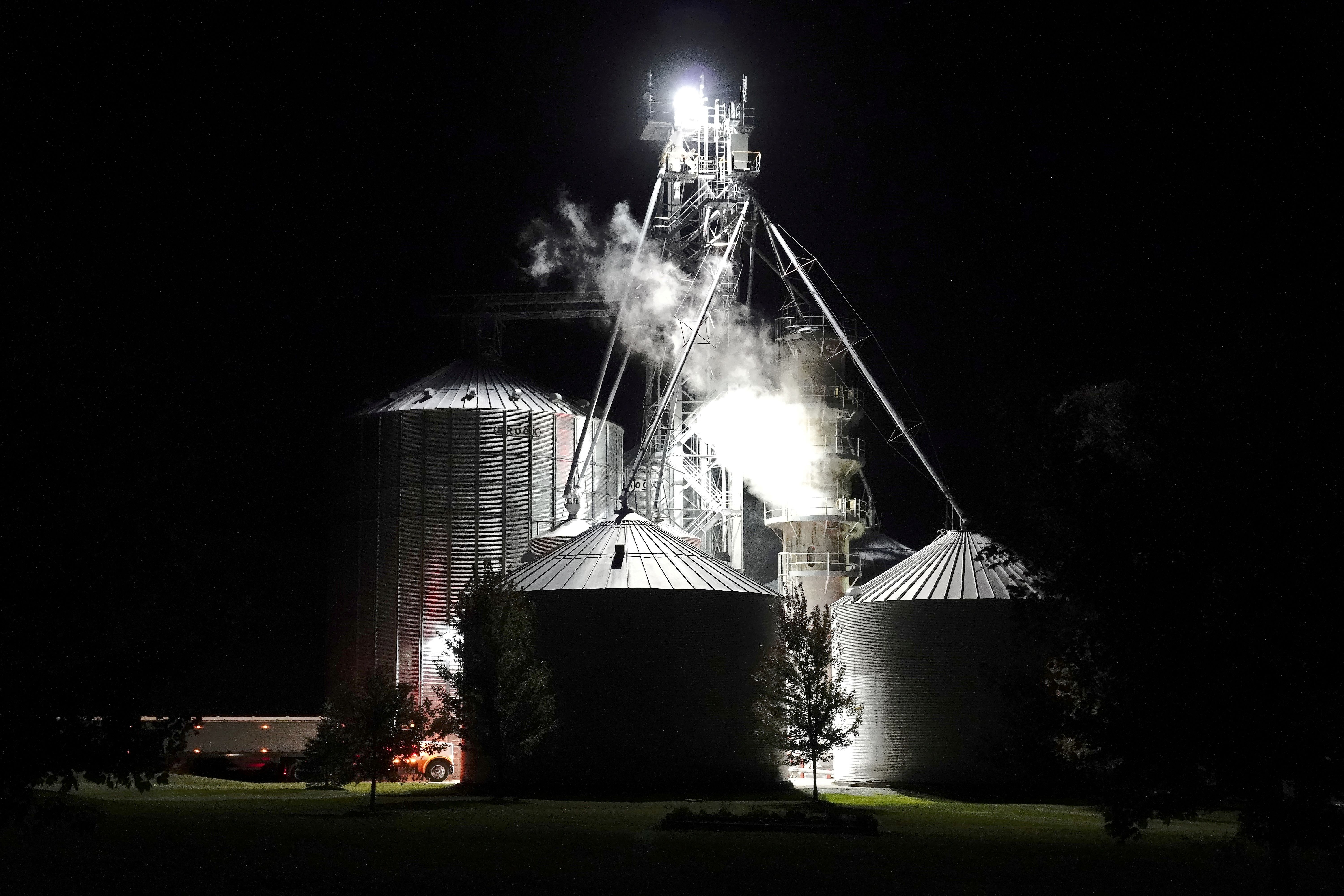 Shot: "A September poll by agricultural publication Farm Futures found 75% of farmers surveyed in July planned to vote for [President] Trump, compared with 72.6% ahead of the 2016 election," The Wall Street Journal reports (subscription).
Chaser: "Trump's payments to farmers hit all-time high ahead of election," per Reuters, "with record government subsidies projected to make up more than a third of farm income in 2020."
9. ⚾ Article of the day: Covering 44 straight World Series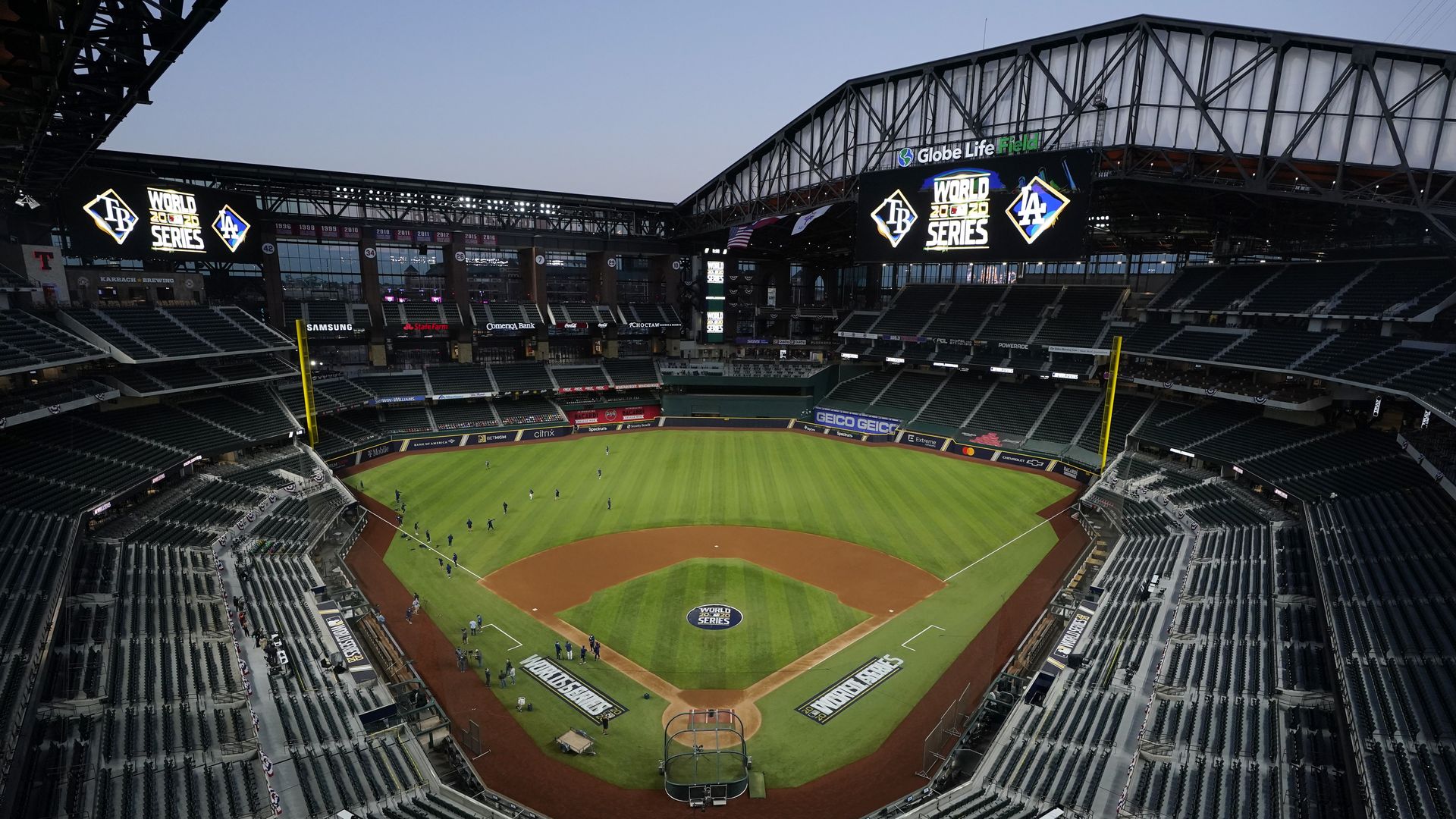 "Since 1975, I've covered every World Series game for The Washington Post," columnist Thomas Boswell writes. "My streak will end [today] at 252 games."
"Last month, I decided not to go to this World Series, because I don't think it's smart for a 72-year-old man in a pandemic."
"You can't plan out World Series stories ahead of time," Boswell says:
You're left with adrenaline (which you may need for five hours straight), fear of failure, the power of the game itself and the hope that — one more time, please, just one more time — your fingers will start flying. The ideas and insights will rush faster than you can type, and you will suddenly be in a place that you have never reached in any other way.
Treat yourself. Keep reading.
10. 🥊 97% of late-night jokes target Trump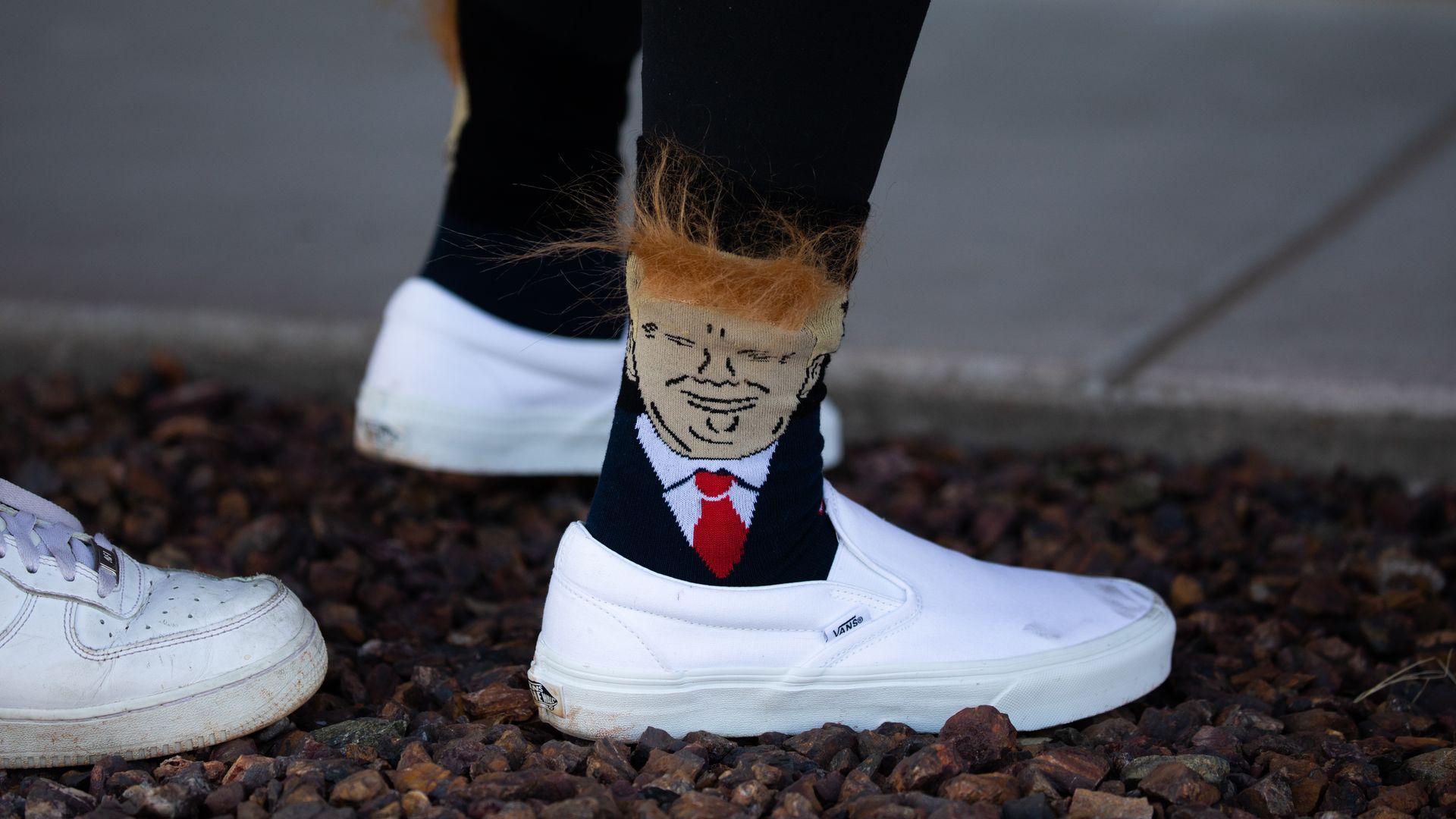 97% of the jokes Stephen Colbert and Jimmy Fallon told about the presidential candidates in September targeted President Trump, AP's Dave Bauder writes from a study by George Mason University's Center for Media and Public Affairs.
That's 455 jokes about Trump, to 14 for Joe Biden. That doesn't even count 64 jokes made about Trump's family or administration.
"When Trump's onstage, everyone else is blacked out," said Robert Lichter, communications professor at George Mason.
Lichter, who has studied late-night humor and politics since 1992, said Republicans are usually targeted more than Democrats, but the difference has never been this stark.
The closest was the 2016 campaign, when Trump was the punchline for 78% of the jokes to Hillary Clinton's 22%.
📱 Thanks for starting your day with us. Invite your friends to sign up for Axios AM/PM.