August 02, 2018
Good Thursday morning. Catch my live interviews with Ivanka Trump and EY (Ernst & Young) CEO Mark Weinberger at 8 a.m. on C-SPAN 2, with live updates on Axios.com.
☕️ Situational awareness: Starbucks strikes a partnership with Alibaba, the Amazon of China, for a bigger digital and physical presence in the world's most populous country.
Starbucks President and CEO Kevin Johnson tells CNBC "Mad Money" host Jim Cramer: "We're going to integrate a Starbucks virtual store into all of the Alibaba Group properties."
"This means that a customer that uses Alipay or Taobao or Tmall or Hema has an integrated Starbucks virtual store similar to the mobile app embedded right into that experience. ... That opens up 500 million or more active users of those apps that will have access to Starbucks."
1 big thing: Trump's stealth attack on Obama's legacy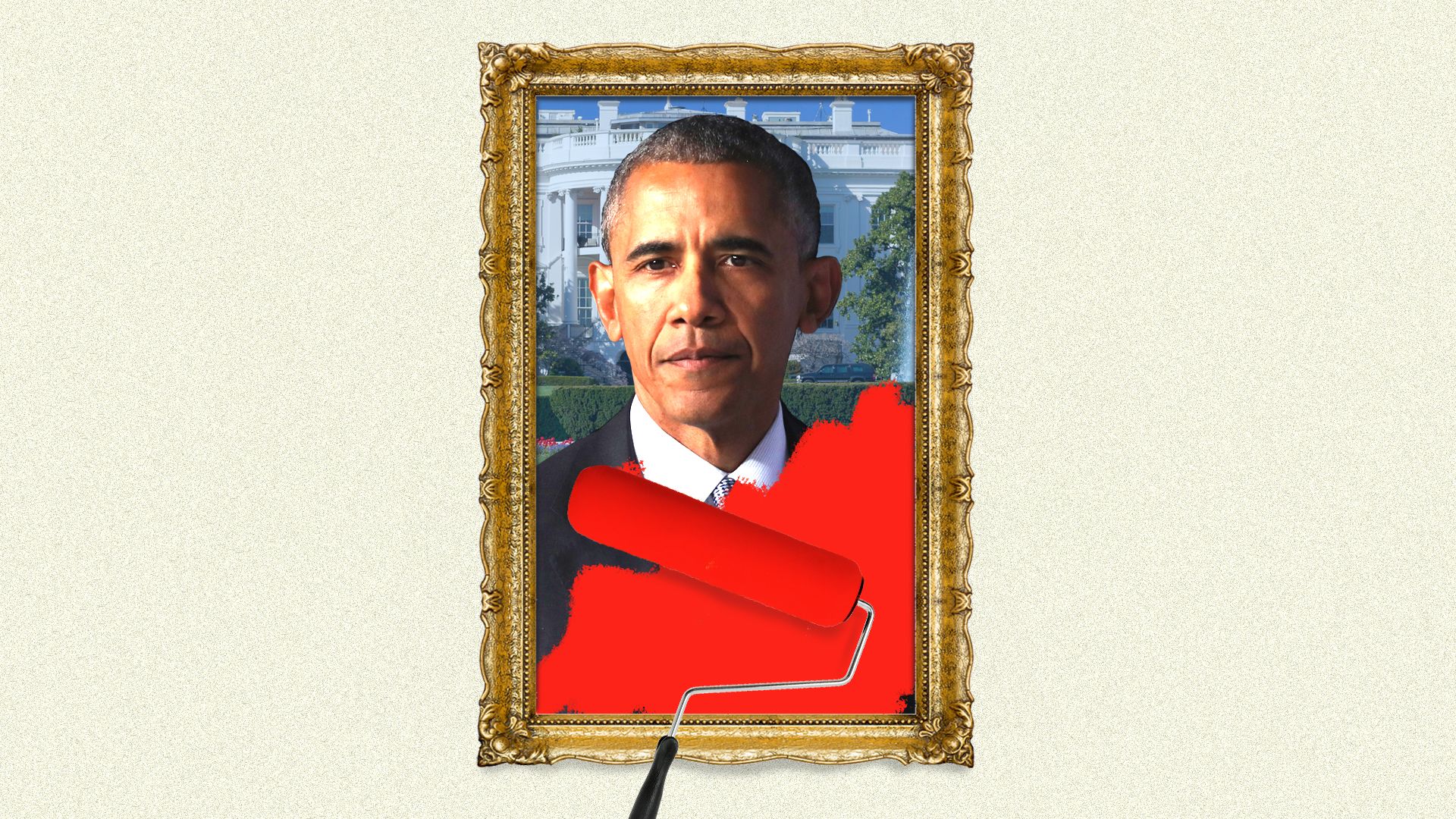 While many of us have been distracted by Rudy Giuliani's latest legal theories — and President Trump's latest tweets — the Trump administration is making two big moves that will get him closer to his goal of erasing President Obama's biggest policies, Axios' Amy Harder, Sam Baker and Jonathan Swan report:
The administration is allowing the sale of health insurance plans that undermine some of the main rules of the Affordable Care Act.
And today, it will freeze federal fuel efficiency standards, undermining Obama's goal of making them progressively tougher.
Why it matters: This is being done through rulemaking, which gets the attention of health care and environmental reporters, yet flies under the radar of the cable news networks. These moves have huge, long-term consequences — and they show how easily Trump can achieve his policy goals while the TV cameras are focused on the outrage of the day.
"The President's daily feeding of the outrage machine allows us to get work done on the agency level that would invite much more scrutiny in a 'normal' administration," a former senior Health and Human Services official tells Swan.
"Cable news anchors spend hours and hours of airtime dissecting the latest Trump tweet, yet they barely notice when we achieve long-sought conservative policy goals" — like adding work requirements to Medicaid and stripping federal funds from Planned Parenthood.
The details on the fuel rollback, from energy columnist Amy Harder:
The proposal includes a range of options, but the administration's preferred one is the most aggressive: Freezing the standards at 35 miles per gallon in 2020 for six years, instead of rising to 50 mpg under Obama's plan.
It would also revoke a federal waiver California has to issue tougher standards, which a dozen states also follow. The rollback goes further than most automakers have said they want.
Between the lines: Early in Trump's administration, business urged him to slow down on deregulating, stressing that narrow regulation is better than none in a changing political climate. Today's announcement is one of the starkest signs that Trump is throwing that advice out the window — and inviting lawsuits and regulatory uncertainty.
The details on the health care rule, from health care editor Sam Baker:
HHS finalized new rules yesterday that expand access to inexpensive, bare-bones insurance plans that don't have to comply with the rest of the ACA's rules. They're technically "short-term" plans, but they can be renewed for up to three years.
This isn't the only swipe the Trump administration has taken against Obama's health care law since the repeal effort failed:
The administration has also expanded access to other forms of non-ACA coverage.
Plus, it has slashed the budgets for programs that promote enrollment.
Congressional Republicans nullified the law's individual mandate, and now the Justice Department is using that move to try to knock out pre-existing condition protections.
None of those cuts are fatal in isolation. But they're not happening that way: Each one will pull a few more healthy people out of the ACA's insurance markets.
The bottom line: There's a lot that the agencies can do to wipe out Obama's legacy on their own — and they're making full use of the space that Trump's rhetorical battles are giving them.
2. Stat du jour
President Trump made 4,229 false or misleading claims during his first 558 days in office— an average of nearly 7.6 Trumpian claims a day, according to the WashPost's Fact Checker.
"[T]he average number of claims per day keeps climbing the longer Trump stays in office":
"When we first started this project for the president's first 100 days, he averaged 4.9 claims a day."
This June and July, "the president averaged 16 claims a day."
3. Goals: A "politics cleanse"
"For two weeks — maybe over your August vacation — resolve not to read, watch or listen to anything about politics," Arthur Brooks, president of the American Enterprise Institute, writes in a N.Y. Times Op-Ed:
"Don't discuss politics with anyone. When you find yourself thinking about politics, distract yourself with something else. (I listen to Bach cantatas, but that's not for everybody.)"
"Think of it as ideological veganism. On the one hand, your friends will think you're a little wacky. On the other hand, you'll feel superior to them."
The objection: "If I tune out politics, I may be happier, but it's irresponsible. The fascists [Brooks' conservative friends say 'communists'] will run across the country with abandon."
The reality: "If you stop talking about politics for a couple of weeks, nothing will change, except you might get invited again to parties."
Bonus: Pic du jour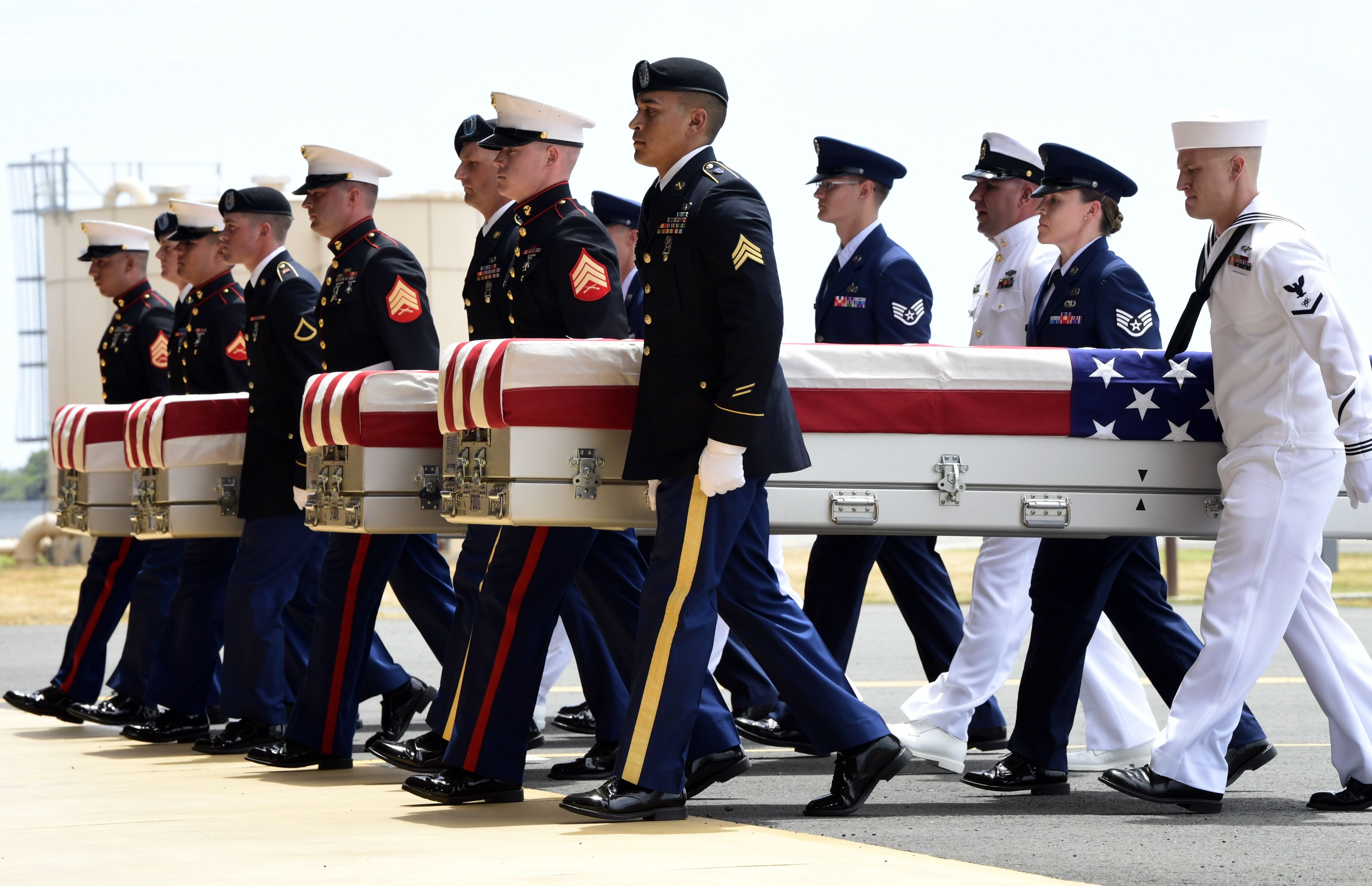 In Pearl Harbor, Hawaii, military members carry transfer cases from a C-17 at a ceremony yesterday marking the arrival of the remains believed to be of American service members, handed over by North Korea last week.
Vice President Pence spoke.
Trump tweets: "Thank you to Chairman Kim Jong Un for keeping your word & starting the process of sending home the remains of our great and beloved missing fallen! I am not at all surprised that you took this kind action. Also, thank you for your nice letter - l look forward to seeing you soon!"
Families that have been waiting for 65 years or more will have to wait longer, the N.Y. Times' Dave Philipps reports:
"[I]f past efforts to identify remains returned by the secretive dictatorship are any indication, experts say, it will be no simple task to put names to any of the latest batch, and the job may never be entirely completed."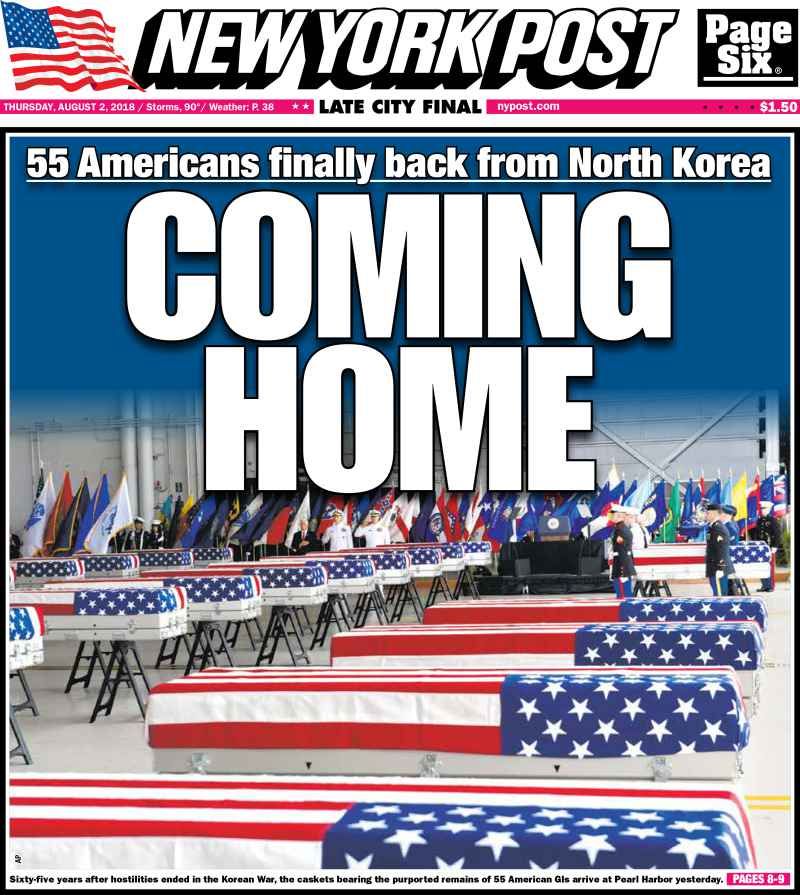 4. Trillion-dollar deficits trigger new borrowing
"Projected trillion-dollar federal deficits are prompting the U.S. Treasury to increase its borrowing substantially, which could restrain a fast-growing economy as the cost of credit also rises," The Wall Street Journal's Josh Zumbrun and Daniel Kruger report (subscription):
"The government is likely to run trillion-dollar deficits — the amount by which spending will outpace revenue — for the next four years, according to Office of Management and Budget projections released last month."
How it happened: "Deficits are rising in part because spending has been ramped up and in part because corporate and individual tax rates were cut last year."
"White House officials say the tax cuts are spurring economic growth, which could push tax revenue higher, but for now the rate reductions are reducing collections from individuals and businesses."
5. Menacing the media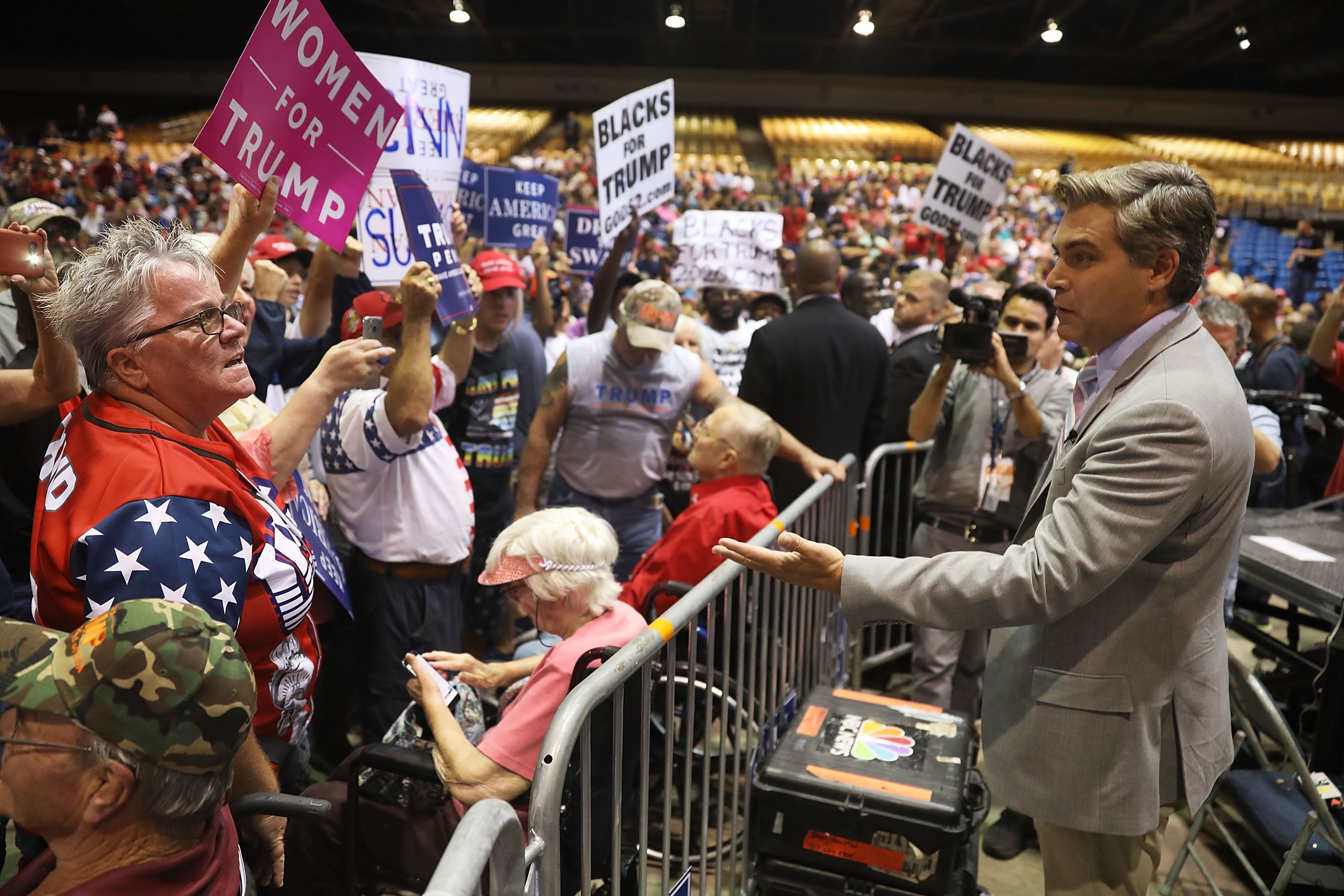 In this photo from President Trump's rally in Tampa on Tuesday, CNN's Jim Acosta tries to hear out attendees who had been shouting at him: "CNN sucks!"
Trump supporters, stoked by hostile rhetoric, are lashing out at reporters at rally after rally, the N.Y. Times Michael Grynbaum writes:
"Menacing the media was a theme of Mr. Trump's campaign rallies in 2016. News networks hired security guards for some correspondents — a practice that, in Mr. Acosta's case, has continued."
"Now, news organizations are anticipating an unnerving autumn, as their reporters prepare to fan out across the country for a fresh round of Trump rallies before the midterm elections."
6. Sentence of the day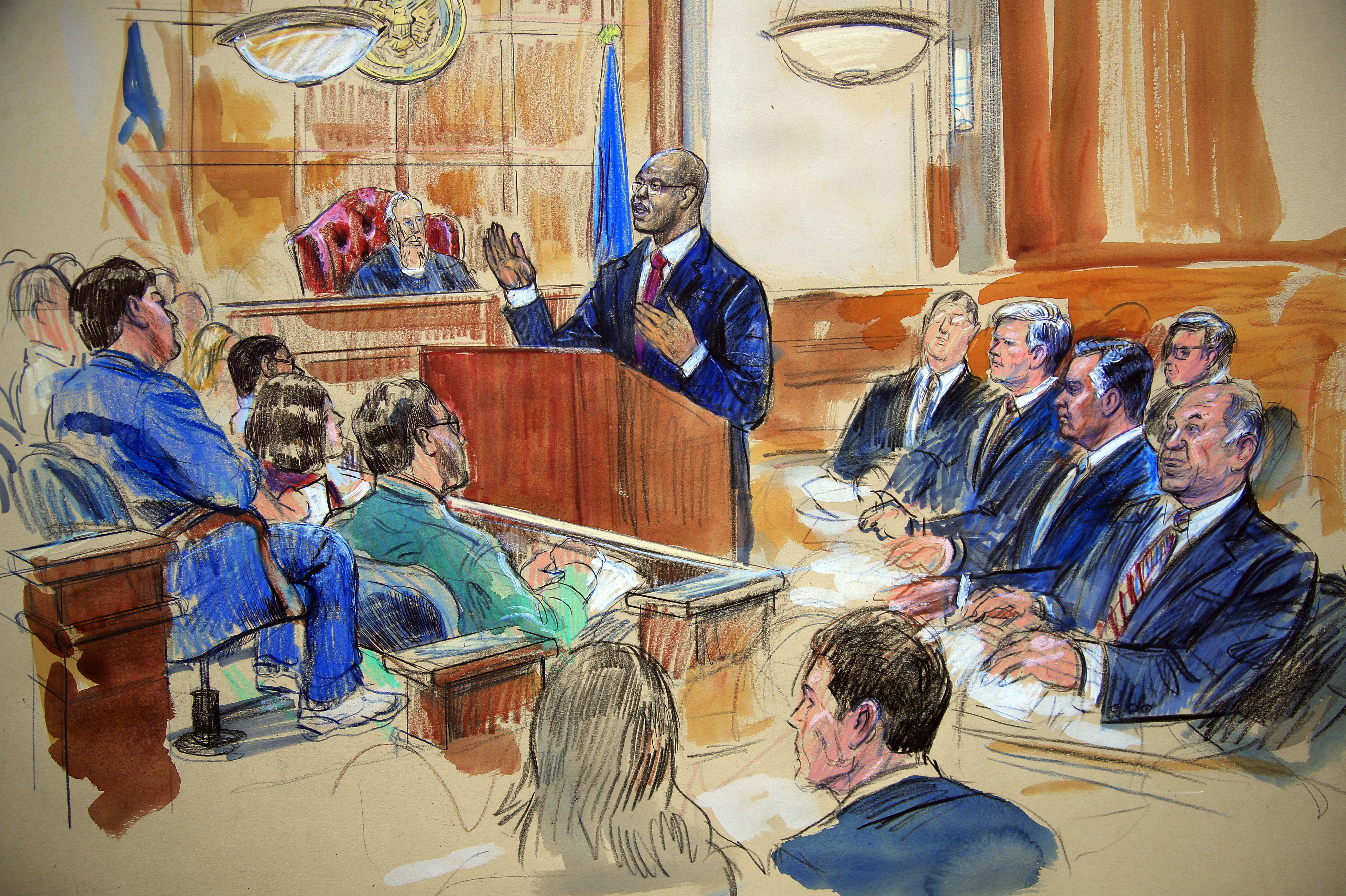 N.Y. Times' Mark Mazzetti and Katie Benner:
"The vigor with which Mr. Mueller has investigated the flows of foreign money from Ukraine, Turkey and other countries into Washington could be as much a part of his legacy as special counsel as whatever he discovers about possible collusion between Russia and the Trump campaign or presidential obstruction of justice."
Runner-up, from a report by the N.Y. Times' Mike Schmidt and Maggie Haberman that Trump, against his lawyers' advice, is once again pushing for an interview with Mueller:
"In effect, he believes he can convince the investigators for the special counsel ... of his belief that their own inquiry is a 'witch hunt.'"
7. Trump tweets about Al Capone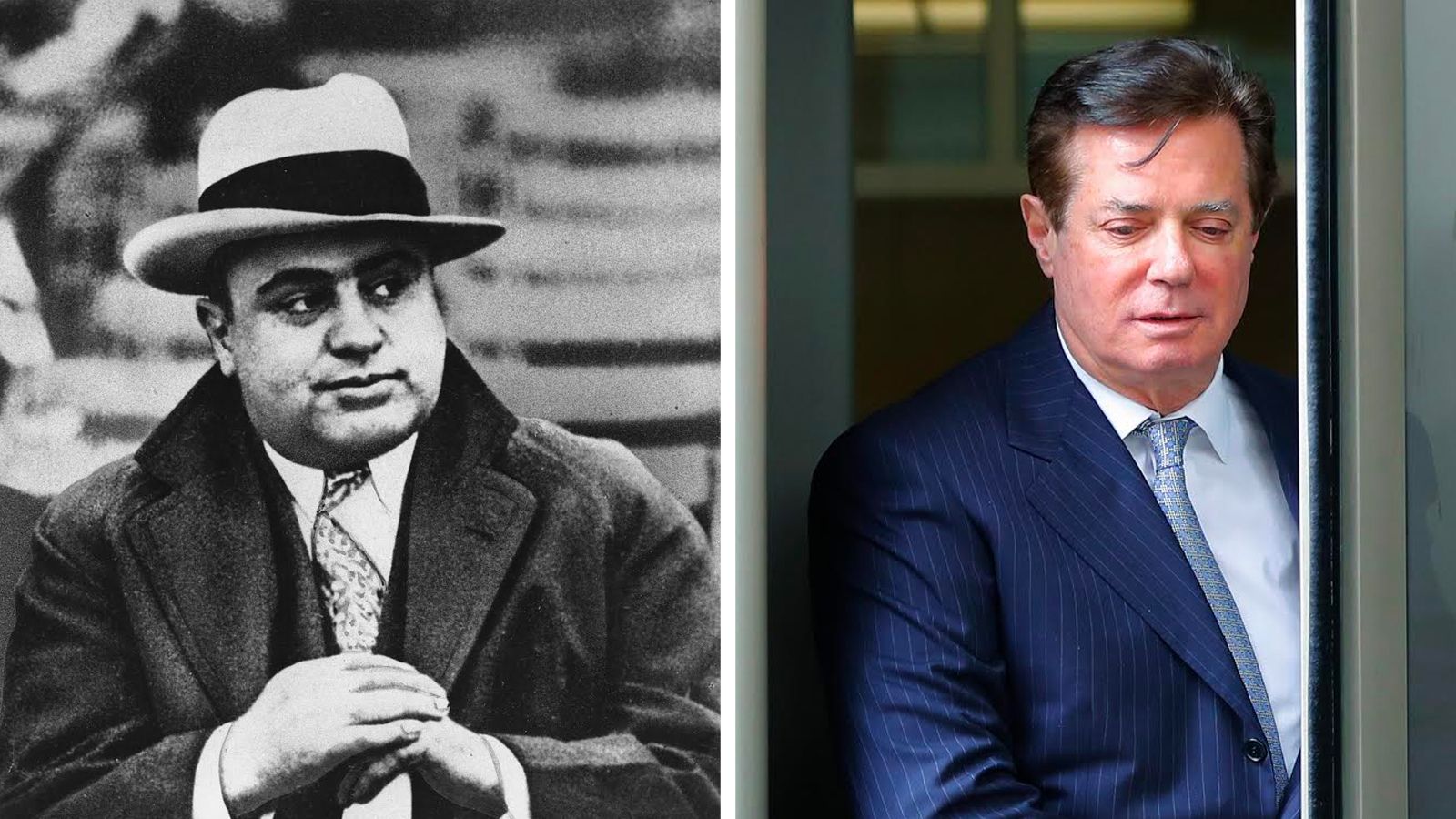 President Trump tweeted yesterday:
"Looking back on history, who was treated worse, Alfonse [actually Alphonse] Capone, legendary mob boss, killer and 'Public Enemy Number One,' or Paul Manafort, political operative & Reagan/Dole darling, now serving solitary confinement - although convicted of nothing? Where is the Russian Collusion?"
The background, from AP's Don Babwin in Chicago: "Capone [was] a bootlegger during the Prohibition Era in the 1920s and 1930s who was willing to ruthlessly kill his rivals — or at least have his men pull the trigger. A federal judge has noted that Manafort has not been charged with any crime of violence."
"Still, the two have one thing in common. Manafort's trial is on tax evasion, the same crime that finally landed 'Public Enemy No. 1' in prison."
8. 🍎 Magic number
The stock price that would crown Apple as the first U.S. company to be worth $1 trillion is $207.05, Bloomberg's Sarah Ponczek reports:
9. 📱 Will U Vote 4 Me?
Personalized political mass-texting is the breakout tech of 2018, the N.Y. Times' Kevin Roose writes:
"[O]ld-fashioned texting has had an unlikely resurgence. Both Democratic and Republican campaigns are relying on mass-texting apps that take advantage of a clever legal loophole to send huge numbers of texts per day without running afoul of anti-spam laws."
Why it matters: With Facebook and Twitter becoming crowded, text messages — which are read at higher rates than emails and are less invasive than phone calls — are a promising alternative.
10. 1 🍺 thing
"America's Long Love Affair With Beer Is on the Rocks," The Wall Street Journal's Saabira Chaudhuri and Annie Gasparro report (subscription):
"U.S. drinkers, for the first time, are more likely to choose a glass of wine or a cocktail than a beer, a moment that is pushing the brewing industry towards a crisis."
"U.S. drinkers, particularly young ones, ... are thinking about ... taste, value, beer bellies."
The data: "According to the Beer Institute, a trade group, drinkers chose beer just 49.7% of the time last year, down from 60.8% in the mid-'90s."
"Among 21- to 27-year-olds, the decline has been sharper. Anheuser-Busch ... found that in 2016, just 43% of alcohol consumed by young drinkers was beer. In 2006, it was 65%."
Thanks for reading. Live updates all day on Axios.com.