February 23, 2020
🥞 Happy Sunday! Today's Smart Brevity™ count: 1,170 words ... 4½ minutes.
⚡ Situational awareness: Italy becomes site of largest coronavirus outbreak outside of Asia, with a Milan outbreak and Venice carnival canceled ... South Korea delays its new school year one week ... Iran has had eight deaths, the most outside China.
1 big thing: Bernie's juggernaut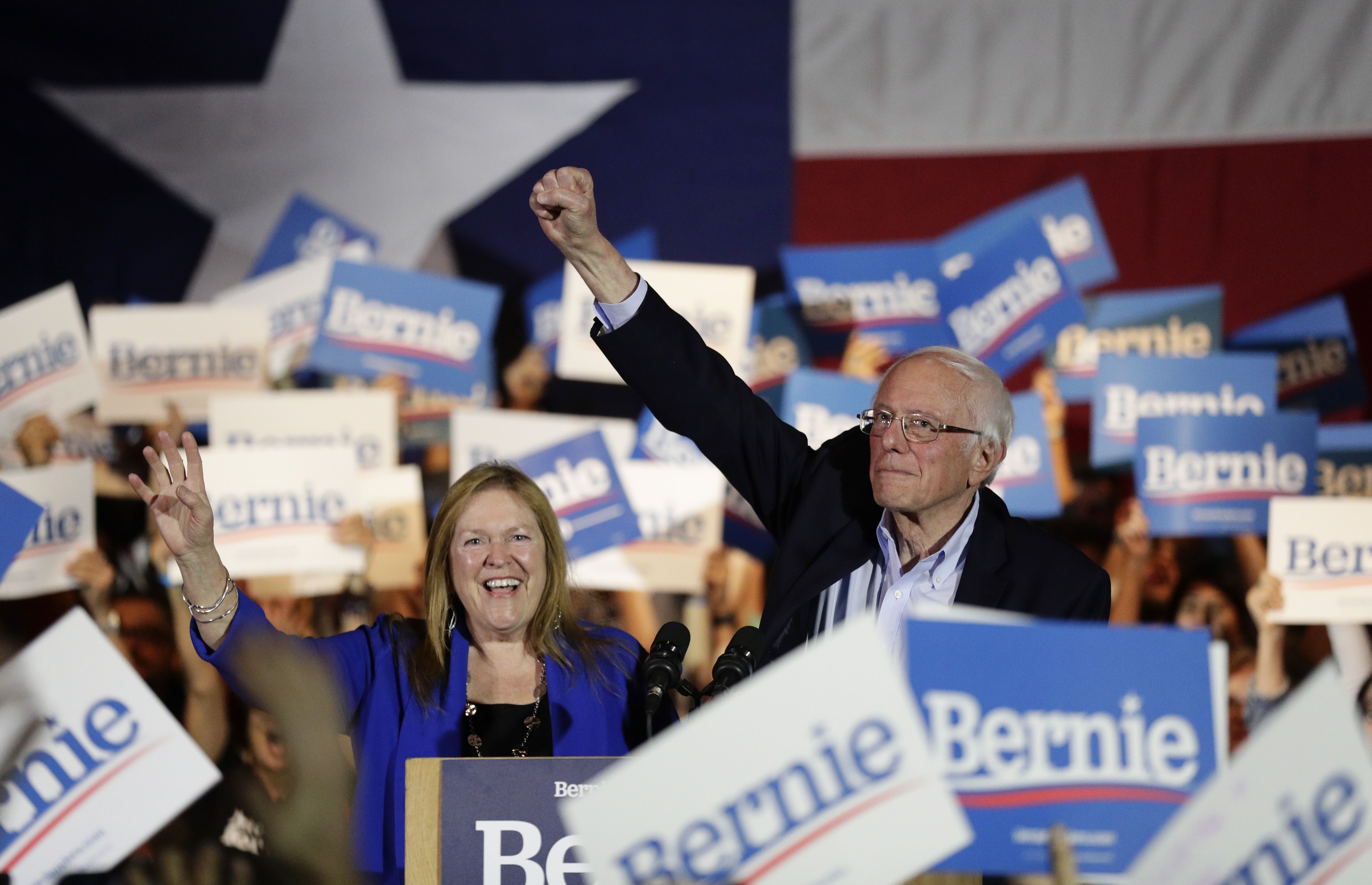 Sen. Bernie Sanders won so big in the Nevada caucuses that Democrats are hard-pressed to sketch a way he's not their nominee.
With 60% of precincts counted (slow, but better than Iowa!), Sanders is running away with 46% of delegates — crushing Joe Biden's 20%, Pete Buttigieg's 15%, Sen. Elizabeth Warren's 10% and Sen. Amy Klobuchar's 5%.
Why it matters: This thing could be effectively over 10 nights from now, after Super Tuesday.
The Bloomberg campaign's Kevin Sheekey tells me that according to his models, if the current field remains on Super Tuesday (March 3), Sanders would win about 30% of the vote — and 45% of the delegates.
"The next candidate would have less than half that number — and little or no ability to catch up before the convention," Sheekey said.
🚨 Breaking: House Majority Whip Jim Clyburn (D-S.C.) said on ABC's "This Week" that Sanders' democratic socialism could be an "extra burden" in down-ballot House races. (Details)
Two other takeaways from the Silver State:
1. Sanders — whose campaign brags of a multi-ethnic, multi-generational movement — is competitive in almost every demographic, as entrance polling shows (via Washington Post):
He leads among white voters, has a massive edge among Latinos, dominates with both women and men, does best among both college and non-college graduates and even did best of the field among moderates/conservatives. 
The only places where he's not dominating, Axios' Justin Green points out, are old people (Biden has an edge), African Americans (but he's narrowed Biden's edge) and among voters who prioritize foreign policy.
2. A big factor in Sanders' blowout was strong caucus-goer support for his Medicare for All plan.
Six of 10 supported single-payer health care, according to the Washington Post rundown of entrance polls — more than the general public.
Sanders easily won that group. Voters who oppose switching to a government health plan split between Biden, Buttigieg and Klobuchar.
Before you conclude that we're seeing a groundswell for Medicare for All, check out this Kaiser Family Foundation polling, narrated by Axios managing editor David Nather:
67% of Medicare for All supporters think they'll be able to keep their current health insurance. Sanders' plan would get rid of private health insurance.
That's going to matter a lot, given that health care was the most important issue for more than 4 of 10 caucus-goers — by far the biggest issue for these Democrats.
Don't forget: Health care was also a driving issue in the 2018 midterms, helping Democrats win the House.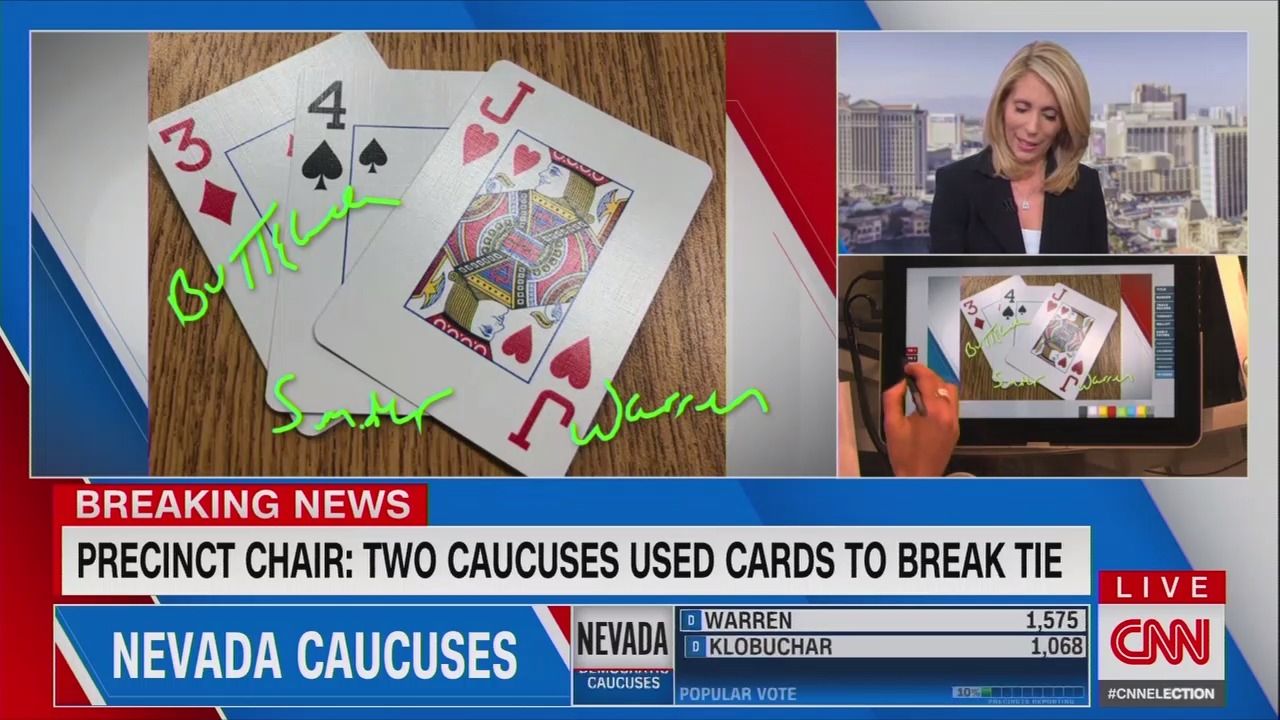 2. Scoop: Coronavirus threatens shortages of 150 drugs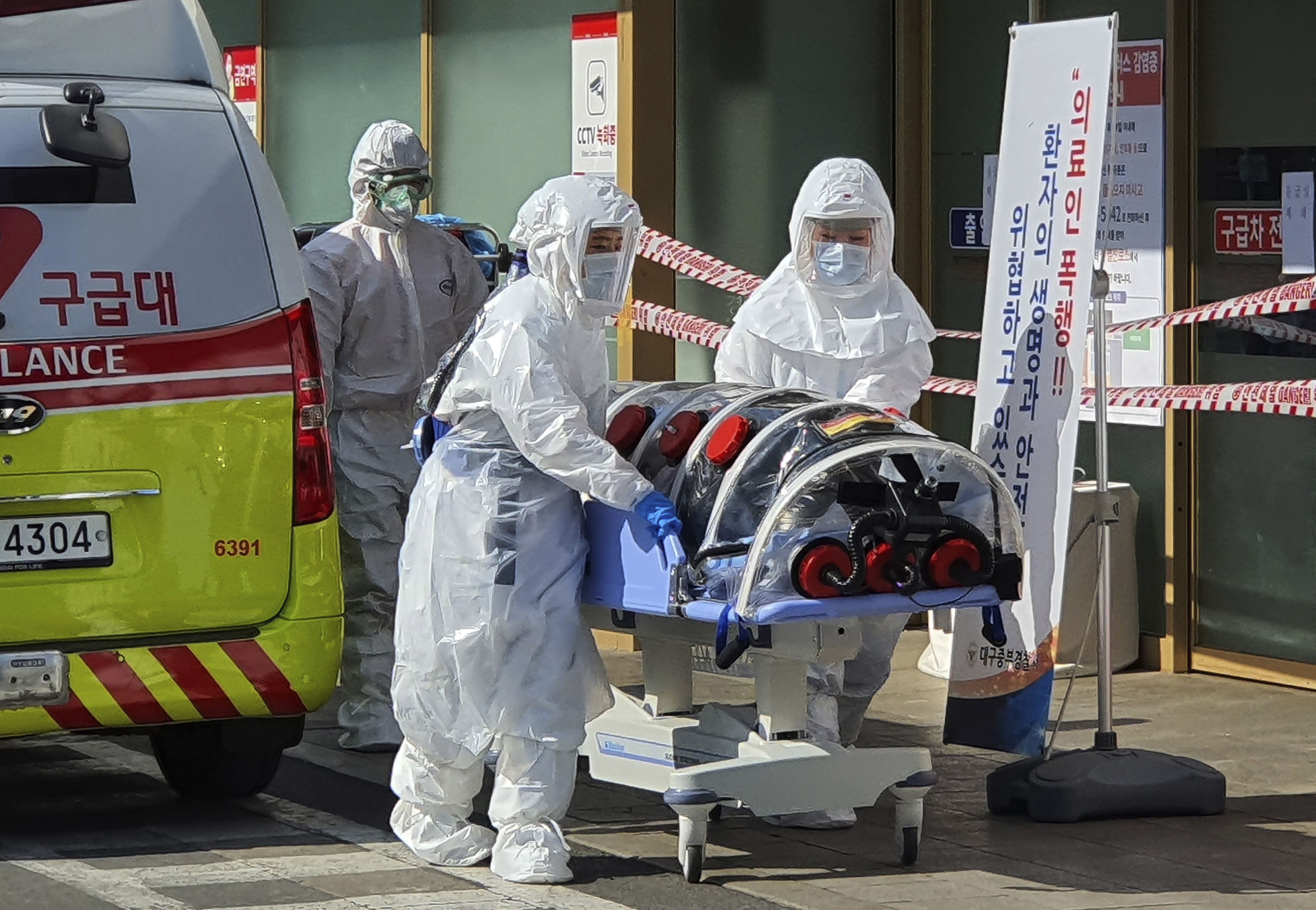 The U.S. could face shortages of about 150 prescription drugs — including antibiotics, generics and some branded drugs without alternatives — if China's coronavirus outbreak worsens, Caitlin Owens reports.
That's according to two sources familiar with a list of at-risk drugs compiled by the FDA.
Why it matters: China is a huge supplier of the ingredients used to make drugs sold in the U.S.
If the virus decreases China's production capability, Americans who rely on the drugs made from these ingredients could be in trouble.
The FDA declined to comment on the list, but said in a statement that it's "keenly aware that the outbreak could impact the medical product supply chain," and has devoted additional resources toward identifying potential vulnerabilities to U.S. medical products stemming specifically from the outbreak.
The agency has been in contact with hundreds of drug and medical device manufacturers, and is also coordinating with global regulators like the European Medicines Agency.
3. Older candidates take the lead on social media
Mike Bloomberg, Bernie Sanders and Joe Biden — all close to 80 — are pushing the boundaries on social media, while their younger Democratic presidential rivals are comparatively staying out of the fray, Sara Fischer reports.
Bloomberg's strategies of hiring meme creators and paying people to promote his brand are just a few examples of the way the 78-year-old former New York City mayor is pushing the boundaries on social media.
Bloomberg has sharpened his attacks on Twitter, mimicking Trump's brash, straightforward language.
"Impeached president says what?" he responded to one Trump Twitter insult last week.
He's even given Trump a new nickname that Bloomberg tweets repeatedly — "#carnivalbarkingclown."
Like Trump, Bloomberg is taking advantage of the loose regulations and mass reach of internet platforms in order to rally supporters.
Bloomberg posted a heavily edited video from his first debate appearance that made it look as though his rivals were stumped by his question about their business experience.
The Washington Post gave the video "Four Pinocchios," a whopper.
A Twitter official told the WashPost that the video would likely be labeled as false when its new manipulated media policy goes into effect next month.
When it comes to memes, Sanders, also 78, is giving Bloomberg a run for his money.
Even Biden, 77, has amped up an edgier online presence. After Bloomberg won a spot in the Nevada debate, Biden released a video of what appears to be direct messages from Bloomberg's campaign, mocking his experience.
The big picture: These campaign tactics reflect a trend that drew the memorable N.Y. Times headline, "Lots of Rich Men Tweet Like the President Now ... [O]lder rich men are going wild online.
4. Nevada pics: This is what democracy looks like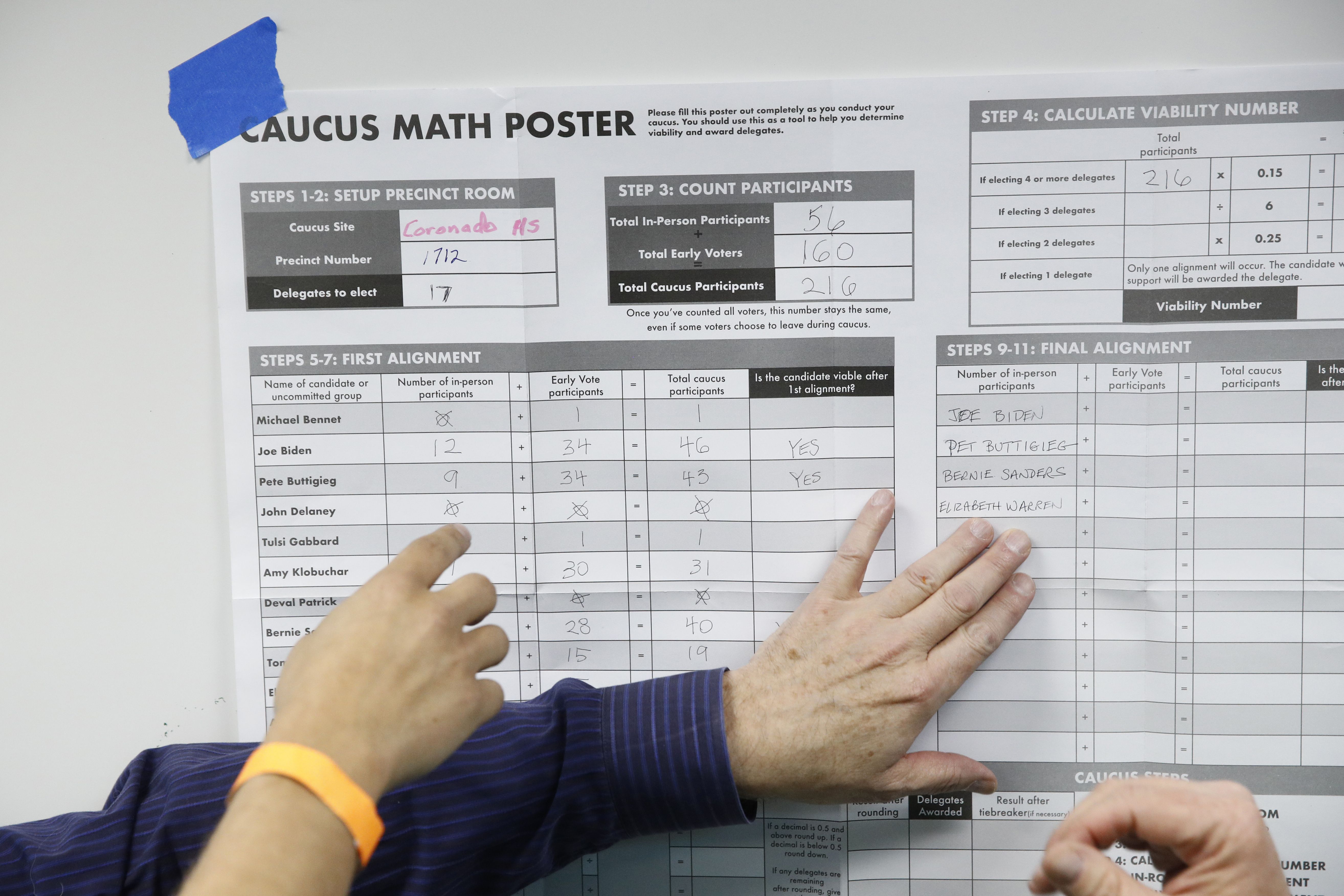 Above: Caucus at Coronado High School in Henderson.
Below: Casino workers hold up presidential preference cards for Sen. Bernie Sanders during a presidential caucus at the Bellagio.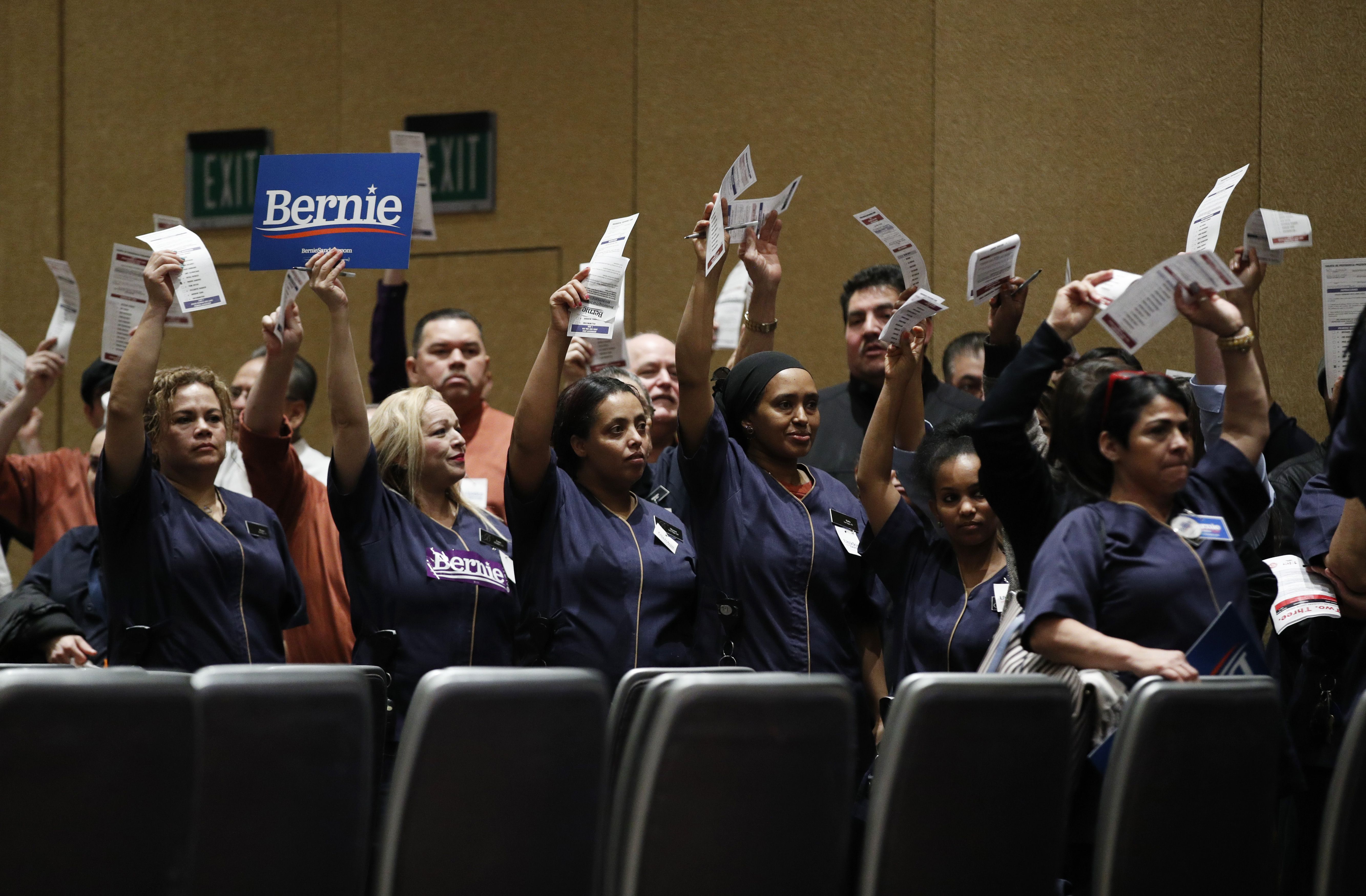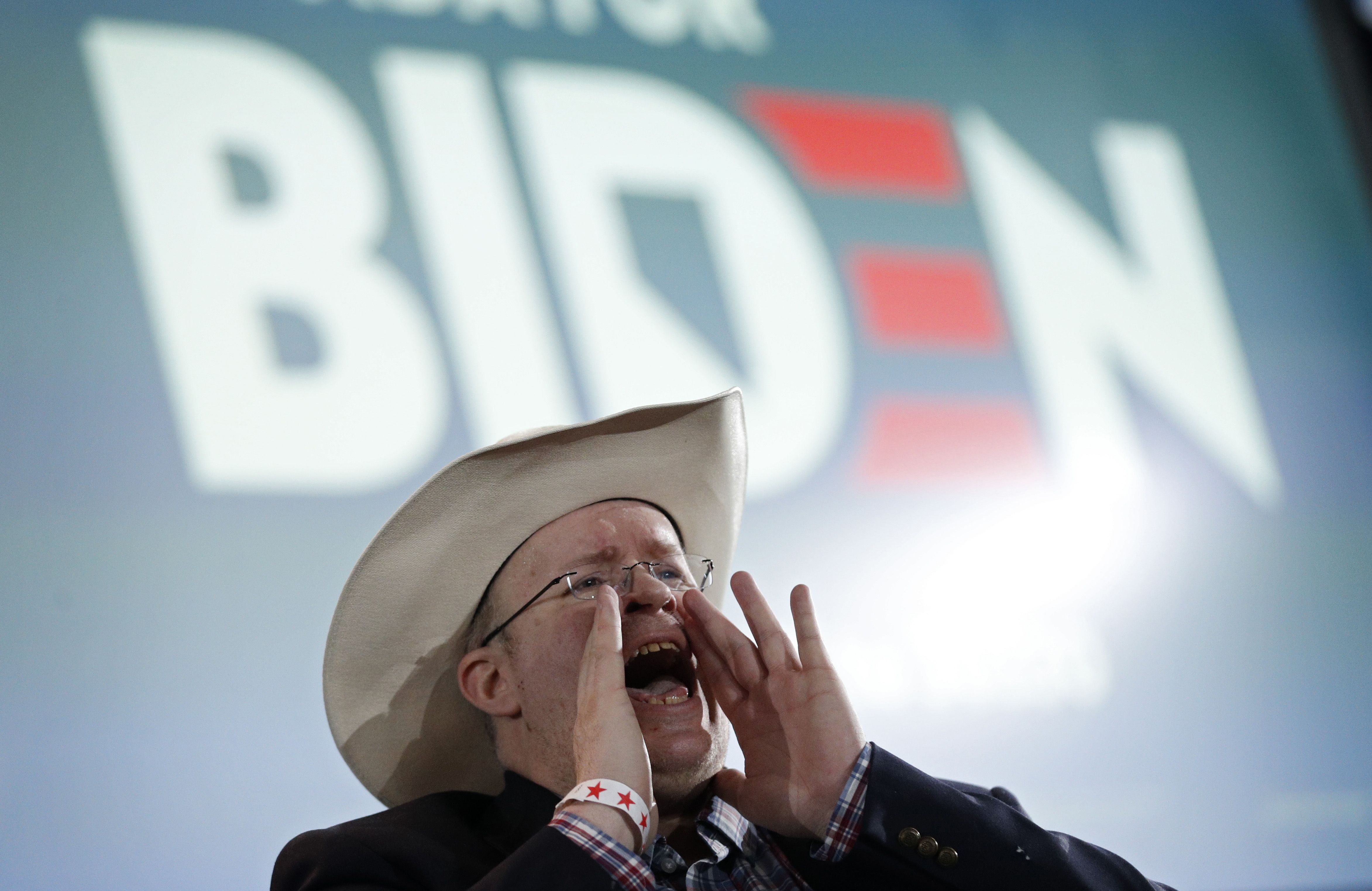 Above: A man cheers before Joe Biden speaks at his caucus-night party in Vegas.
Below: Sen. Amy Klobuchar's campaign office in Vegas.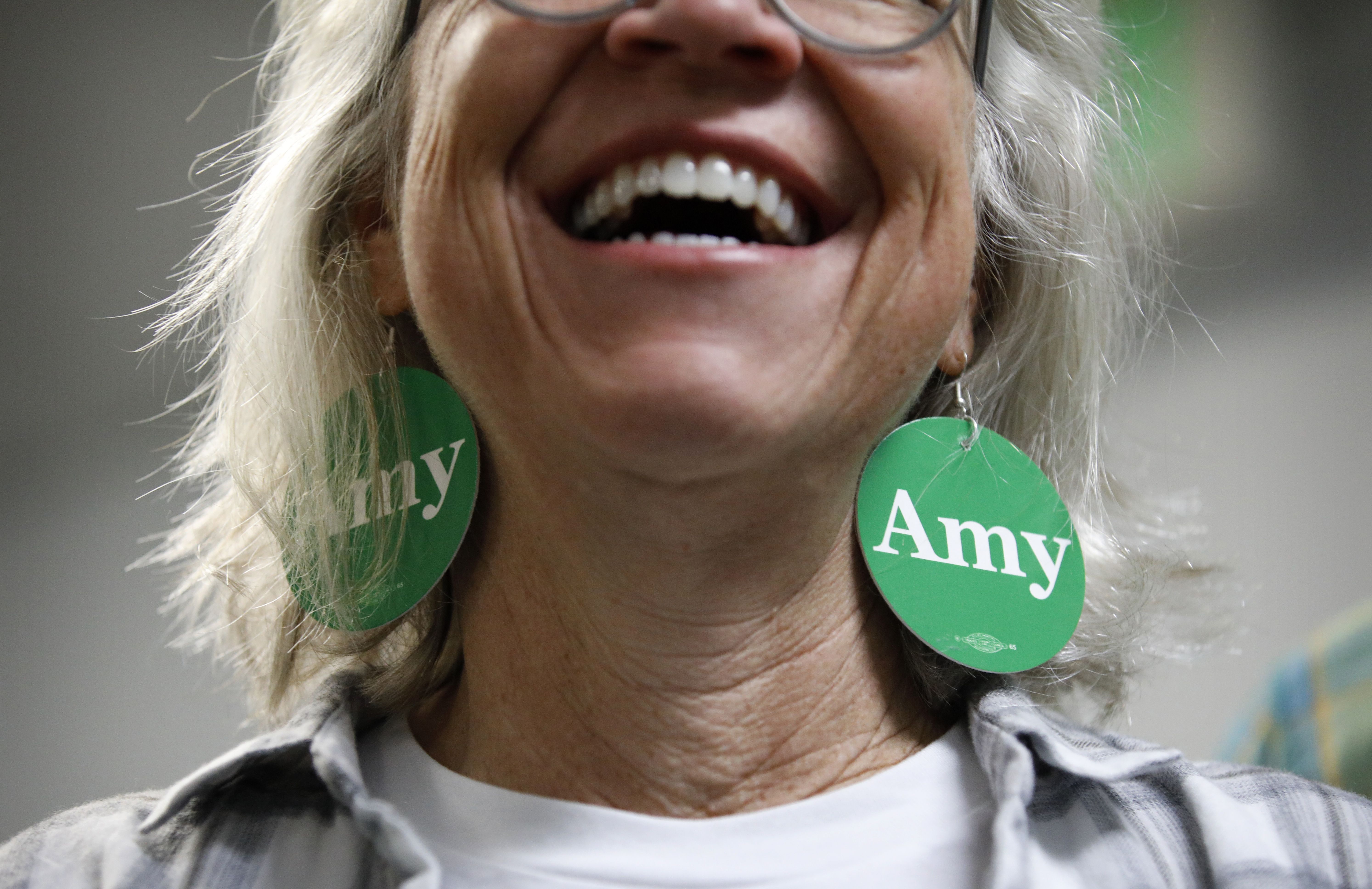 And, to go ... Sen. Elizabeth Warren stops in a Vegas taco shop.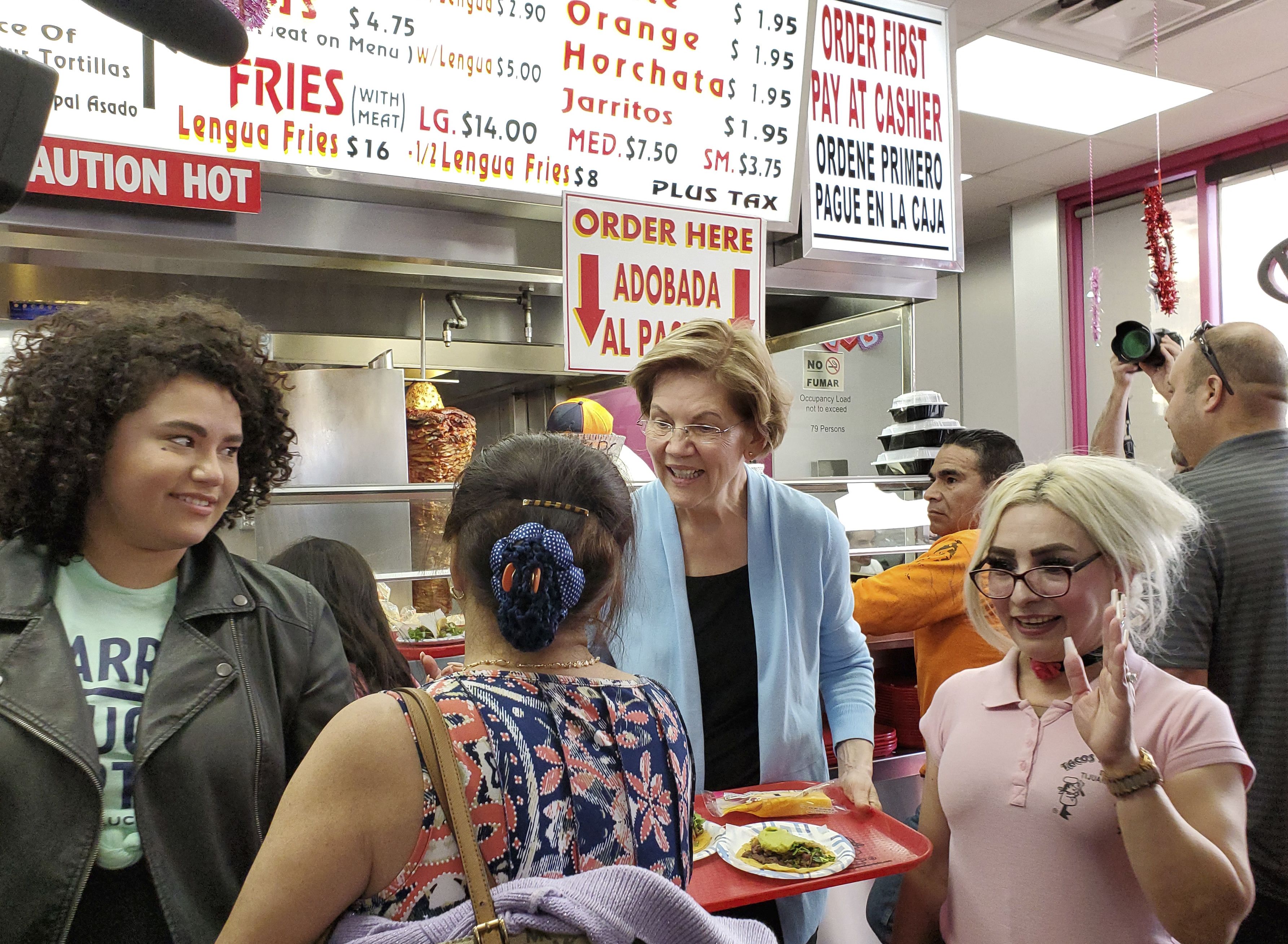 5. America, 2020
In Appalachia, children are being taught to administer Narcan, a nasal spray that (usually) first responders use to reverse an opioid overdose, the N.Y. Times' Dan Levin reports:
In Carter County [Tenn.], where 56,000 people live in a cluster of small cities and rural towns on the North Carolina border, nearly 60 people have died from opioid overdoses since 2014. ...
Desperate to save lives, county health officials have embraced a practical — if radical — strategy for stemming the tide of addiction: Teaching children as young as 6 how to reverse an overdose.
"It's just like a little squirt gun," [drug prevention educator Jilian Reece told a] group of children, before passing around the small plastic device for them to hold and squeeze. At the end of the session, each child received a blue zippered bag containing two doses of Narcan to take home.
Keep reading (subscription).
6. 🏒 1 stick thing: Zamboni hero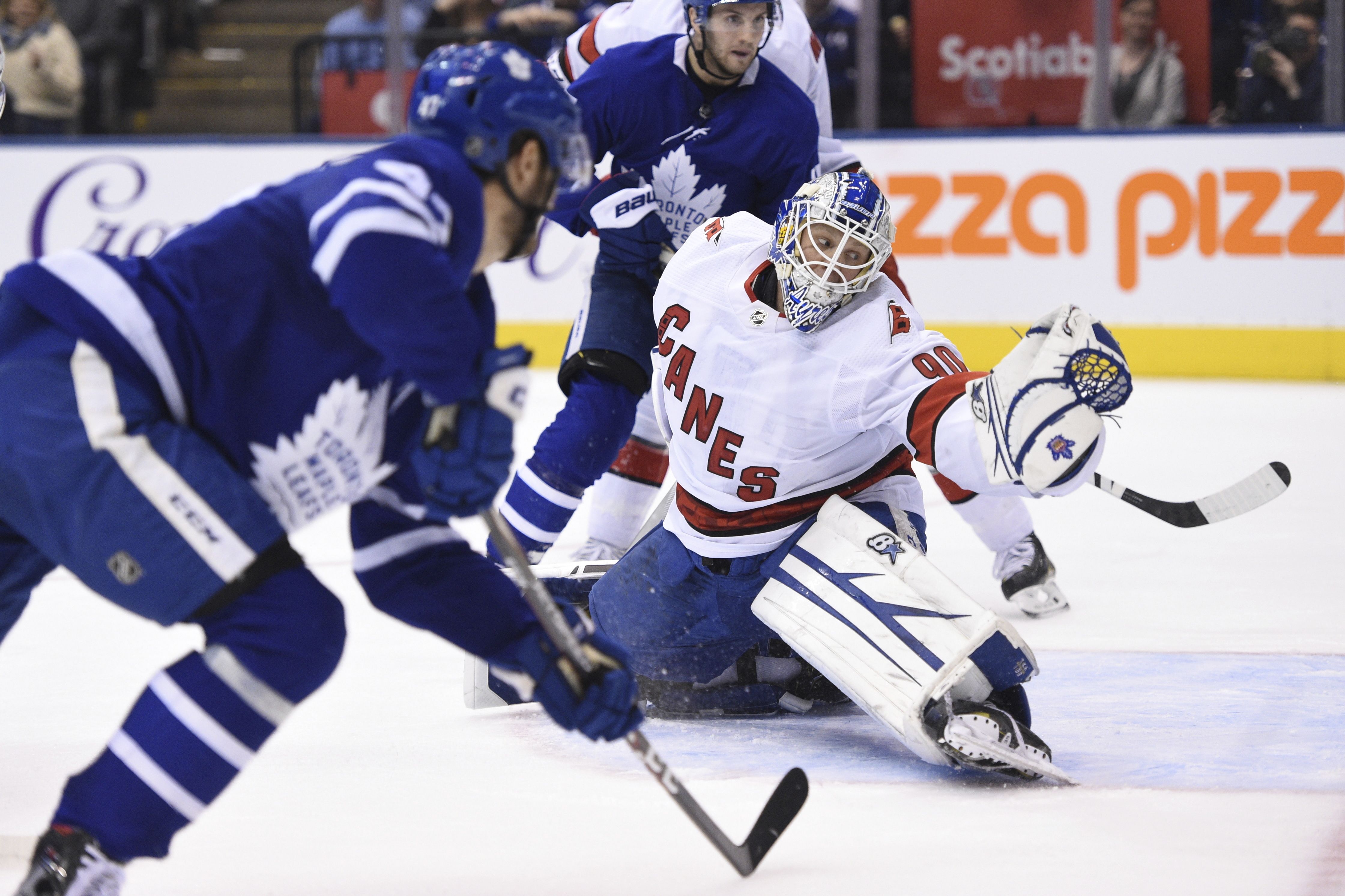 The NHL's Carolina Hurricanes were forced to use an emergency goaltender against the Toronto Maple Leafs last night after both of their netminders left with injuries, AP reports.
David Ayres, 42, who works as a Zamboni driver for the Toronto Marlies, served as the emergency goalie.
Ayres wore Marlies gear and a Hurricanes jersey.
The Hurricanes were leading 3-1 when Ayres took over — and won 6-3.
P.S. Alex Ovechkin becomes the eighth member of the NHL's 700-goal club, with "a combination of strength, style and speed all his own." (WashPost)