🌞 Happy Friday! Breaking ... This morning, following President Trump's National Guard deployment to the border, the Justice Department will announce what an official calls "a zero tolerance policy for criminal illegal entry violations," directing U.S. attorneys along the border to prosecute any referral from Homeland Security.
Situational awareness: Trump asked on Air Force One if he is "going to actually take some action to change the law that would affect Amazon": "I'm going to study it and we're going to take a look. We're going to take a very serious look at that."
1 big thing: The bluffer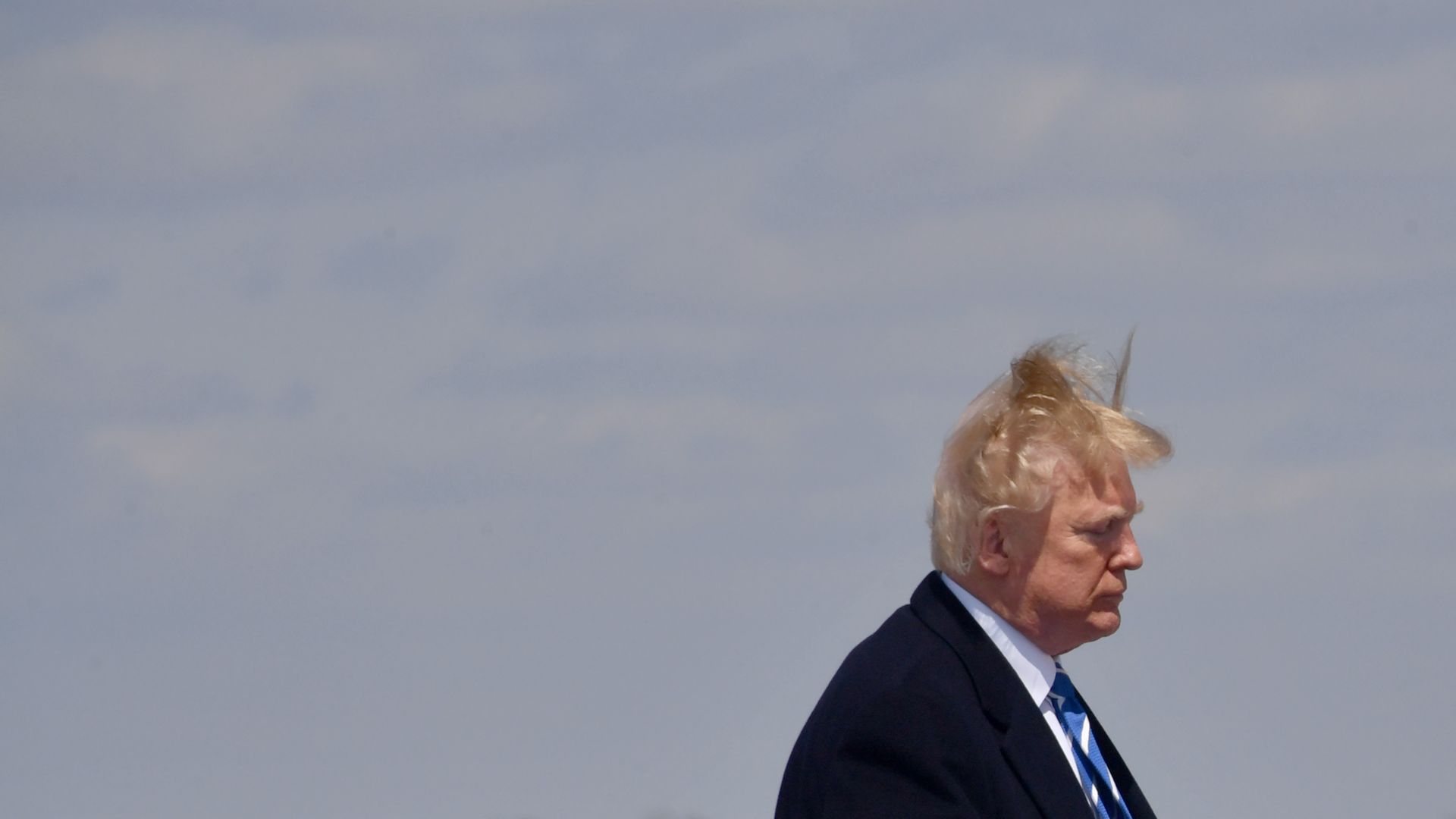 With his announcement yesterday that he's considering $100 billion more tariffs on Chinese goods, President Trump created confusion within his administration and abroad because of a negotiating style you could call "governing by bluffing":
He threatened to veto a spending bill that conservatives hate, then signed it.
He announced stiff tariffs on imports of steel and aluminum, then the administration started negotiating tons of carve-outs.
He talks of war with North Korea, then agrees to meet with Kim Jong-un.
He muses openly of replacing top aides, including White House Chief of Staff John Kelly, then lets them stay.
How Trump views negotiating, based on conversations by Jonathan Swan and me:
Unlike most politicians, he sees the "announcement" not as the rollout of a policy, but as the starting point for negotiations.
The word Trump uses all the time privately, and sometimes publicly, is "flexible." Everything is up for negotiation. Everything is zero sum.
And he always needs a scorecard, to know minute-by-minute who is "winning." With foreign countries like China, his scorecard is the trade deficit. 
So the bluff is really just his extreme, gambler's negotiating style: Make a maximalist ask, frame the debate around that, and go from there, improvising all the way.
It worked sometimes in his business career but it also failed a bunch, most spectacularly in Atlantic City when his casinos went bust and he temporarily gave his life over to his creditors.
It's too early in his presidency to tell definitively whether his negotiating tactics will work in international relations.
As Eurasia Group's Ian Bremmer points out, Trump has already gotten some concessions out of the Chinese and South Koreans, so the approach hasn't been a total failure.
A source close to Trump tells me: "Being a 'bluffer' only works when you have a history of actually following through. Trump has followed through on his threats enough that it's impossible to determine what he's really thinking."
Be smart: Trump is right that his wild unpredictability gives him leverage and keeps people guessing. But his style stirs wild uncertainty and market volatility daily.
This is how he has lived his whole life: promising big things, and creating on-the-edge, "Apprentice"-style drama — then changing his mind.
2. The macho match aides feared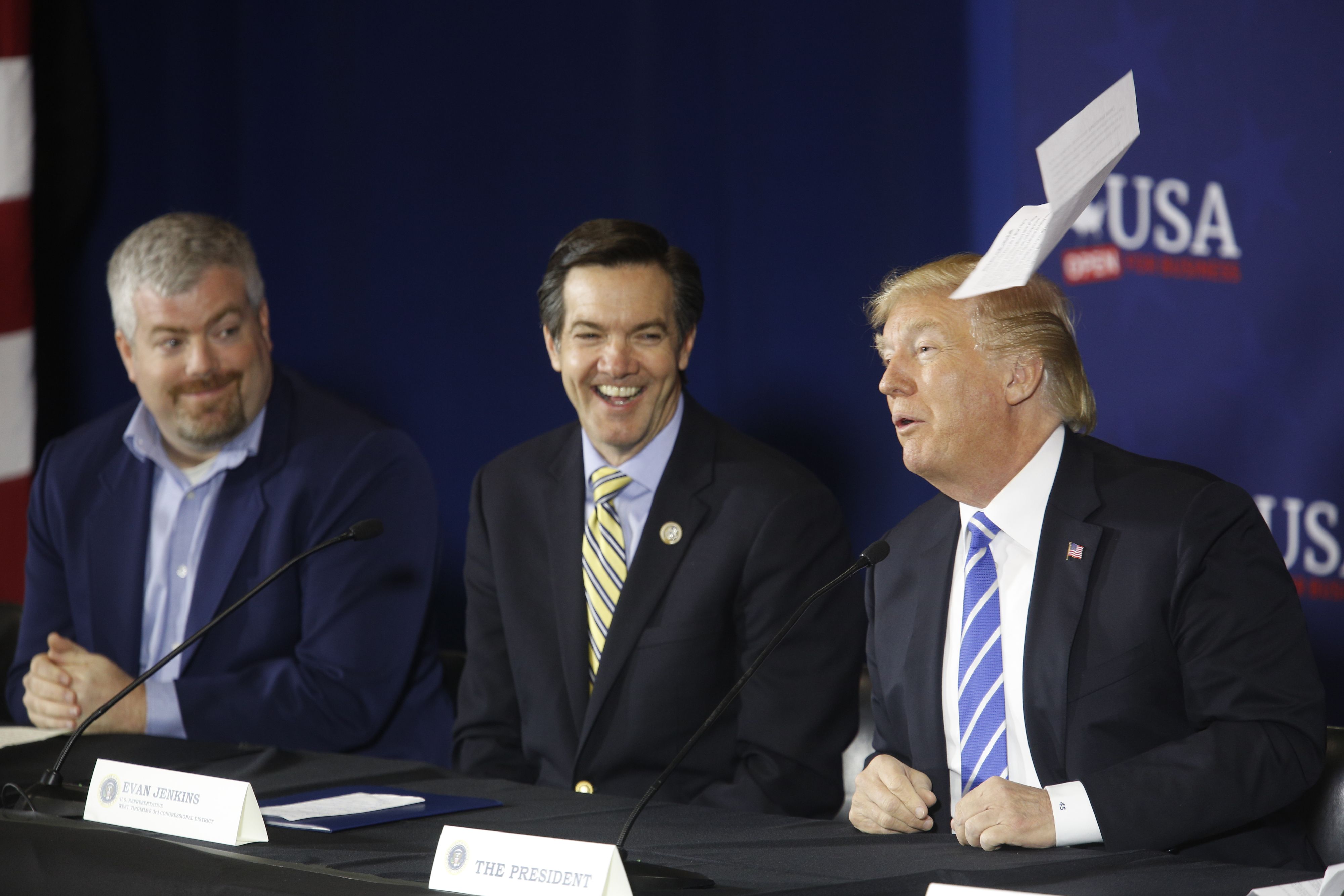 President Trump literally tosses his prepared remarks in West Virginia yesterday. (Luke Sharrett / Bloomberg via Getty Images)
How to think about Trump's threat of a $100 billion increase in China tariffs:
Despite Trump's bluffing style unpacked above, the staff is taking him seriously on this.
A source briefed on the internal conversations tells Jonathan Swan:  "The president seemed serious. People took him seriously. This wasn't just some flippant thing, when he says something and you can tell he's not serious."
Even Treasury Secretary Steve Mnuchin — who has generally been aligned with the free traders historically — endorsed the concept of the additional responsive tariffs.
This is exactly what Gary Cohn and Rob Porter — the free traders who formerly worked in the White House — feared: Trump in a macho match with China's Xi Jinping.
Trump has a blunt understanding of leverage, and believes the worst thing he can show is weakness:
He also believes, as he tweeted, that the U.S. is already so far down on the scorecard with China that he's got nothing to lose.
Aides like Cohn spent 14 months trying to explain to Trump why trade deficits weren't a win-loss ratio, but failed to change his most hardwired instincts.
The bottom line: There's lots of wishful thinking from Larry Kudlow, Cohn's successor, and others. But the risks of a trade war are high.
All this is Trump the loose cannon. The president tossing up his papers during an appearance yesterday in White Sulphur Springs, W.Va. — saying it was the "boring" speech he was supposed to give on tax cuts — was the perfect metaphor.
CNBC, which had been carrying Trump's remarks live because they were supposed to be about tax reform, cut away from them for an in-studio conversation: "On the tax issue, if he's not going to talk about it, we can."
Trump's "boring" remark: "[Y]ou know, this was going to be my remarks. It would have taken about two minutes but — (laughter) — what the hell. (Laughter.) That would have been a little boring. Little boring. No, I'm reading off the first paragraph and I said, 'This is boring. Come on.' (Laughter.) We have to say — tell it like it is. We have to get Republicans in office."
3. Remarkable exchange on Air Force One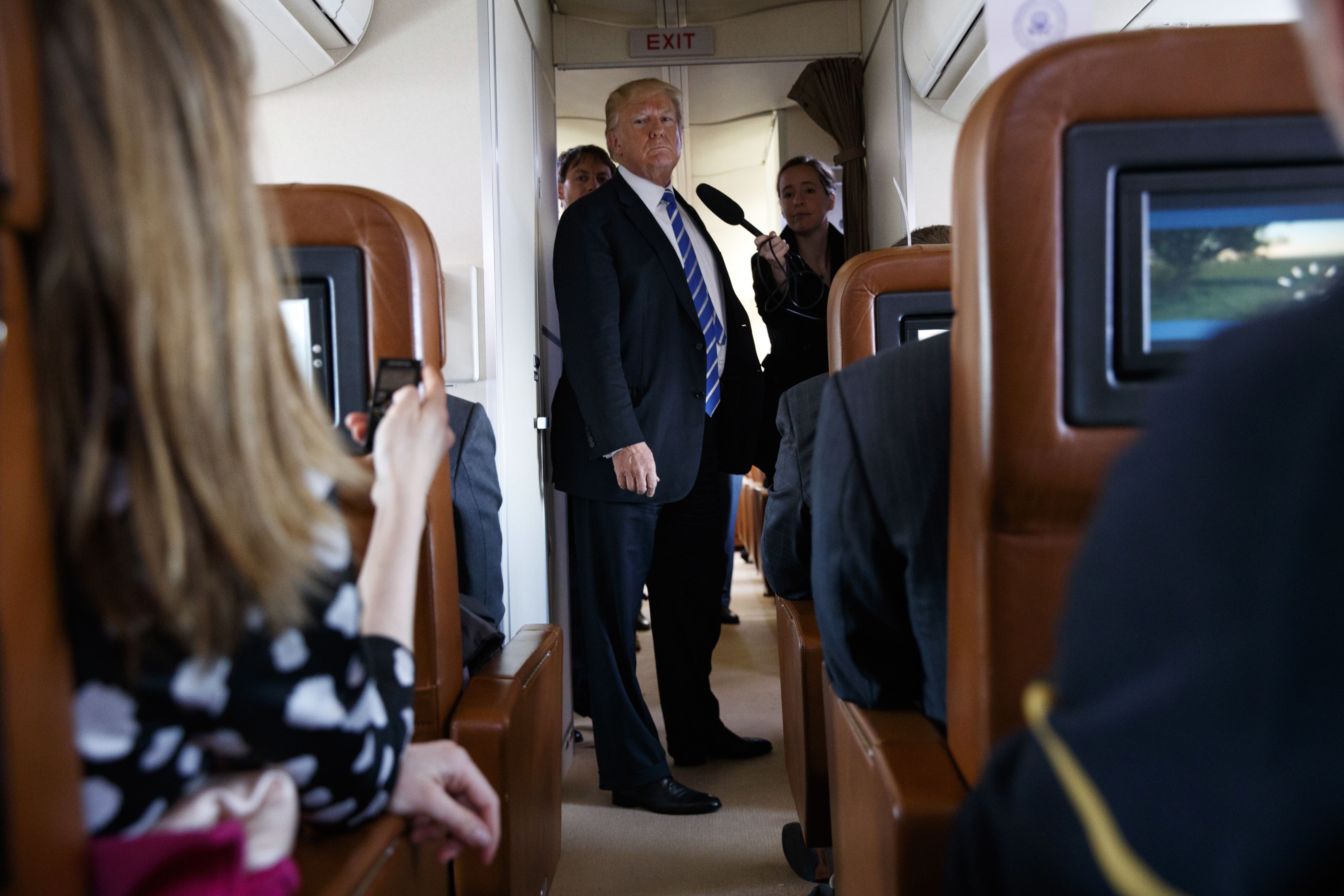 President Trump talks with reporters aboard Air Force One yesterday. (AP's Evan Vucci)
Here's the ending to a gaggle in the Air Force One press cabin yesterday, en route from West Virginia to Andrews Air Force Base, as released by the White House:
Q: Mr. President, did you know about the $130,000 payment to Stormy Daniels?
THE PRESIDENT: No. No. What else?
Q: Then why did Michael Cohen make those if there was no truth to her allegations?
THE PRESIDENT: Well, you'll have to ask Michael Cohen. Michael is my attorney. And you'll have to ask Michael Cohen.
Q: Do you know where he got the money to make that payment?
THE PRESIDENT: No, I don't know. No.
Q: Did you ever set up a fund of money that he could draw from?
Q: I'm sorry, I couldn't hear your response earlier about [EPA head] Scott Pruitt. Are you still — ...
THE PRESIDENT: I think that Scott has done a fantastic job. I think he's a fantastic person. ... I just left coal and energy country. They love Scott Pruitt. They feel very strongly about Scott Pruitt, and they love Scott Pruitt. Thank you very much, everybody. I'll see you back in New York. Thank you.
P.S. Michael Avenatti, Stormy Daniels' attorney, to MSNBC's Ari Melber:
"[T]his is a gift from the heavens this afternoon. I mean, I could think of few things that could be better for our case than the statements that the president made on Air Force One."
4. Tim Cook: "creepy when ... it's chasing me ... across the web"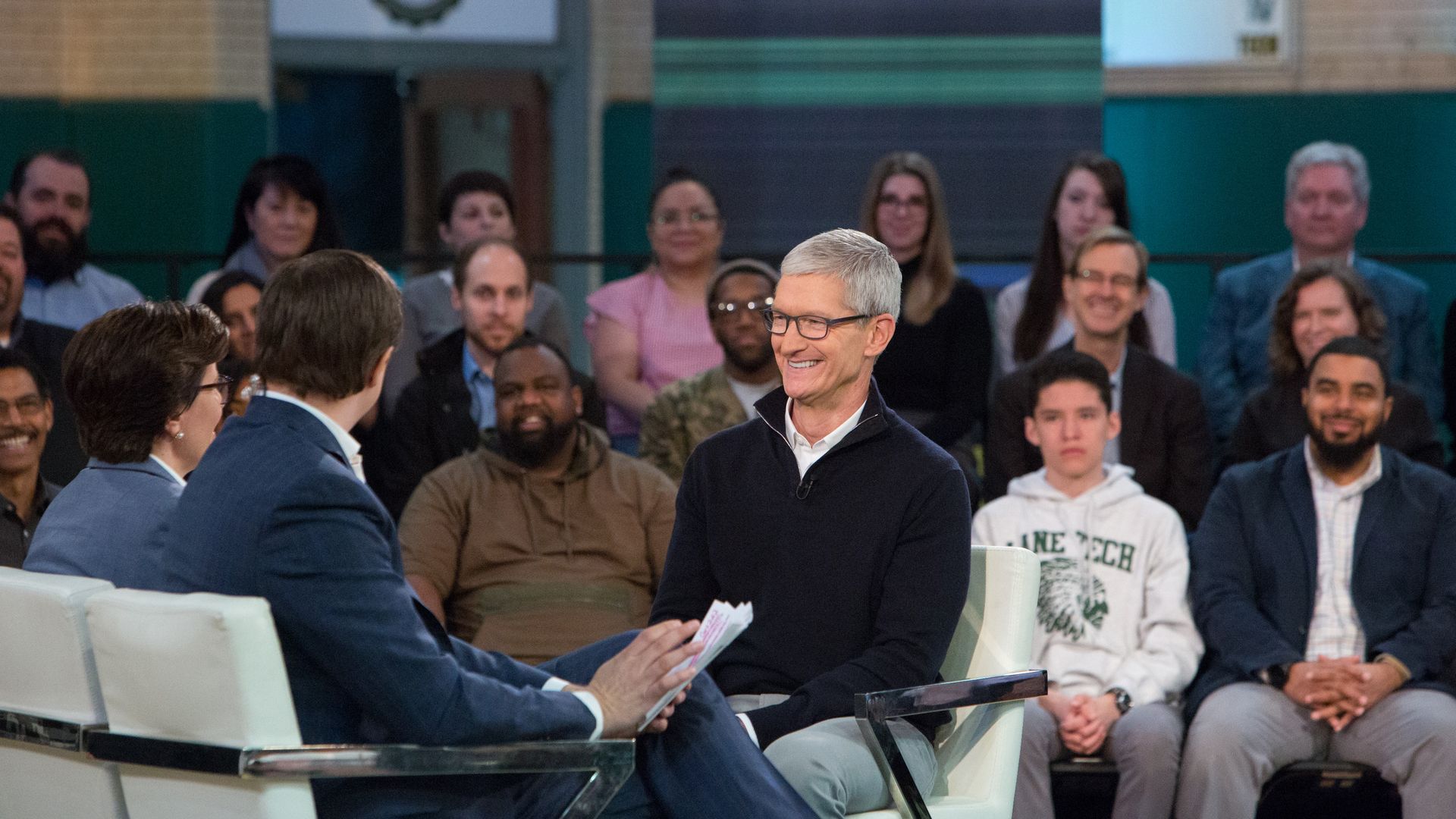 A sneak peek for Axios readers at a comment Apple CEO Tim Cook makes on "Revolution: Apple Changing the World," premiering at 8 tonight on MSNBC:
Cook: "To me, it's creepy when I look at something and all of a sudden it's chasing me all the way across the web. I don't like that."
MSNBC's Chris Hayes: "Particularly when I bought it!" (Applause.)
Cook: "So, I think what has to be done is the type of information has to be looked at that companies can hold. I think the connection and sources of data have to be looked at — when you own many different properties, ... and I can take the information I've learned about you from this property, add it to what I learned about you here and here and here. And there's no reasonable alternative for people. ... This is not good."
5. Lingo: White House tells team not to use "timeline"
"Wary of charges of hypocrisy ... after criticizing former President Obama for the same thing, the White House has ordered Trump's national security team not to speak of a 'timeline' for withdrawal" from Syria, AP's Matt Lee and Josh Lederman report:
"That's even after Trump made it clear to his top aides this week that he wants the pullout completed within five or six months."
6. Bite of the day
He's threatening to light American agriculture on fire. ... This is the dumbest possible way to do this.
— Sen. Ben Sasse (R-Neb.), in a press release on President Trump's consideration of $100 billion in additional China tariffs
7. Data du jour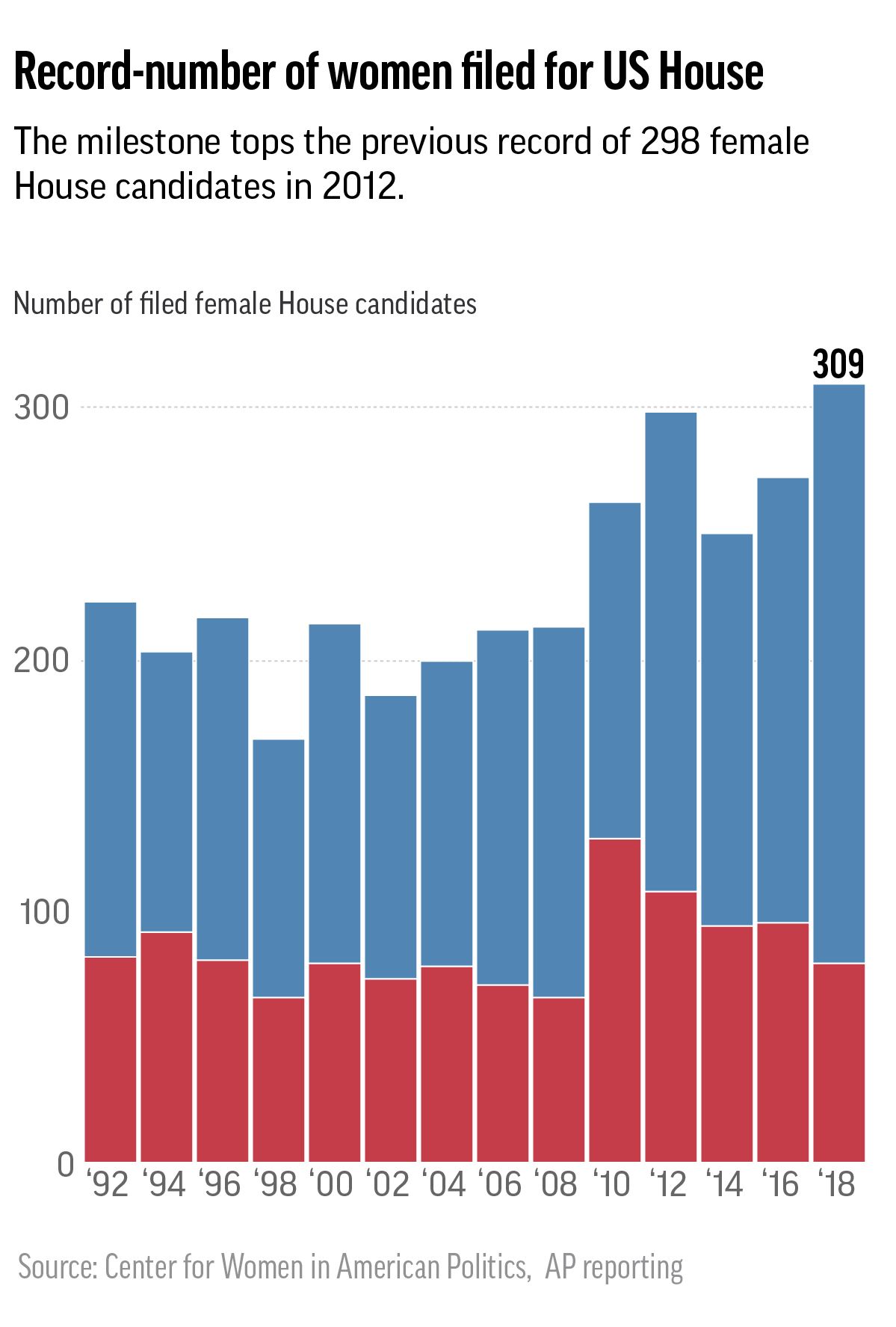 AP graphic
"The number of women running for the U.S. House of Representatives set a record [yesterday], most of them Democrats motivated by angst over President Donald Trump and policies of the Republican-controlled Congress," AP reports:
"309 women from the two major parties have filed candidacy papers to run for the House. That tops the previous record of 298 in 2012."
8. Sign of the times: Investors bet on volatility
Buying into turbulence ... "Now that stocks, bonds and other assets are moving in strange ways, many investors view continued volatility as one of the year's most dependable bets," the Wall Street Journal reports on A1:
"The Cboe index, known as the VIX, is up 72% since the start of the year."
Hedge funds and asset managers are "buying futures contracts pegged to the VIX, a profitable bet if volatility continues to rise."
Goldman Sachs wrote in an April 2 report: "Hedge what you fear."
9. Murder set to soar in some cities of the developing world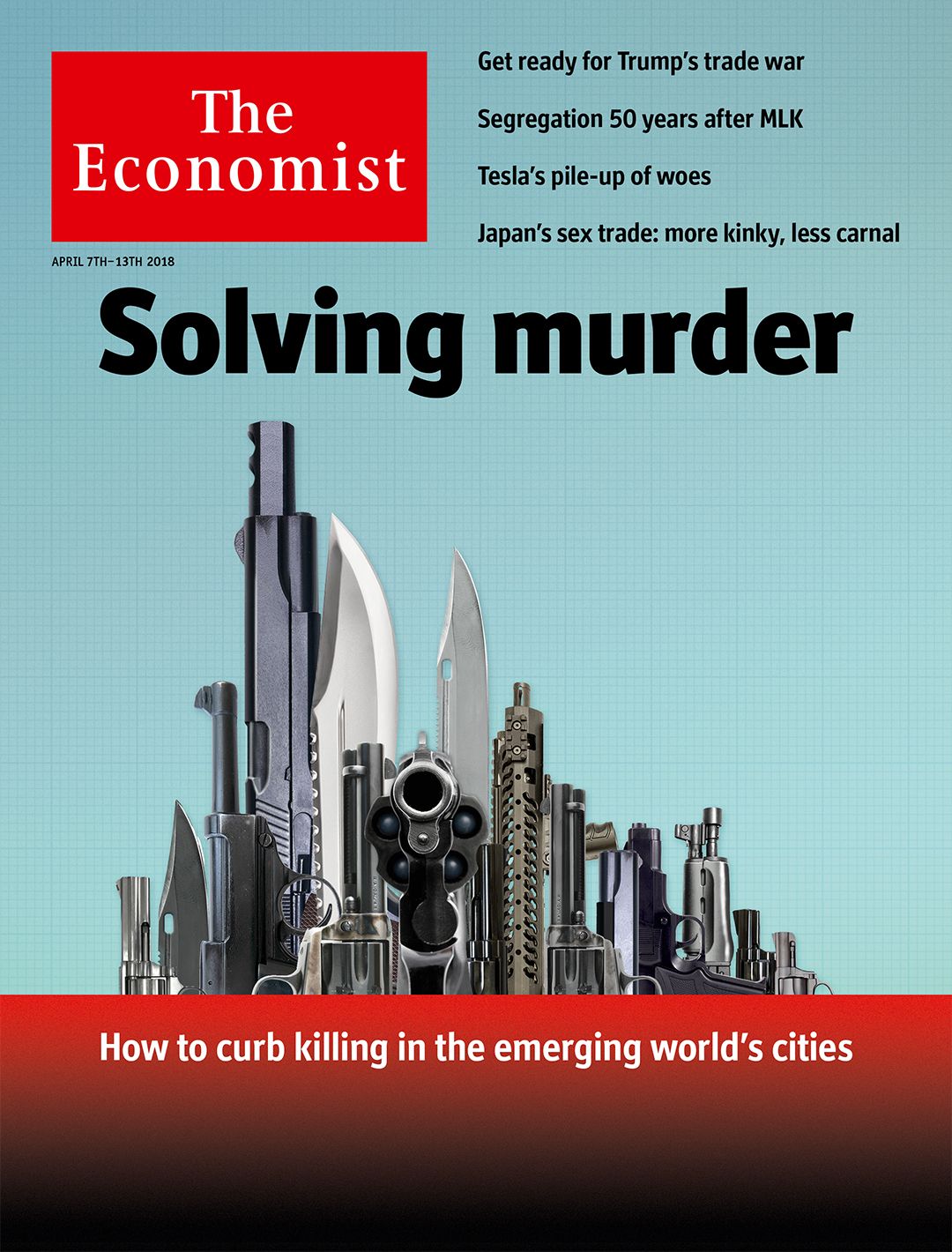 Courtesy The Economist
"The planet has rarely been so peaceful. Even with terrible fighting in such places as Congo, Syria and Yemen, wars between and within countries are becoming less common and less deadly. But a dark menace looms. Some of the developing world's cities threaten to be engulfed by murder," The Economist reports in its cover editorial:
"Murder has been falling in rich countries (though London is suffering an outbreak), ... but it has long plagued Latin America and is starting to climb in parts of southern Africa, the Middle East and Asia."
"The mix of causes in each country is unique but in every case rapid, chaotic urbanization makes the problem worse."
Why it matters: "[T]he proliferation of murder destroys trust between the police and the people they are meant to protect. Residents keep off the streets. They no longer support the authorities. Impunity grows and the level of violence climbs further."
10. 1 un-fun thing: At some tech firms, no more playtime
"The Ping-Pong tables have given way to long work tables, beanbag chairs to straight-backed couches, beer taps to cold-brew coffee," the Boston Globe's Andy Rosen writes:
"Boston's tech workplaces are growing up. Play spaces that were designed to recruit twentysomething workers are out; low-key but tasteful furniture is in, as are areas set aside for quiet work and group collaboration."
"One factor behind the switch: the high cost of renting or owning offices, which is forcing area employers to make tough choices maximizing the utility of their space."
Why it matters: "[T]ech companies seeking to diversify their largely young, white male workforces are choosing office designs that emphasize professionalism, wellness, and work-life balance over frat house fun."
👏 Thanks for reading. Enjoy the weekend, and I'll see you on Axios.com ...