March 26, 2019
1 big thing ... Inside Trump's winning weekend: "A new presidency"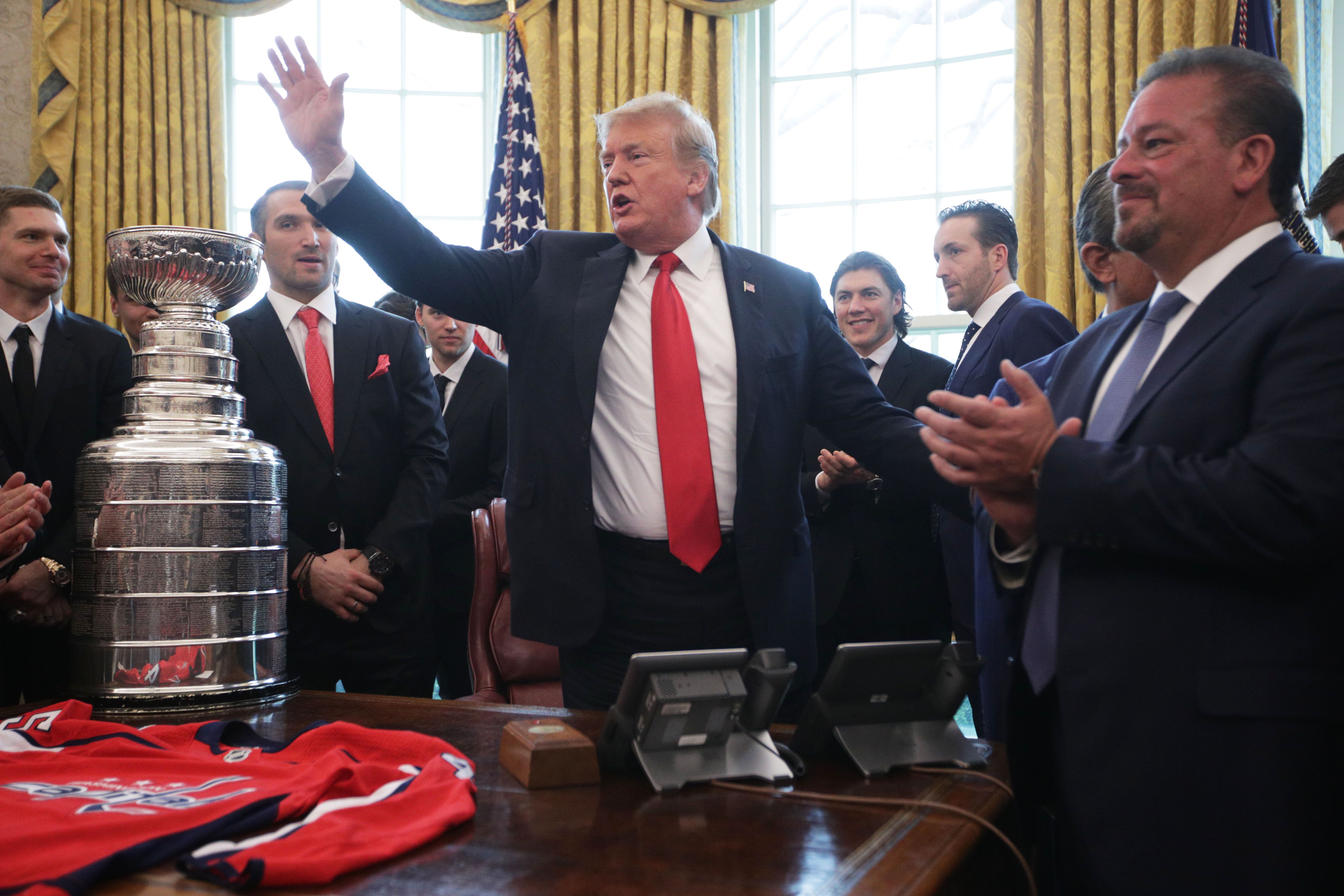 Sen. Lindsey Graham, who was with President Trump in Palm Beach this weekend as the president awaited news of Robert Mueller's findings, tells Jonathan Swan that it was like "waiting on a jury."
"He was amazingly calm," Graham recalled. "I think it's literally driving people crazy that he's got a little discipline. I told him: If you really want to screw over your enemies, just be quiet for a while and be happy."
Graham said that after learning that Attorney General William Barr's letter was exculpatory on Russia, Trump was "just frustrated, like: 'They turned my life upside down, they've ruined the lives of a lot of people around me, for nothing.'"
"And I said: 'All of that's true. But it happens every day in America.'"
Officials at the White House and Trump's re-election campaign said they feel a sense of overwhelming relief.
The Trump campaign took in a good haul of text-message fundraising after the no-collusion Barr summary. 
For Trump himself, it was more complicated:
On camera, he sometimes raged. Behind the scenes, he alternated between ebullience, and venting about how nobody should have to go through what he had.
A source who was with Trump at Mar-a-Lago tells Axios' Alayna Treene that Trump "was initially frustrated with Barr" over the line saying the president hadn't been exonerated on obstruction of justice.
"The media chyrons and outlets all jumped on that as a sign of more to come/the case not being tied up with a bow."
"Which is why he's pushing the 'complete and total exoneration' line. His initial reaction was angry, over the coverage that line got."
"[B]ut after discussing the letter with his team/lawyers, his frustration went away."
Over the weekend, Graham socialized with Trump and First Lady Melania Trump, and played golf with the president on Sunday. Graham said he told Trump several times after the Barr letter was released:
"You're stronger today than any time since you've been elected. It legitimizes your election in the eyes of those who doubted."
"This is sort of the first day of a new presidency. What are you going to do with it? How do you use this capital?"
Graham said Trump is "upset about what happened to a lot of people in his family, and friends."
"I promised him that I'm going to take a hard look at the FISA process and intelligence operation. Not to lock up Clinton, but to try to figure out: How did it get off the rails? And that will be done, because it needs to be done."
"And my advice to him is to think of issues that it would be hard for Democrats to say 'no' to. Prescription drugs and infrastructure."
Graham said there's one person Trump has mentioned most as someone he feels badly about having been dragged into the investigation.
A second source, who was with Trump over the weekend in Palm Beach, said Trump mentioned "a couple of times, Paul Manafort's situation and how he was treated very unfairly. He said the guy was prosecuted because he worked for me."
But nobody Swan has spoken to has heard Trump privately entertain the idea of pardoning his former campaign chair.
When Graham was asked about the idea, he replied: "I don't think that would be very smart, no."
2. "Mayor Pete" frenzy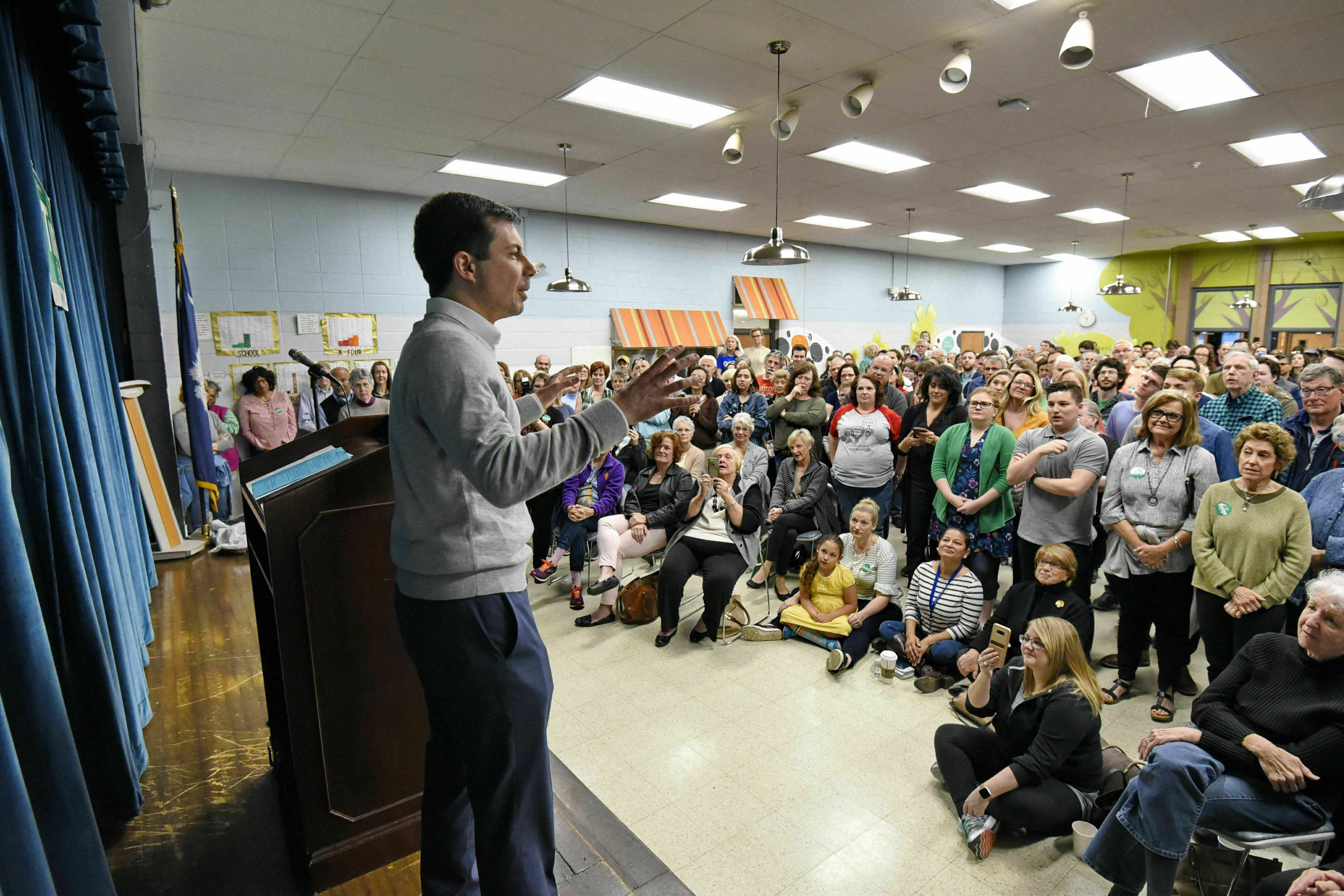 Clean-cut underdog Pete Buttigieg (BOO'-tuh-juhj) is gaining momentum in early-primary states with crowds, TV hits and campaign cash, AP's Sara Burnett writes from Columbia, S.C.:
"I need to relearn the timing of my stump speech," Buttigieg says. "I've been used to a format where I go in, there's 50 people, I do my little spiel and then we have some Q&A ... Now every one of these things we put on the calendar as a meet and greet is turning out to be a rally."
Buttigieg, a Rhodes scholar and former U.S. Navy Reserve officer, would be the youngest president and first openly gay president. He's been on "The View" twice.
"Now he has to figure out how to turn one of the first surprises of the nascent race for the Democratic nomination into a full-fledged presidential campaign."
"After a breakout performance in a CNN town hall earlier this month, Buttigieg's team says he raised roughly $600,000 from 22,000 donors in just over 24 hours."
"He has now received enough individual contributions to qualify for a spot on the Democratic debate stage this summer."
What's next: "Buttigieg ... plans to double the size of his roughly 20-person team in the new few weeks, in preparation for an official campaign launch."
"He doesn't have an advance team ... Volunteers and local Democratic officials [handle] most of those duties."
Be smart: I've been asking veteran Democrats what has made Mayor Pete such a cult figure. They say his freshness, novelty and fearlessness fit with the times — Trump wiped away all the assumptions about what you had to do to be ready.
3. A new age of epidemics
In the 1950s, 400 to 500 Americans died every year from measles and another 100 from chicken pox. In the last major outbreak of rubella — in 1964-65 — some 11,000 pregnant American women lost their babies and 2,100 newborns died.
The 1960s vaccine revolution all but wiped out these diseases by 2000. But now they are back — in the U.S. and around the world, writes Axios Future editor Steve LeVine.
The state of play: Much onus for this regression so far has been laid on the global anti-vaccination movement. But experts blame much more sweeping reasons, primarily a tectonic change in how humans live now as opposed to a few decades ago.
We are living closer together in ever-swelling cities, trading and traveling much more, creating climate change, migrating in big numbers — and failing to keep vaccination levels high enough for "herd immunity."
4. Cover du jour
5. Apple powers up its Hollywood moves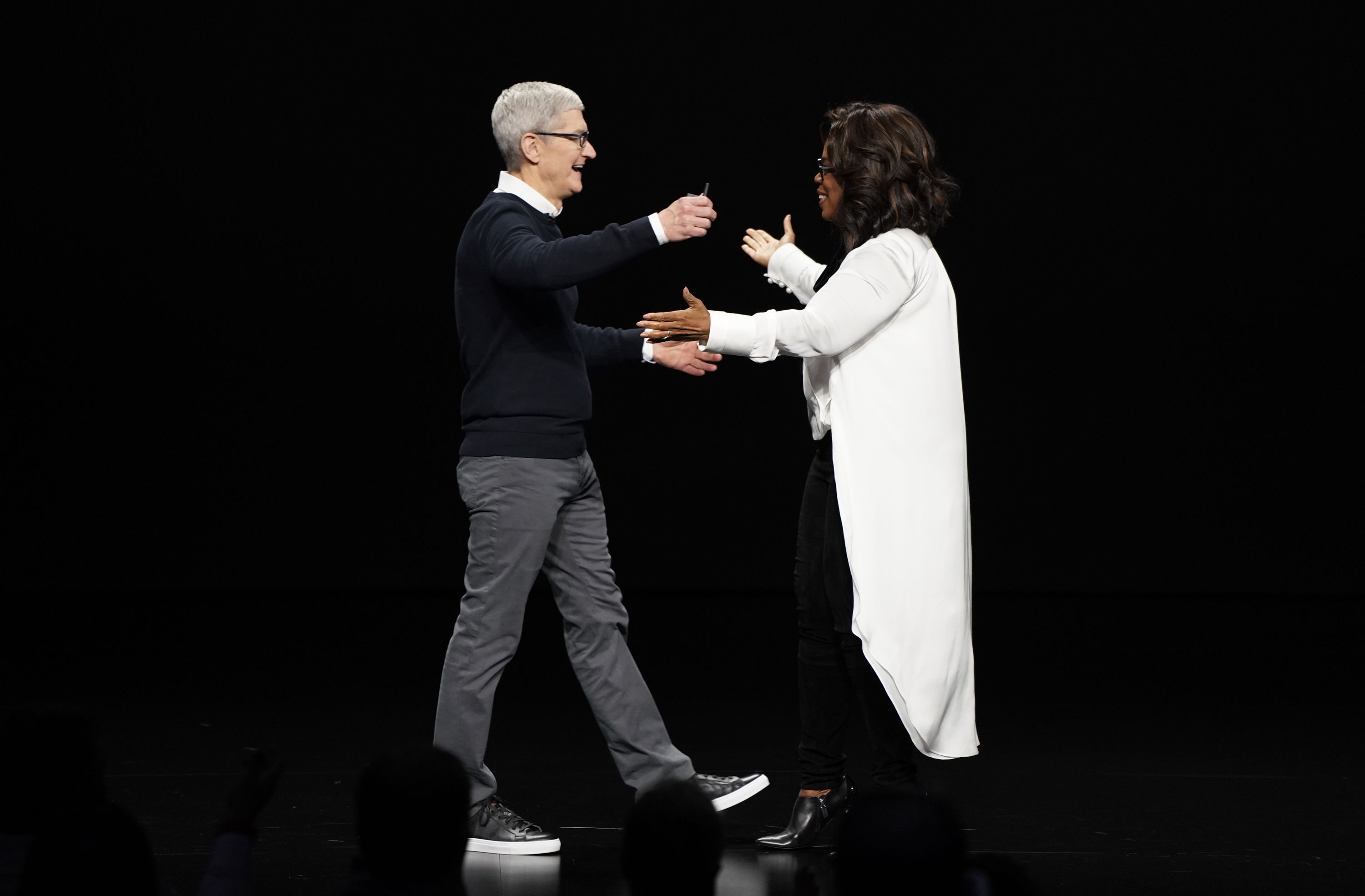 Apple announced "it was entering the competitive streaming arena with a service that will feature original series from such luminaries as Steven Spielberg and Oprah Winfrey," per the L.A. Times.
CEO Tim Cook "also unveiled new subscription services for news and video games. The Netflix-style news service, dubbed Apple News+, will cost $9.99 a month and include journalism from the Los Angeles Times, the Wall Street Journal and hundreds of magazines."
Why it matters: "The push is part of the tech giant's broader efforts to grow revenue from its services business as sales of its flagship product, the iPhone, slow down."
"We believe in the power of journalism and the impact it can have on our lives," Cook said.
Go deeper: Apple announces a slew of media-focused products and services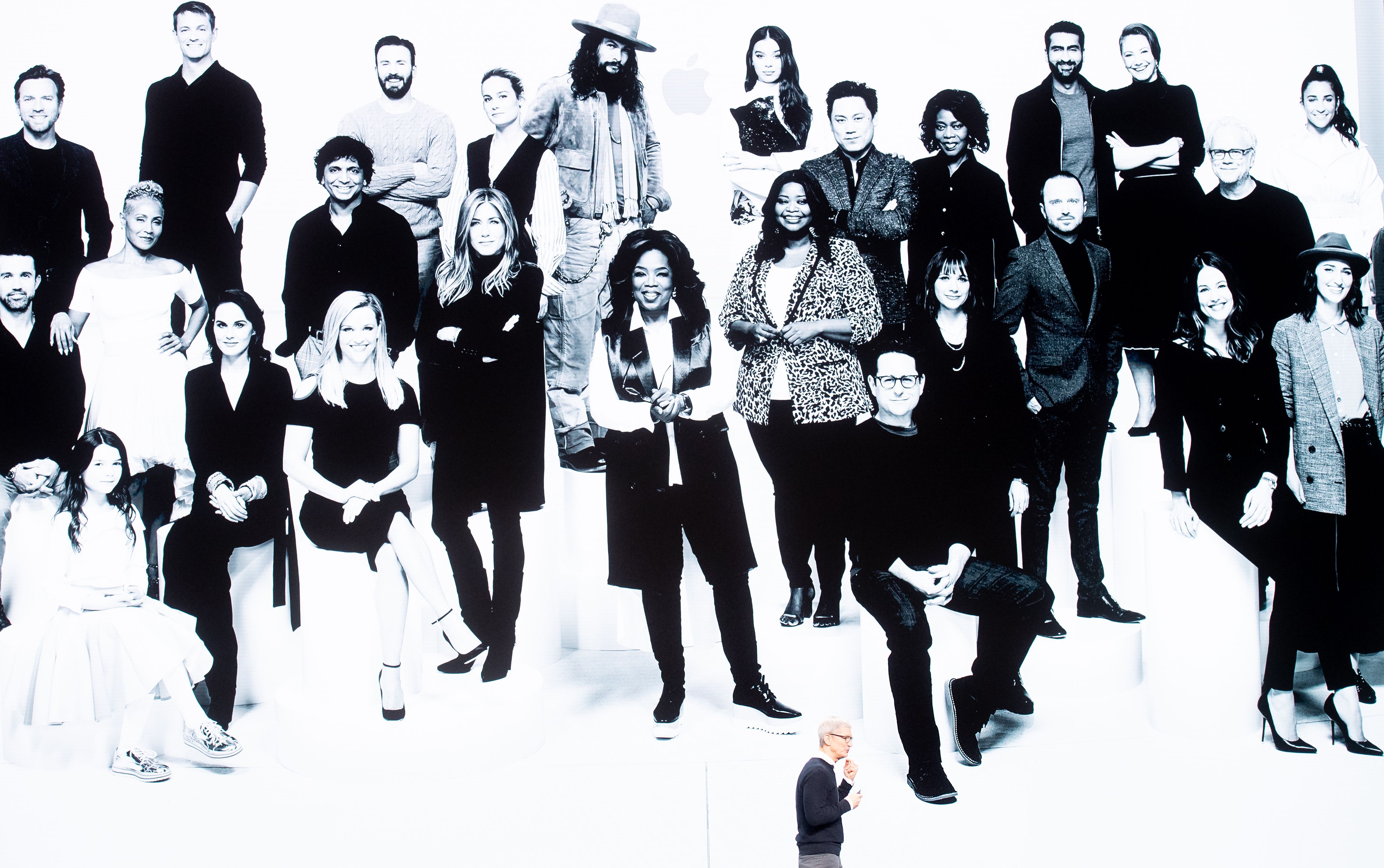 6. Kamala Harris unveils plan to give teachers $13,500 raise
Sen. Kamala Harris today will unveil a teacher pay plan that would give the average teacher a $13,500 raise, Axios' Alexi McCammond reports.
Harris said at a Houston rally last weekend that she would make the largest-ever federal investment in educators' pay if elected president.
Why it matters: Harris is the first 2020 candidate to release a plan like this. The proposal helps her expand her economic message to address a public crisis that has played out over the last two years with teachers' strikes around the country.
Details: The plan would cost around $315 billion over 10 years, "paid for by strengthening the estate tax and cracking down on loopholes."
The $13,500 pay raise is equivalent to a 23% base pay increase for the average teacher, according to the plan.
The plan calls for "an immediate federal investment in every state" to "provide the first 10 percent of funding needed to close the teacher pay gap."
Schools that predominantly serve students of color will receive even more funding to increase teacher pay.
7. Poll du jour: Heartland danger for Trump
A new survey by Firehouse Strategies, a Republican firm, and 0ptimus finds President Trump's approval underwater in Pennsylvania, Michigan and Wisconsin — vital states from his 2016 map that form Dems' most likely path to 270.
Biden, Beto and Bernie all beat him head to head in Wisconsin ... Trump beats all three in Michigan ... Pennsylvania splits: Only Biden beats Trump there.
8. First look: Dems' post-Mueller messaging
Priorities USA, a top Democratic super PAC that emphasizes economic messaging, is pushing back on the belief of many party veterans that Dems risk overreach and backlash if they keep investigating Trump:
"[I]t is likely that findings of those investigations will continue to damage Trump politically as more revelations emerge and Republican opposition to oversight will look progressively worse," the group says in a forthcoming memo, "Campaign Messaging Post Barr Letter."
But the memo adds: "It is not enough for voters to dislike Donald Trump or think that he is unfit to be President of the United States. ... Voters need to know that Trump's actions and policies are hurting them personally."
9. First look: Gerrymandering comes to the silver screen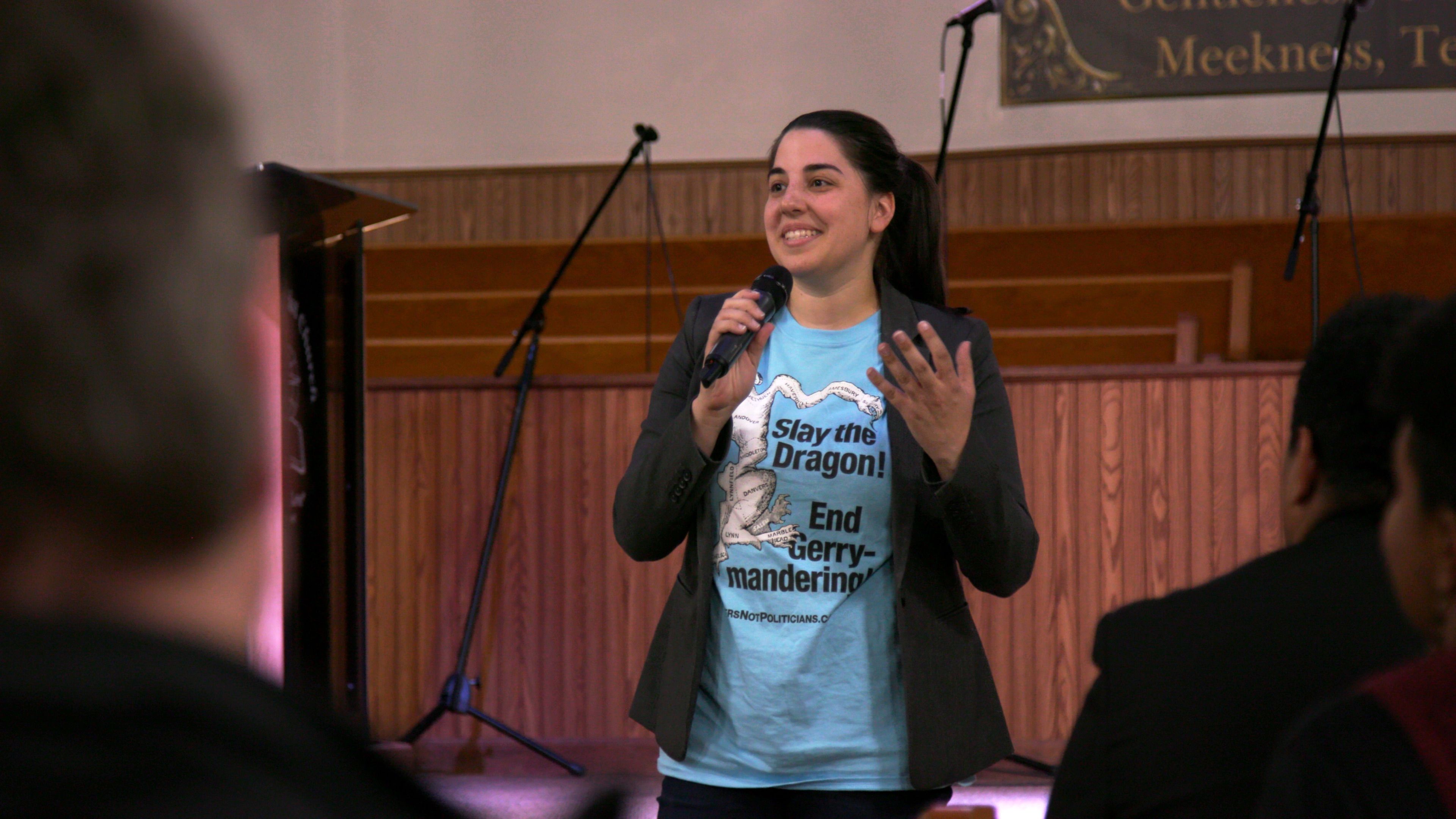 A documentary about gerrymandering from Participant Media, "Slay the Dragon," premieres at the Tribeca Film Festival on April 27.
We have a sneak peek at the trailer, ahead of Supreme Court oral arguments today on partisan-redistricting cases from Maryland and North Carolina.
The film, by directors Barak Goodman and Chris Durrance, follows citizens' groups and everyday people as they fight against "secretive, high-tech gerrymandering" that they see as undermining democracy.
Katie Fahey, pictured above, a Michigander who formed Voters Not Politicians, works in the film "to bring a measure onto the state's ballot to require an independent group —not the legislature — to draw the lines."
10. 🏀 1 fun thing
"Through 48 of the 63 games of the 2019 NCAA tournament, there is just one perfect bracket left across all major online bracket games," entered in the NCAA's Bracket Challenge Game, writes NCAA.com's Daniel Wilco.
The bracket "owns the longest streak of correct bracket picks we have ever seen, shattering our reported record of 39 games, which happened in 2017."
"For reference, if every game were a coin toss, the odds of predicting 48 in a row are 1 in 281,474,976,710,656."
The reaction from Gregg Nigl, who created the record-breaking bracket: "So wait, you're saying I'm the first person to have ever done this? This is wild. I can't even believe it. I had no idea that this was even happening."