https://www.axios.com/newsletters/axios-am-ba69d78b-4245-4c79-a741-08d78affbb5a.html?chunk=0#story0
1 big thing: We could lose Cold War II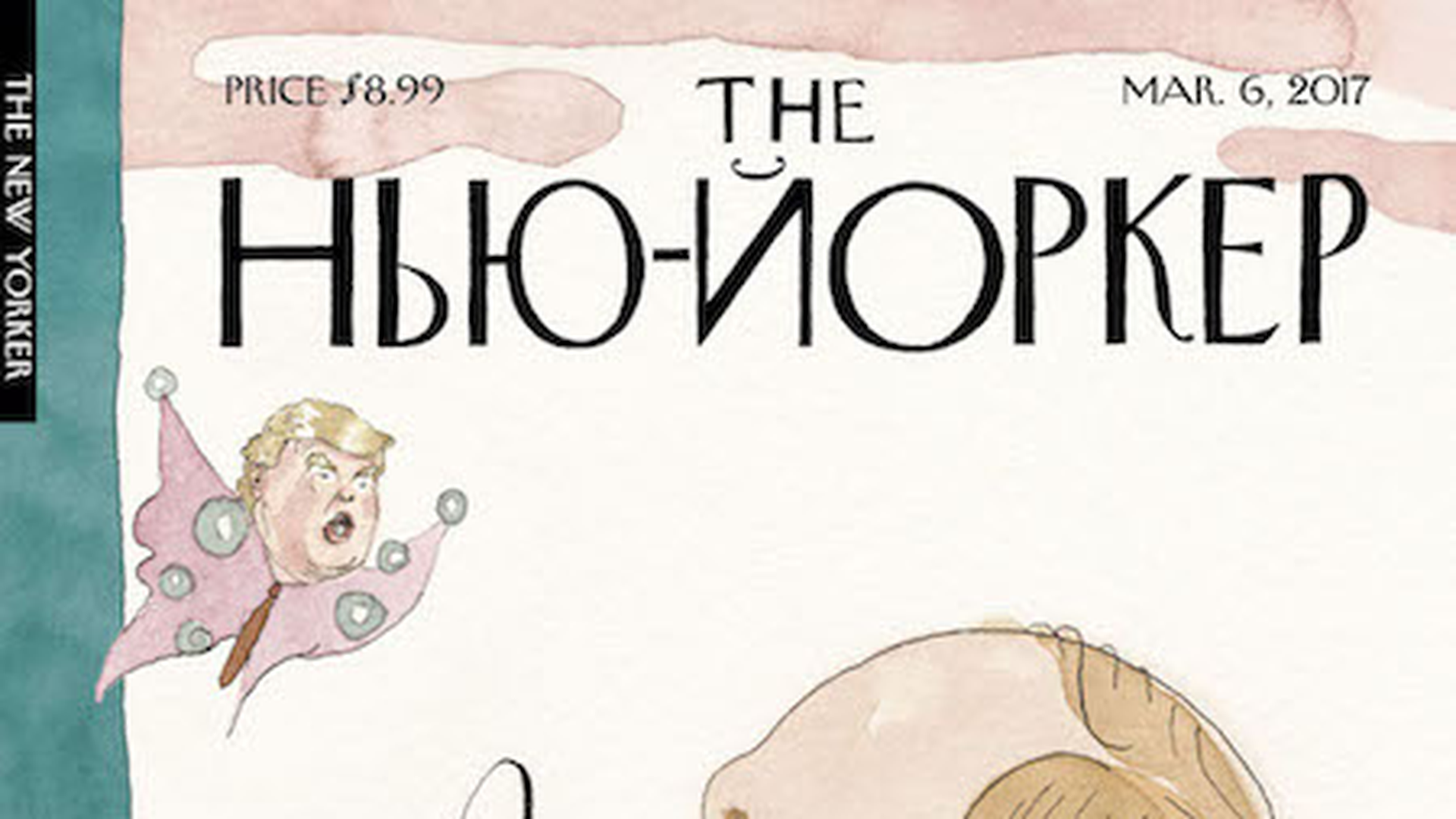 https://www.axios.com/newsletters/axios-am-ba69d78b-4245-4c79-a741-08d78affbb5a.html?chunk=1#story1
2. Coming attractions
Coming Monday, from VERY well-known names in Democratic politics, progressive activism, and academia, an effort to rebut Trump Administration tweets, statements and actions in real time:
"@ShadowingTrump is a 'Shadow Cabinet' of policy experts debunking POTUS 45 and his appointees ... Sort of an online 'Justice League.' ... [W]e'll be a comprehensive, one-portal stop of 'Citizen Secretaries' — ex-officials and scholars who will comment agency-by-agency ... on issues both in headlines & within the bureaucracy."
From the pitch: "Please follow us on twitter ... unless you think everything is ok."
The "Shadow Cabinet" Twitter feed is locked until Monday.
https://www.axios.com/newsletters/axios-am-ba69d78b-4245-4c79-a741-08d78affbb5a.html?chunk=2#story2
3. Obamacare getting MORE popular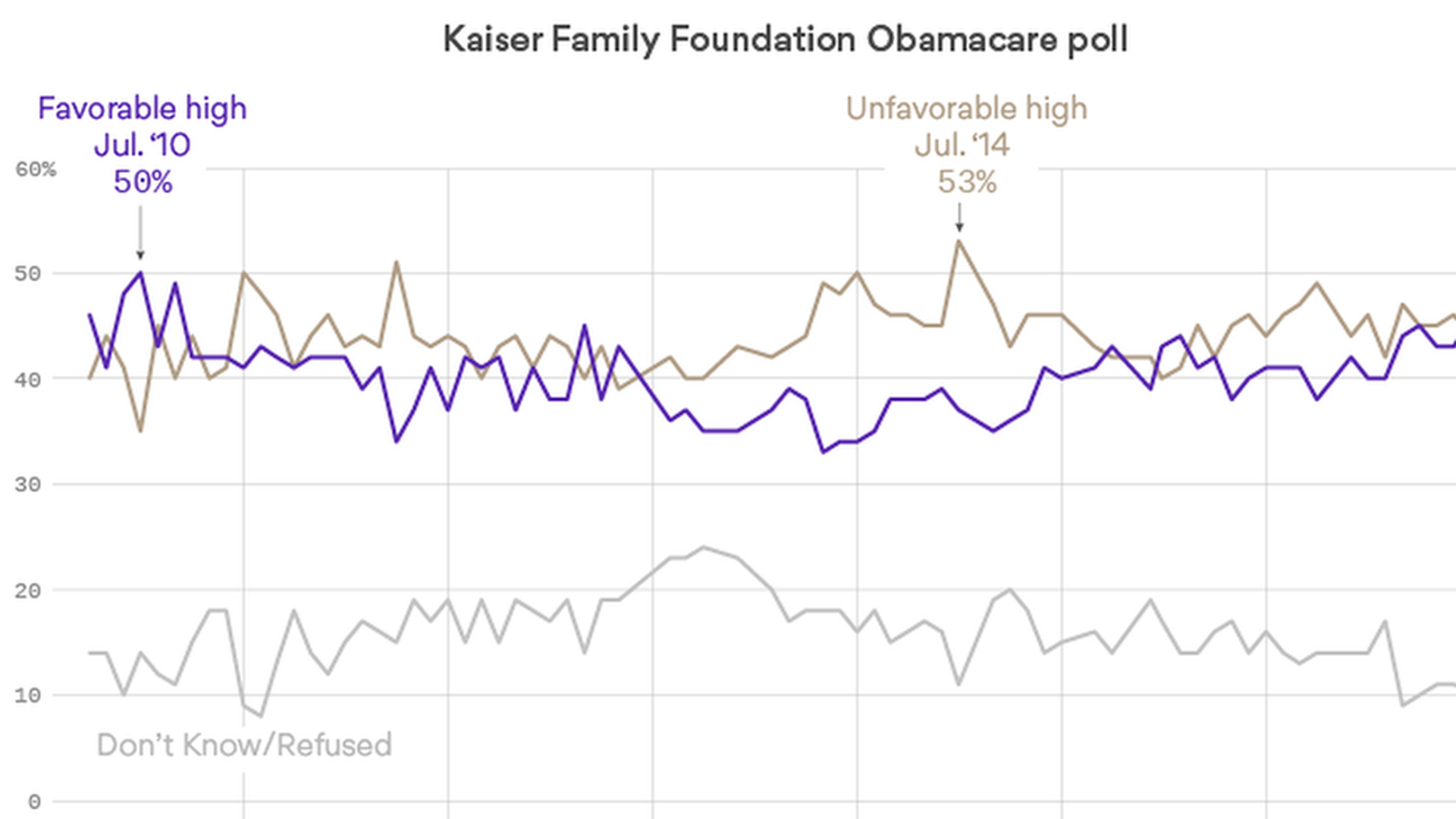 David Nather points out that a Kaiser Family Foundation poll, out today, is "the latest evidence that the repeal threat is making Obamacare more popular":
KFF's monthly tracking poll shows the highest favorable rating the program has had since 2010, the year Obama signed it.
"It's not great — just 48 percent, which says a lot about how low the approval ratings were before. But it's clearly higher than the unfavorable ratings for the first time in more than a year."
https://www.axios.com/newsletters/axios-am-ba69d78b-4245-4c79-a741-08d78affbb5a.html?chunk=3#story3
4. Happy-hour helper: Stuff to talk about
https://www.axios.com/newsletters/axios-am-ba69d78b-4245-4c79-a741-08d78affbb5a.html?chunk=4#story4
5. Things you wouldn't see on Obama's desk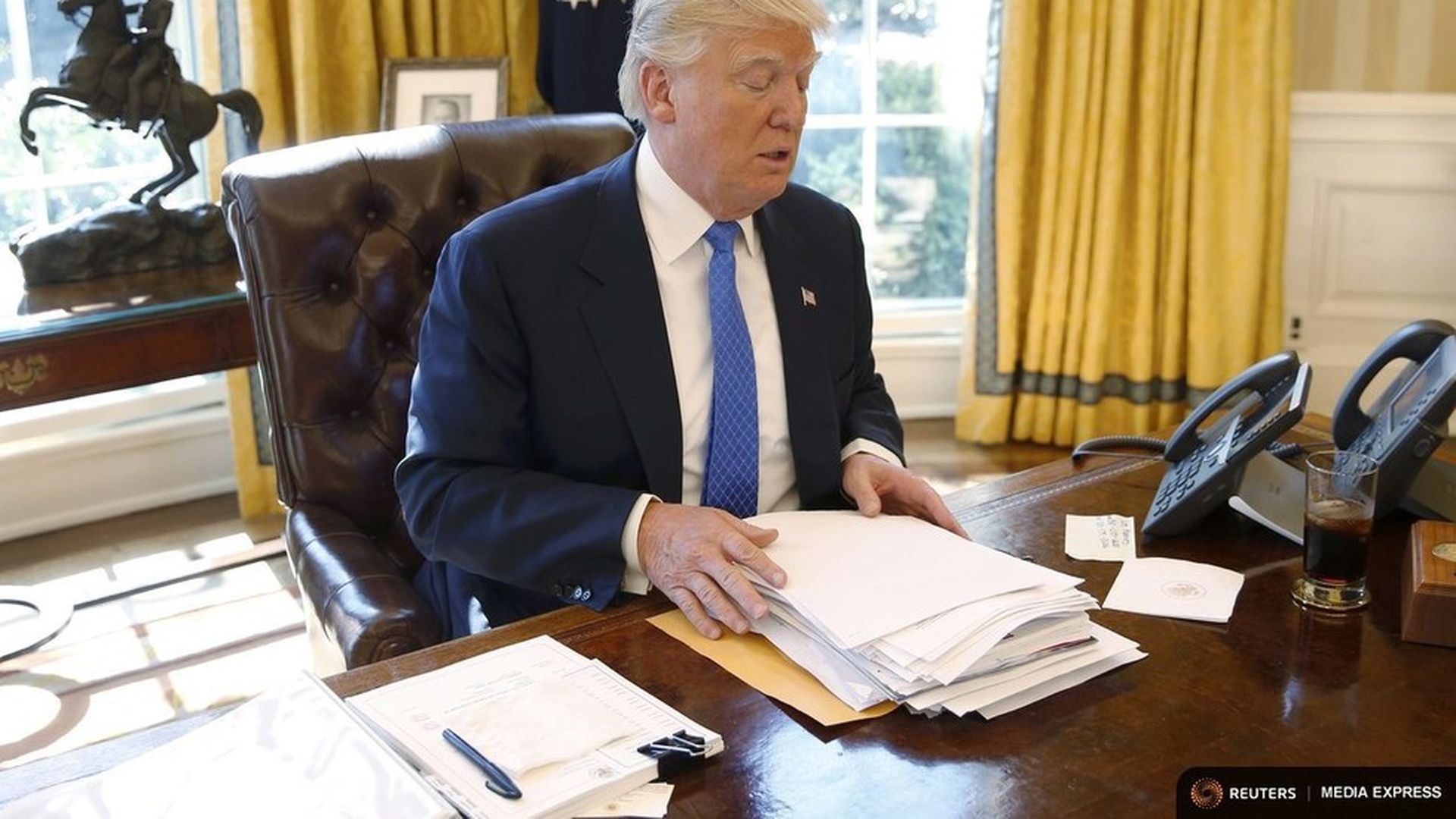 Papers — and cola!
This fascinating photo was taken during Trump's Oval Office interview yesterday with Reuters' Steve Holland. Key point:
"Trump ... spoke positively about a border adjustment tax being pushed by Republicans in Congress as a way to boost exports, but he did not specifically endorse the proposal."
Trump's "most approving language to date on the proposal": "It could lead to a lot more jobs in the United States."
Trump sent conflicting signals about his position ... in separate media interviews in January, saying in one interview that it was 'too complicated' and in another that it was still on the table.
Sean Spicer also came to the defense of border adjustment on Thursday, disputing the claim that it could lead to higher consumer prices.
Stocks of retailers, which could be hurt by border adjustment, weakened on Wall Street after Trump's remarks."
Trump on corporate tax cut: "We're going to have a corporate tax cut ... anywhere from 15 to 20 percent (as a target for the corporate tax rate).
The backdrop ... "Manufacturing CEOs Push Border Tax During Meeting With Trump" — Bloomberg: "Just after meeting with the CEOs of Dow Chemical Co., General Electric Co. and other industrial giants, the president told Reuters he would 'support a form of tax on the border."
https://www.axios.com/newsletters/axios-am-ba69d78b-4245-4c79-a741-08d78affbb5a.html?chunk=5#story5
6. Bannon vows "deconstruction of the administrative state"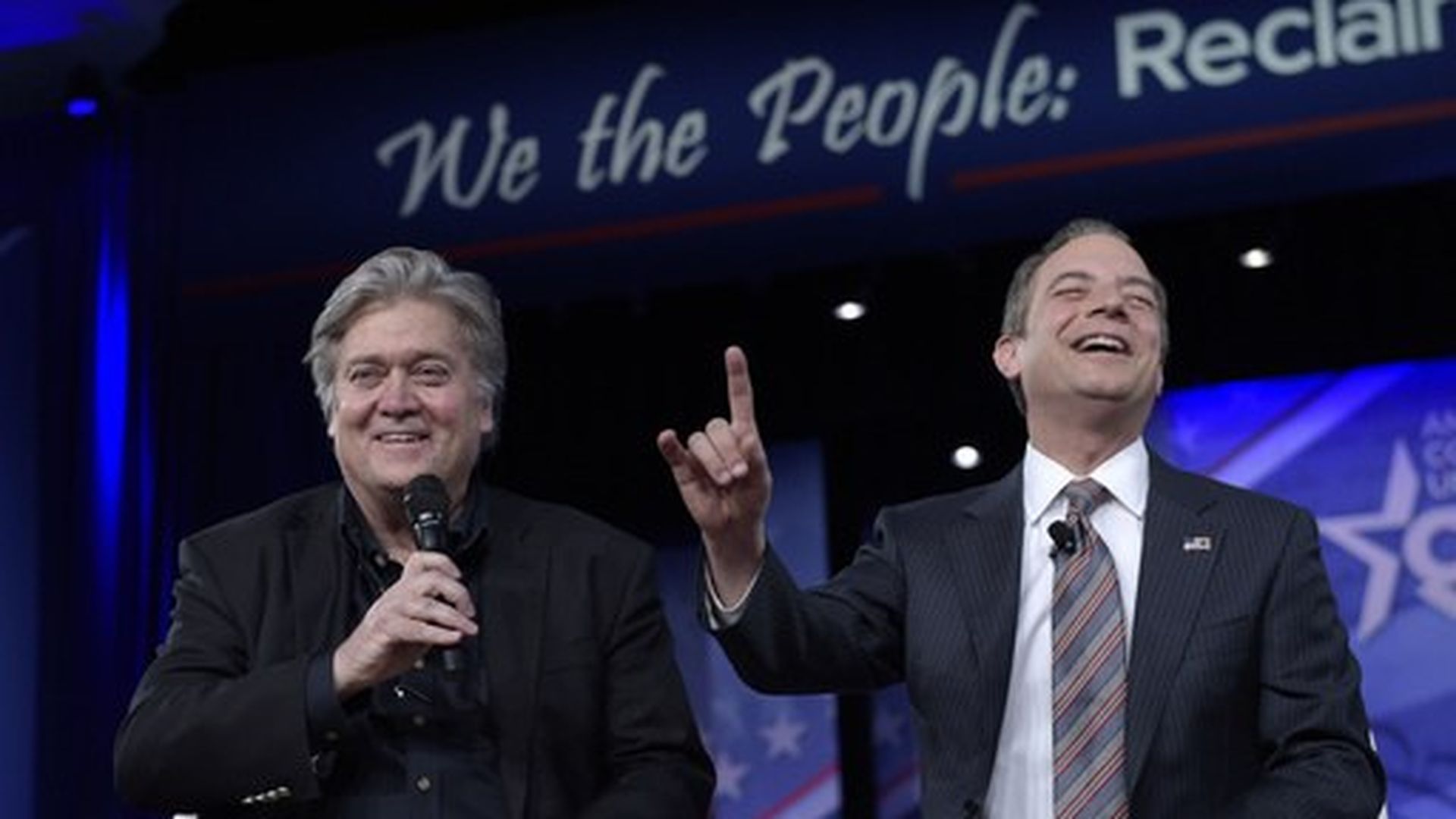 Steve Banon, Trump's chief strategist, made it clear during an appearance yesterday at the Conservative Political Action Conference in Oxon Hill, Md., that he hasn't softened one bit:
On the West Wing suite he shares with Priebus: "I have a little thing called the war room. He has a fireplace with nice sofas."
On the media: "[I]f you look at the opposition party and how they portray the campaign, how they portrayed the transition and now they're portraying the administration, it's always wrong. ... They're corporatist, globalist media that are adamantly opposed — adamantly opposed to an economic nationalist agenda like Donald Trump has."
On the Trump administration's three "lines of work": "The first is kind of national security and sovereignty and that's your intelligence, the Defense Department, Homeland Security. The second ... is what I refer to as economic nationalism and that is Wilbur Ross at Commerce, Steven Mnuchin at Treasury, [Robert] Lighthizer [nominated as Trade Rep], Peter Navarro [Director of Trade and Industrial Policy], Stephen Miller — these people that are rethinking how we're gonna reconstruct ... our trade arrangements around the world. The third, broadly, line of work is what is deconstruction of the administrative state."
On his personality: "I can run a little hot on occasions."
On how Trump fits into the conservative movement: "[T]here's a new political order that's being formed out of this. ... [T]he center core of what we believe: that we're a nation with an economy, not an economy just in some global marketplace with open borders, but we are a nation with a culture and a reason for being. And I think that is what unites us and I think that is what is going to unite this movement going forward."
Vice President Pence at CPAC last night: " [T]he president and I have become good friends. ... Now, some people have remarked that we're a little bit different. You know, I'm a small town guy. He's big city. I'm Midwest; he's Manhattan Island. He's known for his bigger than life personality, his charm, and his charisma. And I'm, like, not." Laughter.
https://www.axios.com/newsletters/axios-am-ba69d78b-4245-4c79-a741-08d78affbb5a.html?chunk=6#story6
7. The family business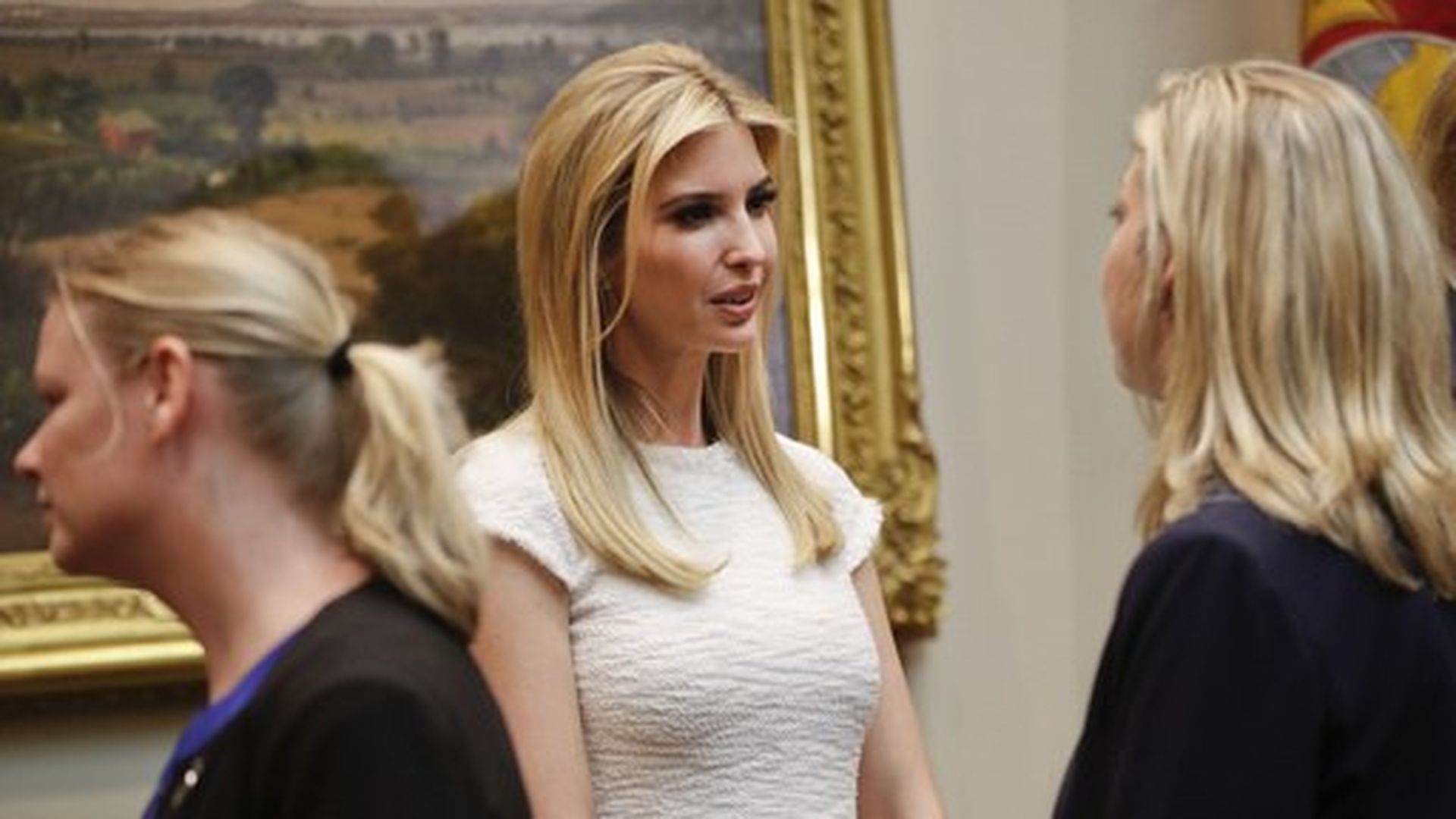 https://www.axios.com/newsletters/axios-am-ba69d78b-4245-4c79-a741-08d78affbb5a.html?chunk=7#story7
8. Axios interview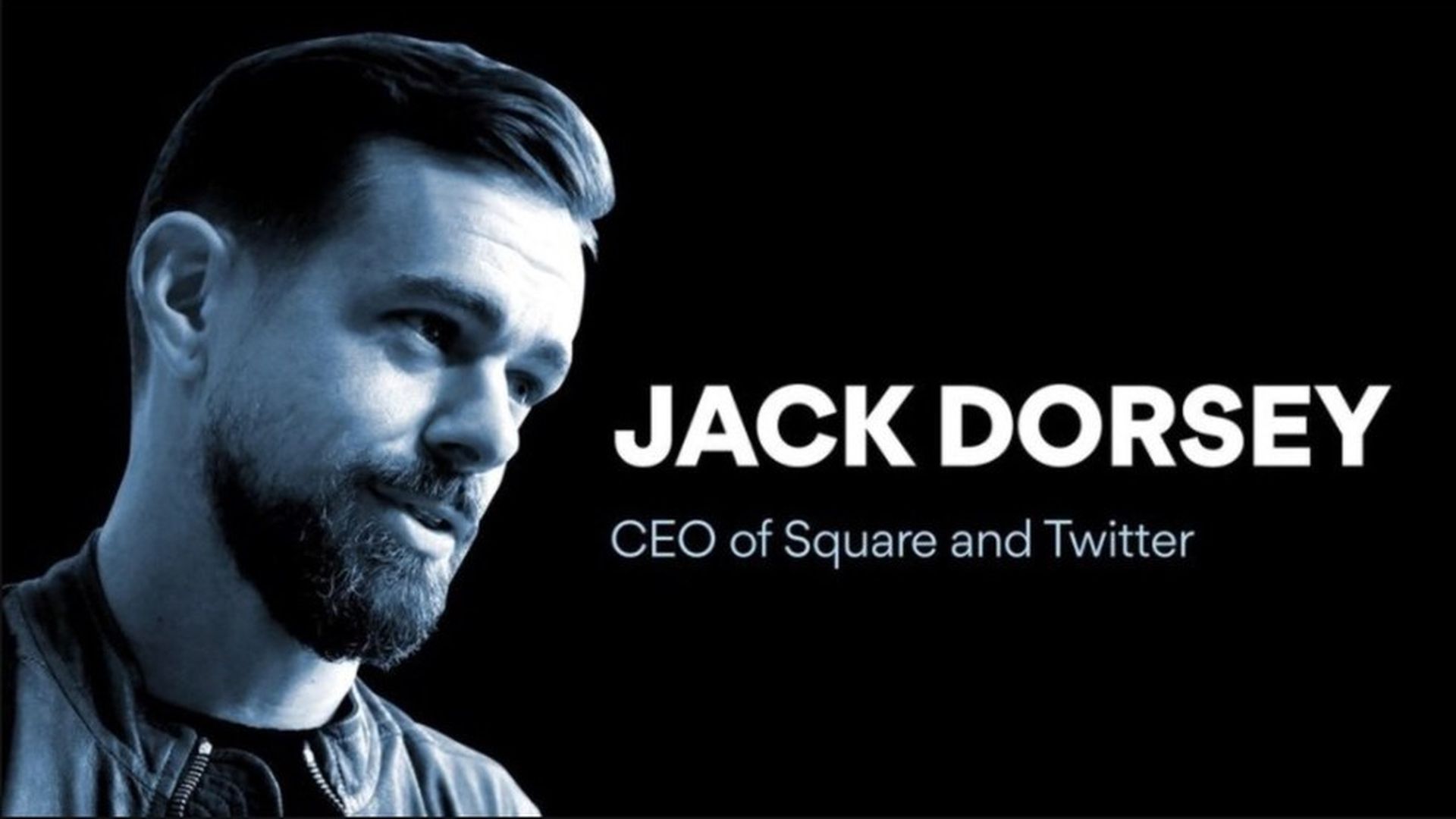 Dan Primack interviews Jack Dorsey, best known as co-founder and CEO of Twitter: "[B]ut it's his other company ― Square ― that set Wall Street tongues wagging this week with better-than-expected earnings ... closed trading yesterday at an all-time high.
Sign of our times that one of Dan's questions was: Does profitability matter?
Dorsey: "It's important to get to that milestone, and it's one we've really set ourselves against. It's important to build a company where you have control, so you can choose to either invest in the growth of the company or more in profitability. So we're building something that can really reach that level."
https://www.axios.com/newsletters/axios-am-ba69d78b-4245-4c79-a741-08d78affbb5a.html?chunk=8#story8
9. Tucker's restoration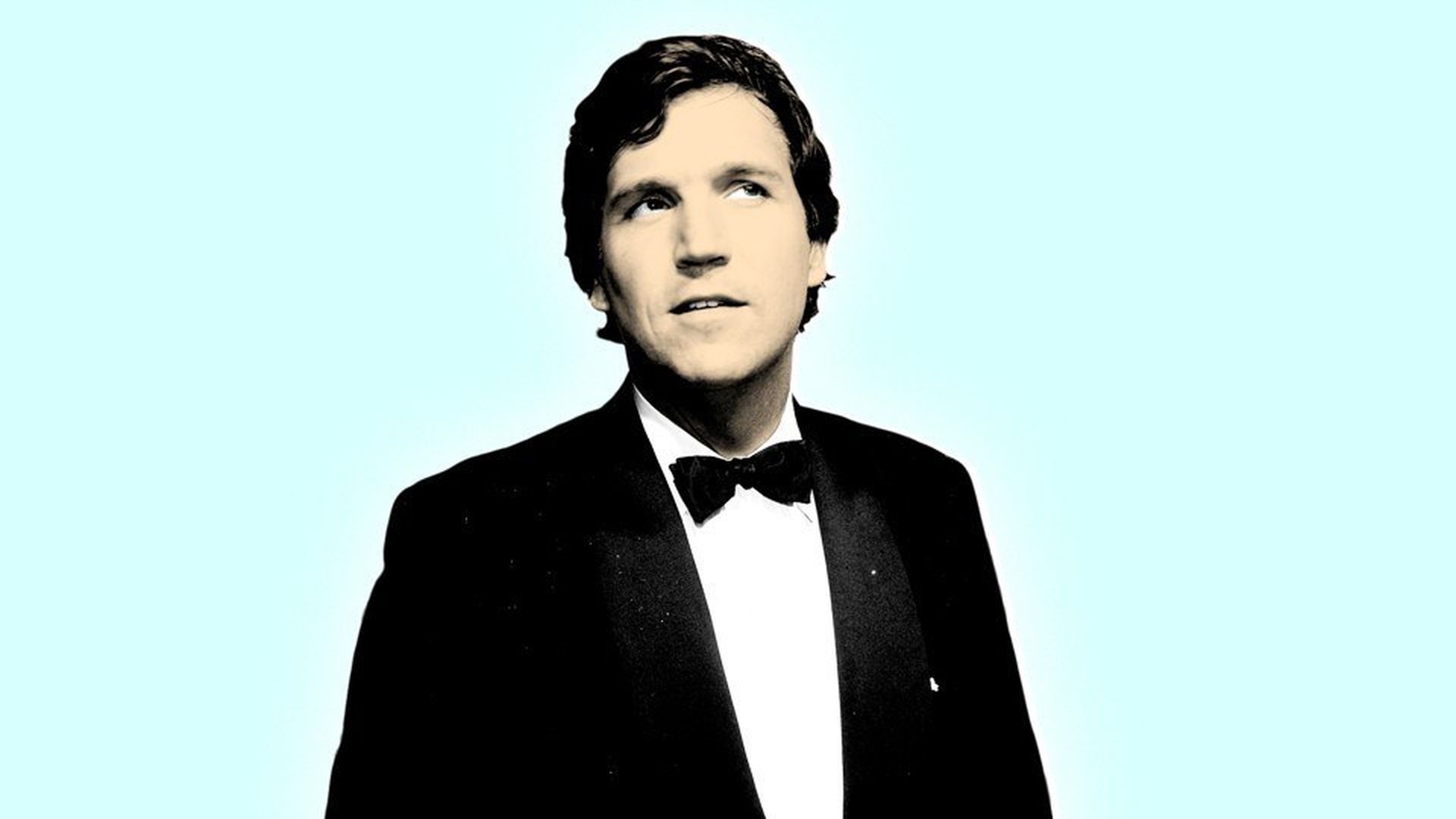 Tucker Carlson ("The Bow-Tied Bard of Populism"), whose new 9 p.m. show on Fox has been a ratings and echo-chamber hit, to McKay Coppins, now a staff writer for The Atlantic:
"The SAT 50 years ago pulled a lot of smart people out of every little town in America and funneled them into a small number of elite institutions, where they married each other, had kids, and moved to an even smaller number of elite neighborhoods. We created the most effective meritocracy ever. ...
"But the problem with the meritocracy ... [is that it] leeches all the empathy out of your society … The second you think that all your good fortune is a product of your virtue, you become highly judgmental, lacking empathy, totally without self-awareness, arrogant, stupid — I mean all the stuff that our ruling class is."
A keeper: "He recalls receiving a text message on election night from a stunned Democratic friend declaring his intention to flee the country with his family. Carlson replied by asking if he could use their pool while they were gone."
One quibble: McKay calls The Monocle, where he had lunch with Tucker, "upscale" when he meant "old-school."
https://www.axios.com/newsletters/axios-am-ba69d78b-4245-4c79-a741-08d78affbb5a.html?chunk=9#story9
10. 1 fun thing
"Virtual-Reality Goggles Come With a Hitch: Real Reality" -- Wall Street Journal A-Hed by Cat Zakrzewski: "[E]arly adopters are encountering ... challenges, from coffee spills to missed train stops to nausea and 'goggle face' — marks that the snug headsets leave around the eyes after extended use."
"The popularity of Pokémon Go last summer showed the dangers of operating in the real world while staring at 'augmented reality' on a smartphone. Players sprained ankles, walked into fire hydrants and fell off bikes while their eyes were glued to their phone screens."
AR vs. VR: "Augmented reality puts digital objects on images of the real world — so it looks like a Pokémon character is standing in your driveway. Virtual reality cuts out the real world entirely. Such full immersion can be so intense that users experience motion sickness or fear of falling."