Good Thursday morning from Chapel Hill, where Jim VandeHei and I will launch the "Smarter Faster Revolution" at UNC at 12:15. (RSVP via The Daily Tar Heel.) Situational awareness: Richard Cordray will step down as the head of the Consumer Financial Protection Bureau amid growing speculation that he will run for governor of Ohio as a Democrat (Bloomberg) ... Time Inc. is said to be in talks to sell itself to the Meredith Corporation, in a deal backed by Charles G. and David H. Koch. (N.Y. Times)
https://www.axios.com/newsletters/axios-am-b8f6325c-8c14-43e7-88b9-7beb6a47f077.html?chunk=0#story0
1 big thing: "A change in the global order"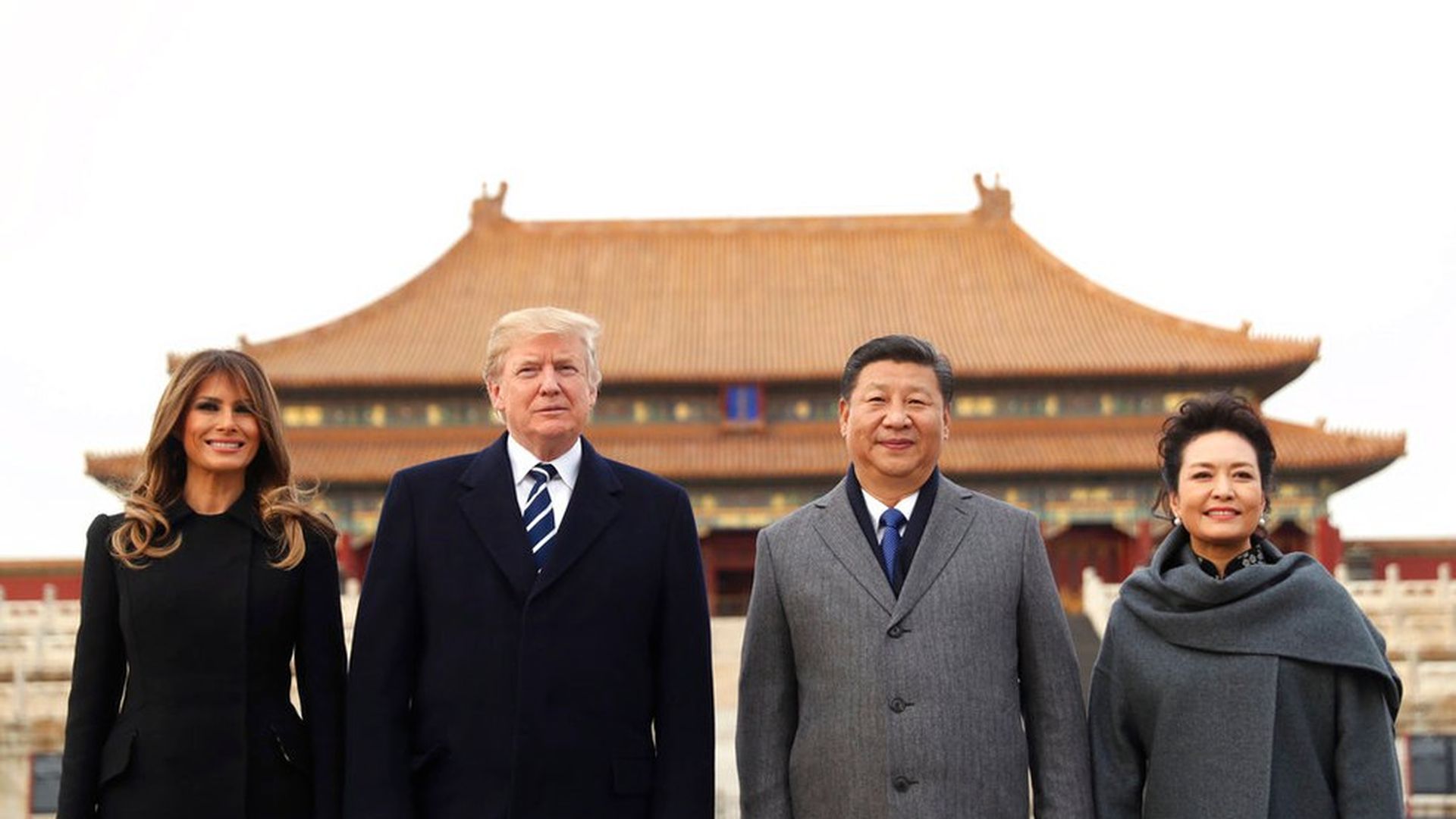 President Trump yesterday declared his 12-day Asia swing "historic." A David Ignatius column says that may indeed prove true, but "probably not in the way he intends":
"It may signal a U.S. accommodation to rising Chinese power, plus a desire to mend fences with a belligerent Russia — with few evident security gains for the United States."
Ian Bremmer, president and founder of Eurasia Group, has a similar megatrend interpretation — but says it was baked even before Trump's trip. Bremmer wrote his clients, with his idiosyncratic punctuation:
"there have been two speeches of my lifetime that mark a change in the global order: when mikhail gorbachev announced [in 1991] the dissolution of the former soviet union, and two weeks ago when chinese president xi jinping declared that china was ready to ... become a superpower."
"it's the money china is spending around the region and globally; their technology strategy and the growing impact of the government and their companies together in the space; their policy pronouncements which are seen as having a lot more impact than those of other capitals; and the inevitable pushing ahead of their military in their backyard (most specifically around the south china sea)."
Why it matters: "asia used to be a conversation about hedging between the united states and china; now it's more about how to react and adapt to Beijing."
The Ignatius column, "Trump's extraordinary 12-day adulation tour," adds:
"If the 1945 Yalta summit marked U.S. acceptance of the Soviet Union's hegemony in Eastern Europe, this trip seemed to validate China's arrival as a Pacific power."
"As Xi put it to Trump, 'The Pacific Ocean is big enough to accommodate both China and the United States.''
P.S. Trump tweeted yesterday: "The failing @nytimes hates the fact that I have developed a great relationship with World leaders like Xi Jinping, President of China."
And this morning: "To the three UCLA basketball players I say: You're welcome, go out and give a big Thank You to President Xi Jinping of China who made ... your release possible and, HAVE A GREAT LIFE! Be careful, there are many pitfalls on the long and winding road of life!"
https://www.axios.com/newsletters/axios-am-b8f6325c-8c14-43e7-88b9-7beb6a47f077.html?chunk=1#story1
2. The personal side of tax reform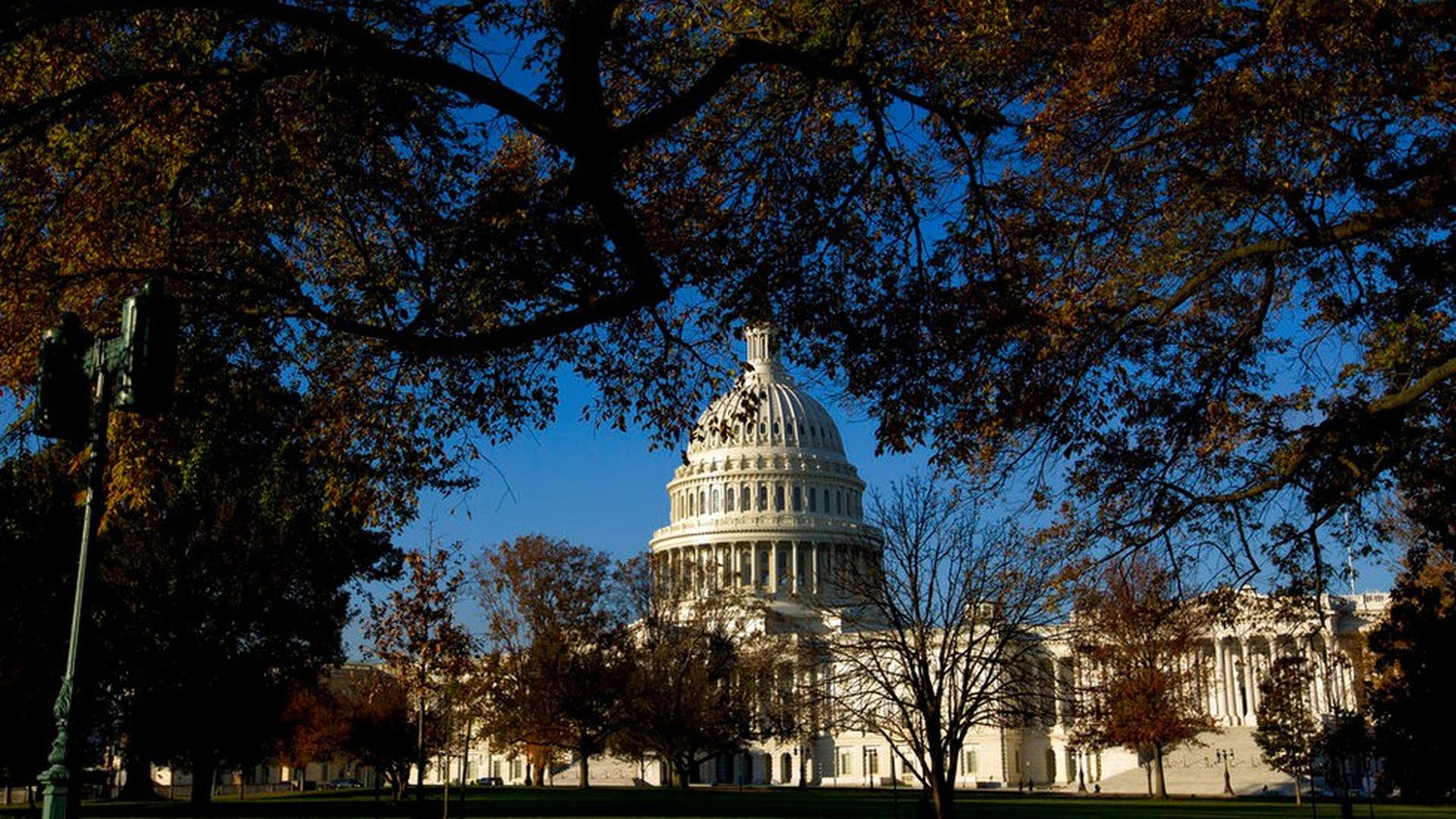 https://www.axios.com/newsletters/axios-am-b8f6325c-8c14-43e7-88b9-7beb6a47f077.html?chunk=2#story2
3. "Solving the unsolvable"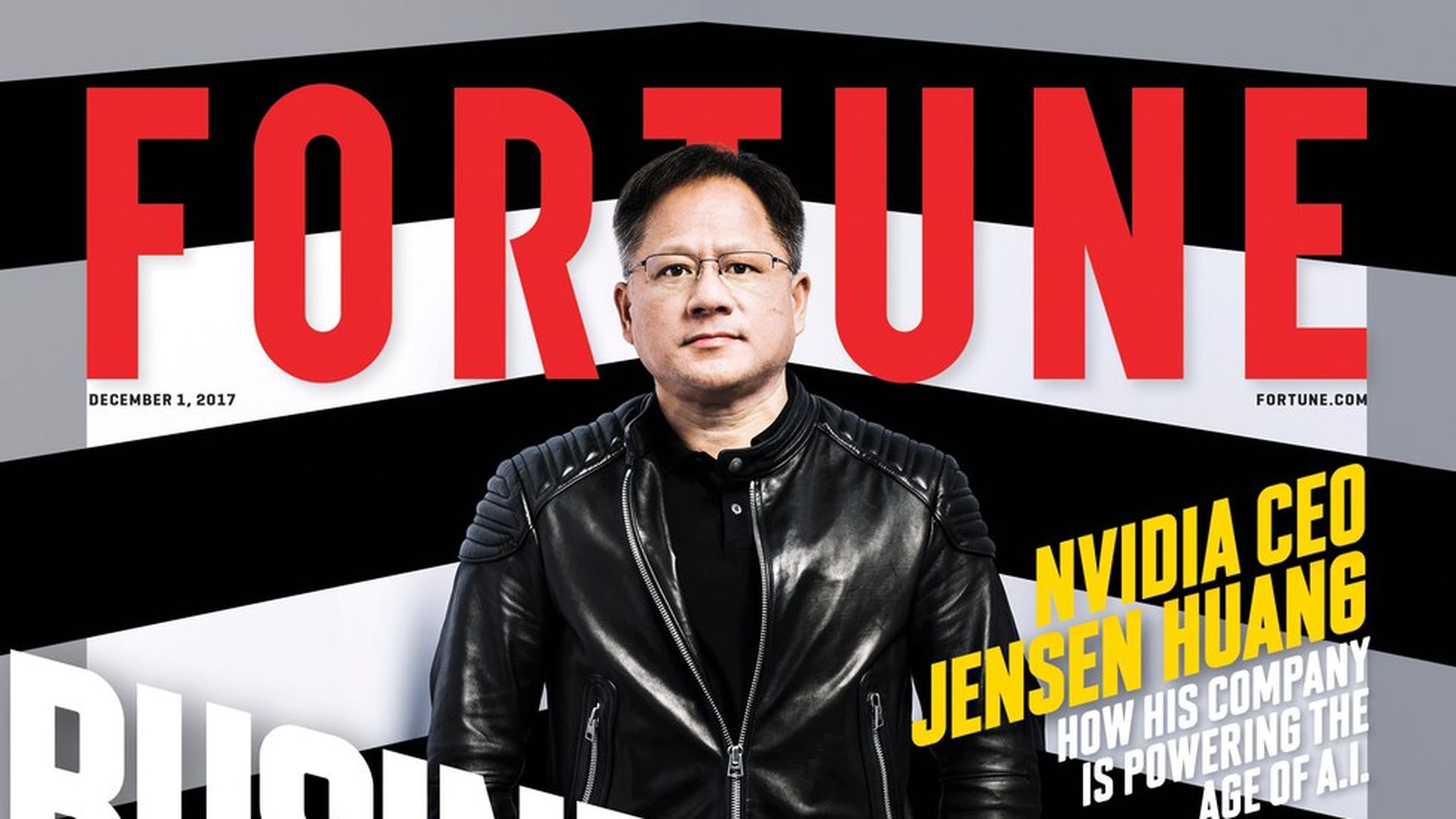 https://www.axios.com/newsletters/axios-am-b8f6325c-8c14-43e7-88b9-7beb6a47f077.html?chunk=3#story3
4. Pic du jour: Little Marco, you in there?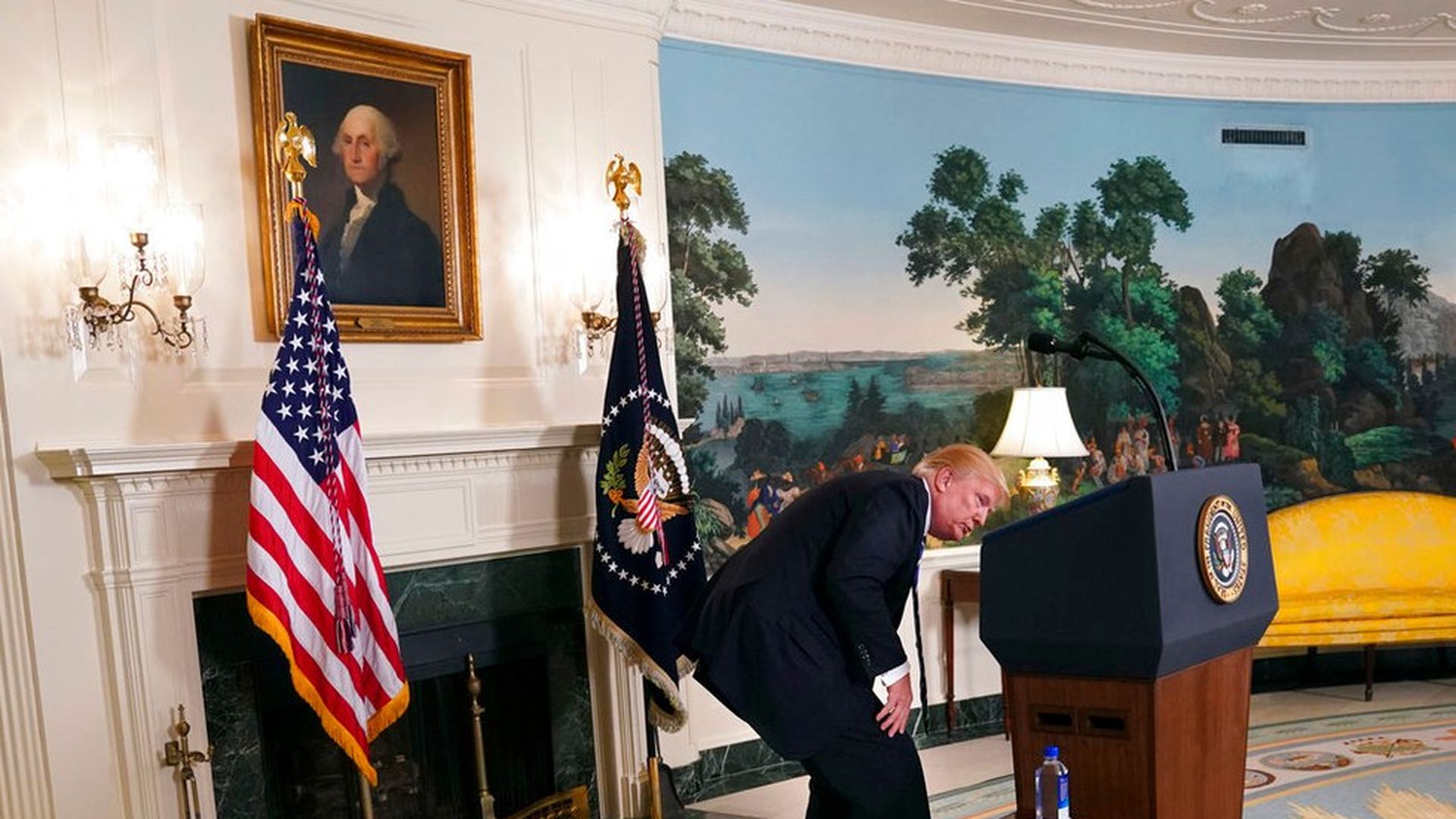 Giving a 21-minute wrap-up on his Asia trip in the Diplomatic Room yesterday, "Trump pauses address to nation to take 2 big swigs of water," by AP's Ken Thomas:
"At first, he couldn't find any in his presidential lectern. 'They don't have water? That's OK,' he said. When he was informed it was sitting on a small table to his right, the president unscrewed the cap, took a drink [of the Fiji water] and then resumed his speech. He took another swig later in the speech."
"Trump's water break drew instant comparisons to Florida Sen. Marco Rubio's 2013 speech after then-President Barack Obama's State of the Union."
Trump said at a campaign event in Fort Worth in February 2016: "When they put Marco on to refute President Obama's speech, do you remember that catastrophe? ... He's like this: 'I need water. Help me, I need water' ... This is on live television. This total choke artist ... Unbelievable."
Axios Facebook video: "Everybody gets thirsty sometimes."
Rubio retweeted yesterday's Fox video and added: "Similar, but needs work on his form. Has to be done in one single motion & eyes should never leave the camera. But not bad for his 1st time."
Trump used variations of "respect" eight times: "Everywhere we went, our foreign hosts greeted the American delegation, myself included, with incredible warmth, hospitality, and most importantly respect."
https://www.axios.com/newsletters/axios-am-b8f6325c-8c14-43e7-88b9-7beb6a47f077.html?chunk=4#story4
5. Moore lawyer: "Release the yearbook"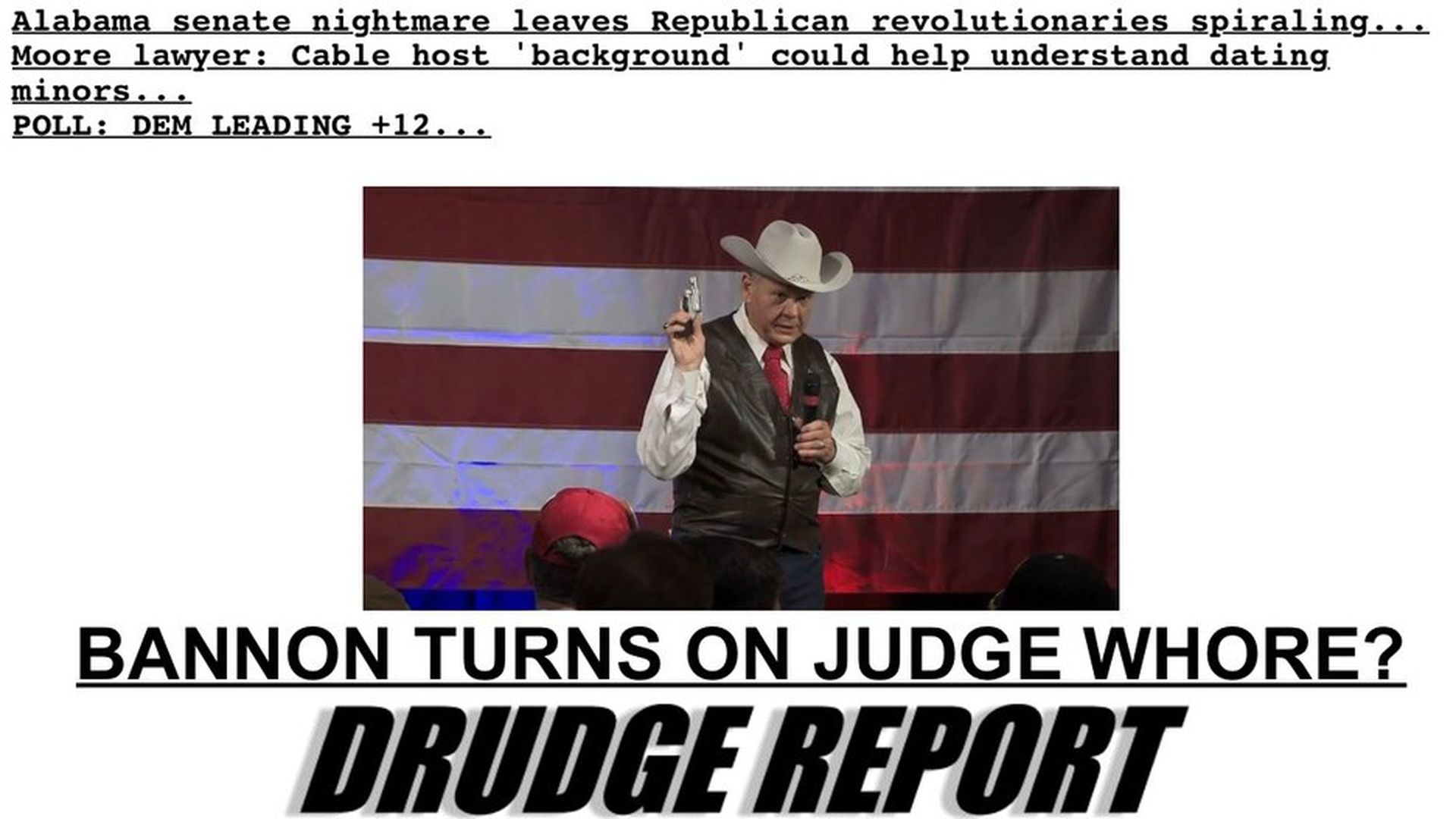 "Republican leaders are exploring a dramatic remedy to salvage the Alabama Senate seat as fresh polling shows Roy Moore's prospects fading fast," Politico's Alex Isenstadt and Eliana Johnson report:
"With less than four weeks until the special election and no sign that the party's besieged nominee will exit the race, Senate Majority Leader Mitch McConnell and his top advisers are discussing the legal feasibility of asking appointed Sen. Luther Strange to resign from his seat in order to trigger a new special election."
"Two more women accuse Moore of pursuing them," the WashPost's Stephanie McCrummen, Beth Reinhard and Alice Crites report on A1: "Moore's campaign did not directly address the new allegations."
"A lawyer for Moore's campaign held a news conference ... to dispute [an earlier] account, suggesting that a signature in [the woman's] yearbook she said was Moore's might have been forged."
Axios' Jonathan Swan reports that Steve Bannon believes Moore's denials, so he's sticking with him.
Be smart: Bannon's response, to triple-down on his support, will intensify his war with Republicans.
https://www.axios.com/newsletters/axios-am-b8f6325c-8c14-43e7-88b9-7beb6a47f077.html?chunk=5#story5
6. Recipe for genius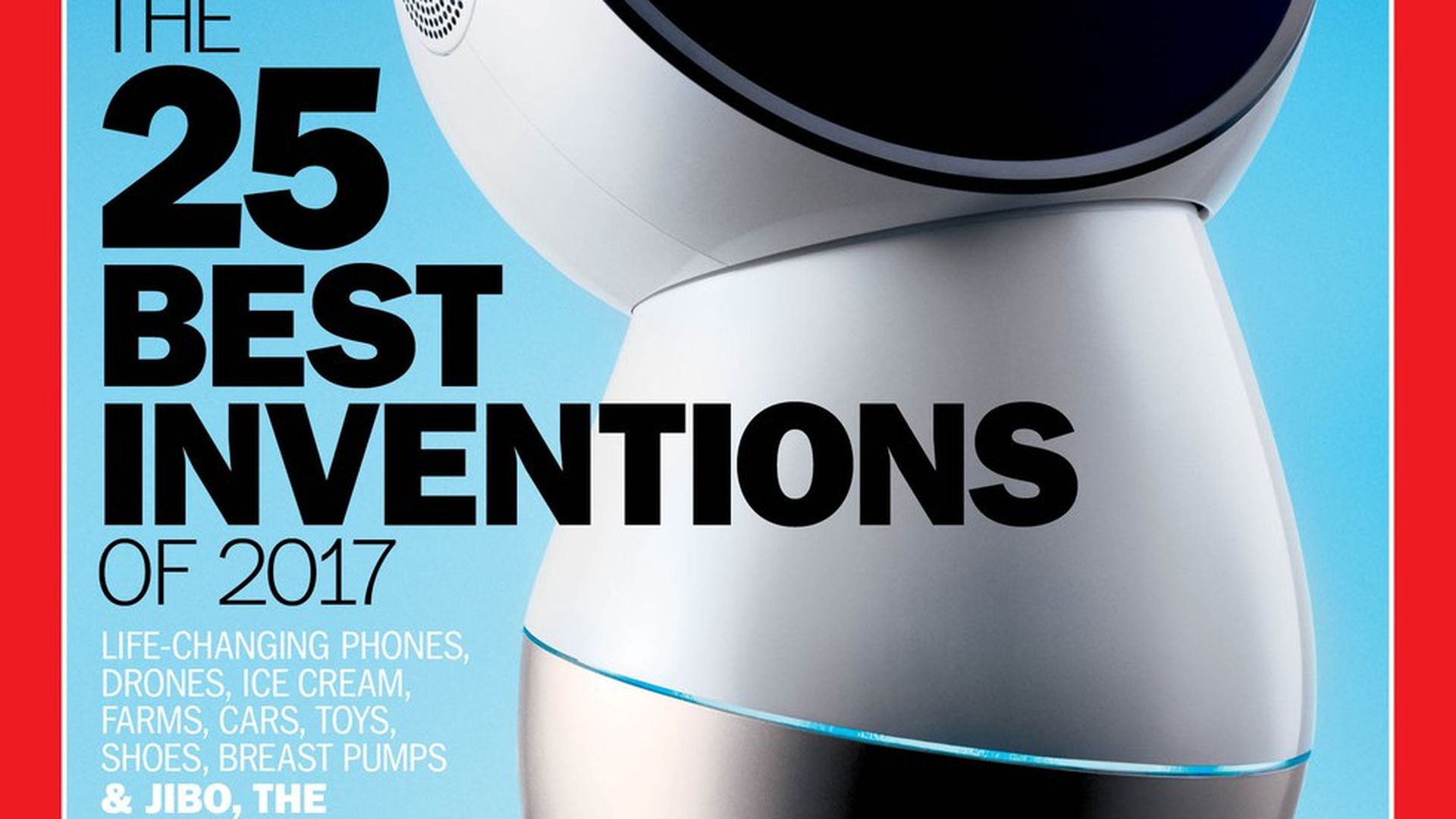 Walter Isaacson — author of the ambitious, fascinating new "Leonardo da Vinci" — writes in the new TIME on what he learned about genius from his astonishing series of biographies:
Benjamin Franklin: "He lacked the analytic processing power of a Hamilton and the philosophical depth of a Madison. Yet with little formal education, Franklin taught himself to become the American Enlightenment's best inventor, diplomat, scientist, writer and business strategist."
Albert Einstein: "Einstein's contempt for authority ... led him to question received wisdom in ways that well-trained acolytes in the academy never contemplated."
Steve Jobs: "Much like Einstein, who would pull out his violin to play Mozart when he was stymied in pursuit of theories … Jobs believed that beauty mattered, that the arts, sciences and humanities should all connect."
Leonardo da Vinci: "Studying such people led me to Leonardo da Vinci, who I believe is history's greatest creative genius. ... He could think like an artist and a scientist, which gave him something more valuable: the ability to visualize theoretical concepts."
https://www.axios.com/newsletters/axios-am-b8f6325c-8c14-43e7-88b9-7beb6a47f077.html?chunk=6#story6
7. Data du jour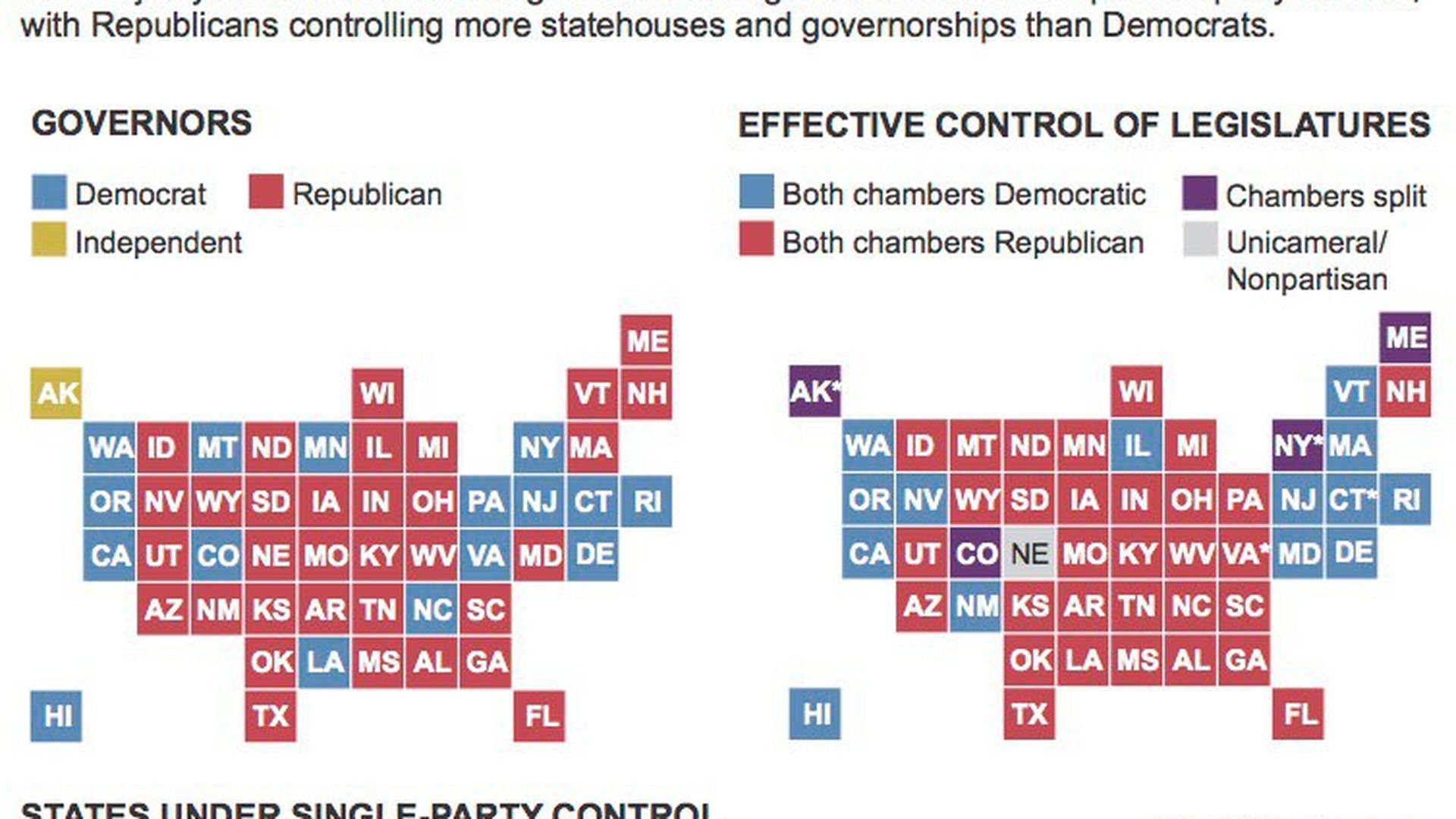 https://www.axios.com/newsletters/axios-am-b8f6325c-8c14-43e7-88b9-7beb6a47f077.html?chunk=7#story7
8. Why lawyers everywhere are watching Houston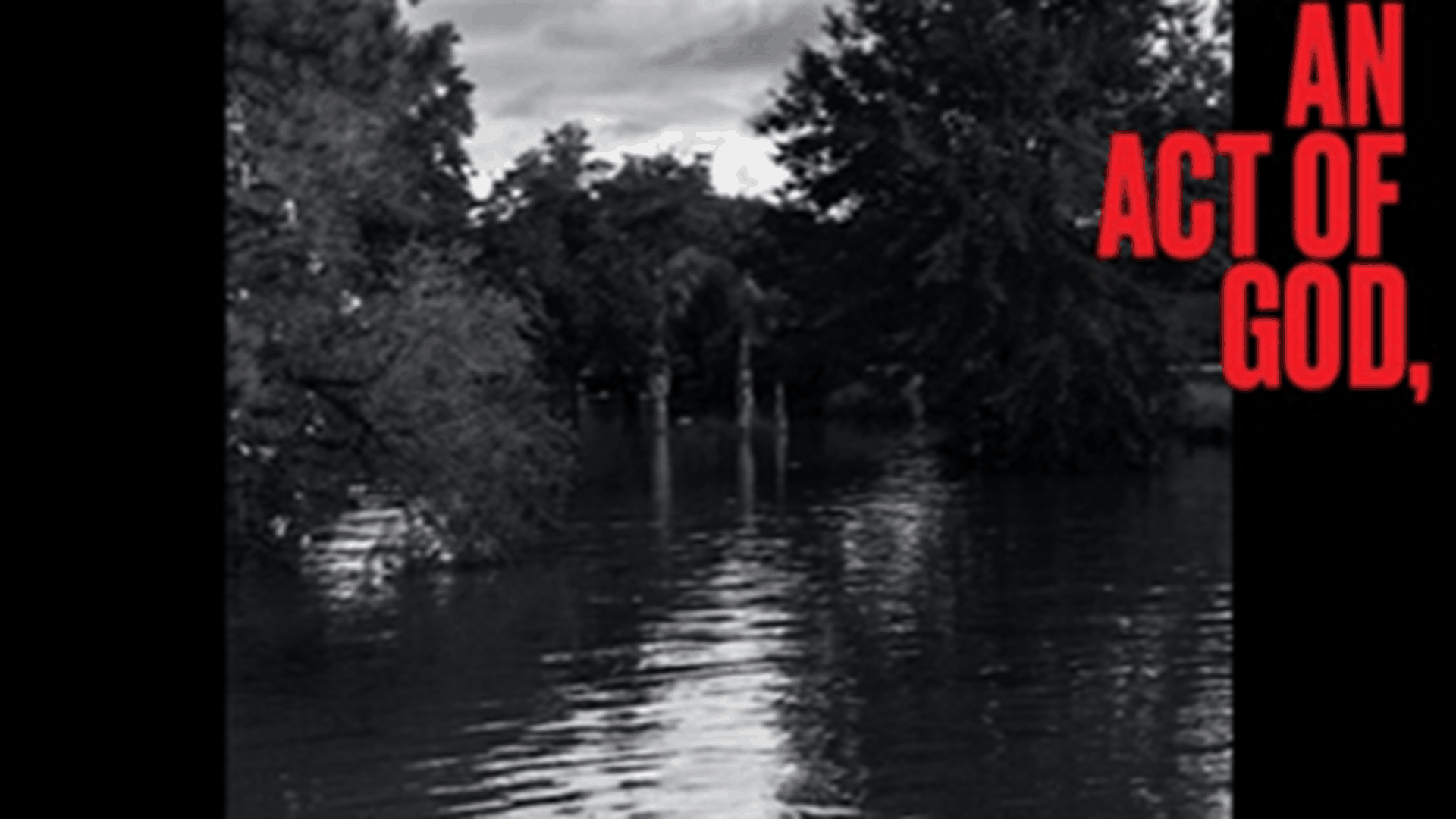 "The U.S. Flooded One of Houston's Richest Neighborhoods to Save Everyone Else," Bloomberg Businessweek reports in its cover story:
What's new: "The Army Corps of Engineers sent water cascading into West Houston's Energy Corridor to avoid a catastrophic reservoir failure during Hurricane Harvey."
Why it matters: "[A] web of lawsuits could change how the government handles extreme weather."
"In New Orleans, economically disadvantaged communities, some of them historically black, bore the brunt of the loss, with hundreds, perhaps thousands, of deaths. The victims in West Houston include white, wealthy, Republican-voting energy executives. ... Their debris piles include wine fridges, coffee table books about Renoir, and Chinese bar carts from overseas assignments."
The legal significance: "[T]he takings clause could ... become 'a kind of social insurance program for risk associated with climate change.'"
https://www.axios.com/newsletters/axios-am-b8f6325c-8c14-43e7-88b9-7beb6a47f077.html?chunk=8#story8
9. Media state of the art: Squawk Square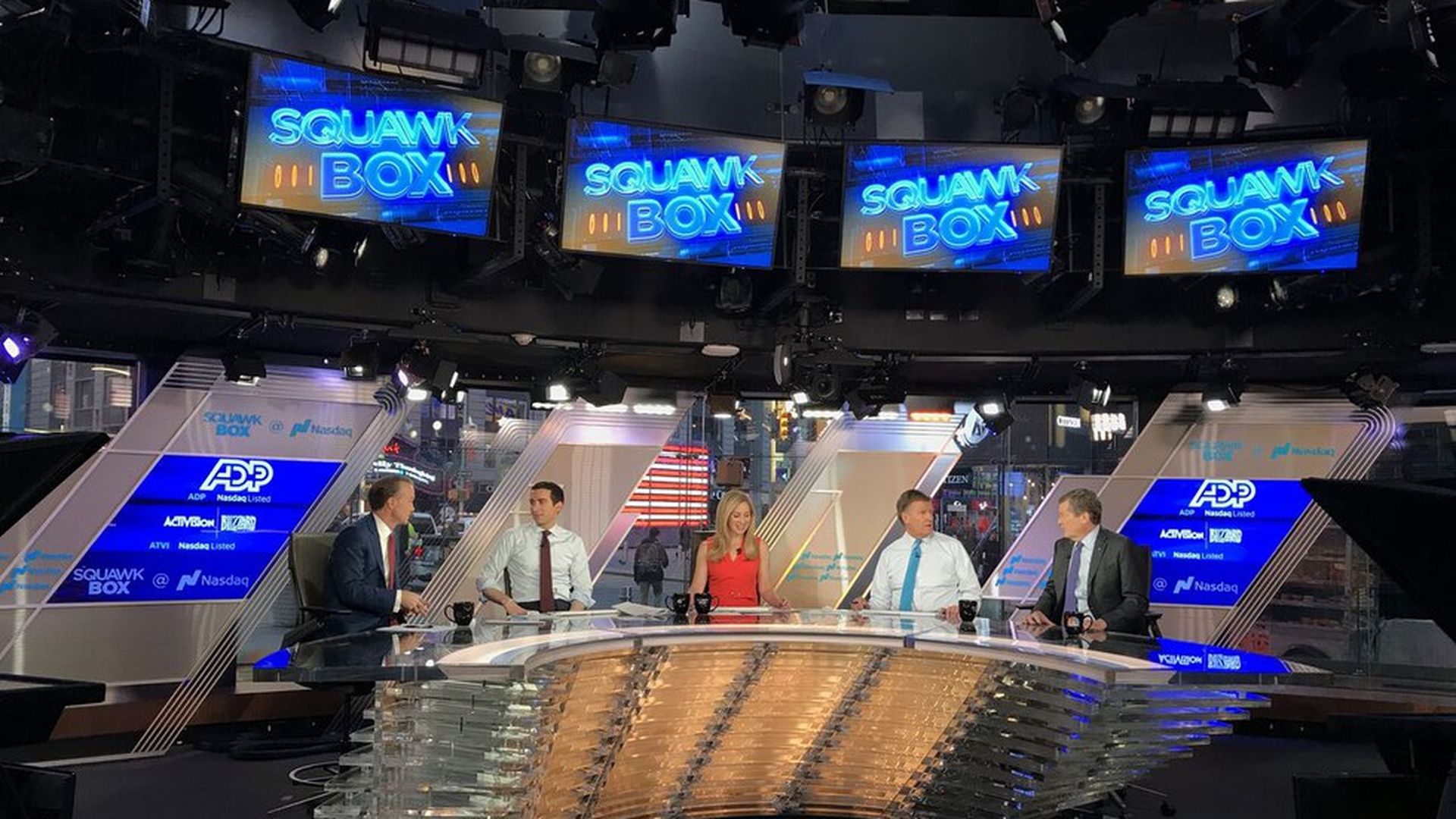 CNBC's "Squawk Box" (6 to 9 a.m.), as much a part of a mogul's breakfast as the treadmill, yesterday got a new set overlooking Times Square. (Co-anchor Joe Kernen jokingly called it "Squawk Square.") Fun facts:
The set can be stored within minutes — making way for the Nasdaq to open the Marketsite for trading at 9:30 a.m., 30 minutes after the show ends.
The high-tech anchor desk is made up of 57-degree angles, making it appear to defy gravity.
The studio lighting (without a single bulb) adjusts as the sun rises.
The set has motorized trusses (superstructure)and hydraulic floors.
https://www.axios.com/newsletters/axios-am-b8f6325c-8c14-43e7-88b9-7beb6a47f077.html?chunk=9#story9
10. 1 art thing: Billionaires stunned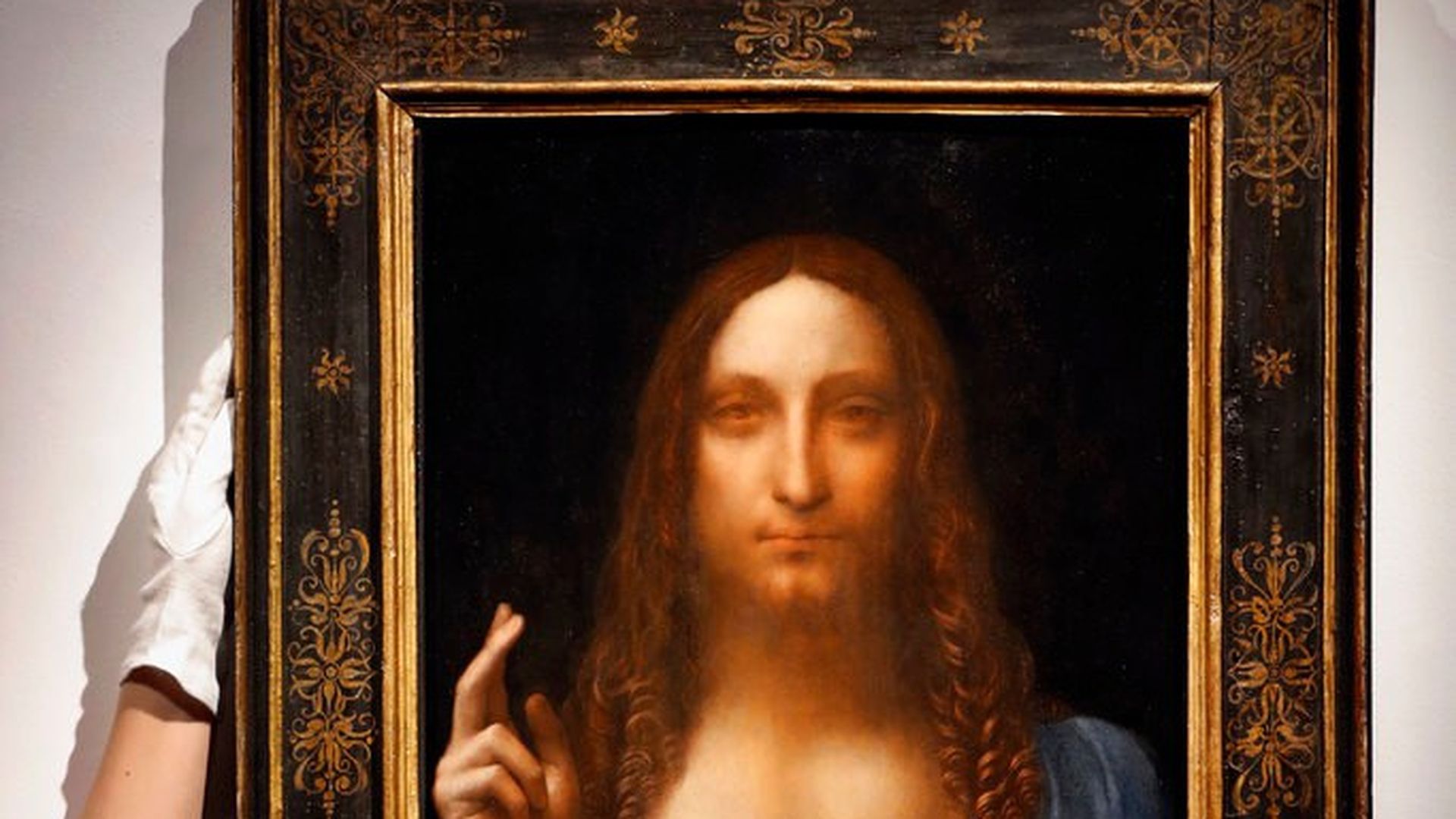 "Leonardo da Vinci's rediscovered portrait of Jesus Christ sold at auction [in New York yesterday] for $450.3 million, making it the most expensive work of art ever sold," the Wall Street's Journal's Kelly Crow reports on A1:
"Christie's auction house didn't identify the winning bidder of the 500-year-old painting, 'Salvator Mundi,' or 'Savior of the World.'"
"The estimate for the work [had been] around $100 million. But ... dealers had wagered the image of an enigmatic Christ dressed in a blue robe and holding a crystal orb could sell for far more — given that da Vinci is a household name, fewer than 20 of his paintings survive and this is the last one ... in private hands."
Previous records: "The price more than doubled the $179.4 million spent two years ago for Pablo Picasso's 1955 'Women of Algiers (Version O),' as well as an earlier record of $170.4 million for Amedeo Modigliani's 1917-18 'Reclining Nude.' In private sales, paintings by Paul Cézanne and Paul Gauguin have commanded as much as $250 million and $300 million, respectively."
N.Y. Times Quote of the Day ... Lawrence Luhring, a New York art dealer, expressing his astonishment over the new record set by the sale of Leonardo da Vinci's "Salvator Mundi" for $450.3 million,: "There is too much money in the world."
Go deeper: Some question painting's authenticity.