April 18, 2021
🥞 Happy Sunday! Smart Brevity™ count: 966 words ... < 4 minutes.
⚡ Breaking: Doctors say jailed Kremlin critic Alexei Navalny could die "within days," after a 19-day hunger strike that risks kidney failure. —BBC
1 big thing: Biden's 3 blinking red lights
Russia is menacing Ukraine's borders, China is sending increasingly ominous signals over Taiwan and Iran is accelerating its uranium enrichment to unprecedented levels.
Why it matters: Over the last several days, the lights have been blinking red on all three fronts at once, Axios World editor Dave Lawler writes.
Within 24 hours beginning last Sunday, an explosion rocked Iran's underground nuclear site at Natanz, 25 Chinese warplanes entered Taiwan's air defense zone, and Ukraine said the number of Russian troops massing in Crimea and on its eastern border had risen to 80,000.
Russia has now assembled enough troops for a "limited military incursion," CIA director Bill Burns warned Wednesday.
The threat of a Chinese invasion of Taiwan is less urgent, but carries a far greater risk of plunging the U.S. into a direct military confrontation.
What to watch: Just about all that's missing from this cocktail of crises is another North Korean missile test.
2. Indy suspect bought rifles legally after shotgun confiscated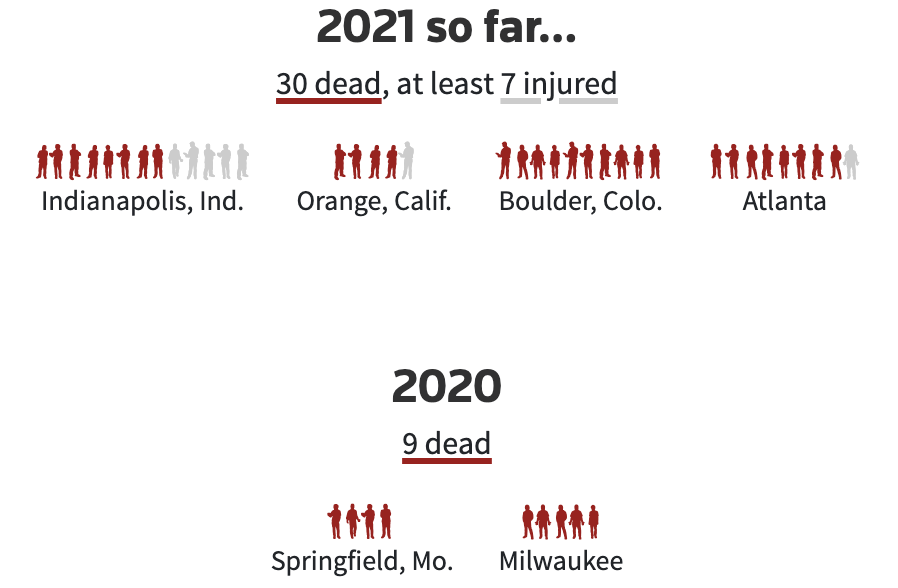 The suspected gunman in the mass shooting that left eight people dead at a FedEx warehouse used two assault rifles that he legally bought last July and September, The Indianapolis Star reports:
Four months earlier, Indianapolis police confiscated a shotgun from his home during a mental-health check after he made suicidal threats.
The family of the man, who killed himself at the scene, said in a statement: "[W]e tried to get him the help he needed."
3. George W. Bush wants "more respectful" tone on immigration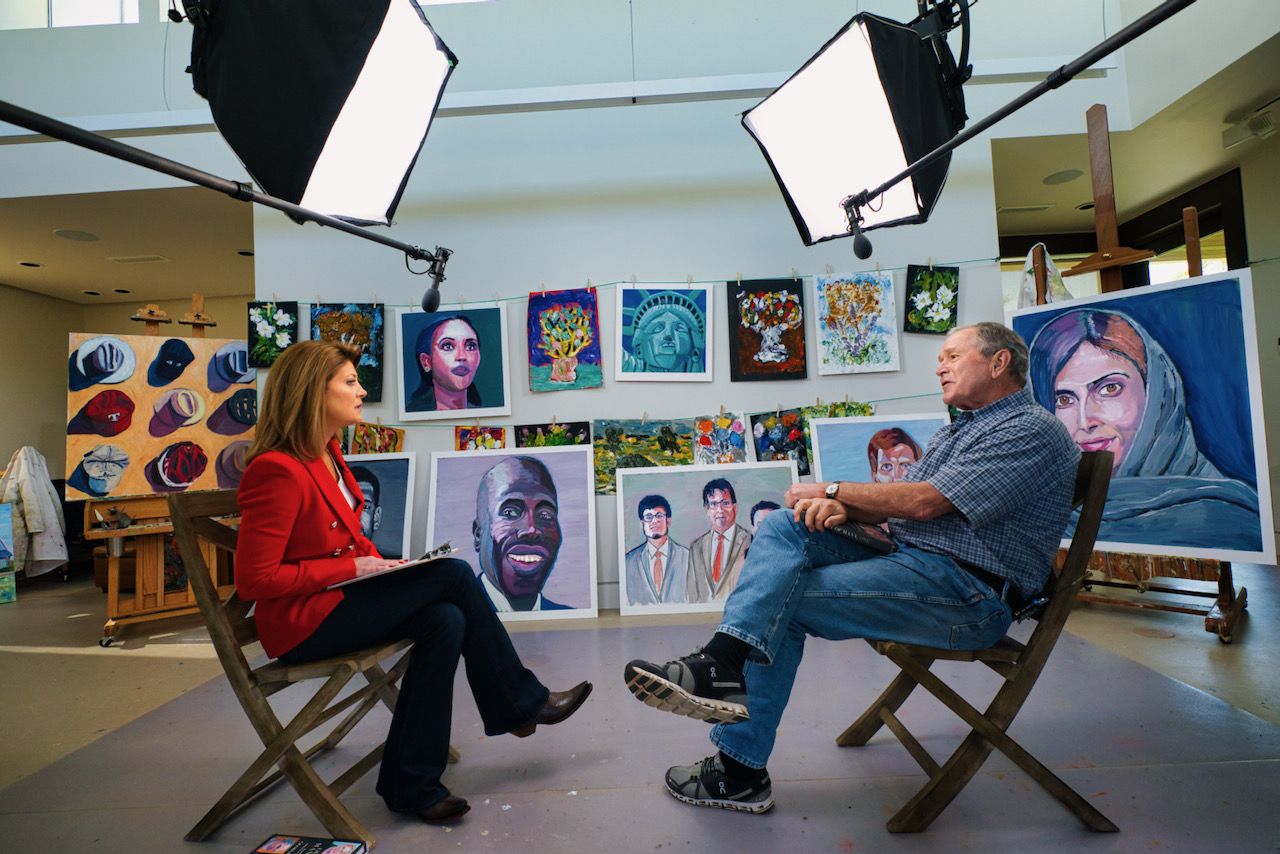 Former President George W. Bush — who's out Tuesday with a new book of his oil paintings, "Out of Many, One: Portraits of America's Immigrants" — talked with Norah O'Donnell for "CBS Sunday Morning" at his Prairie Chapel Ranch in Crawford, Texas:
On getting involved in the immigration debate: "I don't want to be prescriptive. I don't want to, you know, tell Congress how to do this or that. I do want to say to Congress: 'Please put aside all the harsh rhetoric about immigration. Please put aside tryin' to score political points on either side.­' I hope I can help set a tone that is more respectful about the immigrant, which may lead to reform of the system."
Norah O'Donnell: "You gave an Oval Office address on immigration ... It's been 15 years. ... Still nothing's been done. ... Is it one of the biggest disappointments of your presidency?"
George W. Bush: "Yes. It really is. ... The problem with the immigration debate is that ... one can create a lot of fear. 'They're comin' after you.' ... [A] nation that is willing to accept the refugee or the harmed or the frightened, to me is a great nation. And we are a great nation."
Bush supports a pathway to citizenship for undocumented immigrants who pass a background check and pay taxes.
O'Donnell: "And if that were the proposal by President Biden, would you lobby your own party to support that?"
Bush: "Well, I am right now. ... Whether my own party listens to me or not's another question."
Bush said he hopes his portraits will create "a better understanding about the role of immigrants in our society. Mine is just a small voice in what I hope is a chorus of people saying: 'Let's see if we can't solve the problem.'"
4. Pics du jour: World War I Memorial opens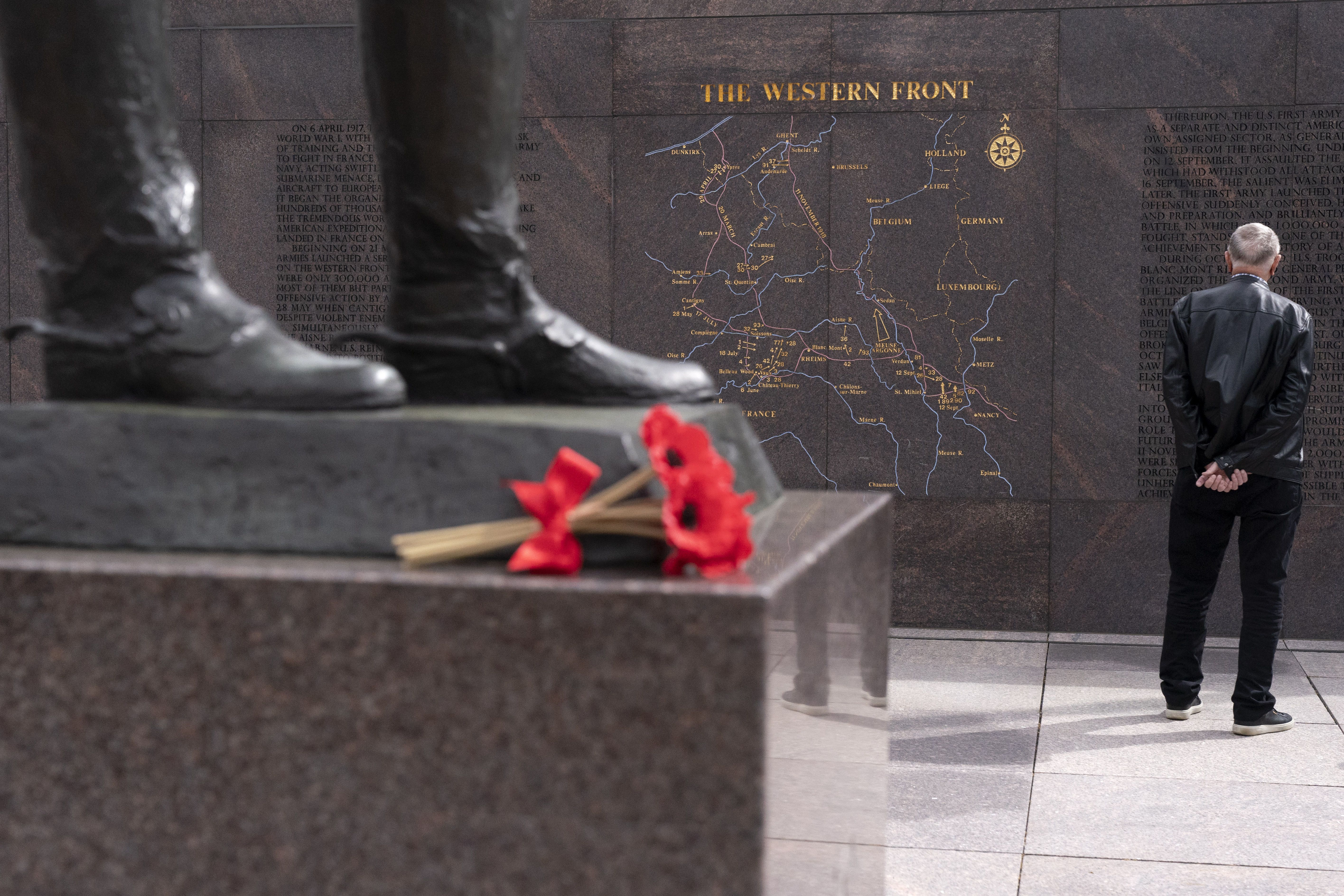 The National World War I Memorial opened with a "First Colors Ceremony" featuring The Old Guard and an Army bugler, a recorded message from President Biden and a flyover by F-22 Raptor fighters.
The memorial, still under construction, is a short walk east of the White House, in a re-designated Pershing Park, a memorial to General John J. Pershing, commander of American forces in World War I.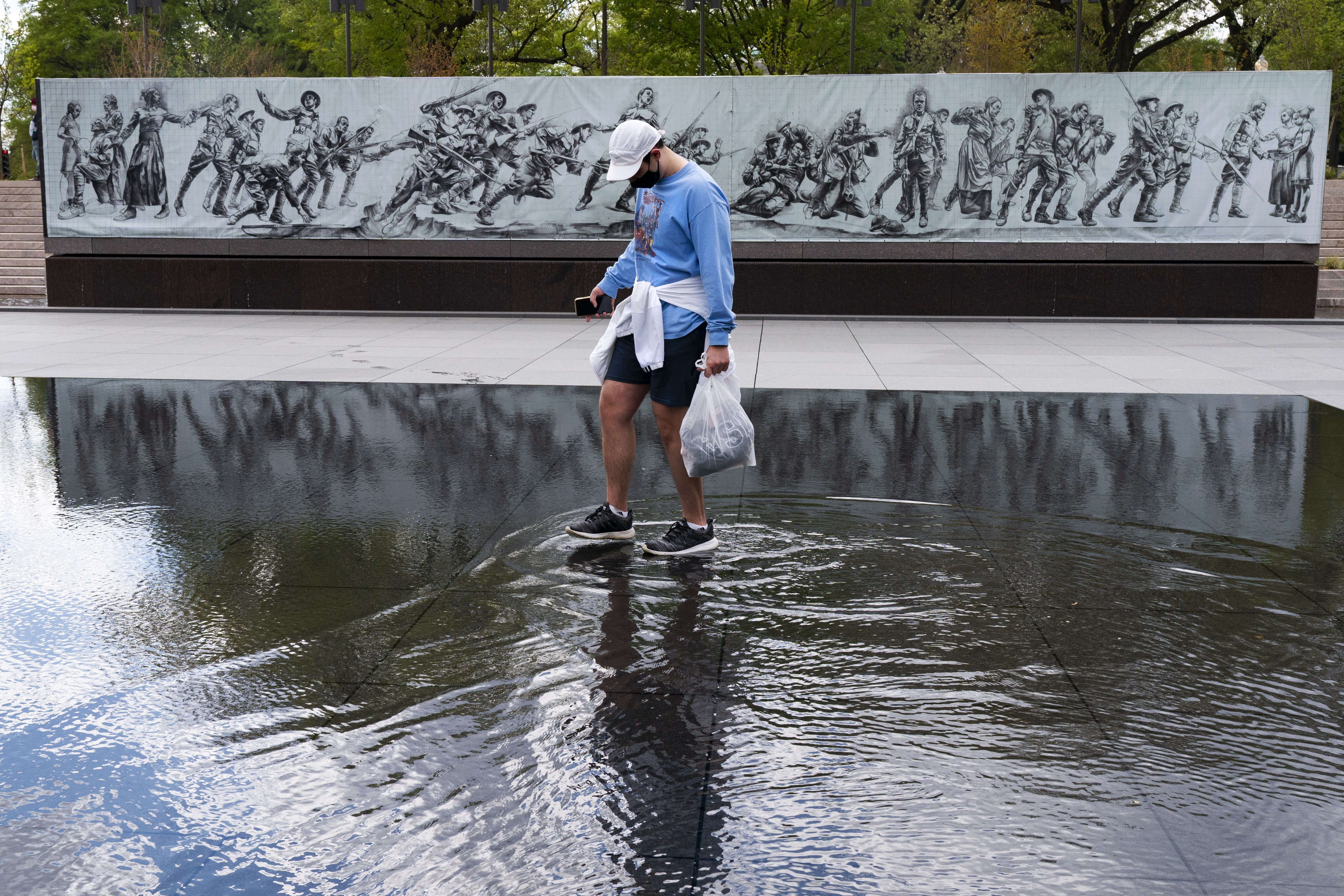 The memorial "features sculptures, fountains and quotes which pay tribute to those who served in World War I," per the Pentagon.
Go deeper: See the concept of what's to come.
5. President Biden's two firsts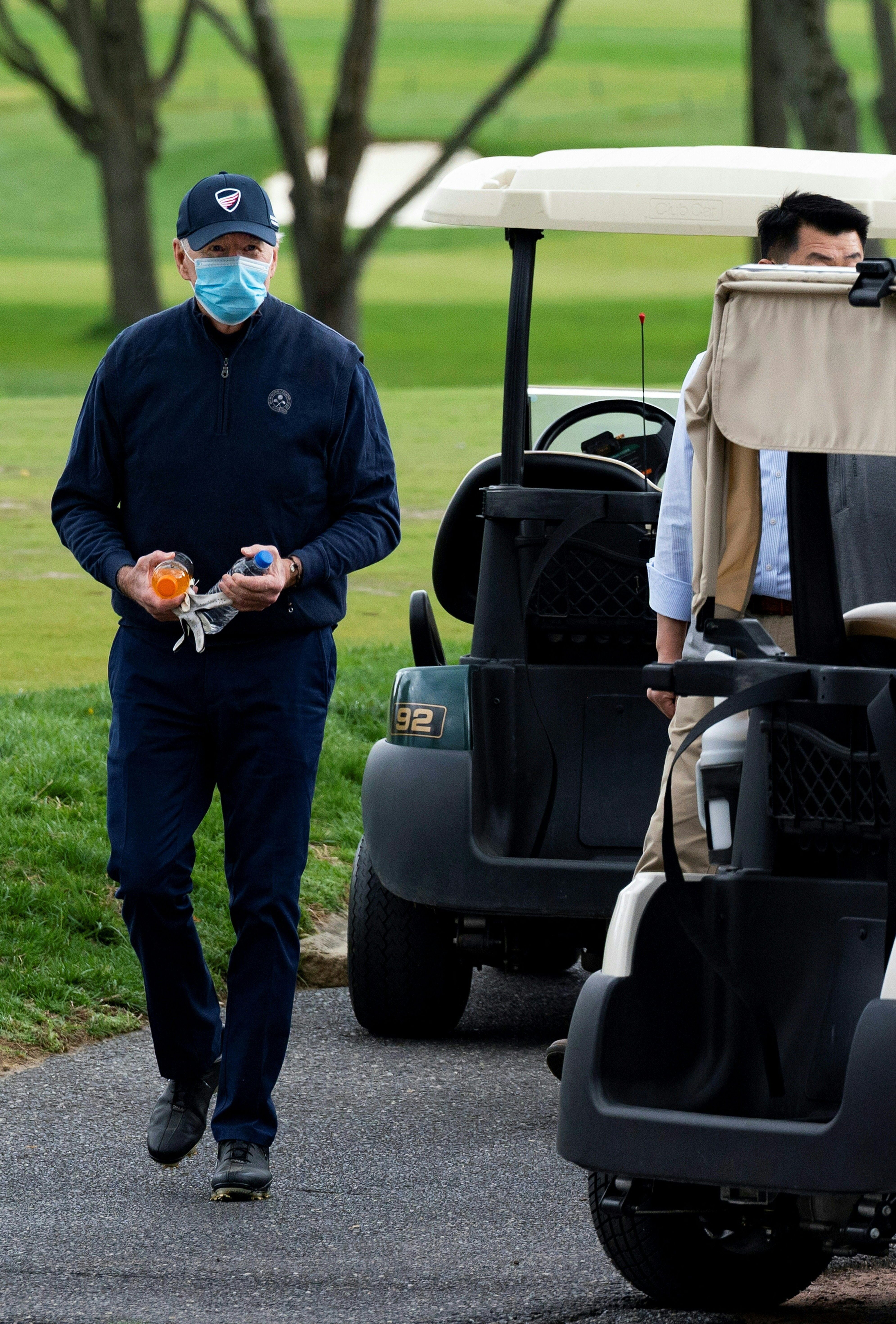 President Biden did two things for the first time yesterday:
He golfed as president, hitting the links at Wilmington Country Club with senior adviser Steve Ricchetti and Ron Olivere, father-in-law of Biden's late son Beau.
He called the border surge a "crisis" — a word the administration has eschewed — when talking to reporters, after golf, about refugee caps.
6. Capitol defendants use journalism as defense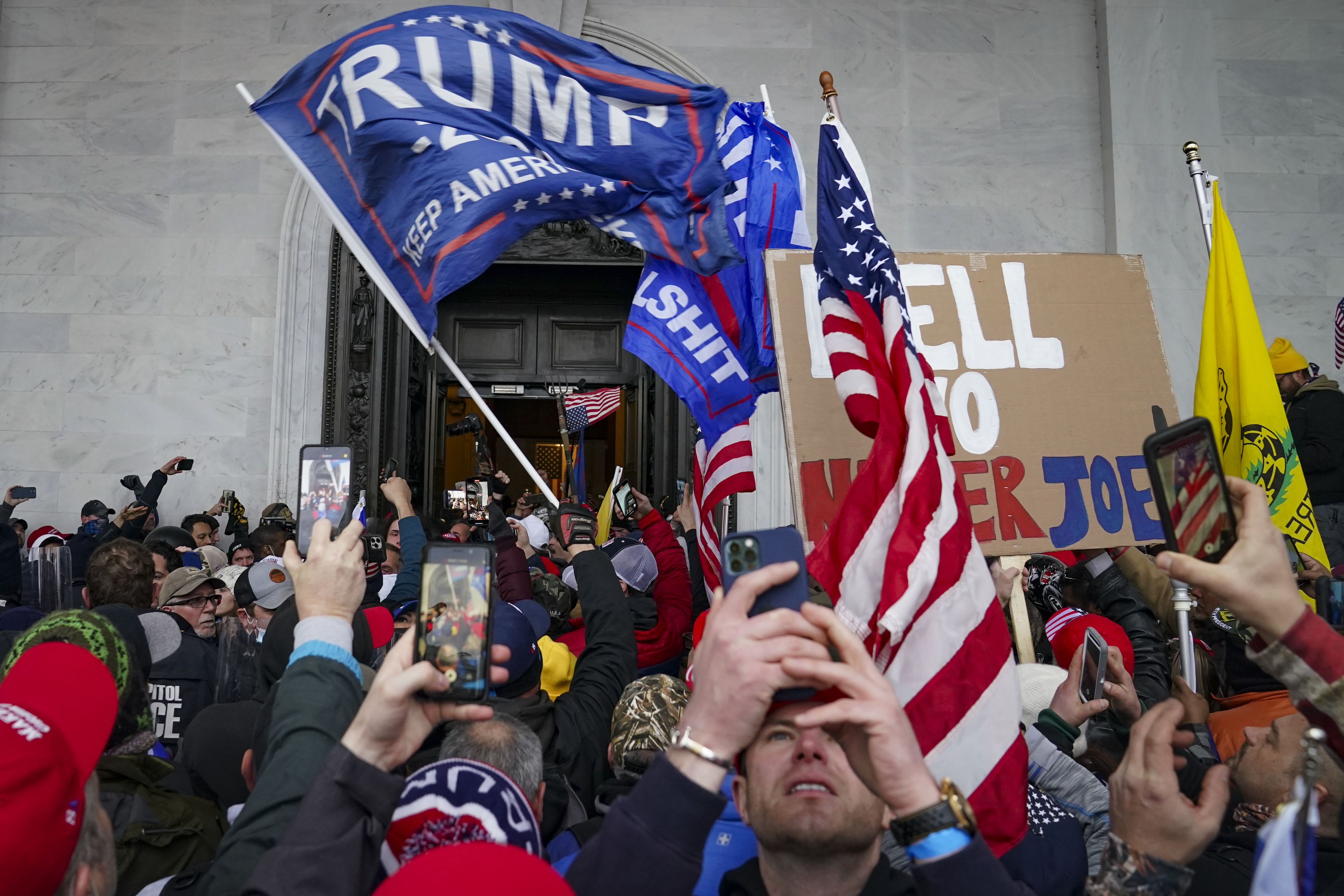 Some Trump supporters, who created a trove of self-incriminating social posts, when they stormed the Capitol in January, now claim they were only there to record history as journalists, AP reports.
Some have fringe platforms called "Political Trance Tribune," "Insurgence USA," "Thunderdome TV" and "Murder the Media News."
Eight defendants have identified themselves as journalists or documentary filmmakers, AP found in records for 400 federal cases.
Shawn Witzemann — a plumber from Farmington, N.M., facing federal charges — told KOB-TV in Albuquerque: "I seek truth. I speak to sources. I document. I provide commentary. It's everything that a journalist is."
Witzemann's nightly news show, with just over 300 YouTube subscribers, is titled "Armenian Council for Truth in Journalism" — satirically, his attorney says.
Reality check: It's unlikely that any of the self-proclaimed journalists can mount a viable defense on the First Amendment's free speech grounds.
7. "1619 Project" gets new wave
On Nov. 16, Penguin Random House will publish "The 1619 Project: A New Origin Story," created by Nikole Hannah-Jones and the N.Y. Times Magazine, and a kids' version, "Born on the Water," by Nikole Hannah-Jones and Renée Watson, illustrated by Nikkolas Smith.
The 1619 Project began in The Times in 2019 as a reexamination of the origin and consequences of enslavement in America.
Last year, Times columnist Bret Stephens wrote a 2,900-word critique (subscription): "Through its overreach, the 1619 Project has given critics of The Times a gift."
8. 💉 1 smile to go: Half of U.S. adults have a jab
💡 Axios AM is written in Smart Brevity®. Learn how your team can communicate in the same smart, clear style with Axios HQ.