Axios AM
March 19, 2022
Good Saturday morning. Smart Brevity™ count: 1,191 words ... 4½ mins. Edited by TuAnh Dam.
⚡ Breaking ... Ukraine's Volodymyr Zelensky said today: "The time has come to restore territorial integrity and justice for Ukraine. Otherwise, Russia's losses will be such that it will take you several generations to recover." (Reuters)
1 big thing — Scoop: Gas-card idea rejected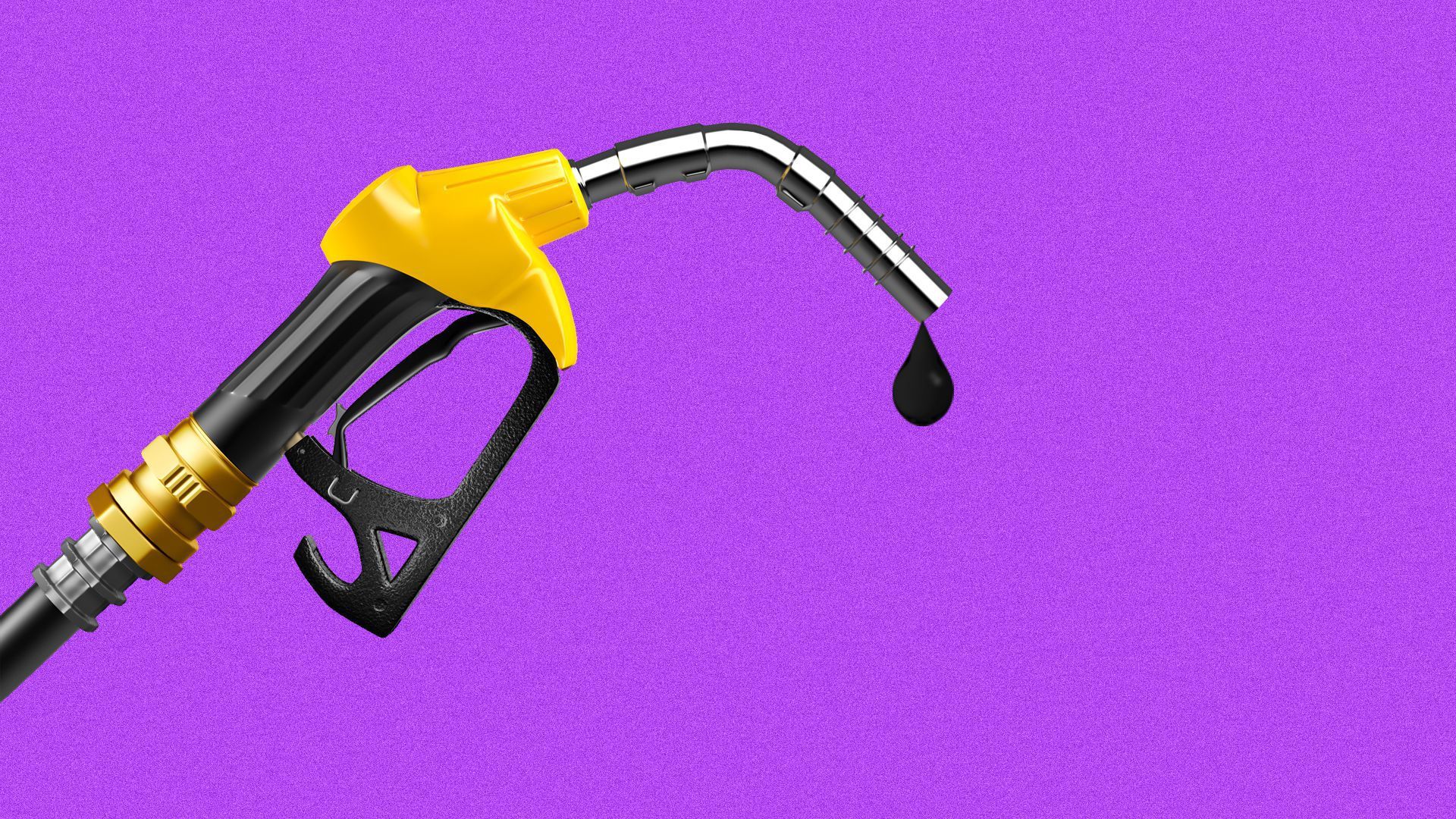 The White House considered giving gas cards to Americans to help offset high prices — but rejected the idea after House Democrats said such cards could make the problem worse, Axios' Sophia Cai reports.
Why it matters: The Biden administration is feeling political pressure over high energy costs, worsened by Western sanctions against Russia. Democrats desperately want to offer some kind of policy response.
The White House this week considered having the IRS send out gas cards — a short-lived idea raised as part of a broader package, still in early stages, for addressing gas prices, a senior Democratic aide told Axios.
A House Democratic counsel on Wednesday laid out for the White House a list of reasons to kill the gas-card idea, including:
It would be expensive and poorly targeted.
It could worsen inflation and wouldn't do much to lower costs.
Delivering the cards would be a slow process that could bog down the IRS in the middle of the filing season, potentially delaying people's tax returns.
White House spokesperson Vedant Patel told Axios: "There's a variety of ideas being discussed to ensure that the costs American families are feeling at the pump are as minimal as possible."
"However, gas cards being sent to the American people is not seriously under consideration. It is not an administratively feasible solution."
The big picture: Democrats in both chambers have been brainstorming ideas on legislation to lower gas prices, which reached a record this month.
Other ideas being discussed include stimulus checks ... using more ethanol to lower the demand for oil ... and canceling oil companies' federal leases that aren't actively being used.
Share this story.
2. Russia claims hypersonic missile use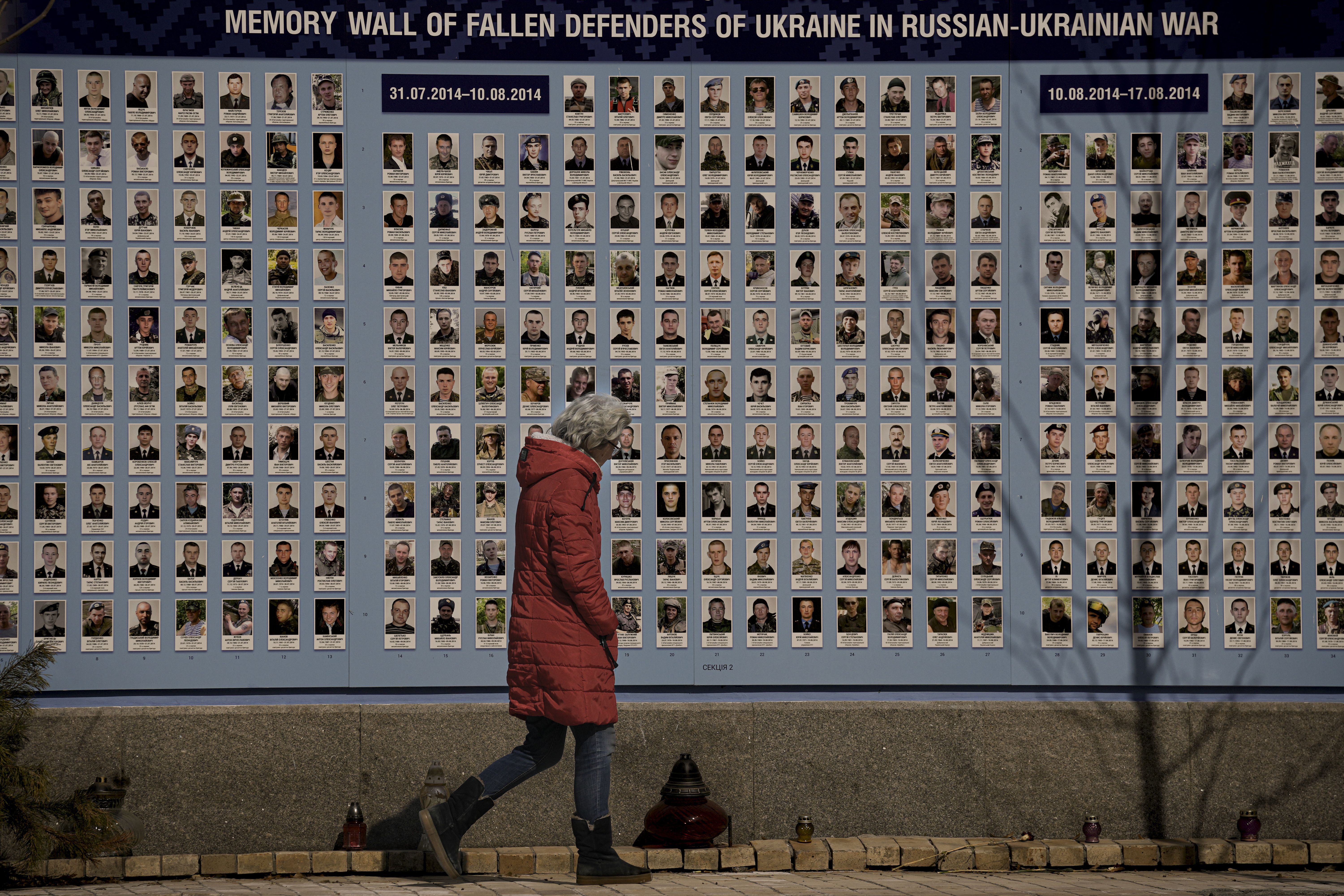 The Russian military reported today that it has used its latest hypersonic missile for the first time in combat, AP reports.
Kinzhal missiles destroyed an underground warehouse storing Ukrainian missiles and aviation ammunition in the western Ivano-Frankivsk region of Ukraine, the Russian defense ministry said.
Why it matters: Hypersonic weapons, which are part of the U.S.-China competition, can carry a nuclear warhead, fly low and be hard to detect, Bloomberg explains.
Russia has said the Kinzhal, carried by MiG-31 fighter jets, has a range of up to 1,250 miles, and flies at 10 times the speed of sound.
A Ukrainian military official confirmed a Friday missile strike on a military warehouse in the Ivano-Frankivsk region. But authorities haven't verified the type of missile.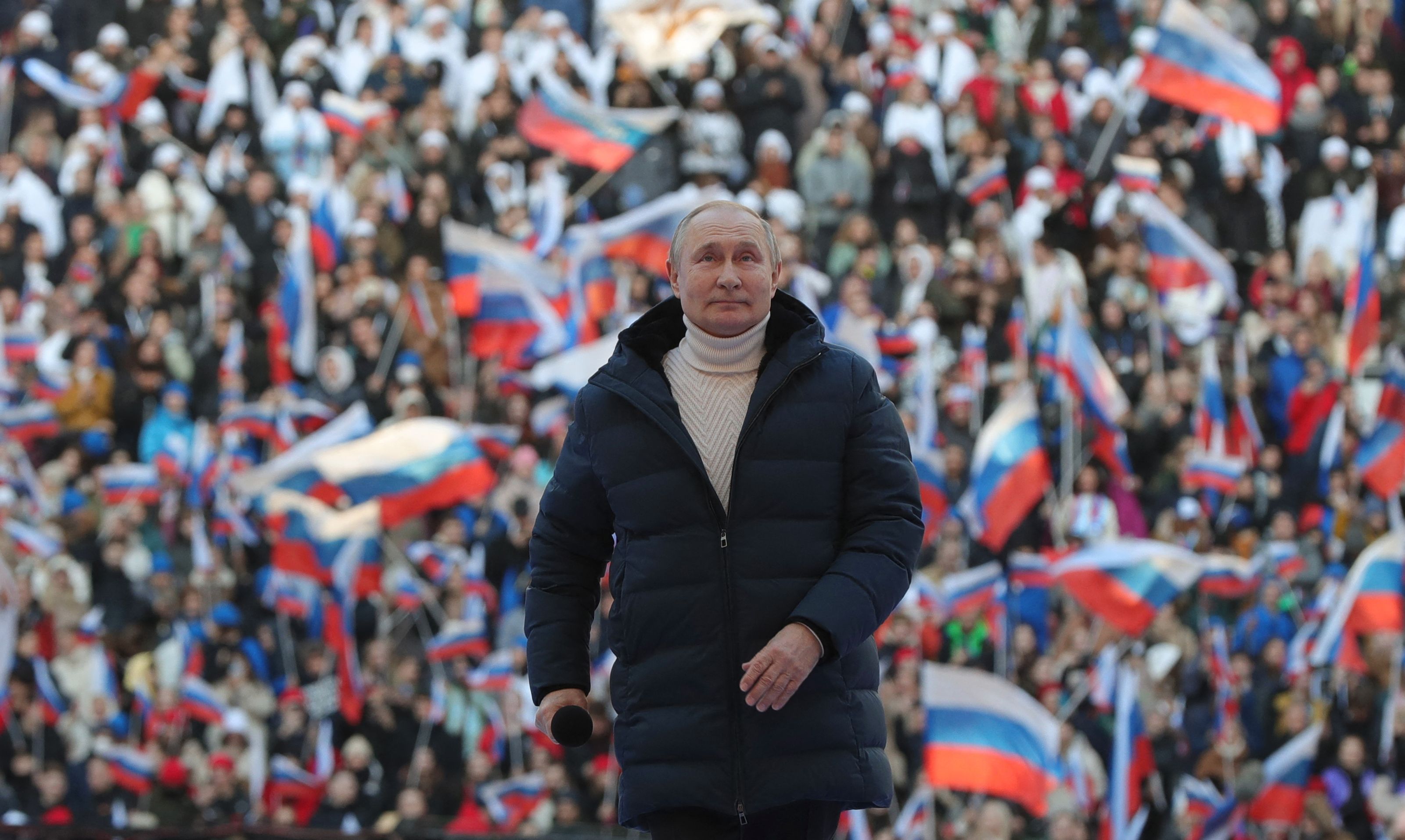 Vladimir Putin attends a concert yesterday marking the eighth anniversary of Russia annexing Crimea, at Luzhniki Stadium in Moscow.
3. Forecast: U.S. drought to grow
In an alarming new outlook, the National Weather Service said this week that drought conditions are likely to persist and even expand across a vast stretch of the country, Axios' Andrew Freedman writes.
As of Tuesday, drought extended across about 61% of the country, the greatest drought extent seen since 2013, according to NOAA.
That figure may grow. The official spring outlook, released Thursday, calls for "prolonged, persistent drought" in the West yet again.
The backdrop: Lake Powell, in Arizona, fell below 3,525 feet this week, putting it at its lowest level since the lake was first filled 50+ years ago.
4. Mapped: Pre-pandemic America's rising tide
The U.S. grew wealthier and better educated during the second half of the last decade, AP writes from census data released this week.
The nation's median household income, which had been $59,000 from 2011 to 2015, rose to $65,000 from 2016 to 2020.
That was the final stretch of the longest expansion in the history of U.S. business cycles. The boom ended in spring 2020 as COVID spread.
With the exception of Colorado, the states with the biggest gains in household income were primarily on the coasts.
The smallest gain was in Louisiana. Household income declined by $1,500 in Alaska.
The nation's poverty rate dropped significantly in the last half of the decade, going from 15.5% from 2011-2015, in the aftermath of the Great Recession, to 12.8% in 2016-2020.
With the exception of Alaska, where the change wasn't statistically significant, poverty decreased in 49 states, D.C. and Puerto Rico.
5. 🧠 Democracy prescription: What each party should sacrifice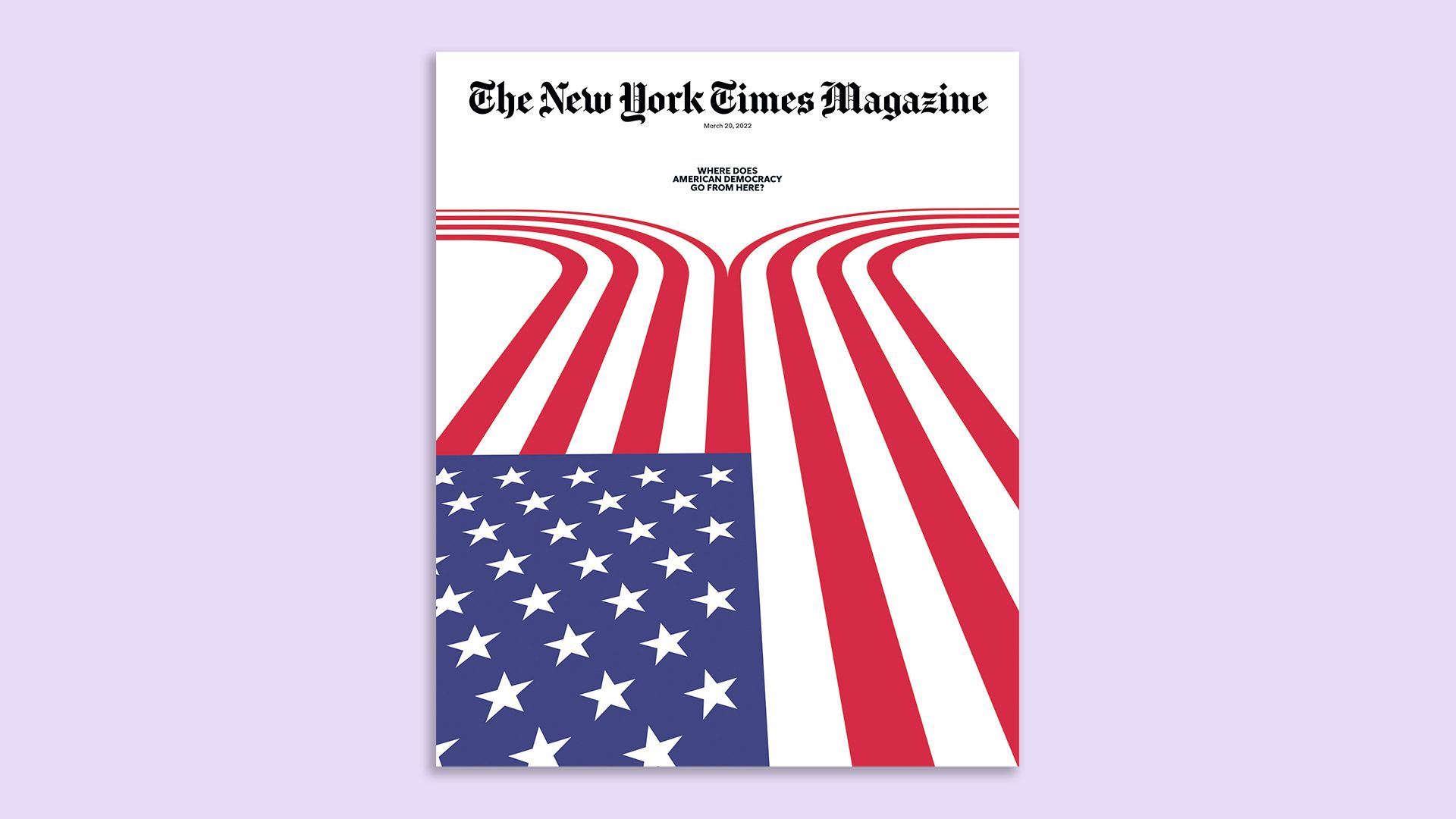 The New York Times Magazine assembled a roundtable of six experts on democracy — including Steve Levitsky, a government professor and director of the David Rockefeller Center for Latin American Studies at Harvard, and co-author of "How Democracies Die" (2018):
I think what's needed in the short term to preserve democracy, to get through the worst of this storm, is a much broader coalition than we've put together to date. Something on the lines of true fusion tickets that really brings in Republicans ...
That would mean bringing in a good chunk of that Bush-Cheney network that's out there — that in private says the same things that I've said, but that has thus far been largely unwilling to speak out publicly — and having them in many cases on the same ticket.
Levitsky says that will take "something that we have not seen enough of in the last couple of decades, which is real political sacrifice":
It means that lifelong Republicans have to work to elect Democrats. And it means the progressives have to set aside a slew of policy issues that they care deeply about so that the ticket is comfortable to right-wing politicians.
And we're nowhere near that, neither in the Bush-Cheney network nor in the Democratic Party. Having talked to a number of Democratic elected politicians, I can tell you that we are nowhere near Democrats being willing to make those kinds of political sacrifice.
Keep reading (subscription).
6. 🎨 Hidden Picasso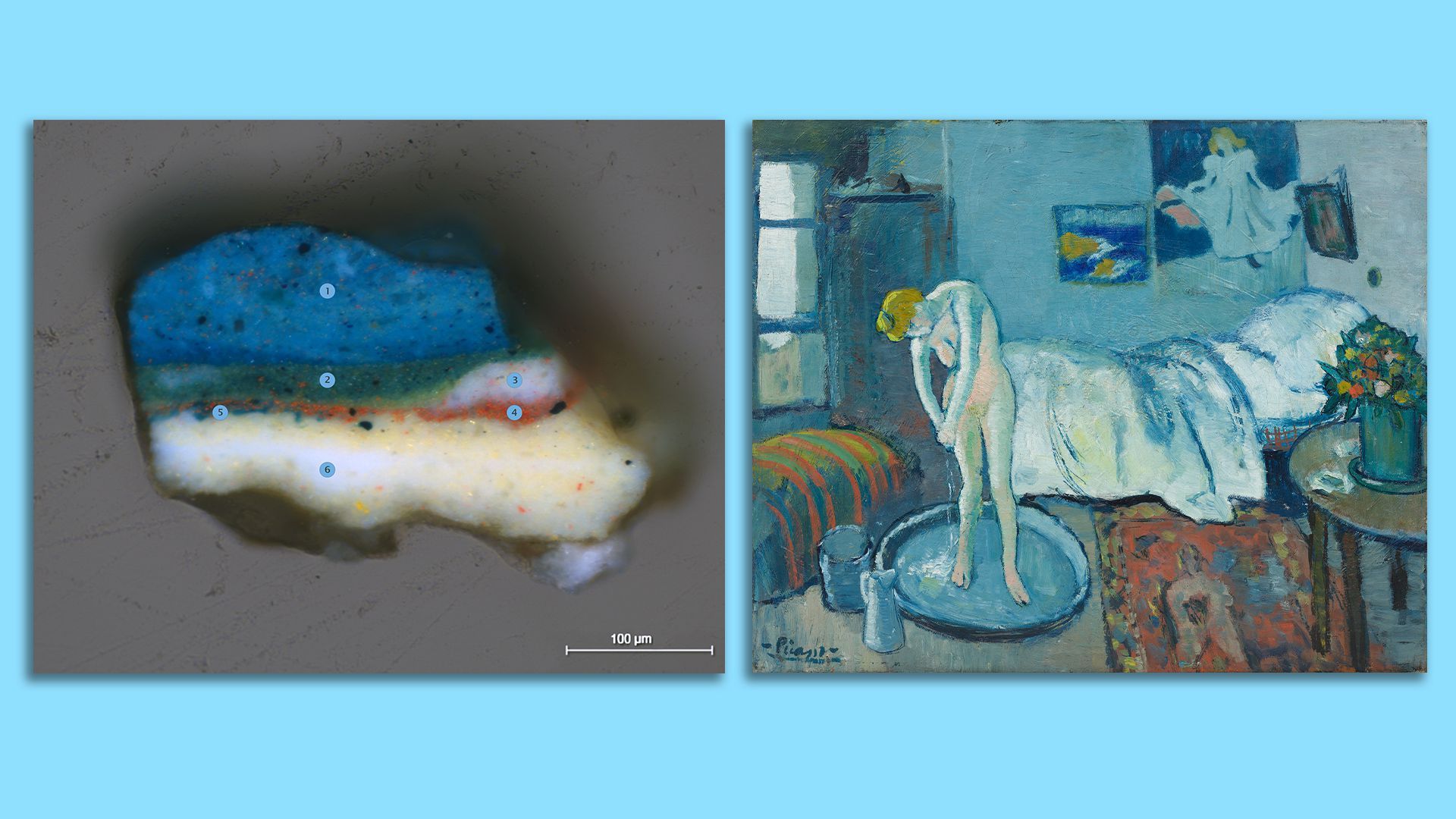 Beneath some of Picasso's iconic paintings, researchers are finding new details about hidden portraits and compositions, Axios' Alison Snyder writes.
Why it matters: "There is still more to learn from some of the world's most studied paintings," said Patricia Favero, an associate conservator at the Phillips Collection in D.C.
She's part of a team of conservators and scientists that studied three Picassos that are now in an exhibition about the artist's Blue Period.
Earlier studies used imaging techniques to study aspects of these and other paintings on recycled canvases, which Picasso was known to use.
The first clue that there was a painting beneath "The Blue Room" (1901) was spotted 60+ years ago. Some of the paint texture reflects brush strokes in different directions than the composition that is seen.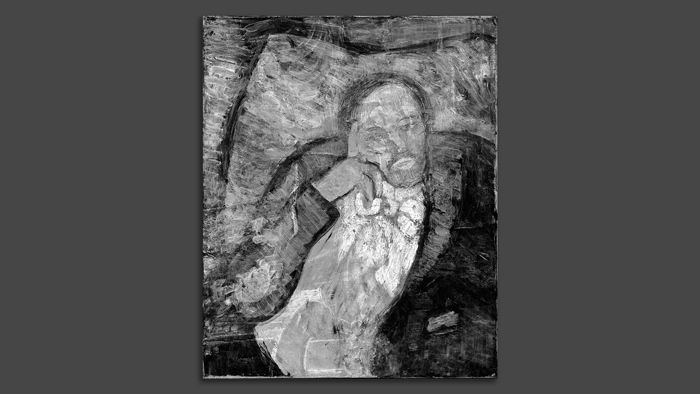 Combining data from X-radiography, infrared (IR) reflectance imaging spectroscopy and X-ray fluorescence mapping, a team of researchers from the Phillips, the National Gallery of Art and other institutions were able to see a portrait of a man (above).
Microanalysis of tiny samples of the painting indicate most of "The Blue Room" is painted directly on top of the portrait, without priming, and that Picasso's palette was becoming more subdued.
Explore the exhibition ... Share this story.
📬 Invite your friends to sign up here to get their daily essentials — Axios AM, PM and Finish Line.