Good Tuesday morning. Situational awareness: The death of former U.Va. student Otto Warmbier puts the U.S. on the spot to confront North Korea over his coma. Polls open at 7 in Georgia for what the N.Y. Times' Jonathan Martin and Nate Cohn call "quite possibly the most consequential special election since Watergate." And Speaker Ryan gives a speech on "transformational tax-reform" in which he promises: "We are going to get this done in 2017."
https://www.axios.com/newsletters/axios-am-b7b90b98-27ed-4f05-aea9-359de060e0f3.html?chunk=0#story0
1 big thing: When Trump met tech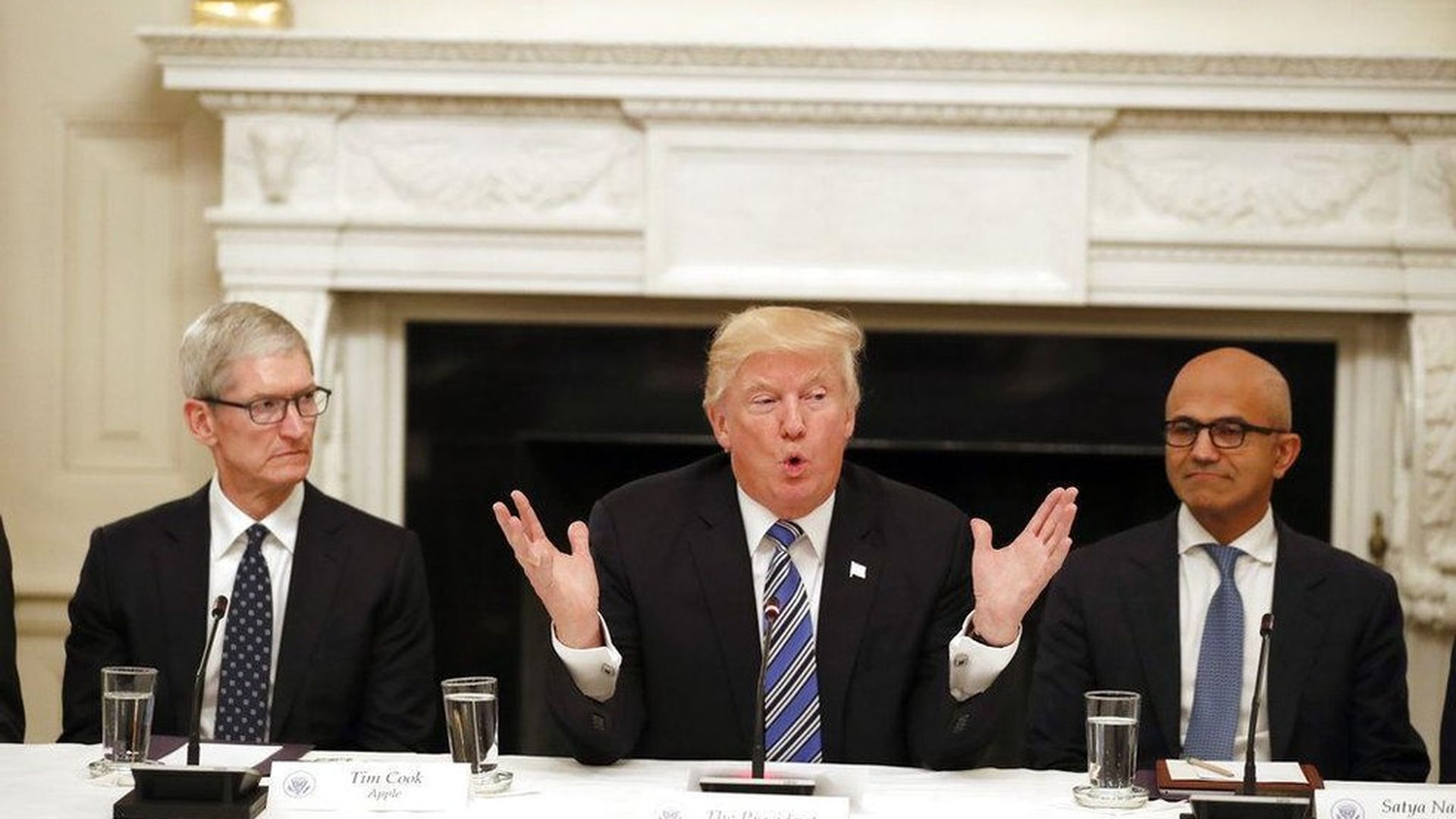 Tech companies still want a seat at Trump's table despite their disagreement, and the internal blowback the CEOs get for engaging with this White House. And Axios' David McCabe writes that it may be paying off: On the issue of high-skilled immigration, it seems Trump has moved over to tech's side.
Takeaways from yesterday's tech summit at the White House:
Recode's Tony Romm: "Amazon CEO Jeff Bezos called on the U.S. government to take advantage of commercial technology — the sort of tools his own company sells."
Bezos also said it's "impossible to overstate" the importance of artificial intelligence.
"Apple CEO Tim Cook ... said Washington should make coding a requirement in schools."
Trump: "We have approximately $3.5 trillion of market value in this room -- but that's almost the exact number that we've created since my election. (Laughter.)"
Be smart: Little of substance was discussed. But D.C. and the Valley are weirdly disconnected, and this was a rare case of them at least listening to each other — while still not talking the same language.
https://www.axios.com/newsletters/axios-am-b7b90b98-27ed-4f05-aea9-359de060e0f3.html?chunk=1#story1
2. Risk watch
"Voters' personal data left exposed for days: Security experts say it is 'staggering,' and too common, that such a detailed political file would be vulnerable," per Evan Halper and Paresh Dave on L.A. Times front page:
What happened: "Luckily for the Republican Party and Deep Root, an Arlington, Va.-based firm that handles data management and analysis for the party, it was a cybersecurity consultant who came across the treasure-trove of political data this month, not a foreign agent. There is no indication that the database had been tapped by any other unauthorized parties while it was unprotected."
"The GOP contracted with Deep Root during the presidential campaign. The firm's co-founder, Alex Lundry, led the data efforts of GOP nominee Mitt Romney in 2012 ... GOP officials said the data belonging to the party that was exposed was limited to very basic information about voters, such as their party registration."
The big picture: "The Deep Root incident is the latest in a series of such problems with political data, the most infamous being the case of the Russian hack of the Democratic National Committee. As cybersecurity experts sound an increasingly loud alarm about the potential consequences, the lapses keep happening — often with nobody held accountable for them."
A peek at the data: In some cases, the data collectors had scoured people's histories on Reddit, the social media platform, to match vote history with social media use, and well-informed predictions were made about where each voter would stand on issues as personal as abortion and stem cell research."
Why it matters: "[T]he exposure of the data, which some are describing as the largest leak of voter information in history, is a jolting reminder of how deeply the political parties are probing into the lives of voters and how vulnerable the information they are compiling is to theft."
https://www.axios.com/newsletters/axios-am-b7b90b98-27ed-4f05-aea9-359de060e0f3.html?chunk=2#story2
3. A column the West Wing can actually enjoy
David Brooks in N.Y. Times, "Let's Not Get Carried Away": "In retrospect Whitewater seems overblown. And yet it has to be confessed that, at least so far, the Whitewater scandal was far more substantive than the Russia-collusion scandal now gripping Washington."
"[A]s the Trump-Russia story has evolved, it is striking how little evidence there is that any underlying crime occurred — that there was any actual collusion between the Donald Trump campaign and the Russians."
"The politics of scandal drives a wedge through society. Political elites get swept up in the scandals. Most voters don't really care."
https://www.axios.com/newsletters/axios-am-b7b90b98-27ed-4f05-aea9-359de060e0f3.html?chunk=3#story3
4. Poll du jour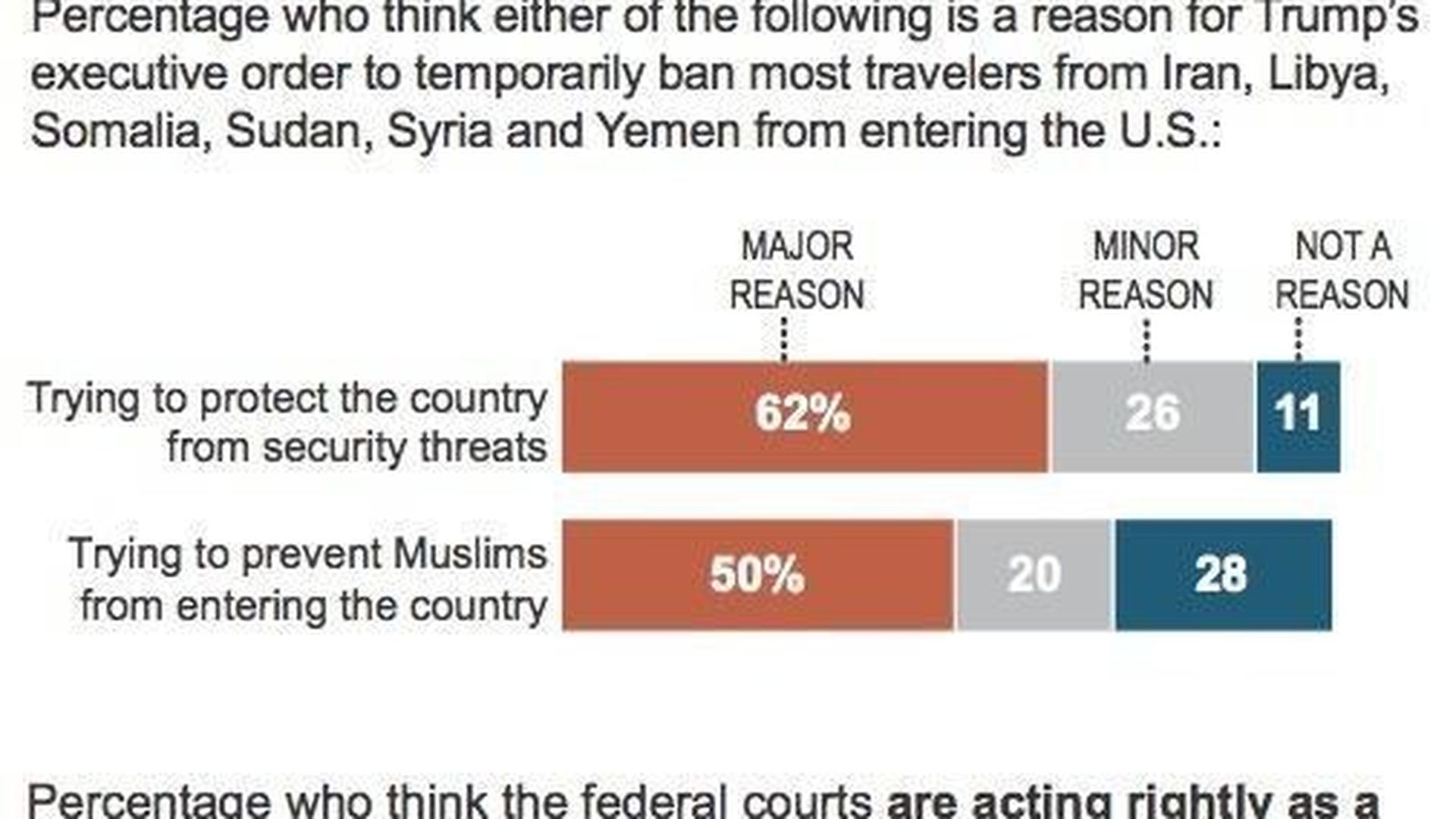 Poll by Associated Press and NORC Center for Public Affairs Research: "Less than one-third of Americans support President Donald Trump's decision to withdraw from the Paris climate accord, a new poll shows, and just 18 percent of respondents agree with his claim that pulling out of the international agreement to reduce carbon emissions will help the U.S. economy."
The great divide: "Seventy-eight percent of Democrats think withdrawing from the Paris agreement will hurt the national economy. Among Republicans, just 24 percent think it will hurt, 40 percent think it will have no impact and 34 percent think it will help.
Independents split: "Twenty-five percent support the withdrawal, 36 percent are opposed and 37 percent don't feel strongly one way or the other."
"The poll shows about two-thirds of Americans think that climate change is happening, while only about 1 in 10 think it's not."
https://www.axios.com/newsletters/axios-am-b7b90b98-27ed-4f05-aea9-359de060e0f3.html?chunk=4#story4
5. Spicer's next gig?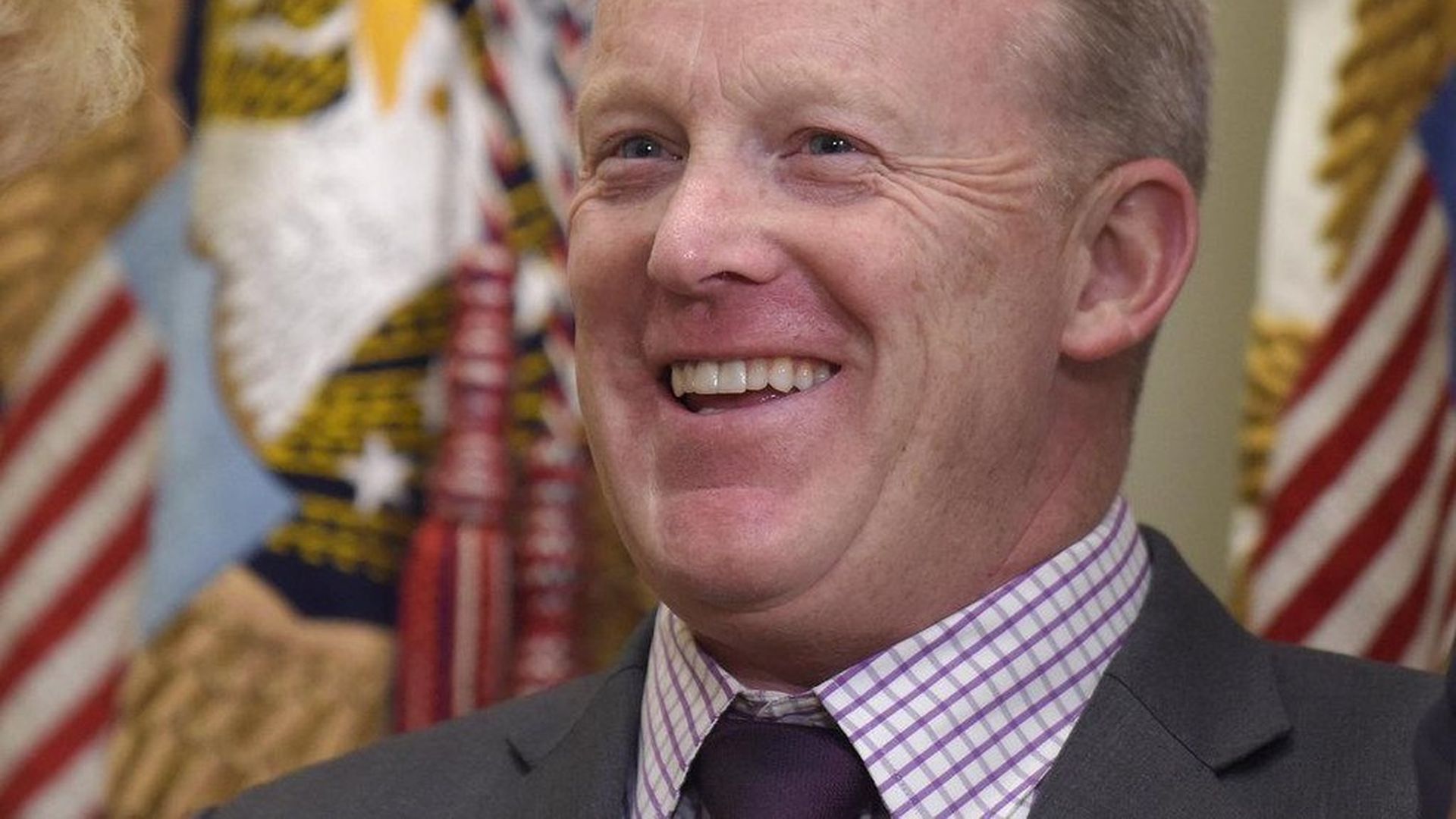 Bloomberg's Jennifer Jacobs: "Trump's most visible spokesman, Press Secretary Sean Spicer, may move into a more senior role focused on strategy that will take him away from the briefing room podium -- and Trump may hire a new press secretary."
Understatement of the day: "The circumstances make it harder to fill what is normally regarded as one of the plum jobs in communications."
Statement from Sarah Huckabee Sanders, Spicer's alternate at the podium: ""We have sought input from many people as we look to expand our communications operation. As he did in the beginning, Sean Spicer is managing both the communications and press office."
AP's Ken Thomas and Jill Colvin: "The White House has consulted an array of Republicans and Trump allies, including Laura Ingraham, the conservative radio host and political commentator. However, Ingraham is not expected to take the press secretary position."
"David Martosko, the U.S. political editor of London's Daily Mail, who covered the president's campaign, has also interviewed for senior communications jobs."
Why it matters: "Spicer's briefings have been must-see TV during the start of the Trump era.'
Why you don't want the job: "The president has long seen himself as his most effective spokesman."
Be smart: You could write this about almost any job in the West Wing. There are constant conversations going on about bringing new people in: Almost every veteran GOP hand has been consulted or courted — sometimes taken directly into the Oval to see Trump, when their appointment was with an aide.
https://www.axios.com/newsletters/axios-am-b7b90b98-27ed-4f05-aea9-359de060e0f3.html?chunk=5#story5
6. The next big thing
Dean Kamen, the inventor of the Segway, tells Axios' Steve LeVine about a field that could have a massive, quick effect: engineered organs that will not be rejected by the body.
People with a diseased liver, heart or kidney will receive a new one, fashioned from their own cells. Kamen says such organs will be somewhat available in five years, and widely used within a decade.
Between the lines: Kamen said engineered organs will be relatively cheap, and will be made as easily as an iPhone. "People think the big stuff is the cloud and artificial intelligence," he said. "I think the next big thing is regenerative medicine."
What's next: Kamen has raised about $300 million, including $80 million from the U.S. Defense Department, for a consortium of researchers working on regenerated organs.