https://www.axios.com/newsletters/axios-am-b41ffdaa-3ac0-450e-9e3d-c9bd1d5633be.html?chunk=0#story0
1 big thing: What a week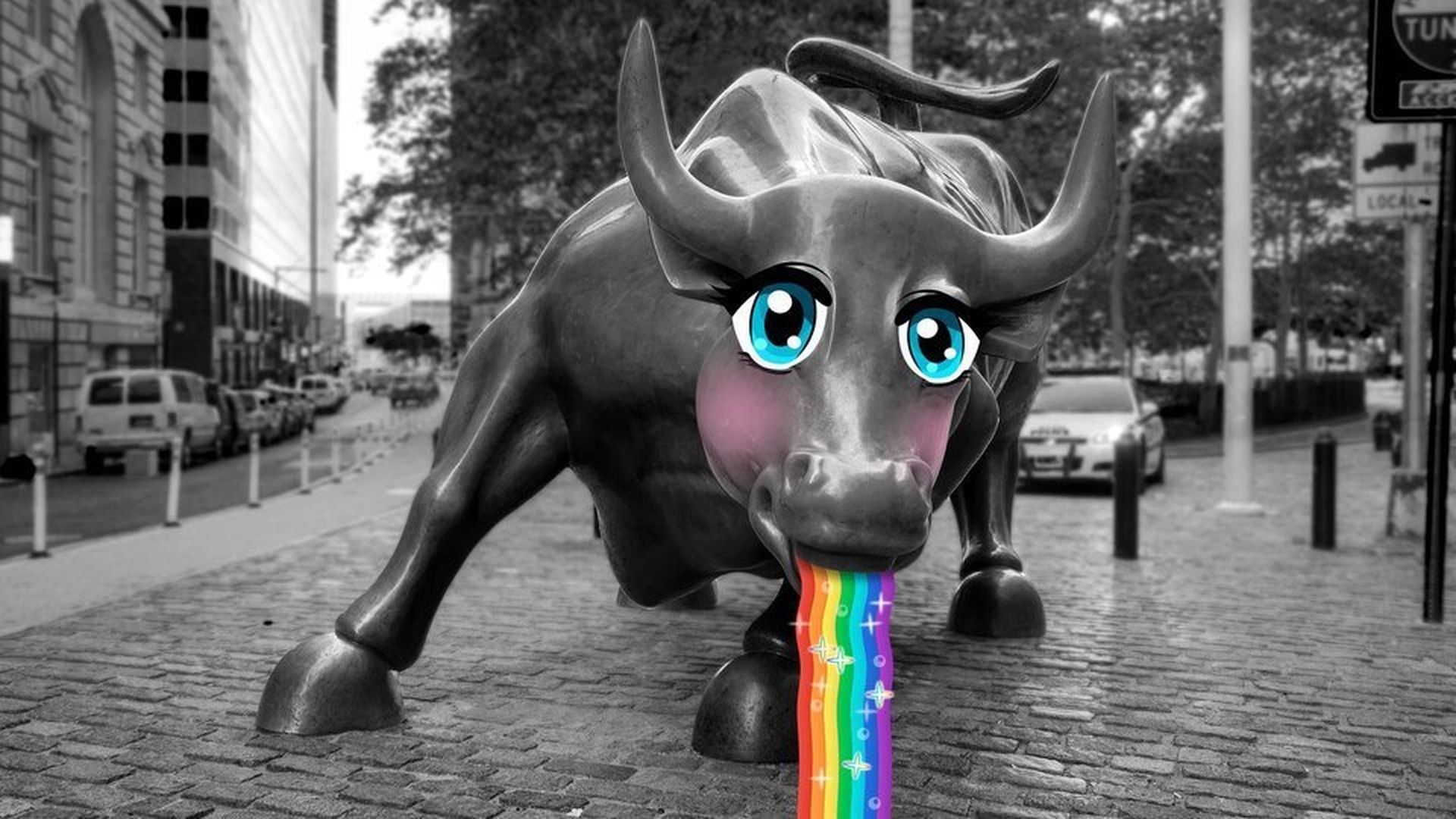 May you live in interesting times ...
A 26-year-old who created disappearing messages for kids filed for an IPO that could top $20 BILLION , despite losing $500 million last year. This was days after Snapchat CEO Evan Spiegel agreed to invest $2 billion in Google's "cloud," which until a few years ago was something that blocked the sun, but now houses our digital secrets and creates vast riches for tech titans.
Thanks in part to this money cloud, Google knocked off Apple as the world's most valuable brand. Elon Musk, who builds private rocket ships and mass-consumer electric cars for the rich, agreed to keep his meeting with Donald Trump this morning, so he can push for, among other things, making "humanity a multi-planet civilization."
Oh, and CNBC says Bill Gates may become the world's first trillionaire.
Meanwhile, the sector where all of the companies reside seemed ready for war with Trump over restricting the foreign-born talent that helped bring them to life and property.
On the other coast, President Trump, at the National Prayer Breakfast, literally prayed for a former action movie hero who now stars in "The Apprentice," the reality show our president created AND still technically produces.
Trump's remarks took on separation of church and state: "I will get rid of and totally destroy the Johnson Amendment [banning political endorsements by churches] and allow our representatives of faith to speak freely and without fear of retribution. I will do that -- remember."
Perhaps Trump's quote of the week: "The world is in trouble, but we're going to straighten it out. OK? That's what I do. I fix things. We're going to straighten it out."
Soon after, Nancy Pelosi, the voice of House Democrats, called Trump's top strategist, Steve Bannon (on the cover of the new TIME as possibly "the second most powerful man in the world"), a "white supremacist." And Trump, two weeks after threatening NATO and China, one week after threatening foreign visitors from select Muslim-majority nations, and one day after threatening Mexico and Australia, prepared a new threat to Iran in the form of renewed sanctions.
As New York Timesman Jonathan Martin so often says: Ya can't make it up!
Happy Friday ....
https://www.axios.com/newsletters/axios-am-b41ffdaa-3ac0-450e-9e3d-c9bd1d5633be.html?chunk=1#story1
2. Driving the day
I'm told that Homeland Security Security Secretary John Kelly now will join Trump's awkward 10 a.m. meeting with CEOs, several of whom lead workforces who are overwhelmingly opposed to him. The addition of Kelly is an effort by the White House to show it's paying attention to criticism of its migrant restrictions. But executives tell us they want softening, not just listening.
Organizers expect the meeting in the State Dining Room will be less confrontational now that Uber CEO Travis Kalanick won't be there. Under inside and outside pressure, Kalanick yesterday announced he was quitting the President's Strategic and Policy Forum, led by Blackston'e's Stephen A. Schwarzman.
Uber CEO's letter to employees, via Axios' David McCabe, who posts the full text: "Earlier today I spoke briefly with the President about the immigration executive order ... Joining the group was not meant to be an endorsement of the President or his agenda but unfortunately it has been misinterpreted to be exactly that."
Today's conversation will be closed to reporters. The White House schedule says the pool will be brought in for pictures at the top (look for Trump to say a few words), and that's it. Vice President Pence will join.
https://www.axios.com/newsletters/axios-am-b41ffdaa-3ac0-450e-9e3d-c9bd1d5633be.html?chunk=2#story2
3. Rising confrontation
Only major changes are going to defuse this collision between the new White House and the new economy. A sweeping WashPost front-pager led by Silicon Valley correspondent Elizabeth Dworkin points to "[r]ising alarm along the West Coast's tech archipelago from Silicon Valley to Seattle."
The Post reports that tech companies "are preparing themselves for a high-stakes confrontation with the president." Three juicy points:
A new letter warning of the economic risks of the administration's economic policies is being drafted by executives at Facebook, Google, Microsoft, Apple and others.
"Some tech companies are now considering whether to move jobs out of the United States to places with more relaxed immigration policies, such as Vancouver, B.C., and Dublin, which have made clear they would welcome an influx of U.S.-based immigrant technology workers."
Read this paragraph: "A little more than half of U.S. start-ups that are estimated to be worth more than $1 billion were founded by immigrants, according to the National Foundation for American Policy, an Arlington think tank. ... Satya Nadella, the chief executive of Microsoft, is an immigrant from India; Google co-founder Sergey Brin is a refugee from the former Soviet Union; and Omid Kordestani, Twitter's executive chairman, was born in Iran. Apple co-founder Steve Jobs was the son of a Syrian immigrant."
https://www.axios.com/newsletters/axios-am-b41ffdaa-3ac0-450e-9e3d-c9bd1d5633be.html?chunk=3#story3
4. Hill crawl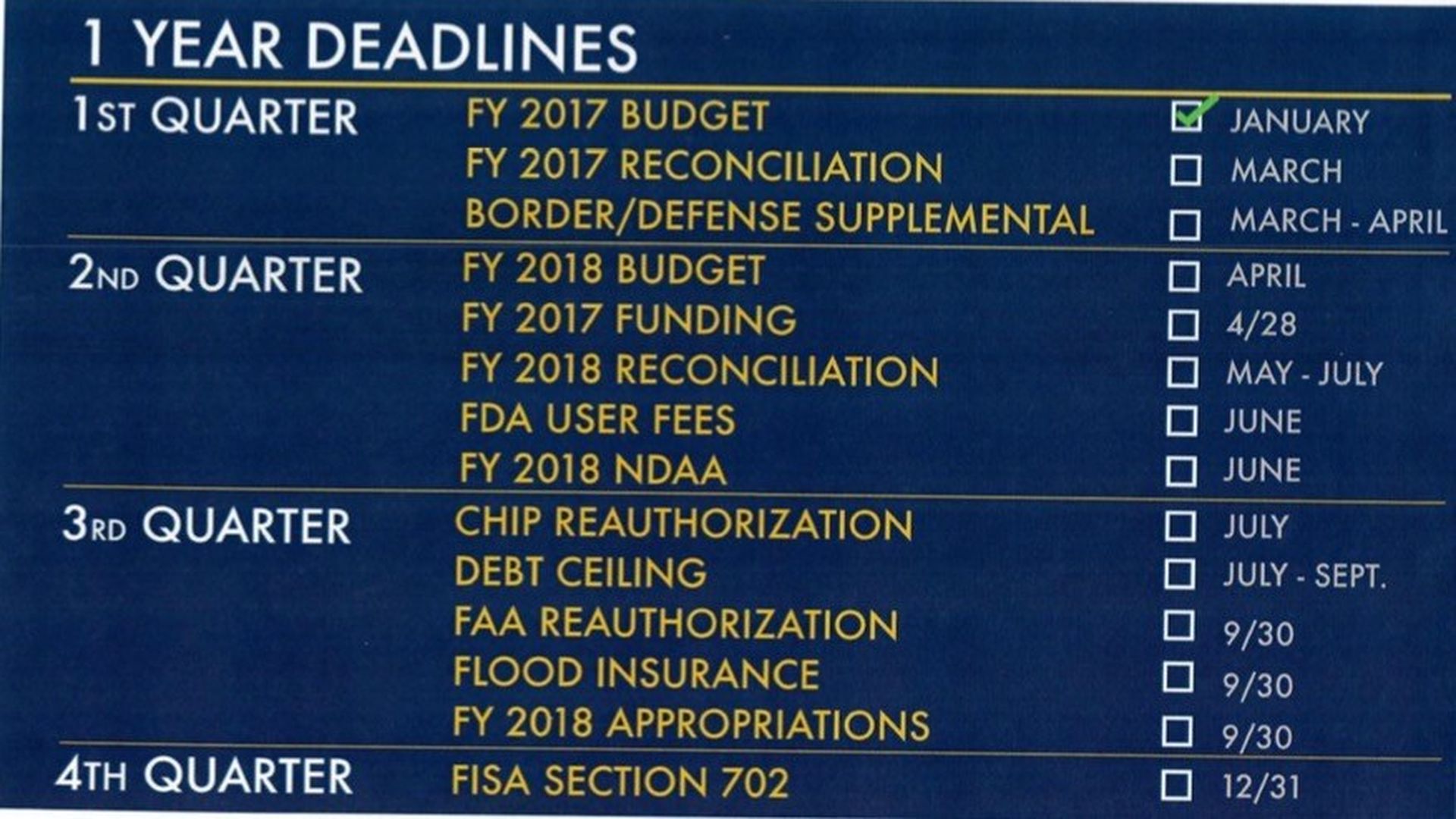 Trump's flurry of executive orders is partly a hedge against slow action or headwinds on the Hill. This calendar, prepared by House Republican leadership staff and leaked to me by a lobbyist, shows the slog ahead.
The biggest sign of lowered expectations is the new GOP lingo about "repairing" instead of "replacing" Obamacare. Two pieces this morning capture the new reality:
N.Y. Times front-pager, "Sprint to Repeal the Health Law Slows to a Crawl": "An aspirational deadline of Jan. 27 for repeal legislation has come and gone. ...
"With unity elusive, GOP talks more of repairing health law" -- AP: "House Speaker Paul Ryan ... has been saying Republicans want to 'rescue' the health system and Thursday embraced all of the competing phraseology, saying, 'The best way to repair a health care system is to repeal and replace Obamacare.'"
https://www.axios.com/newsletters/axios-am-b41ffdaa-3ac0-450e-9e3d-c9bd1d5633be.html?chunk=4#story4
5. Beyond the bubble
"At least he's DOING something. Washington never DOES anything."
Rock-solid support from Trump's base is likely to keep his national numbers from collapsing even as he weathers withering coverage on the coasts. Newspapers, trying to make up for their pre-election blind spots, are sending reporters to obscure datelines to talk to Trump voters, and three front-pagers in three days tell an identical story:
Seattle Times today, "Supporters: Trump is just doing what he promised": "They don't get the hubbub. He won. And he's doing exactly what he said he would do."
WashPost yesterday, "Trump backers like his early moves," from Accident, Md.: "Critics are unfairly exaggerating the effect of Trump's executive orders and complaining without giving him a fair chance, supporters say, just as critics blew some of his comments and jokes out of proportion during the campaign."
Boston Globe on Wednesday, "Trump voters say clamor clouds one fact: He delivers": "This was what they voted for."
https://www.axios.com/newsletters/axios-am-b41ffdaa-3ac0-450e-9e3d-c9bd1d5633be.html?chunk=5#story5
6. Trump v. Dodd-Frank
In a move that White House economic adviser Gary Cohn calls "a table setter for a bunch of stuff that is coming," Trump today will sign an executive order to scale back the Dodd-Frank financial-overhaul law "in a sweeping plan to dismantle much of the regulatory system put in place after the financial crisis," per the Wall Street Journal's lead story.
Cohn's case: "Americans are going to have better choices and Americans are going to have better products because we're not going to burden the banks with literally hundreds of billions of dollars of regulatory costs every year ... The banks are going to be able to price product more efficiently and more effectively to consumers."
What's next: "Cohn said the actions ... pave the way for additional orders that would affect the postcrisis Financial Stability Oversight Council, the mechanism for winding down a giant faltering financial company, and the way the government supervises ... systemically important financial institutions."
The fight: "The changes ... are sure to face a fight from consumer groups and Democrats, who say postcrisis regulations are protecting average borrowers and investors ... while making ... bailouts less likely.
The risk for Trump: His "campaign was successful in swaths of the Midwest where homeowners were hit hardest by the housing crash sparked by the financial crisis."
https://www.axios.com/newsletters/axios-am-b41ffdaa-3ac0-450e-9e3d-c9bd1d5633be.html?chunk=6#story6
7. Connecting the dots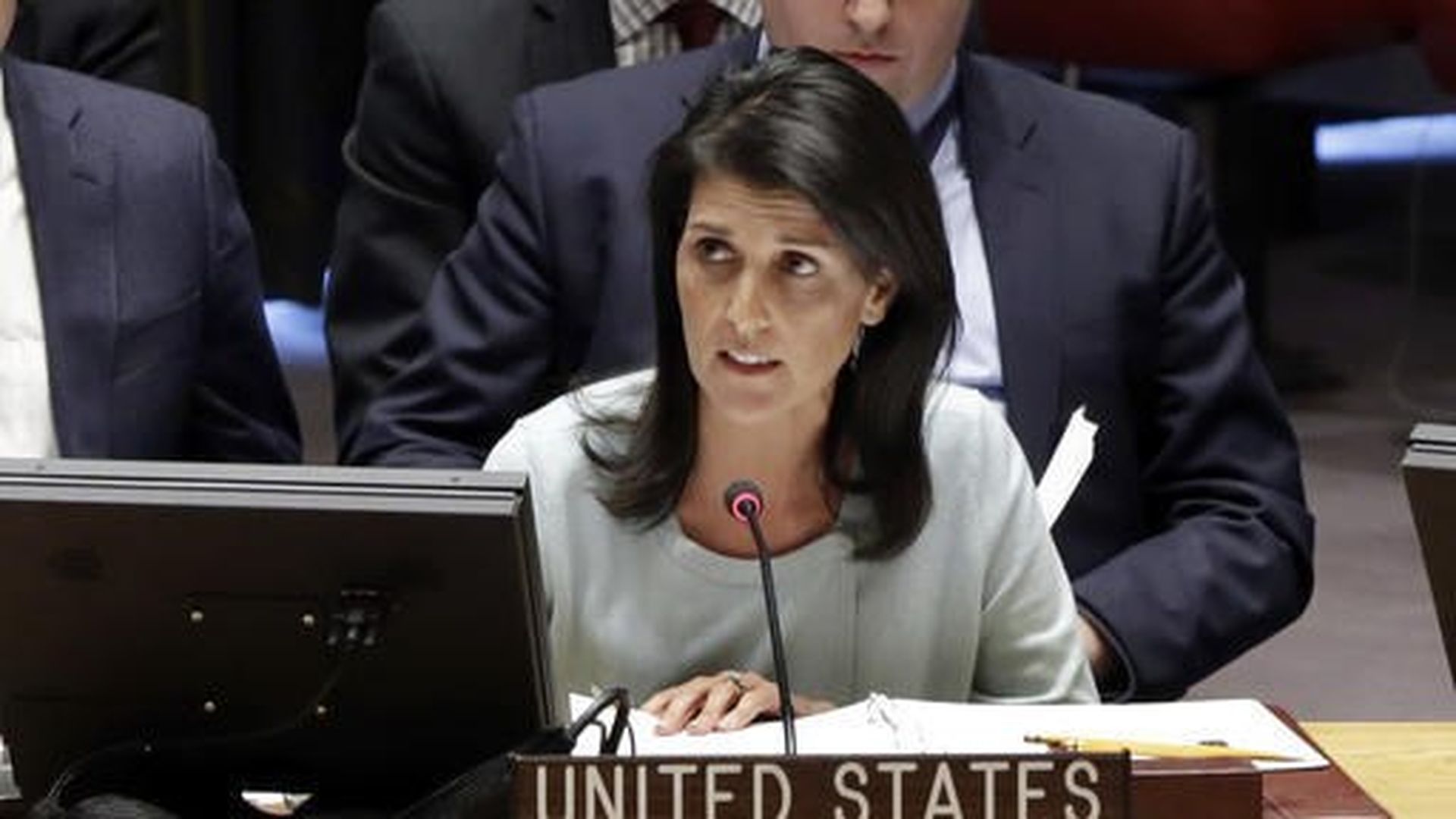 The N.Y. Times explains a disruptive foreign-policy day by leading the paper with "Trump Reverts to Pillars Of Obama Policies Abroad: A Contrast With Campaign Vows on Israeli Settlements, Ukraine and Iran," by Mark Landler Peter Baker and David Sanger: The three-act play:
Tougher on Israel: "In the most startling shift, the White House issued an unexpected statement appealing to the Israeli government not to expand the construction of Jewish settlements beyond their current borders in East Jerusalem and the West Bank."
"On Iran, the administration is preparing economic sanctions similar to those the Obama administration imposed just over a year ago."
"Trump made warmer relations with Russia the centerpiece of his foreign policy during the campaign, [but his ] United Nations ambassador, [Nikki] Haley, sounded [in her first remarks to an open session of the U.N. Security Council] a lot like her predecessor, Samantha Power.
What Haley said: "We do want to better our relations with Russia ... However, the dire situation in eastern Ukraine is one that demands clear and strong condemnation of Russian actions."
https://www.axios.com/newsletters/axios-am-b41ffdaa-3ac0-450e-9e3d-c9bd1d5633be.html?chunk=7#story7
8. Inside Snapchat
Filing to go public, Snapchat's parent, Snap Inc., says it plans to raise $3 billion. Axios' Dan Primack and Kia Kokalitcheva explain: "This may be just a placeholder figure that changes later" -- could raise much more. The key numbers:
158 million daily average users and 2.5 billion snaps per day. More than 60% of users create snaps each day.
$514 million net loss on around $404 million in revenue last year, compared to a $373 million net loss on $59 million in revenue in 2015.
Co-founders Evan Spiegel and Bobby Murphy each hold just under 22% of the company's Class A shares, and 2% of its Class B stock.
Spiegel currently makes $500,000 in annual salary, but that will drop to just $1 at the time of IPO (plus, of course, a possible $1 million annual bonus).
The L.A. Times points out this is expected to be "the biggest initial public offering ever for a Los Angeles [area] company and one of the highest valued in U.S. history."
https://www.axios.com/newsletters/axios-am-b41ffdaa-3ac0-450e-9e3d-c9bd1d5633be.html?chunk=8#story8
9. D.C. gossip
With Trump's "running war with the media," as he calls it, the White House Correspondents' Association, which will hold its annual dinner April 29, was already in a tricky position. And now ...
"New Yorker and Vanity Fair Pull Out of Correspondents Dinner Parties," by N.Y. Times Michael Grynbaum and Katie Rogers: "The New Yorker is canceling the kickoff party that it usually holds at the W Hotel ... Vanity Fair is pulling out of co-sponsoring the dinner's most exclusive after-party ... Vanity Fair's co-sponsor, Bloomberg L.P., is proceeding with its plans for the party, but no final decision has been made on the event."
WHCA President Jeff Mason, of Reuters, wrote members yesterday: "This year, as we do every year, we will celebrate the First Amendment and the role an independent press plays in a healthy republic. We will also reward some of the finest political reporting of the past year while using our scholarship program to highlight and support up-and-coming journalists who are the future of our profession."
"In the meantime, the WHCA will pursue its core mission of advocating for journalists' ability to ask questions of government officials, push for transparency from the presidency, and help Americans hold the powerful to account."
https://www.axios.com/newsletters/axios-am-b41ffdaa-3ac0-450e-9e3d-c9bd1d5633be.html?chunk=9#story9
10. 1 fun thing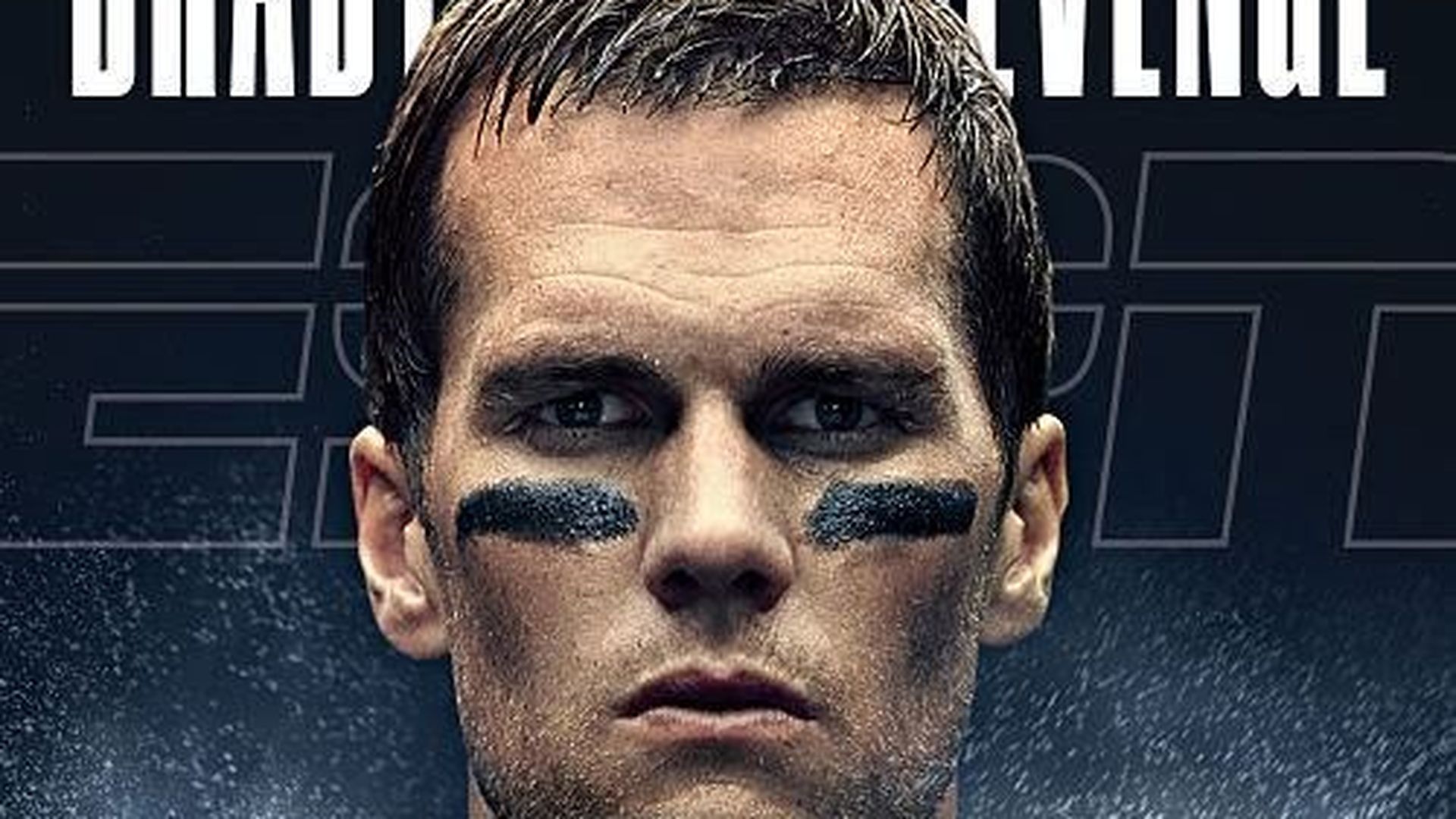 Super Bowls are known for blowouts, but Vegas and sports pundits see Sunday's Brady Bowl in Houston as being close:
Sports Illustrated picks New England Patriots over Atlanta Falcons, 35-30.
ESPN The Magazine says Pats have a 55.6% chance of winning -- and projects a 1.8-point margin.
Nate Silver's FiveThirtyEight gives New England a bigger edge -- a 61% chance of winning.
In USA Today's special Super Bowl 51 magazine, four of seven sportswriters go Brady.