https://www.axios.com/newsletters/axios-am-b37ef5bb-d286-463c-b7d9-a32bf6a717ba.html?chunk=0#story0
1 big thing: Trump's big night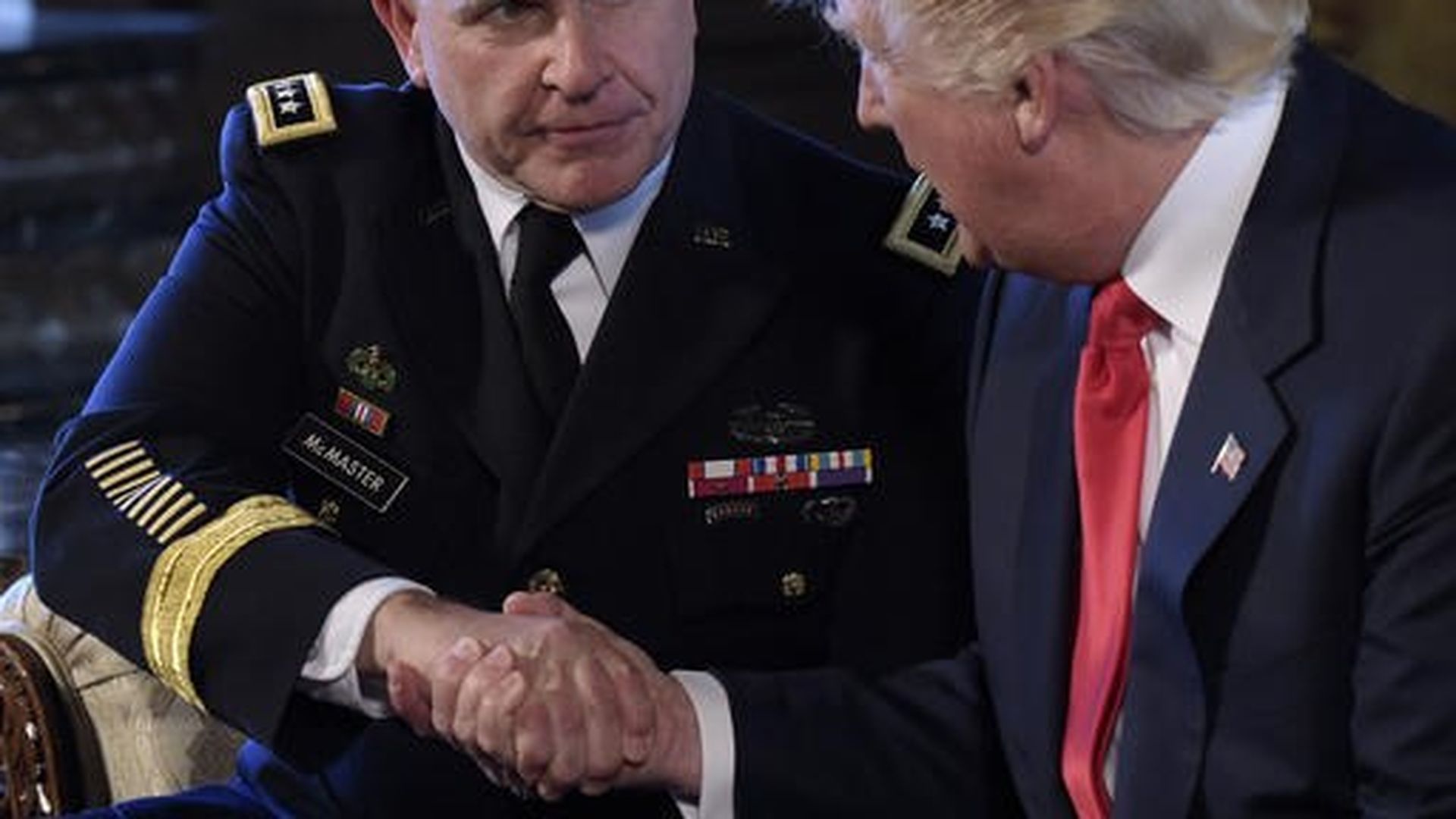 For all the talk of resets for President Trump, there's just one that matters, at least on Capitol Hill -- one big chance to steady a wobbly agenda. A week from tonight, Trump addresses Congress for the first time -- the ceremonial joint session known as State of the Union except in a president's first year.
We're told Trump worked on the address at Mar-a-Lago this weekend. According to advisers, here are four "musts" for Trump during his address:
Come across as someone who can get stuff done. You'll never be seen as a statesman or unifier -- don't bother trying. But Republicans need their confidence bolstered that the GOP-controlled government can deliver Obamacare repeal-and-replace and tax reform. If you do that, plus win confirmation of your Supreme Court nominee, nothing else will matter -- your Hill game will be a hit with the party and GOP critics will forgive other sins.
Get past campaign rhetoric and be specific. Lawmakers consider it insulting to be barraged with slogans instead of substance.
Keep cool, in both rhetoric and body language. Command respect from fellow Rs -- you don't want GOP or independent voters at home seeing expressions of disapproval from your own party. And be prepared for a "You lie" moment, like the startling rebuke yelled at Obama by House Republican Joe Wilson during a health care speech to a joint session in 2009. The moment you mention walls or travel bans or deportation, brace yourself and don't take the bait.
Spotlight your Cabinet and stack the front row with your national security team. Nothing reassures Republican skeptics like seeing Defense Secretary Mattis or Homeland Security Secretary Kelly or SecState Tillerson or the national security adviser you named yesterday, Army Lt. Gen. H. R. McMaster, who won praise from Richard Haas, John McCain, Tom Ricks, etc.
https://www.axios.com/newsletters/axios-am-b37ef5bb-d286-463c-b7d9-a32bf6a717ba.html?chunk=1#story1
2. Trump's second month
"Trump Month Two: Talks on health care and on tax overhaul" -- AP's Julie Pace: "[C]hief of staff Reince Priebus [said] he expects a health care plan to emerge in 'the first few days of March.' Pressed on whether the plan would be coming from the White House, Priebus said, 'We don't work in a vacuum.'"
"On Sunday, White House advisers held a three-hour meeting on health care at [Mar-a-Lago], their third lengthy discussion on the topic in four days. Gary Cohn, the former Goldman Sachs banker now serving as Trump's top economic adviser, and newly sworn in Treasury Secretary Steve Mnuchin have been leading talks with Republican lawmakers and business leaders on taxes."
"Priebus said he expects Congress to pass both a tax package and legislation repealing and replacing Obama's health care law by the end of the year. But the White House's outward confidence belies major roadblocks."
"U2's Bono Shredded on Twitter for Praising Mike Pence's AIDS Efforts."
Dictators for Trump ... "Zimbabwe's Mugabe turns 93; lauds Trump's nationalist stance."
https://www.axios.com/newsletters/axios-am-b37ef5bb-d286-463c-b7d9-a32bf6a717ba.html?chunk=2#story2
3. Silicon Valley's ugly secret exposed — again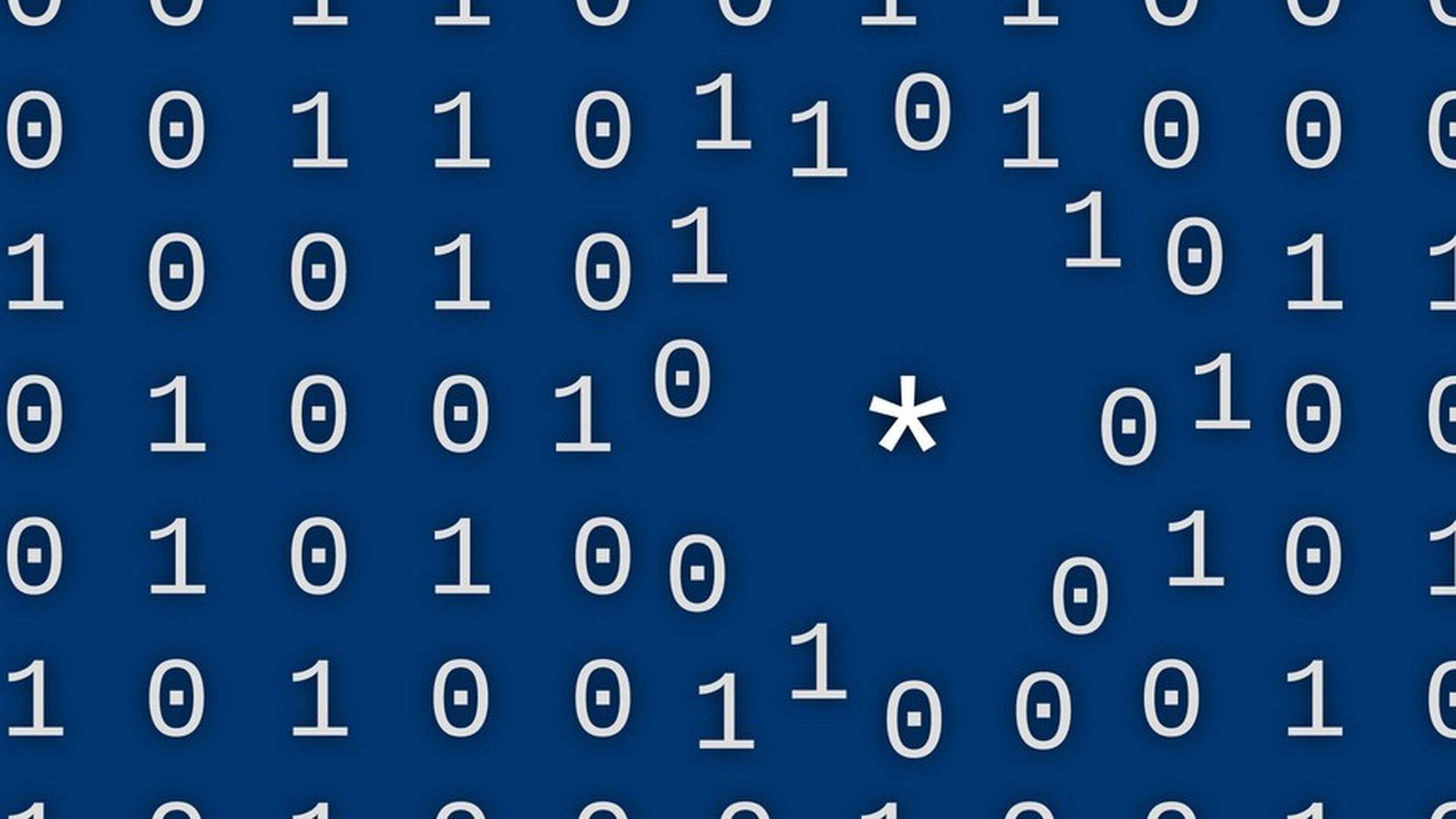 A former Uber engineer's holiday-weekend blog post charging sexism is part of a larger long-term cultural crisis for Silicon Valley, Axios' Kim Hart writes. And it's already touching off a new wave of criticism over the lack of women and minority employees at tech companies, start-ups and the firms that invest in them:
Many of the biggest U.S. tech companies have established programs to boost diverse hiring, but they've only slightly moved the needle over the past couple of years.
Why it matters: Silicon Valley companies risk losing touch with a community of users that is much more diverse than their own staffs. They're also under pressure to make sure women and minorities aren't shut out of one of the fastest growing sectors of the economy.
Uber CEO Travis Kalanick sent an email to employees yesterday announcing: "Eric Holder, former US Attorney General under President Obama, and Tammy Albarran -- both partners at the leading law firm Covington & Burling-- will conduct an independent review into the specific issues relating to the work place environment raised by Susan Fowler, as well as diversity and inclusion at Uber more broadly. Joining them will be Arianna Huffington, who sits on Uber's board."
https://www.axios.com/newsletters/axios-am-b37ef5bb-d286-463c-b7d9-a32bf6a717ba.html?chunk=3#story3
4. Reality check on outsourcing
Axios' Chris Matthews read financial filings from the 250 largest companies in America and found that "shipping jobs overseas" isn't the widespread problem Trump suggests:
"[V]ery few large companies [are cutting U.S. workers and hiring abroad], and the ones that are significantly adding jobs abroad aren't doing so for the reasons Trump detests."
Why it matters: "The sort of expansion Corporate America is doing abroad isn't the sort that Trump can easily vilify, and those companies that are engaging in this behavior aren't required to disclose it."
https://www.axios.com/newsletters/axios-am-b37ef5bb-d286-463c-b7d9-a32bf6a717ba.html?chunk=4#story4
5. Happy-hour helper: Stuff to talk about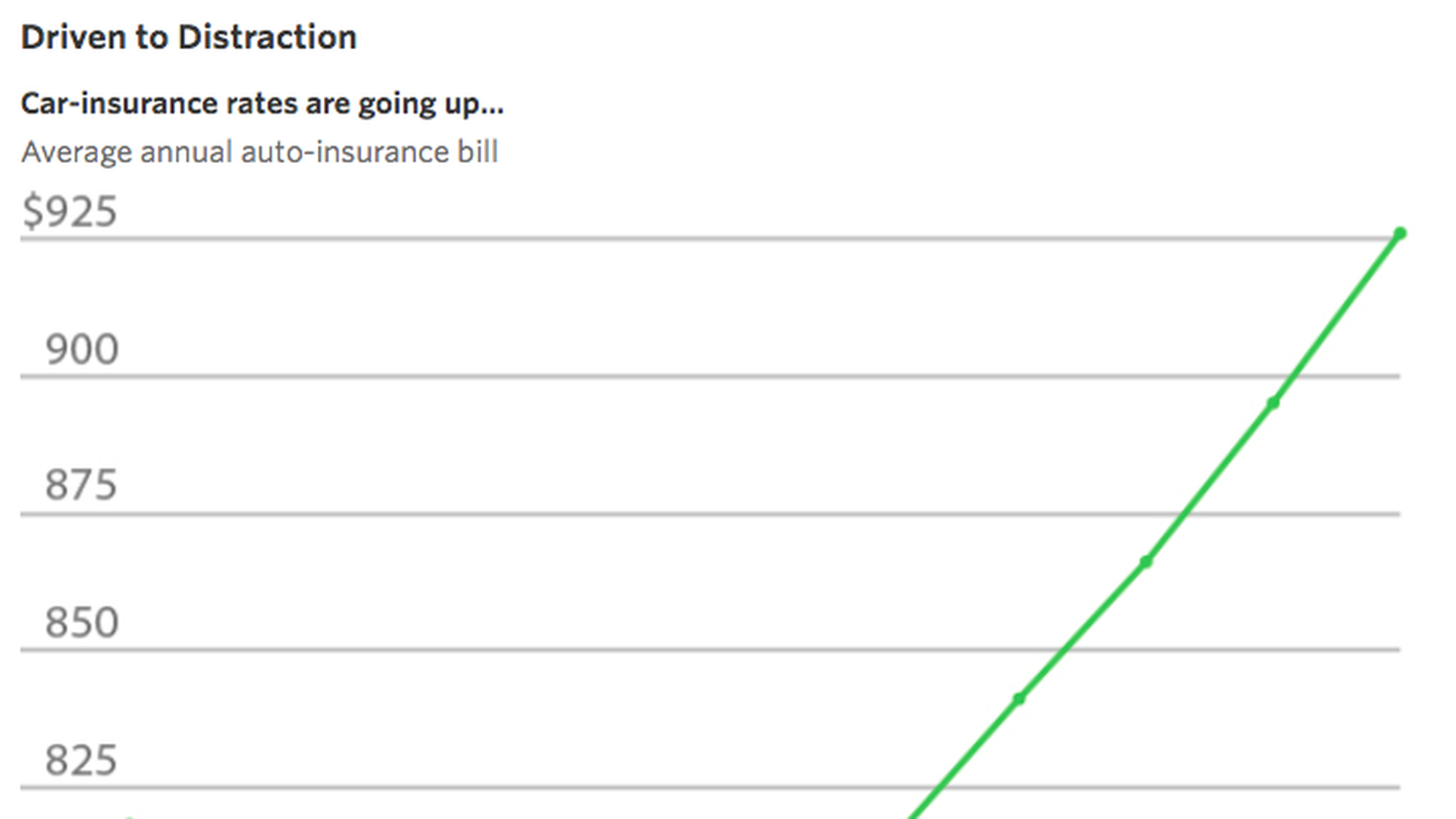 "Smartphone Use Lifts Car-Insurance Rates," per this Wall Street Journal front pager:
"Costs associated with crashes are outpacing premium increases for some companies ... [I]nsurers say the use of smartphones to talk, text and access the internet while on the road is a new and important factor behind the wrecks."
Michael LaRocco, chief executive of State Auto Financial Corp., calls it "an epidemic issue for this country."
"The growing number of wrecks 'is swamping the much-heralded beneficial impacts of newer, safer vehicles.'"
https://www.axios.com/newsletters/axios-am-b37ef5bb-d286-463c-b7d9-a32bf6a717ba.html?chunk=5#story5
6. Tops in business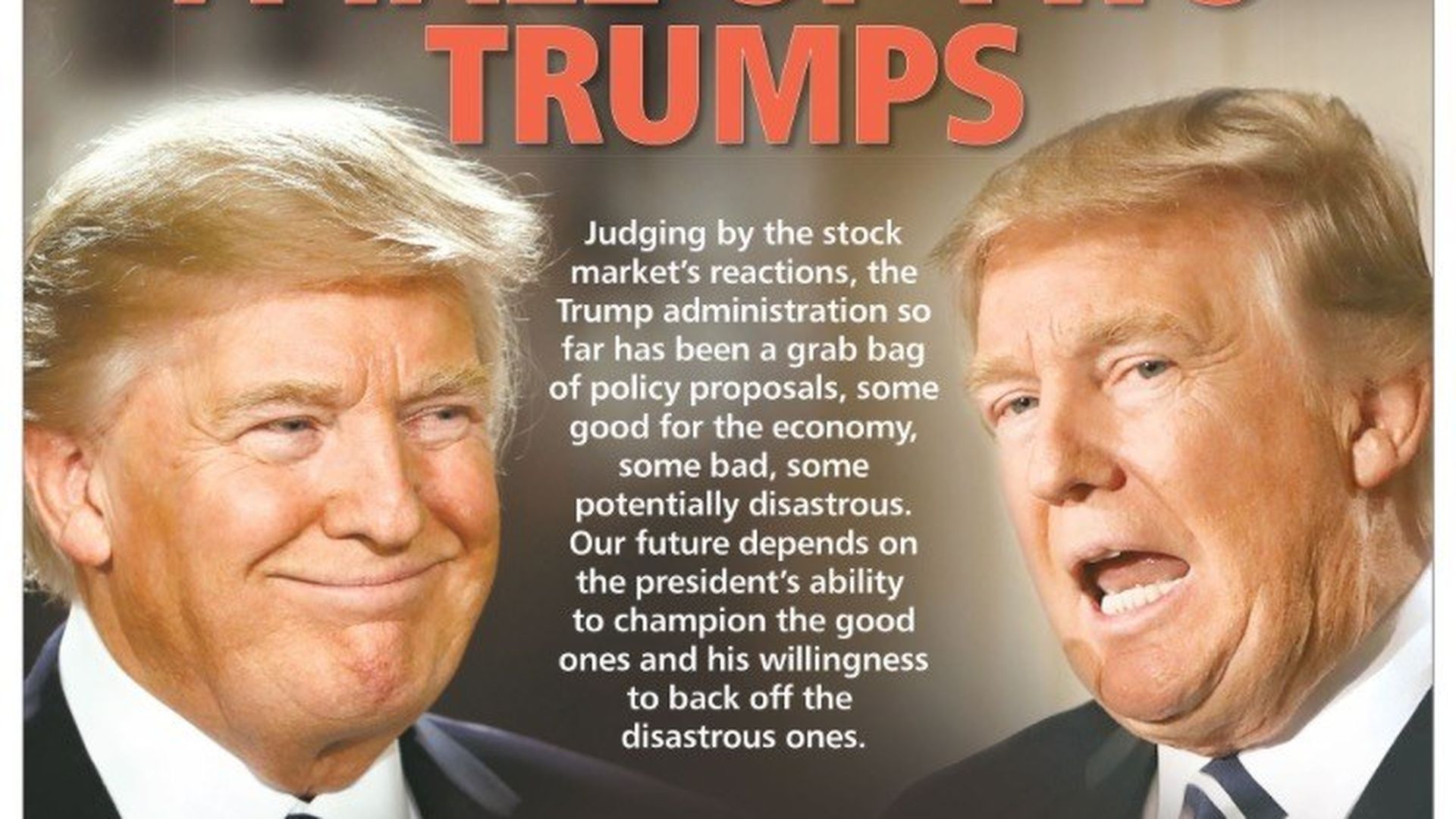 Wall Street is loving the booming "Trump trade," but are markets pricing in the good news and not the bad, like a trade war? A Barron's cover story by John Kimelman contrasts the two Trumps:
"the Chamber of Commerce–friendly politician who appeals to investors heartened by both the president's pro-growth platform and the unusually high number of successful businessmen he has tapped."
"another Donald Trump ... who makes many investors nervous ... the Disrupter-in-Chief, a man with little regard for the political etiquette of a traditional presidency."
"Many people worry the bad Trump will overwhelm the market-friendly one, taking markets and perhaps the country down with him. Veteran investment writer Jim Grant disagrees. In a recent issue of Grant's Interest Rate Observer, he wrote that American investors should ignore 'the doomsaying consensus' on Trump, whom he refers to as if it the president were a stock with the ticker DJT.
"'Cover your DJT shorts,' writes Grant. 'We do not say, necessarily, own DJT itself, only entertain the possibility that there is useful information in its rising price.'"
https://www.axios.com/newsletters/axios-am-b37ef5bb-d286-463c-b7d9-a32bf6a717ba.html?chunk=6#story6
7. Camp David "doomed"?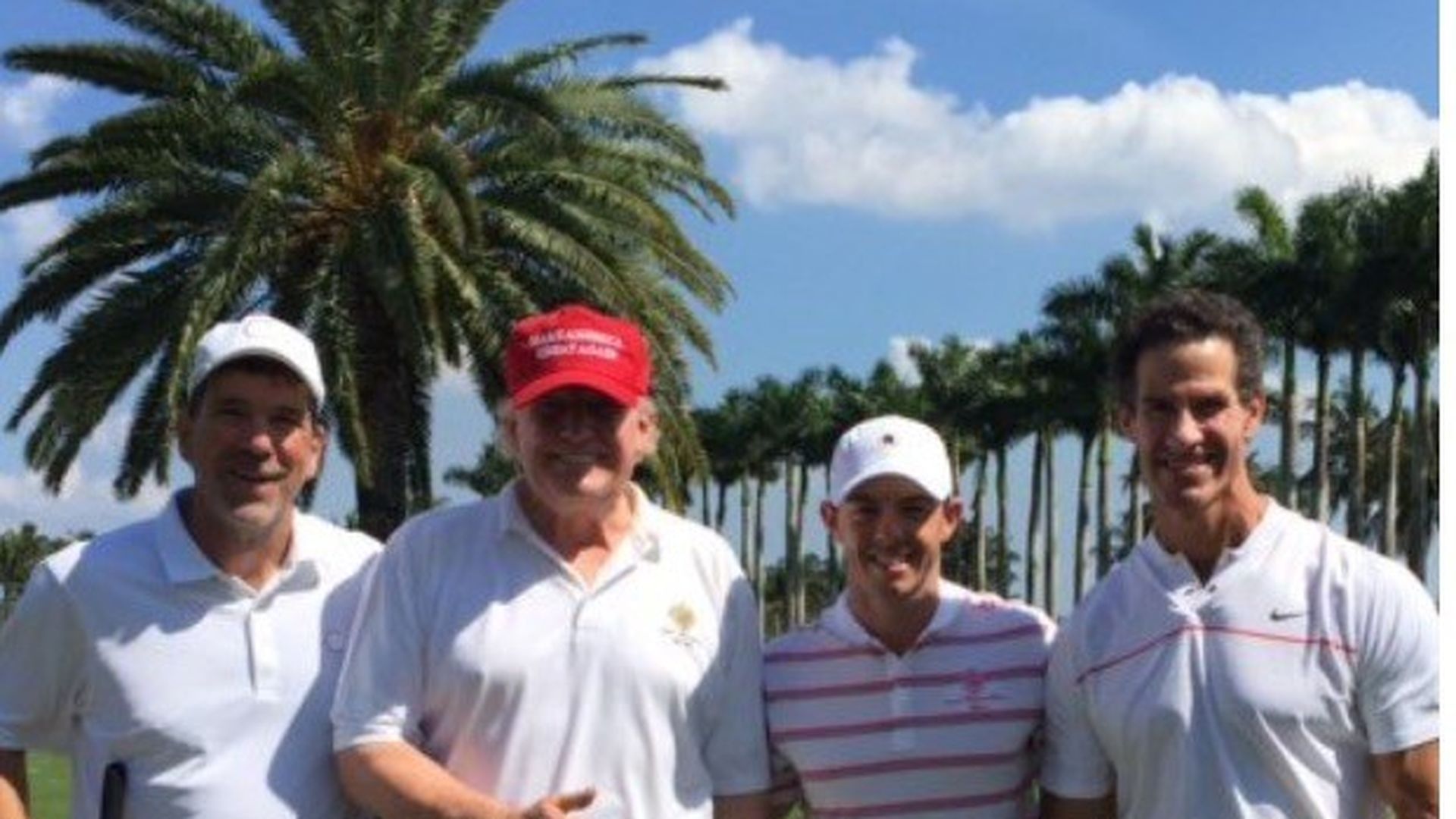 "Mar-a-Lago 3, Camp David 0. With Trump as president, is the rustic Md. retreat doomed?" a WashPost front-pager by Michael Rosenwald: "Trump's Florida compound and his other gold-laden properties have been top of mind lately in Thurmont, where just a few miles up a winding mountain road presidents have vacationed and cajoled world leaders at Camp David — deep in the woods, in cozy cabins, a total anathema to Trump."
"'Camp David is very rustic, it's nice, you'd like it,' Trump said in an interview with a European journalist just before taking office. 'You know how long you'd like it? For about 30 minutes.'
"White House officials have not said whether Trump plans to use Camp David or, if not, whether he would close the Navy-run facility, which in recent years has cost taxpayers about $8 million a year to operate. Although local officials hope he will visit, they have been given no signals he will, raising concern about the financial and symbolic costs of the president's getaway tastes."
"Trump's aides don't want to admit the President is golfing" -- CNN's Dan Merica: "According to a picture posted by Clear Sports, a golf technology company, Trump hit the links at Trump International Golf Club on on Sunday with Rory McIlroy, one of the top-ranked golfers in the world."
"McIlroy later told No Laying Up, a golf blog, that he played a full 18 holes with the President, the CEO of Clear Sports and Paul O'Neill, the former New York Yankees right fielder. The professional golfer said Trump 'shot around 80' through 18 holes, eight strokes above the course's par 72 layout."
https://www.axios.com/newsletters/axios-am-b37ef5bb-d286-463c-b7d9-a32bf6a717ba.html?chunk=7#story7
8. While you were out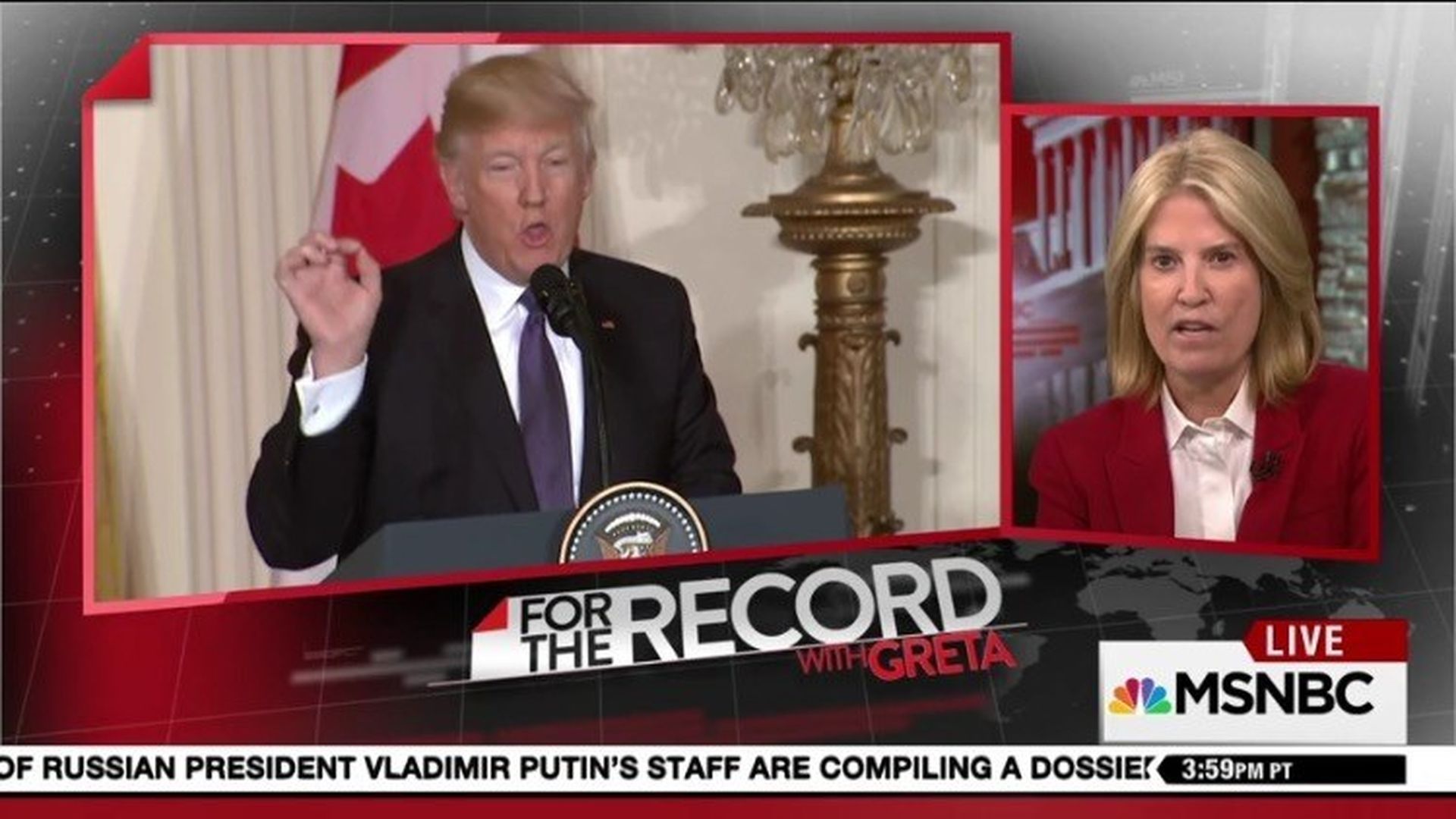 In on-air commentaries closing their shows over the holiday weekend, two of Washington's top broadcasters took on President Trump for his Friday tweet declaring that the N.Y. Times and major networks are "the enemy of the American People!"
MSNBC's Greta Van Susteren ... "My Message to President Trump and the Press": "Mr. President, back off! ... You need to get it right, too. ... It is dead wrong to rev up your loyal base with incorrect, generalized and wide-sweeping, inflammatory statements about the entire media."
ABC's Jonathan Karl, anchoring "This Week" ... "Free press is a big part of what makes America great": "The Donald Trump I knew as a young reporter in New York was nothing if not media-friendly."
"We are not about to stop doing our jobs because yet another president is unhappy with what he reads or hears or sees on TV news."
"As long as American democracy remains healthy, there will be reporters willing to pursue the truth -- even if that means incurring the wrath of the most powerful person in the world."
https://www.axios.com/newsletters/axios-am-b37ef5bb-d286-463c-b7d9-a32bf6a717ba.html?chunk=8#story8
9. Hot in Silicon Valley: Zuck on newspapers
In a Facebook post from Selma last night, Mark Zuckerberg writes:
"Today Priscilla and I stopped by some local newspapers as we drove through Alabama. The folks there were working hard over President's Day weekend to keep their communities informed. It seems like a good time to say thank you to all the journalists around the world who work tirelessly and sometimes put their lives in danger to surface the truth."
Why it matters, per Axios' Kia Kokalitcheva: While Zuckerberg's comments are an obvious jab at Trump's disdain for the press, they're also ironic given his company's massive impact on the media industry.
https://www.axios.com/newsletters/axios-am-b37ef5bb-d286-463c-b7d9-a32bf6a717ba.html?chunk=9#story9
10. 1 fun thing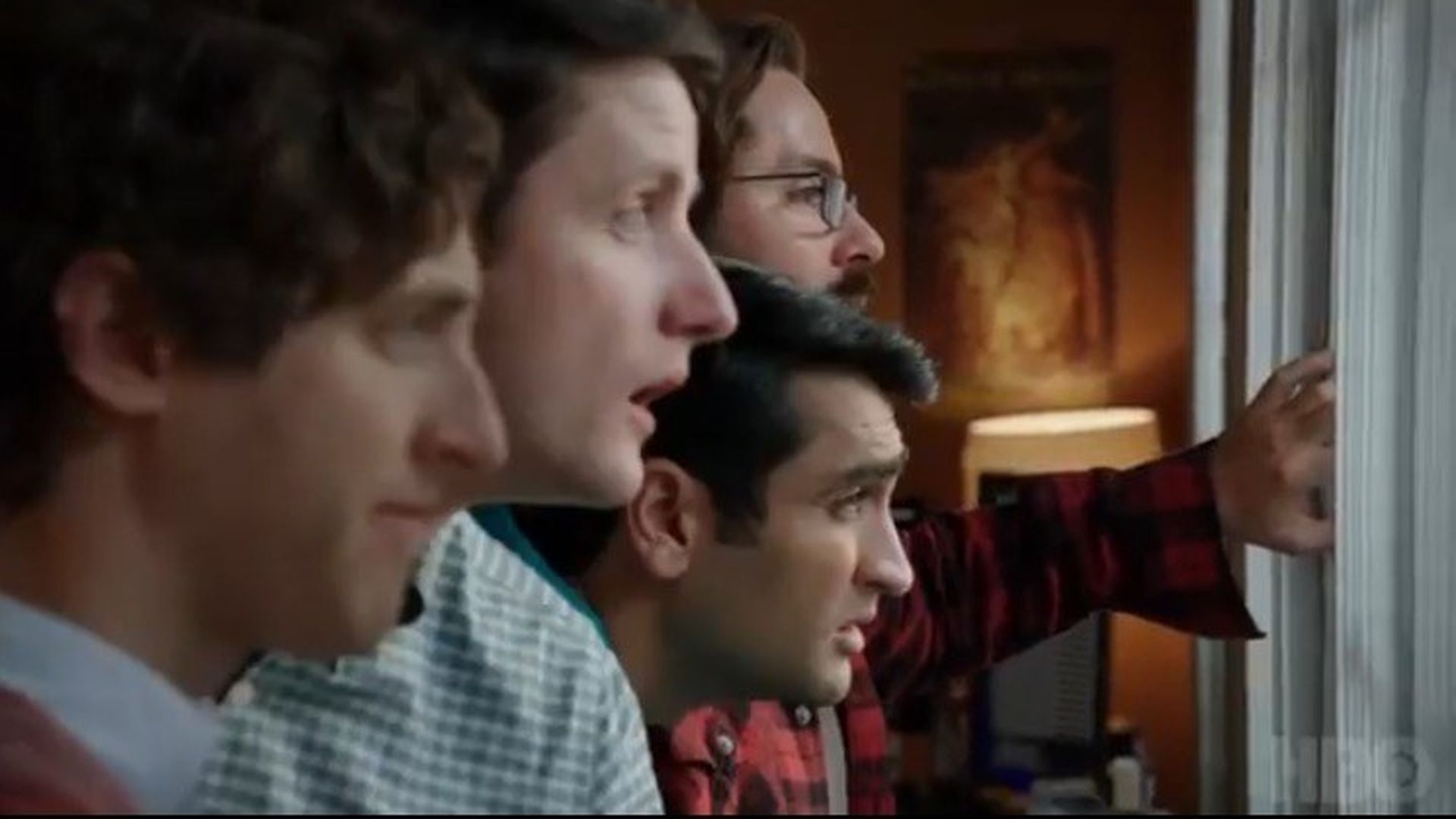 Trailer for Season 4 (10 episodes) of HBO's "Silicon Valley," launching April 23 at 10 p.m.: "'Silicon Valley' takes a comic look at the modern-day epicenter of the high-tech gold rush, where the people most qualified to succeed are the least capable of handling success."
A great moment ... A couple of the guys have a big idea: "I need to build something else. ... We could build -- a new internet." They start with a whiteboard that's blank except for the heading: "New Internet."