Axios AM
April 29, 2022
Happy Friday. Smart Brevity™ count: 1,173 words ... 4½ mins. Edited by Zachary Basu.
1 big thing: Bad-vibes economy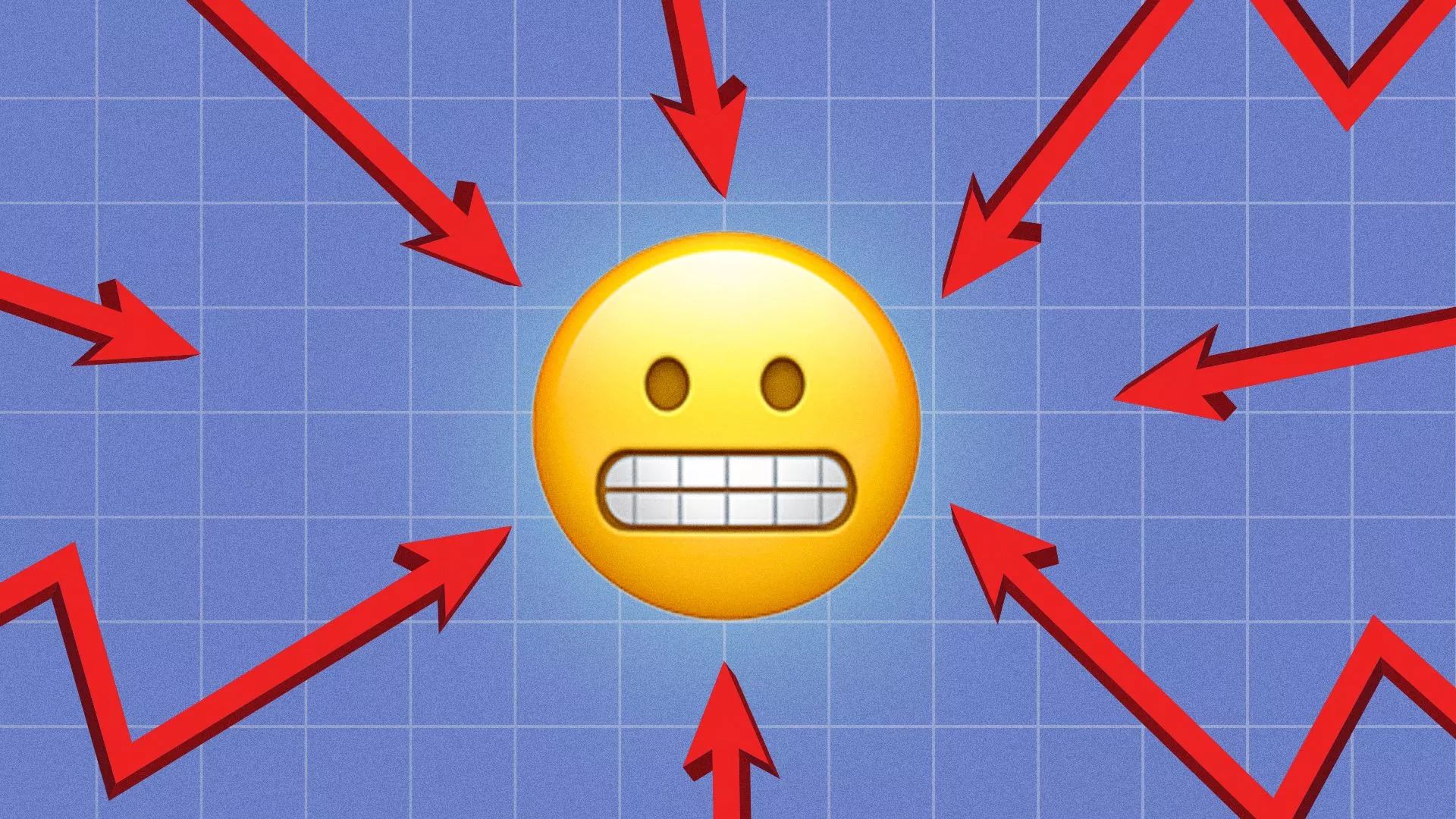 For months, Americans were pessimistic even though the economy was booming. Suddenly, reality is catching up, Axios' Emily Peck reports:
Next week, the Fed is likely to slow the economy intentionally by raising interest rates a half percentage point, which could cool off the era's signature hot labor market.
The U.S. economy shrank in the first quarter, according to weaker-than-expected GDP figures out yesterday. That raised recession fears. "But the negative number masked evidence of a recovery that economists said remained fundamentally strong," the N.Y. Times writes.
Amazon yesterday reported its first quarterly loss since 2015, as online shopping slowed and warehouse and fuel costs soared. The stock slumped 10.5% in after-hours trading.
The twist: The hot labor market is a clear bright spot — with very low unemployment and record job security. That boom is cooling a bit, says Nick Bunker, economic research director at the Indeed Hiring Lab.
"But that's moving from a labor market that was at 105 degrees to a market that's maybe 95 degrees. Still hot."
Reality check: Americans are worried — producing a gloomy mood in the White House ahead of November's midterms.
Inflation has been the main drag, according to the surveys of consumers by the University of Michigan, the longest-running study in the country. "Many people tell us that inflation has cut their living standards," said Richard Curtin, director of the survey since 1976.
The war in Ukraine added to fears of recession, polling shows.
Then there's the supply chain. In a Morning Consult poll last month, 41% of consumers said purchases were hindered by shortages.
Zoom out: Looming over every indicator is the pandemic.
Two-thirds of U.S. adults say their lives changed forever, according to a February poll by Harris Poll and the American Psychological Association.
2. 📊 Inside the numbers
If a recession comes, it won't be for a while yet — like, 2023, Axios chief financial correspondent Felix Salmon tells me.
And there's a good chance it won't come at all.
Between the lines: The first negative GDP number in nearly two years — since the pandemic hit — certainly isn't good news. But it's not nearly as bad as it looks at first glance.
Strip out volatile trade and inventory components, and Americans are still spending more than ever — even after accounting for inflation.
🧠 Axios chief economic correspondent Neil Irwin has this translation:
It appears that the extraordinary growth numbers of 2021, a result of the economy reopening from the pandemic, are a thing of the past. But the details of the GDP report suggest that underlying growth remains relatively strong, for now.
3. Human achievement: 102 marathons, 102 days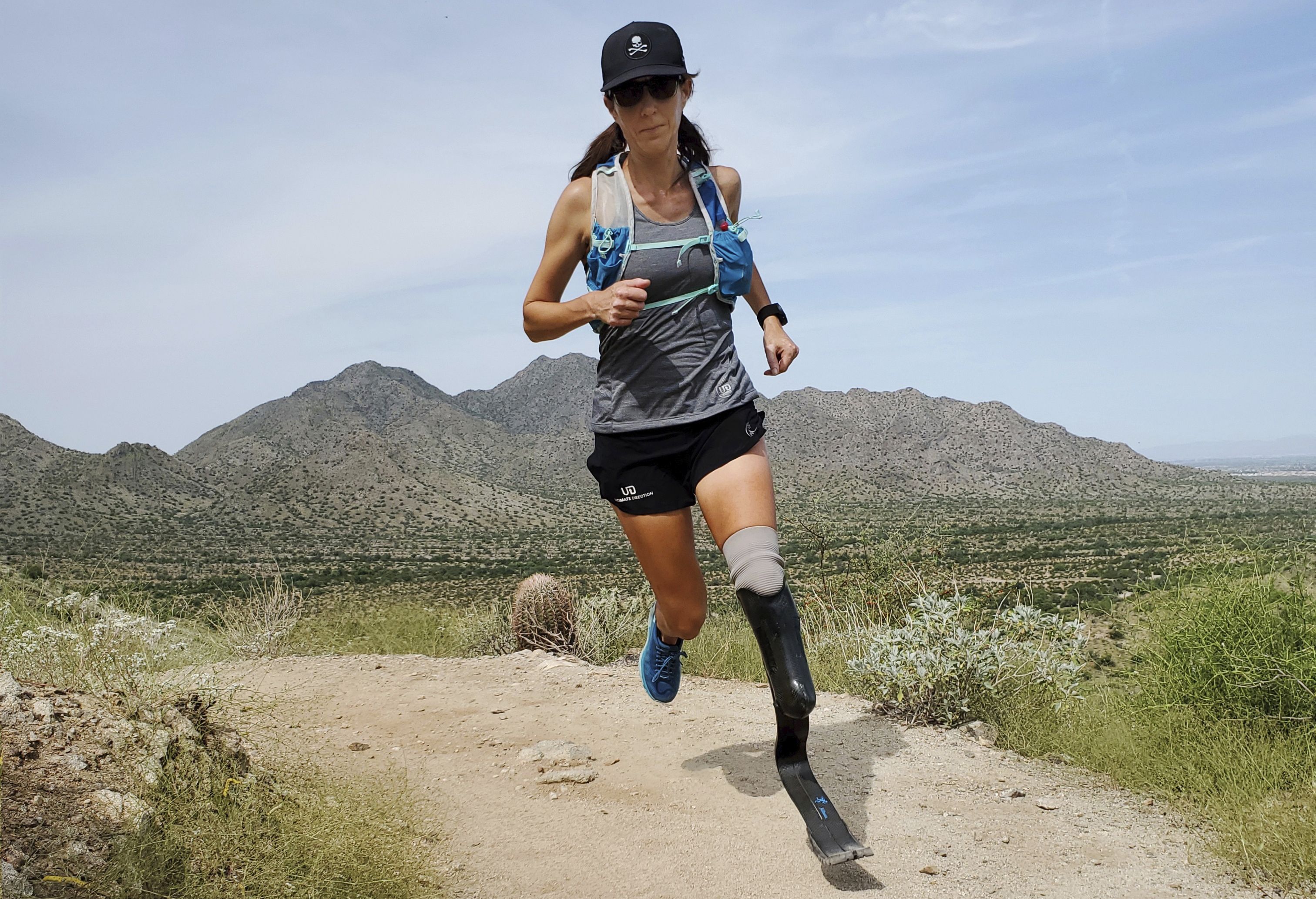 Jacky Hunt-Broersma — a 46-year-old from Arizona who runs on a blade because of an amputation — yesterday hit 102 marathons in 102 days, setting an unofficial women's world record.
For good measure, she'll run two more and wrap up her challenge tomorrow with 104, AP reports.
Hunt-Broersma, a South Africa native, lost her left leg below the knee to a rare cancer and runs on a carbon-fiber prosthesis.
Earlier this month, British runner Kate Jayden, who isn't disabled, unofficially broke the record with 101 marathons in 101 days.
Hunt-Broersma has covered 2,672 miles — like running from her Phoenix suburb to Cape Cod ... or from New York City to Mexico City.
4. 🐦 Musk drifts right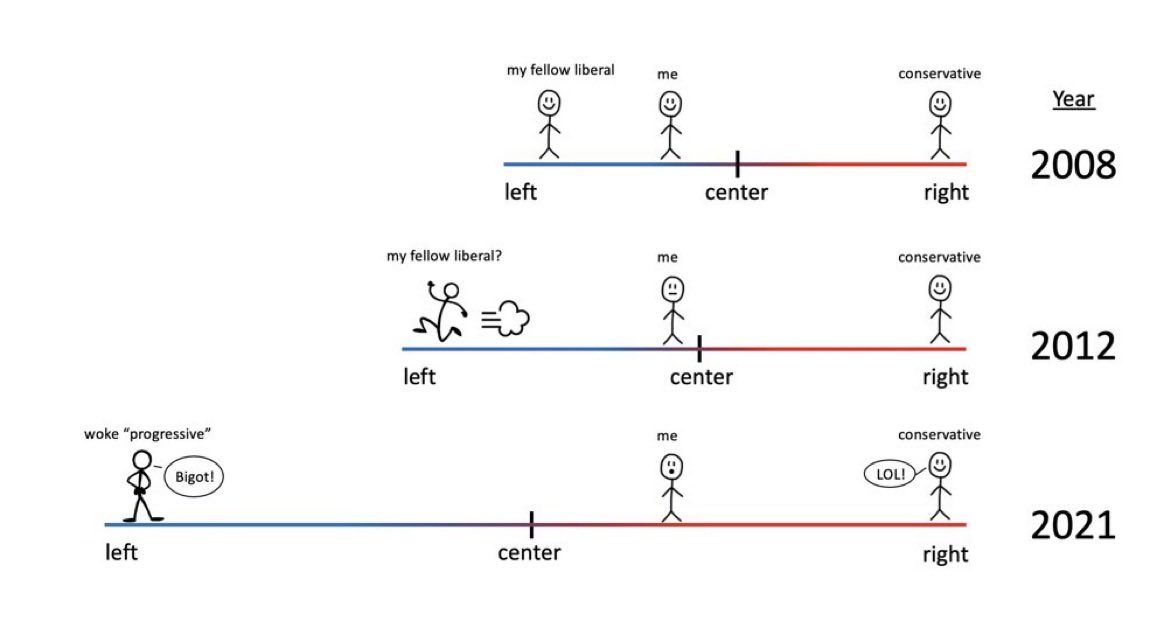 Elon Musk tweeted this stick-figure depiction of his political evolution, showing him moving right of center as liberals moved left.
Why it matters: Musk's libertarian-y politics are a bit of a muddle. But conservatives hailed his successful bid to buy Twitter. (Can you believe that was only four days ago?)
5.🔮 Musk's Twitter plans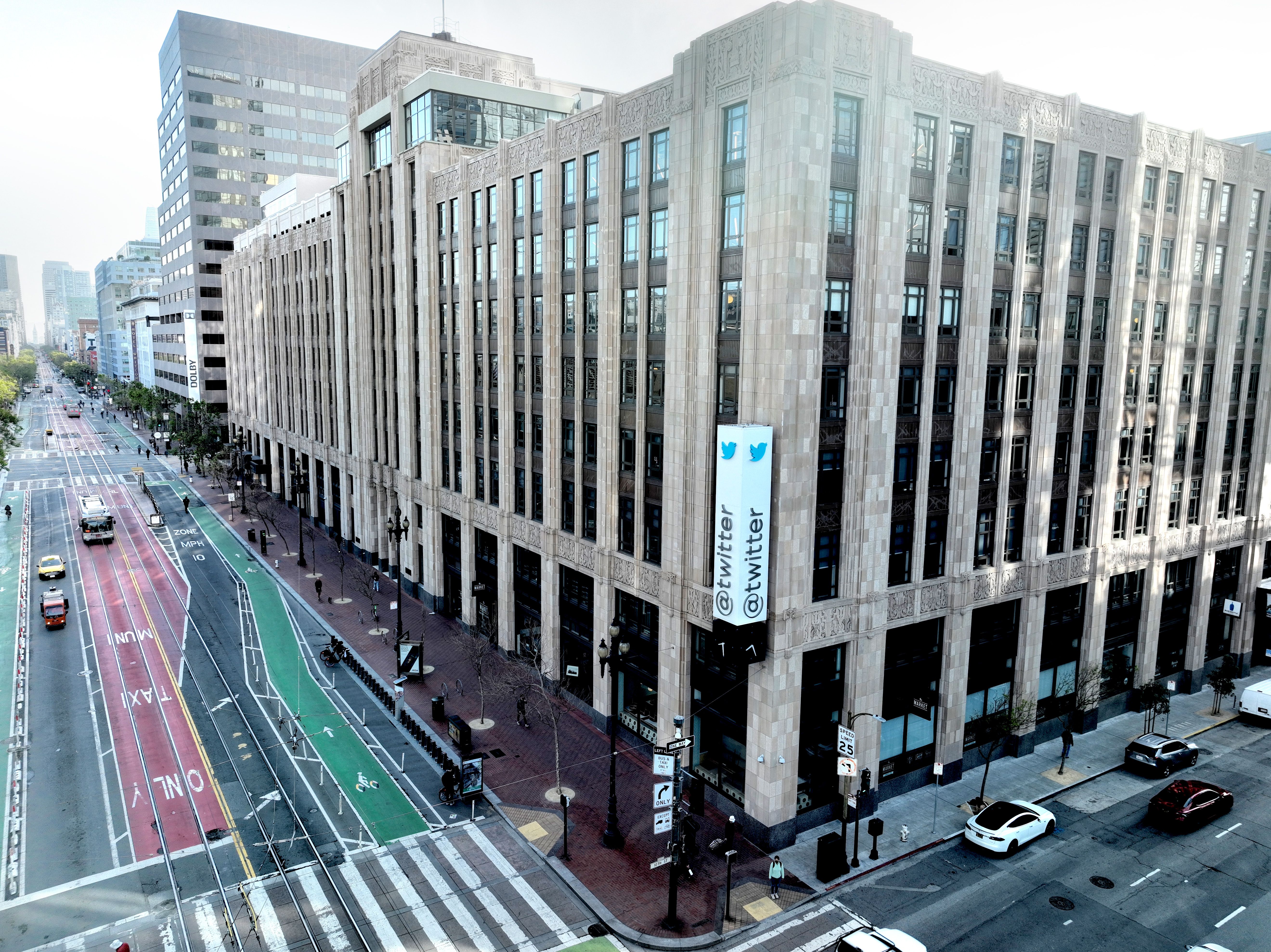 Elon Musk told banks funding his $44 billion acquisition that he could crack down on executive and board pay, and develop new ways to monetize tweets, Reuters reports.
Ideas included charging a fee when a third-party website wants to quote or embed a tweet from verified individuals or organizations.
As part of his pitch on calls with bankers, Musk mentioned cuts to Twitter's workforce of 7,000+, Bloomberg reports.
A source told Reuters that Musk won't make decisions on jobs until he assumes ownership of the company later this year, and he gets access to confidential financials and headcount data.
The bottom line: The billionaire made clear on the calls that he'll seek financial returns from the deal, per Bloomberg: "He spoke about his track record at Tesla Inc. and SpaceX as evidence that he knows how to transition companies to generate returns."
6. 🏛️ Charted: Sentences for 1/6 rioters
A wealth of video evidence and self-incriminating social-media posts by Jan. 6 riot defendants has given prosecutors the upper hand in many cases, AP reports.
783 people have been charged with riot-related federal crimes.
250+ have pleaded guilty, mostly to nonviolent misdemeanors.
The graphic above is for cases that have been resolved. Most defendants received more than one type of punishment.
7. Airbnb goes remote-optional forever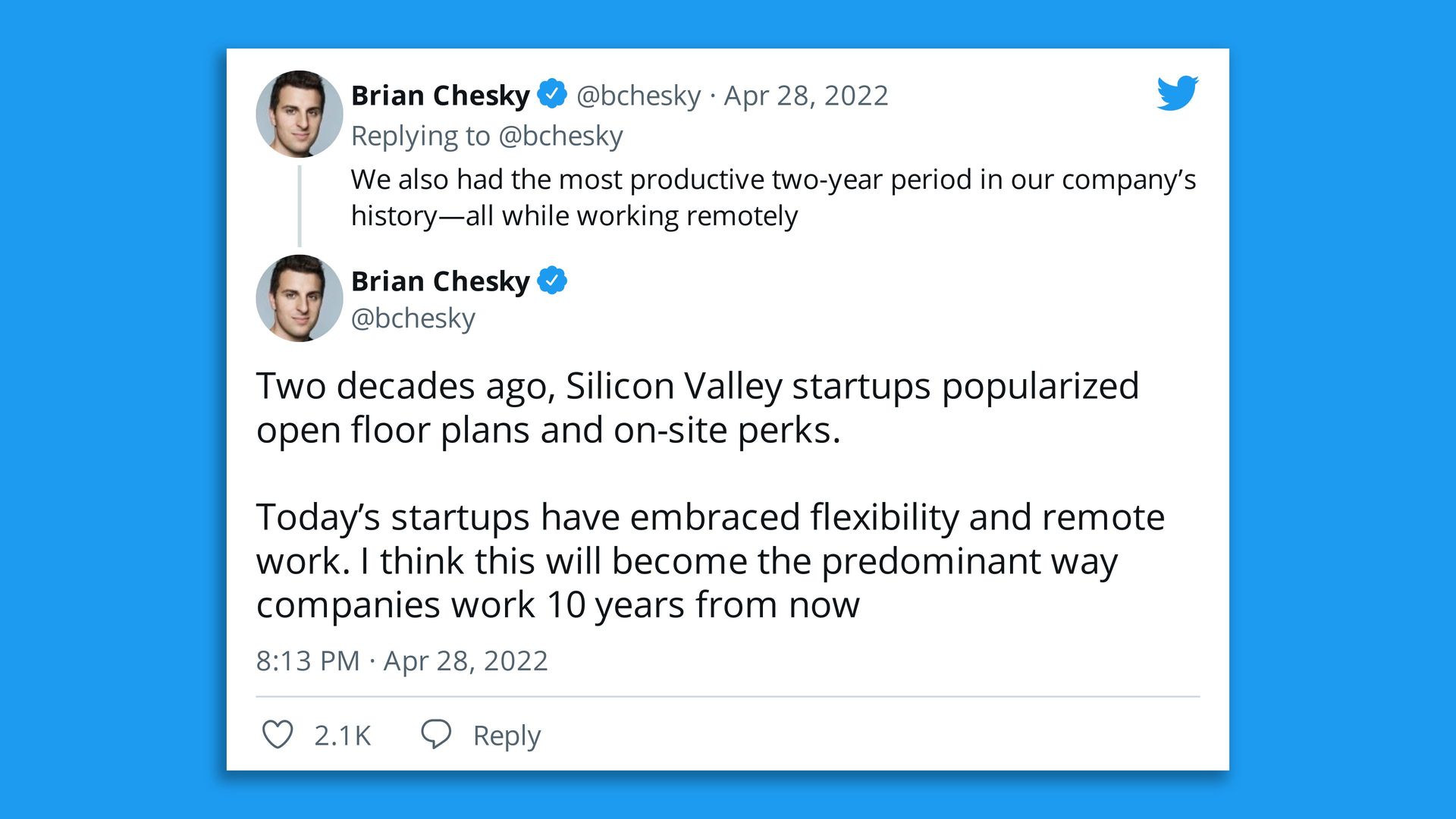 Airbnb CEO Brian Chesky announced yesterday that the company's 6,000 employees can live and work anywhere, and said the trend is good for business.
Why it matters: "We wouldn't have recovered so quickly from the pandemic had it not been for millions of people working from Airbnbs," Chesky emailed employees worldwide. "During the second half of 2021, 20% of our nights booked were for stays of longer than a month, and half were for stays of longer than a week."
"You can move anywhere in the country, like from San Francisco to Nashville, and your compensation won't change," Chesky added.
"We'll meet up regularly for team gatherings. Most employees will connect in person every quarter for about a week at a time (some more frequently)."
The bottom line: "Companies will be at a significant disadvantage if they limit their talent pool to a commuting radius around their offices," Chesky wrote. "The best people live everywhere."
8. 🏈 NFL draft begins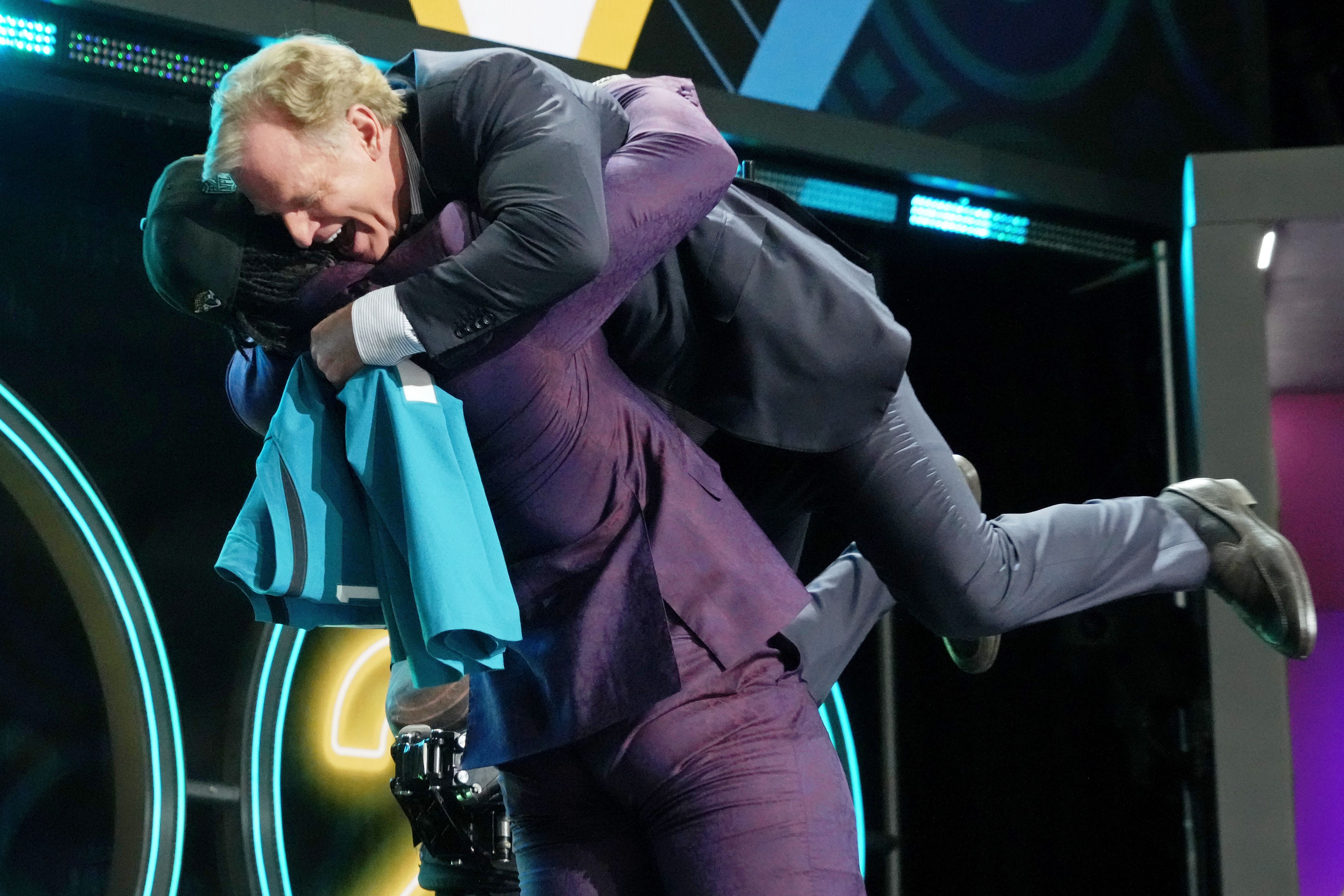 In Vegas last night, Round 1 of the NFL draft lived up to the hype, with plenty of surprises and lots of chaos. It was a big night for wide receivers, and a quiet night for quarterbacks, Axios Sports editor Kendall Baker writes.
Four straight: For just the second time ever, the first five picks — DE Travon Walker (Jaguars), DE Aidan Hutchinson (Lions), CB Derek Stingley Jr. (Texans), CB Ahmad "Sauce" Gardner (Jets) and DE Kayvon Thibodeaux — were all defensive players.
Receivers run the night: Six WRs were chosen (compared to zero RBs and one QB), all in the first 20 picks, which has never happened before.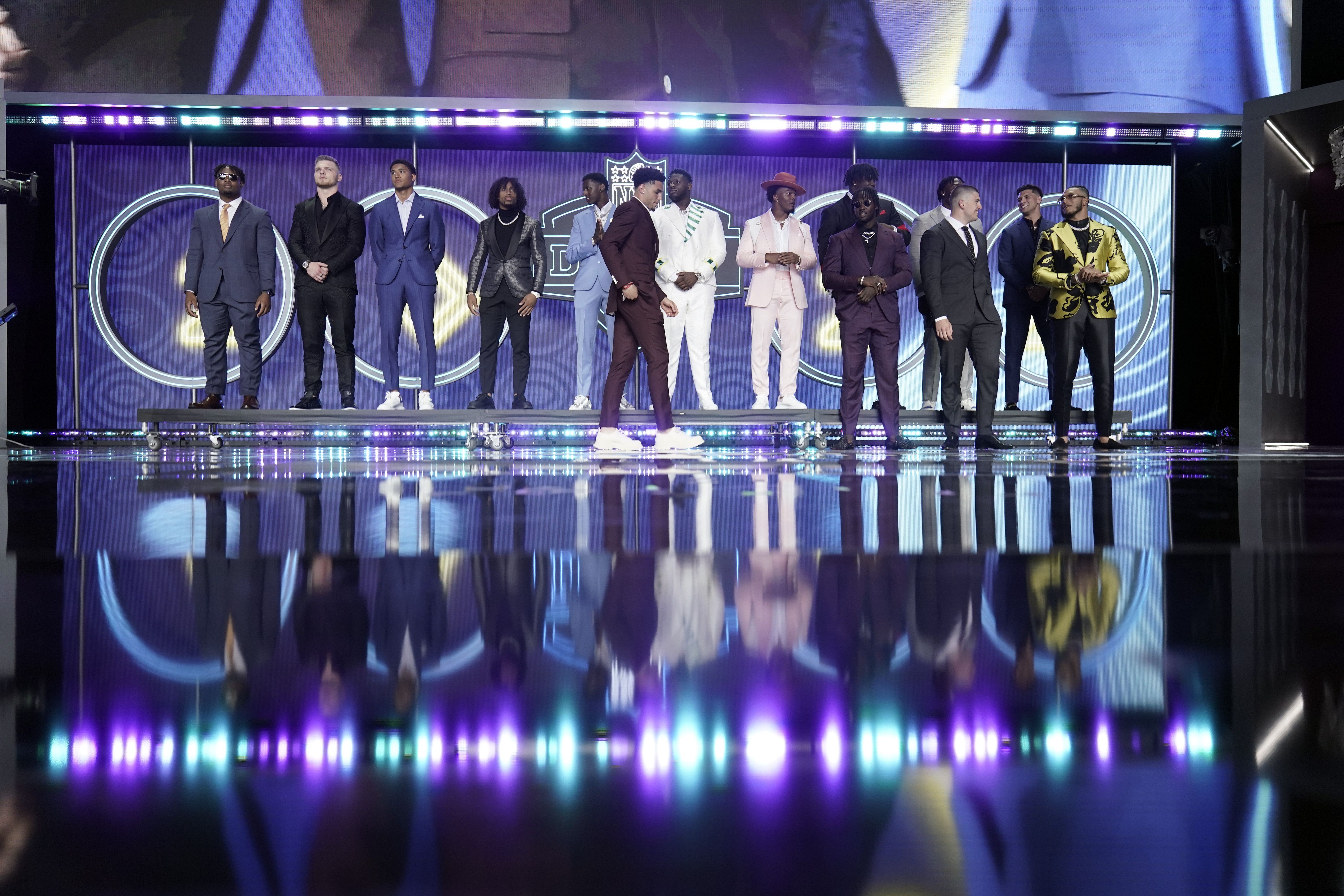 🐶 Year of the Dawgs: Georgia became the first school to have five defensive players drafted in the first round. Quite the year for Dawg Nation: National title, Super Bowl for Matt Stafford, now this.
Go deeper: Pros and cons for every Round 1 pick (ESPN)
📬 Invite your friends to sign up here to get their daily essentials — Axios AM, PM and Finish Line.