Axios AM
January 28, 2023
👋 Hello, Saturday! Smart Brevity™ count: 1,110 words ... 4 mins. Edited by TuAnh Dam.
1 big thing: Memphis video shocks nation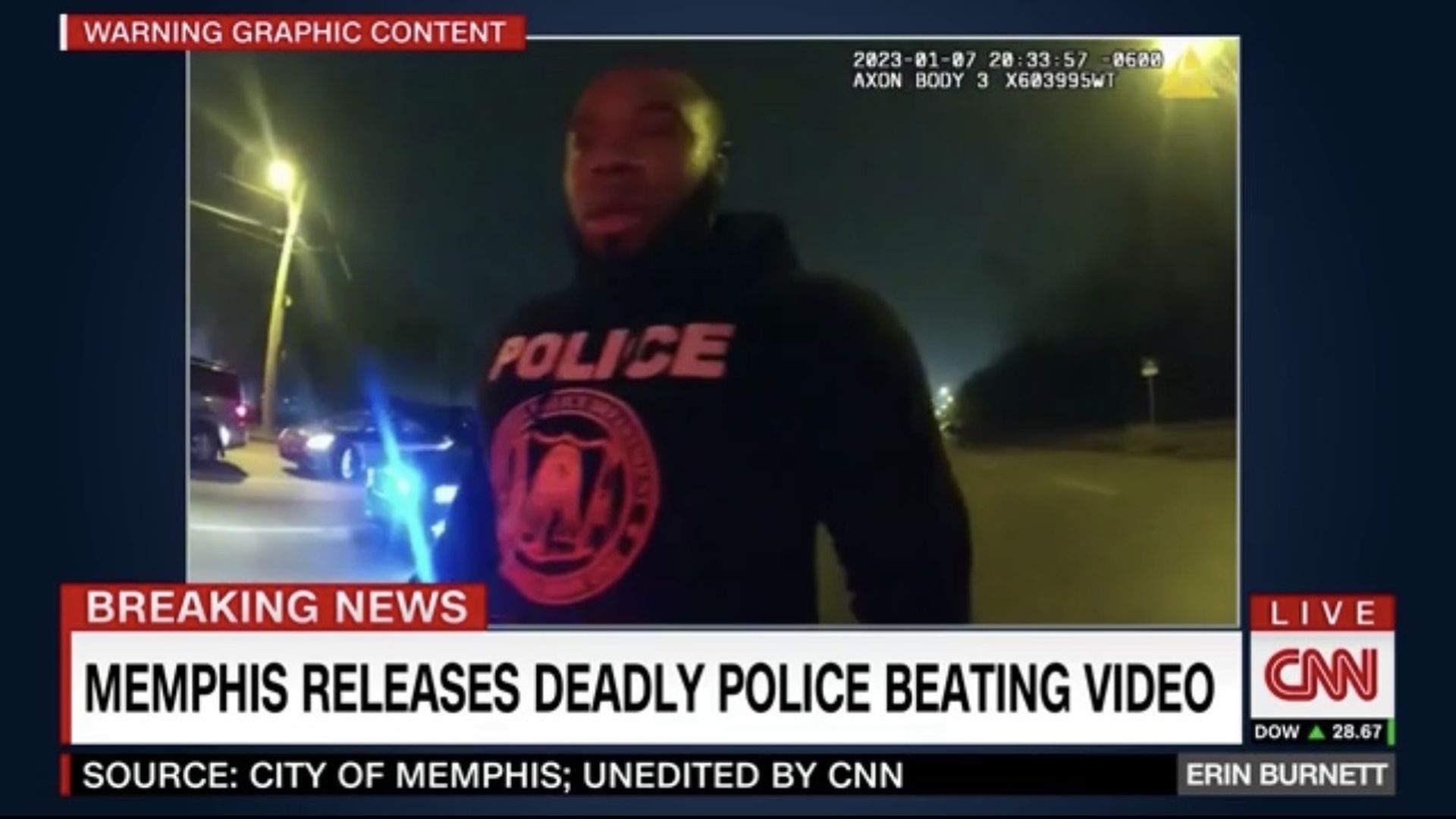 The city of Memphis last night released several angles of the police beating Tyre Nichols on Jan. 7. Nichols, a 29-year-old Black man, died three days after his brutal arrest.
Nichols, who had run from a traffic stop on foot and unarmed, wasn't far from home. He cried out: "Mom! Mom! Mom! ... You guys are really doing a lot right now ... I'm just trying to go home."
For a solid hour, cable news played the horrifying, unedited footage from bodycams and a light pole overlooking the spot Nichols was beaten.
Five fired Memphis police officers, all of them Black, were charged Thursday with second-degree murder and other crimes.
On the video, an officer yells: "Tase him! Tase him!"
Between the lines: It took more than 20 minutes after Nichols is beaten and on the pavement before any sort of medical attention is provided — even though two fire department officers arrived on the scene with medical equipment within 10 minutes, AP notes.
The video raises questions about the possible culpability of other officers at the scene, in addition to the five who were charged. A number of other officers are shown standing around after the beating.
Two deputy sheriffs who were on the scene are under investigation and have been "relieved of duty," Sheriff Floyd Bonner, Jr said last night.
Reality check: On the videos, officers make claims about Nichols that aren't supported by the footage — or that the district attorney and other officials have said didn't happen.
After Nichols is in handcuffs and leaning against a police car, several officers say that he must have been high. Later an officer says no drugs were found in his car. Another officer immediately counters that Nichols must have ditched something while running away.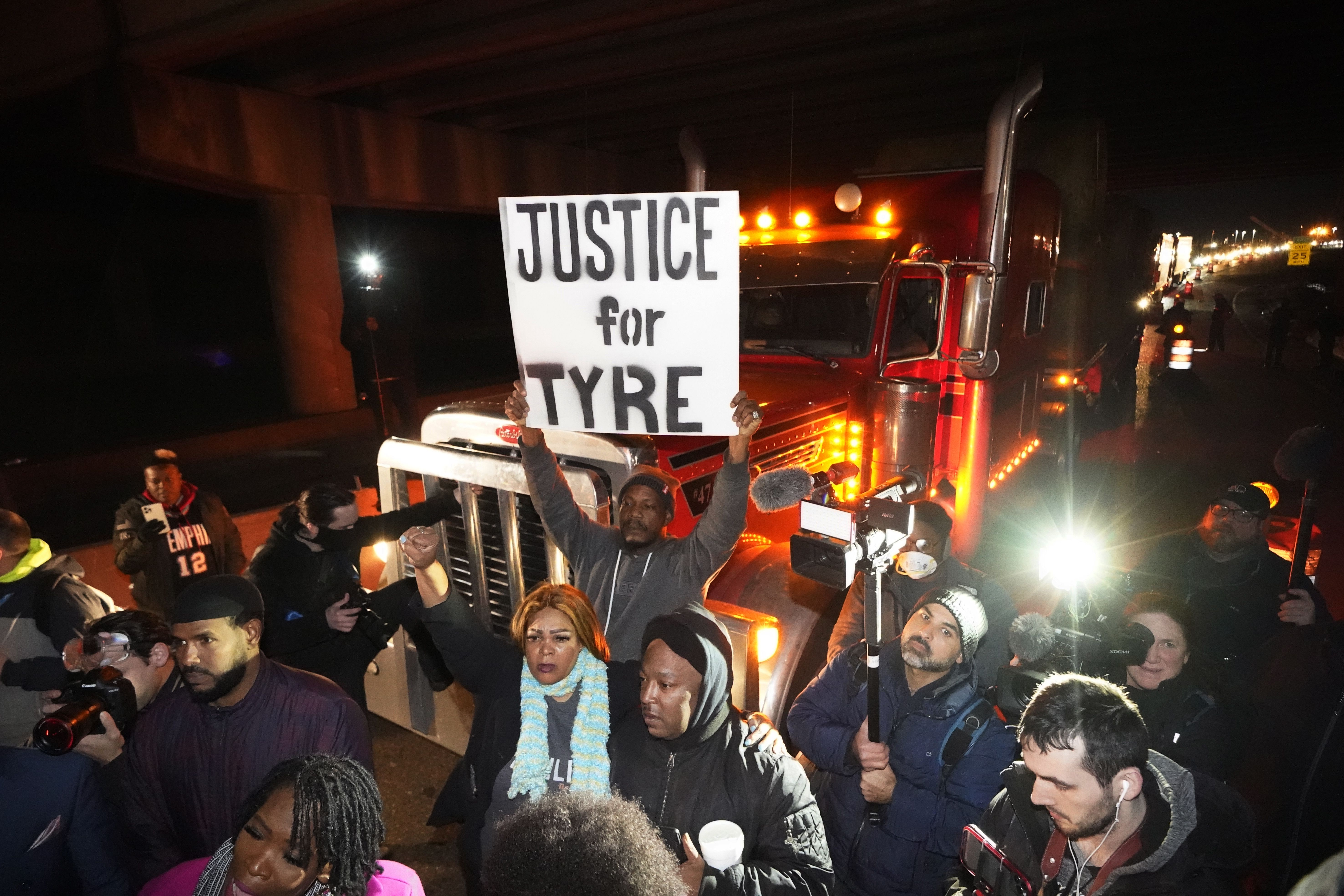 Zoom out: Across the nation, elected officials and community members expressed shock and sadness after seeing the footage​, Axios' Sareen Habeshian reports.
President Biden called the video "yet another painful reminder of the profound fear and trauma, the pain, and the exhaustion that Black and Brown Americans experience every single day. "
Protesters took to the streets of Memphis, L.A. and Portland, Ore., and rallied in Times Square and outside the White House.
Other cities braced for demonstrations. Media outlets reported only scattered, nonviolent protests.
On the video, the kicking, punching, pepper spray and baton strikes went on so long that CNN anchor Erin Burnett reminded viewers: "This isn't a replay ... This is still the video playing out."
2. 🎤 Axios interview: Yellen's dark forecast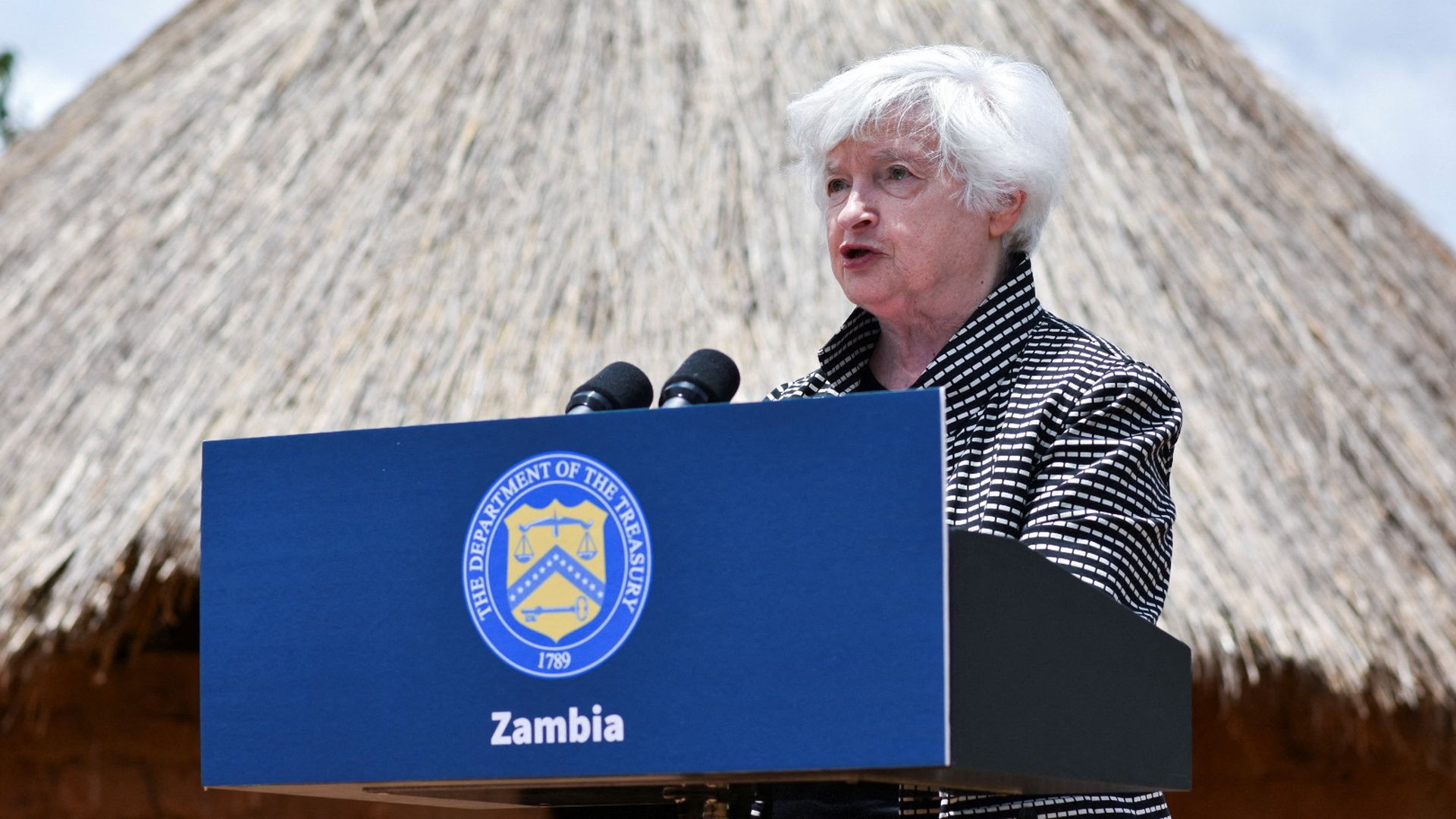 Treasury Secretary Janet Yellen told Axios' Hans Nichols in Johannesburg, South Africa, that Americans likely will face a scary, spiraling recession if Congress doesn't raise the debt ceiling this summer.
Why it matters: Yellen's dark financial forecast is part of the Biden administration's attempt to put political pressure on the new House GOP majority to raise the debt ceiling without delay.
It's also the unvarnished prediction of a former Fed chair who had a ringside seat to the 2011 debt ceiling showdown when credit agencies downgraded U.S. debt for the first time in American history.
A default would be "a catastrophe ... we'll have a financial crisis," she said as she wrapped up a 10-day trip across Africa. "And I believe we would have recession in the United States."
"Spending would have to decline to match the tax revenues," Yellen said, depriving the government of the ability to juice the economy with stimulus.
Then fear might run loose, making consumers too scared to spend — psychological consequences that could deepen a recession.
🖼️ The big picture: Yellen's trip was designed to persuade Africans — including elected officials, business leaders, and farmers — that the U.S. is looking for a long-term relationship on everything from food security to rural electrification.
The possibility of an American default was a reminder to Yellen's African hosts that the U.S. is a house divided: Promises made by one political party aren't guaranteed to be honored by the other.
3. ✂️ Slashing CEO pay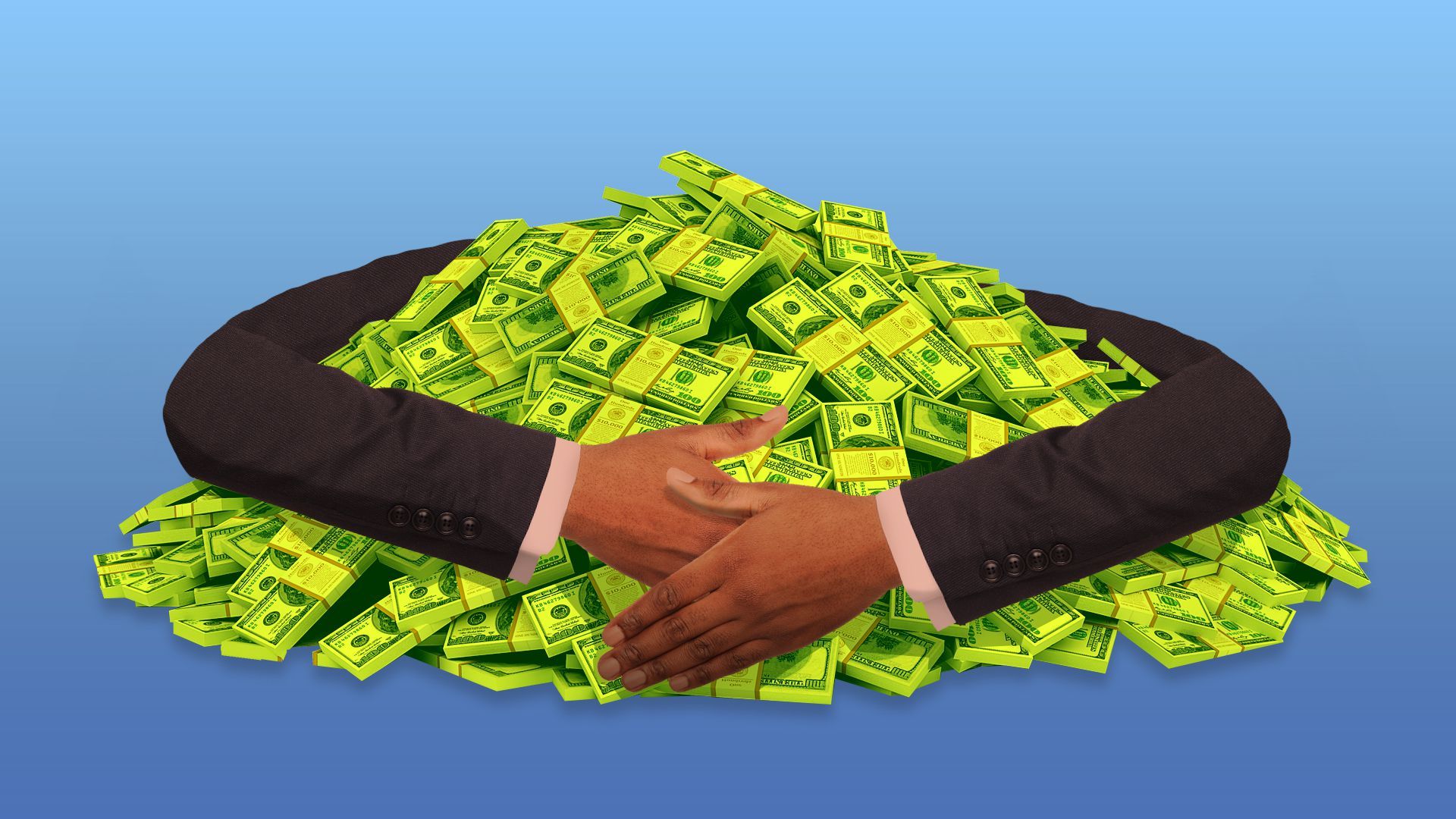 Goldman Sachs CEO David Solomon got a 29% pay cut in 2022, the bank said.
The big picture: A slew of big companies are cutting CEO pay as part of their belt-tightening.
Apple's Tim Cook is taking a 40% cut — to $49 million — this year "in response to shareholder feedback," The Washington Post notes.
Google's Sundar Pichai said he, alongside other executives, will take 2023 pay cuts, Fortune reports.
Why it matters: Many companies are laying off workers amid concerns about the economy, and doing so without adjusting CEOs' hefty compensation packages doesn't look great.
Top CEOs made 399 times more than average workers in 2021, according to an Economic Policy Institute analysis.
"Solomon's pay fell more than his Wall Street counterparts," per The Wall Street Journal. He made $25 million last year.
"Morgan Stanley paid Chief Executive James Gorman $31.5 million for his work in 2022, a 10% pay cut from the year before. JPMorgan Chase & Co. awarded CEO Jamie Dimon $34.5 million in 2022 compensation, in line with a year earlier."
4. 📈 Tracking Big Macs
The Economist released its annual Big Mac index, launched in 1986 as a lighthearted guide to whether currencies are at their "correct" level.
Why it matters: Big Macs are composed of similar ingredients — and produced in nearly identical fashion — all around the world.
"The iconic McDonald's burger is an amalgam of rent, electricity and labor, as well as beef, bread and cheese," The Economist writes. "Its price is therefore indicative of broader inflationary pressures."
5. 🥡 Restaurants' to-go bet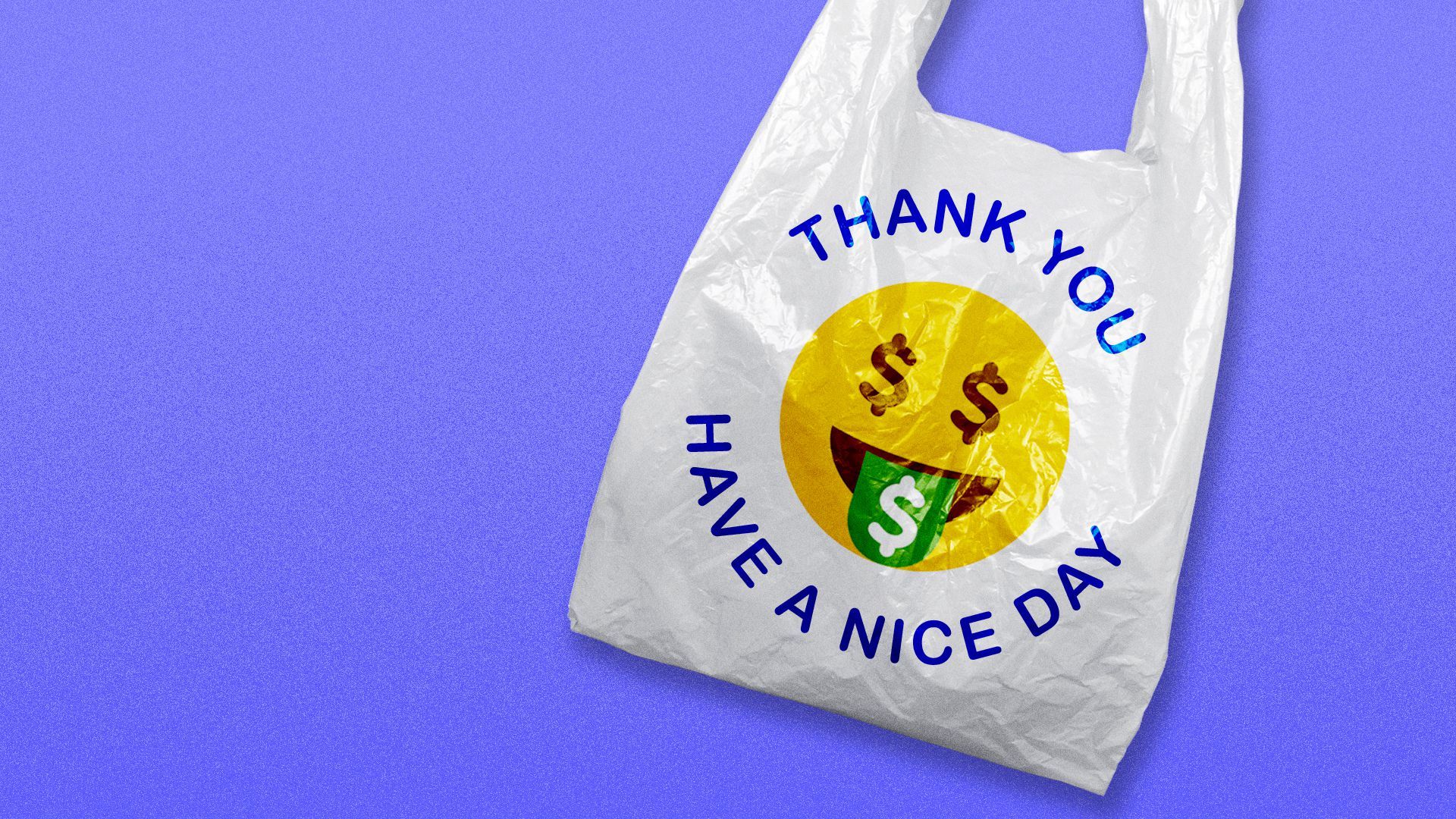 America's big chains are betting that consumers' pandemic-era love of to-go orders and drive-throughs will last.
What's happening: A number of companies, like McDonald's and Starbucks, are investing in restaurants without tables or seats, The Wall Street Journal reports.
McDonald's and Chipotle both have locations that don't seat customers.
In the next few years, Starbucks plans to open nearly 400 stores that only offer delivery and pickup.
And Taco Bell is considering widening some of its drive-throughs from two lanes to four.
By the numbers: 85% of fast food orders in the U.S. in 2022 were to-go, compared with 76% before the pandemic, per data from the market research firm the NPD group, reported by The Journal.
The takeout orders at full-service restaurants climbed to 33% last year, around double what they were pre-pandemic.
6. 🌱 Charted: Phil's skill
There's good reason to trust Punxsutawney Phil's prediction this Groundhog Day.
Over the past 75 years, Phil has correctly predicted whether there will be an early spring 69% of the time, according to an Axios analysis of NOAA data.
We defined an early spring as one that's significantly warmer — by one standard deviation — than the average of the previous 30 years, Axios data journalist Erin Davis writes.