Good morning, and happy Super Sunday.
Situational awareness: "The federal government is on track to borrow nearly $1 trillion this fiscal year — Trump's first full year in charge of the budget," per the WashPost. "That's almost double what the government borrowed in fiscal year 2017 ... the highest amount of borrowing in six years."
Tough week for Amtrak: "A crash between an Amtrak passenger train and a CSX freight train in South Carolina [today] killed two people and injured about 70 others." (AP)
https://www.axios.com/newsletters/axios-am-b19a78a1-c39c-46a3-80ea-9696870af423.html?chunk=0#story0
1 big thing: Pence to warn of Olympics "charade"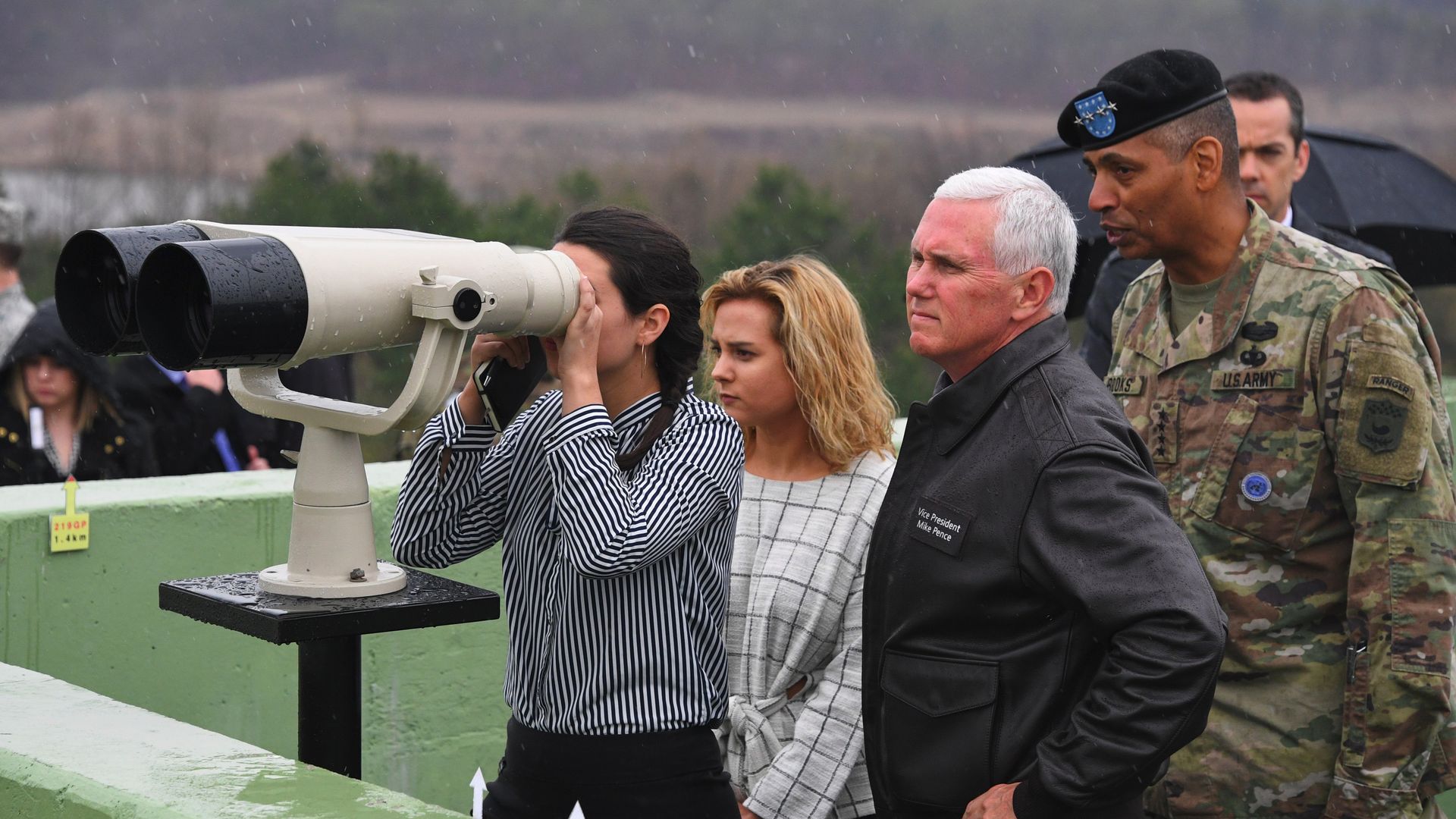 Vice President Pence, leading the White House delegation to the Winter Olympics in South Korea this week, plans to try to disrupt any normalization of North Korea amid the feel-good setting of the games:
A Pence aide told me: "The Vice President will remind the world that everything the North Koreans do at the Olympics is a charade to cover up the fact that they are the most tyrannical and oppressive regime on the planet."
"At every opportunity, the V.P. will point out the reality of the oppression in North Korea by a regime that has enslaved its people. We will not allow North Korea's propaganda to hijack the messaging of the Olympics." 
"We are seeing unprecedented level of international cooperation on the maximum pressure strategy targeting the Kim regime, and the Vice President will make clear that this maximum pressure campaign will only intensify."
Another source told me: "North Korea wants to make this about cute photo ops. The Vice President is countering North Korea's desire to control the message. … We're not going to cede two weeks of world media to North Korea."
Why it matters: With President Trump considering military options for North Korea, this message brings a hard edge to what's usually a diplomatic role.
Pence leaves for Asia midday tomorrow and returns next weekend, after stops in Japan and at the Olympics, for the Opening Ceremony and some first-day events:
On the way to Japan, get a briefing on missile-defense systems during a refueling stop in Alaska.
In Japan, Pence will have dinner with Prime Minister Shinzo Abe, and speak to U.S. troops at Yokota Air Base.
In South Korea, the V.P. will have dinner with President Moon Jae, and visit the Cheonan Memorial, marking 46 South Korean sailors lost in 2010 in an attack blamed on North Korea.
https://www.axios.com/newsletters/axios-am-b19a78a1-c39c-46a3-80ea-9696870af423.html?chunk=1#story1
2. The big picture: It's not normal
"The war between the president and the nation's law enforcement apparatus is unlike anything America has seen in modern times," the N.Y. Times' Sharon LaFraniere, Katie Benner and Peter Baker write for the front page:
"[T]he president has engaged in a scorched-earth assault on the pillars of the criminal justice system in a way that no other occupant of the White House has done."
Why it matters: "In his telling, that bureaucracy, now run by his own appointees, is a nest of political saboteurs out to undermine him — an accusation that raised fears that he was tearing at the credibility of some of the most important institutions in American life to save himself."
FYI: "Former Trump campaign adviser Carter Page bragged that he was an adviser to the Kremlin in a [2013] letter ... that raises new questions about the extent of Page's contacts with the Russian government over the years." (TIME)
P.S. "At FBI, fears of lasting damage" — WashPost front page:
What's new: "The bureau is under fire not from those on the left but rather conservatives who have long been the agency's biggest supporters, as well as the president who handpicked the FBI's leader."
Why it matters: "Bureau officials say the accusations in the document produced by House Republicans are inaccurate and — more damaging in the long term — corrode the agency's ability to remain independent and do its job."
One law enforcement official: "There's a lot of anger. The irony is it's a conservative-leaning organization, and it's being trashed by conservatives. At first it was just perplexing. Now there's anger, because it's not going away."
Flashback ... Yesterday's Axios SurveyMonkey poll, "GOP turns on FBI."
https://www.axios.com/newsletters/axios-am-b19a78a1-c39c-46a3-80ea-9696870af423.html?chunk=2#story2
3. Harvey Weinstein shows how not to respond
Stunning series of interviews by Maureen Dowd, on the cover of N.Y. Times Sunday Review, "A Goddess, A Mogul And a Mad Genius ... Uma Thurman ... is finally ready to talk about Harvey Weinstein" — and Quentin Tarantino:
"As she sits by the fire on a second night when we talk until 3 a.m., tears begin to fall down her cheeks."
Thurman: "Personally, it has taken me 47 years to stop calling people who are mean to you 'in love' with you. It took a long time because I think that as little girls we are conditioned to believe that cruelty and love somehow have a connection and that is like the sort of era that we need to evolve out of."
Read about Thurman's "own Nancy Drew mystery."
Harvey's oh-no-he-didn't response: He releases a series of pics of him in party settings with Thurman, which his team says "demonstrate the strong relationship Mr. Weinstein and Ms. Thurman had had over the years."
Deadline says Weinstein is also "is floating legal action" against Thurman.
https://www.axios.com/newsletters/axios-am-b19a78a1-c39c-46a3-80ea-9696870af423.html?chunk=3#story3
Bonus: Pics du jour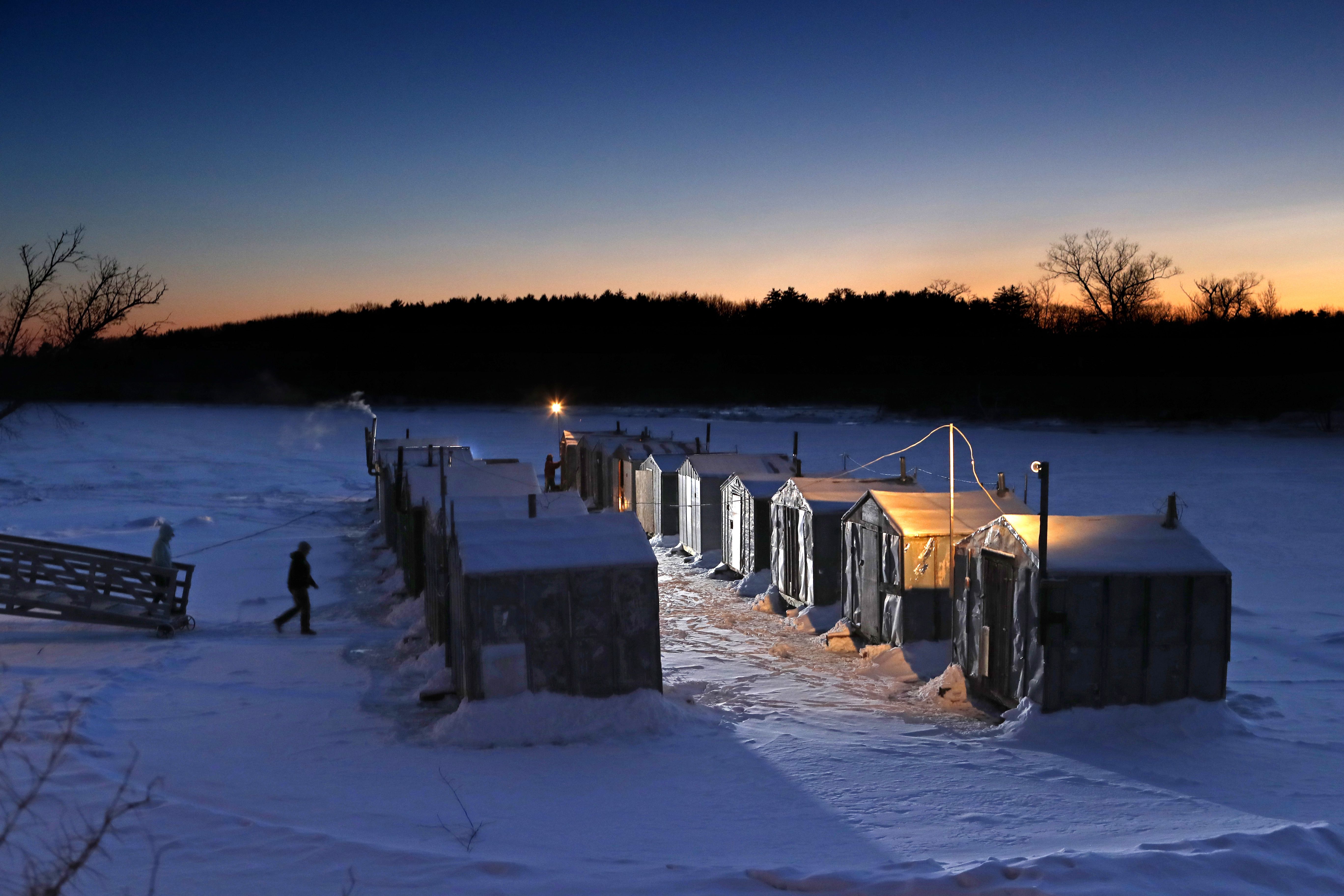 Fishermen arrive at their ice shanties for an evening of winter smelt fishing at Jim's Camps on the Cathance River in Bowdoinham, Maine.
The smelt population is continuing to rebuild in parts of northern New England — good news for fishermen who squat in shacks to catch the little fish through the ice.
Below, ice fisherman John Lesser of Gotham, Maine, watches his lines while waiting for a smelt to bite.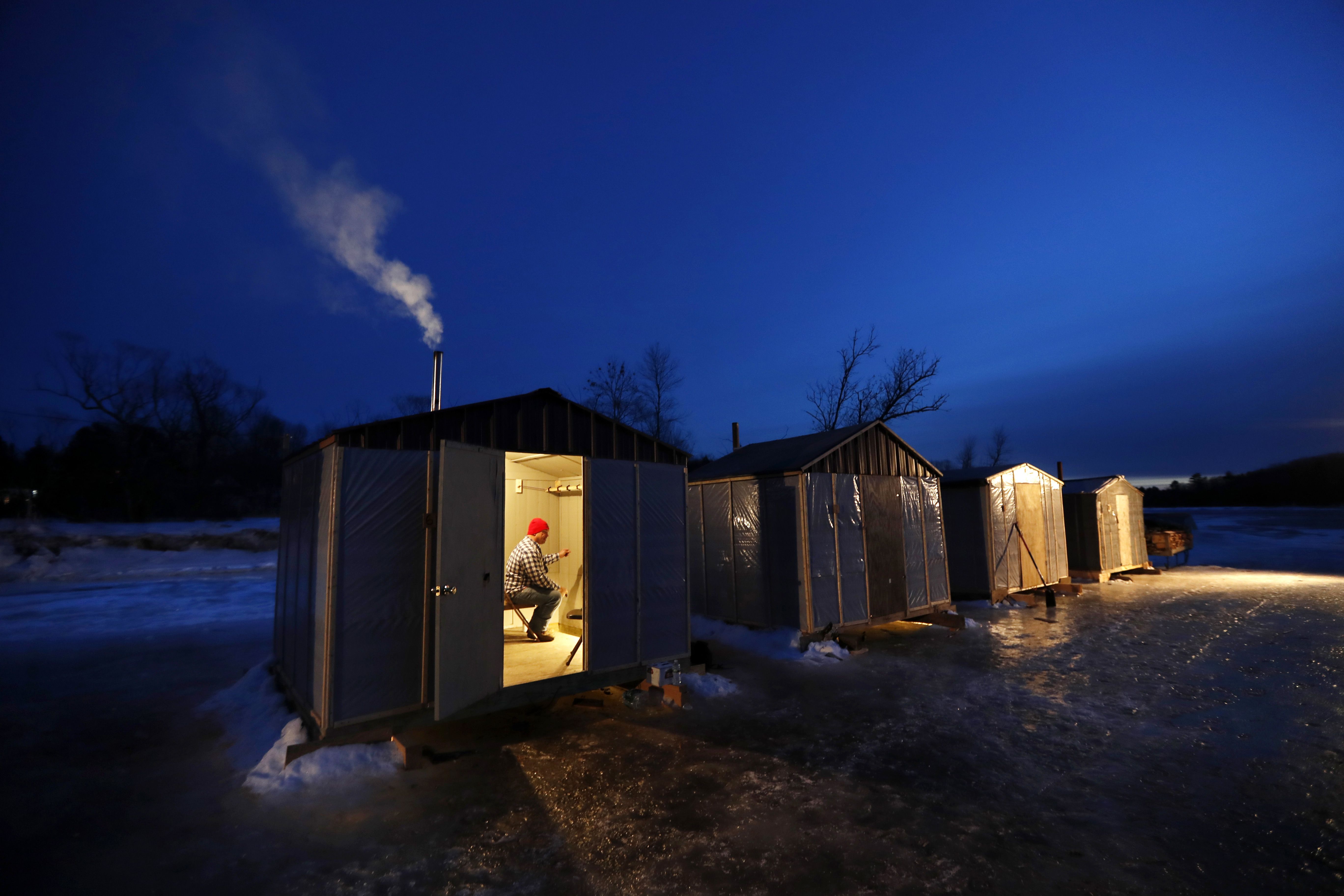 AP's Robert F. Bukaty
https://www.axios.com/newsletters/axios-am-b19a78a1-c39c-46a3-80ea-9696870af423.html?chunk=4#story4
4. This story will make you mad
"As F.B.I. Took a Year to Pursue the Nassar Case, Dozens Say They Were Molested," by N.Y. Times' Dan Barry, Serge Kovaleski and Juliet Macur:
"For more than a year, an F.B.I. inquiry into allegations that Lawrence G. Nassar, a respected sports doctor, had molested three elite teenage gymnasts followed a plodding pace as it moved back and forth among agents in three cities."
"The New York Times has identified at least 40 girls and women who say that Dr. Nassar molested them between July 2015, when he first fell under F.B.I. scrutiny, and September 2016, when he was exposed by an Indianapolis Star investigation."
"Some are among the youngest of the now-convicted predator's many accusers — 265, and counting."
https://www.axios.com/newsletters/axios-am-b19a78a1-c39c-46a3-80ea-9696870af423.html?chunk=5#story5
5. If you curl up and read only 1 thing
Great work by a local paper: Deep portrait by New Orleans Times-Picayune of a high-school football star who spent six seasons in the NFL (Minnesota Vikings, Baltimore Colts and L.A. Rams), then became homeless ... a story of downfall, redemption — and disappearance.
https://www.axios.com/newsletters/axios-am-b19a78a1-c39c-46a3-80ea-9696870af423.html?chunk=6#story6
6. The real America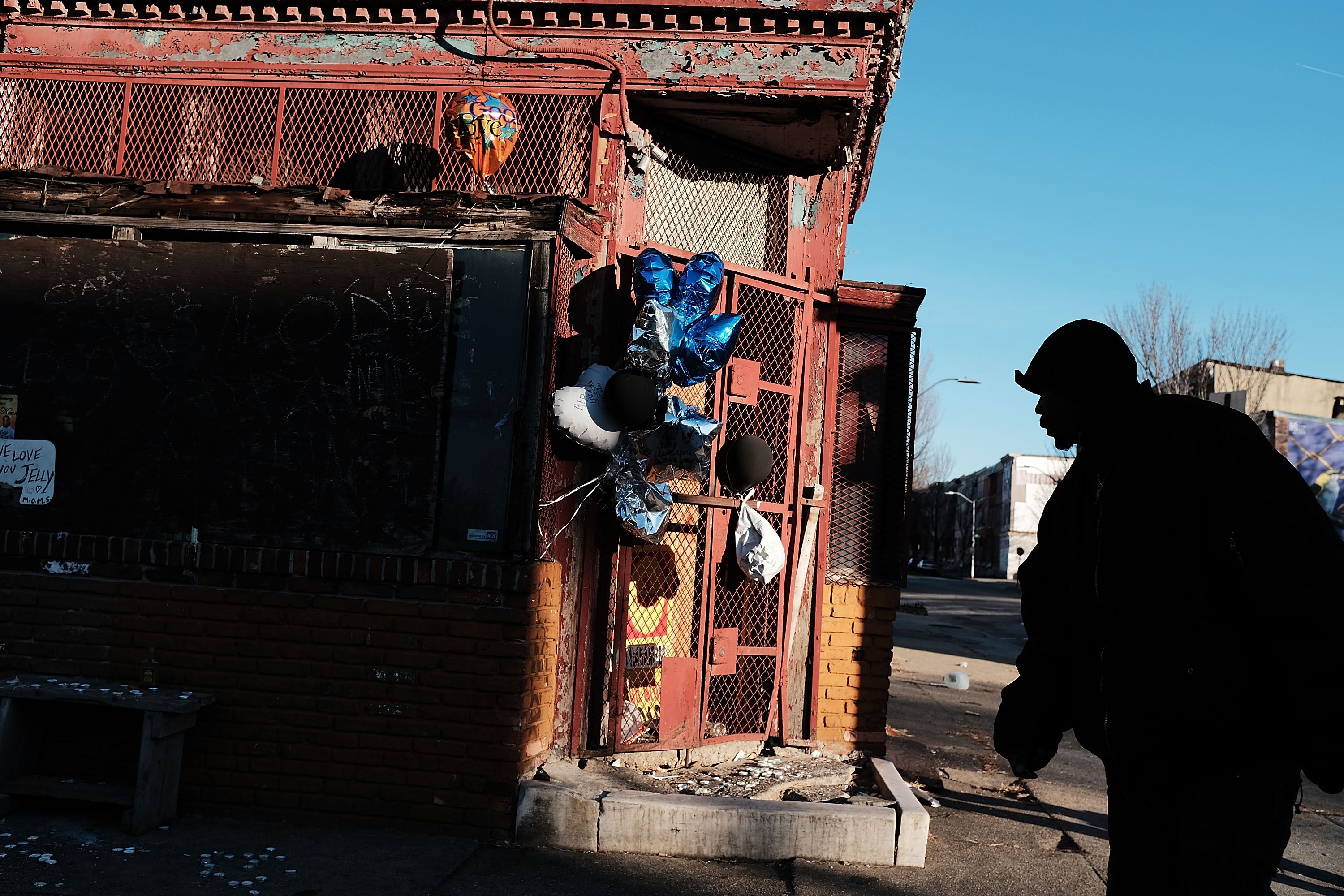 Spencer Platt / Getty Images
Baltimore holds "Ceasefire Weekend" after record murder rate in 2017:
Balloons hang from a storefront where a man was killed yesterday in Baltimore.
Baltimore, one of the poorest major cities in the U.S., had 341 homicides last year — the highest per-capita rate on record for Charm City.
The third citywide Ceasefire event began Friday, with organizers and community members calling for peace for a 72-hour period and holding peace walks, movie screenings and a youth basketball tournament.
https://www.axios.com/newsletters/axios-am-b19a78a1-c39c-46a3-80ea-9696870af423.html?chunk=7#story7
7. Axios World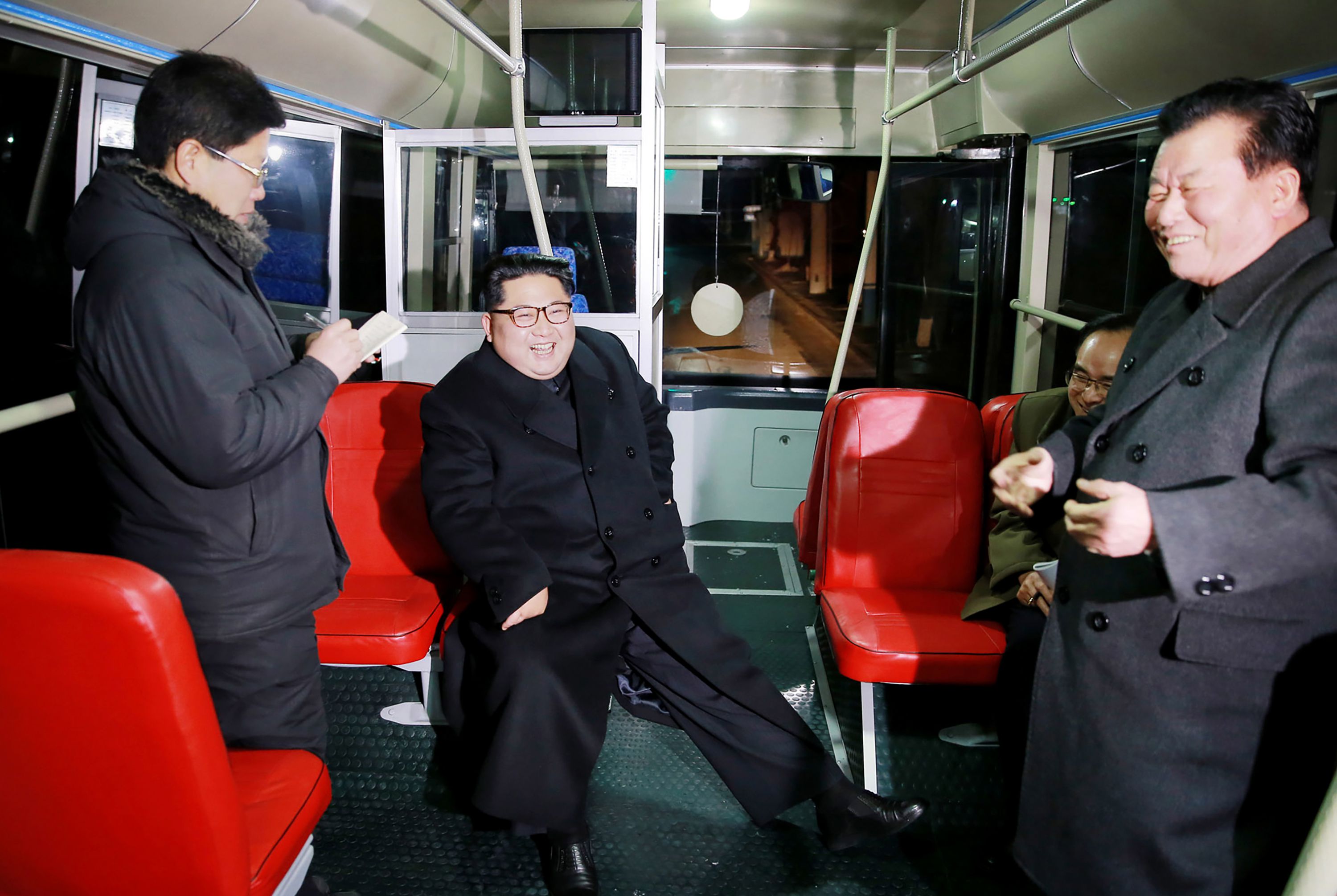 This undated photo released today shows Kim Jong-un man-spreading at Pyongyang Trolley Bus Factory. (Korean Central News Agency via AFP / Getty Images)
North Korea has been acquiring technology for nuclear and weapons programs through its Berlin embassy, Germany's head of intelligence says (BBC/ AFP):
Hans-Georg Maassen, head of the Bundesamt für Verfassungsschutz (BfV), or Federal Office for the Protection of the Constitution, made the comments in an interview with German public television channel ARD, to be aired Monday.
"We have noticed that so many procurement activities have taken place from the embassy ... When we see such things, we stop them. But we cannot guarantee that we spot and block each attempt."
Axios Expert Voices ... "Signs of progress in Trump's North Korea pressure campaign," by Ryan Hass, a David M. Rubenstein Fellow in the Foreign Policy program at Brookings:
What's next: "As sanctions shrink the sources of national revenue, Kim will have to choose between funding his nuclear and missile programs, paying his military and security services, or buying off the country's elite."
Why it matters: "Kim's survival instincts will likely compel him to prioritize the loyalty of North Korea's elite and its security services, which in turn will slow nuclear and missile advances and create space for diplomacy."
Check out out Axios World stream, and follow us @AxiosWorld.
https://www.axios.com/newsletters/axios-am-b19a78a1-c39c-46a3-80ea-9696870af423.html?chunk=8#story8
8. Ancient highways, canals, dikes, reservoirs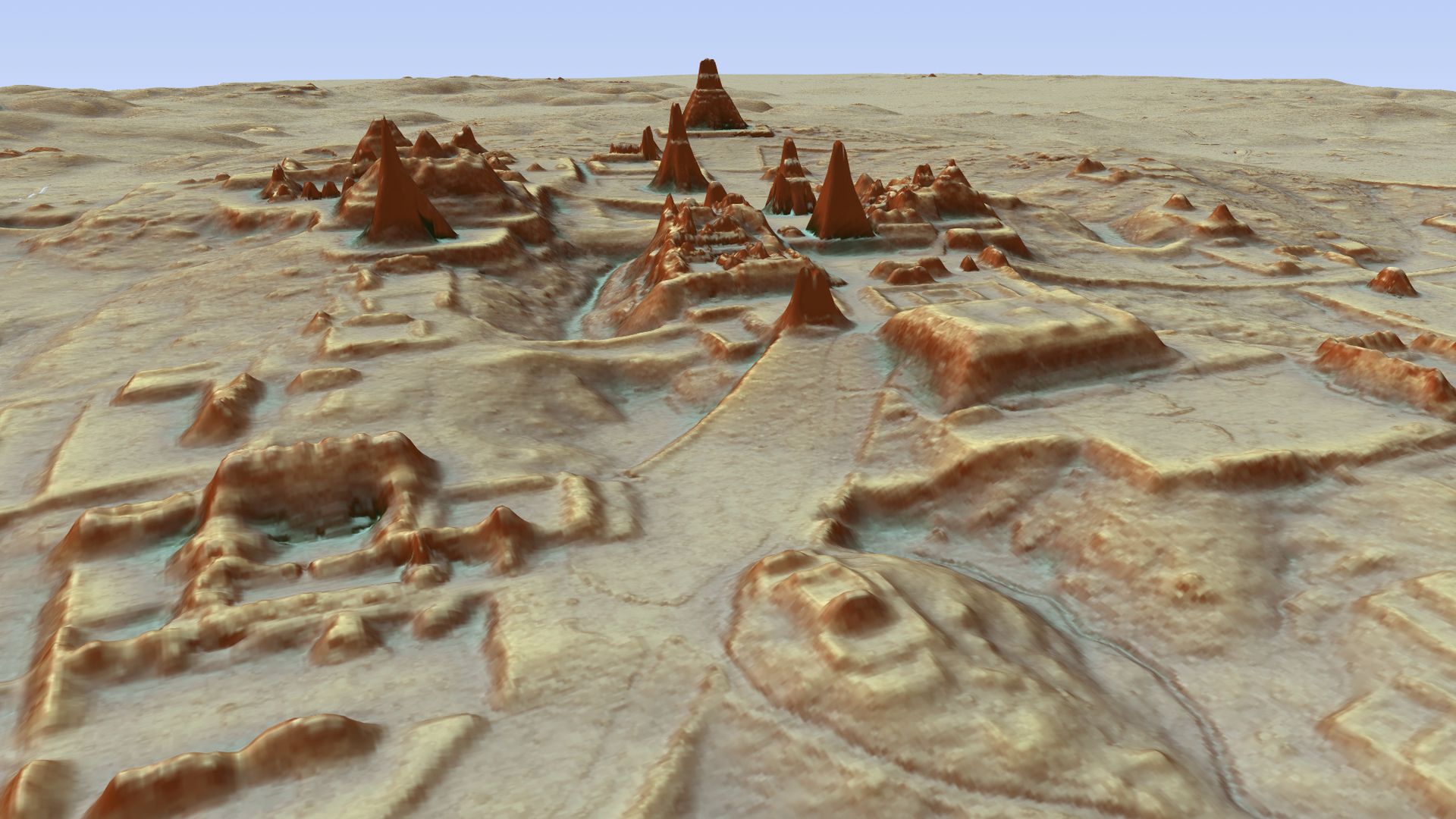 "Laser Scans Reveal Maya 'Megalopolis' Below Guatemalan Jungle: A vast, interconnected network of ancient cities was home to millions more people than previously thought" — National Geographic:
"[R]esearchers have identified the ruins of more than 60,000 houses, palaces, elevated highways, and other human-made features that have been hidden for centuries under the jungles of northern Guatemala."
Using LiDAR (Light Detection And Ranging), "scholars digitally removed the tree canopy from aerial images of the now-unpopulated landscape, revealing the ruins of a sprawling pre-Columbian civilization that was far more complex and interconnected than most Maya specialists had supposed."
Why it matters: "Central America supported an advanced civilization that was, at its peak some 1,200 years ago, more comparable to sophisticated cultures such as ancient Greece or China than to the scattered and sparsely populated city states that ground-based research had long suggested."
"LiDAR images show raised highways connecting urban centers and quarries. Complex irrigation and terracing systems supported intensive agriculture capable of feeding masses of workers."
Population estimates for the Maya civilization's peak (A.D. 250–900) were around 5 million. The new data show there may have been 10 to 15 million — including many in low-lying, swampy areas that looked uninhabitable.
https://www.axios.com/newsletters/axios-am-b19a78a1-c39c-46a3-80ea-9696870af423.html?chunk=9#story9
9. About last night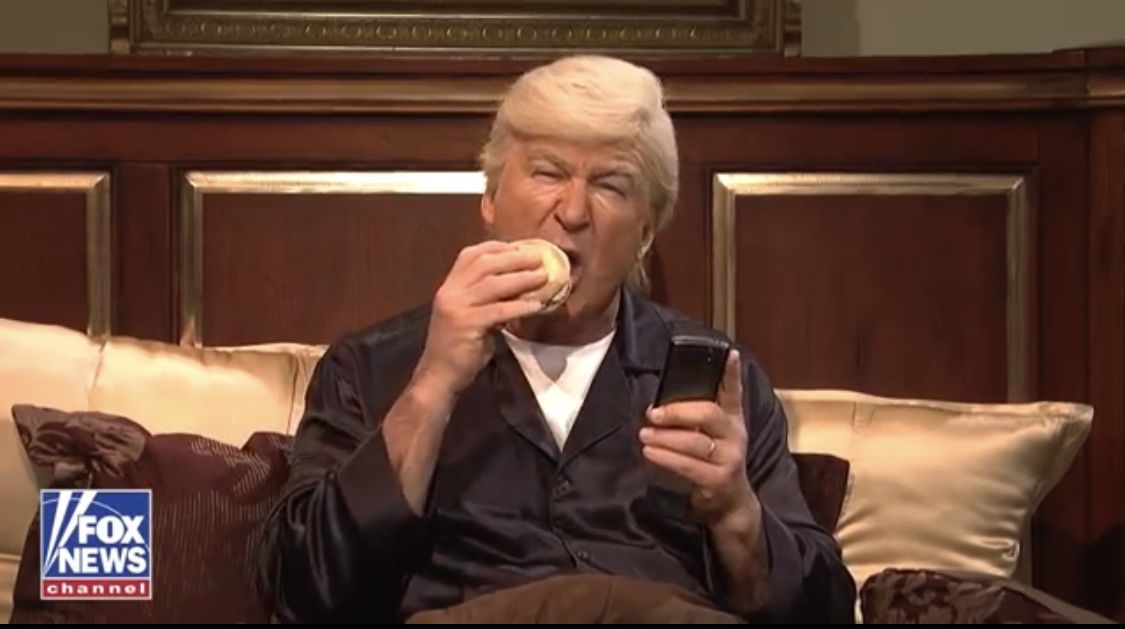 NBC
On the "Saturday Night Live" cold open, "President Trump" (Alec Baldwin) calls in to "Fox & Friends" (per N.Y. Times: "Alex Moffat, Heidi Gardner and Beck Bennett ... play chipper, clueless incarnations of the Fox News morning hosts Steve Doocy, Ainsley Earhardt and Brian Kilmeade")
"Trump," "CALLER ON THE LINE": "Right now, I'm getting my daily intelligence briefing."
"Steve Doocy," sounding pleased: "Oh, uh, from who?"
"Trump": "From you guys."
At one point, he pauses to tweet a compliment from the hosts: "Boom — tweeted! MAGA!"
"Trump": "You know a lot of people are saying, including Paul Ryan, that [the State of the Union] was better than Martin Luther King's 'I Dream of Jeannie' speech."
"This memo might be the greatest memo since the Declaration of Independence. I don't know — I haven't read either one of them."
"Who's the most innocent guy in the whole, wide world?"
"Fox & Friends" hosts sing out: "You are, sir!"
"Trump": "Daddy needed that. ... And live from New York ... "
Bonus YouTube: Jackie O comforts Melania — and Hillary bursts in: "It'll all be worth it when you're president." Then Michelle appears ...
https://www.axios.com/newsletters/axios-am-b19a78a1-c39c-46a3-80ea-9696870af423.html?chunk=10#story10
10. 1 fun thing: Super Sunday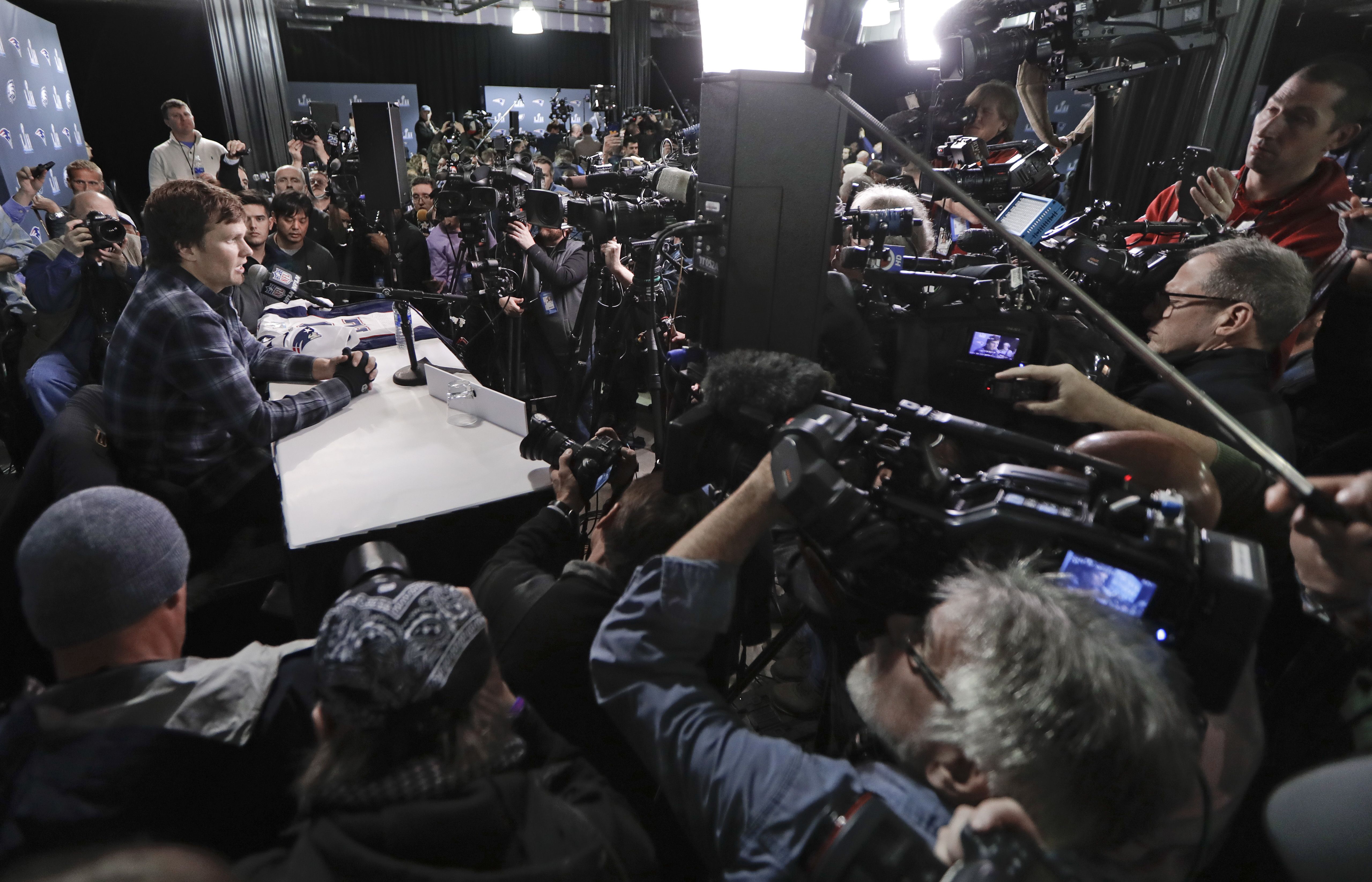 Super insanity: Tom Brady answers questions during a news conference Thursday in Minneapolis. (AP's Mark Humphrey)
Super Bowl storylines (6:30 p.m. ET on NBC, from U.S. Bank Stadium in Minneapolis; odds: Patriots over Eagles by 4½) ... "Making U.S. hate again: Sure, the Patriots are super, but enough is enough," by L.A. Times' Sam Farmer:
"A simple slogan captures the spirit of Super Bowl LII: Patriots vs. Everybody."
"It's on T-shirts, sweatshirts and hats here ... Other teams have used the phrase to reflect their us-against-the-world ethos, including the Philadelphia Eagles."
"But with New England in the NFL's marquee game for the third time in four years, and the franchise on the verge of its sixth Lombardi Trophy since the 2001 season, Patriots fatigue has reached epidemic proportions."
Easier than ever to watch free online, per AP: On Apple and Android phones, see the game — plus pre- and postgame — on NFL and Yahoo Sports apps.
Tablets, desktops and TV streaming: "Normally, TV networks require viewers to sign in ... That's being waived starting with the pre-game coverage at noon ET. The free viewing will conclude with a postgame episode of 'This Is Us,' expected to run until about 11 p.m."
"[Y]ou can fire up the NBC Sports app on a number of streaming TV devices, including Apple TV, Roku and Amazon's Fire TV. ... On personal computers, the same coverage will be available through NBCSports.com and NBC.com."