February 05, 2018
1 big thing: The cult of Trump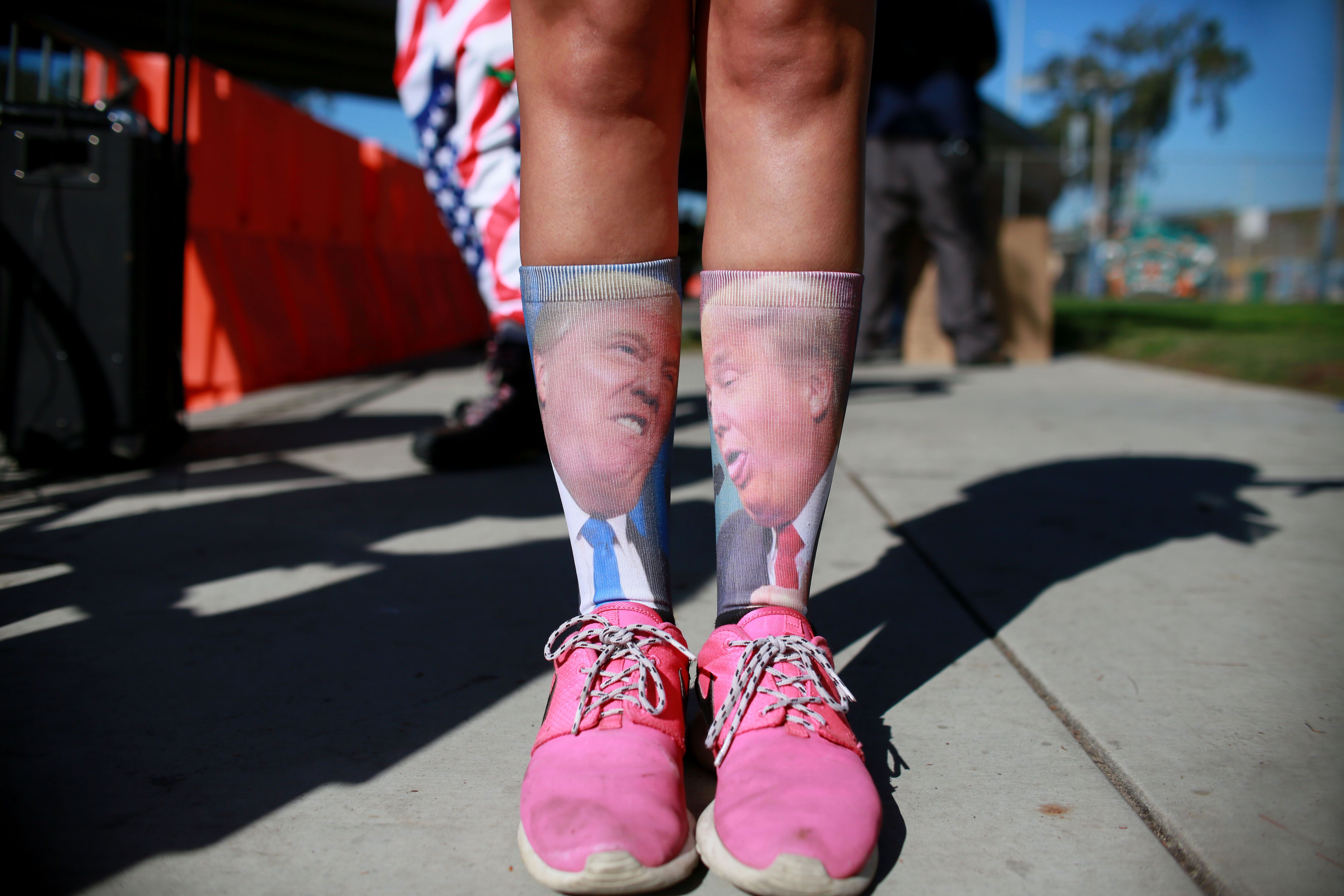 Rarely has a president changed his party as fast and profoundly as Donald J. Trump. 
Love him or hate him, you can no longer argue his ability to bend an entire party to his will.
In the two and a half years since he announced his candidacy, he has moved the party away from decades of orthodoxy on trade, Russia, deficits and more — and has helped make the law-and-order party skeptical of FBI leadership.
A source close to GOP leadership said: "We are all MAGAs now" — devotees of Make America Great Again.
Axios' Jonathan Swan points out that perhaps the most profound thing Trump has done is show how many movement leaders and Republicans in Congress are out of touch with Republican voters:
There's a massive cohort of Republican voters who are socially conservative and culturally reactionary but fiscally liberal, even if they don't know it.
The base is very skeptical of trade deals — convinced that ordinary Americans have lost at globalization.
Huge swaths of Trump Country are dependent on Social Security, Medicaid and other government programs.
While much of the GOP donor class is passionate about issues like criminal justice reform and expanded high-skilled immigration, many GOP voters want the exact opposite:
The ratio between the number of Republicans who think that way, versus number of conservatives who talk that way on cable TV or at the Capitol, is way out of whack. Mike Huckabee and Rick Santorum were their lonely on-air champions.
If Trump has tapped into a silent majority, it's those voters — the opposite of Paul Ryan voters, the opposite of Rubio, the opposite of Jeb.
The source close to GOP leadership said: "All evidence in the last two years points to the fact that the R base was never as 'conservative' on economic policy as we portrayed them during the Obama years."
There's also tons of big money for liberalism, establishment conservatism and libertarianism. But you don't have fancy think tanks representing these Trump Country voters:
One example of the money discrepancy is the amount of funding for pro-immigration groups versus immigration restrictionists.
Trump instinctively understands these Huckabee-Santorum voters, and he instinctively understands they are vastly underrepresented in Washington.
The vast majority of lawmakers in Washington don't understand them, feel deeply uncomfortable with their social conservatism and don't understand their concerns about trade or immigration.
Be smart: Trump's remodeling of the Republican Party is as much a culture change as a policy change.
That means he has the ability to create realities that Republicans in Washington will either silently tolerate, or willingly believe and embrace.
2. Backlash builds against Big Tech over kids
Former Google and Facebook employees and investors are launching a "Truth About Tech" campaign to put pressure on tech giants to make their products less intrusive and addictive, particularly for children, Axios' Sara Fischer writes:
The education part of the effort is aimed at students, parents and teachers. 
Why it matters: Pressure has been building for Silicon Valley companies to be more transparent about what they know about how their products affect consumers' health. The effort is especially timely, given recent criticisms against tech companies for targeting children with their flagship products.
The N.Y. Times was the first to report on the new campaign.
The effort is backed by capital raised by The Center for Humane Technology, a nonprofit led by early Silicon Valley investors and technologists, and $7 million raised by Common Sense Media, an advocacy group that lobbies for better children's healthcare and education. 
Statement from Antigone Davis, Facebook Global Head of Safety: "[W]e've already taken steps, including our recent changes to News Feed [and] the parent controls we built into Messenger Kids — which is ads-free."
3. U.S. joins expensive new arms race with Russia
"A new nuclear policy issued by the Trump administration on Friday ... is touching off a new kind of nuclear arms race. This one is based less on numbers of weapons and more on novel tactics and technologies, meant to outwit and outmaneuver the other side," the N.Y. Times' David E. Sanger and William J. Broad write at the bottom of A1:
"The Pentagon envisions a new age in which nuclear weapons are back in a big way — its strategy bristles with plans for new low-yield nuclear weapons that advocates say are needed to match Russian advances and critics warn will be too tempting for a president to use."
"[W]hen President Trump called on Congress to 'modernize and rebuild our nuclear arsenal' in his State of the Union address last week, he did not mention his administration's rationale: that President Vladimir V. Putin of Russia has accelerated a dangerous game that the United States must match."
"[T]he report issued on Friday, known as the Nuclear Posture Review, focuses intensely on Russia. It describes Mr. Putin as forcing America's hand to rebuild the nuclear force."
Why it matters: "The report describes future arms control agreements as 'difficult to envision' in a world 'that is characterized by nuclear-armed states seeking to change borders and overturn existing norms,' and in particular by Russian violations of a series of other arms-limitation treaties."
What's next: "The new document calls for far more spending — [at least] $1.2 trillion over 30 years ... Most of that money would go to new generations of bombers and new submarines, and a rebuilding of the land-based nuclear missile force that still dots giant fields across the West."
Go deeper ... CFR President Richard Haass for Axios World, "Trump's nuclear strategy rekindles unresolved debates."
Why it matters: The chances of nuclear weapons being used are the highest they've been since the Cuban missile crisis.
Bonus: Pic du jour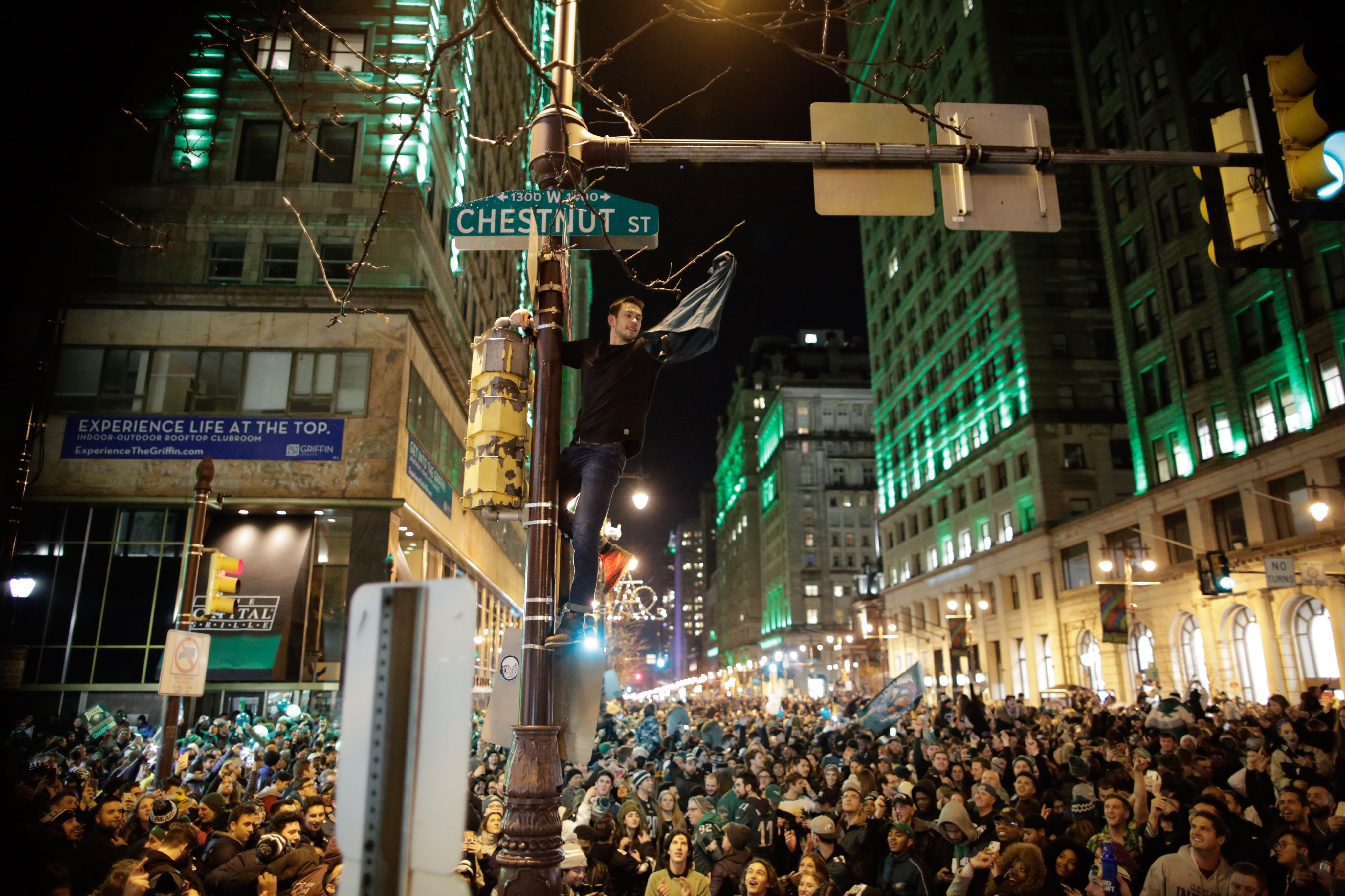 A man climbs a traffic pole as Philadelphia Eagles fans celebrate their 41-33, underdog Super Bowl victory against the New England Patriots.
Pregame story: "Crisco has been replaced by hydraulic fluid .... to prevent fans in Philadelphia from climbing street poles and signs."
Philly police were seen on the streets in the afternoon, slathering Bio-Bottle Jack Hydraulic Fluid on light poles with paint rollers.
4. Amtrak crashes bring new safety concerns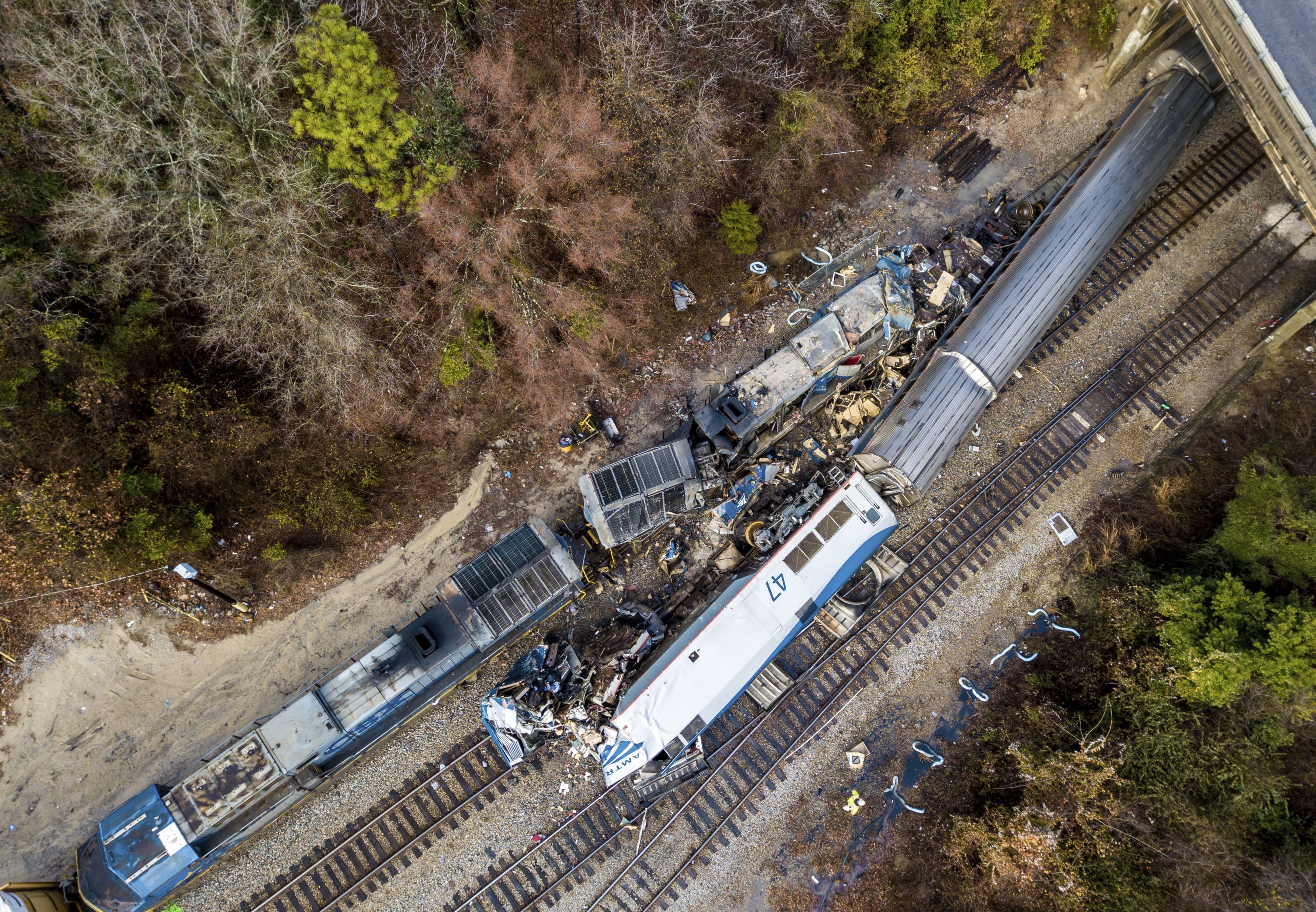 Spate of fatal accidents spotlights struggling rail service, per USA Today's Trevor Hughes:
"While all three of Amtrak's most recent crashes [in as many months] appear to have different causes, some critics are calling for changes to the organization's approach to safety."
"Amtrak remains popular with riders and lawmakers from both rural and urban areas."
"Still, Amtrak ... is under the gun. President Trump has proposed slashing Amtrak's annual subsidy and forcing it to cut unprofitable long-haul trains in favor of services like the Acela."
"Railroad advocates point out that trains remain far safer than cars, which killed 37,000 people last year across the country. "
5. An energy and climate glossary for everyone
Words matter, Axios' Amy Harder writes in her weekly "Harder Line" energy column:
Especially sloppy ones in an amped-up media landscape where many don't look past headlines. It's important to get this stuff right when extreme voices are louder than ever and the president openly doubts mainstream science.
6. Beyond the Beltway
"Republicans, who control a majority of the nation's statehouses, are considering a wide range of abortion legislation that could test the government's legal ability to restrict a woman's right to terminate pregnancy," AP's Ryan Foley reports:
"The Mississippi House passed a bill Friday that would make the state the only one to ban all abortions after 15 weeks of pregnancy."
"In Missouri, lawmakers heard testimony earlier in the week on a bill that would ban abortions after 20 weeks."
"The Ohio House is expected to consider bills, already passed in the Senate, that would prohibit the most common type of procedure used to end pregnancies after 13 weeks and require that fetal remains be buried or cremated."
Why it matters: "The early weeks of this year's state legislative sessions have seen a flurry of activity around the issue. It comes as activists on both sides say they expect the U.S. Supreme Court to soon consider a question that remains unclear: How far can states go in restricting abortion in the interest of preserving and promoting fetal life?"
7. Most competitive midterms in years
ABC News' George Stephanopoulos announces a rolling "18 for '18" — the network's current picks for the 18 hottest midterm races:
Senate: Arizona, Indiana, Mississippi, Nevada, Tennessee and West Virginia.
House: Pennsylvania 18, Illinois 6, New Hampshire 1, New Jersey 7, Texas 7, Utah 4, Virginia 10 and Washington 8.
Governor: California, Colorado, Florida and Michigan.
First on Axios ... Speaker Ryan's PAC will make its largest one-time transfer of the year, giving $715,000 to 143 members of the GOP House Majority for their 2018 campaigns, an aide said:
Each of the 143 members will get $5,000 from the Speaker, who raised $44 million last year — a record for a House Speaker in an off-year.
Color: Over 140 GOP House chiefs are invited over to Team Ryan's office this morning, where they can pick up the checks and enjoy bagels + ☕️.
8. Updating a 93-year-old tradition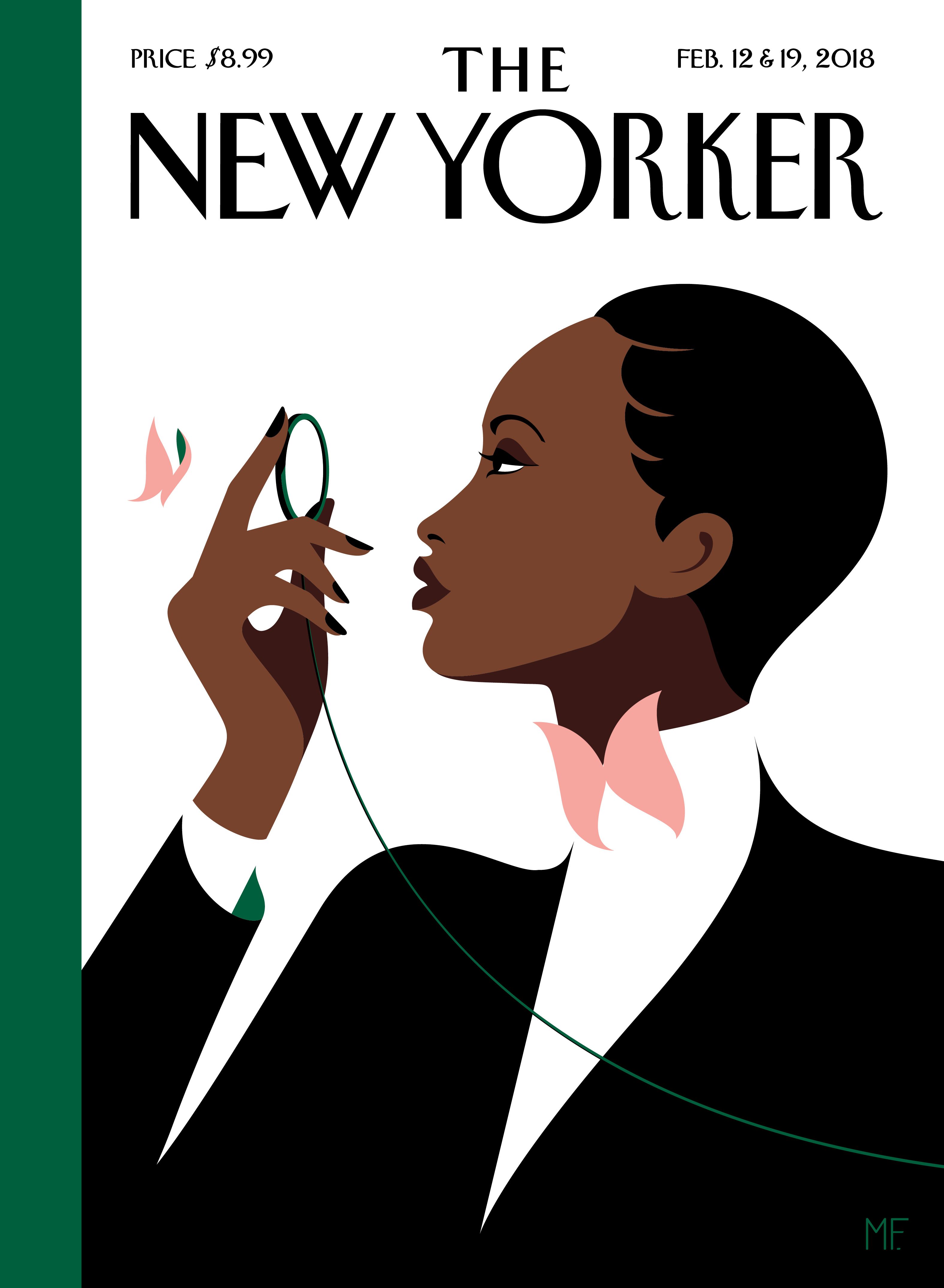 The New Yorker's anniversary cover ... "The Butterfly Effect" is a riff on the magazine's first cover, in 1925.
Malika Favre, a French artist who lives in London: "I wanted to capture the poise and the pose of the original Eustace Tilley dandy, but do it as something extremely simple and modern."
Favre: "Like the original Tilley, I had her look slightly up, which shows her curiosity — and of course it was delightful to have the flight of fancy, the poetic touch, of the butterfly."
"The original, by Rea Irvin — or some variation of it — has appeared with the Anniversary Issue of the magazine almost every year since."
See anniversary covers from the archives.
9. Disruptive Super Bowl ad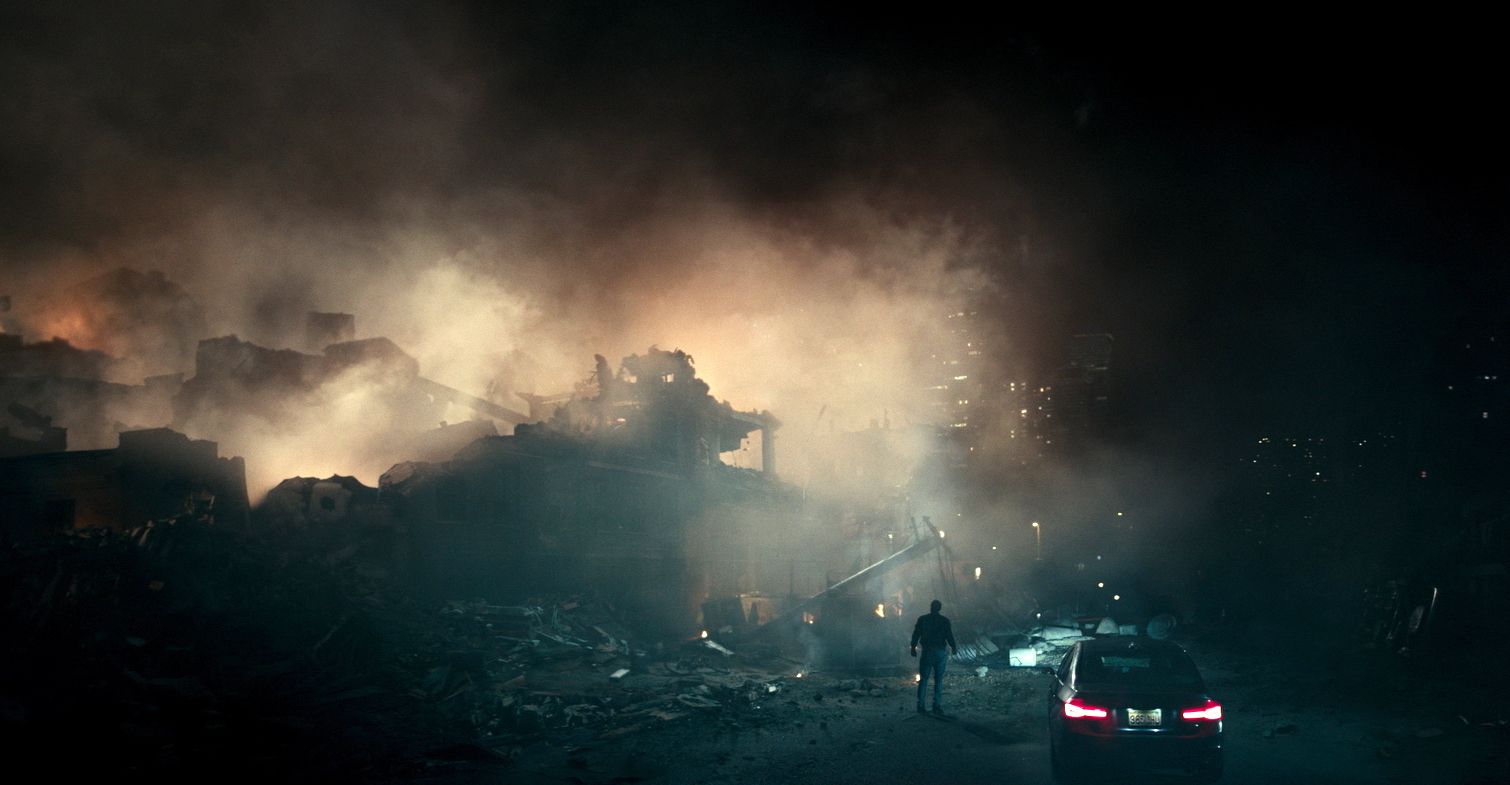 "Living up to its reputation as a disruptive, unpredictable force in the entertainment business, the [Netflix] streaming service [ran a Super Bowl ad for] its recent acquisition of the sequel 'The Cloverfield Paradox' but proceeded to drop the movie immediately after the game." (CNN)
Why it matters, per CNN: Netflix thumbed its nose "not only at conventional distribution models, but NBC's grandiose postgame plans."
"Immediately after the spot — which said the movie would air 'very soon' —aired in the second quarter, Netflix announced it would begin streaming it 'immediately after the game,'" putting "The Cloverfield Paradox" in competition with NBC's big-reveal episode of "This Is Us." (Adweek)
Netflix's description of the film: "In the near future, a group of international astronauts on a space station are working to solve a massive energy crisis on Earth. The experimental technology aboard the station has an unexpected result, leaving the team isolated and fighting for their survival."
10. 1 fun thing: Phinally, Philly!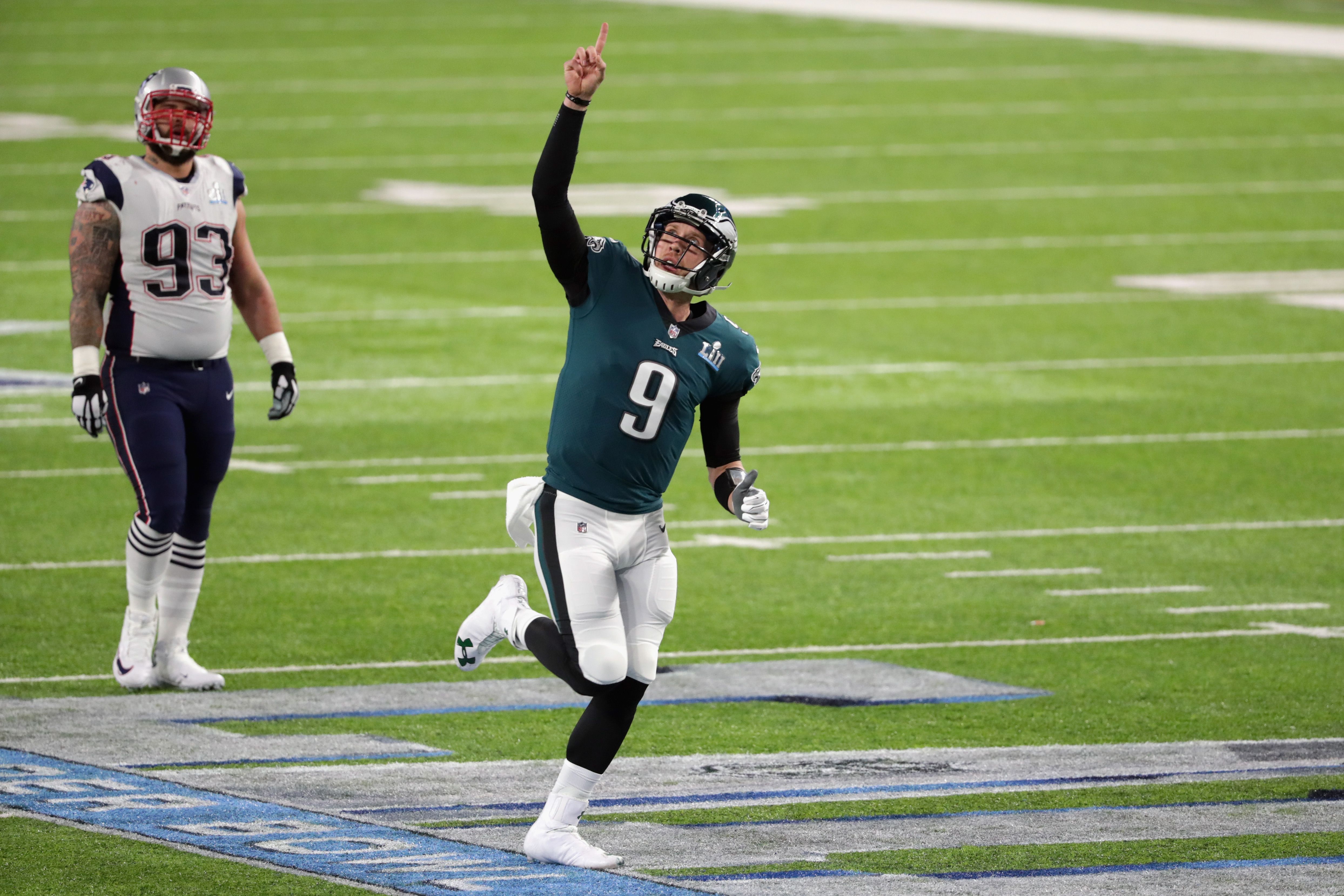 One of the greatest games you'll ever see ... The NBC announcers likened it to fast-break basketball, then chess.
Boston Globe columnist Dan Shaughnessy: "Hard as it is to believe, the Patriots lost the Super Bowl ... and they lost to the better team.
"Philadelphia's backup quarterback, Nick Foles, had the right stuff and second-year coach Doug Pederson outfoxed The Hoodie as the championship-starved Eagles won their first Super Bowl, a 41-33 pinball special against the mighty Patriots."
Philly Inquirer: "They'll remember when Doug Pederson called the trick play at the goal line, when Zach Ertz dove into the end zone in the fourth quarter, when Brandon Graham stripped Tom Brady of the ball, and when the greatest dynasty in NFL history fell to an improbable champion from Philadelphia."
How they do it ... The N.Y. Times had this prescient story in Sunday's Sports section ... The Eagles use modern "Moneyball" tactics:
"The Eagles' shrewd application of analytics to everything from roster management to in-game strategy helped propel them to a 13-3 record and a berth in

Super Bowl LII."
Thanks for reading, and see you all day in the Axios stream ...