Axios AM
December 31, 2020
🥂 Happy Thursday, and happy New Year's Eve. Thanks for doing 2020 together.
Wishing serenity to you and yours as we plunge into the promise of '21.
Today's Smart Brevity™ count: 1,180 words ... 4½ minutes.
Situational awareness: President Trump is cutting short his Florida holiday and returning to Washington today, a day early — meaning he'll miss all those awkward "congratulations" at tonight's big Mar-a-Lago party.
⚡ "The U.S. military is bracing for a possible attack on American personnel and interests in Iraq, ... days before the first anniversary of an American drone strike that killed an Iranian general in Baghdad," the WashPost reports.
1 big thing: America's high hopes for 2021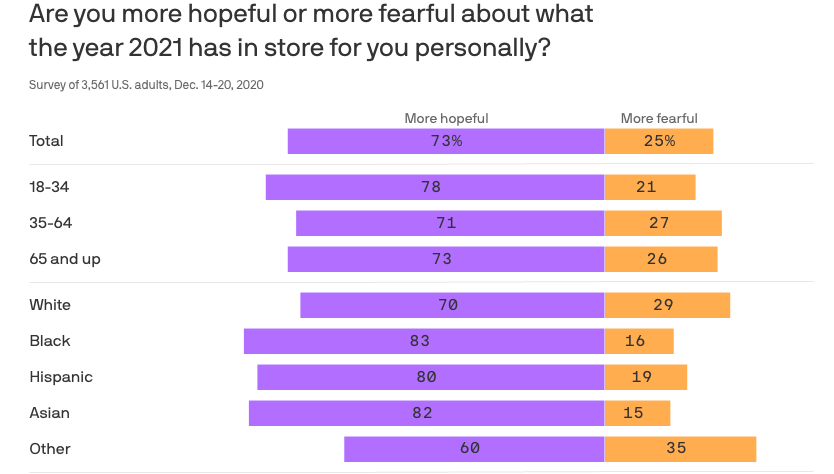 More than six in 10 Americans are hopeful about 2021, managing editor David Nather writes from a new Axios/SurveyMonkey poll.
76% were more hopeful than fearful about the pandemic next year — a view that held across most age groups, racial and ethnic groups, and parties.
82% of Democrats, 72% of Republicans and 73% of independents said they were more hopeful than fearful about the coronavirus.
63% of respondents to the poll (Dec. 14-20; 3,561 U.S. adults) said they're more hopeful than fearful about what 2021 holds in store for the world, while 36% said they're more fearful.
That's a jump in optimism compared to the same poll heading into 2019, when just 51% said they were hopeful and 48% said they were fearful.
The only group that wasn't optimistic about 2021 was Republicans: 41% said they were more hopeful, while 58% said they were more fearful.
Between the lines: Americans were even more optimistic about the year ahead for them personally — mostly driven by the hopes of young adults, people of color and Democrats.
2. Scoop: Biden asks nation for bell ringings, light shows to remember those lost to COVID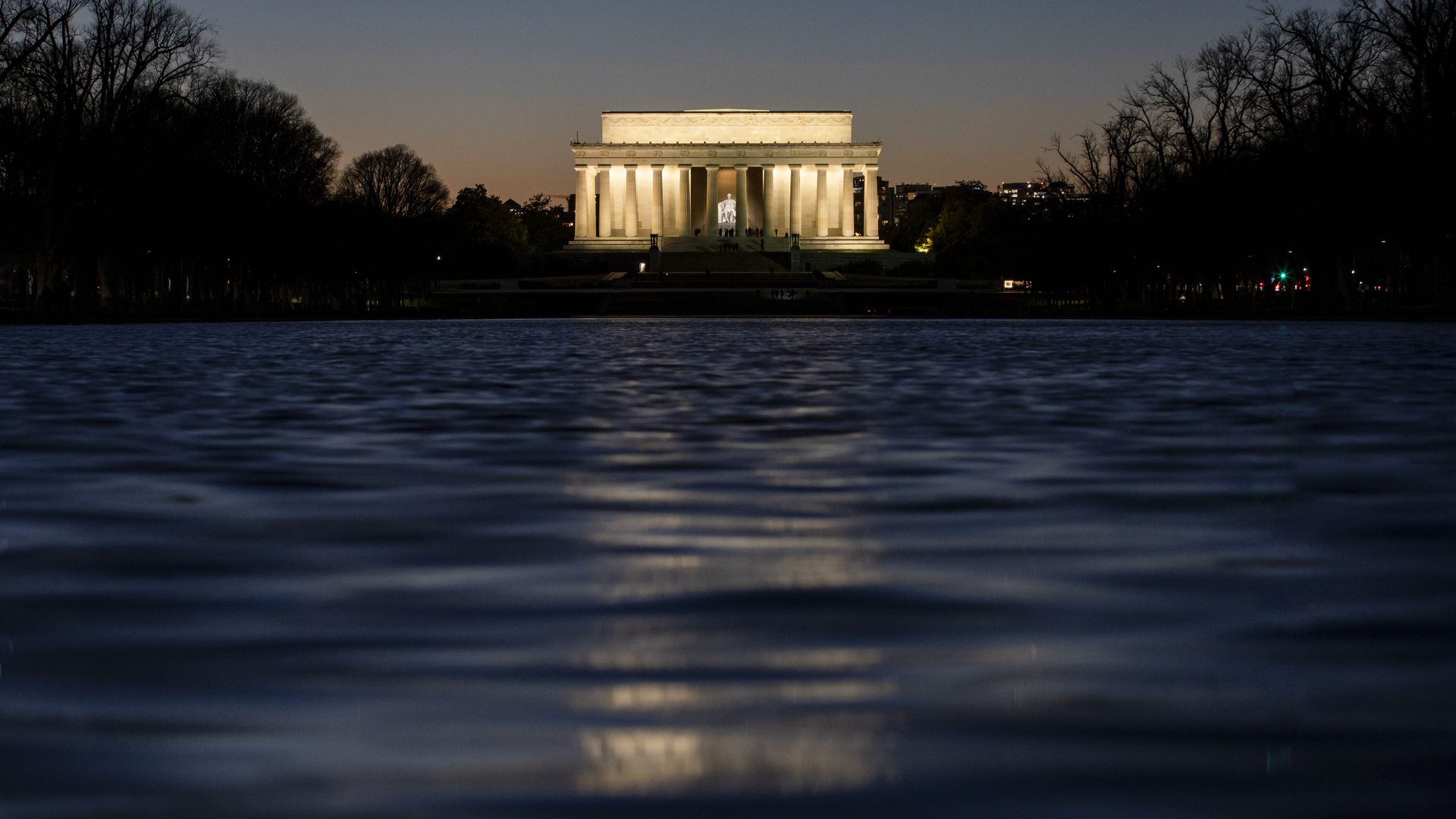 To set the tone for his inauguration the next day, President-elect Biden will lead a memorial to remember and honor lives lost to COVID-19, with church-bell ringings and light shows across the country on Tuesday, Jan. 19, at 5:30 p.m. ET.
The Presidential Inauguration Committee is announcing this morning that a D.C. ceremony, led by Biden, will feature lights around the Lincoln Memorial Reflecting Pool — the first time lighting around the Reflecting Pool has memorialized American lives lost. 
"PIC is inviting cities and towns around the country to join Washington, D.C., in illuminating buildings and ringing church bells at 5:30 p.m. ET [15 minutes after sunset] in a national moment of unity and remembrance," the committee says.
PIC communications director Pili Tobar said in a statement: "The inauguration of President-elect Joe Biden and Vice President-elect Kamala Harris represents the beginning of a new national journey."
"However, in the midst of a pandemic — when so many Americans are grieving the loss of family, friends, and neighbors — it is important that we honor those who have died, reflect on what has been one of the more challenging periods in the nation's history, and renew our commitment to coming together to end the pandemic and rebuild our nation."
3. Trump era drives largest-ever party divide in media trust
The gap in trust between Democrats and Republicans in mass media reached an all-time high during the Trump administration, Axios Media Trends author Sara Fischer writes from a Gallup annual poll.
Why it matters: The divide represents one of the most profound elements of President Trump's legacy.
Over the past four years, Democrats' trust in mass media has grown to a near-record high, while Republicans' has sunk to an all-time low.
Just 10% of Republicans polled this year said they have a great deal or fair amount of trust in the media. By comparison, nearly 30% and 36% of Republicans answered the same on average during eight years of the Obama and Bush administrations, respectively.
By the end of 2020, there was a 63-point gap between the two parties — the biggest divide since Gallup started conducting the poll in the late 1970s.
4. 🚂 Pics du jour: Light comes to Penn Station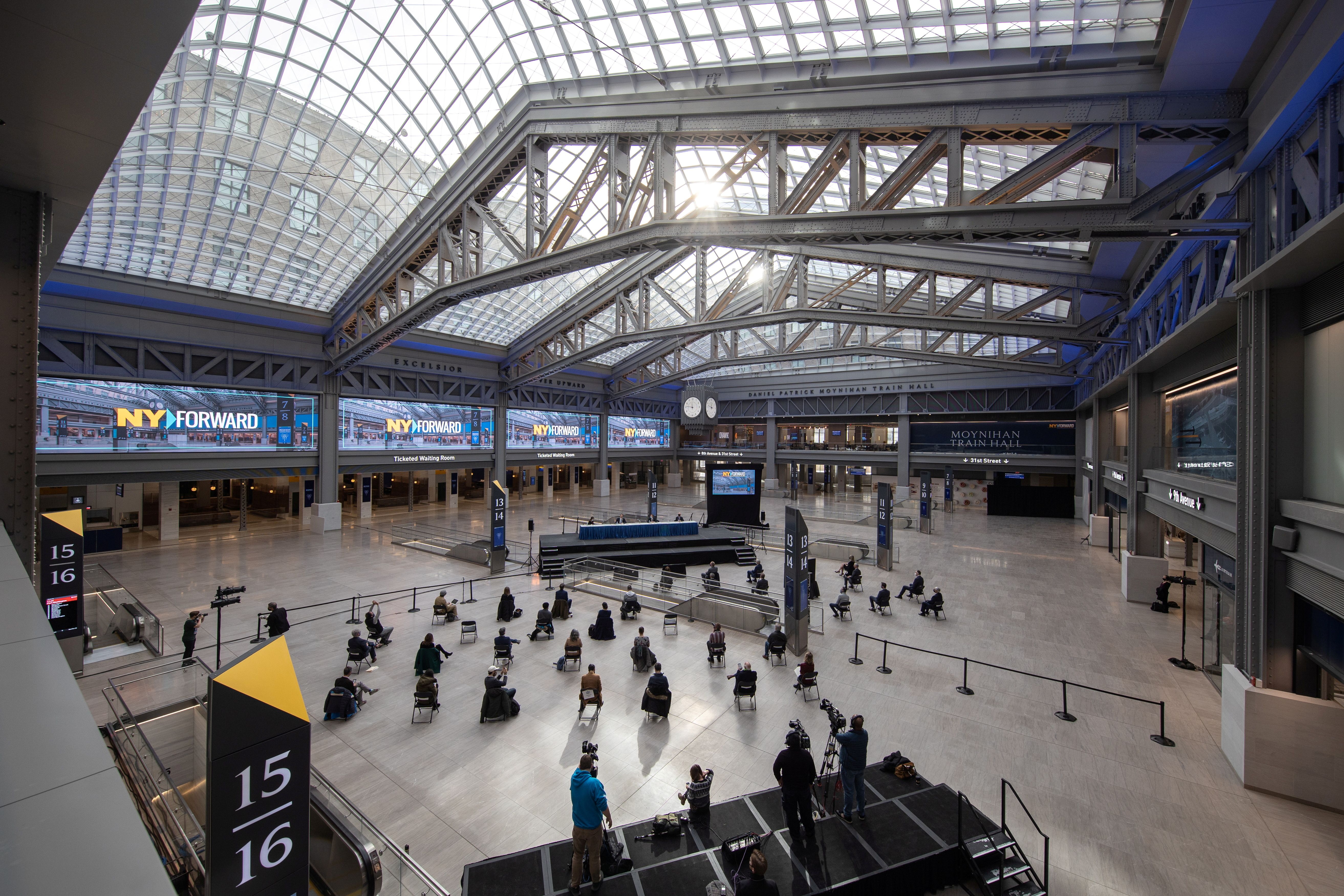 Above, journalists attend yesterday's unveiling of Penn Station's Moynihan Train Hall — a new "front door" and waiting room for Amtrak and Long Island Rail Road.
The hall, which opens tomorrow, is across from New York Penn Station — the busiest train station in the Western Hemisphere — on 8th Avenue, in the historic James A. Farley Post Office Building.
The two buildings will act as one complex — adding light to the dingy, underground Penn Station.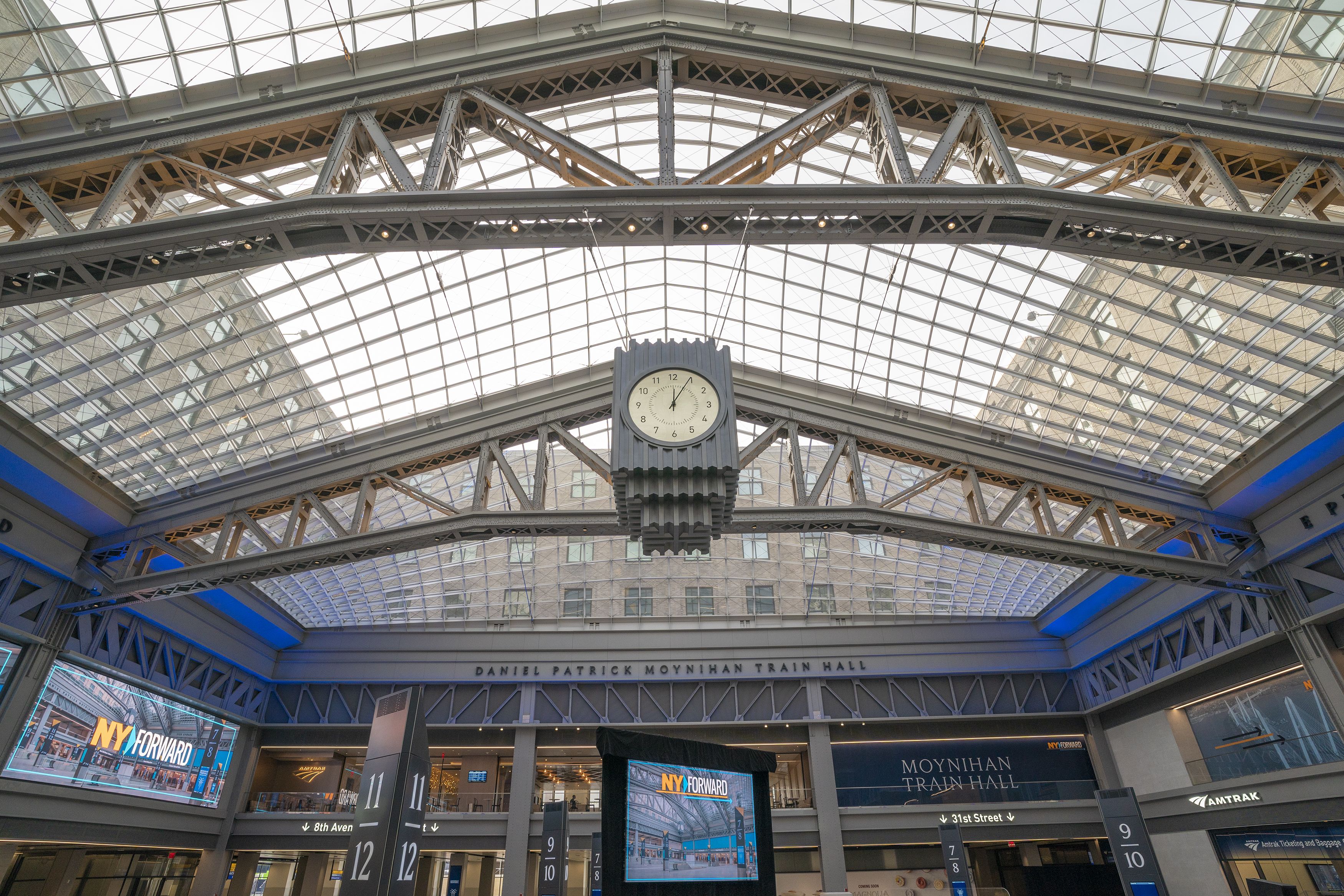 YouTube: "Fly Through Animation."
Go deeper: FAQ about the Moynihan Train Hall.
5. 💉 Vaccine controversy: Prioritize first shot?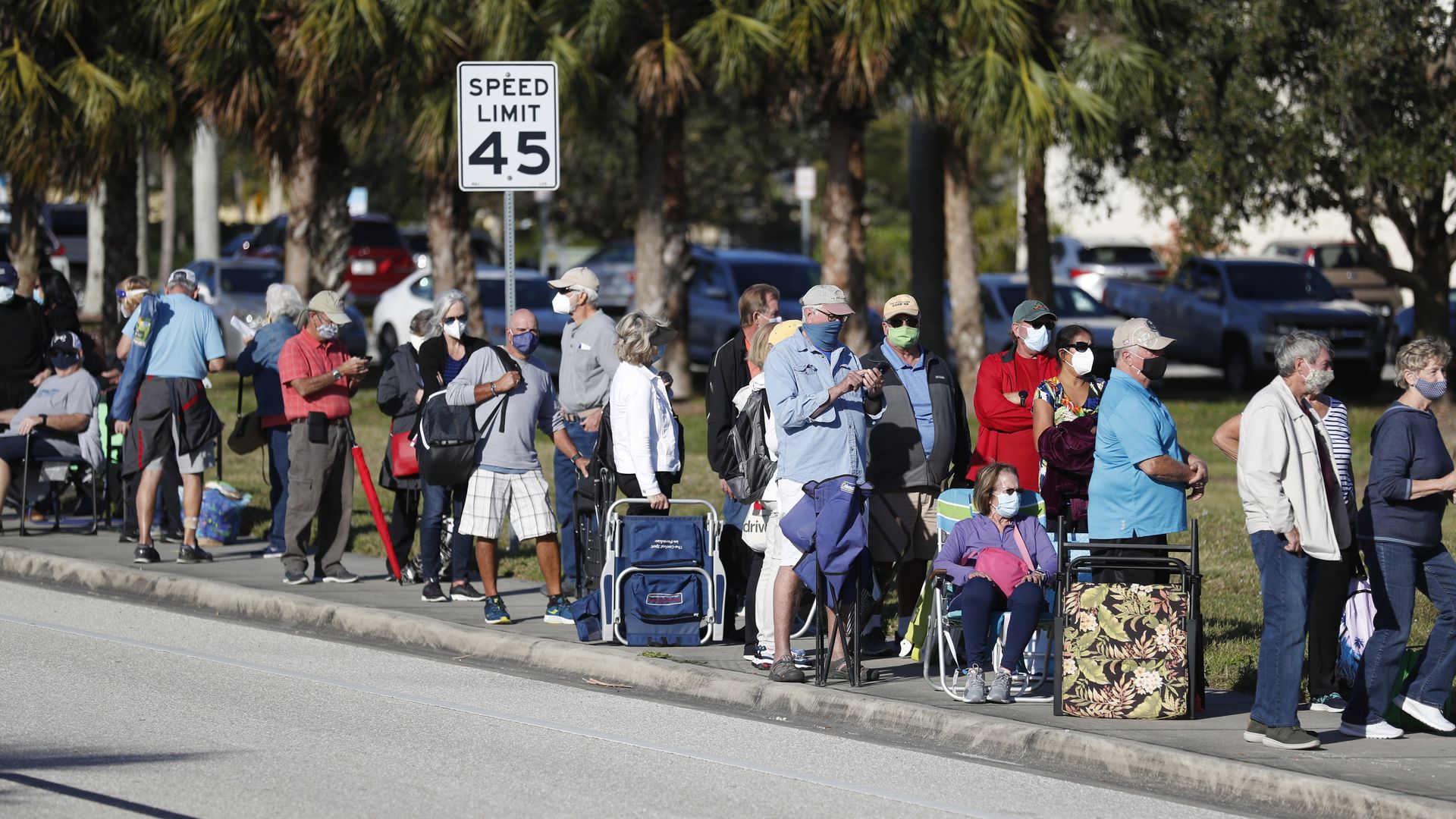 In the U.S., officials are reserving the second vaccine dose that every patient will need. But Britain and some Canadian provinces are giving as many single shots as possible, rather than holding back half the supply.
Why it matters: Countries are debating how to rapidly deploy the vaccine in the most effective way possible.
The U.K. announced yesterday that it would shift its vaccination strategy "to give as many people in at-risk groups their first dose, rather than providing the required two doses in as short a time as possible."
"Everyone will still receive their second dose ... within 12 weeks of their first," the U.K. government said. "The second dose completes the course and is important for longer term protection."
But Pfizer said in a statement that "no data" demonstrates that a single dose of its coronavirus vaccine will provide protection from infection after 21 days.
Pfizer said that although some protection appears to begin as early as 12 days after the first dose, two doses of the vaccine — separated by three weeks — is the only regimen that proved to be 95% effective in Phase 3 trials.
6. 🇨🇳 Trump briefed on possible China bounty on U.S. troops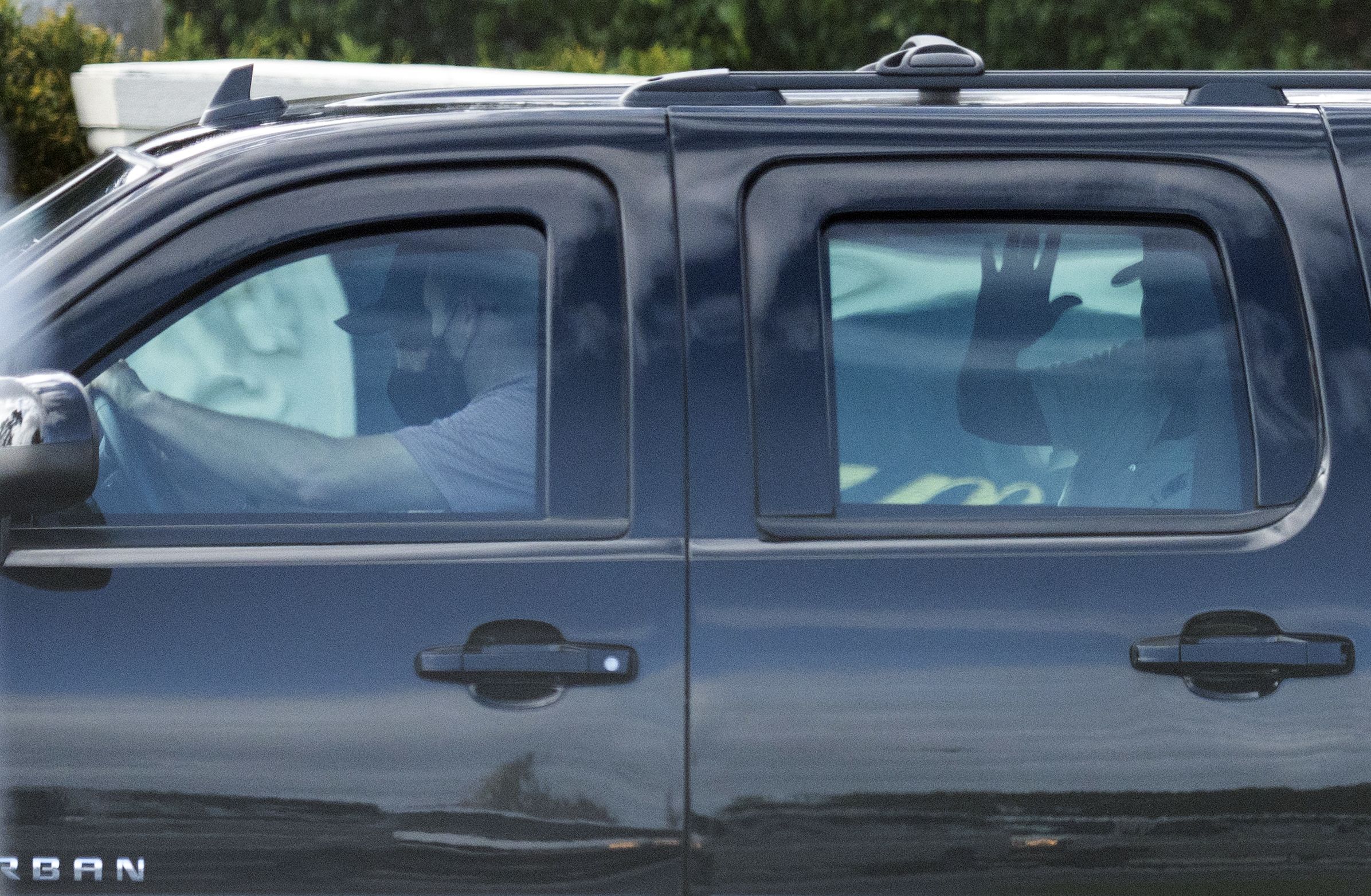 The Trump administration is declassifying as-yet uncorroborated intelligence, recently briefed to President Trump, that indicates China offered to pay non-state actors in Afghanistan to attack American soldiers, Jonathan Swan and Bethany Allen-Ebrahimian scoop.
Why it matters: The disclosure comes months after news reports indicated that the Russians had secretly offered bounties for Taliban militants to kill U.S. troops — unconfirmed intelligence that Trump called "fake news" in a July interview with Swan.
If the intelligence about China were to be confirmed, it would represent a dramatic strategic shift and sharply escalate tensions between Beijing and the U.S.
If the intelligence does not prove accurate, it raises questions about the motivations of the sources behind it as well as the decision to declassify it.
Between the lines: China has long played a quiet diplomatic role in Afghanistan, inviting Taliban officials to Beijing to discuss plans for a peace deal.
It seems "incongruous" that China would take such a provocative action in Afghanistan, Andrew Small, a senior fellow at the German Marshall Fund who specializes in China-Afghanistan affairs, told Axios.
7. 2020 rewind: When the year is the story
Every year, I look forward to AP's Top 10 stories of the year, a poll of news executives that started with newspaper editors in the olden days. This year, there was no poll or Top 10, because there was only one story. As AP put it:
The AP will not move a story of the year this year because of the unusual nature of the past year: 2020 itself is the story of the year. Instead, we will have separate packages on the coronavirus pandemic, racial injustice, President Donald Trump and other topics that dominated this year's headlines.
Speaking of the olden days, "The World Almanac" — first published by the New York World newspaper in 1868 — took a crack at a list:
New Coronavirus Causes Worldwide Pandemic.
COVID-19 Has Devastating Impact on U.S.
Biden Presidential Election Winner.
George Floyd's Death Sparks Black Lives Matter Protests.
Pres. Trump Acquitted of Impeachment Charges.
Supreme Court Appointment Cements Conservative Majority.
Continuing Conflict, Moves Toward Peace Occur in Middle East, SW Asia [Iran, Afghanistan, Abraham Accords].
Climate Change Affects U.S. Wildfires and Hurricanes.
Off-Field Events Dominate Sports.
Britain Achieves Brexit.
8. 1 last thing: Later, 2020!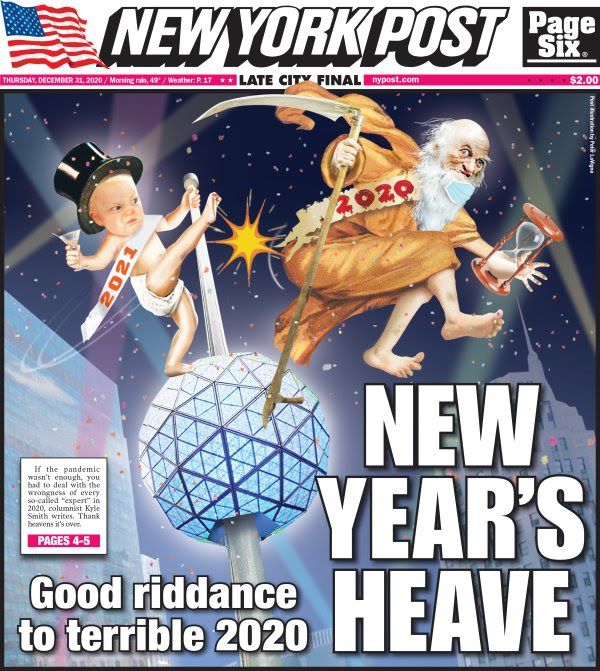 📬 Thanks for starting your day with us. Please invite your friends to sign up for Axios AM/PM.