Axios AM
October 25, 2018
If you're in D.C. this morning ... Please join me for a breaking-news breakfast event on securing democracy, with Newt Gingrich; Lisa Monaco, former homeland security adviser to President Obama; Sen. Chris Van Hollen, chair of the Democratic Senatorial Campaign Committee; and Missouri Secretary of State Jay Ashcroft (R).
8 a.m., 1011 4th St.. NW (near L) ... RSVP here.
1 big thing: Playing with fire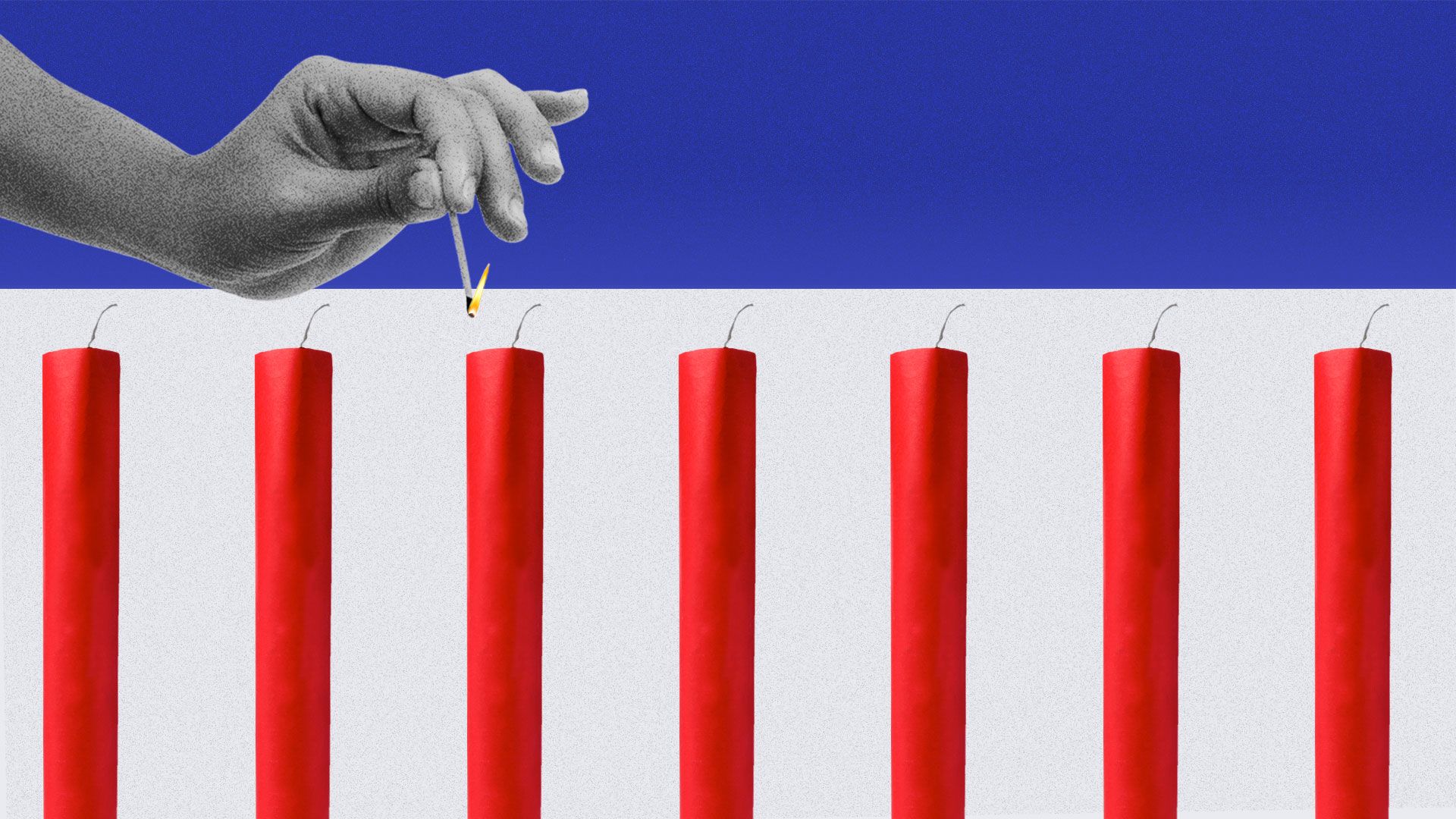 Pipe bombs sent to prominent Democrats were a wired manifestation of the toxic trajectory of the country's politics, with President Trump and the media blaming each other for the worst terror-by-mail campaign of the post-9/11 era.
With President Trump fanning fear ahead of the midterms a dozen days from now, the nation's political discourse is on track to be even hotter and more volatile during the 2020 campaign than it was when he ran the first time.
We are playing with fire — and there are piles of dry kindling stacked throughout America and American politics right now. 
Right wingers, led by radio hosts, quickly claimed (without evidence) a conspiracy against them.
"On the pro-Trump Internet, ... the once-fringe idea of politically motivated 'false flag' attacks [was pushed] into the mainstream," per the WashPost.
Extreme language can inspire extreme deeds, Jonathan Swan emails.
When Trump calls the media the "enemy of the people," some are bound to take that literally.
Why it matters: "The discovery of pipe bombs targeting prominent Democratic politicians and CNN is raising the threat of election-season violence largely unknown in the U.S. — and prompting uncomfortable questions about the consequences of leaders' increasingly vitriolic rhetoric," AP's Steve Peoples and Ken Thomas write.
The WashPost's Dan Balz calls it "a time of the politics of the apocalypse — an all-or-nothing view of the difference between winning and losing an election and of holding power or not holding it. ... This has been on the rise for a long time."
Capturing the mood of these times of fury on both wings, the N.Y. Times' lead headline is: "Bombs in Envelopes Jolt A Nation Riven by Vitriol."
The WashPost lead: "Bombs targeting Democrats leave U.S. on edge."
At a rally in Wisconsin last night, Trump followed a message of unity with an attack: "The media ... has a responsibility to set a civil tone and stop the endless hostility and constant negative and oftentimes false attacks."
The feeling was mutual. Shortly afterward, the headline on CNN was: "TRUMP ATTACKS MEDIA HOURS AFTER BOMB SENT TO CNN."
Fox News' Sean Hannity, with graphics saying "MEDIA BIAS" and "DOUBLE STANDARD," said in his opening monologue: "We have been saying for months that the rhetoric we're seeing, the mobs we're seeing in this country, that everybody needs to calm down ... before someone gets hurt — or worse."
CNN Worldwide President Jeff Zucker said in an extraordinary statement for a news executive: "There is a total and complete lack of understanding at the White House about the seriousness of their continued attacks on the media."
Sarah Sanders replied on Twitter that Trump "asked Americans 'to come together and send one very clear, strong, unmistakable message that acts or threats of political violence of any kind have no place in the USA' Yet you chose to attack and divide. America should unite against all political violence."
Be smart: A sad, highly predictable cycle ignites with every new spark: attacks on the media, wild claims of conspiracy, Twitter taunts and tirades, and breathless, endless cable coverage.
Spark this much dry kindling, and it's easy to see this burning into something far worse than mail bombs. 
Go deeper: Political terrorism in America.
2. What we know: Maxine Waters added to targets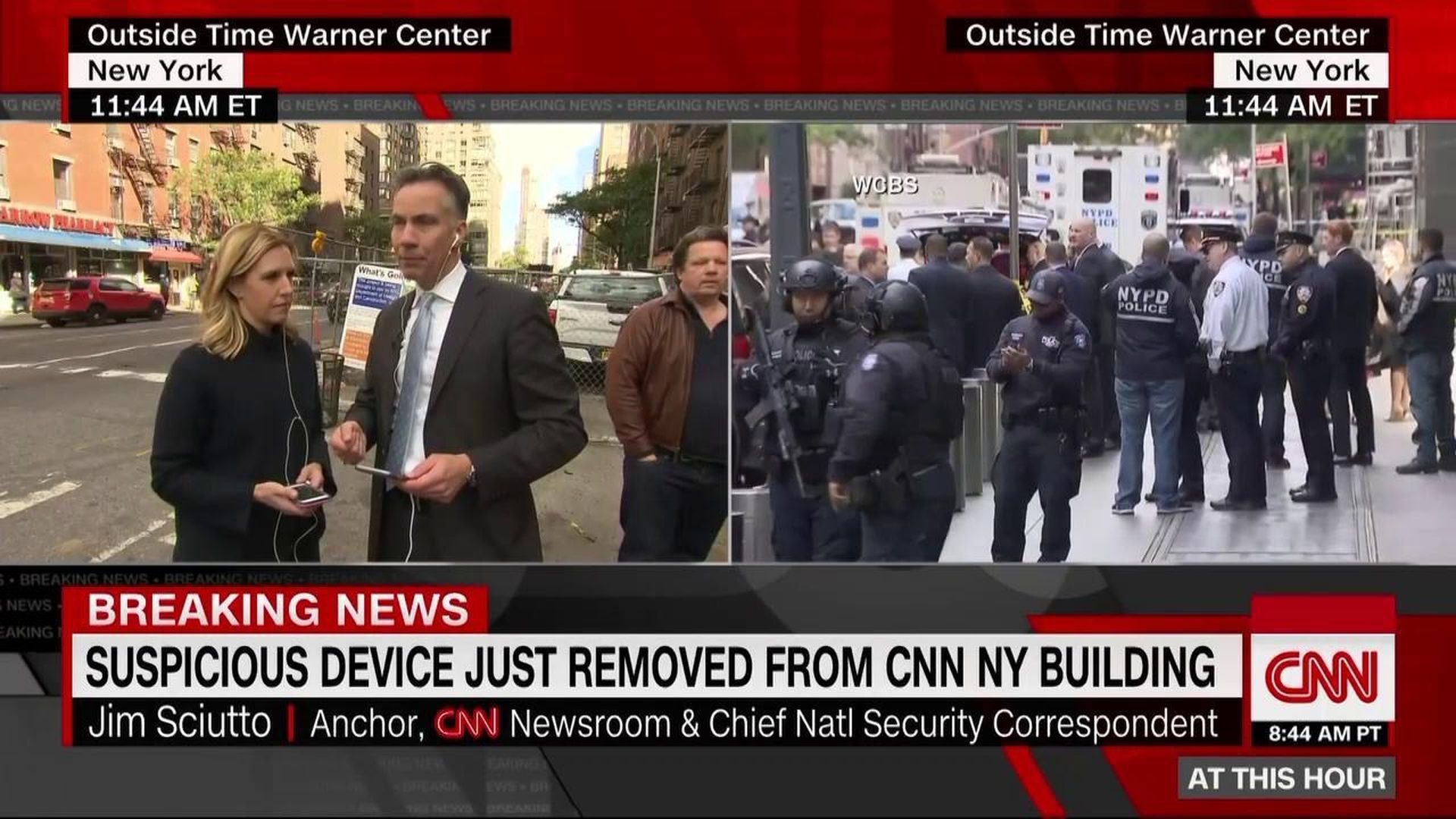 A suspicious package addressed to Rep. Maxine Waters of California — a regular target of President Trump, who has called her "low IQ ... a real beauty" — was found at a South Los Angeles mail facility, and the FBI called it similar to packages sent to Trump critics on the East Coast, the L.A. Times reports.
"Law enforcement sources said the package contained materials capable of exploding under the right circumstances."
Crudely built pipe bombs were packed with shards of glass:
The targets: former President Obama, Hillary Clinton, George Soros, former Obama attorney general Eric Holder, Maxine Waters (in both L.A. and D.C.), former Obama CIA director John Brennan (the addressee at CNN, even though he's an NBC News contributor), and Rep. Debbie Wasserman Schultz (the return addressee on the packages).
"None of the seven bombs detonated and nobody was hurt as authorities in New York, Washington, D.C., Florida and California seized the suspicious packages," AP reported.
"The package sent to CNN contained a live explosive, with wires and a black pipe, and an envelope with white powder. The powder was tested and determined to have been harmless."
Both sides agreed on the terminology:
Senate Majority Leader Mitch McConnell (R-Ky.) called the crude bombs "attempted acts of domestic terrorism."
New York Gov. Andrew Cuomo (N.Y.) — speaking live in prime time last night to his younger brother, CNN's Chris Cuomo, hosting from outside Time Warner Center — called it "political terrorism ... American terrorism ... red versus blue terrorism."
At last night's rally in Wisconsin, Trump said he was "trying to be nice" even as he accused a Democratic senator of being "radical." Talking about Leah Vukmir, the Republican Senate challenger in the Badger State:
"Leah's radical, far-left opponent is Tammy Baldwin [Crowd boos], who wants a socialist takeover of health care. [Crowd boos.] You know, I'm trying to say that very nicely."
"See, normally I'd scream: 'They want a socialist takeover.' Now I say [adopting softer tone]: 'wants a socialist takeover.' I'm trying to be nice!"
P.S. "U.S. stock markets fell sharply, ... erasing all gains for the year and muddying one of President Trump's favorite talking points two weeks before the midterm elections," per the WashPost.
"The technology-heavy Nasdaq fell 4.4 percent, ... its worst one-day drop since the financial crisis."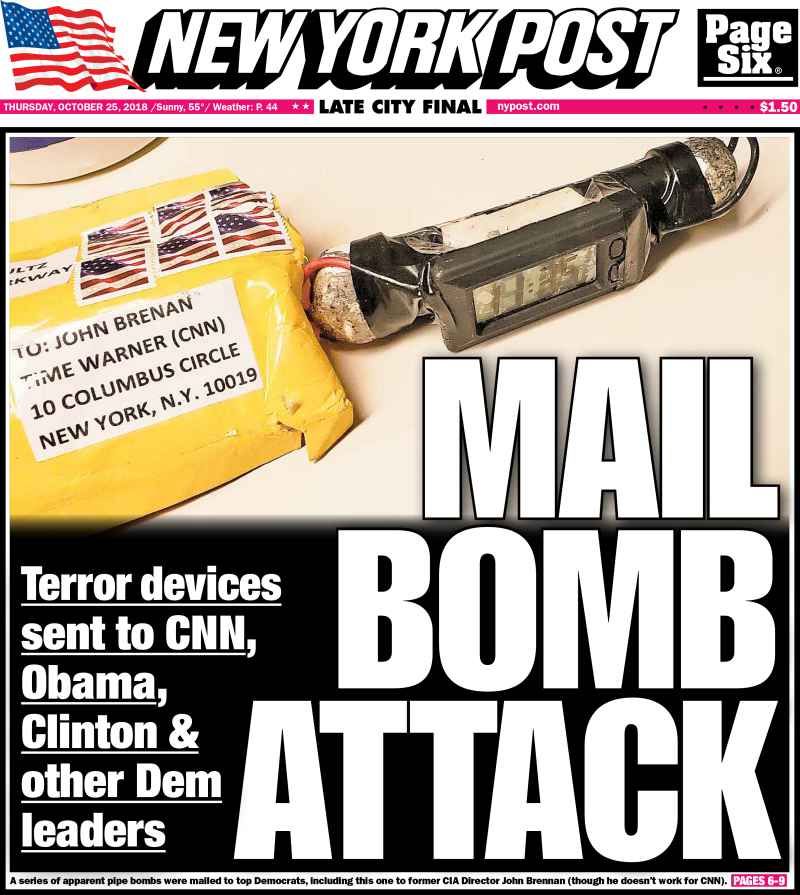 3. Scoop: Trump's midterm rally blitz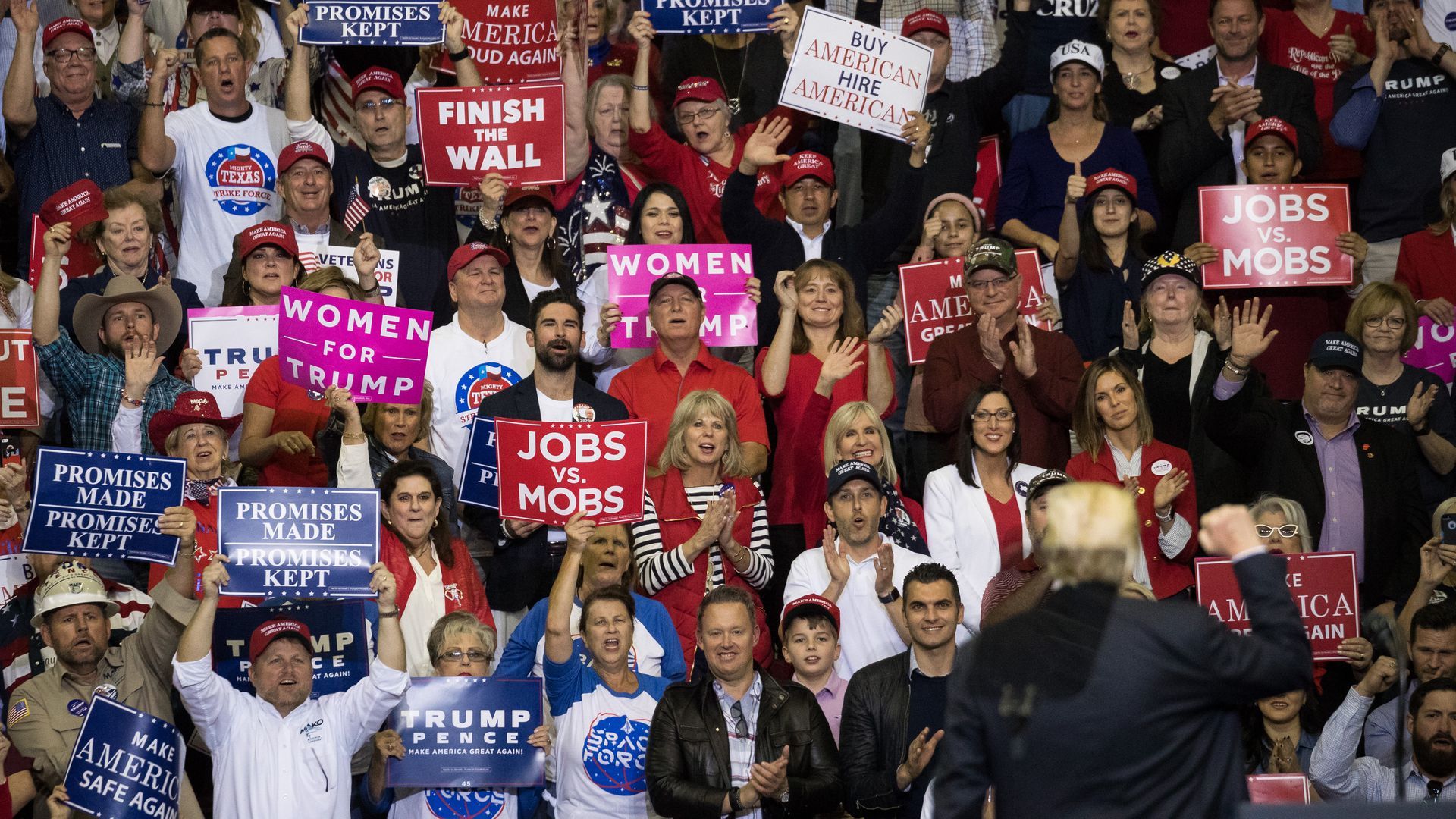 President Trump will hold at least 10 rallies in the final week before the midterms, possibly bumping up to two events each day in two states, Axios' Alexi McCammond and Jonathan Swan report.
The White House and Secret Service are still working out the logistics.
The first rally in the sprint will be held in Florida next Wednesday and Vice President Mike Pence will join on a couple of the stops, a source familiar with the rallies said.
Why it matters: This is a heavy load of campaigning for a sitting president. But Trump wants to defy the historical pattern of presidents losing congressional seats in their first midterm election.
The data: Of Trump's 33 public midterm rallies, only eight have been in areas that voted for Hillary Clinton in 2016.
4. Chinese, Russians listen in on Trump's iPhone
"When President Trump calls old friends on one of his iPhones, ... Chinese [and Russian] spies are often listening," the N.Y. Times' Matt Rosenberg and Maggie Haberman report:
"American spy agencies ... learned that China and Russia were eavesdropping on the president's cellphone calls from human sources inside foreign governments and intercepting communications between foreign officials."
"[C]alls made from the phones are intercepted as they travel through the cell towers, cables and switches that make up national and international cellphone networks."
Why it matters: "Trump's aides have repeatedly warned him that his cellphone calls are not secure, and they have told him that [Chinese and] Russian spies are routinely eavesdropping on the calls."
"But aides say the voluble president, who has been pressured into using his secure White House landline more often these days, has still refused to give up his iPhones."
"Trump typically relies on his cellphones when he does not want a call going through the White House switchboard and logged for senior aides to see."
"Trump is supposed to swap out his two official phones every 30 days for new ones but rarely does, bristling at the inconvenience."
Current and former officials said they talked to The Times "out of frustration with ... the president's casual approach to electronic security."
5. Bloomberg-backed groups drop millions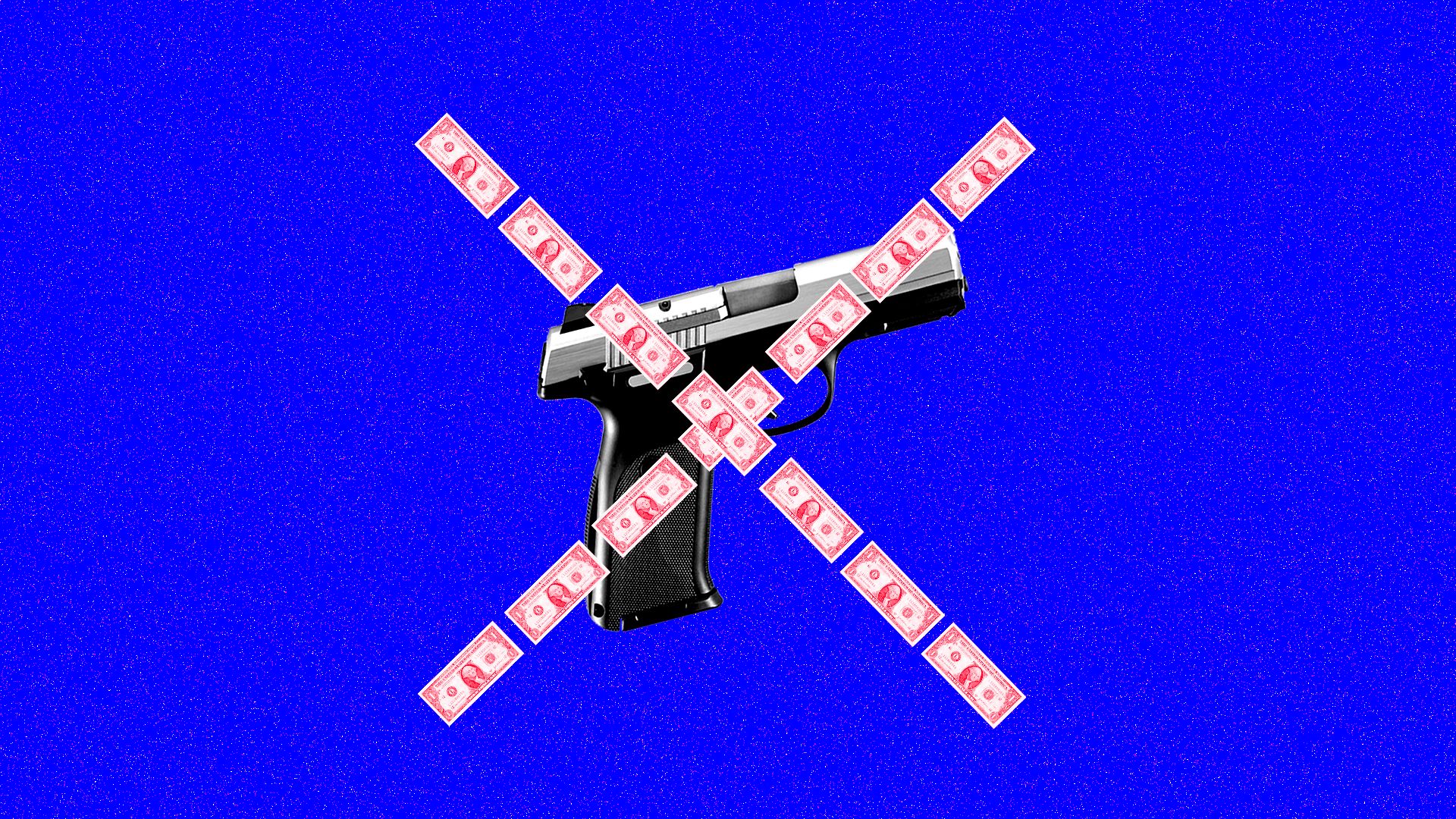 In the largest digital investment ever by a Democratic nonprofit, two groups backed by Michael Bloomberg — Everytown for Gun Safety and his Independence USA PAC — are pouring $11 million into online ads to help Democrats win House seats, Axios media trends expert Sara Fischer reports.
Why it matters: That puts Everytown ahead of other major Democratic non-profits, like the House Majority PAC, in money spent on digital ads targeted at House races, according to sources familiar with their ad spending this cycle. 
How it worked: In ads beginning in September and running through Election Day, the groups targeted 24 districts and 5 million voters with issue ads on everything from gun control to the Republican tax plan.
"With digital ads, it is imperative that we grab the viewer immediately, but that's less essential in the context of a TV ad," says Howard Wolfson, the longtime Democratic strategist, now with Bloomberg Philanthropies.
Between the lines: The groups placed the ads through Bully Pulpit Interactive (BPI), one of the country's largest progressive digital ad agencies.
In pouring millions in ads into this cycle, both Bloomberg-backed groups essentially handed BPI a massive budget to test which ads, strategies and messages were resonating with voters ahead of the 2020 election. 
"We had over 30 people working on this since June," says BPI partner Ben Coffey Clark. "We've been optimizing the campaign on hourly basis."
6. Facebook, Apple challenge U.S. to adopt Europe-style data privacy
"Facebook and Apple have called on the US government to adopt tough EU-style data privacy laws, challenging White House objections that European regulation is imposing red tape on American technology businesses," the Financial Times reports (subscription):
"In separate addresses in Brussels [yesterday], Apple's chief executive Tim Cook and Erin Egan, Facebook's privacy chief, threw their weight behind legislation that would give American citizens equivalent protections to those given to Europeans under the EU's General Data Protection Regulation."
Why it matters: "GDPR, which came into force in May, is one of the toughest personal privacy regimes in the world, giving EU citizens the right to demand companies disclose and delete information held about them."
7. "Bridging the divide"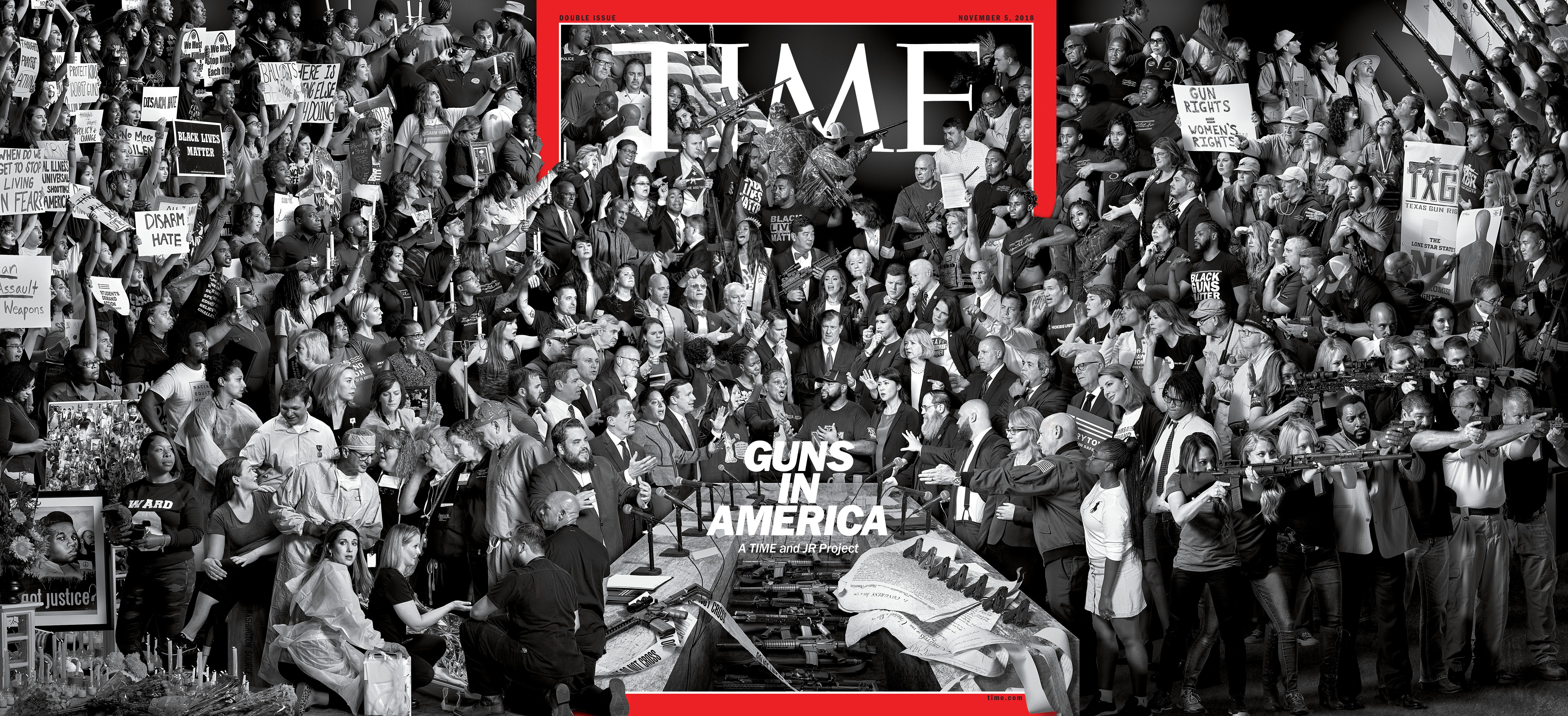 The forthcoming issue of TIME is a special report on guns in America:
"In one of the most logistically challenging cover projects in TIME's 95-year history," the magazine says, "TIME partnered with the acclaimed artist JR to photograph and film 245 Americans in an effort to capture the full scope of the nation's gun debate in one mural. Over five months, he and his team, along with a group of TIME journalists, traveled to three cities — St. Louis, Mo.; Washington, D.C.; and Dallas — to record, one by one, people who represent the vast range of voices in America's gun debate."
TIME editor in chief Edward Felsenthal, says in a letter to readers that JR, a Paris native, brings the theme of "our common humanity. His message [is] powerful and regrettably rare at this cultural moment."
The cover mural will travel in coming months to museums around the country, beginning at New York's Pace Gallery tomorrow.
Also beginning tomorrow, the mural will be displayed on the Houston Bowery Art Wall in New York.
You can apply through Time.com to host a projection of and discussion around the mural in your community.
8. Data du jour
9. Alexandra Pelosi plunges into Trump country
Alexandra Pelosi, the documentary filmmaker, brought her two sons (ages 10 and 11) on an odyssey across "real America" —to Trump rallies, to the still-under-construction border wall, and into the homes of Trump voters, the N.Y. Times' Shawn McCreesh writes:
"The result is 'Outside the Bubble,' ... Pelosi's 12th film for HBO, to air on Monday."
Though she is the daughter of House Democratic Leader Nancy Pelosi, Alexandra Pelosi "has spent much of her career dissecting, with compassion, the psyche of the political right in America."
"There's too much profit being made right now on the divide," she said.
"In one remarkable exchange, a fanatical supporter of the president tells Ms. Pelosi, without realizing exactly to whom he is speaking, that his ilk refer derisively to the far left as 'Nancy Pelosi's grandchildren.'"
"But, after the documentarian produces the actual grandchildren of Representative Pelosi for his perusal, he lowers his dukes and the unlikeliest of friendships is able to blossom."
10. 1 fun thing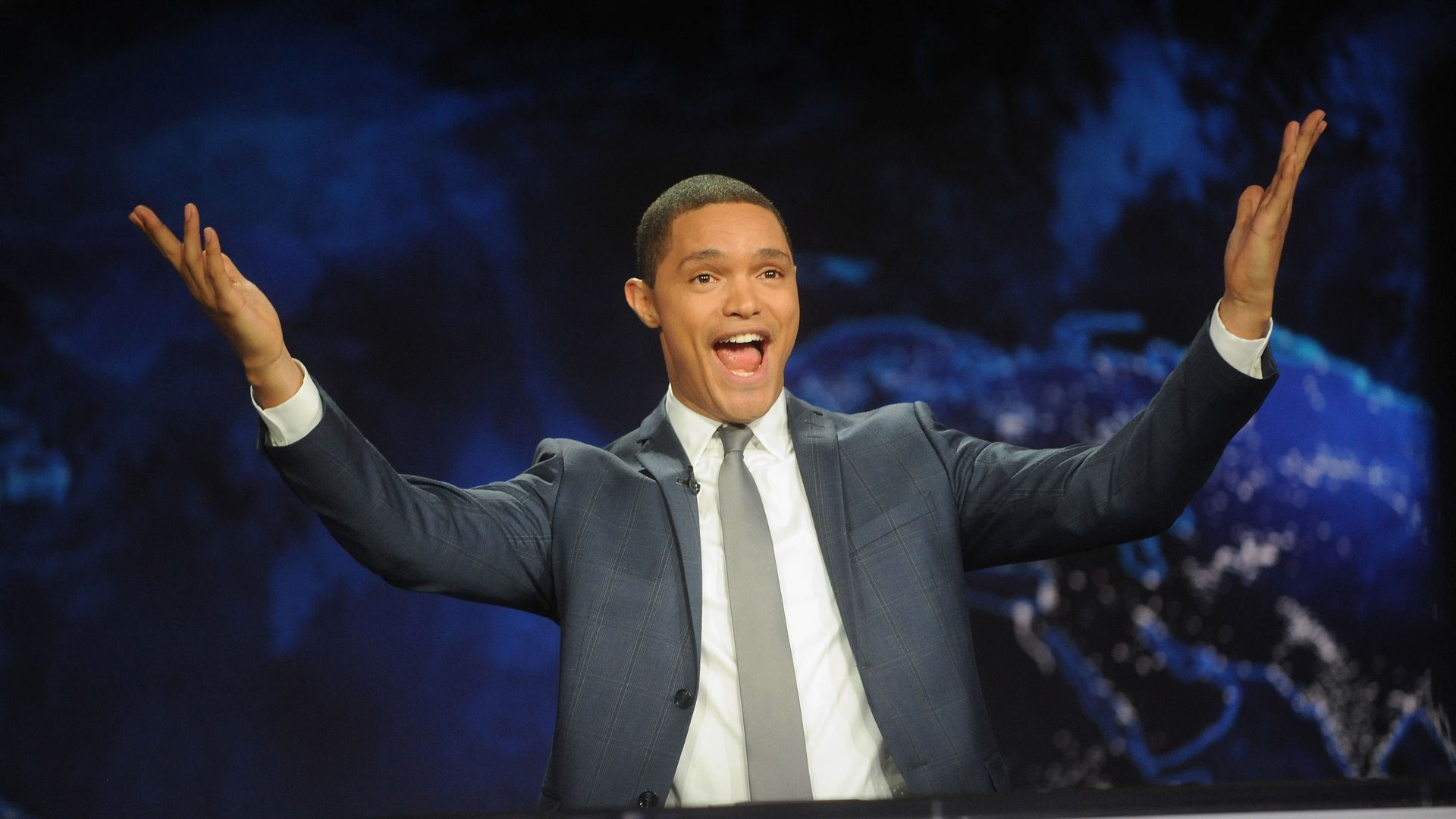 Trevor Noah, host of Comedy Central's "The Daily Show," told Axios' Alexi McCammond that "Republicans have a pretty easy job" in the midterm elections because they're "setting themselves up as the party of the white man."
He thinks the GOP has "done a fantastic job of galvanizing their base, of playing the victim card. ... To have the House, Senate and presidency and still have your voters feel like they're under siege is the most powerful thing they've managed to do."
And Democrats, he said, spend too much time "being offended by Trump," adding that "many Democrats are nice people, but I think fundamentally they're horrible politicians."
What's next: "The Daily Show" is set to film a series of special live episodes in Florida next week ahead of the midterms.
Noah said he chose Florida for the shows because "it feels like a microcosm for everything that's going on in America in an exaggerated way."