January 27, 2019
1 big thing: Racial equality is top 2020 Dem issue
After 2016, Democrats talked a lot about winning back the white, working-class voters who supported Donald Trump. But Democrats gearing up for 2020 are already working to court minority voters, Axios' Alexi McCammond reports:
Racial inequity is already a top focus as candidates and prospects begin to put together their issue sets.
"They are concerned that they're not inclusive," said Darrick Hamilton, an economist who has met with Bernie Sanders, Kirsten Gillibrand, Kamala Harris, and Cory Booker (as well as others in the Senate and the House) to discuss progressive policies with a focus on race.
Democrats, Hamilton said, are now "being less transactional" — less willing to ignore the racial and gender implications of their policies.
Sen. Elizabeth Warren set the stage in her four-minute announcement video: "Families of color face a path that is steeper and rockier, a path made even harder by the impact of generations of discrimination."
Sen. Kamala Harris consulted with Hamilton on the LIFT Act, a $2.8 trillion middle-class tax cut that would benefit African Americans who are on the low end of income. The proposal will be part of her 2020 platform.
Sen. Kirsten Gillibrand's platform includes policies that would work to close the gap between people of color and white Americans — like legalizing marijuana, ending cash bail, and reducing maternal mortality rates, which disproportionately affect African American mothers.
Sen. Cory Booker has endorsed a baby bonds proposal, which would establish a trust account for each newborn. The policy has been revived by Hamilton recently.
Be smart: Racial and economic issues played an integral role in the 2016 and 2018 elections. But this is the first time they're coming together as a cohesive message, as Democrats recognize that people of color are one of their most loyal blocs.
2. Howard Schultz likely to run as independent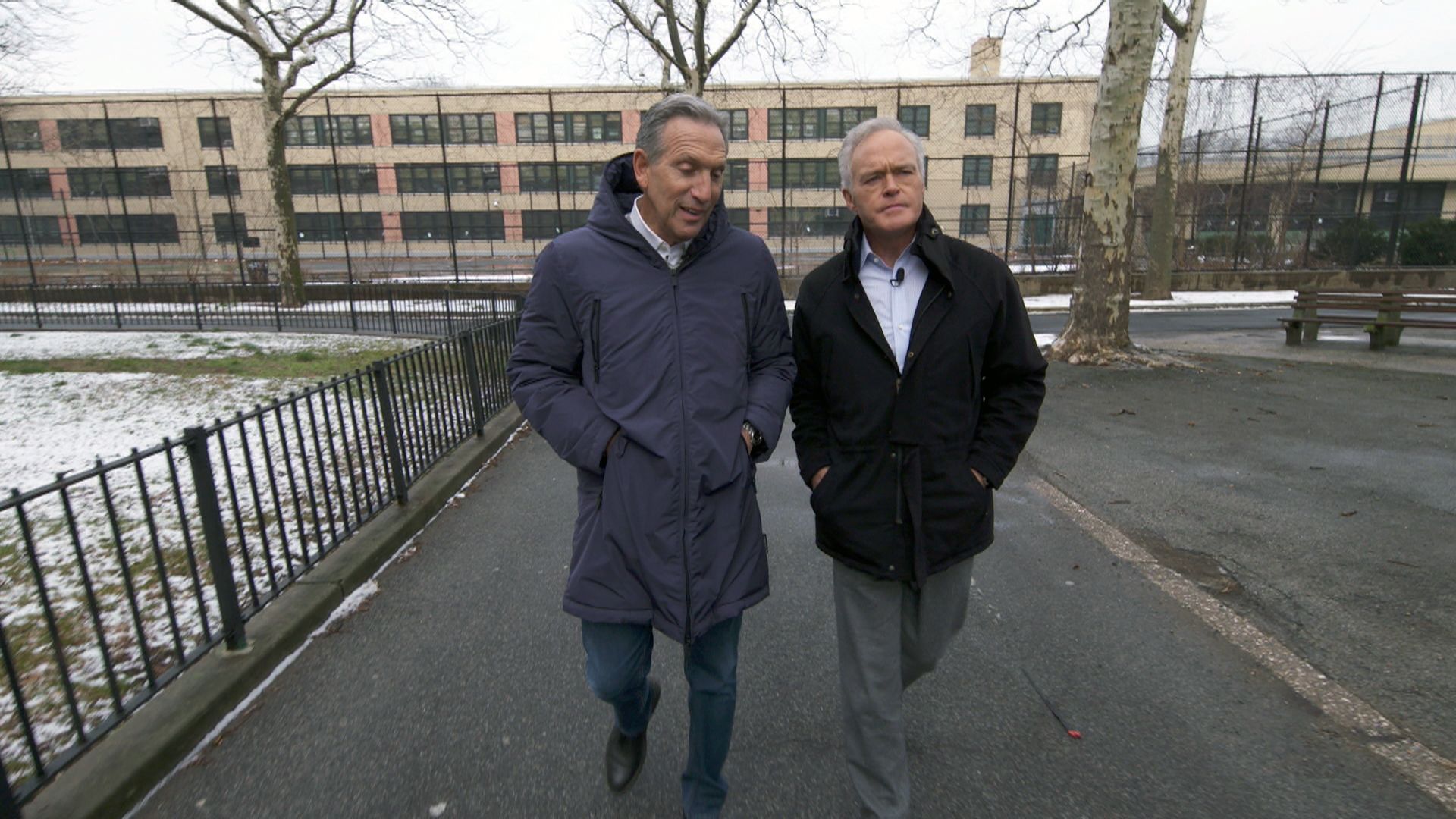 Former Starbucks CEO Howard Schultz says in a prerecorded interview on "60 Minutes" tonight that he's thinking seriously about a presidential campaign — and would run as an independent.
But he stops short of announcing, per The Atlantic's Edward-Isaac Dovere.
3. One week in America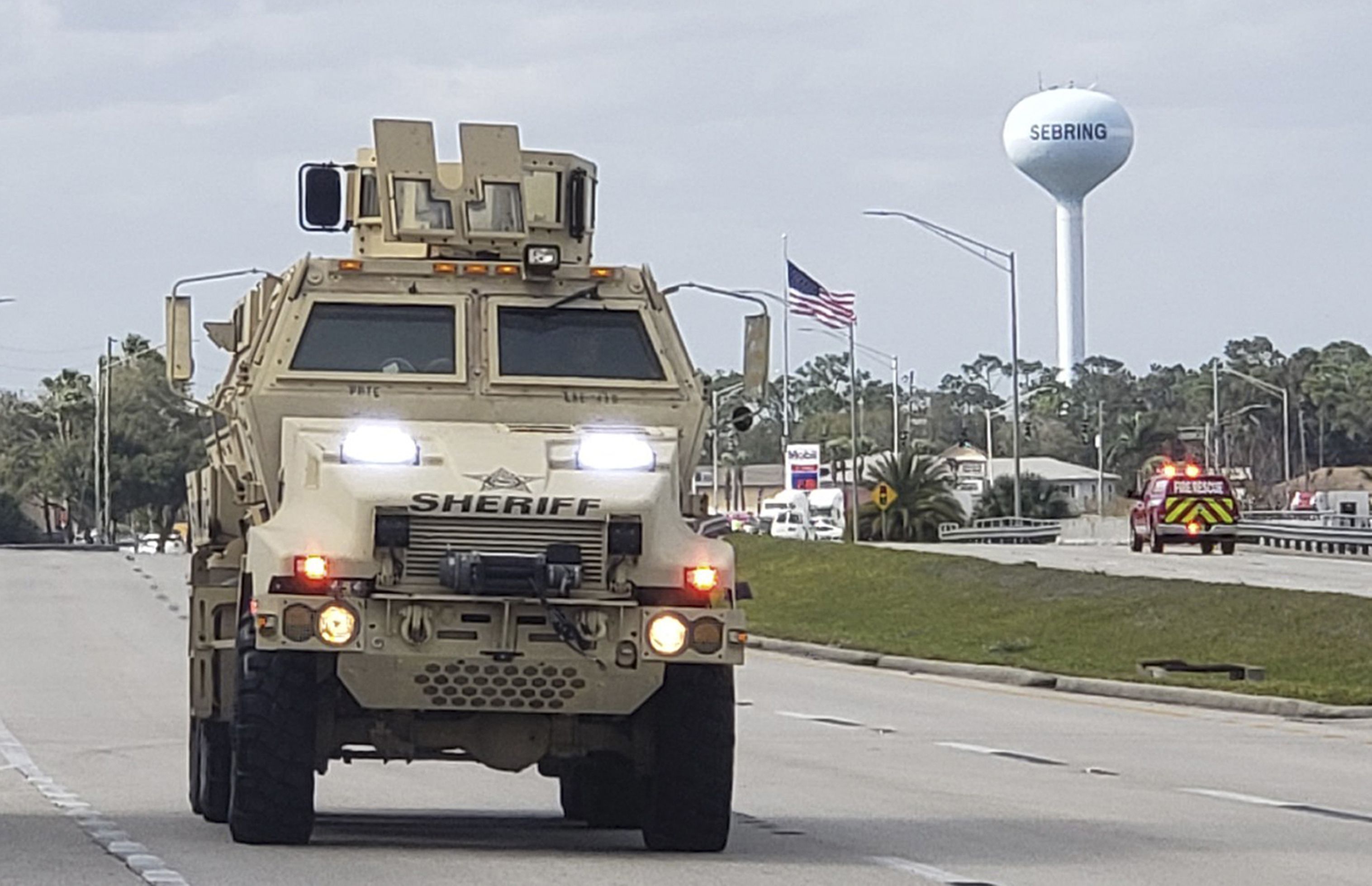 Yesterday: NEW ORLEANS (AP) — Authorities in Louisiana said they are searching for an "armed and dangerous" 21-year-old accused of killing his parents and three others in two separate but related shootings.
Yesterday: "Three men were shot and killed ... in Southeast Washington, D.C. police chief Peter Newsham said. In a separate incident earlier in the day another homicide was reported in Northeast." (WashPost)
Friday: ST. LOUIS (AP) — A male St. Louis police officer was charged with involuntary manslaughter in the shooting death of a female officer during what was described as a deadly game with a revolver.
Thursday: STATE COLLEGE, Pa. (AP) — A gunman opened fire at a hotel bar near Penn State's main campus, killing two men and wounding a woman, broke into a stranger's house and fatally shot the 83-year-old homeowner, and then killed himself.
Thursday: ROCKMART, Ga. (AP) — Authorities in Georgia are on the lookout for a 27-year-old gunman they say killed four people and wounded a man in a pair of shootings.
Wednesday: SEBRING, Fla. (AP) — A man accused of fatally shooting five women at a small-town bank in Florida had dreamed of hurting classmates in high school and had long been fascinated with killing.
Tuesday: SALT LAKE CITY (AP) — A man is under arrest in Utah after police say he posted on Facebook about "killing as many girls as I see" the same weekend that Women's Marches were held around the U.S.
Bonus: Pic du jour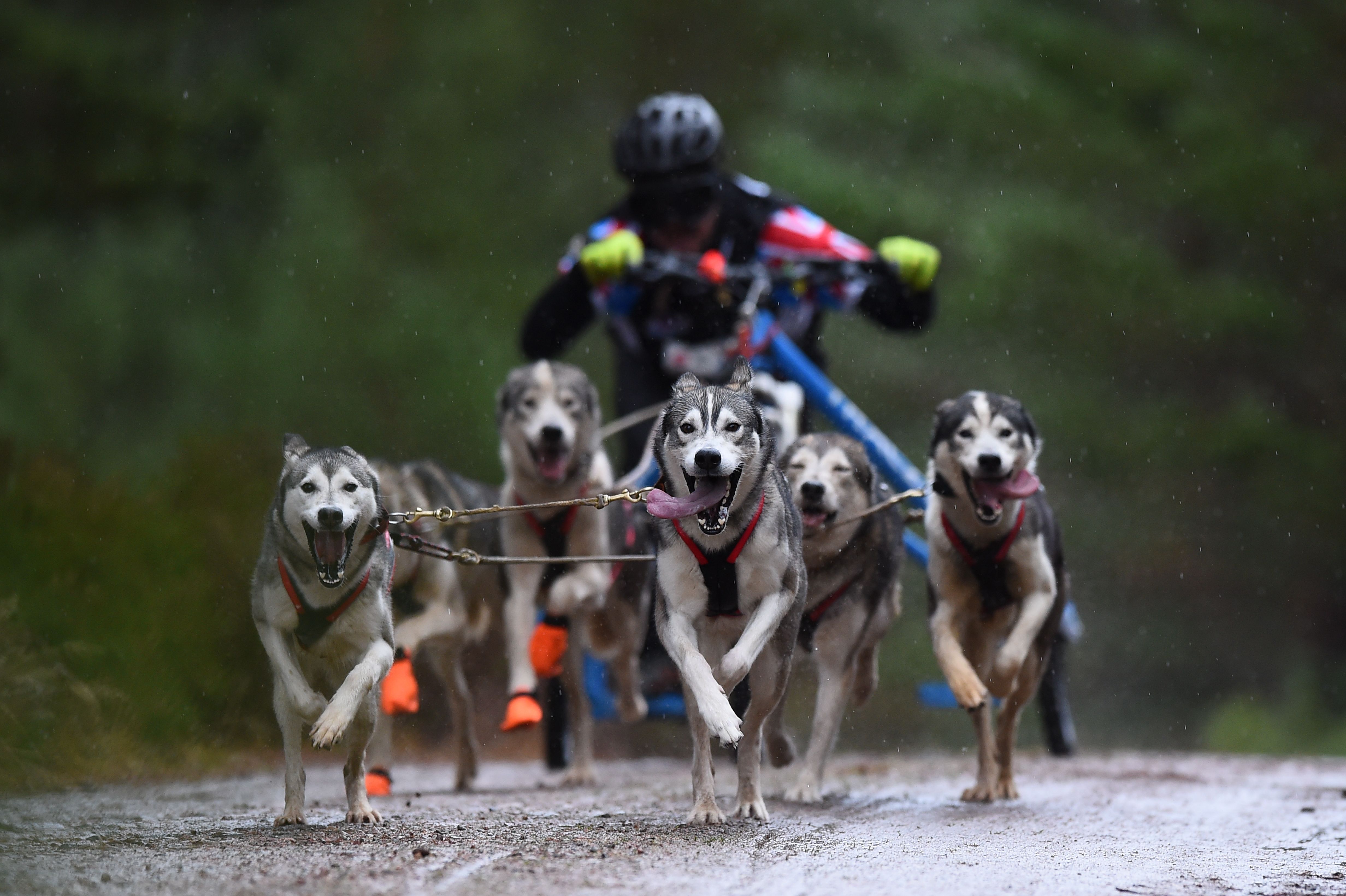 A musher competes in sled dog rally in Aviemore, Scotland, yesterday.
Teams of between two and eight dogs pull their musher on a sled around forest trails of four to seven miles.
4. Trump club fired undocumented workers during wall standoff
On Jan. 18 —Shutdown Day 28 — "about a dozen employees at Trump National Golf Club in Westchester County, N.Y., were summoned, one by one, to talk with a human resources executive from Trump headquarters," the WashPost's Joshua Partlow and David Fahrenthold report:
"During the meetings, they were fired because they are undocumented immigrants. ... The fired workers are from Latin America."
"They had spent years on the staff of Donald Trump's golf club, winning employee-of-the-month awards and receiving glowing letters of recommendation."
"Some were trusted enough to hold the keys to Eric Trump's weekend home."
🐔 "They were experienced enough to know that, when Donald Trump ordered chicken wings, they were to serve him two orders on one plate."
"The sudden firings ... follow last year's revelations of undocumented labor at a Trump club in New Jersey, where employees were subsequently dismissed."
Why it matters: "The firings show Trump's business was relying on undocumented workers even as the president demanded a border wall to keep out such immigrants."
5. What we're reading: This book is fascinating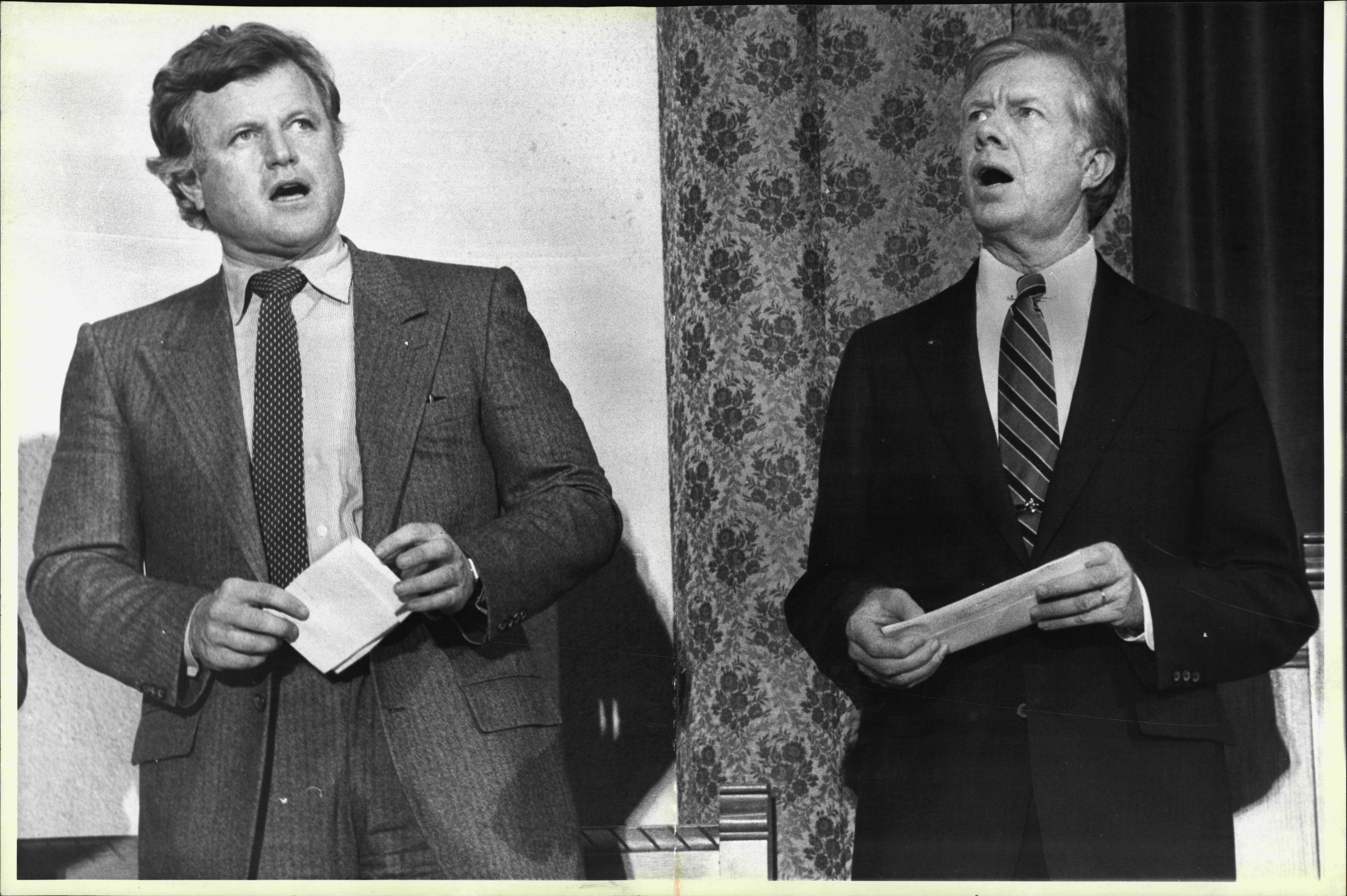 Jon Ward, Yahoo News senior political correspondent and the father of five, found time to write his first book — "Camelot's End: Kennedy vs. Carter and the Fight that Broke the Democratic Party," a look at the 1980 Democratic primary between President Jimmy Carter and Sen. Ted Kennedy.
Jon's book has lessons not only about wings that continue today in the Democratic Party, but also about the hazards for an incumbent president who is challenged for re-election from within his party — and about the possibility of a Democratic president emerging from the back of a massive field.
A taste from "The Outsider," a chapter about the 1976 Democratic primary, where the former Georgia governor burst on the national scene:
"As the 1976 presidential race took shape, Jimmy Carter was an afterthought. At best, he was seen as a pawn in a scheme to rid the Democratic Party of George Wallace once and for all. ... But by the time the spring of 1976 rolled around, Carter had come out of nowhere to win the Iowa caucuses and the New Hampshire primary, emerging from a huge field of roughly a dozen candidates. ... [H]e ultimately won the nomination with a helping hand from Chicago mayor Richard J. Daley at just the right moment."
6. 1 fun thing
At last night's Alfalfa Club dinner — a black-tie cotillion for titans of government and business — physician and former Senate majority leader Bill Frist [corrected] pretended to give a grim, gloved medical exam to Senate Majority Leader Mitch McConnell.
Don't worry — that's not the fun part. The dinner is off-camera and off the record, but a little bird tells me that former Secretary of State John Kerry, the outgoing Alfalfa president, had a patter that included these lines:
"Donald Trump could be the first president to go to the inaugural of his successor in a limo with license plates made by his campaign manager."
"I watched the Oscar nominations a few days ago. And afterwards every single actor said what a great honor it was just to be nominated. ... Trust me: It's not."
Roger Stone has "always been controversial. I remember when he got caught advertising for sex in bondage and swingers magazines. So, yesterday morning probably wasn't the first time he started his day in handcuffs."