Axios AM
July 11, 2022
☕ Good Monday morning. Smart Brevity™ count: 1,213 words ... 4½ mins. Edited by Noah Bressner.
🏛️ Situational awareness: The House Jan. 6 committee plans two hearings this week — tomorrow at 1 p.m., and Thursday in prime time. Steve Bannon, who had rebuffed the committee, now has agreed to testify.
Senator Majority Leader Chuck Schumer tested positive for COVID and has "very mild symptoms." He'll work remotely this week.
1 big thing: Unpopular jobs
People don't want to work for the government so much these days.
While the number of private sector jobs has surpassed its pre-pandemic level, 664,000 fewer people are employed in the public sector, Emily Peck of Axios Markets writes from Friday's jobs report.
Why it matters: Governments are competing for workers in a super-tight labor market, and have less to offer. The jobs typically pay less, for starters.
"The Postal Service and public schools can't offer workers higher pay," said Julia Pollak, chief economist at ZipRecruiter, in an email to Axios. "People have fled the public sector for the private sector, where signing bonuses and faster wage growth have been far more accessible."
How it works: Government budgets set pay bands, which are harder to change in response to competition.
While private sector employers are offering hybrid and remote options, government work isn't typically as flexible.
In some areas, including education, the post-pandemic landscape is making the work a lot harder: Many kids are behind and have more behavioral problems. And teachers say they're haunted by gun violence — and harassed by increasingly angry parents.
What's next: States are taking measures to alleviate shortages.
A new Arizona law allows schools to hire teachers before they've earned their college degree. Almost a third of teaching positions were vacant in January, Axios' Julia Shapero reports.
2. Biden weighs public health emergency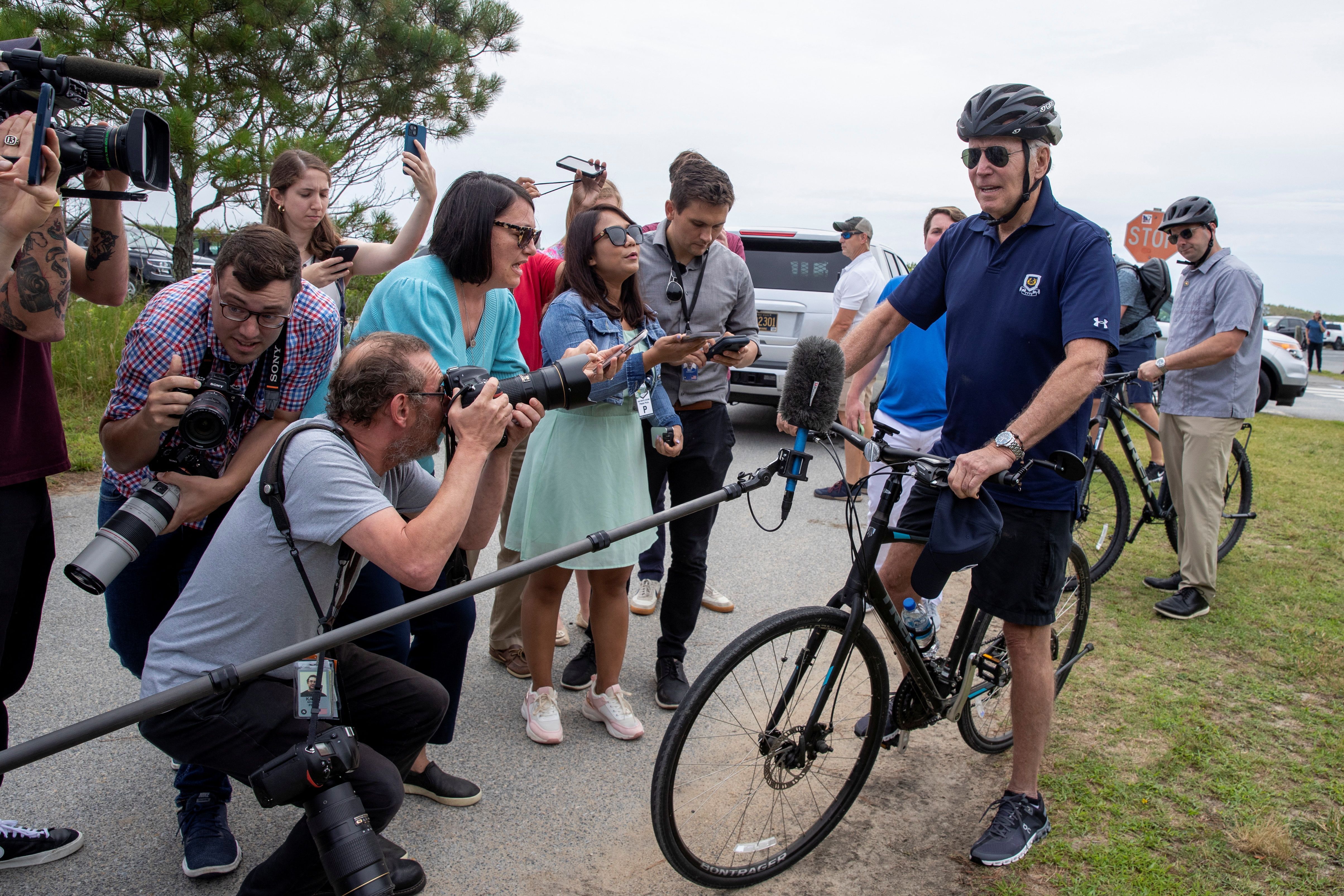 In response to a question, President Biden told reporters yesterday that he's considering declaring a public health emergency to increase abortion access after the Supreme Court overturned Roe.
"I've asked ... the medical people in the administration to look at ... whether I have the authority to do that and what impact that would have," he said during a break from biking in Rehoboth Beach, Del.
Context: Sens. Elizabeth Warren (D-Mass.) and Tina Smith (D-Minn.), in a New York Times op-ed two weeks ago, said a presidential declaration of a public health emergency would unlock "resources and authority that states and the federal government can use to meet the surge in demand for reproductive health services."
Biden, under pressure from Democratic activists to act more aggressively in response to the ruling, last week issued an executive order on abortion access.
3. 🚙 Uber trove exposed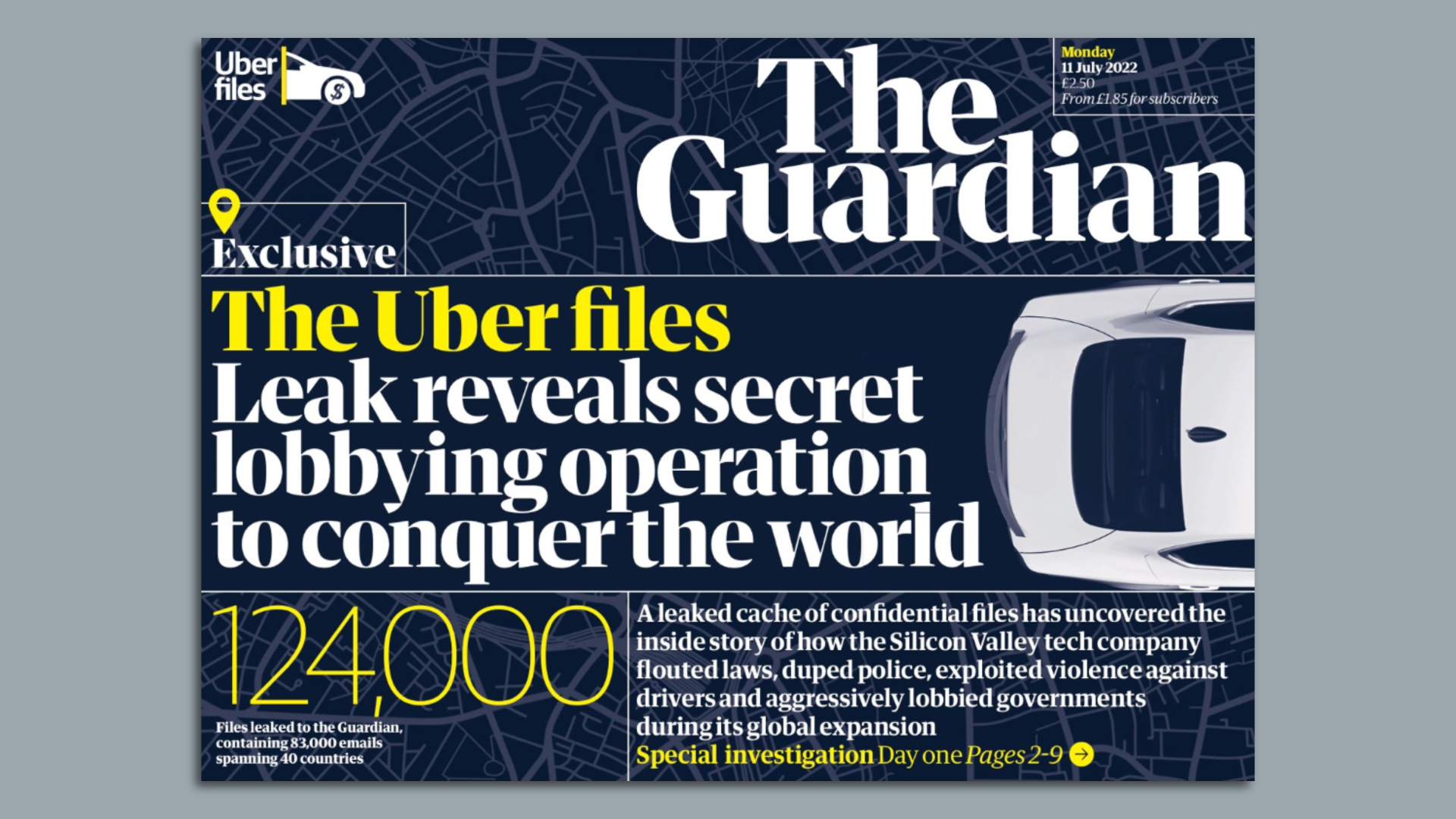 "The Uber Files," including 124,000+ leaked documents, reveal that the ride-share pioneer flouted laws, duped police and exploited drivers as it bulldozed into cities around the world, The Guardian reports.
When then-Vice President Biden was late to a Davos meeting, Uber co-founder Travis Kalanick texted a colleague: "I've had my people let him know that every minute late he is, is one less minute he will have with me."
The Guardian shared the documents (2013-2017) with the International Consortium of Investigative Journalists, a nonprofit network that coordinated simultaneous stories published around the world yesterday.
ICIJ said the files include WhatsApp texts, iMessages, "emails, invoices, briefing notes, presentations and other documents exchanged by top Uber executives, government bureaucrats and world leaders in nearly 30 countries."
Uber said in a statement: "There has been no shortage of reporting on Uber's mistakes prior to 2017. Thousands of stories have been published, multiple books have been written—there's even been a TV series.
"It's ... exactly why Uber hired a new CEO, Dara Khosrowshahi, who was tasked with transforming every aspect of how Uber operates. ... We've moved from an era of confrontation to one of collaboration."
"We have not and will not make excuses for past behavior that is clearly not in line with our present values," the statement concludes. "Instead, we ask the public to judge us by what we've done over the last five years and what we will do in the years to come."
Devon Spurgeon, a spokesperson for Kalanick, said in a statement that he "never authorized any actions or programs that would obstruct justice in any country."
🔮 What's next: More stories from the Uber Files will drop today.
4. 📷 1,000 words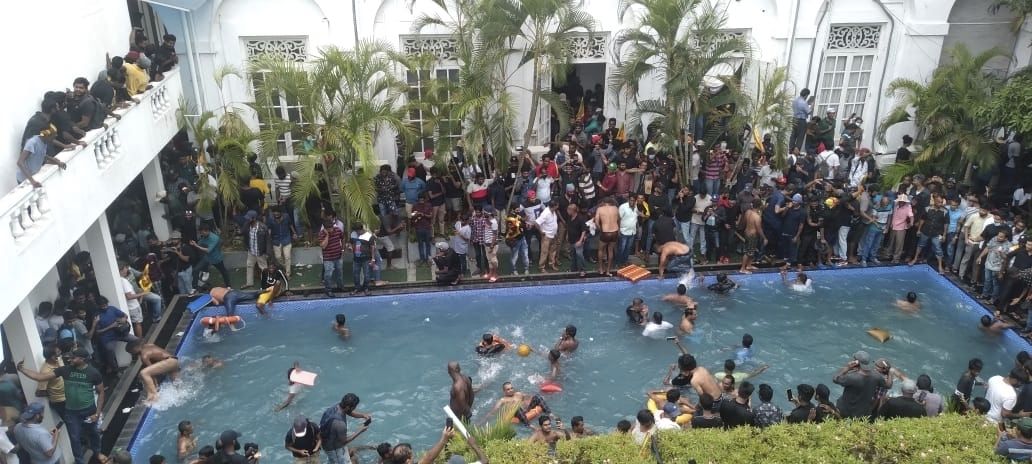 In Sri Lanka, an island nation in South Asia, anti-government protesters swam in the pool at the president's residence this weekend after he agreed to resign. A new government is being named.
Why it matters: Protesters stormed government buildings in Colombo, the capital, in a rage over the nation's economic crisis.
Video showed citizens clowning around on the president's beds, lounging on his sofas and jogging on his treadmills.
5. 🐦 Twitter arms for Musk fight
Twitter hired the law firm Wachtell, Lipton, Rosen & Katz in preparation for suing Elon Musk to try to hold him to his $44 billion deal.
🧠 Why Delaware? Delaware is the corporate home to more than half of U.S. public companies, including Twitter, and more than 60% of the Fortune 500. Bloomberg explains why:
"Chancery judges — business law experts — hear cases without juries and can't award punitive damages."
"[E]fforts to terminate a deal can play out within a few months, often ending with settlements."
🤔 Choose your news ... Reuters: "Twitter has legal edge in deal dispute with Musk."
Bloomberg: "Musk Effort to Kill Deal Leaves Twitter With Only Bad Options."
6. 🇯🇵 Abe killing's global echo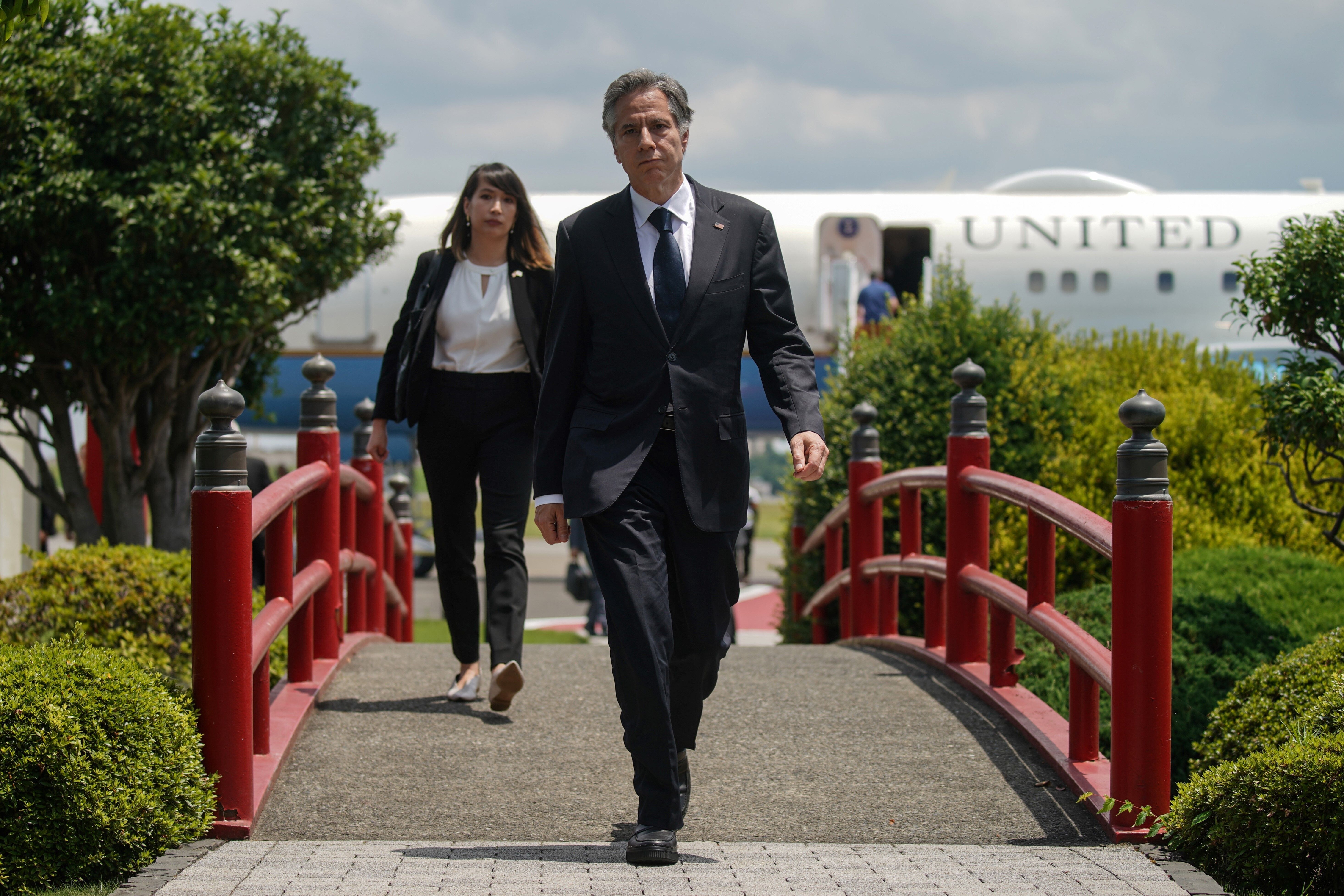 Public outrage — and vows of defiance by politicians and on social media — are sweeping Japan after the daylight assassination of former Prime Minister Shinzo Abe with a homemade gun, AP reports.
Why it matters: Abe, a strong U.S. ally, was a major political force in Japan, even after he stepped down in 2020 as the nation's longest-serving political leader.
🖼️ The big picture: The assassination, just days before national elections, in one of the world's most stable and affluent countries — and one that acts as a security bulwark against undemocratic neighbors China and North Korea — has raised fears something fundamental has changed.
🔭 Zoom in: Part of the collective fury is because crime is so rare in Japan, where it's not uncommon to see cellphones and purses lying unattended in cafes. Gun attacks are vanishingly rare.
7. Hundreds of sequoias in peril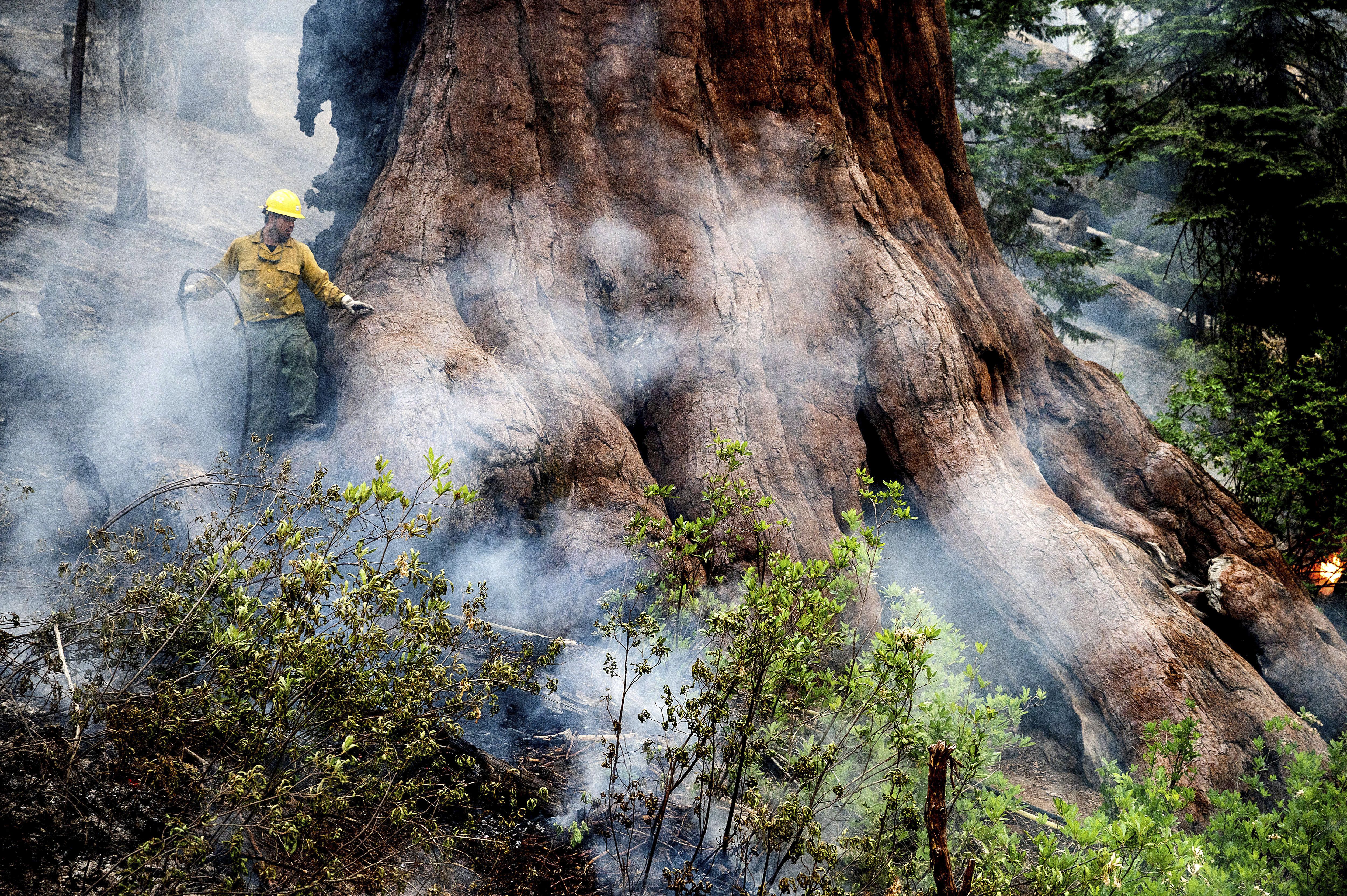 Above: A firefighter tries to protect a sequoia tree in Yosemite National Park, Calif., on Friday.
The Washburn wildfire is threatening hundreds of ancient giants in Yosemite's biggest grove of sequoias, which are the largest trees in the world. A sprinkler system kept the tree trunks moist.
The blaze more than doubled in size in a day, as firefighters braced for warmer and drier weather this week, the L.A. Times reports.
8. 🎾 Four-peat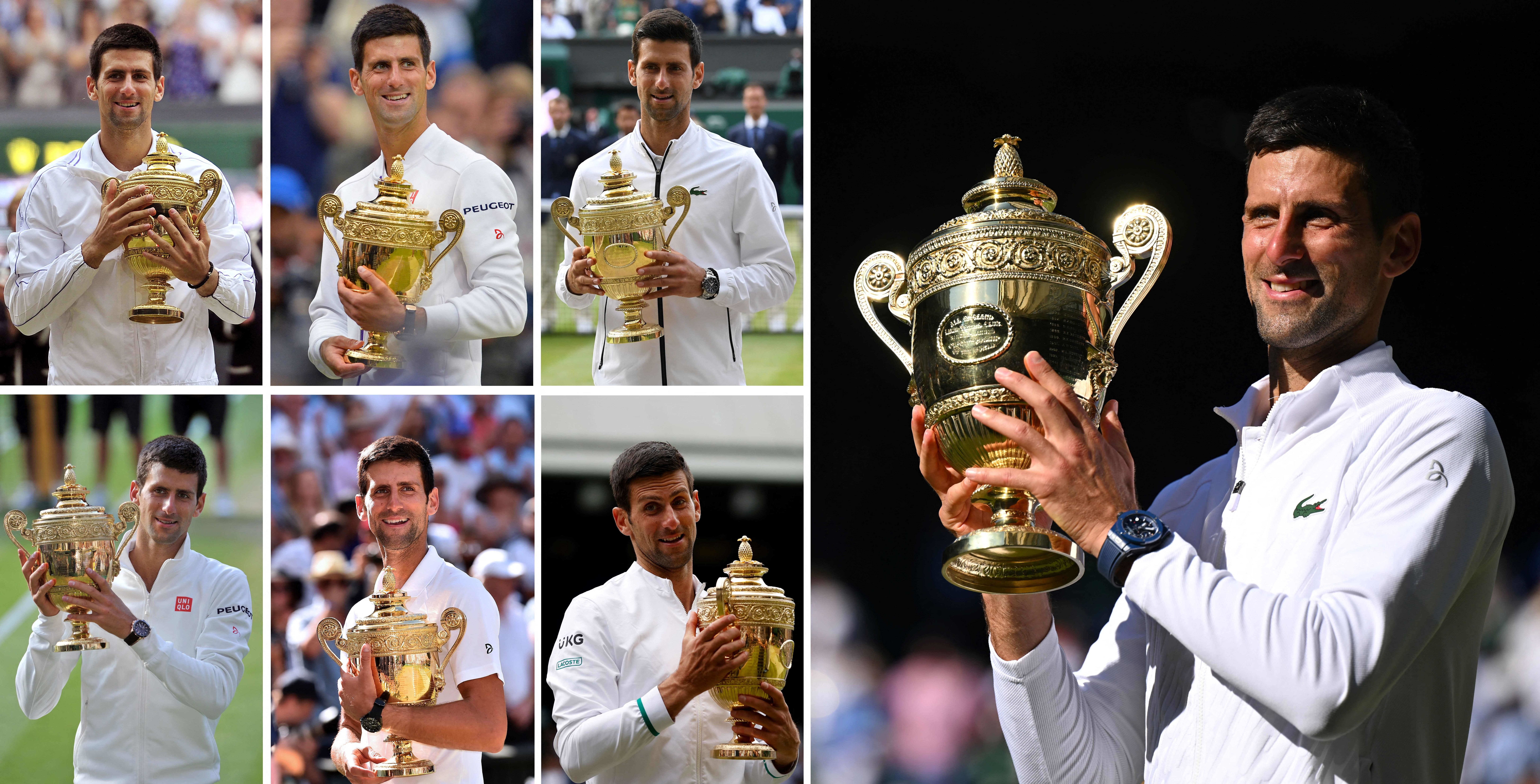 Above: Serbia's Novak Djokovic, 35, holds the Wimbledon trophy in 2011, 2014, 2015, 2018, 2019, 2021 — and yesterday, after using steady brilliance to beat trick-shot-hitting, chattering Nick Kyrgios of Australia for a fourth straight championship in London.
📬 Invite your friends to sign up here for their daily essentials — Axios AM, PM and Finish Line.