If you're in downtown D.C. this morning, please join my News Shapers event at 8 a.m. with White House Counselor Kellyanne Conway, followed by three fascinating ambassadors (I pre-gamed with each of them yesterday, and this'll be fun): Jordan's Dina Kawar, Singapore's Ashok Mirpuri and Germany's Peter Wittig. Outside cameras and correspondents welcome. Doors open at 7:30 a.m. at AJAX, 1011 4th Street NW (near L). See you soon!
https://www.axios.com/newsletters/axios-am-aa156829-280d-48fe-a6b1-59f23509db0d.html?chunk=0#story0
1 big thing: Trump turns on ... everyone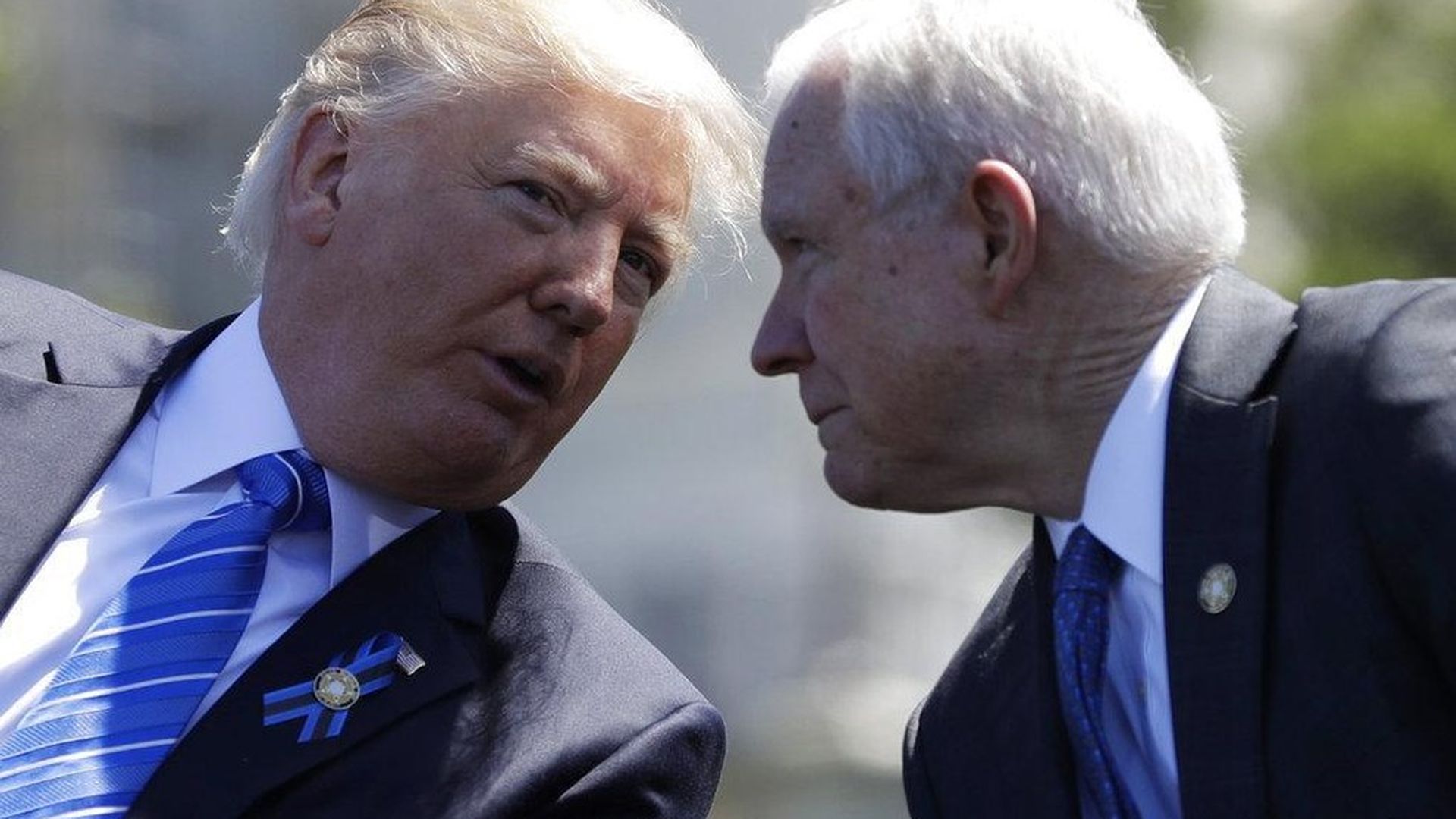 There was a familiar ring to this week's revelation that Attorney General Jeff Sessions was in Trump's doghouse (provoking a torrent of leaks that Sessions had threatened to resign).
Flip back through the clips, and you find: Reince in the doghouse ... Sean in the doghouse ... Bannon in the doghouse ... National Security Adviser H.R. McMaster in the doghouse (Bloomberg last month: "Washington Loves General McMaster, But Trump Doesn't") ... White House Counsel Don McGahn in the doghouse.
Even son-in-law Jared Kushner, who's pretty close to untouchable, got a little chin music yesterday as the press pool got a glimpse of Trump's meeting with congressional leaders. Trump said, to laughter: "Jared has actually become much more famous than me — I'm a little upset at that."
So what's with the constant needling and belittling?
A person who has experienced Trump's moods said: "He feels some sort of deep--seated emotional need to assert his primacy over people he has very clear primacy over. These are people you need to trust, and to be loyal to you."
Trump's treatment of his aides is a factor in the unwillingness of some top talent to go into the White House, according to an official involved in the search: "You never know when you're going to get thrown under the bus. He has this constant need for reassurance and affirmation that he takes out on the staff."
An irony: It's people who were with Trump on the earlier side (Sessions, Priebus, Spicer) who seem to take the brunt of his fickleness, while later arrivals like Gary Cohn and Dina Powell (so far) have escaped Trump's crowded doghouse.
Sound smart: Quick! Name a top-titled White House official — not named Ivanka or Jared — who authentically likes or feels sincere loyalty toward Trump. Then, quick, name a top-titled official — not named Jared or Ivanka — who Trump genuinely likes or feels loyalty toward. This is a problem.
Read Axios' Shannon Vavra's guide to Trumpworld, perpetually on the verge of a reshuffle.
https://www.axios.com/newsletters/axios-am-aa156829-280d-48fe-a6b1-59f23509db0d.html?chunk=1#story1
2. Comey cascade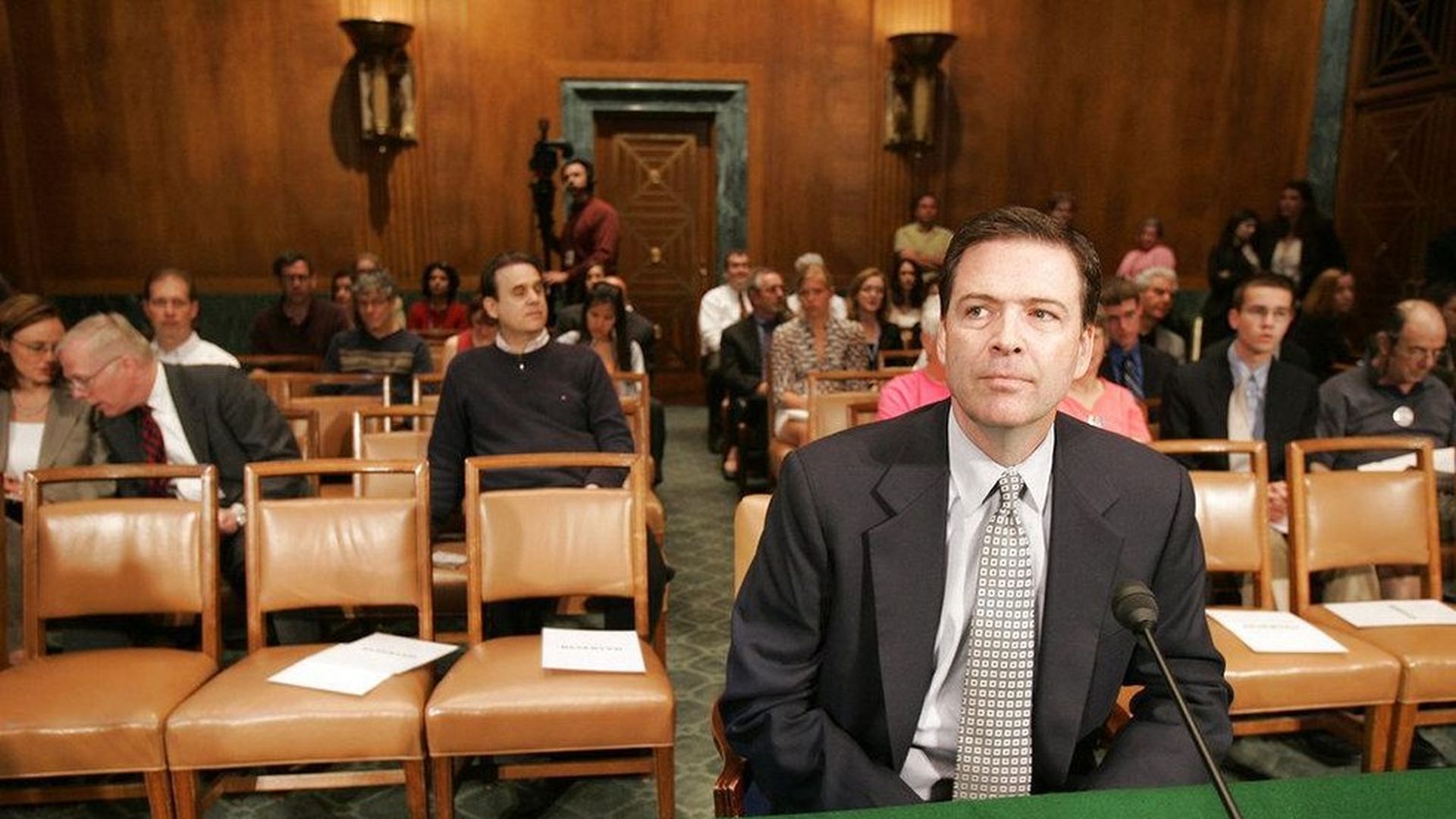 WashPost A1, by Adam Entous: Director of National Intelligence Daniel Coats "told associates in March that President Trump asked him if he could intervene with then-FBI Director James B. Comey to get the bureau to back off its focus on former national security adviser Michael Flynn in its Russia probe."
"Comey expected to refute Trump," by CNN's Gloria Borger, Eric Lichtblau, Jake Tapper and Brian Rokus: "Comey is expected to explain to senators that those were much more nuanced conversations from which Trump concluded that he was not under investigation. ... Comey is not going to conclude whether the President obstructed justice."
N.Y. Times A1, "Comey Didn't Want to Be Alone With President, He Told Sessions," by Michael Schmidt and Matt Apuzzo: "Comey believed Mr. Sessions should protect the F.B.I. from White House influence, the officials said, and pulled him aside after a meeting in February to tell him that private interactions between the F.B.I. director and the president were inappropriate. But Mr. Sessions could not guarantee that the president would not try to talk to Mr. Comey alone again."
https://www.axios.com/newsletters/axios-am-aa156829-280d-48fe-a6b1-59f23509db0d.html?chunk=2#story2
3. Zeitgeist
https://www.axios.com/newsletters/axios-am-aa156829-280d-48fe-a6b1-59f23509db0d.html?chunk=3#story3
4. If you click only 1 thing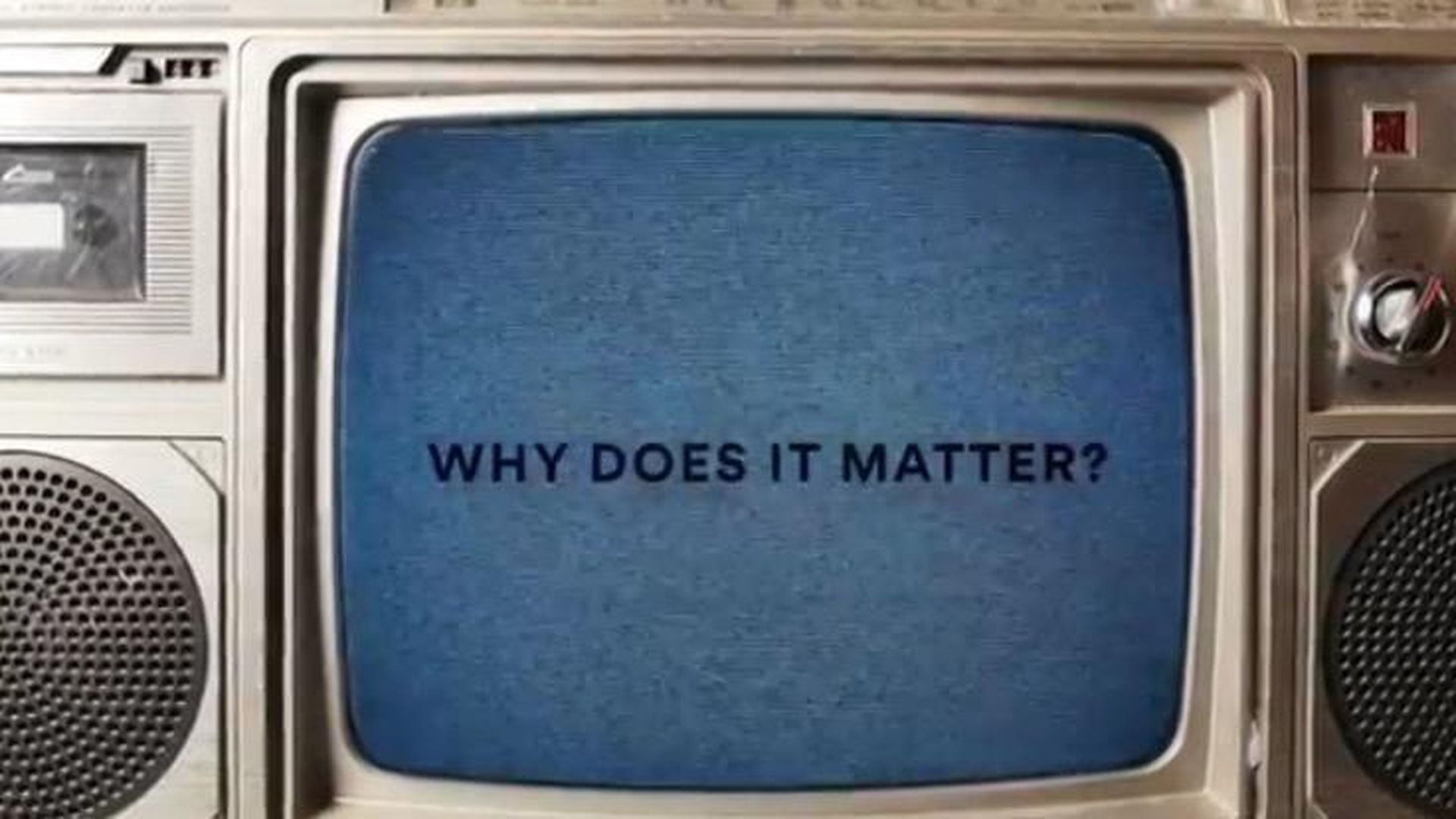 https://www.axios.com/newsletters/axios-am-aa156829-280d-48fe-a6b1-59f23509db0d.html?chunk=4#story4
5. Big companies, fewer workers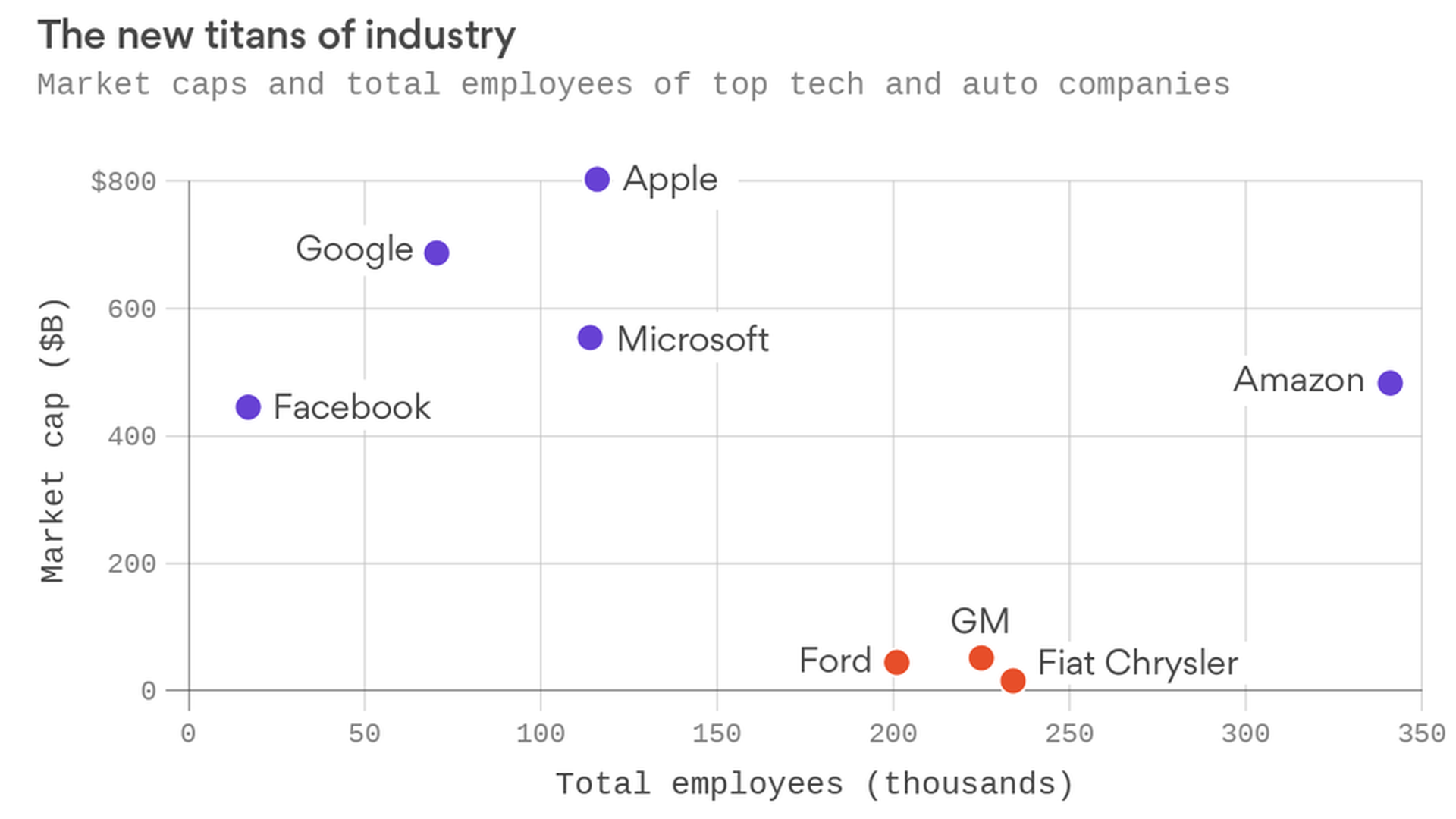 How Silicon Valley has revolutionized the economy, in 1 chart ... The five most valuable companies in the U.S. are all technology firms that employ far fewer workers than their industrial predecessors, Axios' Chris Matthews reports.
Why this matters: These companies symbolize the central issue of employment in a new age of technology, automation and artificial intelligence. Ford, worth a tenth of Facebook, employs 200,000 workers compared with Facebook's 17,000.
P.S. Uber fires more than 20 employees in harassment investigation: "The housecleaning ... is just getting under way," per Bloomberg.
https://www.axios.com/newsletters/axios-am-aa156829-280d-48fe-a6b1-59f23509db0d.html?chunk=5#story5
6. Who's gonna pay for the wall? The sun!
Trump pitches Republican leaders on a solar-paneled border wall, per Jonathan Swan:
In a meeting at the White House yesterday with Republican Congressional leaders, President Trump floated the idea that the border wall could be covered in solar panels — and the electricity generated used to pay for the cost.
Trump said his vision was a wall 40 feet to 50 feet high and covered with solar panels so they'd be "beautiful structures." The President said that most walls you hear about are 14 feet or 15 feet tall, but this would be nothing like those walls.
Trump told the lawmakers they could talk about the solar-paneled wall as long as they said it was his idea.
Between the lines: Trump is dead serious about his wall and doesn't buy into the thinking that it's a "metaphor." He's visualized this thing and wants it to be big and "beautiful." The solar panels idea is his attempt to wedge the left. But it's hardly a total winner among Republicans on the Hill.
https://www.axios.com/newsletters/axios-am-aa156829-280d-48fe-a6b1-59f23509db0d.html?chunk=6#story6
7. "Someone may get hurt" in Capitol scrums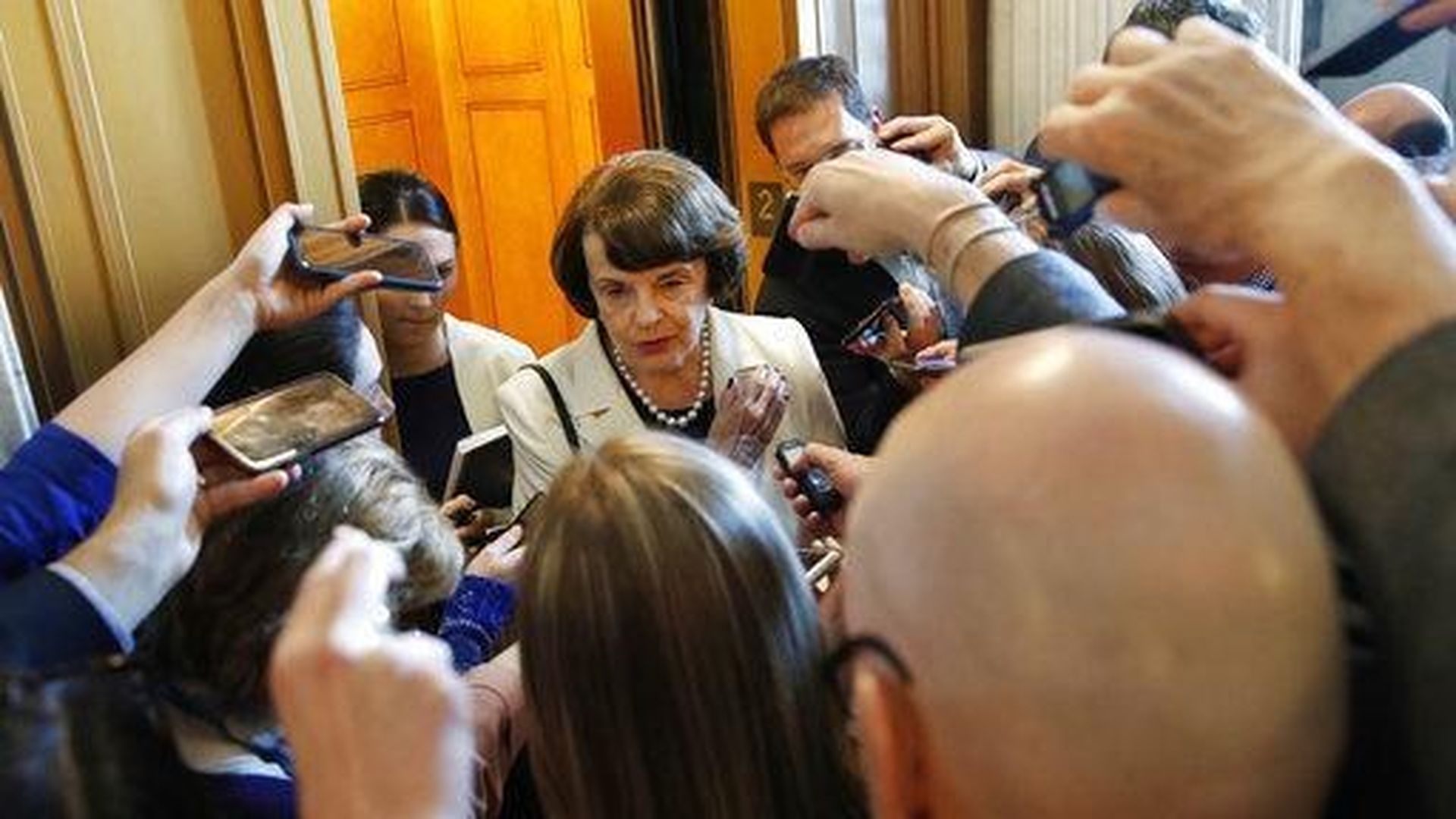 "Inside the heaving, jostling Capitol media mob: 'We are one tripped senator away' from disaster" — WashPost Style section lead by Elise Viebeck and Ben Terris:
They stake out basement conference rooms, graze outside of Senate lunches, and pounce on politicians as they exit elevators. Once thought to be going the way of the dodo bird or zeppelin repairman, journalists of the Trump era are crowding legislative hallways ...
"We want to make you aware the Capitol has reached its capacity for reporters," the officials who oversee the Senate press gallery wrote in a letter to news organizations last month, as Republican infighting and the drama of the Trump presidency were suddenly ramping up the urgent need for scribes to "just get a quote" ... "Collectively, the press following Senators have become large and aggressive. We are concerned someone may get hurt."
"I'm not doing this," Sen. Dianne Feinstein (D-Calif.) said in response to [one] journalist, who had scampered in front of her on an ascending escalator and was attempting to perch backward to ask her a question.
P.S. LA. Times lead story: "State Assemblyman Jimmy Gomez was elected as Los Angeles' newest member of Congress on Tuesday, defeating attorney Robert Lee Ahn in a sharply contested battle [to replace Xavier Becerra] for the 34th Congressional District."
https://www.axios.com/newsletters/axios-am-aa156829-280d-48fe-a6b1-59f23509db0d.html?chunk=7#story7
8. Exclusive: Most viral shows of 2016-17 season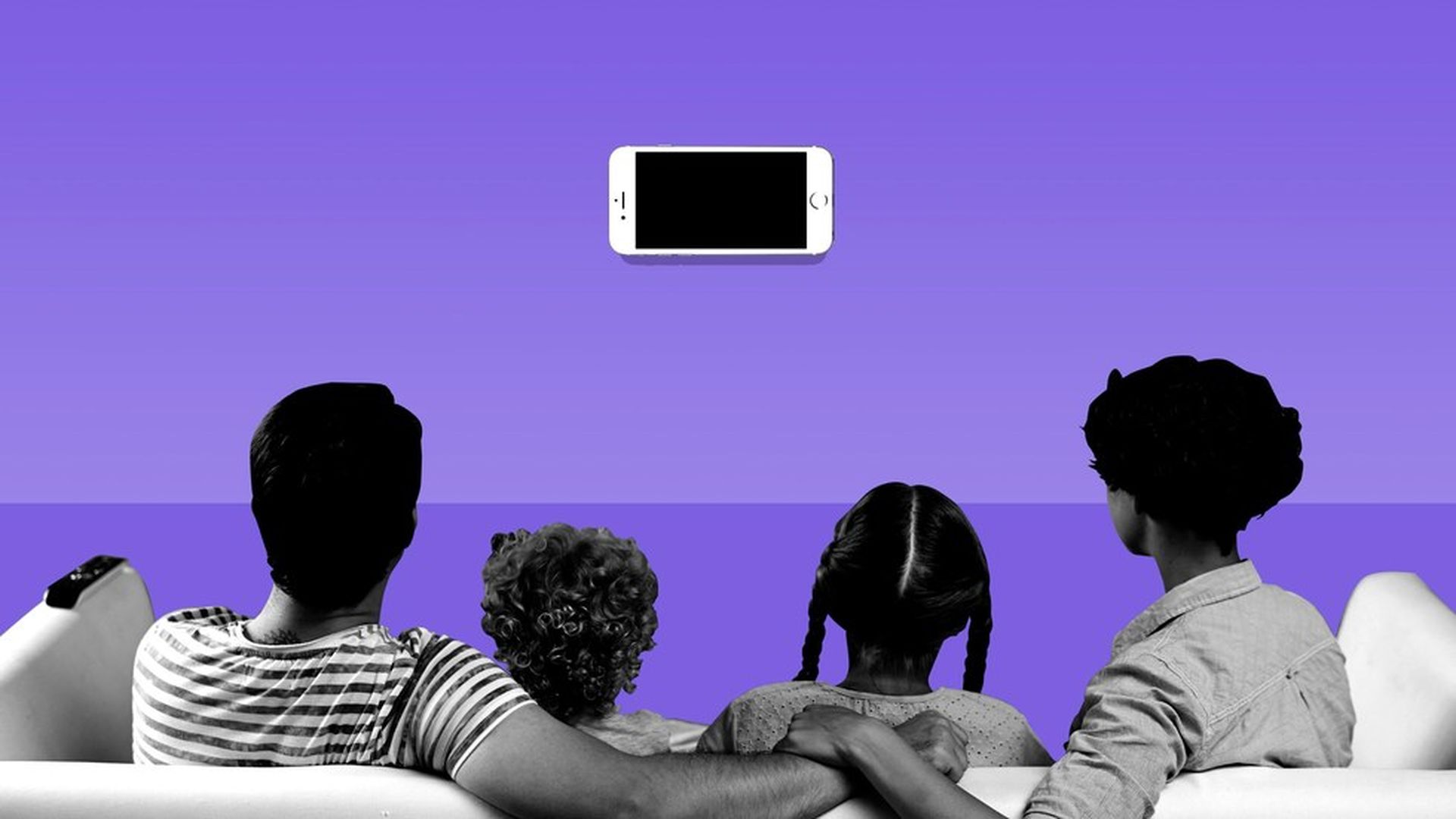 Nielsen conducted its first social media ratings study, including data from Twitter and Facebook to find which shows got the most social media attention, Axios' Sara Fischer scoops:
Entertainment:
The Walking Dead (AMC): 2,028,000 total interactions
Empire (FOX): 860,000
The Bachelor (ABC): 453,000
This is Us (NBC): 436,000
Love & Hip Hop: Atlanta (VH1): 406,000
Specials:
The 59th Annual Grammy Awards (CBS): 27,600,000 total interactions
The Oscars (ABC): 22,086,000
Golden Globe Awards (NBC): 10,100,000
Billboard Music Awards (ABC): 5,346,000
Dick Clark's New Year's Rockin' Eve (ABC): 3,575,000
Sports:
Super Bowl LI: New England vs. Atlanta (2/5): 190,780,000 total interactions
NFL: Green Bay at Dallas (1/15): 52,878,000
NFL: Green Bay Packers at Atlanta Falcons (1/22): 26,431,000
NFL: Pittsburgh at New England (1/22): 24,349,000
MLB: Los Angeles at Chicago Cubs (10/22): 21,520,000
https://www.axios.com/newsletters/axios-am-aa156829-280d-48fe-a6b1-59f23509db0d.html?chunk=8#story8
9. Record number of women leading Fortune 500 firms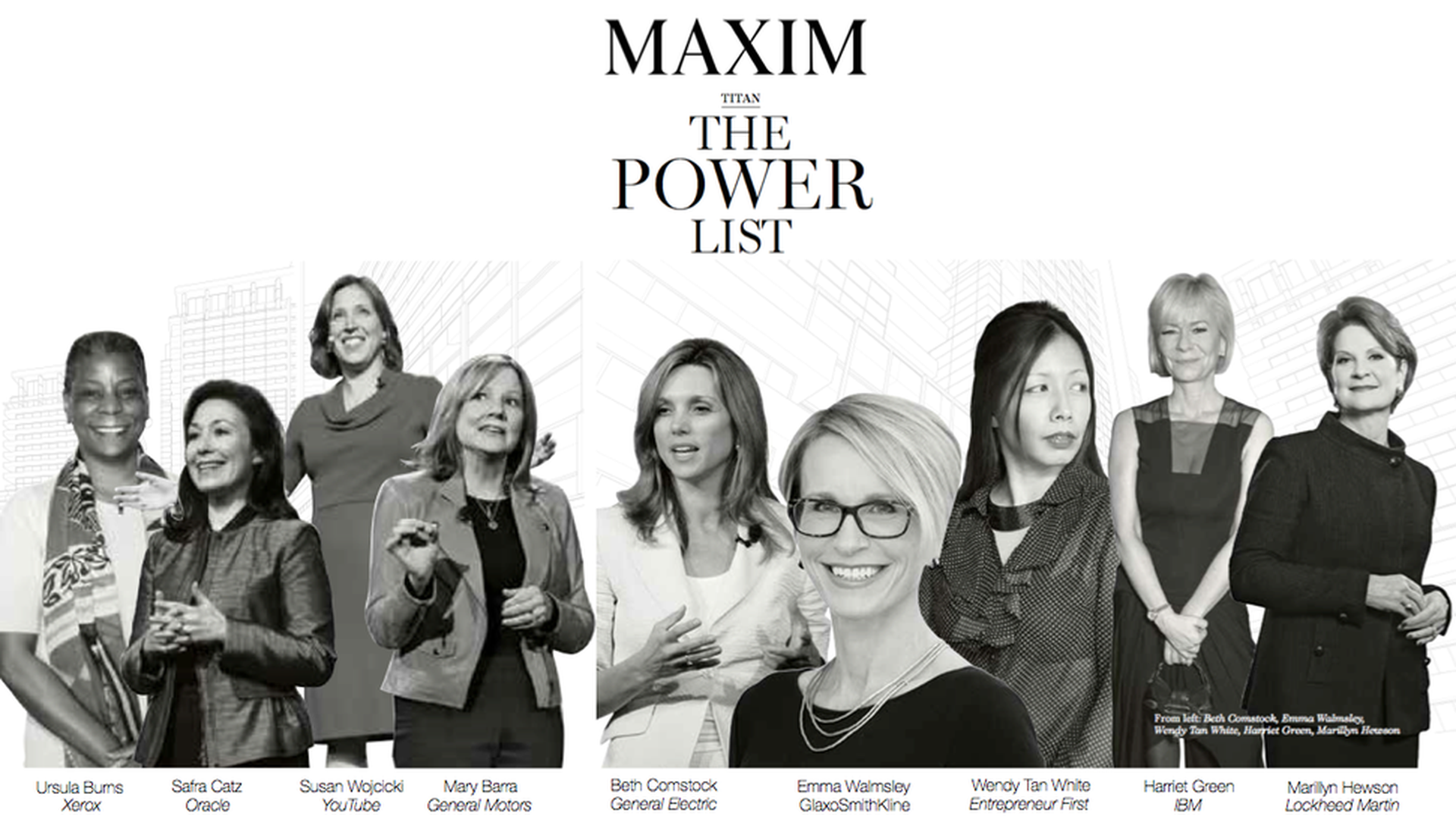 Maxim's 9 most powerful leading women in business today:
Susan Wojcicki – CEO of YouTube
Ursula Burns – American Chairperson and CEO of Xerox
Mary Barra – CEO and Chairperson of General Motors
Beth Comstock – Vice Chair of GE
Marillyn Hewson – Chairperson, President and CEO of Lockheed Martin
Safra Catz - Co-CEO of Oracle
Emma Walmsley – CEO of GlaxoSmithKline
Harriet Green – General Manager of IBM
Wendy Tan White – General Partner of Entrepreneur First
https://www.axios.com/newsletters/axios-am-aa156829-280d-48fe-a6b1-59f23509db0d.html?chunk=9#story9
10. 1 fun thing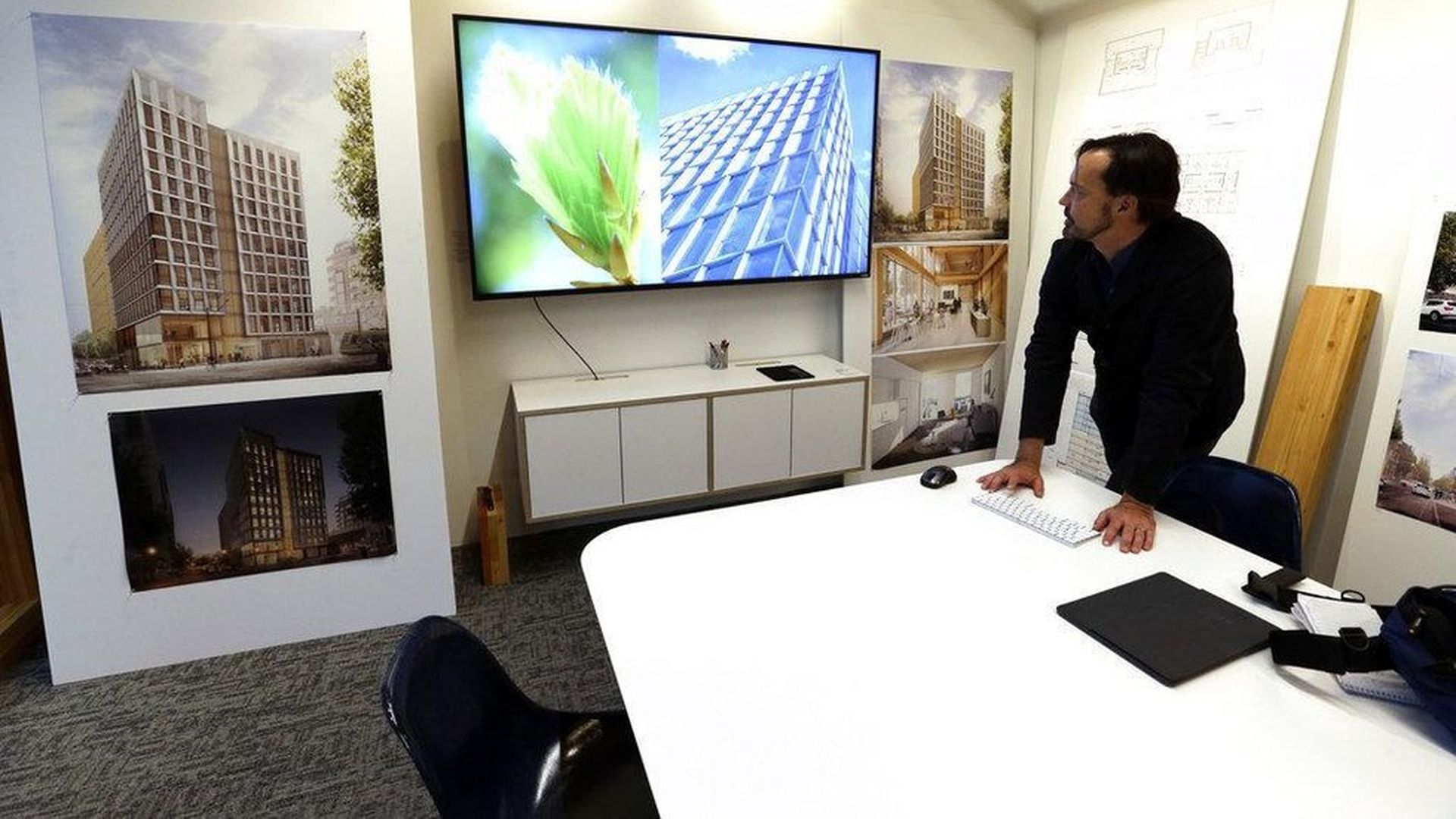 Portland, Ore., approves permit for first all-wood high-rise in U.S. — AP's Gillian Fallcus:
Construction on the 12-story building, called Framework, will break ground this fall in Portland's trendy and rapidly growing Pearl District and is expected to be completed by the following winter.
The decision by state and local authorities to allow construction comes after months of painstaking testing of the emerging technologies that will be used to build it, including a product called cross-laminated timber, or CLT.
To make CLT, lumber manufacturers align 2-by-4 boards in perpendicular layers and then glue them together like a giant sandwich before sliding the resulting panels into a massive press for drying. ...
The project materials also underwent extensive fire safety testing and met fire codes. State officials hope the building will stir greater interest in high-rise construction using mass timber and help revitalize the state's lagging logging industry.