https://www.axios.com/newsletters/axios-am-aa1514e0-7de5-497d-b95f-e9d0d1722734.html?chunk=0#story0
1 big thing: The Comey presidency
Jim Comey, who at 6 foot 8 has at least five inches on Donald Trump, has loomed over his campaign and presidency for months — first through his bombshell statements about Hillary's email, then by doggedly pursuing the Russia investigation and eventually getting fired for his zeal.
Next week, Comey comes out of the shadows, with Senate Intelligence Committee testimony scheduled for 10 a.m. Thursday that promises to be the most gripping television to come off of Capitol Hill since the Clinton impeachment hearings or Watergate.
Leaks about Comey's conclusion that Trump was pressuring him, and his real-time documentation in potentially devastating memos, has the White House and its allies worried that this could be their worst week since taking office. The signs of worry:
The White House floated a trial balloon about invoking executive privilege to block Comey's testimony, but quickly popped it — two officials tell the N.Y. Times' Michael Schmidt that Trump doesn't plan to go that route. White House officials realized the optics were terrible: It'd look like they had something to hide. Plus Trump aides realize executive privilege isn't absolute — so it wasn't a slam dunk, anyway. And even if the claim stopped Comey's testimony, it couldn't stop a free, fired man from just walking out and giving an interview or a press conference.
Fight Club: Trump is scrambling to set up an outside war camp — possibly run by former campaign operatives David Bossie and Corey Lewandowski — to battle Comey's charges. A top official tells me it's hard to bring these guys inside because of their reputations and styles. So one option, reported last night by Fox's Ed Henry, is an outside group set up as a 501(c)4 nonprofit. A Trump aide told me it'd be a way to get the campaign band back together in time of need.
The Comey chaos is making staff changes extremely difficult, even though Trump continues to ruminate to friends about his lineup. Top officials, beginning with Chief of Staff Reince Priebus, are ensnarled as possible witnesses. Plus, Trump needs more, not less, internal help. On the flip side, the West Wing is having a difficult time finding people who are willing to pay for — or can afford — the hundreds of thousands in legal bills they are likely to incur from joining a White House under investigation.
Quote of the week ... Jeremy Bash to Nicolle Wallace on MSNBC: "Pro tip: If you want to exert executive privilege, don't fire the guy."
https://www.axios.com/newsletters/axios-am-aa1514e0-7de5-497d-b95f-e9d0d1722734.html?chunk=1#story1
2. Out in the cold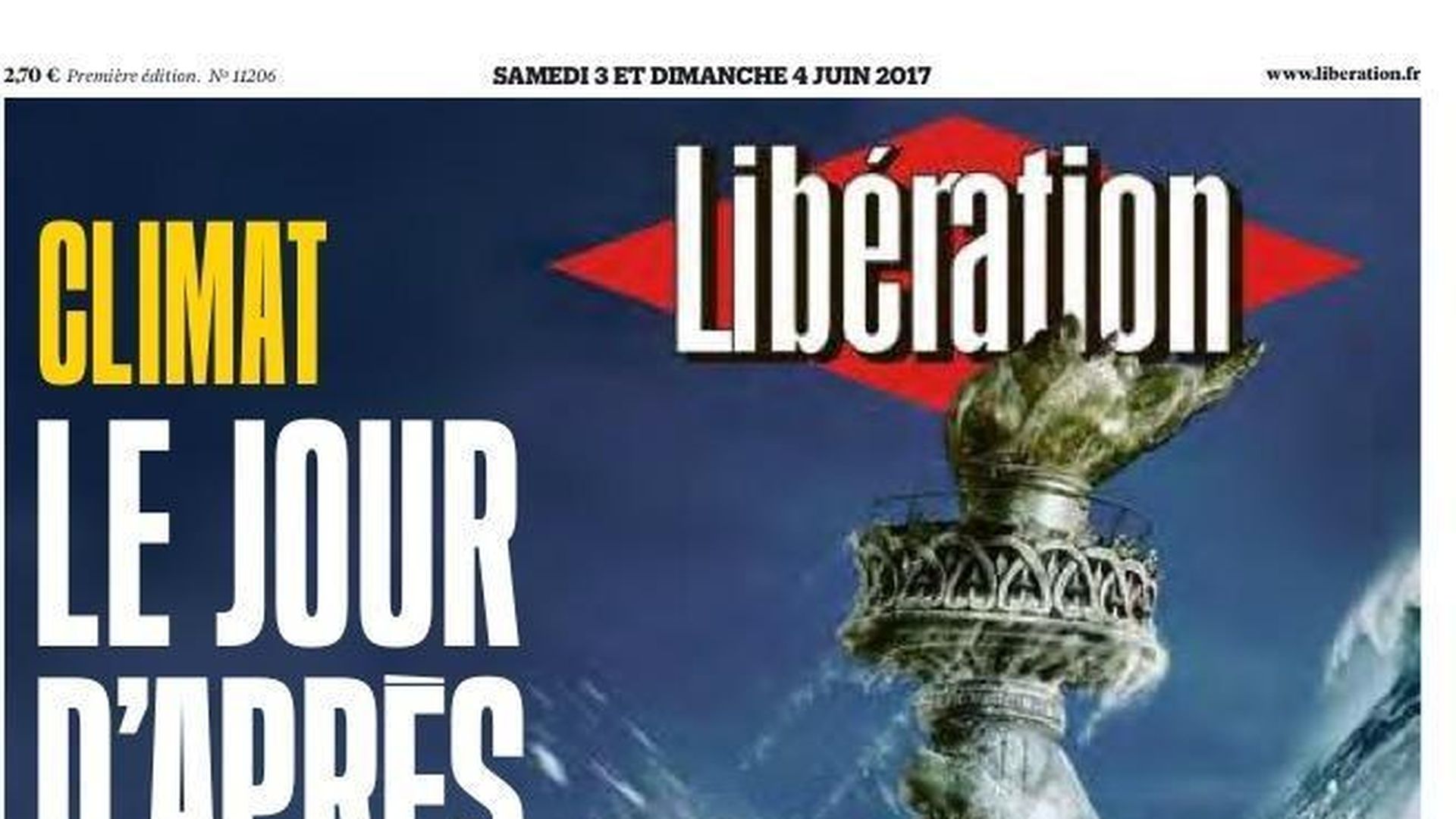 I'm told that in addition to Ivanka Trump, the presidential confidants making a last-minute pitch to soften the Paris deal included national security adviser H.R. McMaster, who argued to President Trump that he could accomplish what he needed to domestically, while adding significant caveats that would avoid alienating allies.
Trump rejected the advice in part because he thought a clean exit looked stronger, and partly because he was tired of all the conflicting advice he was getting.
But the biggest reason was all about that base: Using the muscle memory from the campaign, Trump is increasingly obsessed with his core voters. Officials explain that Trump and his inner circle learned in the darkest days of the campaign that they could power through by doubling down and focusing on the the base, so they're bringing those instincts to government.
Sound smart: McMaster, in these meetings, is the opposite of Trump: precise, detailed, methodical and persistent. And this style can drive Trump nuts at times.
CNN's Jim Acosta, on White House unwillingness to say whether Trump still thinks climate change is a hoax: "It guarantees the question will be asked over and over again."
WashPost lead story, "Europe's view of U.S. ties darkens," by Michael Birnbaum in Brussels: "The pullout left the United States a global outlier and, many European leaders and experts said, a severely diminished force in the world. And it gave China fresh weight in a newly unbalanced landscape where longtime U.S. allies are searching for stability."
https://www.axios.com/newsletters/axios-am-aa1514e0-7de5-497d-b95f-e9d0d1722734.html?chunk=2#story2
3. The talk of tech
Sneak peek at Apple's Worldwide Developers Conference, in San Jose next week ... "Apple set to turn up the volume in battle of talking helpers," by Tim Bradshaw in S.F.: "[T]he company is expected to up its game against Amazon's voice-controlled Alexa and Google's advances in computer vision, with new outlets for its own talking helper Siri and an overhaul of its iOS operating system."
"While recent previous annual gatherings of app makers have focused on software and services, Monday's opening keynote address, led by Tim Cook, chief executive, could also see Apple unveil new hardware, including a Siri-powered hi-fi to compete head-on with Amazon's Echo and Google's Home."
"Apple could alter reality: Next iPhone may give the physical world and extra kick," by USA Today's Jon Swartz in S.F.: "e next version of iPhone, expected in September or October, could include augmented reality (AR), giving the technology a burst of momentum. ... [L]ongtime Apple analyst Gene Munster predicts Apple will sell more than 100 million augmented units of the forthcoming iPhone."
Axios exclusive, "Apple Music executive Bozoma Saint John plans to leave the company," by Ina Fried:
"Why it matters: While Apple has several women of color in higher-ranking positions, Saint John had a high profile beyond Apple and was widely praised for her on-stage work last year. She was also fairly unique among Apple executives in maintaining a strong personal brand beyond her work identity, with a strong following on Instagramand Twitter. Her exit also comes shortly after Apple shifted former HR head Denise Young Smith to a new role as VP of diversity and inclusion."
https://www.axios.com/newsletters/axios-am-aa1514e0-7de5-497d-b95f-e9d0d1722734.html?chunk=3#story3
4. The talk of business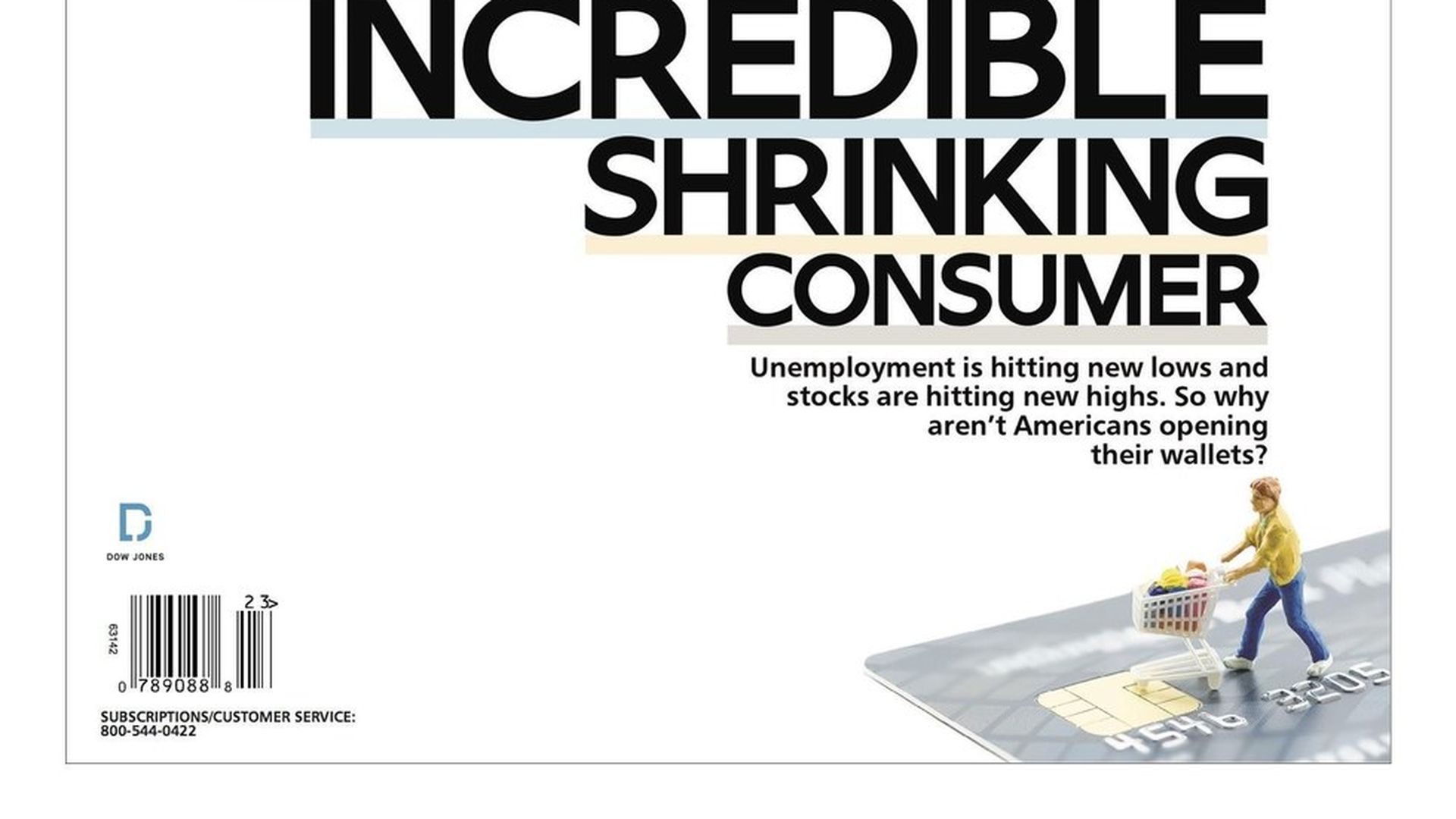 American consumers aren't spending with the gusto you'd expect, what with U.S. unemployment plumbing a 16-year low of 4.3%, wages ticking up, and the stock market hitting record highs, Barron's columnist Kopin Tan writes in "The Surprising Threat to the American Economy":
The problem: "Real U.S. personal spending is growing at about 2.6% year over year, when it should be closer to 4%, given the much-ballyhooed global recovery."
The reason: "Our attitude toward spending and debt has changed, as well, and the bursting of the housing bubble has deflated our love of conspicuous consumption. Families are saving more, despite being penalized for saving by zero interest rates."
Key stat 1: "Thanks to the levitating stock market and recovering home prices, household net worth is 37% higher than it was at the housing-bubble peak ... with 30% of our net worth now tied to stocks and mutual funds."
Key stat 2: "The share of national spending eaten up by three items — health care, housing, and education — has ballooned from 25% in 1980 to more than 36% by 2015."
The bottom line: "A stock market trading at all-time highs carries with it the burden of great expectations, but investors might be looking to the burgeoning middle class overseas to pick up the spending slack and goose the global economy. American consumers have done their fair share, and they deserve a break."
P.S. Wall Street Journal 5-column lead, "Jobless Rate Falls to 16-Year Low [since may 2001]]: Fewer jobs are being created, though, in a sign firms are struggling with labor shortages," by Eric Morath:
"After a robust start to the year, the economy has added an average 121,000 jobs over the past three months. That is about two-thirds of the growth rate recorded last year."
https://www.axios.com/newsletters/axios-am-aa1514e0-7de5-497d-b95f-e9d0d1722734.html?chunk=4#story4
5. Worthy of your attention
"Robert Caro Nears End Of Research on L.B.J.," by John Williams on N.Y. Times p. C3: "Those waiting for the fifth and final planned installment of Robert A. Caro's award-winning life of Lyndon B. Johnson might be both heartened and frustrated by the [81-year-old] historian's most recent update on his progress. In an interview ... with C-Span's Brian Lamb, ... Caro said he had most of the research and 400 typed pages of the manuscript for the next book done. But 'one more big thing' remains, he said: A trip to Vietnam. ... The author estimated that less than 5 percent of the material in his research files has made it into the finished books."
"Has science cracked the peanut allergy? Amid the alarming rise in food allergies, two new treatments are on the verge of approval," by David Crow in Financial Times Magazine: "One is a capsule that is broken and sprinkled over food, the other a stick-on skin patch placed on a patient's back. Both are underpinned by the same scientific theory: that exposing seriously allergic children to tiny amounts of peanut flour will retrain their immune systems to cope better with the real thing."
The office workers who decide "G" or "NC-17" ... Wall Street Journal A-hed, "These 11 People Watch Every Movie — Especially the Icky Bits: Hollywood's 'raters' put in long hours judging sex and gore — also bus accidents," by Erich Schwartzel: "In years past, it was the proliferation of blood, gore and apocalyptic blow-'em-up spectacles. Today, surveys show parents are less sensitive to violence but are increasingly concerned about smoking and bullying."
https://www.axios.com/newsletters/axios-am-aa1514e0-7de5-497d-b95f-e9d0d1722734.html?chunk=5#story5
6. New feature: My 6 big things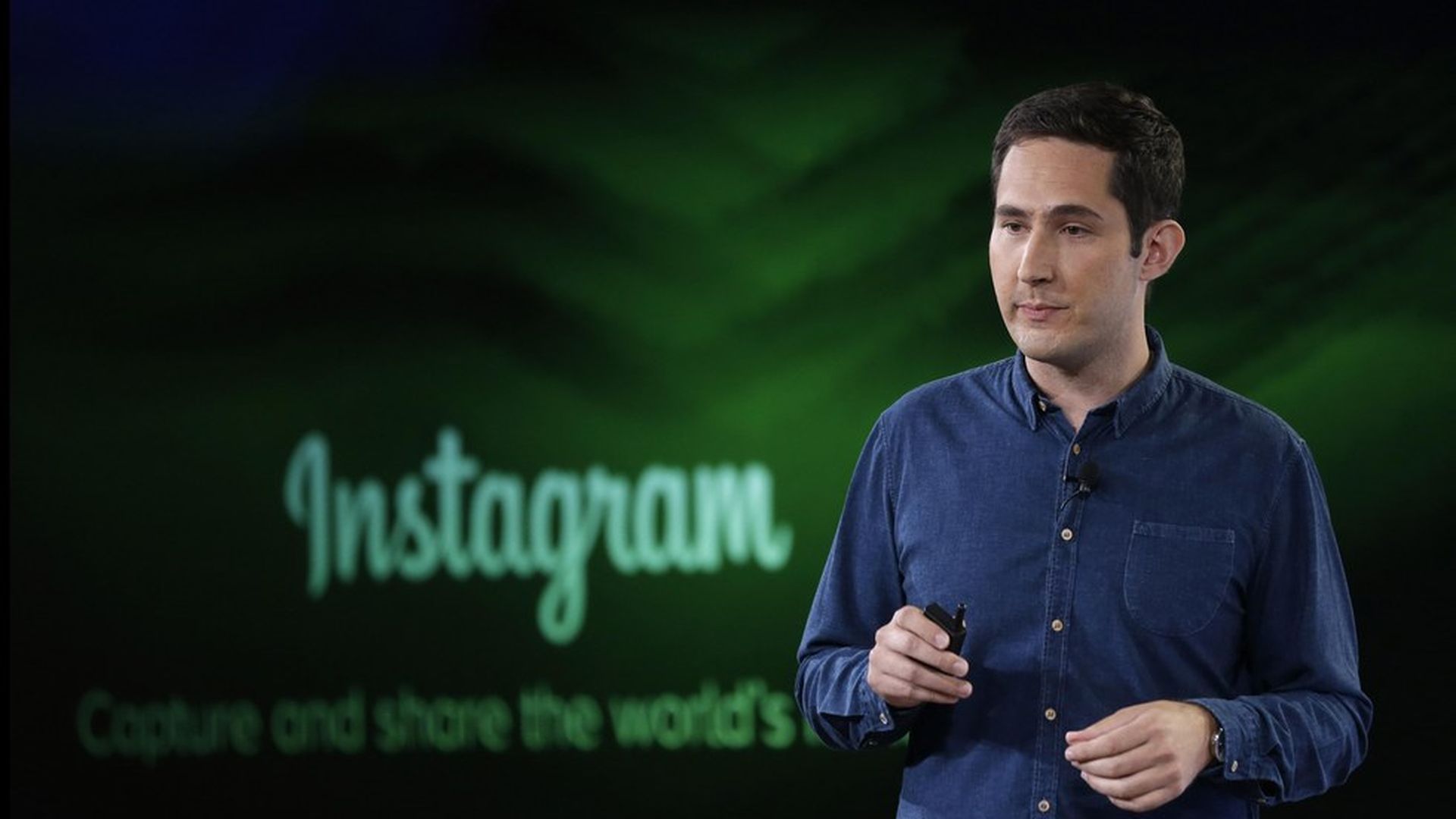 Axios AM kicks off a new Saturday treat: "My 6 Big Things" — a quick weekend breakfast conversation with one of the world's most interesting and consequential people.
Our debut guest is Kevin Systrom, CEO and co-founder of Instagram — 700 million people, connected by the power of visual communication:
What is the one thing you won't skip – or shorten – in the morning? An hour-long workout on my bike.
What's your favorite trick for getting smart quickly? Read voraciously, but intelligently. In Mortimer Adler's "How to Read a Book," he says you should not read every page in a book, and spend most of your time figuring out the most important parts to read.
What's your favorite life hack? If you don't want to do something, make a deal with yourself to do at least five minutes of it. After five minutes, you'll end up doing the whole thing.
What's the one thing you are insecure about? My inability to understand the term "business casual."
Name one item on your bucket list. One day, I'd like to ride in the Paris-Roubaix, a road race in northern France. It's one of cycling's oldest races and boasts some of the roughest terrain. I have some training to do!
What tech gadget or app saves you the most time? That's easy – Waze! Bay area traffic can be trite, but I use Waze every day to avoid sitting on the 101.
Thank you, Kevin. And happy weekend, all! See you tomorrow morning.